Hsipaw is a beautiful area.  The town itself isn't the greatest, but just step off the track a little bit and you'll find loads to see and do.  Many backpackers come to Hsipaw expecting that it's a place completely off the map.  Well, it isn't.  There are, however, places you can walk to where you'll be practically the only tourist there.
Little Bagan:  Ok, so it's not comparable to the actual Bagan in Myanmar, but it is still stunning.  Mini payas covered with vines and grass dot the landscape.  It's a beautiful area with rushing rivers, water buffalos and local people going about their day-to-day things.  You could spend a day here just slowly wandering around and hanging out with the locals.
Waterfall: If you stay at Mr. Charles Guesthouse, they will provide you with a hand drawn map.  About a 2 hour walk from town there's a beautiful, massive waterfall with a pool at the bottom for swimming.  The scenery around this area is stunning.
Natural Hot Spring: Past some of the Shan Villages is a natural hot spring!  The water is clear, clean and warm.  You'll be amongst the trees and the local people here.  This is great experience to have away from the town.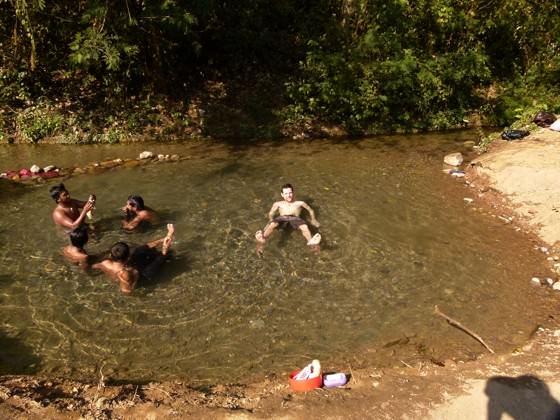 Shan Villages: Just outside of the main town of Hsipaw are small Shan Villages.  Naloy in particular is a great place to see.  The people here are so welcoming, generous and friendly.  We ended up teaching English here for a week and enjoyed it so much.  There are a few other villages as well set alongside a river with rice paddies and mountains all around.  Stunning scenery.  Definitely get outside of Hsipaw Town itself.
Guided Treks: The guides at Mr. Charles Guesthouse are especially knowledgeable about the surrounding villages and offer overnight treks from Hsipaw to Namshan.  Although this may be a great way to see the countryside, we didn't opt for this popular tourist draw.  The groups of trekkers range from 8-12 people/guide, which doesn't make for a very intimate experience.  In our opinion (since we're more about independent travel) you're better off venturing into the nearby villages and be the only tourists there.
Hsipaw is an amazing destination.  Besides the fact that it's beautiful, the things to see and do are definitely budget backpacker friendly!  If you make the effort to come to this northern village, you won't be disappointed.