We recently headed to the Big Apple with big hopes of seeing it all. When we were researching the sights around the city, we had a hard time visualizing distances and weren't sure what we'd accomplish in our short visit to the city before heading upstate.
NYC is one of the best places to visit in the US, so of course, a weekend in New York would be better, as with only 24 hours, you'll barely have time to scrape the surface. So, what exactly can you see in 24 hours in New York City? It turns out, quite a bit.
In this article, I'm going to list everything that we managed to take in on our recent trip to New York City and hopefully it will give you an idea of what you'll be able to cover in a day. One thing to make sure of is that you're wearing a good pair of shoes when exploring NYC!
Note: This entire itinerary is based in Manhattan and while I'm aware that New York has many wonderful boroughs to explore, we stuck to Manhattan for the sake of seeing as many sights in the shortest amount of time. To maximize our time in the city, and to arrive in style, we took a Blacklane car to get us from the airport to Manhattan, but you could also take the Air Train from JFK.
What to see and do with 24 hours in New York City.
Where To Stay: Lower Manhattan
I recommend staying at a hotel in Lower Manhattan and branching out from there to see all of the sites around the area. We stayed at the W New York – Downtown and found its central location to be the perfect base for our explorations around the city. The staff were young and the hotel was very chic — make sure to check out their onsite lounge with live music!
If you're on a tight budget, there are some hostels in Manhattan, but even they are expensive. You could stay in a cheaper borough (like Queens), but then you'll spend more time & money on transport. Another great option is to check out Airbnb for some cheaper rooms for your 1 day in New York.
What to See Around the Financial District:
*Note: You're going to want to eat at some point during your whirlwind trip to New York City. Check out this post which lists the best places to eat in NYC, according to a local.
Battery Park: This beautiful, 27-acre park is located at the southern tip of Manhattan and it is the perfect place to start the day. Walk along the sea wall and take in the next sight.
The Statue Of Liberty: You can see a side profile of the famous statue from Battery Park and there are numerous ferries to take you closer. If you hop on the boat that visits Ellis Island and Liberty Island, it will take up an hour and a half of your day (even without even getting off), so for the sake of time, snap a photo and get moving.
Broadway: From Battery Park, take this famous road to the next sights.
The Charging Bull: In the name of financial prosperity and luck, fight through the crowds of tourists to rub the lucky bronze balls below this 3.2-ton famous statue.
Trinity Church: Just a little further down Broadway you'll see Trinity Church on your left. If you're quick, you may even have time to head inside for a peak.
Wall Street: Wall Street has a fascinating collection of Gilded Age architecture. Here you can take in a few major sites within minutes — The Trump Building, Federal Hall, 14 Wall Street (Bankers Trust Building), and the New York Stock Exchange (among others).
The Brooklyn Bridge: There's a beautiful walkway that runs along to the East River on FDR Drive. Take this and you'll have lovely views of the Brooklyn Bridge, plus you can shop for some touristy New York trinkets from vendors here.
Chinatown: From the Brooklyn Bridge take St. James and Bowery streets into Chinatown. Source out a popular Chinese restaurant and enjoy some soup dumplings. I recommend Joe's Shanghai for authentic soup dumplings.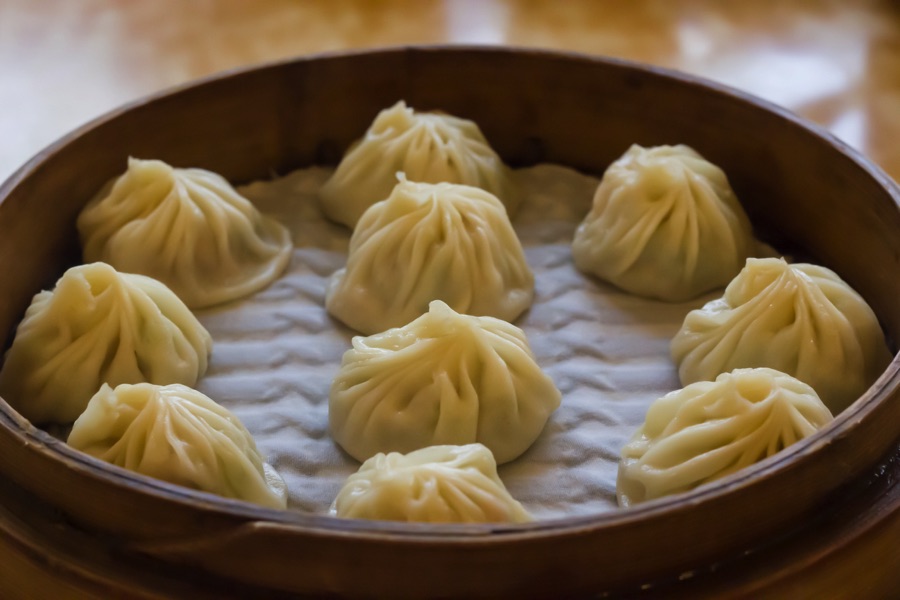 Canal Street: This 2.5 km east-west street is your best bet for finding cheap knock-off sunglasses and inexpensive tourist garb. Don't spend too much time shopping, there's lots more to see with your day in New York.
Little Italy: Hopefully you brought your appetite. Little Italy has some of the best restaurants in all of New York. You'll have a bit of time to explore the area before popping in for a bite.
SoHo: Named for its location (South of Houston) and its similarities to London's SoHo, this is a great area to roam around for a bit. There is a lot of charm in the neighbourhood's narrow, cobblestone back streets.
Tribeca: Another acronym based name ("Triangle Below Canal St."), Tribeca is a great place for fans of neo-Renaissance architecture. Some places to see include the Powell Building, a row of White neo-Renaissance buildings on Worth Street and the New York Telephone Company (140 West St.).
Freedom Tower & World Trade Memorial: End the day off with a walk through the beautiful and profoundly evocative World Trade Memorial, all the while looking up to see the tallest building in the Western hemisphere, the Freedom Tower.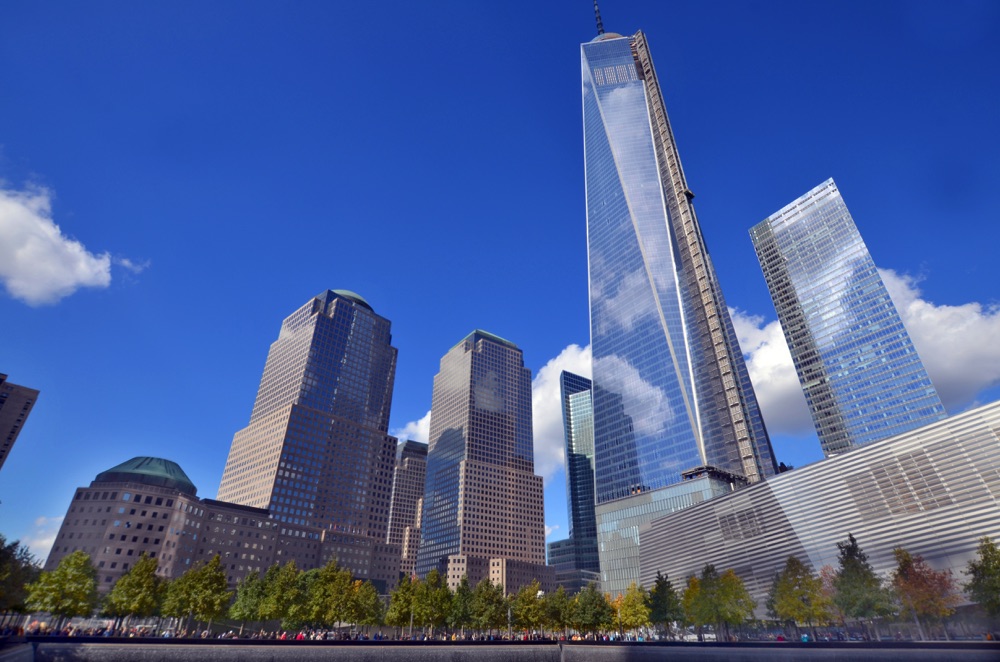 …SLEEP!
What To See Around Central Manhattan:
After a good sleep, hop on the subway at Wall St. Station heading uptown on the R-line ($2.50 – around 20 minutes) to 14th St. Station (Union Square) and get ready for another jam-packed few hours of sightseeing in New York.
Union Square: Sometimes there are events and farmer's markets here. Definitely check it out.
5th Ave: Another one of New York's most famous avenues, 5th Ave. has some beautiful architecture rooted in the Gilded Age, such as the Empire State Building, Rockefeller Center, St. Patrick's Cathedral, New York Public Library, Rizzoli, Saks Fifth Avenue, Flatiron Building, etc. Plus, many more shopping opportunities for those not on a strict budget!
Central Park: Follow Fifth Avenue north until you hit Central Park on your left-hand side. You won't have time to see much of this 3.41 km2  green space, but you'll be able to see the south end all the way to the fountain. When you reach the fountain, loop back around to the west side of the park and exit on Central Park West.
Columbus Circle: This is a beautiful roundabout to take a couple of photos before getting on the subway at the Columbus Circle Station. Take the A-C-E train downtown and get off at 59th St. Station.
The Chelsea Market & Neighbourhood: Get off the subway at 14th St. and head for the amazing Chelsea Market which is open Monday to Friday (7am – 9pm) and Sunday (8am – 9pm).
The High Line: My personal favourite part of New York City, the High Line is an abandoned railway track turned pedestrian walkway and garden. Benches, flowers, amphitheaters, grass, and foliage make this one of the most beautiful and romantic city walks. There are also plenty of dinner options around here and some snack stands on the High Line itself. Get off on 30th St and head east.
Madison Square Garden: Turn left on 7th Ave off of 30th St and head north. Almost immediately you'll see one of the world's most famous venues, Madison Square Garden.
Times Square: Continue northbound on 7th Ave and basically just follow the bright lights and camera-happy tourists until you reach Times Square. Take a few photos and try not to have a seizure amongst the flashing LED TV Screens that are the size of football fields. If you're looking to find mouthwatering barbecue in New York, stop in at Virgil's in Times Square.
Have Some Extra Time?
Why not go sailing? Consider a day sail around the waters of NYC. Check out companies like Sailo who offer many popular rentals for around 2 – 4 hours including sunset cruises overlooking Manhattan.
Once you've seen the city by foot and your legs are sore, you can relax on a sailboat and enjoy the view. They've also done plenty of trips that are organized bachelorette parties, as well as sightseeing trips around the bay.
All of their boats in NYC are rented with a licensed captain which is included in the price, so all you have to do is book a trip and then show up on the dock.
Time's Up!
By this point, your legs will be aching and your camera shutter finger will be twitching, but you'll have seen a lot of New York (well, only Manhattan actually).
Of course, you could go a whole different route and head into Brooklyn or check out the beautiful Staten Island area, but that's what is so great about New York City, you can explore it for months and still not see it all! Some of it will just have to wait until next time.
One important thing to note is that you'll want to make sure you have travel insurance for a trip to New York (and the USA as a whole).
Not only should you have insurance for anywhere in the world, but the cost of visiting a hospital in the USA is incredibly expensive. Enter your information below to get a free quote from World Nomads, a popular insurance company for travellers.
What did we miss? If you think it's possible to see more of New York in 24 hours, please share it with us in the comments below. If you think that it would be impossible to see all of this in 24 hours, tell us we're crazy!
Don't believe it's possible? Check out our fun, quick video of our 24 hours in New York City!
Some images in this article were sourced from Shutterstock.com.
Like This Article? Pin it!