No matter how "offtrack" a traveller you consider yourself to be, there are some places in the world that simply need to be seen — regardless of how touristy they are. Kyoto is one of those places. Our visit had us overwhelmed by tourists, yet blown away by the amazing things to do in Kyoto (and eat!).
Known for its traditional wooden homes, Buddhist temples, Shinto shrines, manicured gardens, and authentic Geishas, Kyoto is an ancient city that is worth spending some time exploring.
If you're wondering what to do in Kyoto, you've come to the right place. In this quick and easy guide, I'll share our top recommended sights, transportation options, the best restaurants and accommodations based on our 5 day stay in the city.
Things To Do in Kyoto
There are many things to do in Kyoto, including numerous ancient Buddhist shrines and temples. You'll be rushed if you try to visit them all, so pick and choose the ones that you think are the best. Here is a list of our top recommended sights and things to do in Kyoto.
Nishiki Market (Nishiki Ichiba)
This 400+ year old market is one of the must-see Kyoto attractions. The Nishiki Market is home to over 130 different shops, and at a length of around 400m, it's a great way to spend the afternoon. There are numerous shops here selling mostly food-related items — everything from cookware and specialty knives, to smoked duck and fresh fish.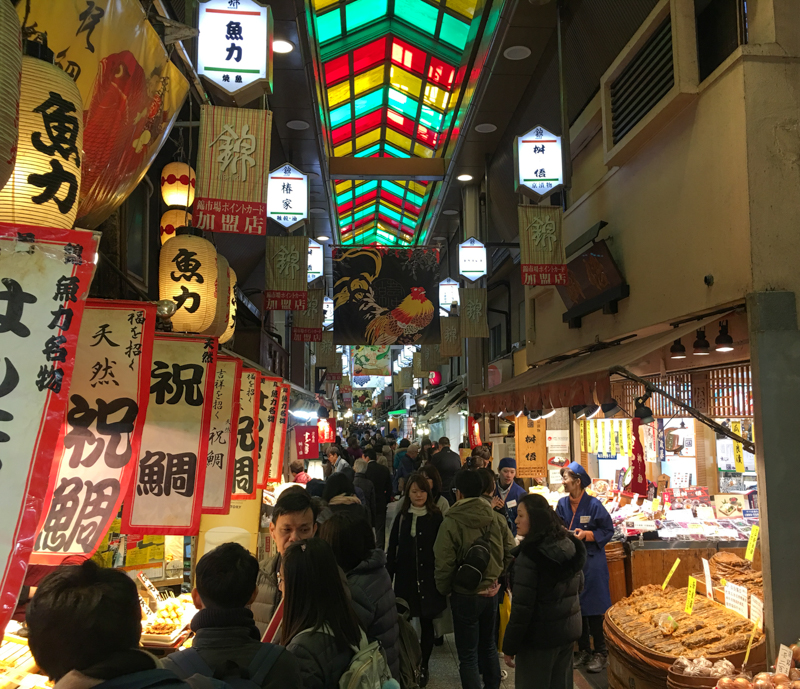 There are so many delicious foods on offer, with our favourites being yuba (tofu skin), soy doughnuts, hamo (daggertooth fish), fried fish cakes and smoked duck. We sampled so many other things and really enjoyed meeting the vendors and experiencing the market atmosphere. As a bonus, many of the sellers offer free tastings!
While this market can be visited independently, we joined the Kyoto FooDrink tour with Japan Wonder Travel and had a great time with fellow traveller and tour guide, Tatsuya.
Having him with us allowed us to learn more about the foods we were sampling (he could translate our questions to the vendors), and we learned a lot about Japanese culture and Japan as a country.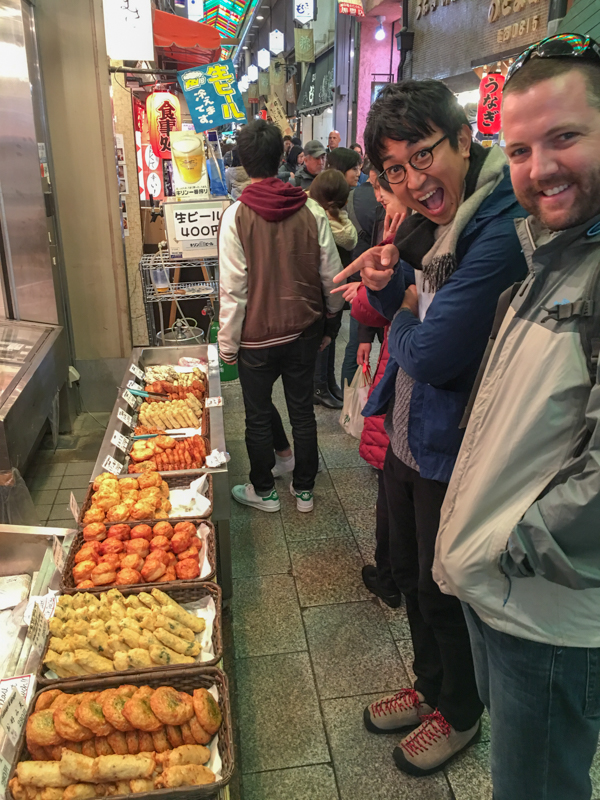 Regardless of how you visit the market, just make sure you do! To learn more about the market tour with Japan Wonder Travel, click here. A visit to this market is definitely one of the best things to do in Kyoto.
Nijō Castle
This was probably our favourite site in Kyoto. This UNESCO World Heritage Site was built in 1603 as the residence of Tokugawa Ieyasu – who was a shōgun (military dictator of Japan). The entire castle is surrounded by stone walls, while inside you'll find two circles of defence and pristine gardens.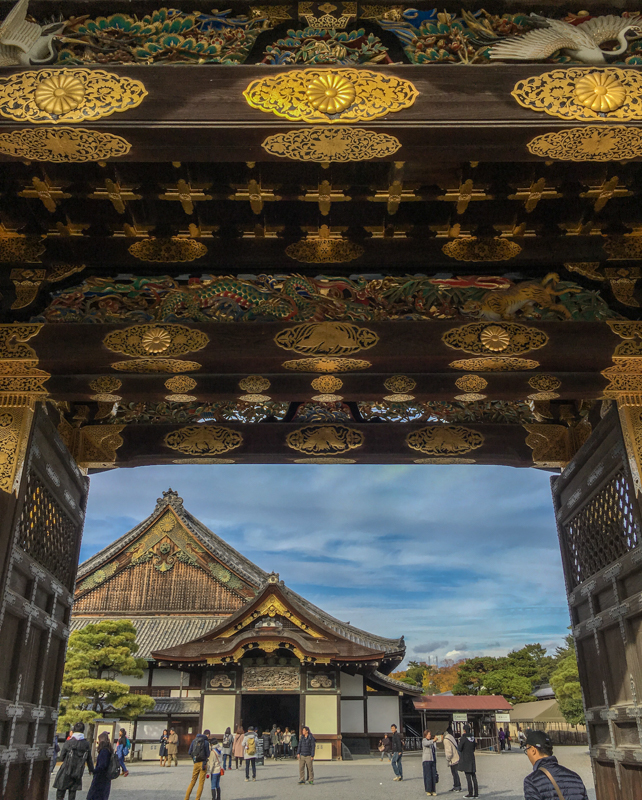 The carvings and details on the castle gates are beautiful and the wooden Ninomaru Palace is most definitely worth a visit. We spent a couple of hours here wandering around at a slow pace and enjoying the quiet gardens. The cost of entrance is 600 yen ($5.65).
Ryozen Kannon
Built in 1955, this large Goddess of Mercy statue isn't exactly an ancient site. But, it's still worth a visit. This war memorial was constructed to remember those who fell during the Pacific War in Eastern Kyoto. The statue sits at an impressive 24m high (80ft) and weighs in at 500 tons.
This isn't a huge site, but it's not as popular as the rest, making it one of the best things to do in Kyoto to escape the crowds. Make sure to wander behind the statue to see numerous little shrines, and go inside the statue as well to see around 10 or so Buddhas. Entrance costs 300 yen ($2.80), which includes incense sticks to make a prayer.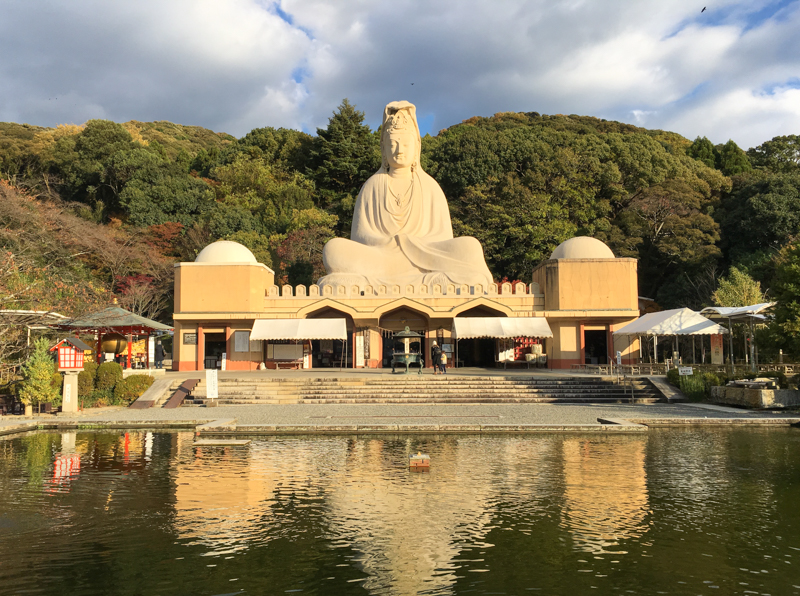 Gion District (one of the top things to do in Kyoto!)
This is the Geisha district in Kyoto and chances are, you'll find yourself wandering around here at some point during your trip to the city. In Kyoto, Geishas are actually called Geiko and if you're lucky, you'll see an authentic one. During our market tour with Japan Wonder Travel, we also walked through the Gion District and were incredibly lucky to spot a real Maiko (a Geisha in training).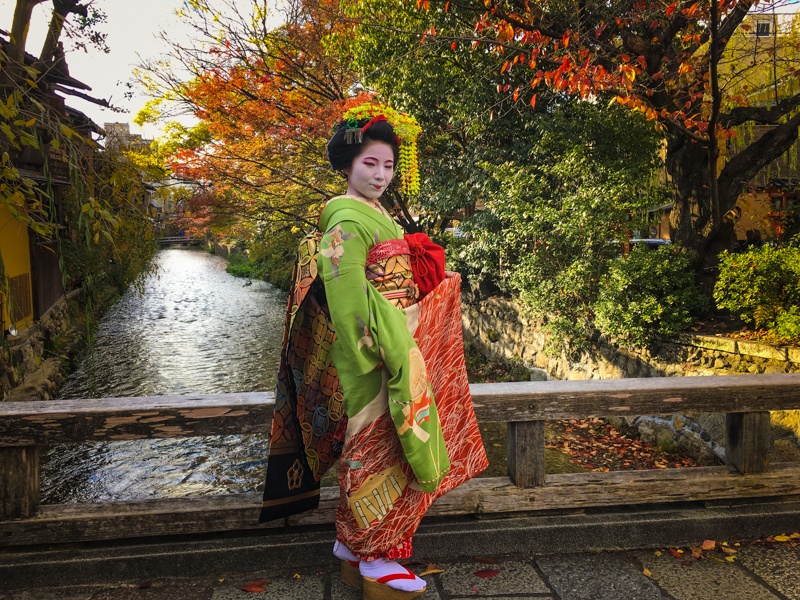 Gion is the entertainment district in the city and is one of the best places to visit in Kyoto. Don't miss the numerous temples, shrines, cafes, restaurants, teahouses and shops. Make sure to wander around Gion both during the day, and in the evening.
Golden Pavillion
Kinkaku-ji (Golden Pavillion) is one of the most popular things to do in Kyoto, and is one of the most popular attractions in Japan. When we visited, there were so many tourists, but apparently this is normal for here.
The history dates back to 1397 when it was a villa, before being turned into a zen temple in the early 1400's. Kinkaku-ji has been burned down numerous times, with the most recent being in 1950 when a disgruntled monk set it on fire before trying to kill himself.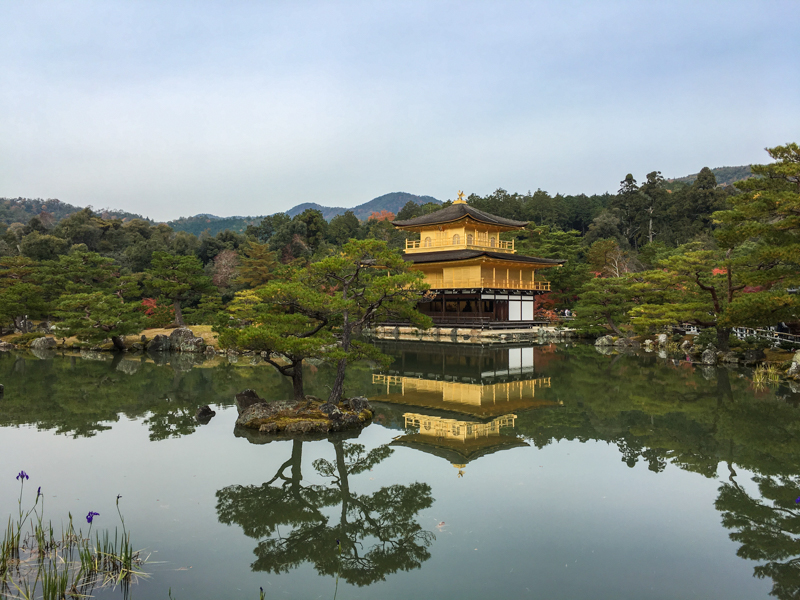 These days, the restored pavilion is a beautiful site to see. The top 2 floors are completely covered in gold leaf, with the ashes of Sakyamuni (the founder of Buddhism) said to be stored inside. Entrance is 400 yen ($3.75).
River Walk
If you're looking to get away from the traffic (both foot and vehicle), then make sure to wander along the banks of the Kamogawa River. Running along both sides of the riverbank are wide paths which are great for jogging, biking or walking.
Many people sit along the river as well and just enjoy the view. You'll also see lots of restaurants with balconies overhanging the water. This is a great place to stop in for a drink. The river is an excellent place to relax and you'll see both locals and tourists doing so.
Bamboo Forest
Even though we weren't overly impressed with the Bamboo Forest at Arashiyama, we had to put it on the list because it's incredibly popular with tourists and one of the top things to do in Kyoto. If you've seen bamboo before, you will probably be underwhelmed by this "forest", which to us felt a bit sparse. Unless you go before 8:00am, the short walkway lined with bamboo will be packed with people.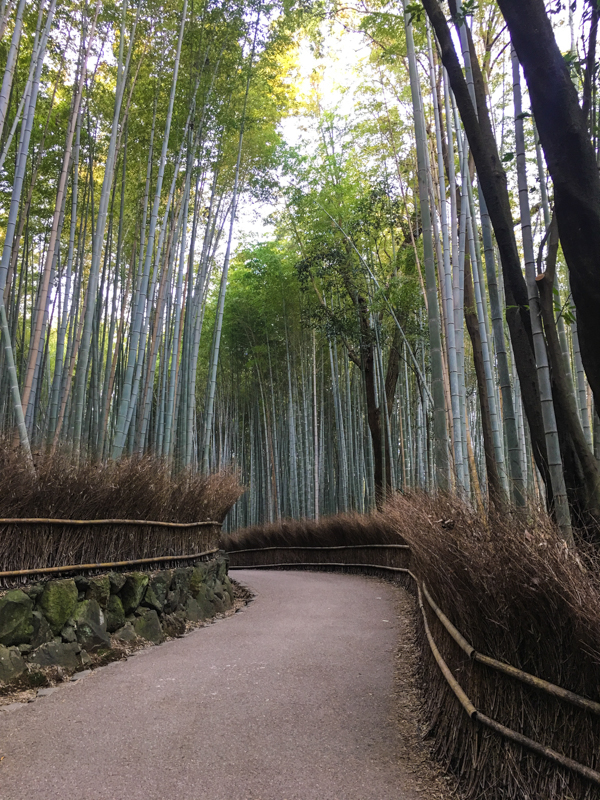 We arrived around 8:00am and were able to get a couple of photos without people in them, and enjoyed standing in the eerie silence. But, we weren't overly excited about the bamboo itself. Continuing on you can wander around the area which has some paths for walking and pretty gardens to explore.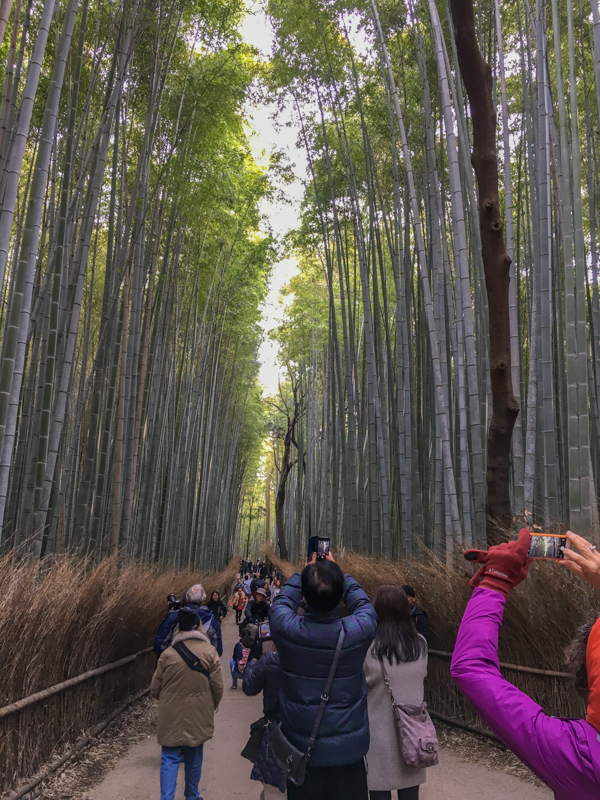 There are also some other temples nearby (Nisonin and Gioji), plus the popular % Arabica Coffee shop which is located right near the historical Togetsukyo Bridge and Ooi River. The coffee here is very good, but the wait times are long.
From the Kyoto Train Station, take the JR Train (Sagano Line) and get off at JR Saga-Arashiyama Station. The cost of a one-way ticket is 240 yen ($2.25) and it takes 15 minutes. We had JR Rail passes, which was great as it included this journey. Entrance to the Bamboo Forest is free.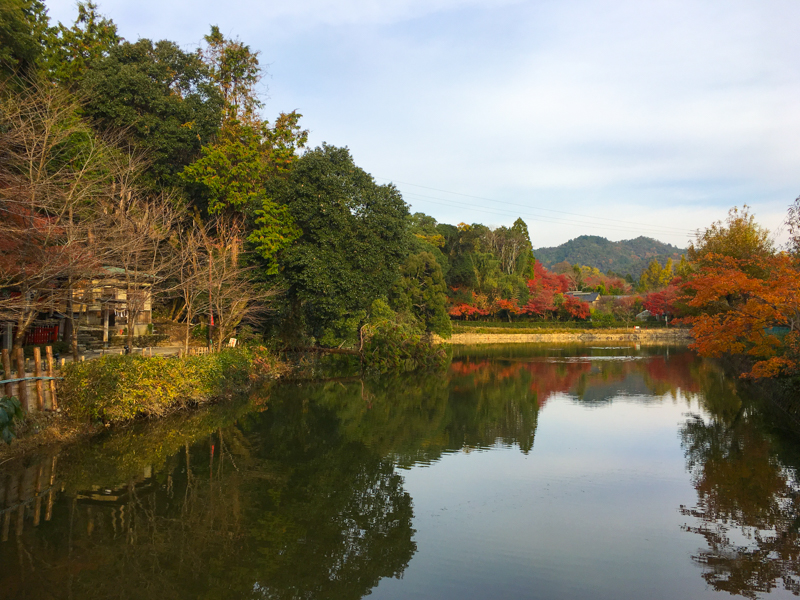 Fushimi Inari
This is one of the most visited, and most iconic attractions in Kyoto. This Shinto Shrine is completely packed with tourists, but is still most definitely worth the visit. If you arrive early, the crowds will be much less.
There are thousands of torii gates, which are used to mark the entrance to a shrine. The ones here are made of wood and are painted with orange and black. The reason most tourists visit Fushimi Inari is to climb up the many mountain paths for spectacular views. A return hike takes about 3 hours, but you're able to go back the way you came at any point. Entrance here is free.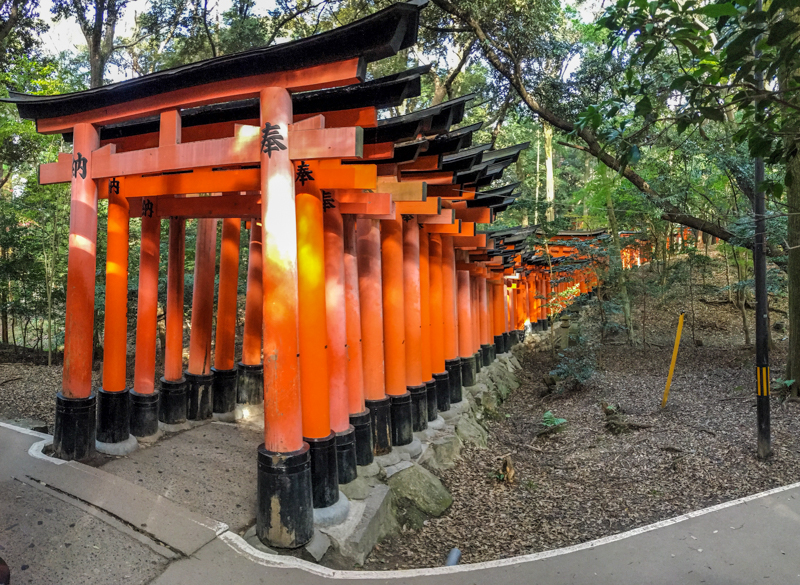 Other Things To Do in Kyoto
There are an endless amount of temples, shrines, gardens, sites, restaurants, etc. to see in Kyoto. And, with just 5 days, you won't be able to experience them all. Here are a few other things you should try to see and do during your trip:
Kiyomizu-dera Temple, Arashiyama neighbourhood, Enryaku-ji complex and Eikan-dō (best during the autumn foliage, although entrance fees skyrocket to 1000 yen, $9.40). We also recommend renting a bicycle and exploring the various neighbourhoods on 2 wheels. This is a great and inexpensive way to get around. We rented our bikes from our hostel for 500 yen ($4.68) each for 24 hours.
☞ See Also: What to Do in Tokyo – 11 Things You Can't Miss
Where To Stay in Kyoto
Kyoto is an easy city to navigate, either by bicycle, foot, train or bus. If you want to be in the center of it all, the downtown area is where you'll want to stay. Here you'll be within walking distance to numerous bars and restaurants, plus the popular sightseeing areas of Southern Higashiyama and Northern Higashiyama.
If you base yourself in Southern Higashiyama, you'll be near Kyoto's famous sights and the Gion neighbourhood, which is a great place to wander around.
Kyoto is a very popular destination year-round, but especially during the Cherry Blossom season (Sakura) which usually runs from the last week of March into the first 2 weeks of April. Autumn is another popular time due to the foliage changing colour. This happens sometime in October and runs through to December, with the peak period being around the middle of November.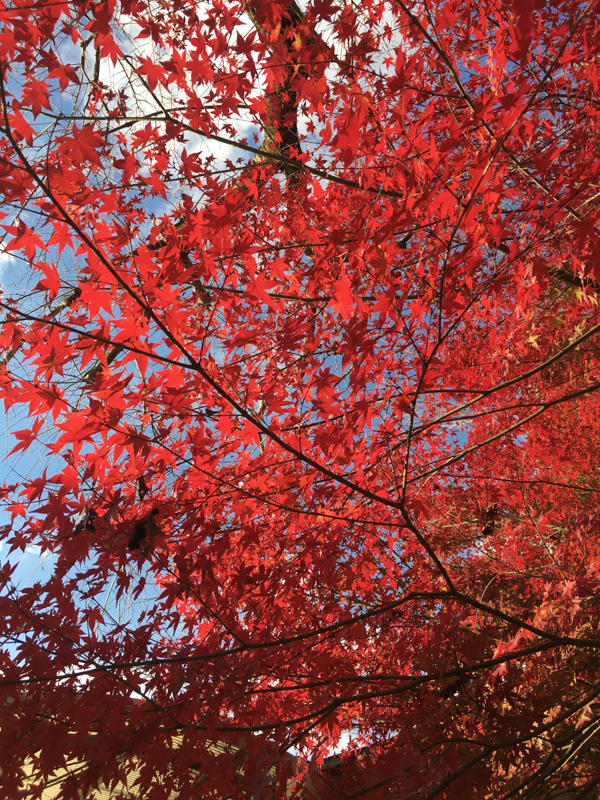 Make sure you book your accommodation well in advance if you plan to visit during those seasons. We visited at the peak in November and the hotel options were seriously lacking. Thankfully, there was 1 room available at a highly rated hostel.
We stayed at Piece Hostel Kyoto, which is near the main train station (Kyoto Station), and I highly recommend the hostel and the area. We cycled or walked to the main sights, and to get to the popular Bamboo Forest and Fushimi Inari, we were able to walk to the train station within minutes.
In Japan, everything is clean, including this hostel. It was spotless. The private rooms are small but adequate, and the shared bathrooms and showers are constantly cleaned. They have different social nights where you can make food as a group, laundry machines are available for use, and they offer bicycles for rent. Plus, the staff were on point and were able to answer all of our questions. It's a great spot.
☞ For all other accommodations in Kyoto, click here to see reviews and compare prices on Booking.com.
Where To Eat in Kyoto
In Kyoto, there are over 13,000 restaurants registered on TripAdvisor. Needless to say, you'll never be far from food during your stay — and since eating is one of the top things to do in Kyoto, this is a good thing! Here are some of the top rated restaurants, plus, our personal favourites.
Kyo Chabana
Have you tried Okonomikyaki? It's a savoury pancake, made how you like it, and then grilled. The ingredients used depends on the region of Japan you're in.
At Kyo Chabana, you can choose between beef, pork, squid, shrimp or grated yam. Make sure to sit at the bottom level of the restaurant around the grill to watch the cook create your meal. He's a very friendly guy and likes to chat with the guests…with a beer in hand! Click here for directions.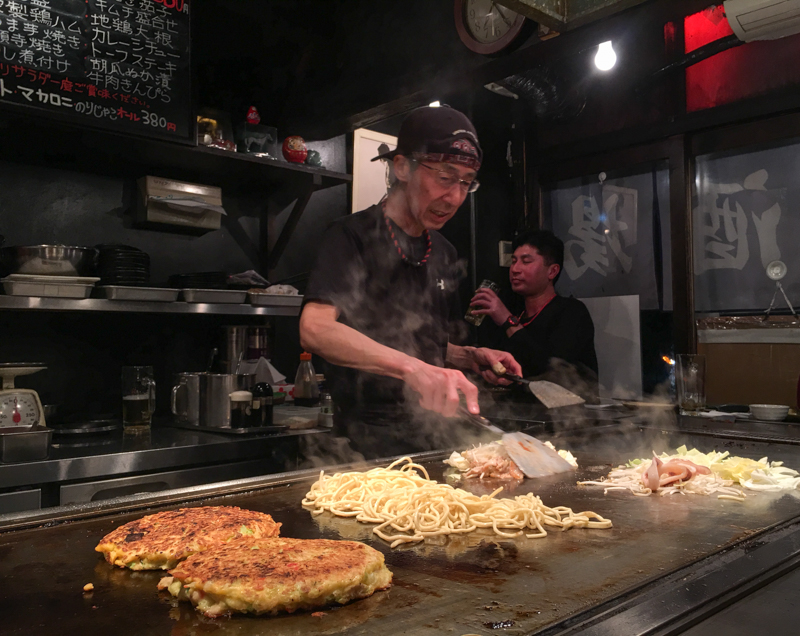 Arash's Kitchen
If you're a bit tired of Japanese food and are looking for a change, check out this Iranian / Turkish / Indian restaurant. Having travelled to these countries in the past, we were a bit skeptical about how authentic the food would be and how it would taste, but we were pleasantly surprised. The owner is Iranian and he imports many of the traditional ingredients needed to make the dishes. The lunch specials are great, and there are numerous options for dinner. Don't miss it. Click here for directions.
Menya-Iroha Kyoto Station
This is one of the many restaurants found on Ramen Street in the Kyoto Train Station. The station is really hard to navigate, but if you can make it to the 10th floor, you'll be able to find this "street". When in doubt, find the outdoor amphitheater area and take the escalator up to the 10th floor.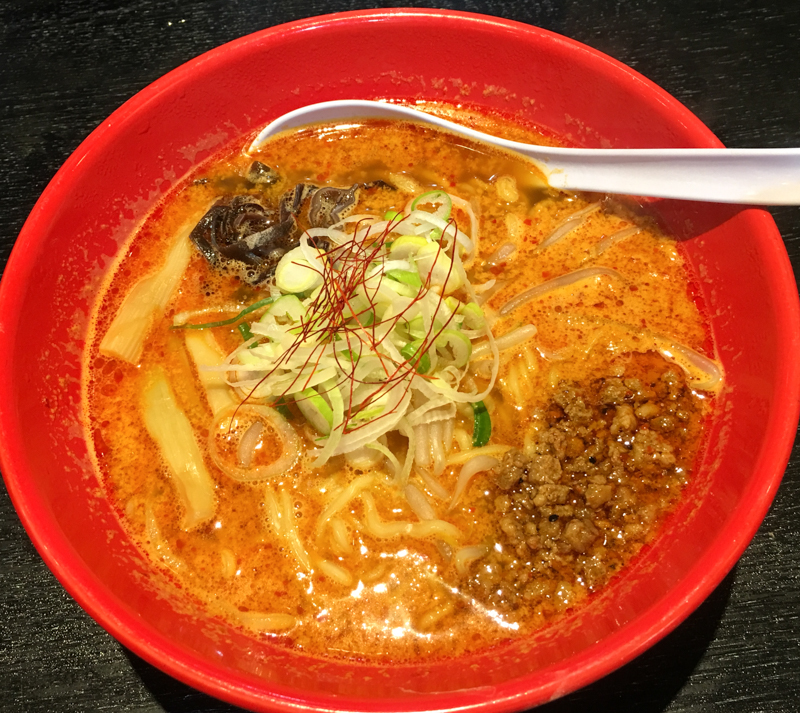 Menya-Iroha has won ramen awards in the past, and although we're not ramen connoisseurs, we really enjoyed the spicy ramen bowls here. It wasn't often that we came across spicy foods in Japan, so this was a nice change. Ramen bowls with a side of gyoza are around 1000 yen ($9.40). Click here for directions.
Musashi Sushi
If you're looking for good quality, no frills, affordable sushi, then definitely try this restaurant. It's a conveyor belt style sushi place, which is always busy. When we visited, the fish was fresh and the options were very diverse. At 146 yen ($1.40) for 2 pieces of nigiri, it was a pretty good deal. Click here for directions.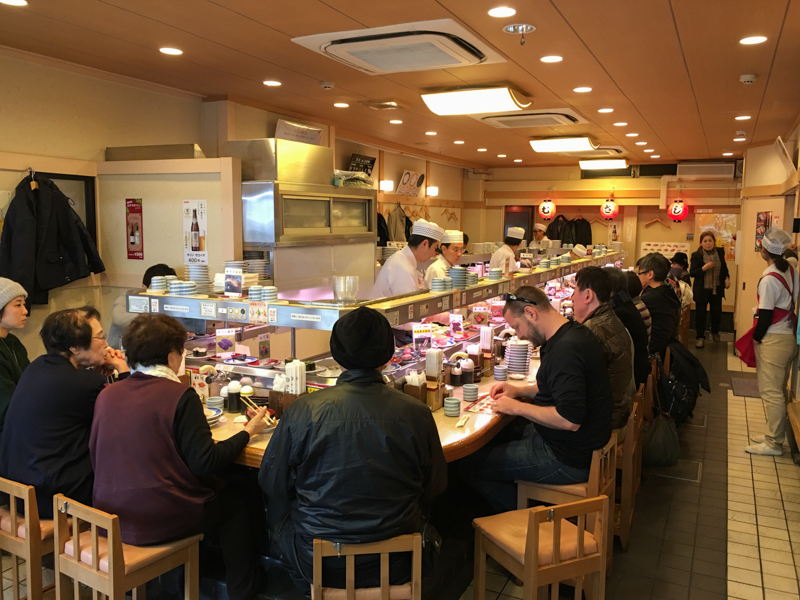 Vermillion Espresso Bar
This cafe is actually near Fushimi Inari rather than Kyoto, making it an excellent stop after you see the famous Fushimi Inari Shrine. The coffee is very tasty and affordable. Hot lattes go for 400 yen ($3.75) each. Click here for directions.
Gyoza no Ohsho
This is a fusion of Chinese and Japanese food, but if you're looking for a cheap and tasty meal, this is the spot. The pork dumplings (gyoza) are delicious, and at 700 yen ($6.60) for 18 dumplings, it's very affordable. Click here for directions.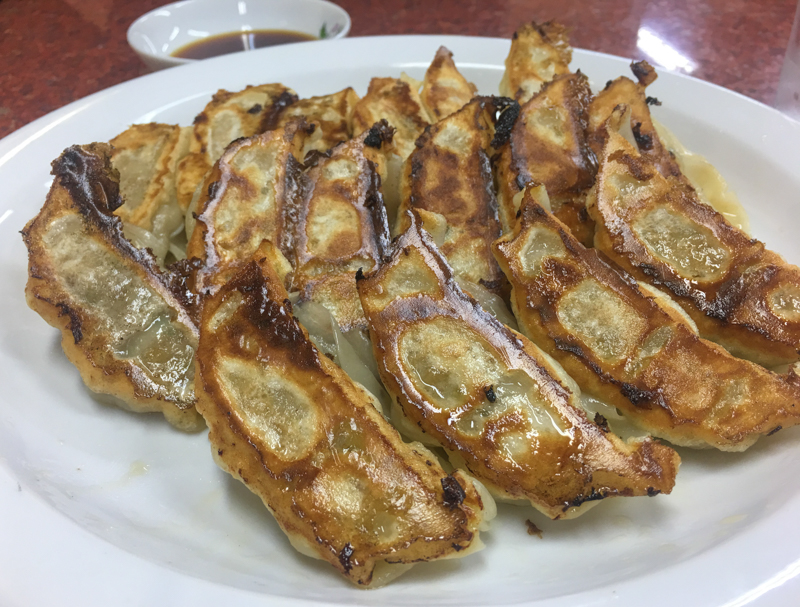 Other Highly Rated Restaurants in Kyoto
As I said, there are numerous places to eat in Kyoto. Apart from the ones I listed above, make sure to eat at the Nishiki Market and at an Izakaya (Japanese pub) of your choice.
Plus, here are a few more top rated restaurants in Kyoto: Sushi Naritaya (Sushi), Restaurant Matsukiya (Japanese Steakhouse), Teppan Tavern Tenamonya (Izakaya) and Chao Chao Sanjo Kiyamachi (gyoza).
Transportation in Kyoto
When trying to figure out what to do in Kyoto, you won't need to worry about the transport to get there. The city is easy to navigate. Because the city is so flat, our preferred way to get around was by foot and by bicycle. However, if you need to cover a lot of ground, the options are taxi, subway, train or bus.
Bus
Buses can be crowded and slow going depending on traffic. Plus, they are often full. Within the city, the green bus is the most useful, while the outlying places to visit in Kyoto can be visited by using the red bus.
The bus system can be a bit difficult to navigate, but thankfully, there are usually attendants at the stations who can direct you to the correct bus. You'll enter the bus through the back door, and pay when you leave at the front. There's a flat rate of 230 yen ($2.15) per journey.
Subway
There are 2 subway lines in Kyoto. The Karasuma Line runs from south to north along Karasuma-dori (Karasuma Street) and it makes a stop at the JR Kyoto Station. The other subway line is the Tozai Line which runs from east to west, crossing the Karasuma Line at the intersection of Karasuma-dori and Oike-dori. The cost of a subway journey in Kyoto is between 210 – 340 yen ($1.95 – $3.18).
Taxi
Taxis are a good way to get around and can be economical if there are a group of you (up to 4 people). The fare starts at 650 yen ($6.10) and goes up in increments of 80 yen ($0.75) for every additional 400 meters.
Train
The main train line is useful for getting to the surrounding places, such as Fushimi Inari and Arashiyama.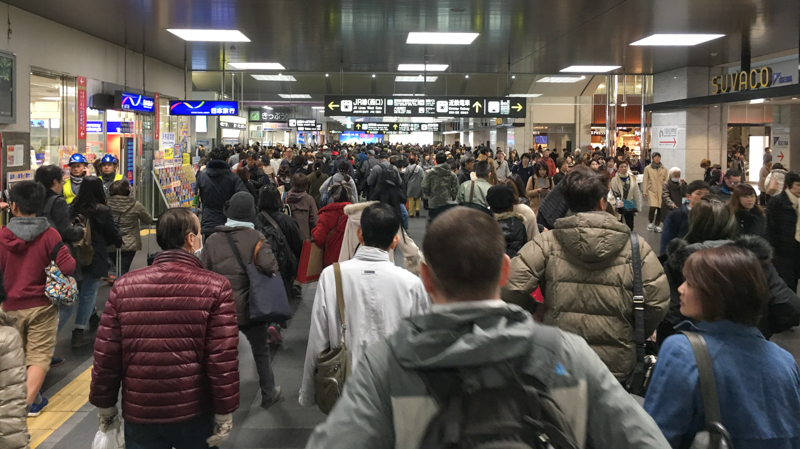 Transportation Passes
If you plan to spend a few days enjoying all the things to do in Kyoto, there are some transportation passes that you might want to consider purchasing.
ICOCA IC Card
This is like the Oyster card in London or the Octopus card in Hong Kong. You don't receive any discounts, but taking transportation is much easier because you don't need to worry about having exact change for each trip. You simply scan the card and go.
Also, this means you don't need to calculate how much money to deposit into the subway ticket machine for your journey – something we always struggled with. Finally, this card can be used at vending machines and some shops to purchase drinks and food. You can purchase the cards at the JR Stations.
Kansai One Pass: It's like a ICOCA card, but it's exclusively for foreign tourists and includes discounts on sites in the Kansai Region (Kyoto, Osaka, Kobe and Nara).
Kyoto Sightseeing Card: This card provides you with unlimited use of the buses and subways in Kyoto – including the outskirts of Arashiyama, Takao and Ohara. You'll also receive discounts on some sites. This card is useful if you plan to do a lot of travelling. You can purchase a card that is valid for 1 or 2 days (the 2 day card must be used on consecutive days). The card costs 900 yen ($8.40) for 1 day and 1,700 yen ($15.90) for 2 days. You can pick up the Kyoto Sightseeing Card at ticket machines in subway stations, at some hotels, and at bus ticket centers.
Kyoto Subway One Day Card: This card will give you unlimited rides on the subway for 1 day. If you use the subway 3 or more times in 1 day, the card will pay itself off. You can purchase this One Day Card at the subway stations for a cost of 600 yen ($5.60).
Kyoto One Day Bus Card: This card will give you unlimited rides on the busses in and around Kyoto for 1 day. This includes the Kyoto City Bus, the Kyoto Buses in Central Kyoto and Arashiyama. This card does not cover Ohara and Takao. If you plan to take the bus for 3 or more times in 1 day, this card will pay itself off. You can purchase the One Day Bus Card from bus drivers, at subway ticket counters, and at bus ticket counters. The cost is 600 yen ($5.60).
We spent 4 nights in Kyoto (5 days) and didn't find the passes to be beneficial for us. We only took the bus or the subway once per day, and the rest of the time we walked or rode our bicycles. When we visited Arashiyama and Fushimi Inari, we used our JR Rail Passes. Plan the things you want to do in Kyoto first and then decide if purchasing a transport pass is right for you.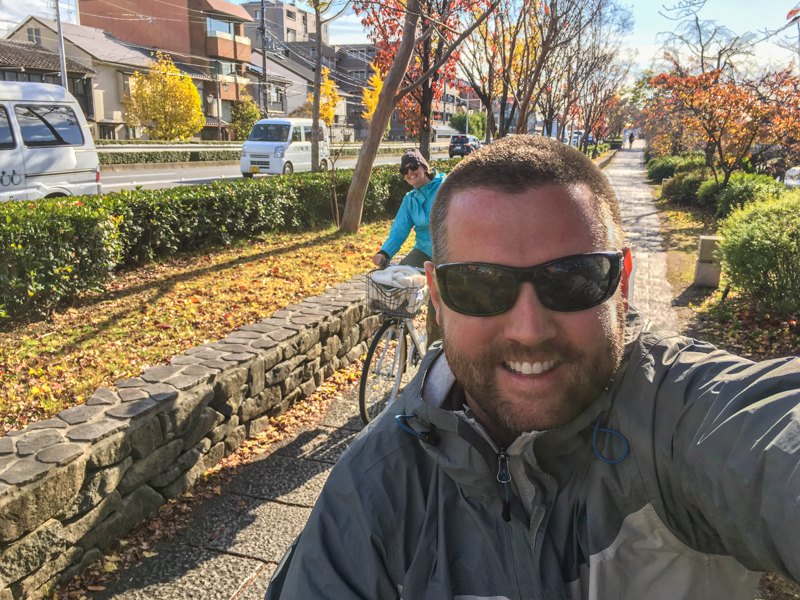 Ready To Explore All The Things To Do in Kyoto?!
Kyoto is a city that surprised us both with its beauty, and its popularity. I wouldn't recommend having less than 4 nights in the city as there are so many things to see and do — we barely scratched the surface during our trip.
Even though the residents of Kyoto see tourists descending on their beautiful city year-round, we felt that they were friendly and welcoming, and most importantly, they were willing to help us out and answer questions we had. Hopefully this guide helped you plan your trip to Kyoto, and decide what to do in the city. Happy travels!
Like This Article? Pin it!