Eating is an elemental part of travel that connects us firsthand back to whatever part of the earth we may be visiting. It's a reminder three or more times a day about where we come from and what powers us to explore the world, as well as a direct connection to the particular place we've travelled to.
I recently enjoyed a weekend summer vacation in beautiful New Hampshire and while I was there, I sampled a lot of delicious foods and ate at many great restaurants. I think it's one of those underrated places in the US  when it comes to food.
I chose to do a road trip from Vermont, but if you don't have a car, or if you prefer to travel by bus and train, you can check out GoTicket.io for lovely transport routes all over the US, including many that pass through the pristine state of New Hampshire.
In New Hampshire, I was inspired to see how many local, fresh ingredients were available! Food is such an important lens to understanding a place.
How food is both presented and consumed reveals a lot about a destination's traditions and customs. When we eat food that is locally grown, it's also a way of tapping directly into the local economy and culture.
Meredith is a small town, but it has a vibrant food scene and people here are passionate about what they put on their plate. Here are a few of my favourite places from my travels around the town Meredith. May you eat well and be nourished, wherever you go.
Where to Eat Breakfast in Meredith:
Sunshine Pa's
This place is a local gem. It's the kind of place you walk inside and you can just feel how much the locals love it here, not to mention all of the visitors that inevitably come through their doors. It's reasonably priced and breakfast starts for as little as just a few dollars.
You probably couldn't spend more than ten dollars, even if you were trying really hard to.
During my visit, the servers were all super friendly and smiley and they seemed relaxed and happy, which in my opinion, is the greatest judge of any business.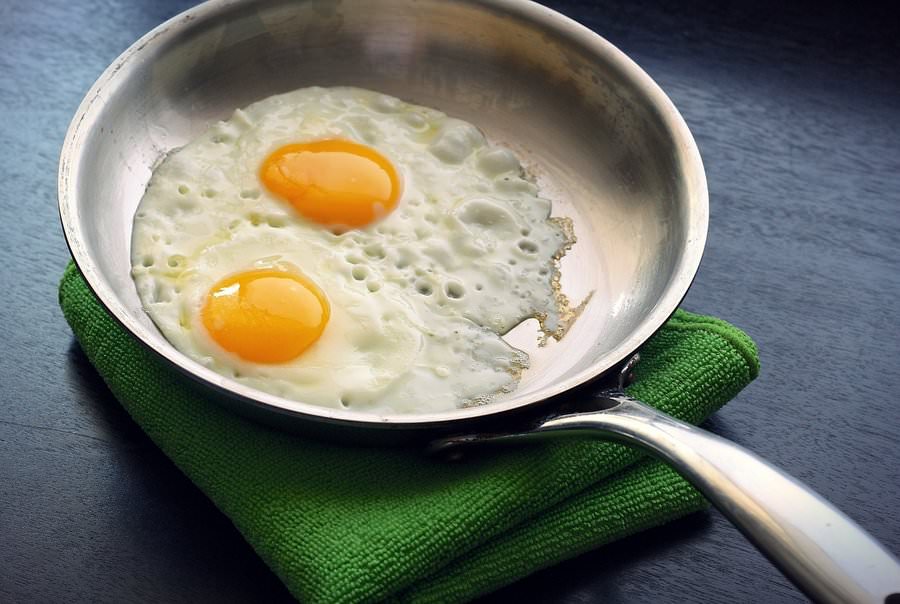 Sunshine Pa's offers your typical breakfast / diner fare: eggs, pancakes, waffles, etc. The coffee was just okay, so I'd definitely recommend going for espresso or a latte if strong coffee is really important to you.
Address: 11 Main St, Meredith
Phone: +1 603-279-5280
Waterfall Café
The Waterfall Café is located inside the Inn at Mills' Fall Marketplace. It's a little more polished of an atmosphere, but the servers are also very friendly and the waitress even offered some suggestions on local hikes in the area. People tend to be friendly, so just reach out and ask if you have any questions.
The menu offering was similar. They serve breakfast and lunch and they're only open until 2:00 in the afternoon.
Address: The Inn at Mill Falls, 312 Daniel Webster Hwy, Meredith
Phone: +1 603-677-8631
Where to Eat Lunch in Meredith:
Lakeside Deli and Grille
This is another local favourite. They have all kinds of sandwich offerings as well as some salads.
The salad was fresh and filling. I didn't find it particularly original, but sometimes that's best when it comes to a classic sandwich place. They have indoor and outdoor seating, plus tons of local beers on tap if you come here later in the day, perhaps after a hike or an outdoor excursion?
If you come here on a nice day, you can take advantage of the lake view from their porch or picnic table seating area on the front lawn.
Address: NH-25, Meredith
Phone: +1 603-677-7132
Hakuna Mata Café
This café and lounge is also right in the center of town. As you may be realizing by now, nothing is very far in Meredith.
They focus on offering organic and locally sourced food in their recipes.
I had a Buddha Bowl which consisted of a brown rice base, topped with kale (they were out of zucchini noodles), slivered carrots, diced tomatoes, and a ginger dressing.
They have a few different "Soul Bowls" plus wraps and an espresso bar. I would go here again for the good vibes and free wifi if you need to get connected. There's also a nice front porch area where you can people watch on a warm day.
Where to Eat Dinner in Meredith:
Local Eatery Laconia
I had to make about a 15 minute drive for this place, but it was well-worth the visit to the neighbouring town of Laconia. The local eatery focuses on delivering farm-fresh food straight from local farms as part of the farm to table movement that has been steadily growing in the north-east.
It first opened in 2007 and has been growing ever since. They were busy even on a Tuesday which is a testament to how popular they've become. Call ahead for reservations, especially if you're there over the weekend.
I had a flavorful noodle bowl. Plus the noodles are all made in-house. They change their menu every two weeks, keeping everything in-season.
Address: 21 Veterans Square, Laconia
Phone: +1 603-527-8007
Giuseppe's Pizzeria-Ristorante
Giuseppe's is a lively place and they have local musicians performing practically every night. The food is home style Italian and the portions are huge, even by American standards.
I ordered the entrée special which was an incredibly rich shrimp risotto topped with feta cheese. It was an original take on a classic Italian dish. They also have a variety of pizzas in different sizes, as well as your typical pasta plates.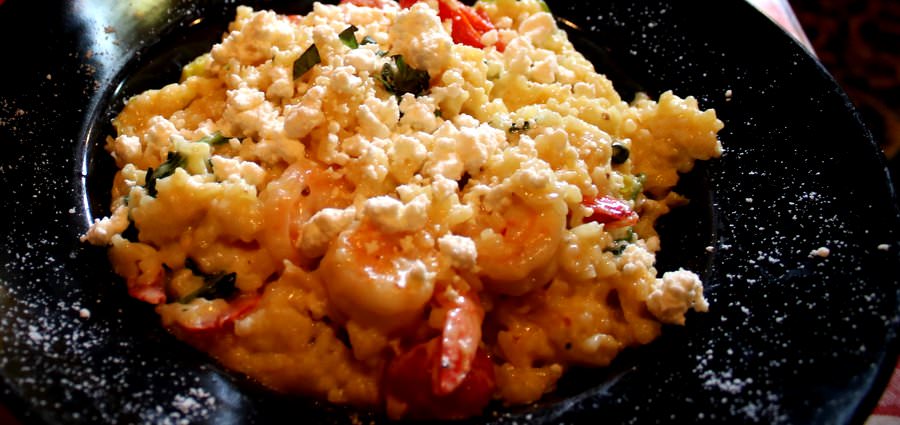 Address: 312 Daniel Webster Hwy, Meredith
Phone: +1 603-279-3313
Where to Go For a Drink in Meredith:
Hermit Woods Winery
Hermit Woods is a special place in Meredith. The space they've opened up for wine tastings is airy and brightly lit, showcasing all of their unique local wines.
Ken, one of the owners, talked to me about the story of the place and how he had worked with two of his buddies to create original and extremely local wines out of a unique combination of ingredients found in the surrounding woods.
Ken with two of his friends had always loved brewing beer, but eventually started making wines as well. From the beginning, they've only used fresh, local, hand-picked ingredients like blueberries, elderberries and rose hips, or even crab apples they had happened upon (which was how they finally made one of their most popular wines, the 2015 Heirloom Crabapple).
New Hampshire's climate is too cold for grapes to grow, so fruit wines are the natural alternative.
They had grown their home operation to its capacity, so finally the three of them decided that opening a winery would be the best way to keep their marriages intact, and their operation fully legal.
Info: $20 for a tasting and tour. Tours are available on the weekend, on the hour, every hour from 11-5. You can walk in for a tasting any time they're open.
Address: 72 Main St, Meredith
Phone: +1 603-253-7968
If you're looking for a great meal in Meredith, there are endless restaurants and small eateries to choose from. New Hampshire has a vibrant food scene and there is an emphasis on eating local and in season produce. Enjoy!
Author's Bio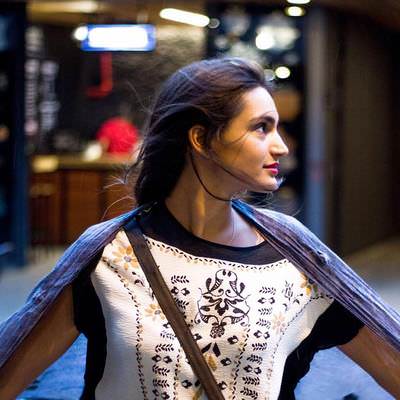 Amanda Gokee is a freelance writer currently living in Mexico City, Mexico. She graduated from Harvard University in 2014 with a degree in Romance Language and Literature and since then she's been on the road, from the mountainous wilderness of California, to the south of France and across Mexico. You can follow her journey on her website www.inklingafar.com or on Instagram @inklingafar.
Like This Article? Pin it!