There are many budget hostels, bungalows, hotels & guesthouses in El Nido. Figuring out where to stay if you're on a budget is easy. We looked at quite a few places during our trip to El Nido and ended up at Cliffside Cottages. This place isn't located on the beach, but about 5 minutes walk from the beach in a great location beneath towering limestone karsts.
We stayed there during 2012, but now there are many more options available for El Nido. Here's our list of where to stay in El Nido 🙂
If you would rather book an apartment or stay with a host on Airbnb, why not get an Airbnb discount while you're at it? Make sure you use our special $25 Airbnb Coupon Code and save money!
Cliffside Cottages
Rizal St. El Nido Telephone: +63 (0) 9197856625
Room Info/Costs:
When we were here, during Easter, the cost of a double cottage was 600p. In the quieter months, the cost should be between 400p and 500p.  The cottages are beautiful and very clean.  Each has a private bathroom, fan, a lower balcony with stairs to an upper balcony, 2 outdoor sitting areas and a clothesline.
The cottages are set in a nice garden backed by massive karst cliffs.  The family that owns the place are really friendly, constantly cleaning the communal area and each cottage.  Each morning they will provide you with a flask of hot water with 2 mugs…perfect for making your own instant coffees, instant noodles or oatmeal for breakfast.
Pros:  good backpacker price, great location, clean, large, screens on all of the windows, great extras (sitting areas, clothesline, hot water, etc.), amazing staff that will treat you like family.
Cons: no toilet seat on the toilet! Small'ish rooms and not directly on the beach.
Novie's Tourist Inn
Sitio Lugadia, Corong
This place has all the amenities a traveller could need or want. Wi-FI, a safe, 24 hour reception, parking, laundry service, room service, and more.
The rooms at the inn have ceiling fans, private bathroom and mosquito nets. There's also an in-house restaurant serving up food to the guest.
Click here to see reviews and pictures, and to book a room at Novie's Tourist Inn!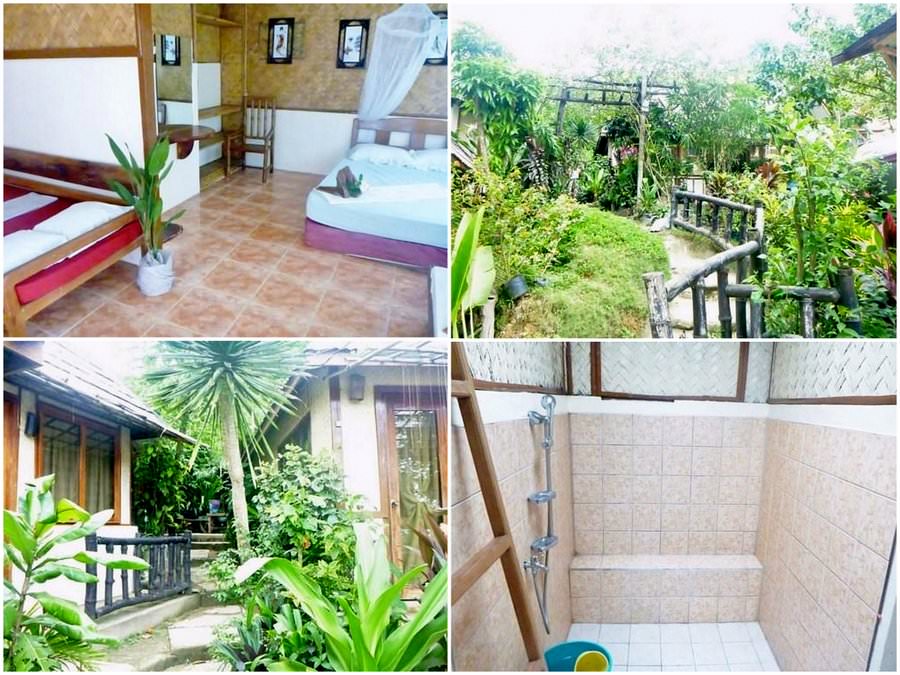 Click here to find budget accommodation in El Nido, and Click Here to have a look at guesthouses and hotels!
Enjoy your stay in El Nido!
[widget id="text-83″]
Want more El Nido information? Check these out: 
Going To & Coming From EL NIDO
BUDGET BACKPACKING GUIDE TO THE PHILIPPINES