There are a plethora of choices when it comes to finding a place to stay in Bangkok. Dorms, guesthouses, hotels and hostels line the streets around the Koh San Road area.  We've stayed in many places and we have found this one to be affordable and the cleanest:
Sawasdee Smile Inn
Khaosan Rd.
Phone: +66022560890
Email: [email protected]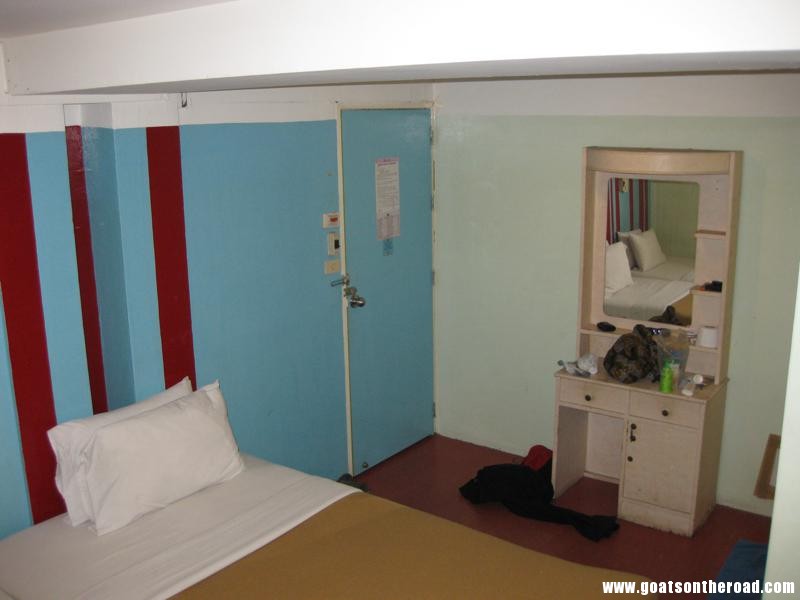 Room Info/Costs:
Check booking.com or hostelworld.com first before calling and booking a room.  We booked online and were able to get a double room with a/c, tv, bathroom inside & American breakfast for 589THB.  The staff at the front desk are very helpful and there is also free wi-fi in the open air restaurant.  The travel agency located in the restaurant can arrange bus/boat combination tickets to anywhere and we found their prices to be the best.
Sawasdee Smile Inn is located in a quieter area just off of Khao San Road.  Restaurants, ATMs, souvenir shops, guesthouses and bars are plentiful.
To get to Khao San Road from this guesthouse, turn right out of the guesthouse, towards the Muay Thai Boxing Center.  Walk straight all the way to the end of the street and you will see a sign "Khao San Road shortcut this way".  Walk up the stairs into the back door of an Israeli restaurant.  Once inside, go down the stairs and out the front side of the Restaurant.  Straight across the street is Khao San Road.
Pros: clean room, helpful staff, good breakfast, free wi-fi, great location.
Cons: rooms facing the street can be a bit loud at night, food at the restaurant is pricey.
KOH PHANGAN FOR BUDGET BACKPACKERS