Take a look at Bali on a world map, and you'd be forgiven for assuming it's a small island. It's only a fraction of the size of neighboring Java, after all. Upon arriving there, however, you may be surprised to find out just how big Bali is. In this guide, I'll help you figure out where to stay in Bali — no matter your travel style.
The Island of the Gods covers 2,230 square miles (5,780 square km) and is home to over 4 million people. In addition to the beaches, there are a handful of large volcanoes and lakes here. There are even three smaller islands off the southeast coast that are technically part of Bali. With so much going on, it can be a challenge to figure out the best places to stay in Bali.
I've learned a lot about Bali since my first trip many years ago. I fell in love with the island (as many people do) and returned to explore more of the off-the-beaten-path areas. Even that wasn't enough, so I joined the Darmasiswa Program and moved there for a year to study Indonesian language and culture.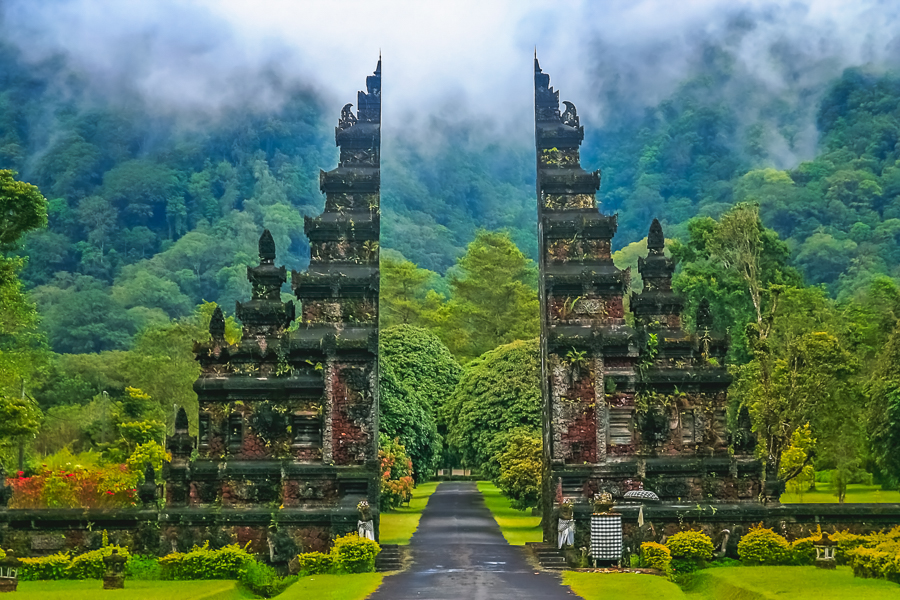 In this guide, I'll introduce the best places to stay in Bali, breaking it down by region of the island and different categories. Whether you're looking for a relaxing beach vacation, the best places to surf, somewhere to get your zen on, or the party hotspots, I'll point you in the right direction.
Check out this complete list of where to stay in Bali and start planning your trip!
Where To Stay in South Bali
Let's start with the area that most travelers visit and explore. Home to several beaches – some good for surfing and others for swimming – this is where people flock for a bit of sun & sand.
Here you'll find the chaotic capital of the island, Denpasar. While this is the name of the airport you'll fly into, it's actually located south of the city proper in Kuta. As you might expect, this is far and away the most developed and touristy part of the island.
Generally speaking, it's a bit wilder on the west side of South Bali and calmer on the east. The west side is where you'll find the waves and therefore, the surfing crowd. This is also where beachside bars vie for your attention (and Rupiah) to take in the sunset. Once darkness falls, the party gets going at the many clubs.
The western side of the southern part of Bali is also home to Canggu, a digital nomad hotspot full of coworking spaces and cafes. If you're curious about digital nomad life in Bali, check out this post on living in Canggu.
Over on the east side, you've got the expat and retiree hub of Sanur. It's a bit slower over here, leading some to refer to the area as "Snore". The water is calm over here and so is life. You're more likely to run into a traditional Balinese procession than a group of hard-partying backpackers here.
But wait, there's more! Head south of the airport and you'll find yourself on the Bukit Peninsula. This rugged and rocky area is home to some of Bali's most stunning beaches, some of which can only be reached by steep staircases. You'll also find the gnarliest waves on the island down here at Uluwatu.
Finally, there's a trio of smaller islands off the coast. Known collectively as the Nusa Islands, these are: Lembongan, Ceningan, and Penida. Reached by a short ferry ride from the main island, these make for a great base if you plan to spend most of your time in Bali underwater.
Here's a rundown of the different parts of South Bali and what they're known for. Hopefully these descriptions help you figure out where to stay in Bali for your trip.
Where to Stay in South Bali for Surfing
Grab your surfboard and hit one of these fun beach towns.
Canggu
Bali is well-known as a surfing destination, and one of the best places to carve up some waves is Canggu. There are a few different beaches to choose from in this area, with Echo Beach being a popular spot for intermediate/pro surfers. It's easy to find boards for rent at many places on the beach and there are a few surf schools if you need some guidance.
After a big day of surfing, you can catch one more waves at sunset and ride it right into the party at Old Man's. This beachfront bar and restaurant is always hopping and is the perfect place to unwind after a big day in the water.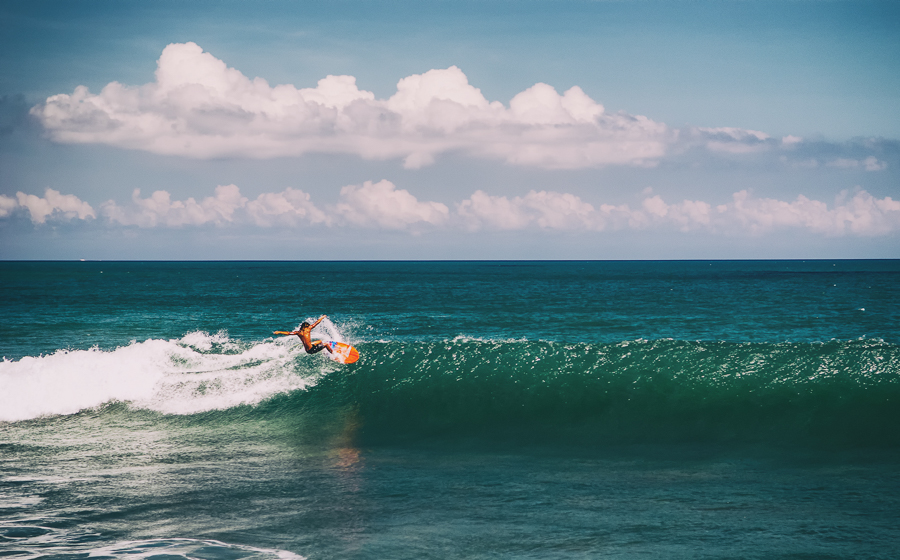 If you're a surfer that also works remotely, you'll be happy to hear that Canggu is also a digital nomad hotspot. It's definitely one of the best places to stay in Bali if you're working online, and one of the top places to visit in Bali.
Here are a couple of top places to stay in Canggu:
Uluwatu
One of the most legendary surfing spots in Bali is Uluwatu. Located at the far south end of the Bukit Peninsula, you have to work for the waves here. First of all, you'll need to carry your board down a steep flight of stairs, but it's worth it when you get to ride some seriously epic barrels here.
After surfing, you can post up at one of the cliff-side warung here to enjoy cheap massages and ice cold Bintang beers. Single Fin is one of the most happening bars on the island, especially on Sunday nights.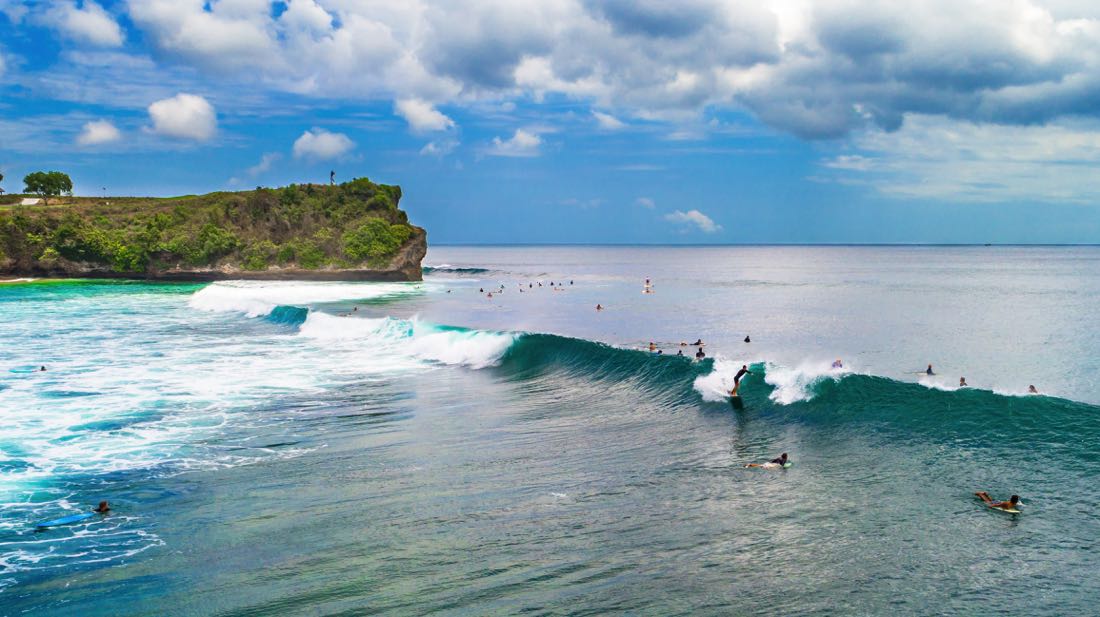 In addition to surfing, you can also check out one of the most famous temples on the island. Uluwatu temple is located on the cliff and is full of naughty monkeys. There's also an amazing sunset kecak performance here that you don't want to miss.
Here are a couple of great places to stay in Bali if you want to go surfing at Uluwatu:
Where to Stay in South Bali for Partying
Some of the best parties in Southeast Asia happen in Bali. Here are some top spots to stay if you're looking to drink and dance the night away.
Kuta/Legian
If you've come to Bali to party non-stop, then look no further than the Kuta/Legian area. This area is full of bars and clubs that keep the party going into the wee hours of the morning.
During the day, you can nurse your hangover on the beach with a fresh young coconut and a massage. This is a hotspot for partiers and budget backpackers and there are plenty of places with good Happy Hours when you're ready to get the party started again! (Note: be aware of scams in this part of Bali.)
Here's a list of some of the best places to stay in Bali if you're looking to party it up in Kuta:
Seminyak
While Kuta/Legian has more of the hard-partying backpacker vibe, Seminyak offers a bit more sophisticated scene. It's just north from the main party zone, but it feels worlds apart.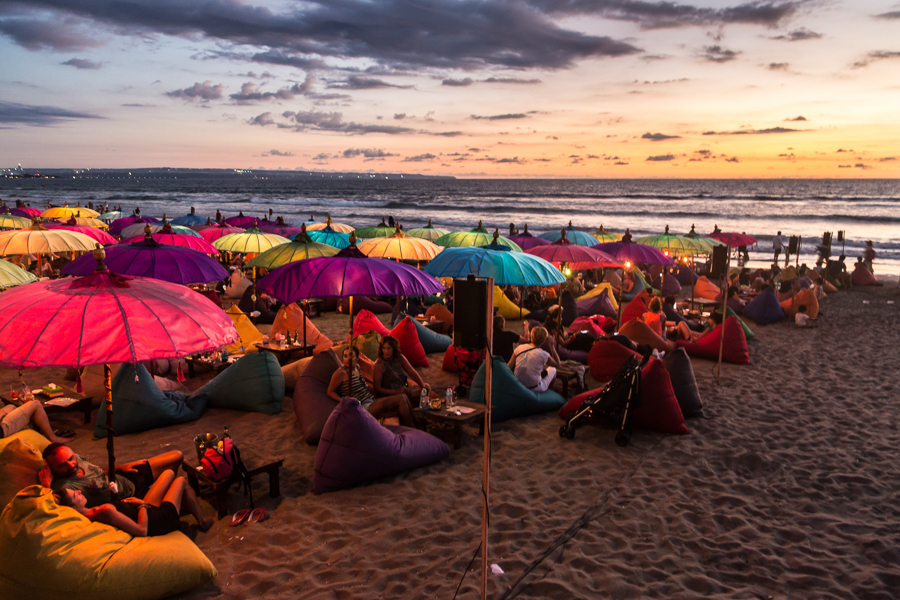 Here you'll find some great boutique shopping, and trendy beach clubs like Ku De Ta and Potato Head, some of the most popular places to see and be seen in Bali. One of my personal favorites is the colorful La Plancha. Plop down in a bean bag, order a cocktail and some seafood, and settle in for another beautiful sunset.
Here are some top places to stay in Seminyak:
Check out our article Where to Stay in Seminyak for a list of numerous accommodations for all budgets.
Where to Stay in South Bali for a Quiet Vacation
While partying in Bali can be fun, for couples, mature travellers, families or solo explorers who just want to chill out, don't worry, there's a place for you.
Sanur
For those who prefer a bit of peace and quiet, Sanur is the place for you. It's a far more mellow vibe over here on the eastern side of the island, where you can get an early start to your day by watching a gorgeous sunrise.
The ocean is nice and calm here, which means you won't find the surfing crowd and the party that usually accompanies them. Sanur is a great choice if you're traveling with kids as it's a safe place to swim.
One of the best parts about staying in Sanur is the long ocean-front path that's only for pedestrians and cyclists. There are few places in Bali where you can actually enjoy a walk or a bike ride without the constant buzz of motorbikes.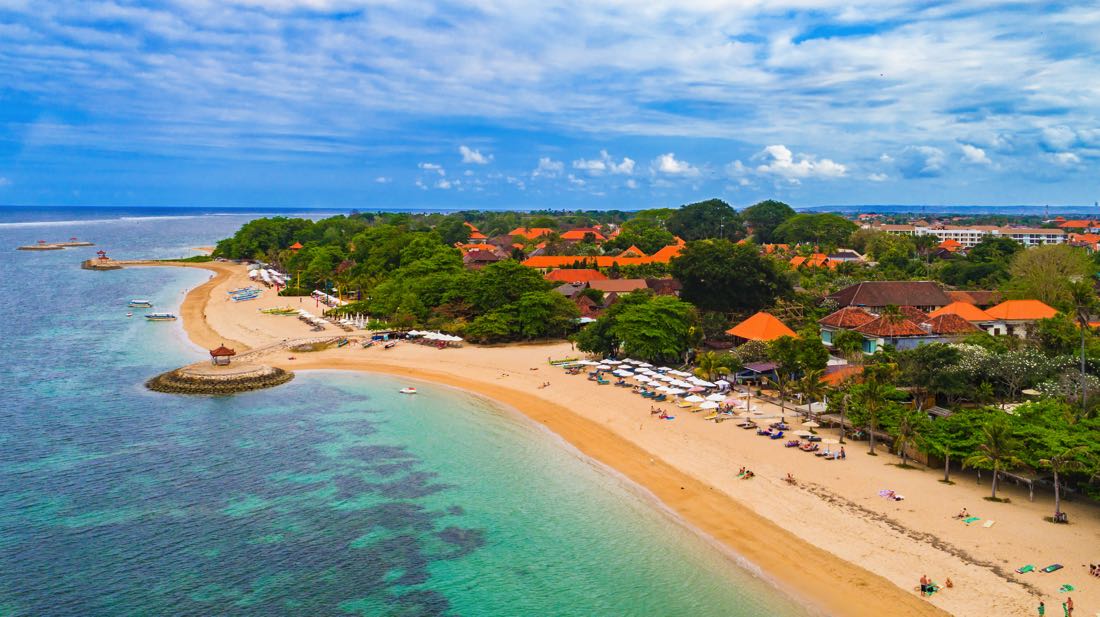 Sanur is also a great home-base if you're hoping to do some snorkeling or diving, and it's a short ferry ride away to the Nusa Islands. I lived in Sanur for most of my year in Bali and love the slow pace of life there.
Here are some of the best places to stay in Sanur:
Where to Stay in South Bali for Diving and Snorkeling
Bali might be known for surfing, but it has some amazing diving and snorkelling opportunities as well.
Nusa Islands
Speaking of the Nusa Islands, they're your best bet in South Bali if you want to do a lot of snorkeling or diving. These three islands are located just a 30-minute boat ride away from Sanur and are teeming with marine life and beautiful reefs.
From the main island, Nusa Lembongan is first. This island is the most popular and thus has more choices for accommodation. It's a pretty small island that you can easily get around on a rented scooter. Or just spend your days in the water and your evenings chilling by the pool or in a hammock!
Next up is Nusa Ceningan, which is connected to Lembongan by a bridge. This is the smallest of the islands and there isn't a whole lot going on here, but there are a few nice places you can stay.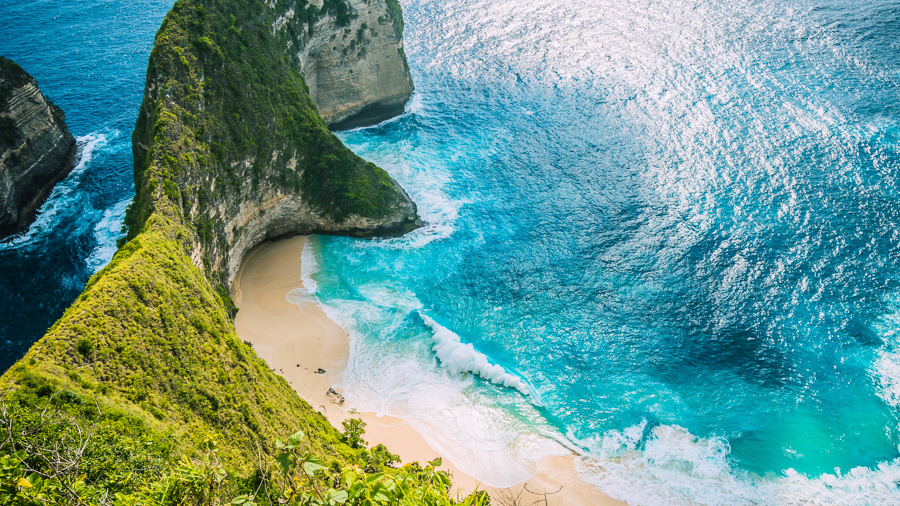 Finally, there's Nusa Penida. By far the biggest of the three, it's where you'll find more locals. There's a lot to discover here, from epic viewpoints to stunning beaches to a massive temple in a cave.
Here's a recommendation for a place to stay on each island.
Where to Stay in South Bali for a Luxury Vacation
Celebrating a special occasion, or just want to splash out in Bali? While you can get incredible accommodation in many places in Bali, this is one area where you'll enjoy a more luxurious vacation.
Nusa Dua
So far in this guide on where to stay in Bali, we've covered surfing, partying, and diving. But what if you just want to pamper yourself and enjoy a luxury vacation? Nusa Dua is exactly where you want to be!
This is definitely where the fabulous people stay in Bali. Nusa Dua is home to several 5-star resorts and the world-class Bali National Golf Club — but, many of the luxurious places to stay are also very affordable.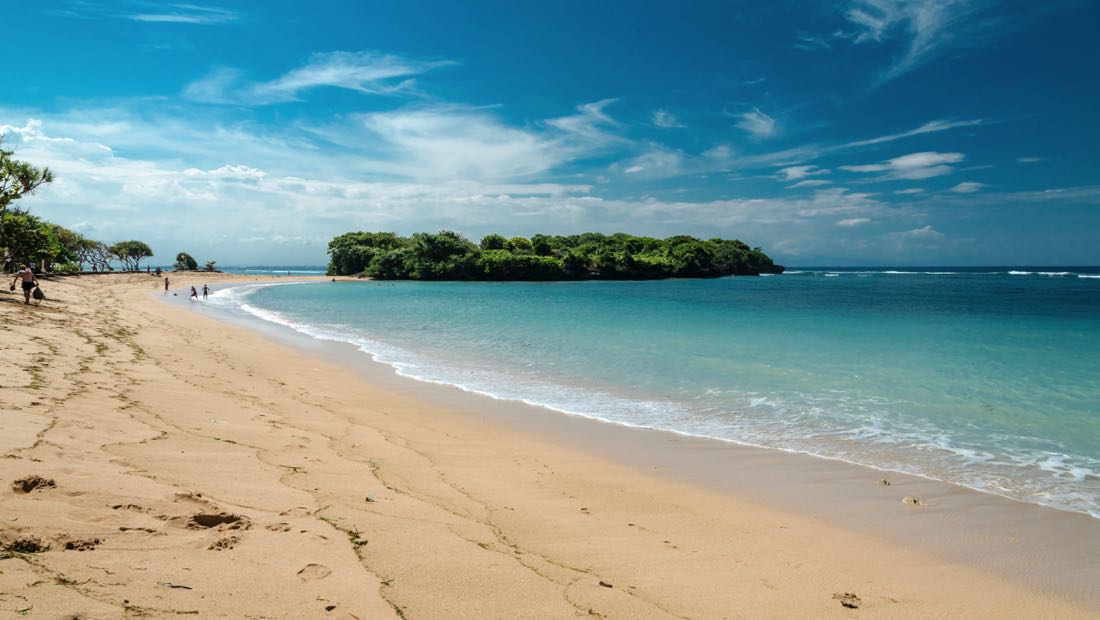 Nusa Dua is a top choice for traveling families and honeymooners. The beaches are calm, it's a very safe area, and it's nice and quiet at night. Here are a few of the top places to stay in Bali in Nusa Dua:
Where To Stay in Central Bali
While a majority of travelers come to Bali for a beach vacation, there's a lot more to the island. Central Bali offers plenty of opportunities for adventure. Go on a sunrise hike of Mt. Batur, swim in a rushing waterfall, or embark on an exciting ATV tour.
If you'd prefer something a bit more mellow, you can go on a peaceful stroll through the rice fields, indulge in a day at the spa, or practice yoga.
Ubud is the cultural center of the island, with several Balinese temples, art museums, and yoga studios. The town hosts several festivals throughout the year, including the Reader's and Writer's Festival and the Bali Spirit Festival.
It's not just yogis who flock to Ubud, though. The town is also one of the most popular places to stay in Bali for digital nomads. You'll find plenty of nomads from all over the world here plugged in at the coworking spaces and cafes.
Up in the mountains, the small town of Munduk is a great base for exploring Central Bali. It's quite cool up here and a nice break from the sweltering heat of the south.
Another up and coming destination in the area is Sidemen. It's kind of like Ubud 20 years ago, as there are still more farmers than tourists here.
Let's take a closer look at these different areas and where to stay in Bali should you travel to the center.
Where to Stay in Central Bali for Yoga
Bali is known as being a spiritual place and it's no surprise that practicing yoga is one of the best things to do in Bali.
Ubud
If you've come to Bali to do yoga, then Ubud is calling. There are yoga studios of all shapes and sizes here, many with open-air rooms overlooking rice terraces. This is where I fell in love with yoga, and I'm certainly not the first to have that experience!
One of the most popular places to practice yoga in Ubud is the Yoga Barn. They have several classes a day ranging in difficulty, and they also offer special classes in things like Tibetan gong meditation. There's also an amazing and super healthy restaurant here.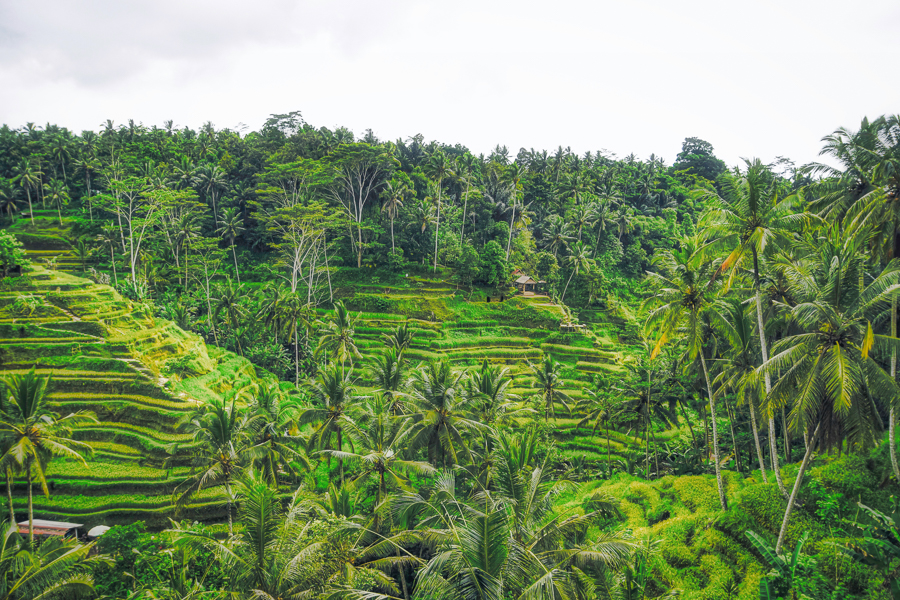 There's more than yoga going on in Ubud, though. You can also check out the Monkey Forest, see a Balinese dance performance, or peruse the local market. It's also a great base for visiting places like the Tirta Empul water temple.
Here are some of the best places to stay in Ubud:
Where to Stay in Central Bali for Adventure
Hiking volcanos, temple-hopping, and rice paddy walks, there's more to Bali than the underwater world.
Munduk
If you're wondering where to stay in Bali to best enjoy the natural beauty of the island, it's hard to top Munduk. This chilled-out local town in the mountains is located near the three lakes of Central Bali.
Around here, you can go hiking, check out the botanical gardens, or visit one of the island's most important temples. Other options include visiting the famed Jatiluwih rice terraces or sampling the product at a local coffee farm.
Here are some great places to stay in Munduk:
Where to Stay in Central Bali for R&R
The ultimate place to chill out in Bali. Swing in a hammock, enjoy the view and wander around the natural beauty of the area.
Sidemen
Pronounced see-da-men (not side-men), this little town is one of the best places to stay in Bali if you're just looking to relax and enjoy the scenery. There really isn't much going on here, and that's precisely the appeal!
Days in Sidemen can be spent walking through the rice fields and along the river, or just enjoying the views from your villa or a local restaurant.
This is also a great base for visiting Pura Besakih, which is known as the Mother Temple in Bali. It's also not too far from Mt. Agung — the largest volcano on the island and a challenging hike (when it's not active!).
Here are some top places to stay in Sidemen:
Where To Stay in East Bali
Travel to the east coast of Bali, and you'll feel like you've gone to another island entirely. While there are still beaches over here, it couldn't be any different from the bustling towns of the South.
Here you'll find black sand beaches with more fishermen than beer-guzzling tourists. They may not be the prettiest beaches, but they sure are more relaxing than the ones down south!
The main draw for traveling to the east coast is to enjoy world-class scuba diving and snorkeling. The towns of Amed and Padang Bai are great places to stay if you plan to spend most of your time underwater.
Another popular spot in this area is Candidasa. Here you'll find a good choice of accommodation and restaurants, making it a nice home base for exploring the region. And, it's also a good place to base yourself for scuba diving, check out Gangga Divers at Lotus Bungalows.
The east coast is definitely one of the best places to stay in Bali if you want to enjoy some peace and quiet, soak up the local culture, and take in some incredible scenery on land and under the water.
Where to Stay in East Bali for Diving and Snorkeling
The best places to base yourself for offshore diving off the east coast!
Amed
On the East Coast of Bali, there's a cluster of villages that are collectively known as Amed. People here generally make a living from fishing and salt production, although a small tourism industry has sprouted up here thanks to the world-class snorkeling and diving that are possible just offshore.
You can just grab your snorkel and head to the beach here. There's even a small shipwreck near the shore that you can check out. You can also hire a fishing boat to take you around to a few different spots.
In addition, there are several dive shops here that provide training if you're looking to get certified. From here you're not too far from Tulamben, which is probably the best dive site on the island. Even though it's not very developed, you still have plenty of choices when it comes to accommodation in Amed.
Here are some of the best options:
Padang Bai
Another one of the best places to stay in Bali for fun underwater is Padang Bai. It's not quite as far north as Amed, so you have a shorter travel time to get here from the airport or beach towns in the south.
In addition to diving and snorkeling, you can also relax the beautiful Blue Lagoon Beach. A nearby Hindu temple on the hillside provides some awesome views of the bay down below.
Another bonus of staying in Padang Bai is that you can catch ferries from here to head over to the Gili Islands and the main island of Lombok. If you're a diver, you'll definitely want to spend some time over there!
Here are some recommended places to stay in Padang Bai:
Where To Stay in East Coast Bali for a Relaxing Vacation
One of the most chilled-out towns in Bali and a great place for relaxing, or basing yourself for diving excursions.
Candidasa
Here's another name of a Balinese town that's a bit tricky for confused bule (foreigners). This one is pronounced "chan-dee-dah-sah," so don't be surprised if locals laugh when you call it "candy-dasa."
Unfortunately, short-sighted development here led to the destruction of the beach. While there isn't a beach to relax on in town, you're just a short drive away from what just might be the most gorgeous beach on the island — Virgin Beach.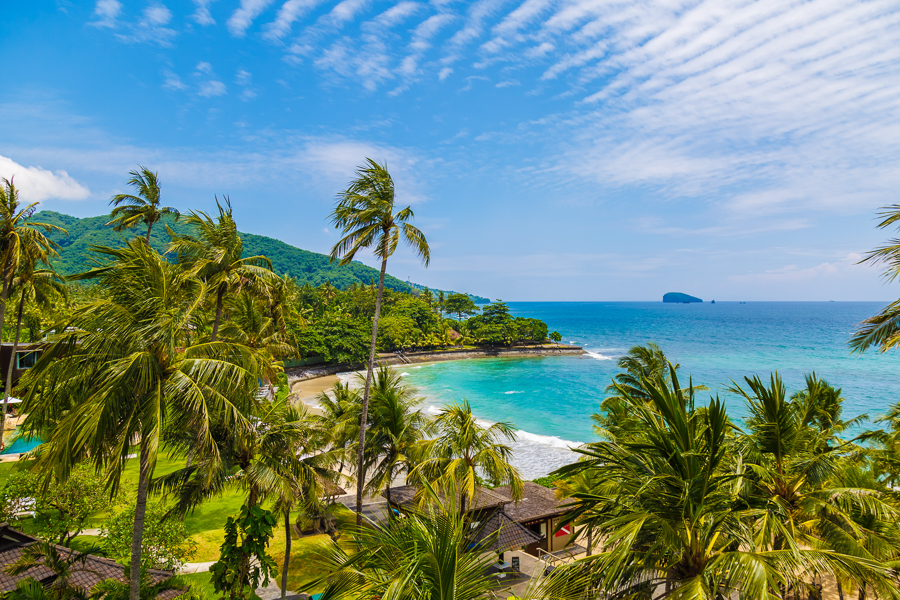 Candidasa is also the perfect base for visiting Bali's stunning water temples. Both Tirta Gangga and Taman Ujung are easy to get to from town. These both make for a peaceful and enjoyable outing. They're especially photogenic, so be sure to bring your camera.
Here are some of the best places to stay in Candidasa:
Bonus! Goats On The Road stayed at and recommend Lotus Bungalows for a great holiday. The food at the restaurant was tasty (breakfast is included), the infinity pool was divine, the onsite Gangga Divers dive shop was professional, and the cute little bungalows were great. The best part? Lotus Bungalows are super affordable. Click here to learn more about Lotus Bungalows, and click here for our review article of Candidasa. ( Note: Gangga Divers is also located on Gangga Island, Raja Ampat, and Gili T.)
Where To Stay in North Bali
Those looking to escape the hustle and bustle of the south but still have a beach vacation should head to the North coast of Bali. Here you can enjoy some sun and sand without the crowds and the chaos.
The best places to stay in Bali up north include Pemuteran and Lovina. Both towns have decent beaches and a good amount of options for accommodation and dining.
It's a long trek from the airport (nearly 4 hours), but it's worth it. Up here you can do some hiking in West Bali National Park or go diving around the incredible Menjangan Island.
Other fun things to do include visiting a temple that's full of monkeys, seeing dolphins in the wild, and soaking in natural hot springs.
Where to Stay in North Bali for Diving and Snorkeling
It's not just the east coast that has scuba and snorkelling opportunities. Don't miss the north coast as well.
Pemuteran
This sleepy little town on the north coast is definitely one of the most laid-back places to stay in Bali. It's really just a small stretch of road with a few hotels, dive shops, and restaurants.
The main reason to stay here is to visit the national park and go snorkeling or diving around Menjangan Island. There are other dive sites nearby as well, so you can base yourself here for a few days and check out a few.
There are also three different Balinese temples that are worth checking out, especially Pura Pulaki. It's inhabited by a bunch of monkeys who are said to guard the temple.
Here are some places to stay in Pemuteran:
Where to Stay in North Bali for a Beach Vacation
A quiet getaway. With not many people venturing this far north, you'll have the beaches almost to yourself.
Lovina
Last but not least on our tour of where to stay in Bali is Lovina. This chilled-out beach town on the North coast is basically the anti-Kuta.
The beach isn't amazing here, but it's nice and quiet! Not that many tourists make it all the way up here, making it a great place to kick back and relax.
For most visitors, the highlight of Lovina is going on a dolphin-watching tour. It's really easy to arrange these in town and there are opportunities for snorkeling and diving nearby as well.
Here are some recommended places to stay in Lovina:
Ready for Bali?
As you can see, you have tons of choices for places to stay in Bali. For a small island, Bali sure packs a punch when it comes to variety!
My best advice is to spend at least two weeks on the island and visit 2-3 different areas. Pick a beach town in the south, spend a few nights in the center, and maybe visit one of the lesser-known spots on the coast or one of the Nusa Islands.
There's just something magical about Bali that really sucks you in. The stunning landscapes, vibrant culture, and mouth-watering cuisine are just a few reasons why many refer to the island as paradise. This is a place where you can hike a volcano, do yoga overlooking rice terraces, and surf epic waves all in the same day if you're up for it. As an added bonus, it's also one of the cheapest countries to travel.
Whatever you do, one trip to Bali likely won't be enough. Chances are you'll be planning your return before you even leave. Or maybe you'll just end up changing your flight to stay longer. This island has that effect on people! When you inevitably decide you want to cancel your flight home and stay on the island forever, be sure to read my post on how to stay in Bali semi-long term.
Have you been to Bali? Which part of the island do you recommend people stay in? Leave a comment below!
**Images in this article are courtesy of Shutterstock. A great place to find royalty-free images and videos!
Like This Article? Pin it!