Looking out at a beautiful lake, garden or mountain while enjoying the company of a fine glass of wine, is there anything better than that?! We've been to quite a few wineries during our travels around the world, but a few have stood out in our minds.
Since the holiday season is fast approaching, we've been thinking about family, friends, festivities and of course…indulging in copious amounts of red wine!
With wine on our minds, it's time to share some of our favourite wineries of the world.
1. Mission Hill Winery, Canada. The wines here are superb. You can enjoy a cellar tour, wander around the well manicured grounds and enjoy a fabulous meal with glass of wine…while staring out at the gorgeous view of Lake Okanagan and the vineyard. You are able to sample 4 delicious wines, free of charge.
2. Chateau Ksara, Lebanon. This winery, with a 21 hectare estate, is possibly one of the oldest in the world! The Romans dug many tunnels in the cellar (which used to be a grotto) and then the Jesuit Fathers made them larger during WWI. This is a beautiful, extremely interesting, Middle Eastern winery with a huge selection of white, red and rose wines. The wine tasting and tour of the cellar and vineyard are free.
3. Viljoensdrift Winery, South Africa. This is where we tried the Pinotage blend for the first time, and man is it delicious! Besides the delightful pinotage wine, the scenery at this winery is spectacular. Located in the Robertson Wine Valley, it has the perfect surroundings for a picnic. Spread out a blanket alongside the river and enjoy a picnic of wine and cheese from a nearby farm. This winery also offers boat trips on the Breede River. A tasting of 4 delicious wines are free.
4. Gavalas Winery, Greece. There are many reasons to travel to Santorini, Greece, but one of the top reasons is to visit one of the many wineries. The grapes grown here benefit from the unique growing conditions in the volcanic soil. The Gavalas family have been in the wine-making business for over 150 years! I think it's safe to say they know a thing or two about wine. The reds at this winery are very different from wines we've tasted anywhere else. The flavour is dry, nutty and has a velvety finish. The cellar here is also very interesting. Wine tastings are free.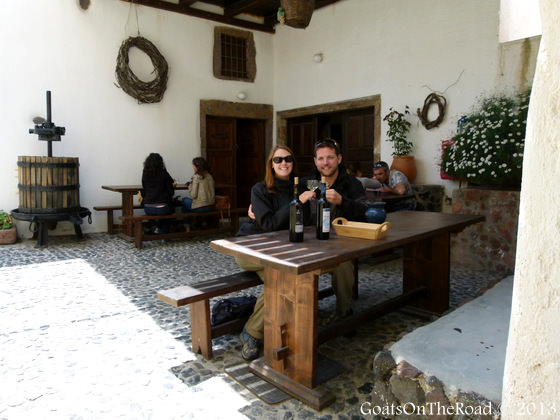 5. Red Mountain Estate, Myanmar. The reason we love this one so much is because of the fact that we had no idea there were wineries in Myanmar! Rent a bicycle and cycle through stunning farmland alongside beautiful Inle Lake before arriving at this winery on top of a hill. It's a struggle to get to the top, but it's well worth the effort. All of the plants have been imported from France and Spain and the grapes flourish in the soil here. The Pinot Noir and the Cabernet Sauvignon are smooth and full-bodied. The views from the winery at sunset are spectacular. The cost of tasting 4 wines is about $2.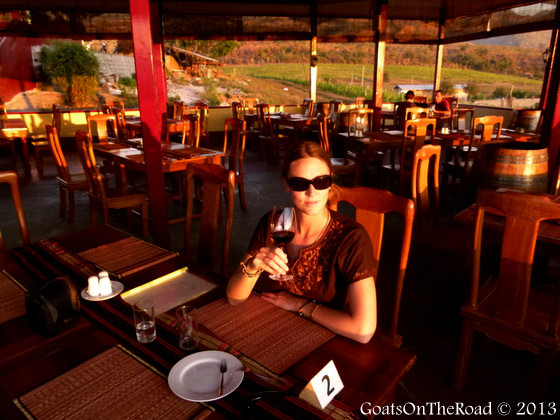 Although all of these wineries are unique, have stunning grounds and flavourful wines, some of our favourite wines come from New Zealand and Australia! We can't wait to make it to that part of the world one day and check out the wineries there. I'm sure they won't disappoint.
Are you a wine drinker? Which wines/wineries are your favourite? Share with us below!
Like this Post? Pin it!
Disclaimer: Some links in this article are affiliate links, which means that if you purchase through them, we receive a small commission. This will never cost you extra and in many cases you receive a special discount. We appreciate your support!