I remember when I was working 12-hour shifts in Canada, my ultimate dream was to work and travel and find a job that allowed me to go wherever I wanted, whenever I wanted.
Ten days of holidays per year simply wasn't enough to quench my thirst for travel and adventure, but at that time I had no idea how to work and travel.
These days there are so many options out there for those who want to work and travel. From teaching English online to drop shipping and running a blog, pretty much anyone can find ways to make money while on the road thanks to the internet.
It took us 5 years to figure out how to work and travel, but it won't take you that long thanks to this guide.
If your dream is to work and travel full-time, then you've come to the right place. We're now experts on this topic and we've interviewed dozens of remote workers on this blog and we've literally written the book on travel jobs (101 of them to be exact).
In this post, I'm going to list the 10 easiest travel and work jobs, how much they pay, what the requirements are, and exactly how to find them.
You could be working and travelling shortly after reading this post! Some of the jobs will take a while to become profitable, but most of these could be earning you money on the road today.
Why Work And Travel?
I think the answer to this question is quite obvious. If you love to travel but feel confined to a cubicle, factory, office space, or desktop and you want to get out and explore, then working while travelling is for you.
If you only get 2 weeks of holiday per year and you want more time to explore the world, then combining your work with travel is for you.
If you hate being stuck in traffic, waking up to alarm clocks, having your boss tell you what to do, or you're tired of being forced to work long hours on someone else's schedule, then guess what… remote work is perfect for you.
The Work & Travel Mindset
If you want to work and travel, you're going to have to shift your mindset. You may not have an alarm clock waking you up every morning, but you'll still need to have the motivation and discipline to peel yourself away from the beach to get some work done.
Keep in mind that this type of work isn't for everyone. Sometimes you'll still have commitments with companies and people in different time zones, meaning that you may have to be awake at ungodly hours for Skype meetings and conference calls.
If you work online and travel, then you may find that the wi-fi is too slow and that you aren't able to get enough work done.
There are a lot of things to keep in mind when deciding to work and travel, but in my experience, ever single hurdle, frustration, and roadblock is worth it for the freedom and lifestyle that working on the road can offer.
Quitting Your Job To Work & Travel
When we first quit our jobs back in 2008, it was terrifying. Leaving the normal paycheck and normal life that society promised was "secure" was like jumping off a cliff and not knowing when or where we'd land.
But we kept an open mind and today we're working and travelling at the same time and making more money than we ever did in Canada while working less than half the amount of hours per week.
Quitting your job to explore remote work opportunities can be stressful. But when we did it, we didn't have the resources that are available now. These days, you can first start working from home so that you can make the transition to taking your work on the road with you much easier.
Using many of the jobs I'm going to list in this post, you could start earning a side-income now so that one day, when you're comfortable, you can make the move to a full-time work and travel lifestyle.
Working And Travelling With Your Current Job
Maybe you don't have to quit your job in order to work and travel.
We've helped dozens of people take their current jobs on the road with them. You may be surprised at how responsive your boss is to allowing you to try to work from home — wherever in the world that may be.
Here are a few tips on how to successfully request to do your current job remotely.
Start With One Day a Week
Before asking your boss if you can simply stop coming to work all week and work completely from home, why not ask to test it for one day a week.
Ask if you can work from home every Wednesday for one month and if there is any negative change in productivity or sales, you'll return to a normal workweek.
Play The Productivity Card
Tell your boss that there's been a 2-year study done by Stanford University that shows that working from home makes workers far more productive.
Explain that by working from the comfort of your home office, you'll have fewer distractions, better access to resources and a more comfortable working environment.
Have an Excuse
Maybe there's a reason why you need to be at home a certain amount of time per week. A new child, a challenging environment at work, an inability to concentrate in the office, migraines from office lighting, etc.
If there are legitimate reasons why you cannot be fully productive at your office or workspace, tell your boss honestly and request a change.
Give an Ultimatum
This is an absolute last-ditch effort and should only be attempted if you have an alternative income-source to fall back on, but an ultimatum can give your boss that final push needed to allow you to test working from home.
Actually Be More Productive
If your boss agrees to allow you to work from home, then you should work hard to get as much done as possible. Double your productivity on days you work from home. Stay focused and prove that everything you said to get this position was true. Your days working from home should be your best workdays.
Take It To The Next Level (Full-Time Home Office)
After the test is completed and your boss agrees that you're more productive when you're not in the office, it's time to go full-time.
Usually, you'll need to agree to be at work for meetings, certain formalities, and the occasional summary, but for the most part, if you've proven you're a better worker from home, then you should have no problem going full-time.
Taking it To The Final Level (Work & Travel)
If your boss understands that you're capable of working from home, then they already know you can work remotely from anywhere. At this point, you should be able to take it to the final level and begin working while travelling.
At first, start with a short trip away. Perhaps it's a trip that you would normally have to take holiday time for, but thanks to this new working environment you've created, you'll be able to continue working while you're away.
A week for a friend's wedding or a few extra days away for an anniversary are perfect stepping-stones for this. Slowly these trips can become longer and longer until you're basically doing work and travel full-time.
For more information, check out The Ultimate Guide To Remote Work.
Remote Work vs. Travel Jobs
There is a big difference between remote work and travel jobs.
Remote work is work that can be done on the computer and online, and typically, you're employed by someone else. Travel jobs are typically jobs that are available around the world.
The former will give you the freedom to choose your own hours and sometimes even build your own business, while the latter will require you to be in an office, shop, or on a farm for a specific amount of hours per week.
Each type of job has its pros and cons, but both allow you to work and travel, which is what this post is all about.
Below, I'll list jobs that can be done remotely, as well as jobs that are available in-country for those of you who don't want to spend your days looking at a computer screen.
See Also: Download Our 101 Travel Jobs Ebook
The Work & Travel Lifestyle
Working remotely is a great feeling, but the transition can be hard for some people. And, fair enough, you've been surrounded by colleagues for your whole working life, and once you decide to work abroad (either for yourself or someone else), you might find it a bit lonely.
Plus, you'll need to figure out what sort of equipment you need in order to effectively work and travel at the same time. Here are some tips.
Creating a Remote Office
You'll probably find that you won't want to travel from place to place every 3 days. Instead, put down some temporary roots in various destinations and stay awhile.
Not only will you get to really know the culture, people, and way of life, but you'll be able to create a remote home office.
This is important if you prefer to work from home, as opposed to a cafe, bar, co-working space, etc. First, you'll need to rent a place that has strong wifi and a good area to work at — a comfortable table and chair are essential.
After that, you'll want to ensure you have a surge protector (if necessary), a multi-plug for charging, and maybe even a wifi range extender.
Make your remote office as comfortable as possible, so you are as efficient as possible.
Co-Working Spaces
If you're feeling lonely and don't want to work alone, you can always join a co-working space. These are cropping up all over the world, but are especially popular in digital nomad hot-spots (Lisbon, Chiang Mai, Canggu, Medellin, Budapest, Ubud, etc.)
Basically, you pay a monthly fee and receive access to a working space. This space will be comfortable and have the necessary items you need to be productive — headphones, computer chairs, fast wifi, conference rooms, and snacks.
Quite often, there will be seminars available as well. Coworking spaces are great for meeting fellow remote workers who are living nomadically as well.
Online Work & Travel Communities
Another way to meet fellow digital nomads is to check online Facebook Groups and travel communities. Quite often, if you search for the city name and digital nomad, you'll find a Facebook group you can join. For example, I searched Canggu Digital Nomads and this group popped up:

You're not alone! There are many others working remotely, and finding a community is easy thanks to the internet.
The Best Work & Travel Jobs
These opportunities are changing and evolving rapidly. When we first started working and travelling, there weren't so many options available to us, and surely in the coming years, there will be new and exciting work and travel jobs that no one ever thought of before.
That's why I'll continuously be updating this article (as I do my 101 Travel Jobs Ebook) to make sure that all of the current best travel jobs are included here.
Work & Travel in The US
Requirements:
Between the ages of 18 and 28
A full-time university student actively pursuing a degree or other full-time course of study at an accredited institution
Be Proficient in spoken and written English
Hold a J-1 Visa
Pay:
Varies depending on Job ($7.25 USD / Hour or more)
While this article is mostly geared towards Americans, Canadians, British, Australians, and similar countries looking to work remotely to explore exotic countries, I also know that a lot of people from other countries have always dreamt of working and travelling in the US. Thanks to some new work travel programs, this has never been easier.
Either you can try to apply for jobs, the J-1 Visa and an American social security number yourself, or you can go through a travel program like InterExchange. They have a great resource for helping people apply for their visas and find work in the US.
Their USA Work-Travel program allows you to work for 3 months and then take a month off to travel the country. We're not sponsored by them in any way, but they've been around for over 50 years helping people work and travel in the US, so I thought that this should be included in this post!
Work & Travel in Australia
Requirements:
Between the ages of 18 and 35
Have no dependent children travelling with you in Australia
Be in good health
Have no criminal record
Sufficient funds to sustain yourself and exit the country (sometimes proof of $5,000 AUD is required)
Pay:
$18.93 AUD / $13 USD minimum wage for full-time work (most jobs range from $20 – $27 AUD / hour)
Another popular place for work and travel is Australia, thanks to their excellent working visa program for expats from commonwealth countries.
Dariece and I considered this program a few years ago, but unfortunately, it only works up until your 35th birthday, so we're a bit too old now.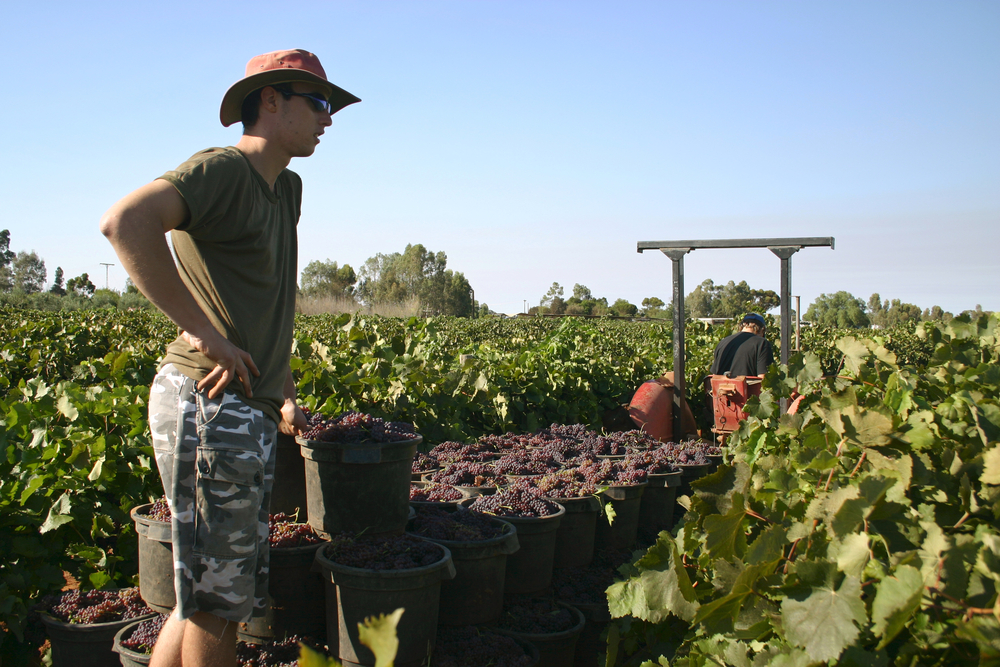 Basically what you'll need to do is apply for a "Working Holiday Visa" in Australia. This visa will allow you to stay for up to 12 months in Australia.
You'll be able to exit and re-enter the country as many times as you want during that period, and you wan work any job that you want, as long as you don't stay longer than 6 months with any one employer.
To learn more about how to work and travel in Australia, check out our post How to Get a Working Holiday Visa in Australia and Save Money For Travel.
☞ See Also: How To Get a Working Holiday Visa Worldwide – The Complete Guide
The Best Jobs To Work & Travel Anywhere
If you're from Australia, The United States, or any other country, then perhaps you want to leave your home country to work and travel overseas.
Whether you want to be your own boss, work online, or experience what the working environment is like in foreign countries, you should have no problem finding a job working and travelling abroad.
1. Teaching English Online
Requirements:
Native English speaker, or near-native English speaker
Solid internet connection, microphone, webcam and quiet space for lessons
Have a university degree or you are currently enrolled (in some cases this isn't obligatory)
Have an internationally recognized 120+ Hour TEFL Certificate (in some cases this isn't obligatory)
You're from Canada, the United States or the UK (in some cases all first language English countries)
You are enthusiastic, passionate and positive
Pay:
Up to $25 / hour depending on your previous experience and seniority on the platform
Perhaps the best option for those who want to work and travel, teaching English online is a great way to earn a good amount of money while choosing your own work schedule.
With most of these companies, you can work from anywhere in the world, but there is a catch. You'll have to be a native English speaker and hold a passport from the US, Canada or the UK.
Don't worry though, you won't have to speak any Mandarin or Cantonese to land jobs at these online schools and you don't need to have your own props and toys, or build your own curriculum. That's all included in these programs.
The Best Companies To Work & Travel Teaching English
GoGoKid: Without a doubt, one of the most used and trusted online English teaching platforms, GoGoKid pays up to $25 / hour to teachers to host classes to their massive customer base of Chinese students. Unfortunately, GoGoKid is only available for Canadians and Americans at this time.
QKids: Another great option for Canadians and Americans, Qkids has a great online teaching platform and curriculum. The only downside to this program and why you may want to choose VIPKid instead, is that with Qkids you'll have to not only be a Canadian or American citizen, but you'll have to actually live in one of those countries to participate. It's still considered a "work and travel" job as you could be a Canadian travelling in the USA, or vice versa!
EF Education First: Finally an online English teaching platform that's not just catered to Canadians and Americans, EF Education First has plenty of jobs available and the pay up to $19 / hour. This school actually has brick and mortar schools with classrooms all around the world, but luckily for those who dream of working while travelling, they also have online classrooms. Unfortunately, these jobs are only available for Americans and UK citizens.
Other most casual, conversational options include PrePly and Cambly. For more information and more companies and schools to help you find jobs teaching English online, check out our post Teach English Online: The Best Companies.
2. Start a Blog
Requirements:
Be passionate and knowledgeable on any topic
Own a computer/laptop
Basically no other requirements
Pay:
From $0 when you start out to $100,000 / month and beyond
For years blogs were thought of as just hobbies that people do to keep their family and friends up-to-date with their lives, but these days blogs of all types are some of the most profitable websites online.
Building a personal brand is something of a new concept to many people, but it's proven to work faster and more efficiently than many large brands with huge budgets.
That's why more and more people are jumping on this digital wave and riding it into location independence and financial freedom.
When we first started this blog, we had no idea where it would take us. We didn't have any previous experience writing, designing websites, building a brand or marketing and yet today this blog is a multi-6-figure per year online business.
It may sound cheesy and cliche, but honestly, if we can do it then anyone with a laptop can.
The keys to a successful blog are consistency, passion for what you're writing, and SEO. There are a lot of different ways that a blog can earn money, but basically, as your audience and traffic grow, you'll start earning money from advertising, affiliate marketing, product sales, freelance writing, and much more.
Click here to start a blog in 5 minutes
3. Scuba Instructor
Requirements:
PADI or other credited Dive Instructor Certification
Minimum 6 months Diving Experience
Completed Open Water, Advanced Open Water, Rescue, Dive Master, and Emergency First Response instructor (with CPR and first-aid)
Decent health and fitness level
Pay:
$500 – $6,000 / month depending on your position, the dive shop location, experience and time with the company
Becoming a scuba instructor has long been one of the most popular work and travel jobs available. If you love diving and you want to explore the planet, both above and below the surface of the sea, then this job is perfect for you.
The main downside is that it takes a lot of time (and a significant financial investment) to get started. In total it can cost between $3,000 – $4,000 USD to become a dive instructor, but once you're certified you can work and travel to anywhere in the world.
I've met dive instructors who have worked on liveaboard boats in Micronesia, and in a funky beach dive shop on Bequia island in the Caribbean. If you're interested in becoming a divemaster, check out our post How To Make Money and Travel The World As a Divemaster.
4. Work On A Cruise Ship
Requirements:
Sometimes a university degree is required
Sometimes previous experience is required
For some jobs, specialized training is required
Pay:
$1,200 – $10,000 / month
We've personally met plenty of people on the road who are working on cruise ships and we interviewed one such person on this blog.
This is a great work and travel job because while you're on the cruise ship you have little to no overhead costs. Your housing, accommodation and travel is all paid for so most people who travel and work on cruise ships are able to save 90-100% of their paychecks to spend on travel!
Cruising from port to port, enjoying the fun atmosphere on the ship and working with a bunch of other travel-lovers is one reason why so many people choose this job. If you're interested in finding Cruise Ship Jobs, check out our post!
5. Work & Travel On a Yacht
Requirements:
STCW 2010 (Standards of Training, Certification and Watchkeeping for Seafarers)
ENG 1 Seafarer Medical Certificate
A reasonable level of health and fitness
Pay:
$2,700 – $7,000 depending on your position on the boat
Yacht jobs are becoming increasingly popular. So much so that we recently wrote a post about How To Find Yacht Jobs on this blog. There are so many positions available and there are a lot of amazing luxury vessels that you can have the opportunity to work on.
The best way to find this type of work is through online yacht staffing agencies like YPI Crew (an international agency based in France) and JF Recruiting which has yacht job postings for numerous destinations.
You can also check out Yotspot and Cruise Job Finder. Other agencies that you may want to have a look at include Crew Unlimited, Elite Crew International and Crew Finders.
6. Yoga Teacher
Requirements:
Yoga Teacher Training Certification
Decent level of health and fitness
Pay:
$500 – $3,000 / month
Becoming a travelling yoga instructor is a good example of a job that can be both online, or in person. These days more and more instructors are running online classes through YouTube or other platforms such as Teachable.
You can choose to charge for these types of classes on a per-class basis or on membership, or you can offer them for free and make a little bit through advertising on the videos.
Alternatively, you can travel the world and find jobs working in various yoga studios, or you can stay put somewhere for a few months, build up a clientele and make decent money running weekly or daily yoga classes.
To find work, you can either walk into yoga studios and ask if they need yoga instructors, or you can offer to run yoga classes in the hostel you're staying at on the road.
7. Travelling Masseuse
Requirements:
Masseuse Certification
Decent level of health and fitness
Pay:
$500 – $3,000 / month
One of our friends and blogging colleagues worked for a long time as a Thai Yoga Masseuse and made more than $33 / hour. One of the major bonuses of this job (besides the pay) is that it's a good workout for the masseuse as well, and it can be done from anywhere in the world.
One of the main downsides is that in order to make a decent, reliable income, you'll need to stay in one place for several months at a time in order to build up a clientele.
To read more about this job and learn how to work and travel as a masseuse, check out our post: How To Become a Thai Yoga Masseuse To Make Money For Travel.
8. WorkAway
Requirements:
Decent level of health and fitness
Pay:
$500 – $3,000 / month
We were first introduced to WorkAway back in 2012 when we were travelling through Turkey. We met an American girl working (and living) at a hostel on the south coast of the country and we asked her how she managed to land such a cool job. She told us all about this amazing website called WorkAway and we were intrigued.
If it wasn't for building this blog to where it is today, I'm sure we'd be using WorkAway's massive job listing platform to work and travel all around the world. They have more than just hostel jobs too. They also have jobs at eco-resorts, animal sanctuaries, farms and much more.
☞ SEE ALSO: Workaway Program – An Insider's Guide to Free Accommodation Worldwide
9. Wwoofing
Requirements:
Decent level of health and fitness
Pay:
$0 – This one is volunteering
Have you ever wondered what it would be like to work on an organic farm? I know I have. Wwoofing is without a doubt the largest farm work volunteer network online. Originally started in New Zealand, this website has gone global and now has jobs available all around the world.
Typically these jobs are a direct exchange. You get hired to work 6 – 8 hours per day on the farm, and in exchange, you get free room and board. It's a great way to meet new people, learn valuable skills and work outdoors.
10. Virtual Assistant
Requirements:
Some level of online aptitude in social media, editing, translation etc.
Pay:
$5 – $25 / hour
I know that virtual assistant jobs pay because we have personally had more than 5 virtual assistants work on this blog over the past 6 years. These types of jobs aren't hard to find, but you'll need to have some kind of experience with online marketing, editing, translation or social media.
Typically websites and blogs will be looking for you to complete certain tasks like answering emails, creating Pinterest images, managing social accounts or communicating with potential buyers.
If you're interested in becoming a virtual assistant and working from anywhere in the world, check out our post on How To Find Virtual Assistant Jobs.
Now Is The Time To Work And Travel
If you're looking for even more ways to work and travel, then check out our ebook 101 Ways To Make Money For Travel and also head to our Make Money For Travel Page for even more travel jobs and remote work opportunities.
Starting this blog and transitioning our lives to a work and travel mindset was the best decision we've ever made. It's changed our lives completely and gave us a freedom that we could have only dreamed of.
If you want to work and travel instead of being stuck in one office, one location, and one job title, then consider asking your boss to work from home. Or, pick up a side hustle like blogging or teaching English online, or just pack up and leave and find a travel job on the road.
The only thing we regret in the past 12 years of living this nomad life is that we didn't do it sooner.
Have you ever dreamt of working while travelling? What's stopping you? Do you work and travel now? What's troubles do you face and why do you love it? Share with us in the comments below.
Like This Article? Pin it!