Yangon is the main transport hub in Myanmar.  You'll likely find yourself at the airport or bus station here many times!
The Airport:  
There are international flights with airasia out of Yangon to Bangkok or Kuala Lumpur.  The airport in Yangon is very small, there's not much to see or do there, so you really don't need to be at the airport 3 hours ahead of time – as suggested for international departures.  There's literally 2 overpriced cafes and some souvenir shops.  For domestic flights, you will need to fly with either Myanmar Airways, Air Bagan, Air Mandalay or Yangon Airways.  There are a few frustrating things to note when flying domestically and internationally.  Flight times and schedules can change within a minutes notice, leaving you running to the airport, or missing your flight completely.  Due to the internet blocks by the government on many websites, you cannot book flight tickets online once you are in the country.  You will need to either book all tickets ahead of time (and bring your etickets with you) or, have a travel agent book a flight for you.  In that case, you will need to make sure you have brought enough USD with you to cover the cost of flights.
-The cost of a taxi from the airport to your hotel (if near the Sule Paya) is $10USD.  We were able to fit 4 people and all of our luggage in the vehicle for that price.  It's about a 45 minute drive.
-The Sule Paya is where the local buses leave from.  To get to the Aung Mingalar long distance bus terminal outside of town, take bus 43 (it will be written in Burmese, so you'll have to ask).  This is where you'll depart from if going to Mandalay, Bagan, Inle Lake, etc.  The bus to Aung Mingalar terminal It leaves from Sule Pagoda road between Sule Pagoda and Anawrahta road.  The cost is 200 Kyat and the journey takes over 1 hour.  Be forewarned: Aung Mingalar is a very dusty, confusing, hectic bus terminal.  When you arrive, ask locals to point you in the right direction.
From Inle Lake to Yangon:
There are many bus companies with overnight buses leaving to Yangon.  The buses leave between 2:00pm and 3:30pm depending on which company you go with.  We booked our ticket through our hotel and the cost was 15,000kyt for this 14-15 hour journey.  Upon arriving at the bus terminal in Yangon, opt for the budget backpacker way and take bus number 34 for 200kyt to take you to the Sule Pagoda circle.  From there it's a short walk, tricycle ride, or taxi ride to your hotel.
From Yangon To Mandalay, Bagan or Inle Lake:
There's 3 different ways to travel out of Yangon: by bus, by train or by plane.  We took a bus from Yangon to Bagan.  This 15000kyt journey took about 12 hours…we arrived at 2:30am in Bagan,  Which isn't the ideal time to look for a guesthouse!  Check out the Man in Seat61 for information on the different train routes, times and fares.  For us, we try to fly as little as possible.  It's not just the fact that the price is higher (and therefore more tax money is given to the government), but we prefer to travel slowly and see all of the sights, land and people on the way from point a to point b.  How does that old saying go?  "It's not about the destination, it's about the journey".  So true.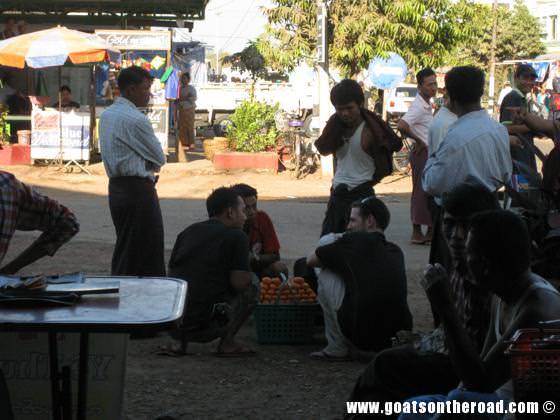 HOW TO GET A MYANMAR VISA IN BANGKOK
WHERE TO GET USD FOR MYANMAR IN BANGKOK