There are numerous budget backpacker friendly places to eat at in Yangon.  You can find everything from perfect sushi to Indian food to streetside delights.  With such a huge range of cuisine in this city, you won't be disappointed.
There is a great BBQ area in Chinatown where you pick your desired skewers to be BBQ'd (fish, chicken, pork, vegetables) and then pay per skewer.  It was very popular and locals and foreigners were lining the streets.  However, the cost of the food was too pricey for us.  It was approximately $1 for each skewer and since we eat a lot, it would have cost us a fortune!
Golden Teahouse:  We enjoyed Myanmar sweet tea (300Kyt), beef samosas (50Kyt) and stir fried noodle dishes (1000Kyt).  This place had good food, great staff and sitting on little plastic chairs on the side of the street was perfect for people watching.  It's filled with locals enjoying tea any time of the day.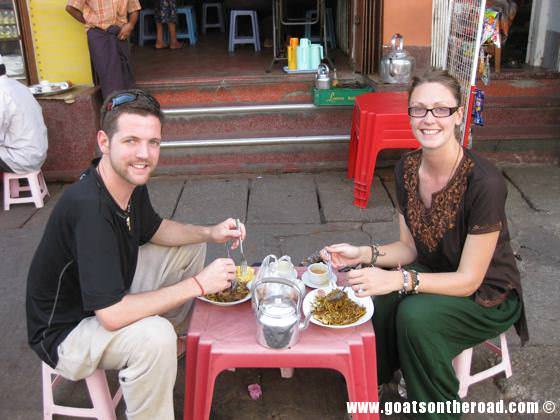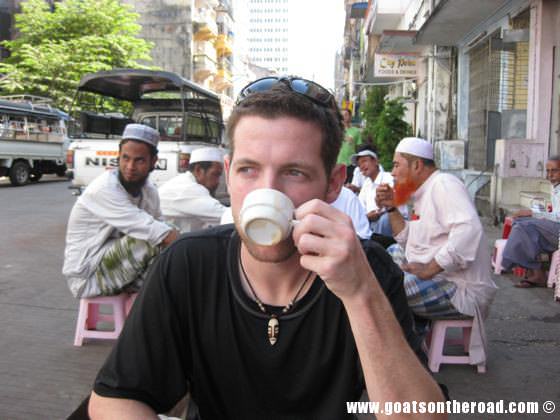 Aung Thukha (17A, 1st Street West Shwegondaing):  The traditional Burmese food at this place didn't look all that appealing at first.  However, after choosing what we wanted from a buffet, it arrived piping hot and the mutton curry, lentil curry, rice and vegetables were delicious.  The meal came with side dishes of salad and vegetables as well.  It was also very affordable (1000-2000Kyt).
Ichiban Kan (17/18 Aung San Stadium, Gyophu St.): Yes, we realize this isn't Burmese food, however, if you're craving some Japanese food made by Japanese chefs, then you will want to check out this place.  The bento box, miso soup, sushi and spicy tofu are delicious.  2 pieces of sushi costs 1500kyt and a meal with rice, miso soup, chicken, tofo and tea is between 5000 & 7000kyt.  We wouldn't normally spend this much on food, but after having been on the road for over a year at this point, we were craving some sushi!  It was worth every penny.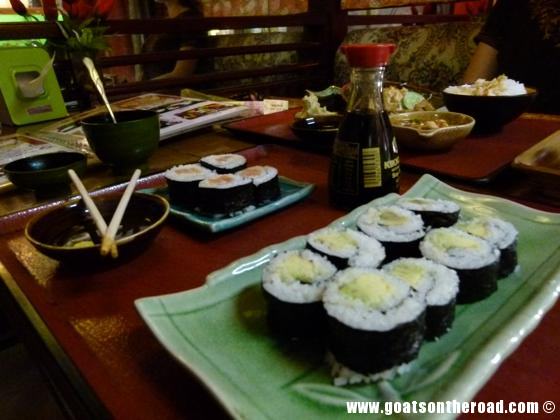 With so many eating options in Yangon, we're sure you'll enjoy your dining experience!