Zante Town is the capital and the commercial hub for the entire island of Zakynthos (aka Zante). While it's a popular destination for visitors staying on the island of the same name, it's not a beach destination, but instead, a bustling port city, so many people opt for the more sand and sea Mediterranean holiday on other coastal Zante towns like Laganas, Tsilivi and Psarou.
However, there is plenty to keep you busy if you want to stay in Zante Town proper. There are plenty of hotels here, great restaurants, fascinating churches and a lovely seafront walkway that stretches on for about 1.5 kilometres along the harbour on the east side of town.
There's also a great pedestrian-only walkway that cuts through the most charming part of the city and a few open plazas and parks to enjoy as well.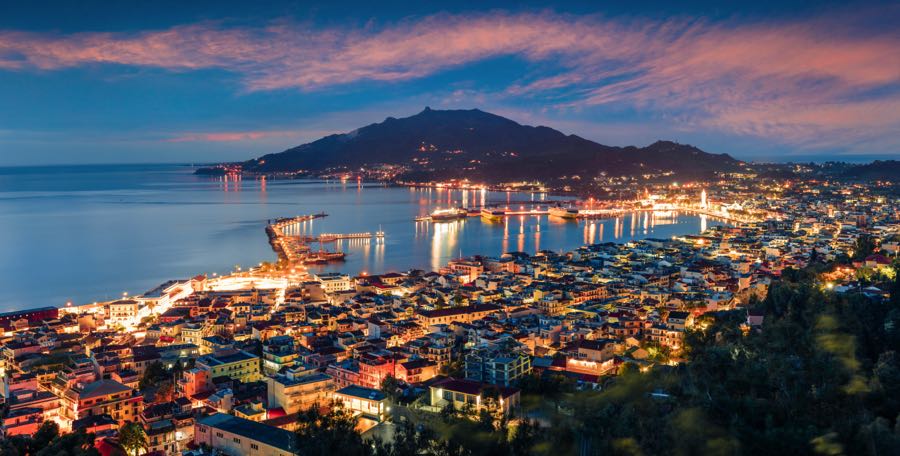 All-in-all, Zante Town has a lot of charm and while it may not have the spectacular beaches like Navagio and Gerakas, it's a great hub for exploring the rest of the island either by your own rental car or in some cases by using the developing public transport system.
In this post, I'm going to explain everything you'll need to know about visiting Zante Town including the best places to stay, the best restaurants, the best places to walk, the best nearby beaches and more.
Whether you plan to spend your entire time on Zakynthos in Zante Town, or you're just stopping here for a couple of hours to visit, this post will have you covered. If you're planning to visit other parts of Greece, don't miss our epic travel guide.
About Zante Town
Zakynthos town, also known as Zante Town or Zakynthos City (Ζάκυνθος in Greek), is the commercial heart and capital of Zakynthos Island. With a population of around 16,000 (nearly half of the 40,000 that live on the entire island), Zante Town is the most metropolitan place you'll find in Zakynthos, but it still feels like a small town in many ways.
According to Greek myths, the island was named after Zakynthos or Zacynthus, the son of the legendary Arcadian chief Dardanus (the son of Zeus).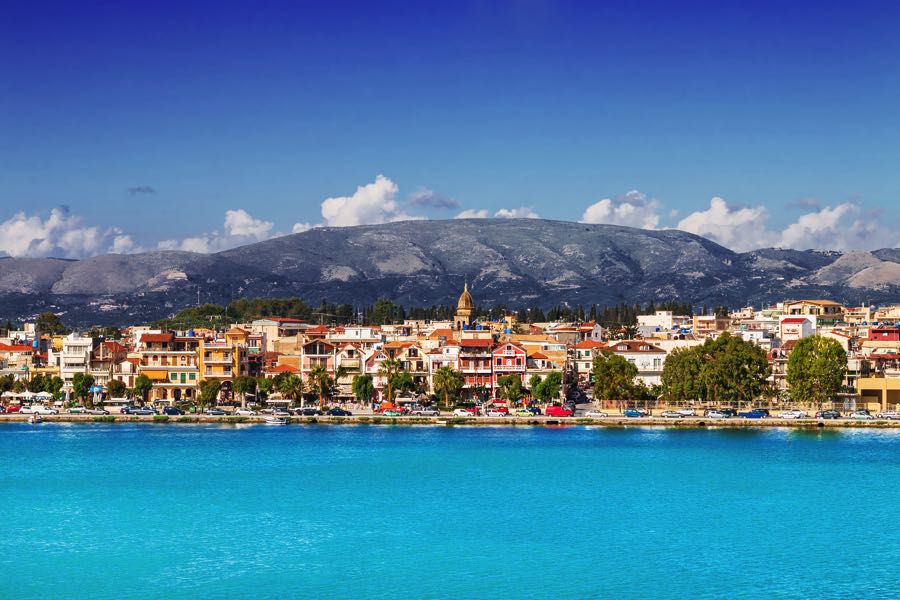 In more recent history, in 1953 the island was rocked by a 7.3-magnitude earthquake with destroyed many of the buildings in the city. After that, every building in Zante town was reinforced to be able to handle future tremors, however, another 6.4-magnitude earthquake in October of 2018 rocked the city and damaged the pier and the 13th-century monastery.
Today the town has recovered from the damage of both earthquakes and is a growing tourism destination in the Ionian Islands. There is an international airport about 4.5 kilometres south of Zante Town. The airport serves daily direct flights to Athens and during the summer months (June – September) there are also direct flights to many major cities in Europe like Rome, London, Amsterdam etc.
Where is Zante Town?
Zante Town is located on the eastern coast of the Island of Zakynthos. Zakynthos Island lies 20 kilometres west offshore of the Greece Peloponnese Mainland and around 249 kilometres west of the capital of Athens.
Zakynthos Island is in the Ionian Sea and the city of Zante points east facing the mainland. This is the main public transport hub on the island and while it isn't always easy to get between main villages on the island with public bus, if you were going to try to visit Zakynthos primarily on public transport, this would be the place to base yourself.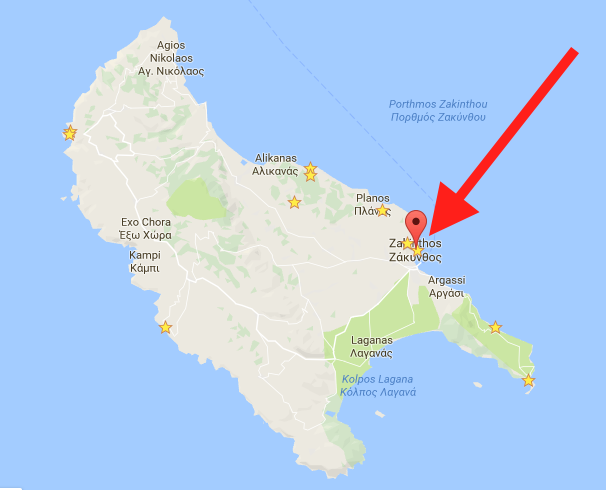 Best Time To Visit Zakynthos
The best time to visit the island of Zakynthos is pretty much the same as the best time to visit Greece as a whole. You'll want to come here any time between March and early November. On either end of those dates, the sea will be a little bit too chilly for swimming, but it's a great time to visit because there are much fewer crowds.
The peak season for visiting Zakynthos is in July and August when many visit during summer holidays. At this time the island is roasting hot so you may want to spend most of your time at the beach, but it's still a nice time to stroll down the shady streets of Zante Town.
Things To Do in Zante Town
While there might not be as much nightlife here as in other places on the island like Laganas, and the beaches near town aren't blue flag accredited beauties like Navagio Beach and Gerakas Beach, there is still plenty to keep you busy in Zante Town. Visiting Zante Town is on our list of the best things to do in Zakynthos, so here are a few things to do in Zante town.
See Also: The Best Things In Greece You Don't Want To Miss
Walk The Promenade
The 1.5 kilometre-long seafront promenade that follows the harbour from The Monastery of Strofades (Μονή Στροφάδων) to the Church Agios Nikolaos of Molos (Εκκλησία Άγιος Νικόλαος του Μώλου) is a great place to walk.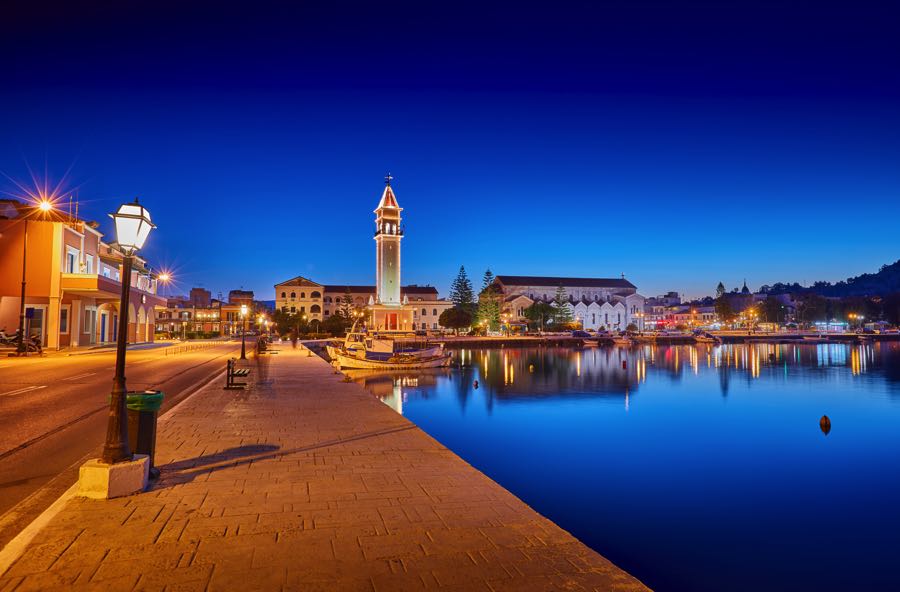 You can stroll along here in mid-day or in the evening to see the lights of the city reflecting off the water. Early in the morning, you'll see the goings-on of this bustling port center, with ferries and boats arriving and leaving, as well as fishermen selling fresh fish.
Stroll Through Saint Markos Square
📍St.Markos Sq. – Zakynthos 291 00, Greece
Not only is Saint Markos Square a lovely place for a stroll or a coffee, it's also one of the most historically important squares on Zakynthos Island. It was here in 1797 where the local Zakynthonians gathered to rebel against inequality and exploitation by the nobels, burning the Libro d'oro. Today it's still where protests happen on the island, but it's mostly calm these days.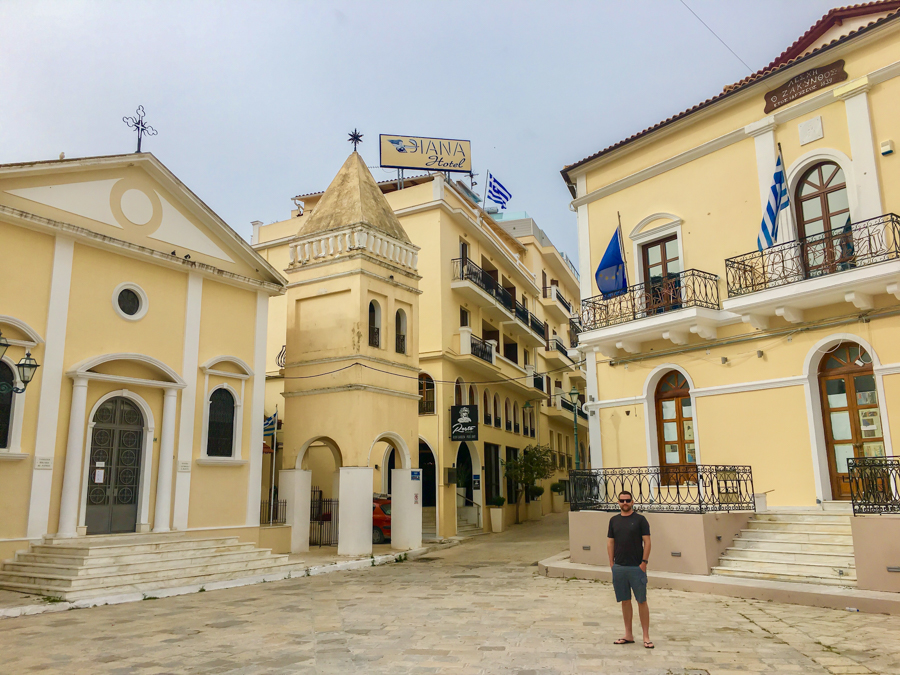 Visit Dionysios Solomos Square
📍Solomos Square – Zakinthos 291 00
Along with Saint Markos Square, Solomos Square is one of the most important squares in Zante Town. This is the largest square in the city and is where you'll find many cultural events and festivals happening. It's a nice place to stroll around and it looks out to the Ionian Sea. Here you can check out the Statue of Freedom, the Town Hall of Zakynthos and the statue of Ugo Foskolo.
Walk The Pedestrian Street
📍Roma Street -Zakinthos 291 00
From Saint Markos Square walk along the gorgeous pedestrian-only Roma Street. Here you'll find lots of different restaurants as well as souvenir shops and pretty much every kind of store you can find on Zakynthos Island.
Check Out The Churches
There are plenty of churches to check out while you're strolling around Zakynthos town. A few that you shouldn't miss include the Church Agios Nikolaos of Molos, St. Dionisos Church, San Dennis Church, and Faneromeni Orthodox Church.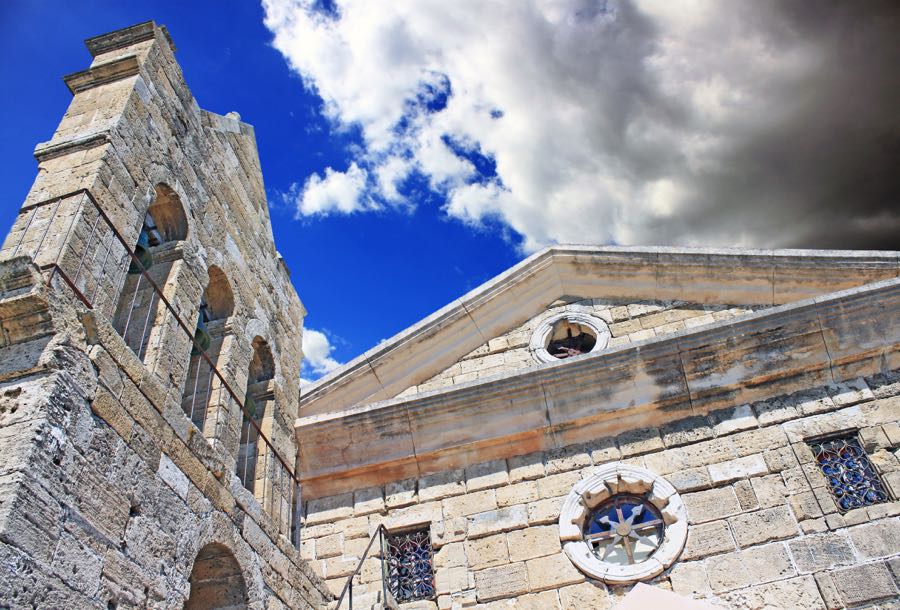 Check Out The Venetian Castle
📍Venetian Castle – Bochali 291 00, Greece
About a 2-kilometre walk up the hill outside of the city is the fascinating Venetian Castle that sits atop the Bohali Hill. This is a great place to escape the city and get into nature. The 15th-century fortification is surrounded by pine forest and offers spectacular views down towards Zante Town and the Ionian Sea. Check out our post all about visiting the Venetian Castle.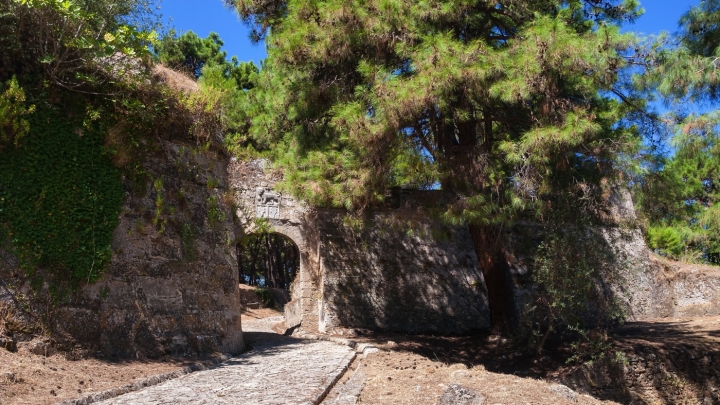 Visit Strani Hill
📍Strani Hill – Zakinthos 291 00
About 2 kilometres or a 25 minute walk inland from Solomos Square you'll find the peaceful Strani Hill. This historical place is where Dionysios Solomos wrote the Greece National Athme "An Ode To Freedom" after hearing the cannonades during the Third Siege of Missolonghi. Nowadays it's a nice place to walk around and it's a decent walk up from the city. You can do this hike and the hike up Bohali Hill to the Venetian Castle in a day.
Where To Stay in Zante Town
While Zante Town is the commercial center for the island of Zakynthos, it's not necessarily the tourism center, but that's not to say that there aren't plenty of hotel options in the city. Here are a few of the best options of places to stay in Zante Town.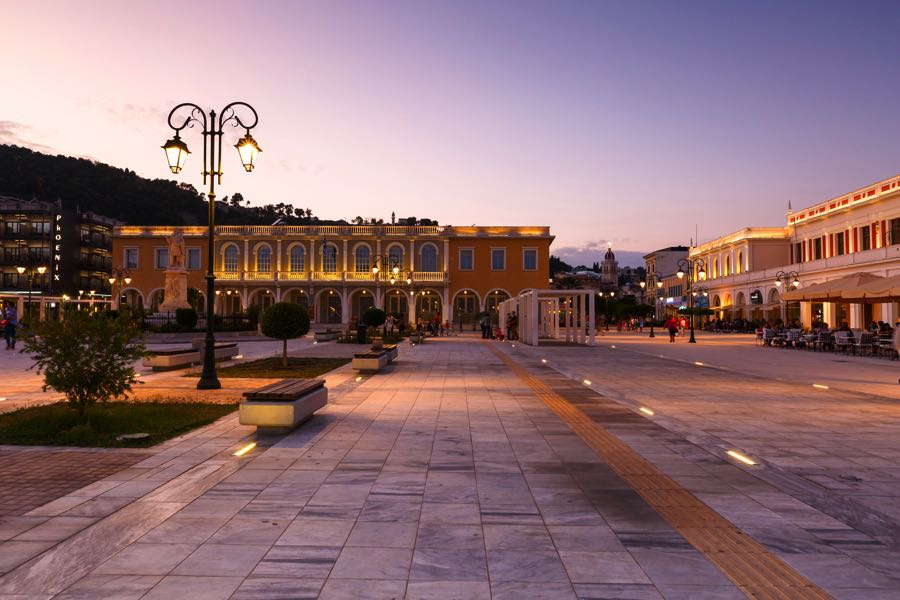 Here are the top recommended Zante Town hotels:
Dali Hotel
📍Lomvardou 20, Zakinthos 291 00, Greece
★ 9.1/10 (294 Booking.com Reviews)
💵 From €43/night
Dali is located about 600 meters from the beach in Zante Town and offers nicely decorated rooms overlooking the sea (some have mountain views on the backside of the building). All rooms have A/C, electric kettles, free wi-fi, TVs and a fridge. The room rate also includes an excellent breakfast.
Click Here To See Prices on Booking.com
Pheonix Hotel
📍Solomos Square 2, Zante Town 291 00, Greece
★ 8.7/10 (578 Booking.com Reviews)
💵 From €60/night
This large hotel is located on Solomos Square 90 meters from the beach and 20 meters from the port in Zante Town. They have a restaurant on-site and the hotel is near to many restaurants, bars and shops. Every room has A/C, flat-screen TVs, an iron and a fridge with private bathrooms, free wifi and some have a view of the plaza.
Click Here To See Prices on Booking.com
Ninemia Villas
📍Pahoumiou, Makri 4, Zakinthos 291 00, Greece
★ 9.6/10 (35 Booking.com Reviews)
💵 From €120/night
This 95-square-meter (950-square-foot) three-bedroom detached villa is located 600 meters up a hill from Dionisios Solomos Square and offers breathtaking views over Zante Town, the port and the Ionian Sea. The villa has a barbecue for guests to use as well as a dishwasher. Best of all, there's a jacuzzi on the deck with incredible views.
Click Here To See Prices on Booking.com
Palatino Hotel
📍Κολυβά, Kolokotroni και, Zakinthos 291 00, Greece
★ 8.8/10 (437 Booking.com Reviews)
💵 From €50/night
Palatino is a 4-star hotel conveniently located in a quiet area on the northern end of Zante Town. The rooms – all with A/C, TV, Wi-Fi and comfy beds – have gorgeous views of the sea or the mountains and there's a restaurant and a cocktail bar on site.
Click Here To See Prices on Booking.com
Plaza Hotel
📍 Kolokotroni 2, Zakynthos, 29100, Greece
★ 8.8/10 (354 Booking.com Reviews)
💵 From €50/night
Located opposite Agia Triada Beach at the north end of Zante Town, the rooms here all have TVs, A/C and private bathrooms. The room rates include a decent breakfast in the morning and the rooms on the front of the building have lovely views out to the Ionian Sea.
Click Here To See Prices on Booking.com
Best Restaurants in Zante Town
While Zante Town doesn't have the best beaches on the island or perhaps the best nightlife, it likely has the best restaurants in Zakynthos. Here's a list of just a few of the top places to eat in Zante Town.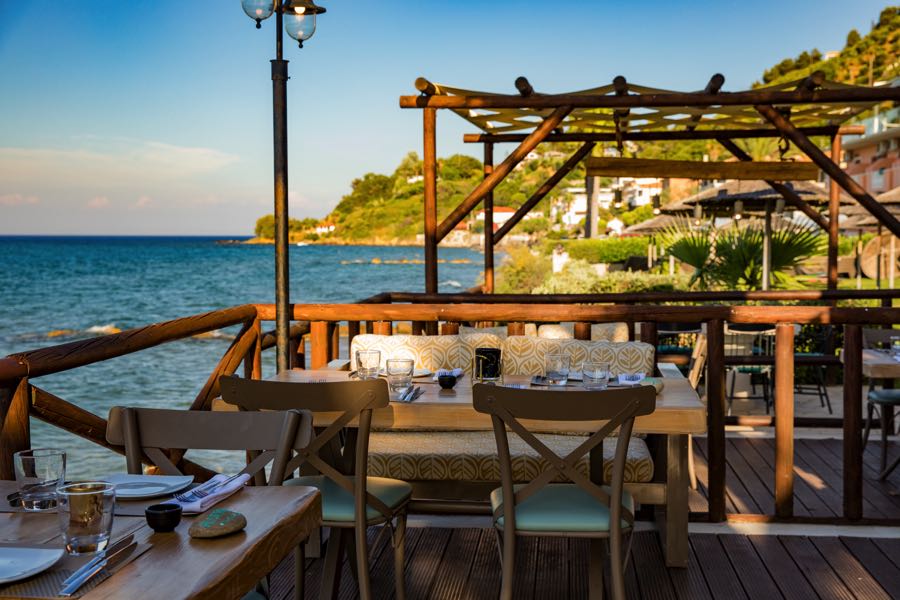 Here are the best restaurants to try in Zante Town:
Ammos Taverna
📍 Agiou Dionisiou 46, Zakinthos 291 00, Grecia
★ 4.5/10 (358 Google Reviews)
💵 Mains from €6
Set right on the harbour, this friendly little Greek restaurant serves up some tasty food. It's fresh, so you have to be patient while they prepare it (some dishes take up to 45 minutes to hit the table), but it's worth it. They do great moussaka, some tasty pastas and excellent seafood dishes.
Prosilio Restaurant
📍Ag. Panton 15, Zakinthos 291 00, Greece
★ 4.6/10 (277 Google Reviews)
💵 Mains from €12
This place is a bit of a more upscale option in Zante Town, but they have some great meals on offer here. They have some delicious (albeit very expensive) steaks on the menu here and a cool wine cellar that you can check out. A dinner for 2 with wine here will likely set you back over €100, but it is high-quality ingredients prepared very well.
Taverna Tsikoudia Zakynthos
📍 5 Dimokratias Sq. & Desylla, Zakinthos 291 00, Greece
★ 4.4/10 (345 Google Reviews)
💵 Mains from €10
Another relatively "fancy" Greek restaurant in Zante Town, this place is oozing romance. If you come here during the high season, you'll likely find a couple of duelling guitarists adding to the ambiance. They also do steak here (€26) as well as some salads and appetizers and there's a great view from the patio.
Yard of Taste
📍 Rizospaston 15, Zakinthos 291 00, Greece
★ 4.6/10 (507 Google Reviews)
💵 Mains from €12.50
If you're looking for a menu with some vegan options, then Yard of Taste might be the place for you. They also have some great meat and seafood meals on the menu as well as salads, traditional Greek food and pasta. The interior is beautifully decorated and the ceiling is open to the stars, making it a very romantic place to come for dinner.
Strathmos
📍Filita 42, Zakinthos 291 00, Greece
★ 4.6/10 (679 Google Reviews)
💵 Mains from €10
A casual, traditional Greek dining experience, this simple restaurant features great seafood and steak options on a backstreet behind the seafront of Zante Town. The wait staff is quick and friendly and while the menu changes on a daily basis (it's written on a chalkboard), it's always delicious and fresh.
Beaches in Zante Town
While there are a few stretches of sand in Zante Town and nearby, these are more of the "Urban-Style" beaches and definitely aren't the best beaches in Zakynthos (like Alykes Beach, Navagio Beach, Keri Beach, Xigia Beach and Gerakas Beach). If you want to see the most stunning bays and coves around the island then I recommend renting a car or renting a boat in Zakynthos.
Nevertheless, here are a few of the best beaches in and around Zante Town:
Zante Town Beach (aka Agia Triada Beach)
📍Leof. Paraliaki 30, Zakinthos 291 00, Greece
This small, pebbly beach is located right in the center of Zante Town along the coast. Because it's the only beach within the city limits, is quite crowded, particularly during high-season. Although it's not the nicest beach, it's a decent spot for a quick swim if you have no way of getting to other beaches outside of the city.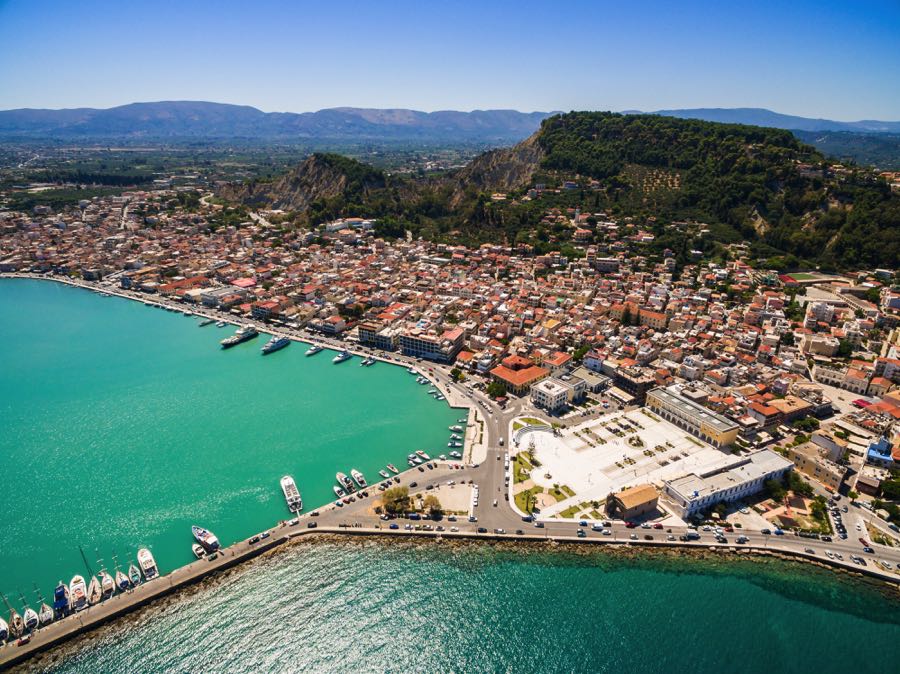 Porto Zorro Beach
15 kilometres or a 25-minute drive by car south of Zante Town and you'll reach Porto Zorro Beach. There are some facilities here including umbrellas and sunbeds for rent and the wonderful Porto Azzuro Beach Bar.

Banana Beach
📍Epar.Od. Zakinthou – Vasilikou, Zakinthos 291 00, Greece
This is a beautiful and broad stretch of sand about a 15-minute drive southeast from Zante Town. There are also a few public buses per day that go here via Argassi town. There are some facilities on the beach, like change rooms, showers and toilets and there are sunbeds and umbrellas for rent here starting at €7 each.
Laganas Beach
7.3 kilometres (14-minute drive) directly south of Zante Town and across the headland will bring you to Laganas Beach, one of the best beaches in Zakynthos and a place very popular with holiday-makers and partiers. This beach has everything you could ask for including great restaurants and bars and some watersports as well. Single sunbeds cost €4 while a set of 2 with an umbrella will set you back about €8 for the day.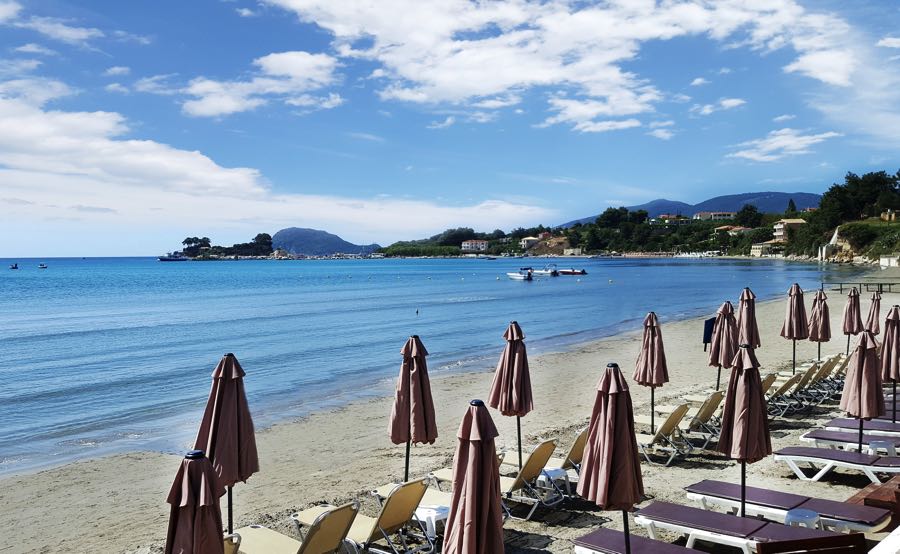 Day Trips from Zante Town
Most people who stay in Zante Town will be planning to do day trips from here to see the rest of the island. The best way to see Zakynthos is either by renting your own car (prices start at around €15/day + gas), by renting a boat (prices start at around €80/day + gas), or by joining a day tour around the island (prices start at around €35/person).
Here are a few of the most popular day trips from Zakynthos.
Navagio Beach
This is the most breathtaking beach in Zakynthos and easily one of the best beaches in Greece. Also known as Shipwreck Cove, this beach can be seen on two separate day trips, one as part of a boat tour to get to the sand (the only way to access the beach is by boat), and the other is to drive to the lookout point from the cliffs that are 200 meters above the cove.
Click Here to learn more about visiting Navagio Beach including how to get there, the best time to visit and which tours are the best.
Keri Cliffs & The Keri Lighthouse
Located about a 45-minute drive west from Zante Town is the lovely village of Keri. On the way, you can pass through Keri Beach area, which is great for a swim and lunch, then continue on to Keri Village which is up on the cliffs on the craggy western side of the island. From here you can check out the Lighthouse and go for a nature walk, all while enjoying spectacular views of the Ionian.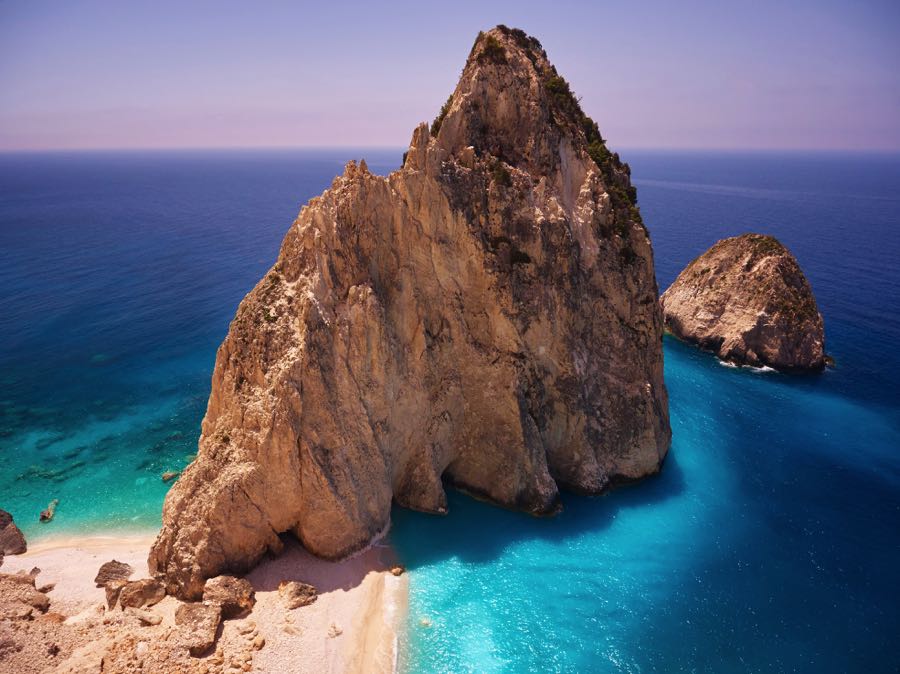 Click Here to learn more about visiting Keri Village, Keri Beach town, the Keri Cliffs and the Keri Lighthouse in Zakynthos.
Gerakas Beach
Located about 15 kilometres, or a 27-minute drive south of Zante Town, Gerakas Beach is a stunning stretch of golden powdery sand. Once famous for the sulphur mud that's found here (nowadays the mud is closed off to tourists due to erosion), Gerakas Beach is still one of the best beaches on the island for families and for spotting the amazing Loggerhead Turtles which frequently nest on the sand and swim in the waters here.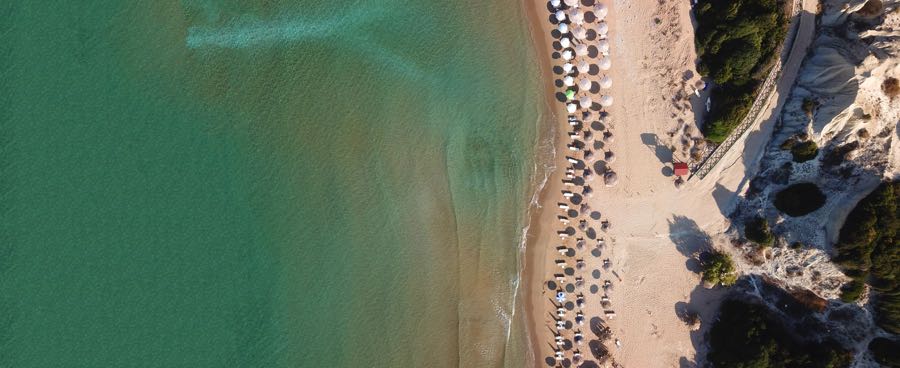 Click Here to learn more about visiting Gerakas Beach area and Click Here to learn more about swimming with the turtles here and in other parts of Zakynthos.
Should You Go To Zante Town?
While it wouldn't be my top choice for where to stay in Zakynthos, Zante Town is definitely worth a visit. If you arrive on the island on a later ferry, don't be afraid to spend a night or two here as there's definitely enough here to keep you busy for a day or two.
Whether you get a hotel and stay in Zante town, or you're just stopping by on a day trip around the island, Zante Town should definitely make it on your Zakynthos itinerary.
If you arrive by ferry, this is where you'll land, and if you come in by plane you're just a few kilometres outside of town. Either way, make sure to head in and experience the history and vibe of this stunning Ionian Island capital.
Like This Article? Pin it!