There are so many great beaches in Cyprus, and some of my favorites are found in Limassol. Some busy and with sun loungers as far as the eye can see, and some more secluded and quiet.
But the best thing about the Limassol beaches is that they're so close to the City; making it a fantastic place to work, live and relax.
I spent over three months living in Limassol, enjoying the best of this amazing cosmopolitan city and soaking up the sun on the many Limassol Beaches – one of these beaches has some of the bluest water on the island!
10 Best Beaches in Limassol
Limassol is a cosmopolitan beachside city and as a result, there are some excellent city beaches in Limassol. These are very accessible from your accommodation and are home to plenty of handy amenities.
If you're up for heading outside the city to change things up, then read on to learn about some of the best beaches close to Limassol to explore. These will be slightly less busy and much more chilled.
So, whether you're after a party beach, a beach for kids, or just somewhere to relax, you'll definitely find your new favorite Limassol beach below.
1. Columbia Beach
Columbia Beach is one of the coolest city beaches in Limassol. It's named for the famous Columbia Beach Bar, which is one of the best restaurants in Limassol for brunch.
The beach itself is part of the 10-kilometer stretch that runs along the length of Limassol city. The water is super blue and the sand is soft.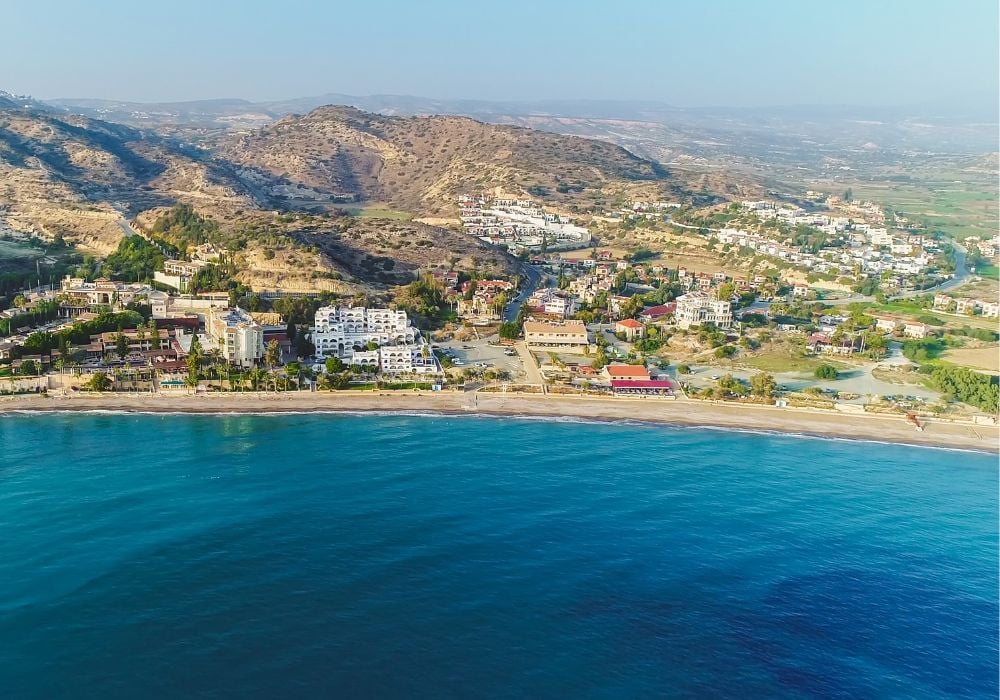 Columbia Beach Bar brings the vibe at this trendy Limassol beach. They serve excellent food and cocktails at their Instagrammable bar and provide beach-side service to their loungers during the day.
This beach is great for groups, but also good for families during the day. At night, Columbia Bar is one of the coolest spots in town to party.
Accommodation Near Colombia Beach
Columbia Beach is a great location from which to explore Limassol as it's very centrally located along the beach road. Here are some of my favorite stays in the area.
Chill-out Balcony with 2-bed Apartment: A bright and airy apartment with a huge balcony, minutes from Columbia Beach.
1BR Beach Apartment VANDA: This cute apartment has everything you need for a comfortable stay near Columbia Beach on a budget.
Circles in the Water: A newly-refurbished 1-bed apartment with access to a pool and located a short walk to the beach.
Restaurants Near Colombia Beach
Columbia Beach has three beachfront restaurants and a bar, one after the other. So you'll certainly be able to find somewhere great for a drink or food when at this popular Limassol beach.
Columbia Beach Bar: One of the most Instagrammable bars in Limassol. An amazing beach bar with a pool, indoor seating, and loungers on the beach. Upmarket and high-end food and entertainment.
NOA Beach Bar: A relaxed beach bar with an extensive food and drinks menu overlooking the beach.
Fat Fish Restaurant: Nestled between the two above, Fat Fish serves excellent seafood, as the name suggests.
2. Dasoudi Beach
Dasoudi is one of the most popular public beaches in Limassol. It's always busy with locals and tourists alike and boasts wide and long beaches in the center of Limassol.
It has a car park and locals often bring camping chairs, tables, BBQs, and coolers here on the weekend. It makes for a really sociable vibe.
The sand is soft, and the water is clear. It's shallow as well, so it's a great spot for families or those that like lazing in the sea. There's even a public 'muscle beach' style gym on the beach if you're feeling active.
Despite being one of the most popular beaches in Limassol, there's always space to lay your towel here, or hire some loungers if you prefer; available for €2.50 per item (lounger or umbrella) as is the case throughout Limassol.
Accommodation Near Dasoudi Beach
There are some fantastic stays within walking distance of Dasoudi Beach. Here are some of the best options.
Dasoudi Beach Residence: This beautiful apartment is located right on the beach. With 2-bed en-suite bedrooms and a high-quality finish, this stunning place is the perfect stay near Dasoudi.
3-bedroom Villa with Private Pool: It's rare to find a villa in this part of town, and the addition of a private pool makes this place a winner. It's traditionally finished inside and mere steps from the beach.
Modern Apartment Near Dasoudi Beach: A beautifully finished 1-bed apartment just 3 minutes from the beach.
Restaurants Near Dasoudi Beach
Dasoudi Beach is in the middle of beach road in Limassol, so it has plenty of varied options for food and drinks nearby.
The Cabin: Just across the beach road, the Cabin is famed for its moussaka and serves delicious, local food.
Tiflis Restaurant: For great grilled meat, try this excellent Georgian restaurant just behind Dasoudi Beach.
The Woodman Sports Pub & Restaurant: For a relaxed atmosphere, sports on the TV, plenty of drinks options, and some good pub food then head to the Woodman across the road.
3. Malindi Beach
Just to the east of Limassol itself is St Raphael Marina, which splits two of the best beaches near Limassol. As you approach the Marina, to the right is Malindi Beach and to the left is St Raphael Beach.
I prefer Malindi beach because it's often less busy. St Raphael serves a hotel with the same name and so can become crowded with guests.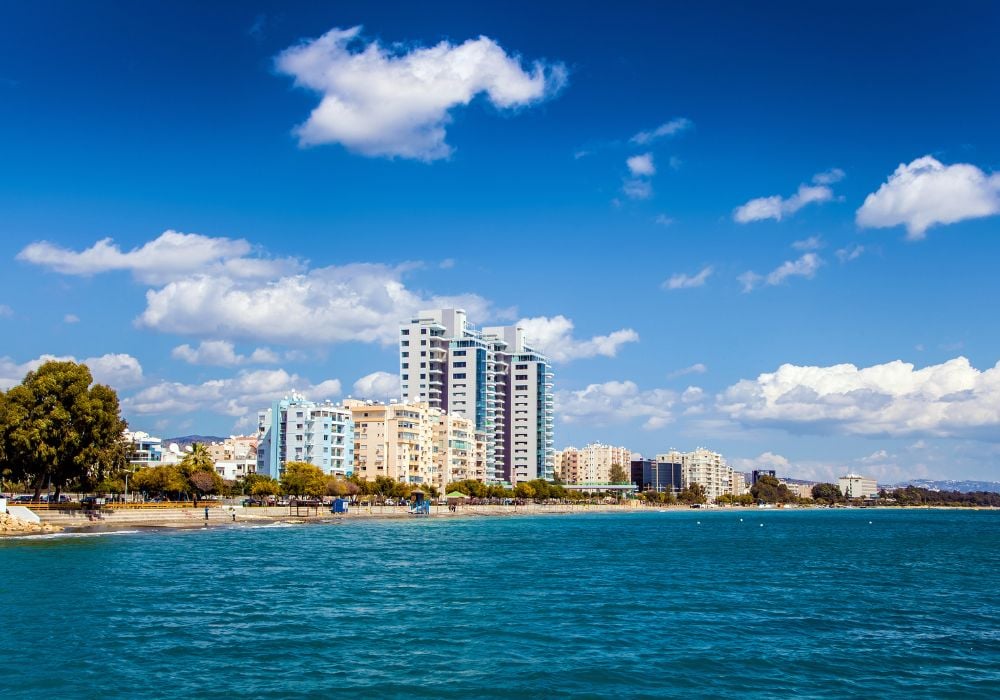 Malindi Beach is a long beach with incredible views back over the Limassol skyline. The sand here is fine and soft and the water is calm and shallow.
It's the best beach in Limassol for families, as the water is shallow for at least 50 meters; kids can splash around and families can play games in the warm, calm waters.
The beach gets its name from Malindi Beach Bar, which is the sister restaurant to Columbia mentioned above. So expect great food and finer dining.
However, there is also a small shop on the beach that sells drinks and snacks, and rents loungers for very affordable prices.
Accommodation Near Malindi Beach
Malindi Beach is slightly outside the center of Limassol but has a lot of high-end rental options. I've picked out some of my favorites here.
Charming and Sunny Sea View: A high-end, 2-bed apartment with incredible views over the sea.
Modern 1-bed Apartment: A well-finished and affordable apartment near St Raphael harbor.
Alexander Sea View Apartment: A modern and cozy 1-bedroom apartment on the top floor with fantastic views.
Restaurants Near Malindi Beach
Seafood features highly in some of my favorite restaurants near Malindi Beach. Here they are:
Malindi Beach Bar & Restaurant: The sister restaurant to Columbia beach bar, serving tasty food and drinks in an upmarket setting.
Sailor's Rest Lounge Bar Restaurant: Located right on the end of the pier with pretty views over the sea and Limassol city.
Chester's Bar and Restaurant: Just back from the beach, Chester's is one of the most popular restaurants in Limassol. You have to try the Mongolian pork chop.
4. Kourion Beach
If you head outside of Limassol, you'll be rewarded with one best beaches around Limassol at Kourion Beach. Kourion Beach is located in Episkopi, around 30 minutes west of Limassol city.
It's a beautiful, long beach nestled in a cove overlooking the Mediterranean Sea. It's a blue flag beach and so, as you'd expect, it's spotless, tidy, and offers plenty of amenities.
There are lifeguards too so it's a great beach for families or groups and those who want a quiet, carefree day.
As it's away from Limassol, it's less crowded than a Limassol beach, and you really feel like you've escaped the city.
The water is shallow and often has small waves which make for a lot of fun for kids and adults alike. One of my favorite beaches in Limassol for a day trip with a picnic, a ball, and plenty of sunscreen!
Even better, it's located just below the incredible Kourion Archaeological Site. Here you'll find a restored, second-century Greco-Roman theater to explore, as well as other discoveries from this hillside city.
It's a fascinating look into the history of Cyprus which can be combined with a day at the beach.
Accommodation Near Kourion Beach
Accommodation for Kourion Beach is in the charming nearby village of Episkopi which is a great location for families.
The Courtyard Guesthouse: A boho-style 2-bedroom stay in a 200-year-old restored traditional house. Stunning!
Garden Gate Home: This charming 1-bedroom apartment comes with plenty of greenery and birdsong alongside many mod-cons.
Episkopi Villa: This 4-bedroom villa with its own private pool is the perfect stay for families.
Restaurants Near Kourion Beach
Kourion Beach is a little outside Episkopi and away from the main tourist areas, but it still has some good food options to explore.
Kourion Beach Restaurant: Great local food from salads to grilled meats and fish, right on the beach.
Chris Blue Beach: The other beachfront option is Chris's which does excellent swordfish.
M1 Fish Tavern: Back in Episkopi (so perfect to call in on the drive home), this is an incredible local taverna.
5. Deniz Yolu Beach
Deniz Yolu is the first of the Limassol beaches, starting just after the marina and Molos promenade end.
This isn't really the best beach in Limassol for a day trip with a cooler and loungers. Instead, it's perfect as a local beach to head down for a swim and cool off before joining the locals in nearby Thalassaki.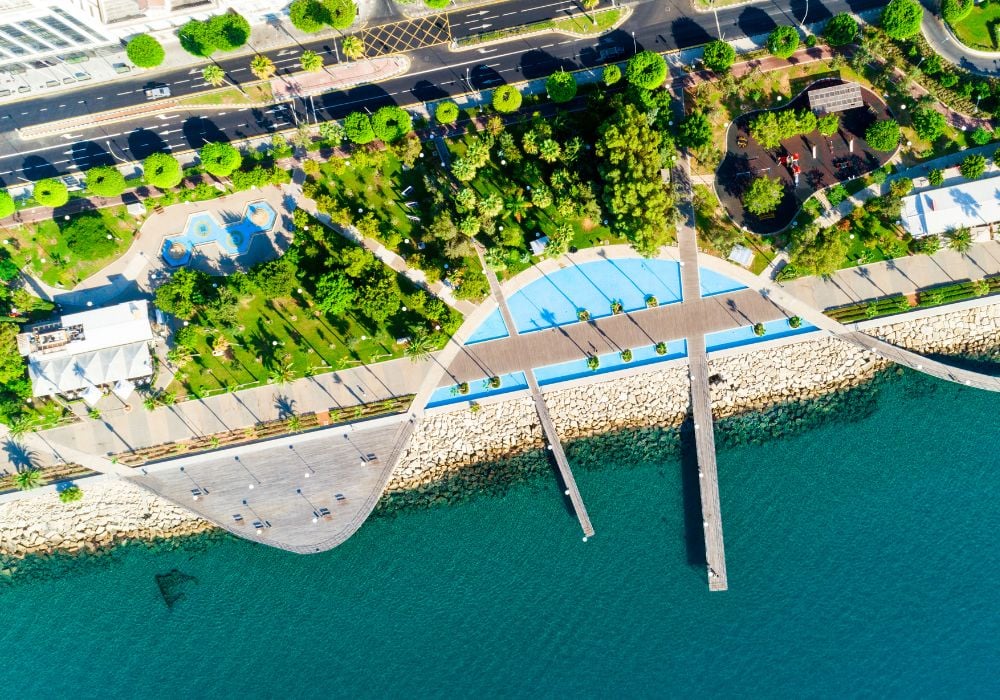 The beach itself is a mixture of sand and fine stones, and the water is nice and calm. It's perfect for swimming as the offshore reef keeps the waves down.
My favorite part of this beach is Thalassaki which is a really nice cafe right on the beach – an ideal place to dry off while enjoying a coffee. You'll find plenty of locals here and games of Tavli (Greece's version of Backgammon).
Accommodation Near Deniz Yolu Beach
Deniz Yolu beach is really close to Limassol Old Town, so you'll find some lovely, traditional stays near here.
Unique Old Town Apartment: A beautiful 2-bed apartment with a huge balcony complete with a jacuzzi.
Luxurious Sea Front Three-Bedroom Apartment: The ultimate in high-end luxury, this stunning apartment has incredible views over Limassol and the sea.
2-bed Penthouse Apartment: A beautiful, retro-style apartment giving way to 360-degree views from the roof terrace.
Restaurants Near Deniz Yolu Beach
As Deniz Yolu is located right next to Molos and the popular Marina, you'll find plenty of great restaurant options nearby. Here are some of my favorites.
Thalassaki: Perfect for a post-swim coffee, this local cafe on the beach also sells sandwiches and snacks.
Red Cafe Pizza Romana: Take a stroll from Deniz Yolu down Molos and stop in at Red Cafe for excellent pizza.
Meze Taverna: Head behind Deniz Yolu into Old Town to visit one of my favorite restaurants in Limassol. Order the meze and watch the world go by with some incredible food.
6. Governor's Beach
Governor's Beach is an excellent Limassol beach for those that want to head slightly off the beaten track.
It's in fact a series of coves to the east of Limassol, each with a shingle beach and crystal clear waters. There are incredible views along the coast and lots of small caves to explore, so bring your water shoes.
Many of the coves at Governor's beach are served by small beach bars or restaurants, and the majority have loungers to rent.
My favorite cove at Governor's beach is Kalymnos beach, which has a car park above it and stairs down to the beach through the restaurant. There's a really cool beach bar here that plays music, has loungers and bean bags, shaded areas, and food and drink options.
Alternatively, head to Sofronis Beach Tavern, which is an excellent family-run tavern that serves great seafood with amazing views over the coast.
Accommodation Near Governor's Beach
There are a few options near the beach itself, and otherwise some lovely stays in nearby Pentakomo. Here are some great options.
Villa at Governor's Beach: This beautiful, traditional 3-bed villa has a lovely garden and a private pool, only minutes from the sandy Governor's Beach.
Beautiful Cypriot Cottage: This gorgeous 2-bedroom, classically Cypriot cottage in nearby Pentakomo makes for a truly relaxing stay.
Balcony Apartment with Private Courtyard: One of my favorite stays outside of Limassol. This charmingly restored 1-bed property has incredible views over the surrounding countryside.
Restaurants Near Governor's Beach
Governor's beach is a little off the beaten track, but there are still some fantastic local taverns in the area.
Sofronis Beach Tavern: An excellent family-run taverna with delicious seafood and incredible views over the coast.
Kalymnos Fish Tavern: With excellent views over the sea and steps down to the beach, stop in at Kalymnos for deliciously fresh fish after your day at the beach.
Adamos Fish Restaurant: Another excellent fish restaurant perched on the cliffs overlooking the sea. Just down from Kalymnos.
7. Lady's Mile Beach
Lady's Mile beach is made up of 5 kilometers of perhaps the best beaches in Limassol. It's located to the west of the city and is accessible by car.
However, the current road to the beach is unmade so double-check if you have a rental car as some explicitly exclude access to Lady's Mile.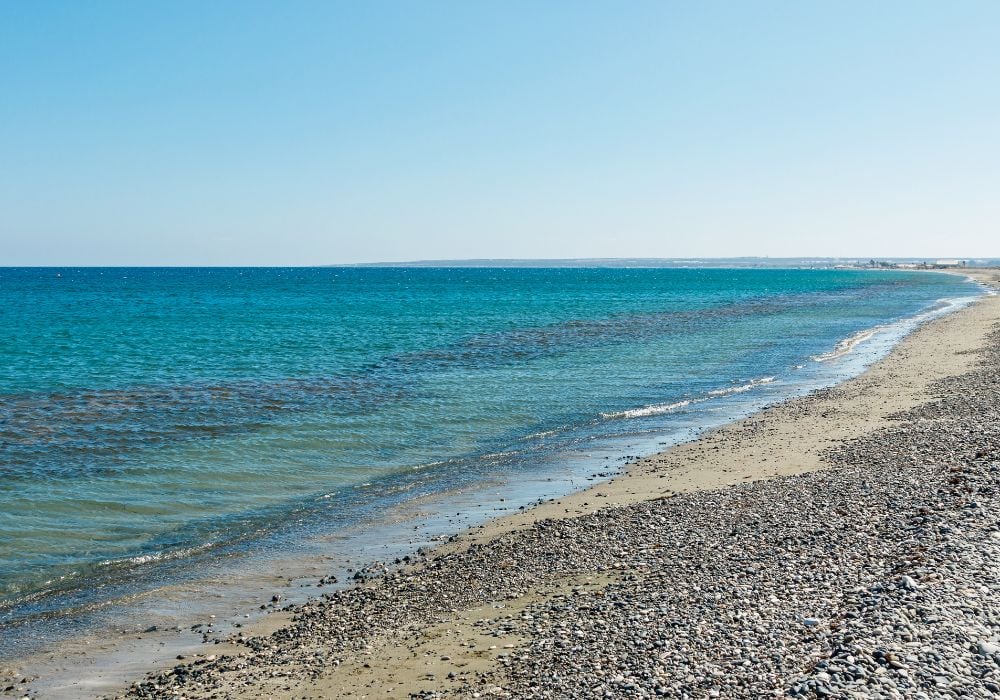 Once you arrive, you'll be met by 5 different 'stations'. These are 5 different beach bars and clubs, all offering something slightly different, so there's something for everyone.
My favorite station is Apolostra which is a cool beach bar and restaurant that offers good food and drinks, comfortable loungers, and plenty of showers and toilet facilities. Each of the stations has parking and good facilities.
The beach itself is wide and sandy. The water is incredibly warm and shallow for some distance out. So it's great for cooling off or playing games in the sea.
There are platforms off the coast that you can swim to for some sunbathing or to practice your dives! There's even an inflatable obstacle course further down the coast.
If you prefer, you can avoid the stations and just pitch up on the sand with your towel.
At 5 km, there's plenty of space for everyone, although Lady's Mile does get very busy and popular with locals at weekends during the height of summer. For good reason, it's a beautiful Limassol beach with lovely views back over the city.
Accommodation Near Lady's Mile Beach
Lady's Mile is to the far west of Limassol, away from any commercial or residential areas. However, nearby Omonia, (part of Limassol itself), is accessible from both Lady's Mile and Limassol.
Modern 3-bed Apartment: This well-furnished top-floor apartment has a large balcony and fabulous views. It's 5 minutes from Lady's Mile and close to the water park and Limassol city.
The Woody Studio: This cool and stylish studio has a mezzanine sleeping area and lots of cool features. It's very close to Lady's Mile and Limassol mall.
Bright & Beautiful 3-Bed Apartment: A modern and spacious apartment with a balcony, close to the mall, Lady's Mile, and the new casino.
Restaurants Near Lady's Mile Beach
Any of the 5 stations at Lady's Mile Beach are good options to stop in and eat. Here are some of my favorites, depending on what type of atmosphere you're after.
Aplostra Beach Bar: Fun beach bar with lounger service and good music. Food and drinks are great.
Columbia Sun: Part of the Columbia group of restaurants, so you know you're getting good quality food and delicious cocktails, and can expect a high-end beach bar feel.
Captain's Cabin: A perfect stop for families, this laid-back, and friendly restaurant has good food and drinks for the whole family.
8. Miami Beach
One of the longest city beaches in Limassol, Miami Beach is a long stretch of sand between Deniz Yolu and Columbia Beach.
Technically, Miami Beach is made up of two separate beaches called Akti Olympion Beach and Miami Beach. But in reality, there are no discernible markers between the two and no signs for the former, so I've included them together.
The water here is crystal clear, as it is along the entire length of the Limassol coast. The water is nice and calm thanks to the artificial reefs and is fairly shallow.
Given its size, there's plenty of room both on the beach and in the sea. So for me, along with Armonia Beach, it's the best beach in Limassol for swimming.
The beach is served by Thalassokoritso which serves good food and drinks all day. There are lifeguards too, (as there are at most Limassol beaches). Water sports are available here from the excellent Enaerios Watersports.
Accommodation Near Miami Beach
Miami Beach is in a fantastic location, halfway down the beach road, and has a huge variety of great stays nearby to choose from.
White Pearl Suite: A beautifully renovated studio apartment, right across from Miami Beach with stunning views over the sea and city.
Modern City Serviced Apartment: For the ultimate relaxation, check out this 2-bed serviced apartment complete with a rooftop pool.
Central Sea Breeze Apartment: A lovely 2-bedroom apartment with a cute little balcony and sea views.
Restaurants Near Miami Beach
Miami Beach is located right in the center of Limassol, so you'll have plenty of choices for lunch and dinner after spending a day at the beach.
Thalassokoritso: A super relaxed beachside cafe serving good bar/cafe style food and drinks all day.
The Ship Inn Bar and Restaurant: A pub-style venue with plenty of drink options and food pub food just over the beach road from Miami Beach.
La Brezza: For award-winning Mediterranean and Italian food, stop in at the beautiful La Brezza. It's located in the Crowne Plaza hotel between Miami Beach and Columbia Beach.
9. Armonia Beach
Armonia Beach is my favorite of the beaches in Limassol – although I may be a bit biased as I lived here for several months during one of my trips to Limassol.
It's a lovely long beach in the Agios Tychon area of Limassol. It has soft, golden sand and calm waters, again thanks to the offshore reefs.
It also has a lovely promenade at the back of the beach, so you can walk or cycle for miles in either direction. There are cafes, restaurants, and hotels up and down the beach, although it never feels crowded.
Loungers are available for €2.50 per bed/umbrella, and drink/snack hatches have just opened up on the beach. There are water sports available here, and it's also a lovely spot to swim.
It's a perfect all-rounder and the best of the Limassol beaches at this end of the city.
Accommodation Near Armonia Beach
Armonia Beach is in the heart of Agios Tychon, or the tourist area as it's locally known. It's one of the places I stayed in Limassol, and here are some of my favorite options.
Morpheus Beach-Front Apartment: A bright and colorful 1-bedroom apartment located on the beachside of beach road, so you're only steps from feeling sand between your toes.
Golden Beach Waterfront Apartment: This lovely and affordable 1-bed apartment is right across from the beach and ideally located in the heart of Agios Tychon.
Serenity Plus Apartment: This beautiful 2-bed apartment has stunning views over the sea and is tastefully and stylishly decorated inside.
Restaurants Near Armonia Beach
As it's located in the popular tourist area of Agios Tychon, you have some of the best eating options in Limassol on your doorstep at Armonia beach.
Armonia Beach Bar: A simple setting right on the beach. Enjoy a cold drink or some good local food under the old tree watching over the ocean. It's a very chilled-out place where beachwear is the norm.
Puesta Oyster Bar & Grill: You may need to get changed for this one, but it'll be worth it. It's a high-end fish restaurant with stunning views. Try the oysters and go at sunset for some of the best views in Limassol.
Gerrards Kitchen and Bar: Hands down my favorite bar in Limassol. Excellent for watching sports or live music under a retractable roof. The kitchen is excellent too, with pub favorites as well as some Asian-inspired specials.
10. Pissouri Beach
Pissouri is another of my top beaches around Limassol. It's located at the far end of Episkopi, further along the coast from Kourion Beach.
This beautiful blue flag beach is around 1.5 kilometers long and around 90 meters deep in sand, so there's plenty of room for everyone on the beautiful light and soft shores.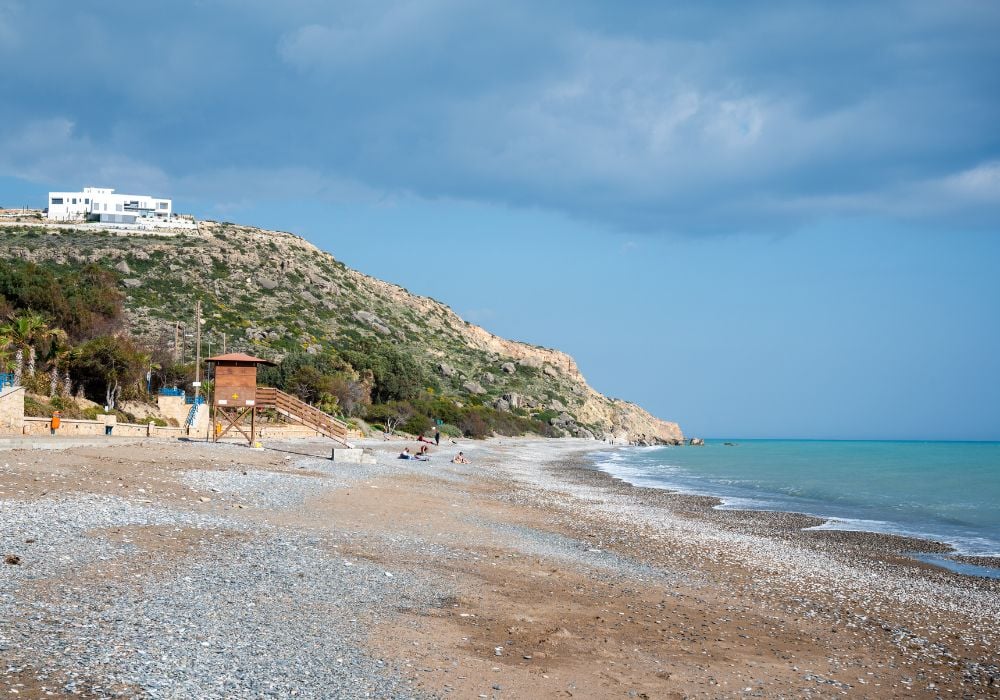 The water is a beautiful blue color and is wavier here than at other Limassol beaches. This makes it a popular water sports spot. While Limassol is not known for its surfing, this is the best beach in Limassol for surfing or windsurfing.
If that's not your scene, you can still have fun in the waves which are not overly high or aggressive. There are lots of communal facilities on the beach, including toilets and changing facilities.
You'll also find restaurants and bars, loungers, and water sports so there's plenty to do.
Accommodation Near Pissouri Beach
As with Kourion Beach, Pissouri Beach is close to the beautiful town of Pissouri. So you'll have plenty of choices, particularly for families looking for larger villas. Let's take a look.
Villa Rossa: This beautiful 3-bedroom villa is only 300 meters from Pissouri Beach. A huge villa with a private pool and cookout area, this is a wonderful family stay.
Katikies 20 Villa: This beautiful 3-bed villa will sleep up to 8 people. It has a gorgeous outdoor area with its own private pool.
Odysseus Bay Villa: A stunning pool is the stand-out feature of this 2-bedroom villa, which also boasts beautiful views over the coast.
Restaurants Near Pissouri Beach
Pissouri Beach is near the old town of Pissouri and so you can expect to enjoy lots of amazing, local tavernas.
Yialos Taverna: Located close to the beach with an elevated view over the sea, head here for delicious local dishes with some excellent vegetarian alternatives.
Stala's Grill Corner: A little further into town, this is a fantastic family-run taverna that serves superb grilled meats (and plenty of other dishes) at great prices. One of the best in town.
Pizza Venetto: For delicious pizza after a day in the sun, take an outdoor seat at this pizzeria and enjoy!
Beaches in Limassol: FAQs
What is the best beach in Limassol?
Of the city beaches in Limassol, the best beach is Armonia Beach in the heart of Agios Tychon. It's long, spacious, has soft sand, clear water, and is much quieter than those down the coast.
What are the best beaches in Limassol for partying?
Columbia Beach is the best beach in Limassol for partying, thanks to the incredible Columbia Beach Bar.
What is the best beach in Limassol for families?
Malindi Beach is the best beach in Limassol for families as it's spacious, has calm and shallow waters, and plenty of space on the beach for the kids to play.
What is the best beach in Limassol for couples?
Deniz Yolu is a great Limassol beach for couples as it's perfect for a swim before drying off at Thalassaki cafe and then heading for a romantic walk down Molos.
What is the best off-track beach in Limassol?
Lady's Mile beach is the best off-track Limassol beach. It's reached by an unmade road, but the adventure is worth it; there are 5 bars and restaurants to choose from along this 5 km stretch of beach.
What is the best time to visit Limassol?
April to June and September to October are the best times to visit Limassol, before and after peak season, during which prices and temperatures are at their highest.
What part of Limassol has the best beaches?
The Agios Tychon beaches are generally better city beaches in Limassol than those towards the Marina end, (in my opinion).
What beach in Limassol has the clearest water?
All the beaches in Limassol have incredibly clear water, but perhaps the clearest is at Governor's Beach due to the rocks in the sea reflecting the sun and sky.
Are there white sand beaches in Limassol?
The sand at the city beaches are golden, with some black sand mixed in. The sand at Kourion and Pissouri is perhaps the closest to white in Limassol.
What beach in Limassol has the whitest sand?
Kourion or Pissouri beaches probably have the whitest sand, but the sand in Limassol is predominantly golden.
What beach in Limassol has the bluest water?
Governor's Beach has the bluest water in Limassol – it's beautiful!
Are the beaches in Limassol safe for swimming?
All the beaches in Limassol are safe for swimming. Particularly the city beaches as there are artificial reefs/breaks offshore to keep the water calm and lifeguards at all beaches.
What's the safest beach in Limassol?
Any of the city beaches are safe, particularly Armonia Beach which is quiet and calm, and Dasoudi Beach which is a popular family beach.
Are there sharks in Limassol?
No, there are no sharks in Limassol.
Ready For Limassol's Beaches?
Limassol is a great place for a vacation, or as a digital nomad destination. Not only is it a lively, fun and vibrant city but it's definitely home to some incredible beaches too!
From the lively beach at Colombia beach bar, to the quiet and bright blue waters of Governor's Beach, there are some fantastic Limassol beaches to choose from. I hope this post gives you a good starting point!
Like This Article? Pin it!