The United States of America is so big that you could literally chop it up by state and many of them would still be the size of some countries. The diversity between states and regions is evident immediately and the varied topography, fantastic outdoor opportunities, excellent food, good shopping and wonderful quality of life make it one of the most sought-after destinations for both travel and for living.
The best way to travel around the US is by car or motorhome, but there are also an increasing number of affordable flights and public transport options all around the country. It's also a great jumping off point for pretty much anywhere in the world as the major airports here are more connected than anywhere else.
Get your hiking boots ready and get ready to taste some fantastic regional cuisine. Give yourself time to travel around the US and if you don't have time, simply pick a state and travel there for a while. You can always return.
Places To Visit in The United States
There are so many places to visit in the USA that you could spend multiple lifetimes in the country and still only scratch the surface. From sprawling National Parks and forests, to stunning mountains and exciting cities, the US truly has it all.
Thanks to its size, it also spans pretty much every topographical and climatic range our planet has to offer. Here you can dog sled in the arctic tundras of Alaska one day, and be sitting on a perfect white sand beach the next.
There are simply too many places to visit in the US to list on this page, but we have plenty of posts about different cities and areas of the country to check out. Here are a few of our top picks and below, you'll find all of our posts about places to visit around this enormous country.
The National Parks
One of the best things to do in The United States is to rent a car (or better yet, an RV) and head to some of the stunning national parks in the country. From Yellowstone to The Grand Canyon, you'll never get bored of the national parks in the US.
The Cities
Some of our favorite cities in the world are located in the US. Iconic metropolia like New York are just the tip of the iceberg, while places like trendy Chicago, food-haven New Orleans, and sultry Miami keep visitors busy with fun nightlife, great food, and an excellent vibe.
The Mountains
Heading up to the border with the US, the Rocky Mountains split through the Northern states scarring the surface of the earth with snowcapped peaks that have drawn visitors for centuries. Other mountains like Grand Teton, Denali, and The Appalachian Mountains can challenge even the most seasoned mountaineers.
Things To Do In The United States
With dramatic landscapes, delicious regional cuisines and some of the world's coolest cities, there's more than enough to keep you busy for a lifetime in the US. The United States of America gives travellers the convenience of Uber, great public transport and the best-mapped roads in the world.
Explore the US with the confidence of roadside assistance and the enjoyment of cheap rental cars. Road trips and city breaks are a highlight, but that's only really scratching the surface of the things to do in the United States. Below you'll find all of our posts of the best things to do in many of the major cities, National Parks and destinations in the country. Enjoy!
Cost Of Travel in The United States
The US is not the best budget travel destination. Especially in recent years with inflation bringing the cost of everything travel-related on an upward trend. Car rental prices can be astronomical in the summer months, and the cost of hotels and Airbnbs are also on the rise. That said, there are still plenty of free activities to keep you busy and there are some good deals to be had.
Budget Travel ($100/day): On the budget end of the spectrum of travel in the US you should be able to get by on $100 per day. This is assuming you're eating out just one time per day and staying in hostel dorm rooms ($20-$60/night). This also accounts for some local public transport as well as intercity buses, and leaves you with enough money for one budget meal out per day, assuming you'll cook at the hostel the rest.
Midrange Travel ($200-$500/day): If you give yourself $200 per day in the US, you still won't be living lavish, but you can upgrade to a private hotel room or a decent Airbnb apartment ($70-$150). It'll also give you a little bit more money for the odd Uber or Taxi and maybe one extra meal out, depending on how much you spend on your accommodation.
Top-End Travel ($500+/day): With a $500-$1,000+ budget per day you'll be doing ok travelling in the US. At the lower end of this, you still won't be "Luxurious". Your hotel will be limited to around $250 per night which will leave you with just enough cash to pay for the odd domestic flight, Uber rides, and 2-3 decent meals out per day, as well as a few activities per week.
Where To Stay in The United States
The US probably has the best accommodation options of any country on earth. From tents hanging off of the edge of a cliff face, to luxurious 5-diamond hotels, you'll find it all here. Just know that the price of your accommodation will be your largest expense and hotels and Airbnbs are not cheap here.
Hotels: For a budget hotel or motel room, expect to pay at least $60 per night. Generally, the hotels are clean and comfortable, but make sure you check the reviews before staying.
Hostels: There are plenty of hostels in the US and they generally offer decent value. The hostels are a great place to meet other travellers, find useful travel information, and plan onward travels. Expect to pay around $20-$60 for a dorm and around $80-$120 for a private room.
Airbnb: Definitely our favorite places to stay in the US are Airbnbs. They generally have a kitchen, which can save you a bit of money on food, and they're usually more spacious than a hotel room. Some of the best Airbnbs are the unique stays at National Parks and cool apartments in the major cities. Expect to pay around $90-$200+/night for a decent Airbnb.
Best Food & Drink in The United States
As far as restaurants go, the US pretty much has every other country beat. With every ethnic cuisine from Chinese to Chilean and more Michelen Starred restaurants than any other country on Earth, the US is a foodies paradise. There's a meal for every budget as well, so whether you're looking to get some quick eats at a hole in the wall, or sit down for a nice meal at a fine dining restaurant, you'll find something that suits your needs here. Don't miss the ever-expanding food truck culture either, particularly in Chicago, New York and New Orleans.
United States Travel Tips & Advice
Even though we're Canadian, we haven't made the short trip down the the US all that often in our lives, but we have had some pretty amazing experiences travelling in our neighbour to the south. Here are a few posts about our experiences travelling in the US.
Our Travel Experiences In The US
Even though we're Canadian, we haven't made the short trip down the US all that often in our lives, but we have had some pretty amazing experiences travelling in our neighbour to the south. Here are a few posts about our experiences travelling in the US.
When To Travel To The USA
Best Time To Visit Overall: Spring (April-May) & Fall (September – October)
The United States of America is a massive country so the climate varies widely between elevations and latitudes.
The north has a very similar climate from coast to coat but, like Canada a little further north, winter is a frozen snowy wonderland. Lakes here will freeze over starting in around November and you won't likely get a thaw until April or may when spring comes.
In the south, the US is a bit more temperate and enjoys a more consistent climate year-round. The winter here is typically dryer and warmer, while the summer can be roasting, but ideal for chilling on beaches or exploring shaded walks in national parks.
Peak Season
The summer months of July and August are peak season for travel in the US, mostly because the kids are out of school and Americans flock to national parks, beaches and cities for their holidays. During this time it's best to book ahead, particularly in places that are frequented by families.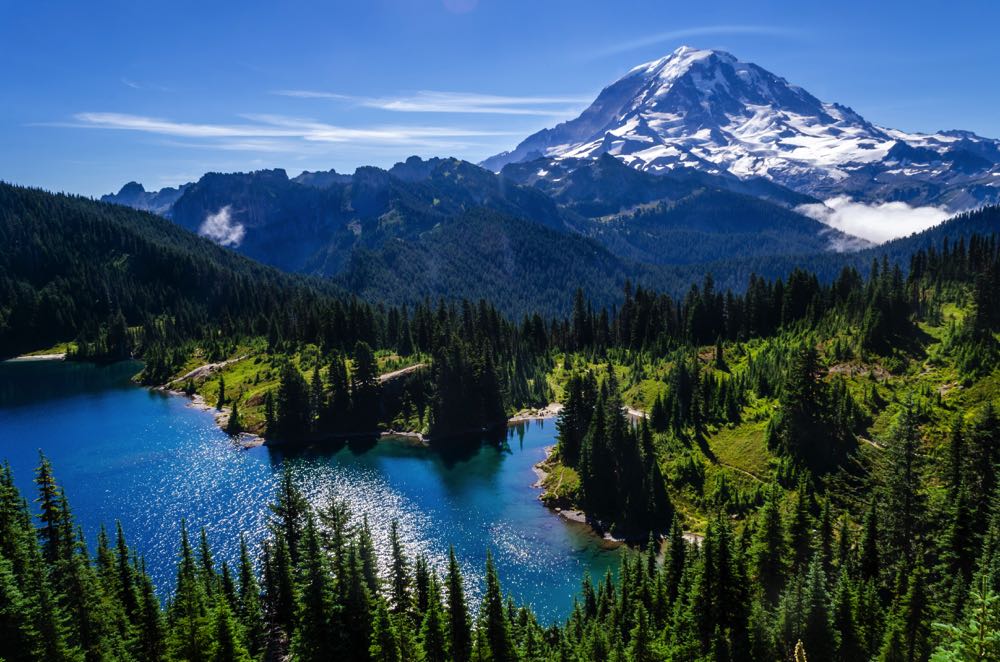 Shoulder Season
Shoulder season (the Spring and Fall) is the best time to visit the US. The weather around the country is generally mild and comfortable and you can avoid the summer crowds. If you're planning experiences at popular tourist destinations however, it's still best to plan to visit during the week to avoid the
Off-Season
Generally, the winter is the off-season in the US, unless you're visiting ski hills. But that doesn't mean it's not a great time to visit, particularly in the south where the temperature is more comfortable than it is in the summer months.
Getting Around The United States
Getting around the US is simple, if a bit expensive. There are plenty of buses that connect all major cities and even villages around the country. On top of that, Uber and Lyft work pretty much everywhere and domestic flights are surprisingly cheap.
Bus: Buses are an easy and cheap way to get around the US. Distances are long, but buses are generally comfortable and safe. You can book your buses on sites like BusBud and Greyhound to easily book your journies online.
Car Rental: Car rental is getting more and more cost-prohibitive in the US, particularly in the summer months when you'll be lucky to even find an available rental in some cities. In the off-season, you can still find deals of around $30 per day on sites like Expedia.com, but in the summer don't expect to find a car for less than double that.
Taxi: I'm not sure why you would opt for a taxi in the US when rideshare apps are so widely available, but if you end up in a town without rideshare, taxis are generally reliable, but a bit expensive.
Rideshare: Uber and Lyft run the market in the US, but there are plenty of other rideshare apps around the country trying to edge their way in. This is our favorite way to get to and from any airports and to get rides within larger cities.
Scooters: You can download the app and rent a scooter in pretty much any major city. This is a great way to get around for far less than it would cost in an Uber or taxi.
Flights: Domestic flights are excellent in the US. They are affordable, comfortable, and generally go on time. We usually check for flights on Google.com/flights and have found great deals when travelling arund the US.
USA Entry Requirements
Canadians get visa-free entry to the United States for a period of 6 months, but aside from that the entry requirements to the US aren't going to be so simple.
Travelers of most nationalities will require a B2 visa to enter the United States for tourism purposes. This visa should be applied for months before travel in most cases.
There is also a Visa Waiver Program (VWP) that allows some 40+ nationalities to bypass the difficult visa application process, this visa is called an ETSA and can be acquired online a day or two before travel.
Many countries can travel to the US under the Visa Waiver Program which allows you to enter visa-free into the US for a period of no longer than 90 days. They will need to apply for an ESTA before traveling. The countries permitted under the Visa Waiver Program are below:
Andorra
Australia
Austria
Belgium
Brunei
Chile
Croatia
Czech Republic
Denmark
Estonia
Finland
France
Germany
Greece
Hungary
Iceland
Ireland
Italy
Japan
Latvia
Liechtenstein
Lithuania
Luxembourg
Malta
Monaco
Netherlands
New Zealand
Norway
Poland
Portugal
San Marino
Singapore
Slovakia
Slovenia
South Kore
Spain
Sweden
Switzerland
Taiwan
United Kingdom
Other visas for entry include the Nonimmigrant Visa for temporary stays like travel, family visits, study, work, transit, or business, and the Immigrant Visa for permanent residence.
TRAVEL RESOURCES
We are not sponsored by any of the below companies and we frequently use all of them. We recommend them because we trust them and because they are the best companies for booking tours, flights, car rentals and travel insurance online. You can click any of the below boxes to be brought to each of the websites where you can book their services.
World nomads
We use and recommend World Nomads Travel Insurance. You can do most claims online and they're great for nomads & travellers. Click Here to get a free quote.
Booking.com
We use Booking.com to book all of our hotels, apartments & hostels while we're travelling. Click Here to see the best hotel deals available right not.
get-your-guide tours
If you're looking for great tours, both group and private, we can't recommend GetYourGuide enough. Click Here to see available tours across the country.
Expedia.com
We always book our flight and car rentals through Expedia.com. They usually offer free 24 hour cancellation on flights and great deals on cars. Click Here to book.
amazon travel gear
We purchase the majority of our travel gear on Amazon. Click this box to shop for travel-related items, or check out our packing lists for men and for women.