Big Sky, Montana is a quaint and charming town situated in the heart of some of the prettiest country in all of the United States. It's a fairly small town, so it's easy to choose where to stay in Big Sky.
Visitors to Big Sky will find skiing, hiking, fishing, mountain biking, and a variety of other activities that will fulfill every traveler's adventuring needs.
Big Sky excels as a mountain town due to the vast amount of amenities that are available to visitors. The night life, shopping and amazing restaurants are unique for such a small town. It's really a perfect combination of everything a person needs to be comfortable and enjoy their time in nature.
Big Sky may not have made my list of the best places in the US overall, but it is easily one of my favorite mountain towns to visit due to the fun activities available and endless adventures outside the city limits.
I've visited Big Sky, Montana several times over the past few years and continually find myself longing to return. I've visited in the Summer, Fall, and Winter and haven't found a time of year that I haven't loved.
It tests my limits for outdoor adventures but also treats me well at the end of the day when I'm ready to relax and prepare for another day of exploring. The accommodations in Big Sky are second-to-none.
Learn where to stay in Big Sky with this guide.
Quick Look: Best Areas to Stay in Big Sky
Mountain Village: The Best Area to Stay in Big Sky Overall
The Mountain Village in Big Sky is a beautiful location perfect for all types of outdoor adventures. If you visit in the winter, you have the Big Sky Resort to ski and snowboard and in the summer, you have proximity to hundreds of miles of hiking trails.
Whether you're a family, couple, or solo traveler, you'll fit in well at the Mountain Village. It oozes a chill and relaxed vibe that has a little something for everyone. Plus, the Mountain Village is easily walkable between the restaurants, bars, and ski lifts.
You can ski in and out of here and easily walk to where you're staying.
Best Places to Stay in The Mountain Village
The Big Sky Mountain Village is a nice mixture of lofts and condos that are all within walking distance of a variety of different lifts.
1. 2 Bedroom Located in Big Sky Mountain Village: This 2-bedroom apartment is located right in the heart of the Big Sky Mountain Village. It's one of the larger options in the area with an awesome modern ski condo vibe. It has space for 4, a nice kitchen and beauitful views.
2. Big Sky Studio: This studio is extremely unique and has a cabin feel. It has a full kitchen with a comfortable living area, a master bedroom, and very modern design. Plus, you have a dishwasher and a nice view.
3. Gorgeous Ski-In Ski-Out Apartment: This apartment is a highly-rated option right in the heart of the Big Sky Mountain Village. It's a 1 bedroom with gorgeous views and a nice heated outdoor spring pool.
5 Top Things To Do in The Mountain Village
The Mountain Village in Big Sky has dozens of activities to choose from for visitors of all ages.
1. Ski At Big Sky Resort: The best winter activity in the Mountain Village is skiing and snowboarding. Big Sky Resort covers thousands of acres and is often voted among the top 5 ski resorts in the entire United States.
2. Beehive Basin Trail: The Beehive Basin Trail is located right outside of the Mountain Village. You'll have a short drive to the trailhead from the heart of the village. It's 7 miles long with 1,600 feet of elevation gain.
3. Sno-Go Biking: Sno-Go Biking is a favorite for many people at Big Sky Resort. You can rent these unique bikes and explore the local trails. It's definitely a new type of adrenaline rush.
4. Solace Spa & Salon: If you need a relaxing morning after a day of outdoor activities, then visit the Solace Spa & Salon. They offer full massages and other rejuvenating treatments.
5. Zip Line: Take a look at the beautiful surroundings of Big Sky from the viewpoint of a Zip Line. These are offered daily throughout the summer at Big Sky Resort.
Where to Eat and Drink in The Mountain Village
The Mountain Village isn't exactly a hotbed of restaurants and bars, but there are a few options that are open for visitors.
1. The Montana Dinner Yurt: The Montana Dinner Yurt is one of the more unique options for visitors. You take a trip out on a trail to a yurt and eat some phenomenal food. It's very intimate and provides visitors with high-quality meat options.
2. The Cabin Bar & Grill: The Cabin Bar & Grill in the Mountain Village is a casual restaurant with American Fare. There are quite a few game meat options on the menu.
3. Scissorbills Saloon: If you need some classic bar food after a long day on the slopes, then visit the Scissorbills Saloon. It has delicious burgers, wings and local beers.
The Canyon: The Best Place to Stay in Big Sky for Fishing and Adventuring
For some people, visiting Big Sky is a chance to be outdoors and not worry about the pomp and circumstance that can happen if you travel further up the mountain. The proximity to the Gallatin River and phenomenal hiking trails make this a wonderful place to visit.
The Canyon is by far my favorite part of Big Sky. I'm keen for the chance to hit Highway 191 and travel to trailheads and certain parts of the Gallatin River.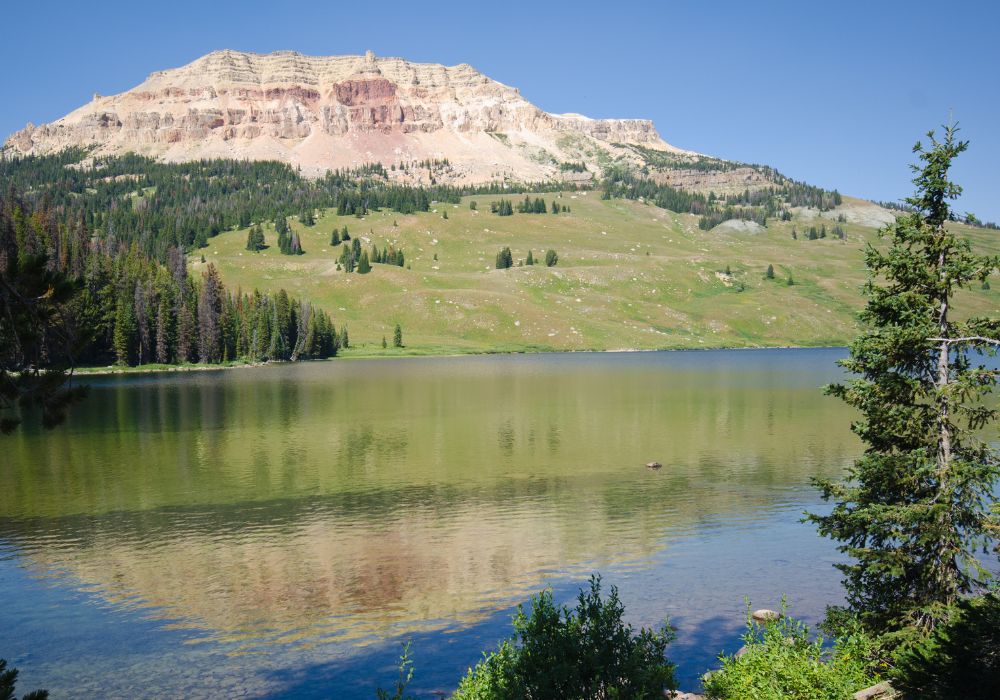 I'm not a huge fan of the scene downtown and up on the mountain but the Canyon is an ideal place for outdoor enthusiasts looking for some quality time in the National Forest.
Best Places to Stay in The Canyon
The Canyon has a variety of lodging options ranging from high-end cabins to rental guesthouses.
1. The Marriott at Big Sky: This is the top-rated hotel in all of Big Sky. It's absolutely breathtaking and perfect for those looking for a luxurious stay.
2. Luxury Cabin in the Canyon: If you want an entirely secluded Big Sky adventure, choose this cabin. The Huckleberry Hideaway has that ranch house feel but with modern touches.
3. Big Sky Condo/Gallatin River Access: This condo is a 1 bedroom and 1 bath, but it does have private fishing access on the Gallatin River. It's small and simple and has everything you need.
5 Top Things To Do in The Canyon
As mentioned earlier, the Canyon offers nature lovers unlimited access to everything that Big Sky has to offer.
1. Horseback Riding: Jakes Horses is a privately owned horseback riding outfitter that offers private tours. They do half-day, full-day, and overnight trips.
2. Guided Fly Fishing: The Gallatin River is some of the best trout fishing in the west – it's my favorite for sure! Book a guided trip with Montana Fly Fishing and you'll learn all about how to best attack these waters.
3. Snowmobile Tour: Canyon Adventures offers guided snowmobile tours all winter. These tours get you deep into the National Forest.
4. Hike Buck Ridge Trail: Buck Ridge Trail is a challenging hiking trail near the Canyon. It's a 12-mile total trip.
5. Hike to Deer Lake: Hike to Deer Lake when you're in the Canyon. The 8-mile round trip is well worth it.
Where to Eat and Drink in The Canyon
There aren't a ton of restaurant options in the Canyon, but the ones available are delicious.
1. Buck's T-4 Restaurant: There are tasty game meat options at Buck's T-4. Plus, the portions are generous. Although good in quality, you'll find that this restaurant is rarely busy.
2. Riverhouse BBQ: Riverhouse BBQ has some of the best BBQ in all of Western Montana. I love the Brisket here.
3. Cafe 191: Cafe 191 is a simple restaurant located in the Canyon. It has tasty options, and it's my personal favorite in the area.
The Meadow: The Best Place to Stay in Big Sky for Family Activities
The Meadow is the perfect option for families. You don't have the luxury feel of being further up the mountain, but every activity in the area is quite manageable.
The outdoor activities are more controlled and everything will be close to your Airbnb. Families of all ages will feel welcome here.
Best Places to Stay in The Meadow
The Meadow has a nice variation of townhomes, condos, and full homes to choose from when it comes to places to stay.
1. Home in Big Sky (Golf Course & Dog Friendly): This 2 bedroom, 2 bathroom home is one of the most unique in the area. It was one of the first homes built on the Big Sky Golf Course in 1974 and sits on the 7th hole.
2. Park 285: This 2 bedroom, 2 bathroom condo has a full kitchen and is a perfect spot for four people. Plus, you get the chance to play golf all day – it doesn't get much better!
3. Silver Bow on the Golf Course: This condo features 1 bedroom and 1.5 bathrooms. It's located right in heart of the Meadow community.
5 Top Things To Do in The Meadow
Family-friendly and casual activities are right around the corner in the Meadow neighborhood.
1. Golf At Big Sky Golf Course: You have to play at the Big Sky Golf Course. It's an absolutely beautiful track. It's a par 72 course designed by Arnold Palmer.
2. Nordic Ski at Big Sky Golf Course: In the winter, feel free to test your skills with Nordic Skiing on the Big Sky Golf Course. The trails are phenomenal.
3. Disc Golf at Bighorn Ridge Disc Golf Course: If disc golf is more your style, play at the Bighorn Ridge Disc Golf Course. You'll struggle to find a more beautiful course in the country. It's hilly, so beware.
4. Visit Big Sky Community Park: The Big Sky Community Park is filled with walking trails and fun for people of all ages. It's an entertaining place to kill an afternoon.
5. Visit Lone Mountain Ranch: Lone Mountain Ranch is one of the best places to cross-country ski in the entire country. Visit here in the winter.
Where to Eat and Drink in The Meadow
You're close to the Town Center when staying in the Meadow, so many of your restaurant options will be close by.
1. Horn and Cantle: Horn and Cantle is a favorite restaurant for people in Big Sky. It's a classic western steakhouse located at Lone Mountain Ranch. The views and service are unlike any you'll see elsewhere in Big Sky.
2. Acre Kitchen: Acre Kitchen is a unique restaurant with a variety of sandwiches as well as some phenomenal street corn. There are no restaurants like this anywhere else in Big Sky.
3. Wrap Shack: The Wrap Shack specializes in a variety of wraps. There are also some healthy rice and quinoa bowl options.
Moonlight Basin: The Best Place to Stay in Big Sky for Seclusion
Moonlight Basin is a newer development in Big Sky. It's the most luxurious mountain community in the western United States. It makes up 8,000 acres on the north side of Lone Mountain. There are luxury rentals, private skiing, private golf, private fishing areas, and private hiking trails.
Visitors staying in Moonlight Basin are required to pay $175 per day to give them access to the local amenities. It's true luxury living.
Best Places to Stay in Moonlight Basin
Any rental you get in Moonlight Basin is going to be top-of-the-line in every way.
1. Luxury 2 Bedroom Retreat: This home has 3 bedrooms and 2 bathrooms. The ranch-style decor gives you the feeling that you're in a cabin in Montana. Plus, the large windows give you amazing views of the surrounding peaks.
2. Luxury Lakeside 4 Bedroom Big Sky Condo Retreat: This 4 bedroom, 4 bathroom ski-in and ski-out condo is absolutely beautiful. The modern decorations are classy but also comfortable. It's a perfect family option.
3. Moonlight Basin- Ulerys Lake Cabin: This 3-bedroom cabin is also a is close to a hot spring and some great fishing spots. You have the additional perks of a private deck, insuite laundry, and nearby walking trails.
5 Top Things To Do in Moonlight Basin
If you're staying in Moonlight Basin and paying the daily use fee, you have access to private activities.
1. Private Skiing and Snowboarding: The north side of Lone Mountain is secured for Moonlight Basin residents and has private ski lifts and runs.
2. Snow Tubing: There are snow-tubing hills that are also reserved for residents staying at Moonlight Basin.
3. Golf at Moonlight Basin: The Moonlight Basin Golf Course is a private golf course only accessible to guests and residents. It's a par-72 championship course.
4. Sporting Clays: If you want to try your hand at some shooting, sporting clay shooting is available for guests and residents.
5. Horseback Riding: Private horseback riding tours are available throughout the 8,000 acres of land accessible to Moonlight Basin residents.
Where to Eat and Drink in Moonlight Basin
Moonlight Basin residents don't have access to many restaurants within their community, but the mountain village restaurants aren't far away.
1. Moonlight Tavern: Moonlight Tavern is a good option for classic American options. Plus, it's in Moonlight Basin, so you'll have wonderful views and exceptional service.
2. Montana Jack: Montana Jack is another American fare restaurant with a full selection of local beer. The antique decorations and creative burgers make this a great choice.
3. Yeti Dogs: Yeti Dogs is a unique restaurant located in the Mountain Village. The different varieties of hot dogs are awesome.
Town Center: The Best Place to Stay in Big Sky for Night Life
The Town Center of Big Sky is the best choice for tourists who are looking to experience the nightlife Big Sky has to offer. Here, you're close to all of the best restaurants and bars in the town.
Plus, you're only a few minutes from the ski resort.
The Town Center is also one of the more affordable places to stay in Big Sky.
Best Places to Stay in the Town Center
The Town Center of Big Sky has lodging for all types of travelers and group sizes.
1. Big Sky Town Center Townhome: This 3 bedroom townhome in the heart of the Big Sky Town Center is nicely decorated and has a full kitchen if you aren't interested in eating out for every meal. Perfect for bigger groups.
2. Modern Townhome in the Big Sky Town Center: This fun lodge is right in the center of the action and is the main ski lodge people want to book when visiting Big Sky.
3. Wilson Hotel: The Wilson Hotel is the most famous hotel in all of Big Sky. It's been around for decades and is located right in the heart of downtown.
5 Top Things To Do in the Town Center
The Town Center isn't the ideal place for the adventurous type, but it has awesome amenities.
1. Shop in the Town Center: The Town Center has awesome boutiques and other small businesses to browse. You can easily spend an afternoon shopping here.
2. Hike the South Fork Trail: If you need a chance to burn off some energy, feel free to walk or run the South Fork Trail in town. It's around a one-mile round trip.
3. Ice Skate at Big Sky Ice Rink: Try on some blades and test your balance with an afternoon of ice skating at Big Sky Ice Rink. Open daily.
4. Visit Big Sky Farmers Market: From June through September, the Big Sky Farmers Market happens every Wednesday from 5pm-8pm. Visit and see local farmers, artists and entrepreneurs in action.
5. Book a Tour with Discovery Yellowstone Tours: The office of Discovery Yellowstone Tours is located in the heart of the Town Center. Pay them a visit and see if a tour interests you.
Where to Eat and Drink in the Town Center
The Town Center has the most options for restaurants and bars in all of Big Sky.
1. Blue Moon Bakery: Blue Moon Bakery has amazing pizza and sandwiches. It has a cozy cafe feel to it, so you'll be able to admire the atmosphere and enjoy the delicious food in comfort.
2. Blue Buddha Sushi Lounge: The Blue Buddha Sushi Lounge is the best place in Big Sky for sushi. Being the only sushi place in Big Sky, it lives up to expectations.
3. Ousel & Spur Pizza Co.: Ousel & Spur Pizza Co. is perhaps the best choice for Italian food in Big Sky. The prices are reasonable and the pizza is superb.
FAQs About the Best Areas to Stay in Big Sky
Here are answers to some commonly asked questions about where to stay in Big Sky.
What area of Big Sky is best for tourists?
The best areas for tourists are the Mountain, Canyon and Meadow. These are the three primary areas of the town and all have numerous options for tourists. The Mountain part of town is located near the ski resort and lifts. It's a good choice in both winter and summer.

The Canyon neighborhood is on the East side of Highway 191 and offers great seclusion and access to a variety of outdoor activities. Finally, the Meadow portion of town is right near the town center. You have all of the shopping, restaurants, and amenities that you would want.
Where should I avoid staying? (Where NOT to stay in Big Sky)
Honestly, there are no bad places to stay in Big Sky, Montana. It's not a large enough town for there to be any areas that are too far from restaurants, ski lifts or hiking trails.

You wont find a part of town that doesn't have a nice amount of charm and plenty of places to stay.
What is the safest place to stay in Big Sky?
The safest place for you to stay in Big Sky is in the Mountain Village. Regardless of if you're there during the summer or winter, the village has a variety of things in walking distance. Once you return after a long day or skiing or sightseeing, you'll find that it's comfortable, clean and quite safe.

Security vehicles are consistently driving through the area making sure that everything is in order.
Where to stay in Big Sky for shopping?
The Big Sky Meadow neighborhood is the best place to stay if you're interested in shopping. They have everything from outdoor clothing stores to locally own boutiques.

You're located close to the town center, so whatever type of shopping you want, you'll find. You'll be a bit further from the ski slopes, but right in the heart of all the great retail.
Where do people stay when they ski at Big Sky?
When people are looking to ski in Big Sky, they stay in the Mountain Village. The Mountain Village has a variety of condo options to stay in. You won't ever be located far from a lift.

The Canyon neighborhood isn't far either, but your best bet is the Mountain Village.
Does Big Sky Montana have a downtown?
Yes, Big Sky has a great downtown. Located down the mountain from the ski resort, the downtown is filled with local shopping, grocery stores as well as bars and restaurants.

It's not a huge downtown, but it has everything you would need to load up on supplies as well as having a little fun.
Does Big Sky have a base village?
Yes, Big Sky does have a base village. It's known as the Mountain Neighborhood. Here, you'll find a few small restaurants, a couple shops for gear, and a fun place to walk around after you've spent a few hours on the slopes.

The base village in Big Sky is one of the best base villages you'll find in a ski resort.
Is it better to stay in Bozeman or Big Sky Montana?
Both Bozeman and Big Sky have great things to offer. Depending on what you want to do and what amenities you're after, you'll find that both can fill your needs. Bozeman is a larger city and has every single thing you would want for lodging, shopping and amenities. Plus, it's a little more affordable than Big Sky.

However, Big Sky has better options for visitors who want to be closer to the outdoor activities as well as Yellowstone National Park. Big Sky is lacking in some of the amenities like larger grocery stores and medical facilities, but they have enough to fulfill basic needs.
Is Big Sky Montana expensive?
Yes, Big Sky, Montana is on the expensive side. You'll find that hotels and Airbnb options are generally over $200 to $300 a night.

Groceries and restaurants are also fairly expensive. However, you will find that you generally get what you pay for. The facilities, views and activities are worth the price.
In Conclusion
Big Sky, Montana continually gets better with time. As the town grows, lodging, dining, and amenities expand with it. There are thousands of miles of hiking trails, an amazing lodge for skiing and close proximity to a variety of other popular outdoor activities.
I've found myself continually returning to Big Sky over a variety of other cities throughout Montana. It's a charming place with room enough for everyone to find their own amount of solitude.
Plus, it's exciting knowing that there are great restaurants, bars and shopping in town that offer a perfect end to the day. It doesn't matter what time of year you visit, you'll find yourself in a little piece of paradise the entire visit.
Like This Article? Pin it!