Greece travel is romantic, intoxicating, and relaxing. From the whitewashed buildings of Oia in Santorini to the mosaicked labyrinth of Chios — Greece has a surprise at every turn. With delicious food, great restaurants, white sand beaches, turquoise Mediterranean waters, and sunsets that can make your jaw drop, Greece is a destination rivaled by few others for pure romance. After spending around 3 months traveling the country, there is still much left for us to explore in Greece.
Not only is Greece stunning and romantic, but it's also quite affordable, particularly in the shoulder and off-seasons. It's possible to visit year-round and even though the winter months are cooler, they don't have too much rain and discounts can be found upwards of 50%.
There are over 6,000 islands, islets, and atolls in Greece – 227 of which are inhabited – but it's not just island life on offer here. The historic and bustling capital of Athens and the towering cliffs and monasteries of Meteora make the mainland almost as enticing as its archipelagic neighbors.
Mix in some of the friendliest people, best food, richest history, and most dramatic landscapes in all of Europe and you have a truly fascinating destination with more than a lifetime's worth of places to explore.
Latest Greece Travel Blog Posts
Check out our posts on the blog about Greece travel below. Having spent over 2 months traveling in Greece, we have a lot of information about the country! We do our best to cover as many different places as possible so that you can better plan your next trip to Greece. Whether you're a budget backpacker or a luxury traveler, we have a bit for everyone in the posts below.
There are so many things to do in Zakynthos (Zante) and I'm going to share our top 15 favorites in ...
Plan Your Trip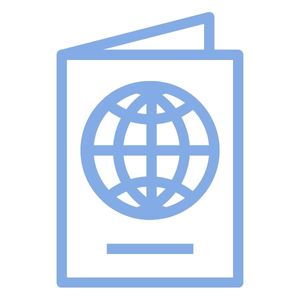 Visa Requirements
What you need to enter the country and travel for the duration of your intended trip.
Places To Visit in Greece
There may just be too many places to visit in Greece. We have travelled this amazing country for nearly 3 months and we feel like we've barely scratched the surface. Trying to visit all of Greece would take a lifetime, but knowing the best places to see will help you plan your trip. Here are a few of our top highlights in Greece — and don't miss our post on the best places to visit.
Athens
All of what makes Greece fantastic seems to culminate in the nation's capital (aside from the quiet beaches). Athens is a buzzing, modern metropolitan city juxtaposed by ancient ruins, stunning cathedrals and hidden ancient treasures. Give yourself a few nights to explore Athens as we did when we visited.
Read More: Things To Do In Athens.
Santorini
Not surprisingly, Santorini appears on our list of the best places to visit in Greece because there's simply nowhere quite like Oia. But there's more to this little island jewel than the whitewashed buildings and spectacular sunsets. Rent a motorbike or a car and explore hidden wineries, lookout points, quiet beaches, volcanos and coves around the island. Enjoy a vacation in Santorini!
Read More: 15 Best Things To Do in Santorini
Crete
Still one of our favourite islands in Greece, Crete is so big that it's almost like a country in itself. We rented a car and took off driving around the island for two weeks, but you could also pick a different part of the island on each trip and simply plan to return. Blinding white sand beaches, stunning hikes, ancient ruins and fantastic restaurants await discovery on Greece's largest and most populous island.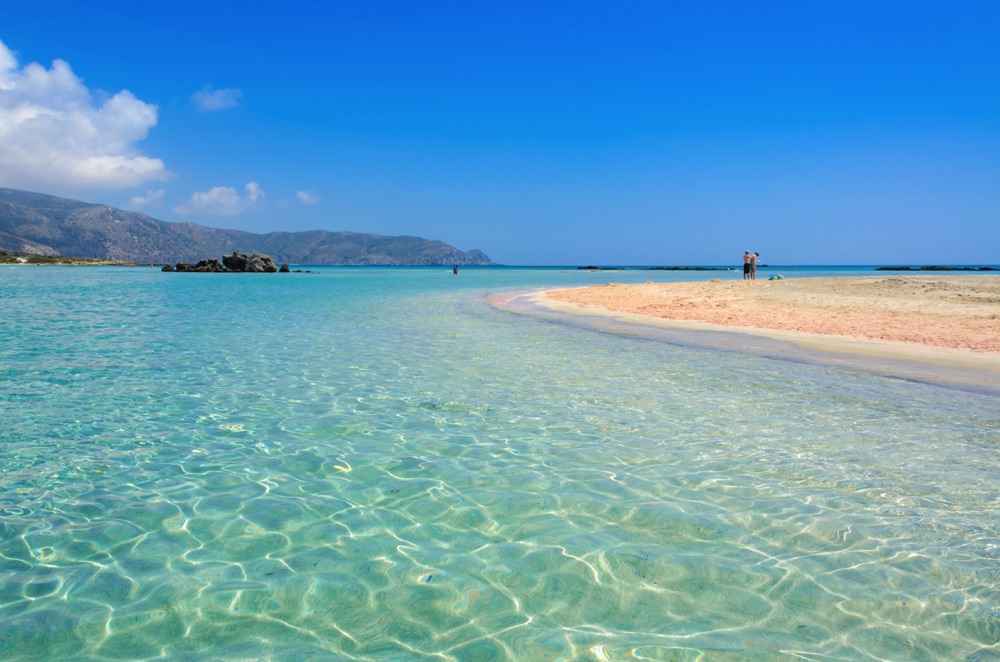 Read More: Things To Do in Crete and Elounda Travel Guide
Zakynthos (Zante)
There's just something about Zante Island. There's a cool, buzzing vibe here to go along with the normal holiday feel of a Greek Island. We rented a studio apartment for just $20 / night and stayed on Zakynthos for 2 weeks. We rented a car and explored the entire island and found out that there are many things to do in Zakynthos (including Shipwreck Cove, which is the subject of the most iconic images to ever come out of Greece).
Kefalonia
If you're looking for a beach holiday in the Mediterranean, look no further than Kefalonia in the Ionian Sea. Blessed with arguably the best stretches of sand in the entire region, Kefalonia is a place that is hard to leave. Don't miss Myrtos Beach, and the towns of Assos and Fiskardo, and check out our post of Things To Do In Kefalonia for more ideas.
Things To Do in Greece
Greece is one of those places that you can return to year after year and never see it all. Even if you visited two islands a year, it would take you over 100 years to visit every inhabited island in the country. Pick an island (or two) for each visit to Greece and just come back time and time again (like we have).
Taste The Food
As foodies, it's not a surprise that this tops the list of things to do for us in Greece. Aside from salad, gyros and souvlaki, Greece is home to some truly scrumptious dishes like Dolmadakia (Stuffed Grape Leaves), Keftethes (Meatballs), Moussaka, Pastitsio and much more. Greek people won't let you go hungry either, so make sure you visit Greece with an appetite!
Experience the History
With the Ancient Greek Empire being one of the oldest recorded civilizations in the world, it's really no surprise that Greece is a place that you'll want to explore the history. But the ruins, colosseums and amphitheaters stretch far beyond the capital. Get lost in the architecture of Rhodes, spend hours in the Museums of Corfu and explore deep into the ancient Cave of the Apocalypse.
Off-Track Greece Travel
You'd be forgiven for thinking that Greece is overrun by tourists if you were to only visit the cascading hills of Santorini or the beaches of Crete, but it's not difficult to find your own slice of paradise here. Discover hidden gems like Lesvos, Chios, Lemnos and Halki. Visit places where the hoards don't and be rewarded for every step you take away from the main tourist trail.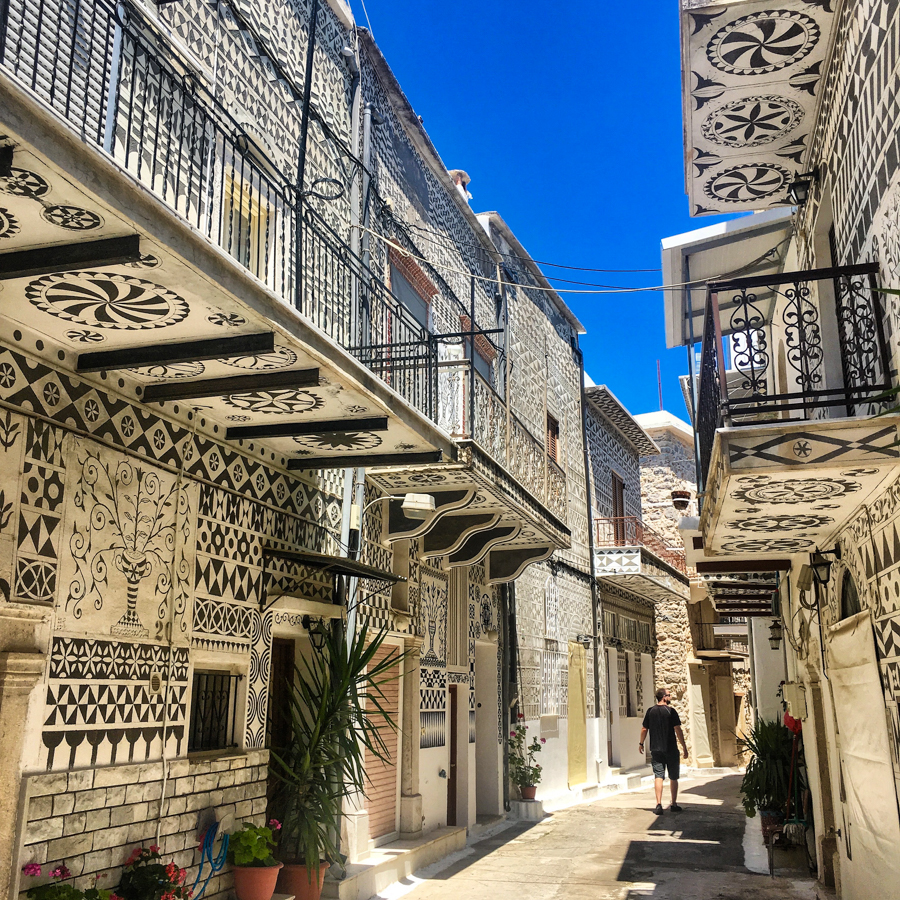 Volunteer To Help Refugees
With some of the Greek Islands being the most obvious first stop for those fleeing conflict in the Middle East, it's no surprise that many places in Greece have seen a massive influx of refugees in the past few years. There are a few programs in place to volunteer to help the refugees in Greece. Do more than Greece travel. Give back to those in need if you can.
Click Here for more information.
Best Beaches in Greece
Greece has 13,780 kilometers (8,562 miles) of coastline so it's no surprise that the country is blessed with some absolutely stunning beaches. Many of the beaches here are pebbly, but despite popular belief, there are actually some powdery white sands found on these shores.
Shipwreck Cove (Zakynthos)
Also known as Navagio Beach, this is by far the most iconic image of Greece. Shipwreck Cove is truly a sight to behold, but lazing on the sand isn't the best way to see it. After taking a boat to the beach itself, consider another trip. Drive up (or take a tour bus) up to the viewpoint atop the towering cliffs to look down at the beach from a bird's eye view. Stay inside the roped off area to avoid accidentally falling off of the cliffs (which has happened multiple times).
Myrtos Beach (Kefalonia)
As far as water color goes, this is the best beach in Greece. You really can't explain this color, and photos really don't do it justice. You basically just have to see it to believe it. Somehow it looks as though someone has placed neon blue lights underwater that are so bright that they even manage to illuminate the beach in broad daylight. It's more pebble than sand, but that won't matter because you'll be hypnotized by the view.
Elafonisi Beach (Crete)
Famous for pink sand (although the hue is changing after years of tourists stealing grains), this is definitely one of the more unique looking beaches in Greece. The sand here, while no longer obviously pink, is powdery and the water is beautiful. Many people stay here for an entire day. Bring a picnic if you decide to do so.
Diving in Greece
While Greece travel isn't as well-known for diving as the nearby Red Sea in Egypt, there is still some spectacular diving and enough locations to keep a true dive enthusiast busy. Diving didn't have a chance to flourish until recently, due to strict regulations, but these days more and more people are heading to Greece for a diving holiday. Here are some dive sites not to miss.
The HMHS Britannic (Kea)
This ship is easily one of the most famous shipwrecks in the entire world, so if you're into getting lost in the dark caverns and hallways of a sunken WWI vessel, then you may want to make your way to Kea. This dive isn't for beginners however, so make sure you're well practiced and properly certified.
Image Left: WikiCommons
Paleokastritsa (Corfu)
This is a great dive for those looking for clear water, an array of sea life and underwater rock formations. Here, at the northwest corner of Corfu, divers can enjoy a few small caves and an impressive archway. Day trips may also include dives at the Shipwreck of Ermones and the Skeloudi natural fish feeding site, both are in the Paleokastriksta area. This is one of the best things to do in Corfu, both above and below the surface of the sea.
Nea Kameni (Santorini)
Santorini's volcanic landscape lends itself to fantastic underwater formations and Nea Kameni is probably the best example of this in the country. The dive site features amazing solidified lava crests, deep caves and The Santa Maria, a 34 meter (112 foot) passenger ship wreck that sits at 18 meters (59 feet) of depth.
Hiking In Greece
With a rugged, jagged and dramatic landscape, it's no surprise that Greece has some fantastic hiking opportunities. Whether you're looking for a challenging trek to a mountain peak, or an easy day hike that you can do as a family, there's a trail for everyone in Greece.
Mount Olympus (Litochoro)
At 2,917 meters (9,573 ft), summiting Mount Olympus (Greeces's tallest peak) is a challenge for even experienced trekkers, particularly if you try to conquer to sea to summit challenge which takes you from sea level at Litochoro all the way to the summit stopping at refuges A, B, & C along the way.
The Samaria Gorge (Crete)
Still thirsting for some exercise after summiting the mighty Mt. Olympus? Consider hiking the beautiful Samaria Gorge. When we visited the gorge in 2011 it was busy… really busy. So make sure you get up early to avoid the crowds. Alternatively you can hike up, rather than the more common descent route in order to enjoy more peace and quiet on the trail.
Read about our experience here.
Vikos Gorge (Zagori)
Located in the Northern Pindos Park around 30 kilometers (18 miles) from Ioannina and close to the Albanian border, Vikos Gorge is a nature-lovers paradise. But it's not just the epic trails that draw intrepid travellers to this area. There are 46 villages within the area of Zagori that you can visit during your trek.
Read More about Vikos Gorge here.
Cost of Travel in Greece
As far as affordable European destinations go, Greece offers excellent value for money, particularly for those who are willing to visit in the shoulder and off seasons.
We've visited Greece twice, both times in April/May and were rewarded with discounts on accommodation as high as 50%.
As en example, we had a little studio apartment in Zakynthos which included a delicious Greek breakfast every morning (cooked by the most hospitable Greek mama) all for just $20 / night. Pretty amazing.
While food in Greece isn't quite as cheap as the European destinations farther east, you can still find great value there and cheap table wine is usually of very good quality as well.
Overall Budget
€55 / day (€85 For 2 people)
I think this is a pretty comfortable budget for Greece travel. It will give you enough to pay for the occasional historic sight entrance ticket, some tasty food and cheap accommodation like Airbnb rooms or studios.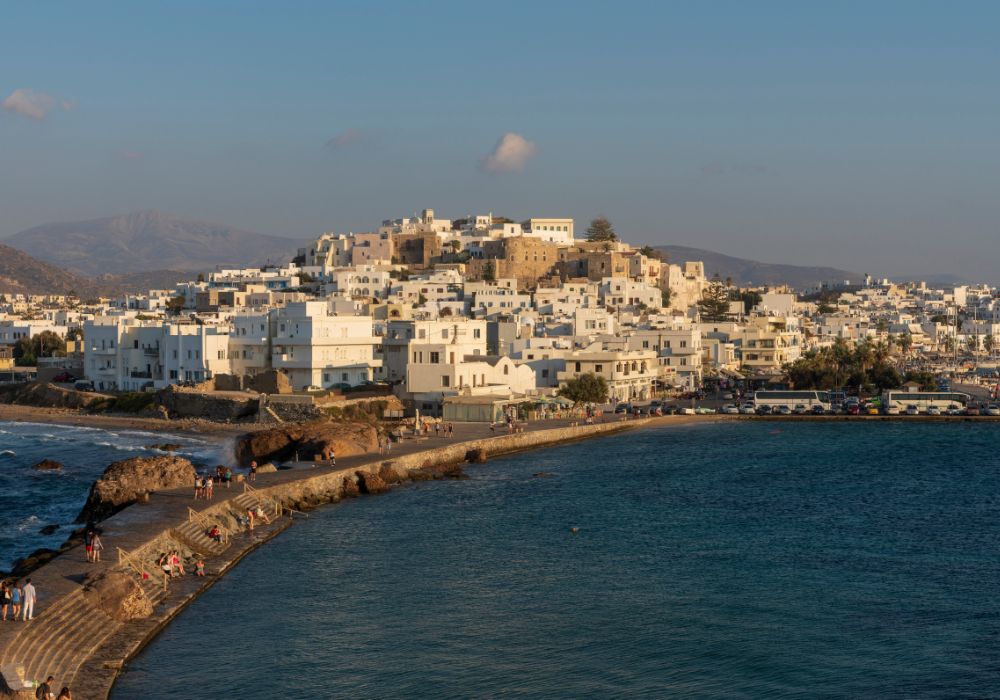 It will also allow you to take a ferry every week or so in between islands, but little more than that.
When we travelled to Greece last (in 2017) we spent a bit more than this to ensure that we'd be able to go out for more sit-down meals and afford a car rental, but as a base for a comfortable budget, I think this would suffice. See the budget box in this section for a more direct breakdown of different levels of travel.
Cost Of Accommodation
The cost of accommodation in Greece will vary a lot depending on when you visit, which accommodation you choose, and which part of the country you visit. If you visit in the shoulder season, you'll probably find discounts of 50% off many places including hotels, hostels, resorts and Airbnbs. Accommodation isn't cheap though, so this will likely be one of the biggest expenses in your Greece travel budget.
Hotels in Greece
Budget: In cities and towns not on the coast, it's possible to find double rooms with a private bathroom for as little as $15-20. In popular beach towns, you can expect to pay a bit more ($25-30 on the low end). For these prices you'll get your own bathroom but probably won't get A/C or free breakfast.
Mid-Range: Hotels in the mid-range in Greece tend to be between $50-75 a night depending on where you are. At this price range, you can definitely get rooms with a private bathroom and A/C. Many mid-range hotels also offer free breakfast.
Top-End: The sky's the limit when it comes to top-end accommodation in Greece. Coastal cities boast several options for beautiful boutique resorts, which usually come with a price tag of $250-500 a night. You'll have several pools, a private beach, and will be able to eat and drink all you want. You may, however, have to pay extra for things like WiFi. In places like Athens, you can score a 5-star international hotel room for as little as $250, but most cost somewhere in the $250-700 range.
Hostels in Greece
There are quite a few options for hostels in Greece. Those looking for a cheap dorm bed can expect to pay around $12 – $15 per night. If you get a private room in a hostel it'll run you closer to $20. Want a private bathroom? Then you're probably hitting the $25 – $30 mark, at which point you'll probably get a better deal last-minute on Booking.com or with an apartment on Airbnb.
Apartments In Greece
We love staying in apartments in Greece. Most of the times that we've travelled to Greece we've booked small studios or one-bedrooms rather than staying in hotels.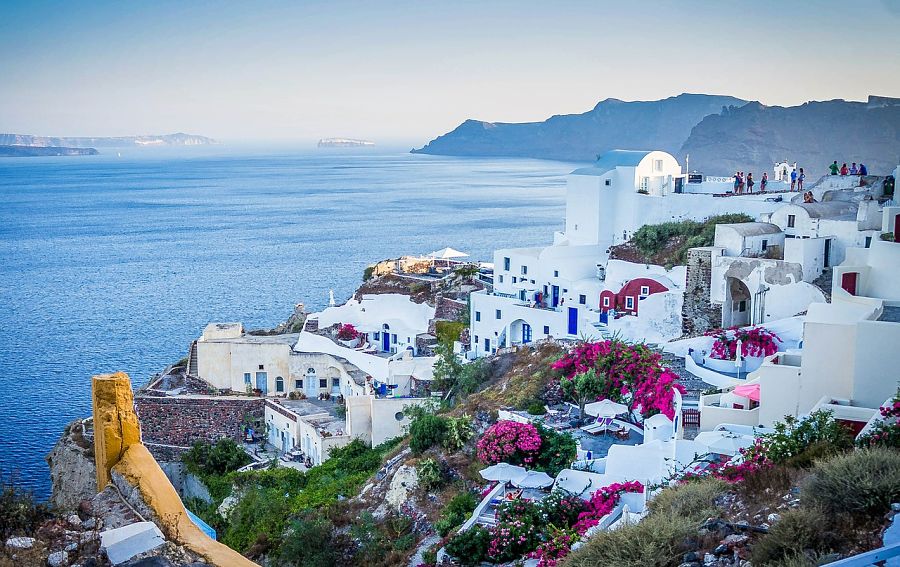 We've found some great deals on Booking.com (particularly in the shoulder season), but there are also great places on Airbnb and VRBO. Use our Airbnb Coupon to save up to $55 off your first booking.
Cost Of Food in Greece
Dining out in Greece isn't overly cheap when comparing it to Eastern European countries or other popular traveller spots like Thailand and Bali, but it's still a good value, especially when you take into account the ridiculous portion size. Leave space to eat a meal out at least once per day in your Greece travel budget if you can.
Greek people eat meals in courses, so don't be surprised if the waiter tries to push an appetizer and a dessert on you. They simply don't want you to go home hungry.
We found that even if we didn't order the appetizer, the chef would cook one for us for free. You could see this in two ways. Either it's a great backpacker money-saving tip, or it's just a really easy way to gain weight while you're in Greece.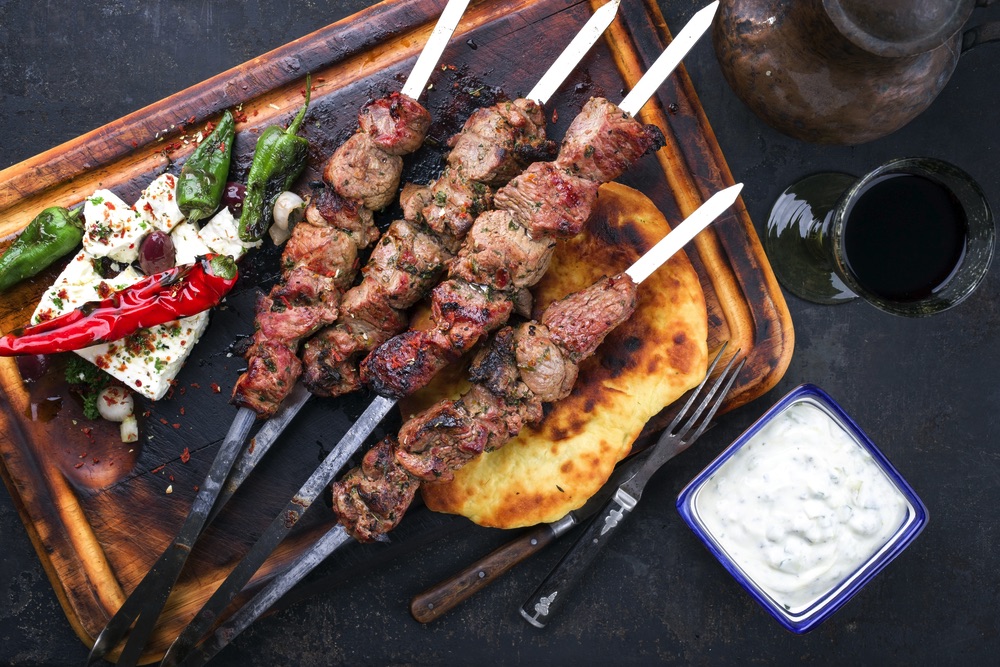 In cheaper sit down restaurants expect to pay around €10 ($12 USD) for a dish and around €6-€8 ($7-$9 USD) for an appetizer.
Table wine is affordable and actually quite tasty (most of the time) with a half carafe normally costing around €5 ($6 USD).
At more expensive restaurants you'll pay quite a bit more (we had one meal that was €75 per person for a set of 5 courses). Also, there are normally separate lunch and dinner menus, the former being much cheaper, so if you're on a budget you could rent on Airbnb and try to cook for yourself for breakfast and dinner.
Cost Of Alcohol in Greece
Greece is home to a lot of crazy party islands like Rhodes and Mykonos, so a lot of travellers are likely curious about how much a week of bars, pubs and nightclubs is likely going to cost.
In cities like Athens and the real party hot spots, you might pay as much as €20 just to enter into nightclubs and then drinks can be €10 each once inside. But nightclubs always have ridiculously inflated prices, so the below examples are at regular bars and restaurants.
Beer
We're not personally big drinkers of Greek beer and we tend to stick to red wine, but that's not to say we don't pop the odd bottle of Mythos or Alpha while travelling in Greece.
A bottle of beer in a restaurant usually costs around €4, while you can get them for under €1.50 at the supermarket.
Wine
If you're picking up a bottle of wine from the supermarket to drink in your hotel room or Airbnb, you can get them for as little as €2!
If you're at a restaurant, then a bottle of house wine will usually be at least €10, while a half carafe can be as cheap as €5.
Liquor
You can get raki and ouzo pretty cheap in Greece, but when you start mixing cocktails it gets a bit more pricey. A mixed drink, even at a normal bar / restaurant will likely cost you at least €8 (double that in nightclubs and fancy lounges or in popular party spots like Mykonos, Athens and Rhodes).
If you're picking up spirits at the supermarket to make in your room, you can get 750 mL bottles of cheap and recognizable brands starting at around €15.
Tipping
Tipping in Greece is customary, but in no way obligatory. Greek people will only tip in certain situations and if the service is excellent. Here's a breakdown of tipping situations in Greece. You don't have to plan tipping as a hefty expense in your Greece travel budget.
Restaurant Waiters: It is standard to leave a tip of around 5-10% for good service at a restaurant, but if the service is slow or you're not happy with your waiter, don't bother leaving anything.
Sometimes a service charge is added to the bill already. In this case, no additional tip is necessary. There are some restaurants that add a "cover charge" to the bill which covers the cost of the table setting and bread. This is not a tip and unless gratuity is added to the bill, you'll still be expected to tip for good service.
Bartenders: Generally they don't expect tips in Greece and it would be strange if you left them a large tip (as often happens in the US and Canada). Instead, if the bartender offered great service, consider rounding up to the nearest 1€.
Taxi Drivers: Similar to bartenders, a tip isn't really expected from taxi drivers, but it's always appreciated if you round up to the nearest €1.
Tour Guides: If you're on a group tour for the day, then generally €2 per person is a fair tip to give. If you're on a free walking tour, then you may consider tipping a bit more as the guide doesn't likely get paid outside of the tips. For private day tours or multi-day tours, a tip of around €20 per day to the guide is expected.
Door Man: If someone helps you with your luggage and offers you good service, you can choose to offer €1 for their time, but generally a simple thank-you is sufficient.
Spa Treatment: Generally a tip isn't really expected at spas in Greece, but if the treatment was better than expected, longer than agreed on or the service was excellent, a tip of 5-10% would be appreciated.
Budget ($40-60/day)
By staying in dorms, using public transport, eating street food and finding free or cheap activities, you can keep your budget quite low.
Mid-Range ($60-150/day)
Spending a little more means you can get a private room, eat at decent restaurants, go out for a few drinks, and do a bit more sightseeing.
Top-End ($150+/day)
The sky is the limit a this point. There are plenty of Michelin-starred restaurants and luxury 5 star hotels in Greece.
Money Saving Tips For Greece
Greece travel is already very budget-friendly, but there are still some things to keep in mind that can make your trip even cheaper. Here are a few money saving tips to help you out.
Visit in The Shoulder Season
I know, this is basically a money-saving tip for any country, but it's especially true in Greece. While many holiday-makers and travellers won't want to visit Greece in the winter or spring when the sea is too cold for swimming, if you come in the spring (March-May) or fall (September – November) you can still enjoy huge discounts on accommodations while avoiding many of the crowds.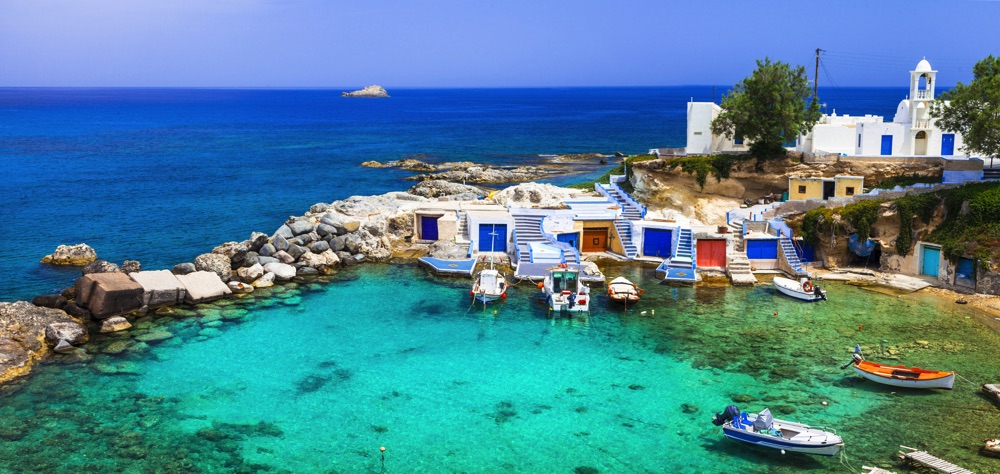 Use Airbnb or Booking.com
For some reason, Booking.com and Airbnb have incredible deals in Greece. With Airbnb, it's best to book a few months ahead of time when there are lots of options and this is where the biggest discounts tend to be found. With Booking.com it's actually the opposite. We've found some incredible last minute deals on Booking.com, often as much as 50% off within 48 hours of the intended stay.
Only Eat Lunch Out
As I mentioned earlier, lunch in restaurants is the cheapest meal of the day, so if you're on a very tight budget, it would be advised to eat this as your one meal out. If you rent an apartment on Booking.com or Airbnb you can cook for yourself which can save a lot of money.
Book Ferries in Advance
We got caught having to book very expensive ferries because we didn't pre-plan our journeys. On some days of the week, ferries are much cheaper and the cheapest seats are the first to sell, so try to be flexible with your dates and book your ferry tickets as early as possible.
Off-Track Greece Travel
With over 200 inhabited islands and only a few that are frequented by tourists, it's really not that difficult to enjoy off-the-beaten-path Greece travel. Travelers who explore further afield will be rewarded with unique experiences with locals and some fantastic historical sites all to themselves.
Ikaria
Known as the island of long life, thanks to its large community of 90-somethings that still remain active and a notably decreased rate of heart-disease and cancer among its residents, Ikaria Island in the Ionian Sea is one of the most laid-back places you'll ever find. You probably never figure out what time shops are meant to be opened or closed and you might get dragged into a local festival or two, but it's all part of the charm.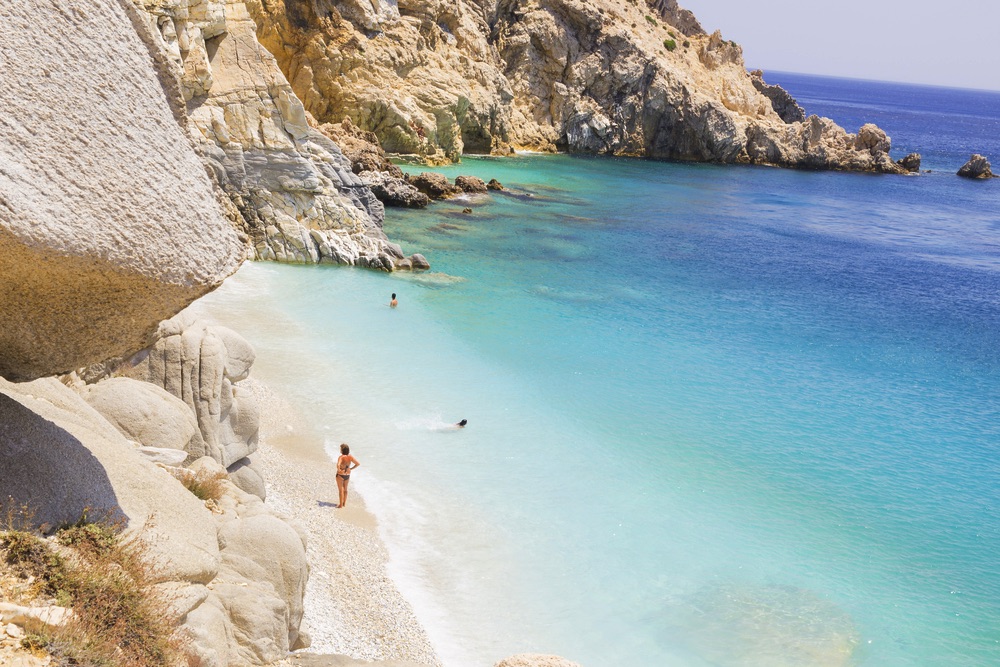 Leros
This Dodecanese gem is home to a 100-year-old town with well-preserved Italian Rationalist architecture, but that's not all. Leros basically boasts all of the best aspects of the country; beautiful beaches, quaint fishing villages, hilltop windmills, and funky tavernas, but there's hardly anyone around. If you're looking to get off the beaten path in Greece and find a touch of Italy on the way, then look no further than beautiful Leros.
Alonissos
Blessed with a stunning old town, great diving, dramatic landscapes, and a collection of perfect islets, islands, and atolls just off shore, Alonissos is a place where you'll want to spend some time. Enjoy walks through pine forests and olive groves, go bird and dolphin watching in the encompassing National Maritime Park or head to a local folk medicine doctor to find herbaceous cures for whatever ails you.
Paros
Located in the heart of the Cyclades Islands, Paros is what Mykonos was like 20+ years ago. With just over 10,000 inhabitants and more than 120 kilometers of stunning coastline, this is an off-track destination in Greece that really should be more popular. Pristine landscapes, green valleys, and rolling hills, Paros will not disappoint the intrepid traveler.
Read More: Things To Do in Paros, Greece
Greek Cuisine
With one of the most iconic cuisines in Europe, if not the world, Greece is a place where foodies can truly flourish. We try to eat a different meal every time we go to a restaurant in Greece. We've hardly had the same meal twice and I don't think we've ever been disappointed.
The cuisine itself features a lot of vegetables, olive oil (some of the world's best), seafood, grains, wine, and meat. Dishes will commonly have olives, pasta, lemon juice, herbs, yogurt, bread, wheat, barley, and spices. My mouth is watering just thinking about it.
Greek food is definitely one of our favorite parts of Greece travel.
Gyros
It wouldn't be a visit to Greece without at least one gyro (pronounced "YEE-roh"). These delicious meat and bread wraps are cooked in the shawarma or tacos el pastor style where layers of fresh meat are stacked on a metal stick and rotated around a heat source before being shaved into a fluffy pita wrap. Inside you'll find meat (typically beef, chicken, or lamb), vegetables, yogurt, herbs and oftentimes, french fries.
Dolmades
Give me anything with herbs and rice wrapped in a vine leaf and I'll be happy. Dolmades are light, herbaceous, green, fresh and are usually stuffed with ground meat (lamb, beef or both) and rice. They are usually served as an appetizer with a couple of lemon slices to add a bit of acid and tartness to the dish.
Souvlaki
Okay, I have to get a few of the staples out of the way because you can't go to Greece without having Dolmades, Gyros and Souvlaki! This delicious plate of skewered meat (usually chicken) served with rice and salad is a must-have meal for any first-timers or returning visitors to Greece.
Strapatsada
Who doesn't like this affordable and popular dish of scrambled egg with tomato and feta? Also known as kagianas and melemeni, this is a dish that can be served hot or cold and is usually considered a lunch food or light snack as opposed to a breakfast meal (as westerners often think).
Feta, Olive Oil & Bread
This cheap but simple staple is so nice to have before a meal, after a meal or just as a meal. When we first visited Greece we were on a very tight budget, so this was our go-to meal when travelling around the country. Almost every grocery store and restaurant will have this available for cheap. If you get it at the market it can be as little as €3 for all three!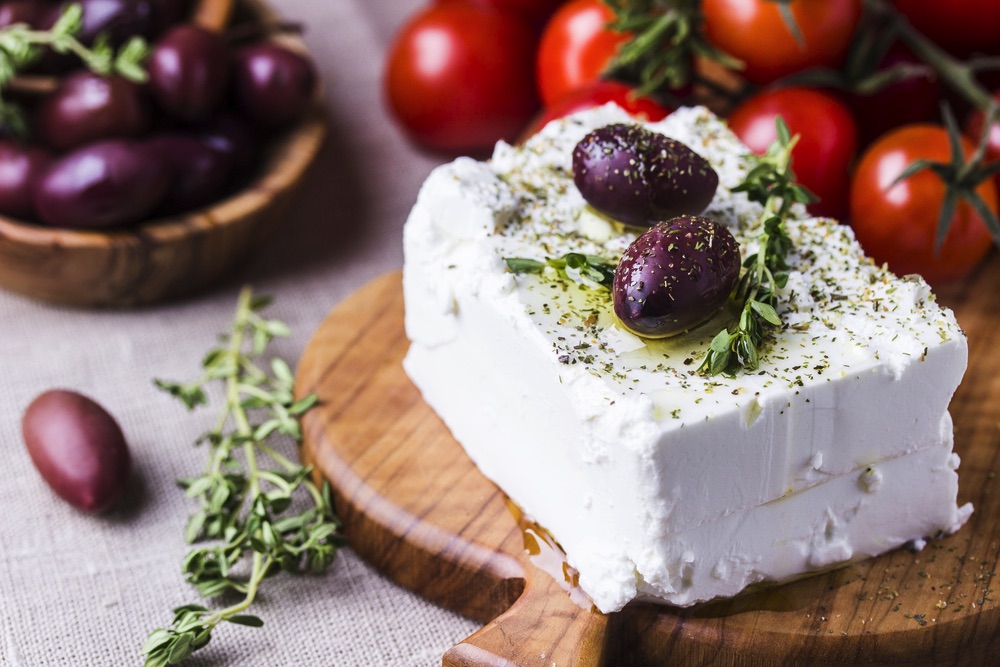 Best Restaurants in Greece
Grandma's (Ios)
This restaurant is located next to the pool on an open-air deck. Grandma's is one of the few choices for fine dining on Ios. Located inside the Liostasi Hotel, it offers modern Greek cuisine with a twist. Enjoying a pre-dinner drink next to the pool is one of the best things to do in Ios. If you are looking for a special breakfast, Grandma's offers a traditional Greek breakfast including locally made cheese.
Hermes Grill House (Rhodes)
This budget-friendly grill, has 5/5 on TripAdvisor, is open from 8am to 8pm Monday through Friday and has taken the traditional meat dishes associated with Greece and made them better. It's also incredibly cheap, making it perfect for the traveler on a budget. The staff also speak great English, so it's worth it to ask for their recommendations! Don't miss this cool little restaurant on Rhodes island.
Lofos Restaurant (Zante)
Without a doubt this small, Greek-run restaurant has the best views of Zakynthos Island's beautiful interior. The food here is fantastic, the service is great and it's the perfect place for sunset. We recommend the roast lamb (€9) and the beef stew (€8). Pick a table along the deck and peer over the cliff down towards the farmlands below and the Ionian Sea in the distance.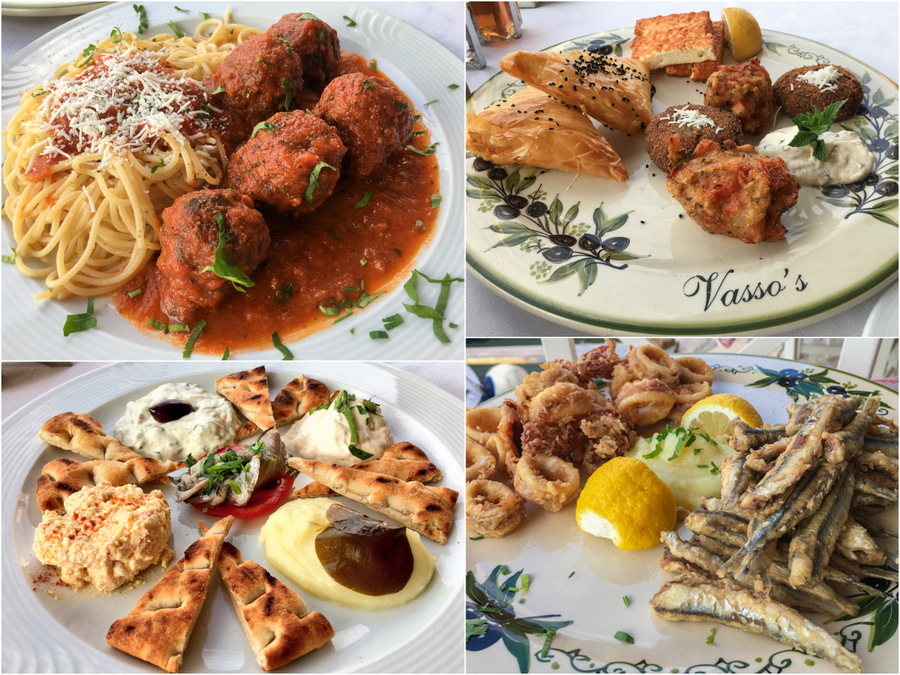 Sto Psito (Kefalonia)
Enter this lovely little Greek restaurant through a flowered archway and choose one of the many tables in the garden overlooking the farms and the sea below. Dine on typical Kefalonian fare like Strapatsada and stewed goat, all while drinking some delicious local wines. If you're in the town of Argostoli or Lassi while on the island of Kefalonia, do not miss this place.
The Currency in Greece
Greece has been on the Euro since 2002. Denominations of the Euro bank notes are 5, 10, 20, 50, 100, 200 and 500 with coins being in 1, 2, 5, 10, 20, 50 cent and €1 and €2 denominations.
Before the Euro was adopted the currency in Greece was the drachma which was first introduced in 1932. Prior to that, ancient Greece used metal sticks as currency. As one of the first nations to adopt its own tradable currency, many other countries modelled and even named their currency after the drachma including the Armenian Dram, the Moroccan Dirham and the UAE Dirham.
How To Get Money
Not surprisingly, taking out money in Greece is pretty much as easy in any European country that uses the Euro. We like to get our money from ATMs while travelling which is the most convenient way to access cash. Before setting out, talk to your bank about accounts with reduced or eliminated foreign ATM withdrawal fees so you can save money while you're travelling.
ATMs: It's not hard to find an ATM in Greece, especially in popular tourist areas where they want you to have easy access to your money. How much you're allowed to take out and how much the fee is depends on the bank. Most ATMs will charge you €2-3 for the withdrawal and in many cases your bank will also charge you (if you don't get a free foreign withdrawal account). Also there's always a charge on the conversion fee (converting Euro to your home currency) so keep that in mind when budgeting your trip as it often amounts to 2-3% of your overall withdrawal.
Most ATMs in Greece are on the Maestro (Mastercard) or Plus (Visa) system, which means that pretty much any debit card will work for taking out money.
Cash Exchanges: Of course, there are plenty of cash exchanges ready and willing to change your money. In addition to airports, you'll find these in popular tourist zones. While it's perfectly fine to change money at such places, you never get a very good rate from them. In particular, the rates at airport cash exchanges tend to be a bit worse. Personally, I would only use cash exchanges if there was no other option.
Credit Cards: Credit cards are widely accepted in Greece including at restaurants, bars, shops, supermarkets, and souvenir shops, but there are still some times when you're at a small family-run joint or you're in the middle of nowhere and there won't be any credit card machines in sight.
This is why it's always a good idea to carry cash in Euros as well as your credit cards. We also try to carry a Mastercard and a Visa just in case only one is accepted. You'll also need credit cards for most online bookings, like flights and hotels in many cases, so traveling with them is very convenient.
The History of Greece
If you're a history buff, then Greece is likely going to be one of your top countries to visit. There is so much history here and although the Athens Museum boasts one of the best historical displays in the world, the entire country is a living museum.
Generally, when thinking of the history of Greece, historians divide it into 8 distinct periods. These are as follows:
Neolithic Period: This period runs from 7000 BC to 3200 BC and is known as the beginning of agricultural society in Greece. The earliest developed European agricultural societies were discovered in Greece as explorers from the East passed by numerous islands, planting crops and building societies.
The Bronze Age: Spanning approximately five centuries from 1600-1100 BC the Bronze Age is a period when the tribes of Greece moved their focus from strictly agriculture and started to learn copper and bronze working techniques.
Ancient Greece: From 1100 BC to 146 BC Ancient Greece also covers a few sub-periods in Greek history including the Dark Ages, the Archaic Period, the Classical Period, and the Hellenistic Period. Generally, the term Ancient Greece simply refers to all of Greek History prior to the arrival of the Romans, but historians generally specify it as the period between the Dark Ages to the end of antiquity in 600 AD.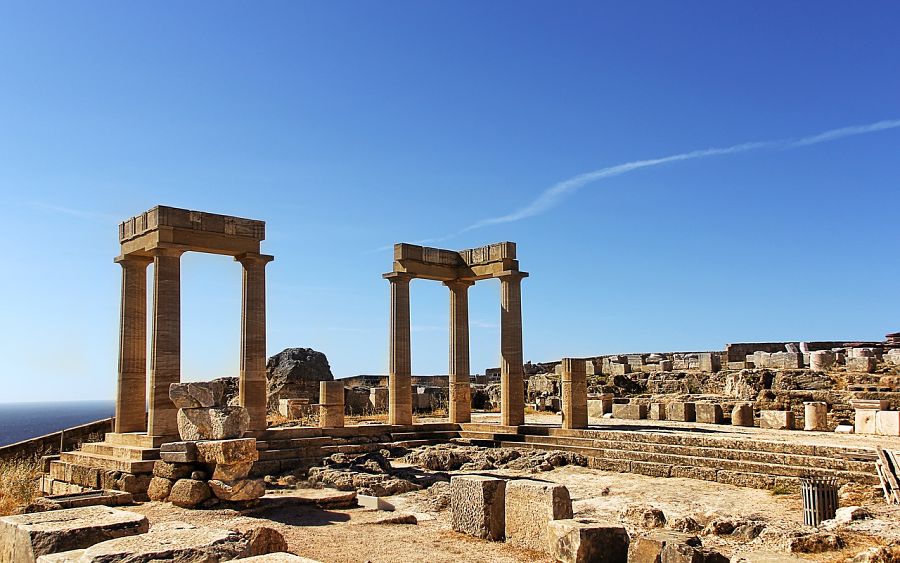 Roman Period: Enter the Romans in 146 BC and the landscape of Greece is shifted drastically. This period technically started at the sacking of Corinth in 146 BC and continues until Byzantine Rule in 324 AD.
Byzantine Period: Also known as the East Roman Period, Byzantine Greece lasted was first established in Byzantium Constantinople in 324 AD and continued all the way until the end of Constantinople in 1453 AD.
The Venetian Period: This period started when the Ottomans arrived during the Fourth Crusade in 1204 and spans to 1797 which is the year of the disestablishment of the Venetian Republic.
The Ottoman Period: From 1453 to the Greek Revolution in 1820 this is a period when Greeks who converted to Islam were considered "Turks" in the eyes of Orthodox Greeks, even if they didn't adopt the Turkish language or take on any other aspects of Turkish life. The Ottomans ruled most of Greece until the early 19th century when Greece gained its independence.
Modern Greece: After the Greek Revolution, Greece declared their Independence, but it took until 1829 before it was fully realized. Before that, in 1827, the French, British and Russian navies joined forces and completely dismantled the Ottoman and Egyptian Armada.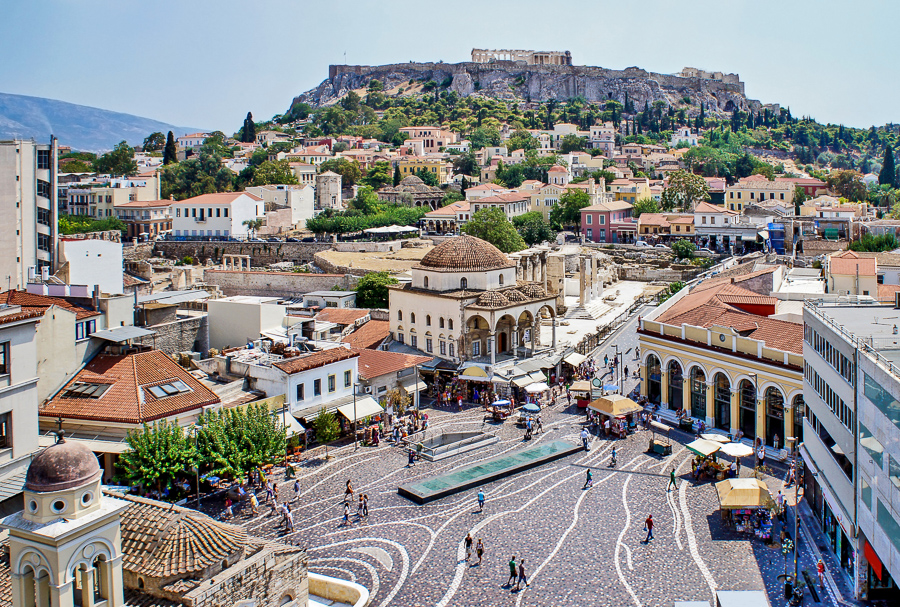 A Russian Minister by the name of Ioannis Kapodistrias (a Greek by birth), became President of the new Republic of Greece. Kapodistrias was later assassinated at which point, the leading powers of Europe decided to turn Greece into a monarchy, establishing it's first King Otto in 1832. Otto was the one who transferred the capital from Nafplio to Athens in 1834.
Greece Today: The 2008 global economic recession had a massive impact on Greece and has still plagued the country to this day. There have been concerns that Greece would be unable to pay its debts to Germany and even received a €110 billion loan from the IMF.
Greece is trying to recover after a trying decade. It considers itself a capitalist economy with its public sector bringing in around 40% of total GDP. But Greece is still struggling with a GDP that is not even two-thirds of the leading euro-zone economies.
Tourism makes up around 18% of GDP and not surprisingly given the massive influx of refugees, immigrants make up almost 20% of the total work force with most working on farms and in unskilled labour. Greece is still a beneficiary of the EU Aid which accounts for about 3.3% of GDP.
The current president of Greece is Prokopis Pavlopoulos was elected by the Hellenic Parliament. Although the role has been largely ceremonial since a constitutional reform in 1986, he has been in power since 2015.
Culture & Traditions
Every culture has its own unique culture and with historical differences come some particular traditions and behaviors that travellers should be aware of when traveling around any country. Before embarking on Greece travel, whether you're solo, a couple or travelling as part of a group, you should be conscious of the following customs.
Kalo Mina
In Greece, the people consider the first day of every month "a new beginning", so much so that they greet each other on this day by saying "Kalo Mina" which literally means "Good Month".
The Evil Eye
This is one tradition in Greece that is shared with Turkey. If you've ever seen that little blue piece of glass with the white and blue rings in it, you'll know what I'm talking about. That little charm is meant to ward off evil and negative energies of jealous or hateful people. It also makes for a great souvenir.
Spitting
A common Greek superstition is that you must spit after talking about bad news, which helps to chase the bad spirits away. You may notice when Greek people are talking to each other, they'll spit and say "ftou, ftou, ftou". This is the spitting tradition in action. It's also normal to spit after complimenting someone as to ensure they don't get mati or "the bad eye".
Tuesday The 13th
In Greece, the unlucky day isn't Friday the 13th, it's Tuesday the 13th.
Plate Smashing
When we lived in Calgary, Canada there was a Greek restaurant where you smashed your plate after eating the meal. We simply assumed this was a common part of Greek culture and although it seemed needlessly wasteful, it was undeniably fun. Then, when we first visited Greece in 2011, we realized that nobody actually does this so we just assumed it was another North American misrepresentation of culture (like the Chinese fortune cookie).
It turns out though that this was once a common practice to show appreciation for the music and entertainment at a party, but the practice was banned in Greece in 1969. Apparently it's still possible to see it happen at private events, but don't expect restaurants in Greece to smash plates — and don't destroy any dishes unless you see locals doing it around you!
Piase Kokkino
Piase Kokkino is basically the Greek equivalent of "Jinx! You owe me a pop!".
When two people say something at the same time in Greece they often yell "Piase Kokkino!" which translates to "Touch Red!" Then both people have to touch something red as soon as possible, otherwise – as the superstition goes – they will both get into a fight or altercation with each other.
Our Greece Travel Blog Posts
Sometimes the best way to understand a destination is through the lens of other travellers. Below you'll find our personal travel experiences and travel blogs from Greece. We have visited Greece for over 3 months in total at the time of writing and we plan to explore some more soon!
Pros Of Greece Travel
Greece is an incredible country to travel in. I could go on and on about why I love traveling in this country, but I'll try to keep it short and sweet with a few of the biggest advantages.
The Diversity
Diversity of landscapes, languages, culture, food and people can be found all around the different islands and on the mainland of Greece. It's hard to find a bigger melting pot of family, culture and traditions.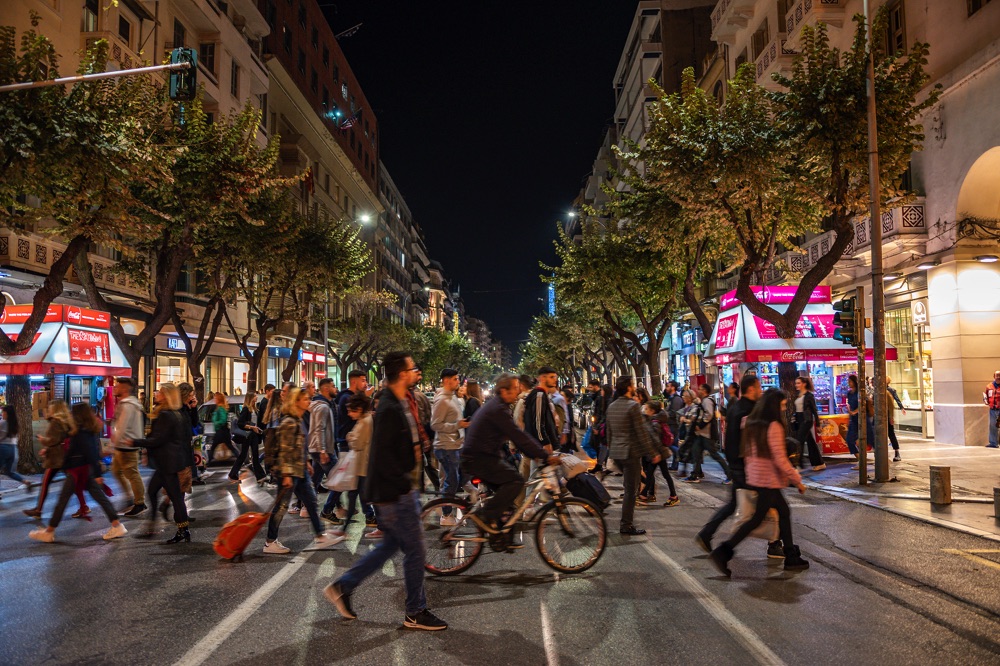 The Price
As far as developed European countries on the Euro go, Greece definitely offers travellers some of the best value for money, particularly in the off season. While food is still a bit pricey in restaurants, accommodation, transport and day-to-day expenses are at a minimum. It's hard to think of a more affordable destination with so many beautiful beaches on the Mediterranean Sea
The Food
I've already talked about Greek food quite a bit in this post. Everyone knows just how delicious Greek food can be and when you're in the country, enjoying a meal with a cool Mediterranean breeze on your cheek and a view over farmlands and hillsides, it's really hard to beat.
Friendly, Fun-Loving People
We can't talk about the pros of traveling in Greece without mentioning the amazing locals. The people are friendly, welcoming, and super helpful. They are family-oriented and love to treat visitors to their incredible hospitality. They are also big feeders, so be warned. You'll likely gain a few pounds while travelling in Greece.
Cons of Greece Travel
Not every place is perfect, and there are definitely some negative aspects of traveling in Greece. Keep these things in mind before heading there.
The Language Barrier
We always say that you can have a pretty intelligent conversation using hand motions and sound effects, but that doesn't take away from the fact that there isn't a lot of English spoken in Greece. While most guest house and hotel owners will speak a bit of English (or have a son, daughter, niece or nephew who can), outside of tourism there isn't a whole lot of English spoken so be prepared to learn a few Greek words, have a translation app on your phone, and practice your pantomiming.
Allergies
Okay, I'm really stretching for some cons here. Can you tell we love Greece? This may just be us, but Greece in the Spring is the one place in the entire world where I've had allergies. There are so many flowers and different types of pollen floating in the air that Dariece and I both get crazy allergies every time we visit. Of course, you may not have any allergies at all, but you can't help but notice a lot of sniffling, runny-nosed tourists when you travel in the Spring.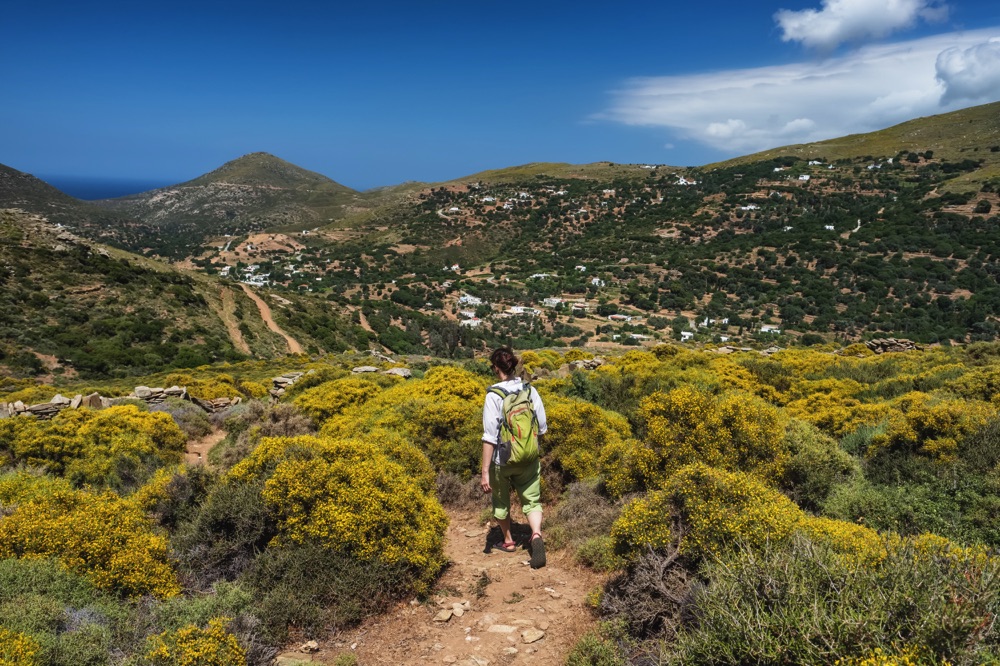 Overeating
I mentioned it before and I'll mention it again… Greek people LOVE to feed you. They feel that you are a guest and they want you to try every amazing Greek dish that they have on their menus. In our experience, if we don't order an appetizer and a dessert then the waiters will think we're poor or that we don't want to eat them out of house and home. I actually don't know what they're thinking, but they always end up serving us at least three courses, even if we only order a main.
They never charge us for the extra food and it seems they're just so passionate about the cuisine that they feel we need to try it all. It's hilarious, but after a few weeks of traveling around the country, we noticed our growing bellies.
The People You'll Meet
Greece is home to around 10.8 million people and all of them seem to have a great pride in their country. This is one of our favourite places in the world for meeting locals. The Greek people are just so friendly and welcoming that you can't help but to strike up a conversation with someone every day.
The Locals
Greek people are extremely friendly and overtly patriotic. They will fight and argue over controversies about politics, sports, borders and nations that were once considered Greece. But underneath it all they are really happy, kind people.
Greek people tend to be very close with their families and their friends and if you ever have the chance to go to a Greek family meal, don't miss it! They are loud and passionate like Italians, but with their own set of mannerisms, humour, traditions and love for life.
They also love their food as is evident by both the healthy ingredients and the portion sizes. They have a great respect for their history as well, many of them being able to cite dates and years of different revolutions, historical periods and leadership changes.
Greek people are quite religious for the most part and this faith seeps into the traditions of their day to day lives. They celebrate enthusiastically and take part in amazing festivals throughout the year.
They love the outdoors, they love to party and they love good food. What more can you ask for? Greek people are just about as cool as they come and we admire their way of life.
Types of Other Greece Travellers
There's no denying that the other travelers that you'll meet in most of Greece are older, or young honeymooning couples. It's no surprise. This isn't the cheapest destination in Europe, which filters out some of the younger backpackers and gap year travelers, and it's also super romantic so it's no surprise that there are a lot of newlyweds, couples, and retirees there.
There are some hostels in Greece where you'll meet a younger crowd and of course, if you head to party places like Rhodes, Mykonos, and Athens there are tons of people out until the wee hours of the morning at nightclubs, raves, and events.
If you head to the main party islands then you'll be hard-pressed to find anyone over 50 years of age. In these areas, Greece seems like a massive party with people from all over Europe and the rest of the world coming to have a good time.
No matter how old or young, one thing is the same for all travelers to Greece, they all seem to be in awe at the natural beauty and the laid-back pace of life in the country.
Greece Travel Facts
The Religion
The religion in Greece is overwhelmingly Greek Orthodox at 98% of the total population of the islands. The rest of the population is made up of a mix of Muslims, Catholics, and Jewish faith. The Orthodox Church is the 3rd largest branch of Christianity in the world after the Roman Catholics, but Russia and Greece are the only two countries to have such a large demographic of the Orthodox faith.
The Language
The Greek Language is the longest-documented Indo-European language with over 3,500 years of written records. The language is spoken in Greece, Albania, Cyprus, and other countries in the Eastern Mediterranean region.
The language itself has had a massive impact on the history of not only Greece but of the world. This is the language of important literary works such as the poems of Iliad and Odyssey. The New Testament of the Bible was also written in Greek, as were many foundations of texts in astronomy, math, logic, and philosophy.
Before the middle ages, the Greek language was spoken across much of the Mediterranean as well as in Asia and other parts of the world.
Today the language is only spoken in Greece and Cyprus, but is a recognized minority language in 7 other countries and is one of the official languages of the EU.
A Few Key Phrases in Greek
As I mentioned earlier, there isn't a lot of English spoken in Greece so it may be worth your while to learn a few key phrases:
Hello (Γειά σας): YAH sahss
Informal Hello (Γειά σου): YAH soo
How are you? (Τι κάνετε): tee KAH-neh-teh?
Fine, thank you and you? (Καλά, ευχαριστώ Και εσείς): kah-LAH ef-khah-rees-TOH keh eh-SEES?
Nice to meet you. (Χάρηκα): HA-ree-ka
Thank you (Ευχαριστώ): ef-hah-rees-TOH
Good Day (Βοήθεια): kah-lee-MEH-rah
Good Evening (Καλημέρα): kah-lee-SPEH-rah
Good Night (Καληνύχτα): kah-lee-NEEKΗ-tah
When To Travel To Greece
Greece enjoys a pretty moderate climate year-round, but that doesn't mean that you can visit Greece in December and January and expect a beach holiday. It does get chilly here in the winter months, especially in the mountains! We've always visited Greece in the shoulder season when the crowds are thinner, the prices are lower and the weather is warm enough for a dip.
Peak Season For Greece Travel
Late June to early September
Peak season in Greece is from late June to early September when crowds are at their busiest. Kids are on summer holidays, people from the rest of Europe are coming to enjoy the beaches and sites in Athens are packed, even though it's often too hot to visit them mid-day.
Nothing is closed in the peak season, the sea is warm like a bathtub in some places and the mainland destinations can be scorching. Don't expect any discounts during this time. In fact, prices often rise as much as 300% in July and August.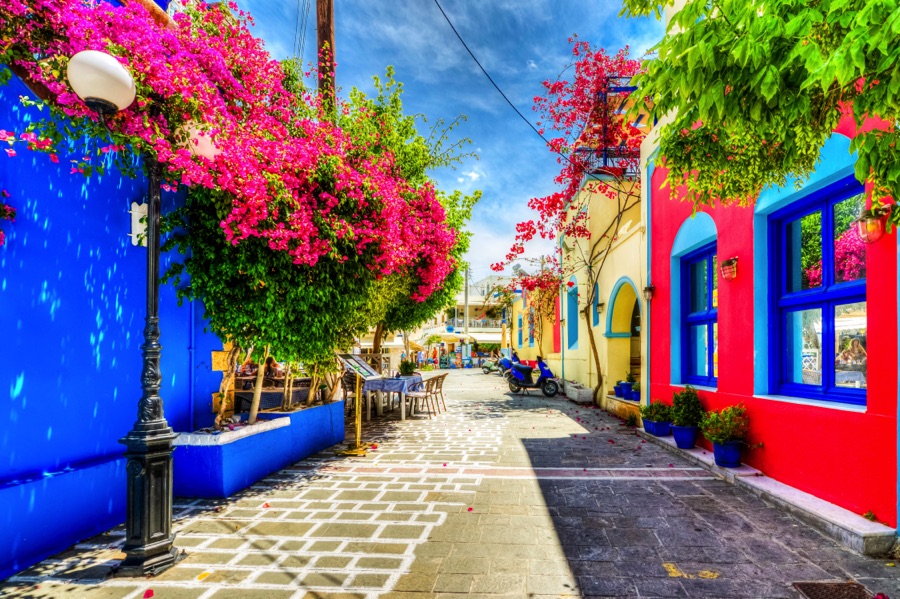 Shoulder Season
May to early June and Late September to October
This is our favourite time to visit Greece. The country is quieter, the weather is still warm enough for swimming at beaches, but not too hot that you can't visit the main sites in the middle of the day. There are also still some great discounts on accommodation and most restaurants, bars and tour operators will be open for business.
Shoulder season is the best time to visit Greece in our opinion and every time we've been, we've come in between seasons.
Off-Season
This is the low season in Greece and the weather is at its most miserable. You can expect some grey skies, plenty of rain and wind at this time of year. There are also limited ferry services around the country and many hotels, resorts and restaurants will close down altogether.
If you do find accommodation that remains open during the winter, you can expect massive discounts. If you're booking an apartment on Airbnb at this time, be sure to contact the host directly before booking to ask for a discount as many hosts forget to add price-reductions for the off season.
Santorini and Crete are probably the best places to visit around this time because they're south enough that they get the warmest weather, and busiest enough that even in the off-season most places remain open.
Getting Around Greece
Getting around Greece is easy thanks to a great ferry system, excellent buses and decent domestic flights. The rail system isn't much to write home about, but it's a comfortable way to get from Athens to a few other mainland destinations.
By Bus
The mainland of Greece has plenty of buses to get you between the main cities and sites. You can book bus tickets online or you can head to the bus stations.
By Taxi / Uber
There's also UBER in Athens but at the time of writing it was restricted to the Greater Athens area, with Uber X, Uber X Plus and UberTAXI. Taxis are available in Athens as well as on the islands. In tourist places like Crete and Santorini they can overcharge tourists, so be sure to ask your hotel or Airbnb what the price should be.
By Rail
There is a railway in Greece but it's not the most common way to get around the mainland. It's serviced by OSE and the main routes include Athens to Patra, Athens to Thessaloniki, Athens to Dikaia and Athens to Thessaloniki.
By Ferry
To get to the Greek Islands you'll most likely take a ferry. A great site to book ferries on is FerryHopper.com, but there are many other sites you can choose from. Most ferries don't sell out, but we have been stuck booking last minute ferries that limited our departure times and cost us a lot of extra money, so I'd recommend booking a month or more in advance.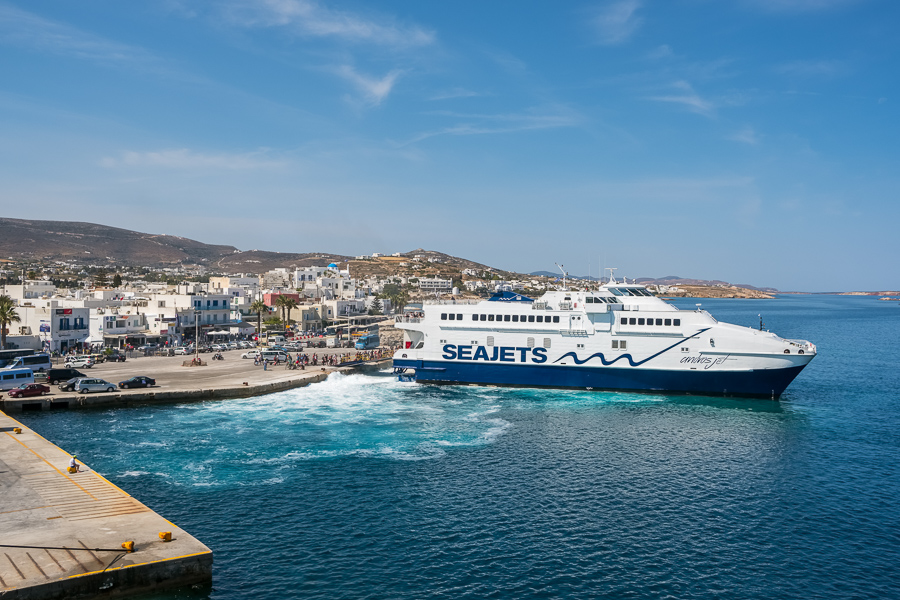 By Plane
We've also taken quite a few domestic flights in Greece. The local airlines include Volotea, Aegean Airlines, Sky Express and Olympic Air, all can get you from Athens to most islands in the country for under $50. We usually book our flights on Google Flights to find the best deals.
Getting There & Away
Most people who travel to Greece will arrive by Air to the Athens International Airport (ATH). There are also plenty of border crossings into mainland Greece from North Macedonia, Albania, Turkey and Bulgaria. Some people also enter Greece by boat as it's very common to sail the Mediterranean.
By Plane
This is the most common way to enter Greece. There are many direct flights from major cities in Europe to Athens that come in under $100. From the US there are only direct flights to Newark Liberty International Airport (EWR) served by Emirates for around $800.
From Canada you won't find any direct flights and most will stop in London for at least a few hours. From Australia, you'll have to have a stopover as well, most likely in Singapore or Doha.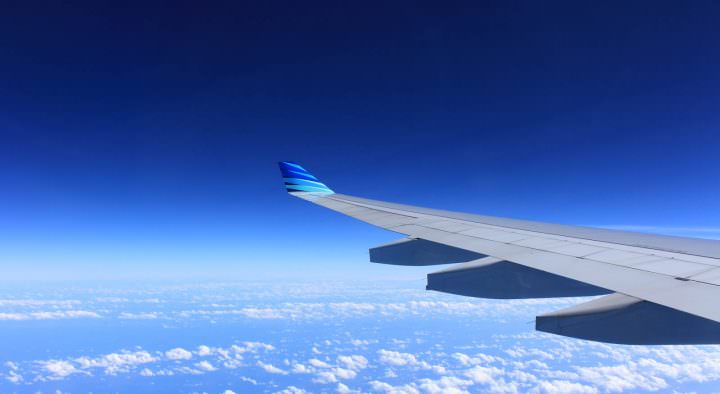 By Car
As road tripping around Europe is a common attraction to the region, many people choose to enter Greece by land. For this there are border crossings in Albania, Macedonia, Bulgaria and Turkey. Check border status before driving to these borders as they can sometimes be closed. Usually crossing borders into Greece by car is a simple affair.
Greece Travel Requirements
Greece is part of the Schengen Zone which unfortunately means that you cannot visit Greece for longer than 90 days before having to leave for 90 days. In fact, the Schengen Zone is made up of 26 countries:
Austria, Belgium, Czech Republic, Denmark, Estonia, Finland, France, Germany, Greece, Hungary, Iceland, Italy, Latvia, Liechtenstein, Lithuania, Luxembourg, Malta, Netherlands, Norway, Poland, Portugal, Slovakia, Slovenia, Spain, Sweden, and Switzerland.
You cannot visit any of the countries in this zone for more than 90 days out of any 180 day period. This means if you were already travelling in Belgium, Estonia, Finland and France for 80 days for example, then you'd only be able to visit Greece for 10 days before having to leave for 90 days.
Is Greece Travel Safe?
While Greece has had intermittent periods of unrest throughout its recent (and longer) history, it is a very safe place to travel. While, like any big city, Athens does have pick-pockets and some sketchy areas, for the most part Greece has very low crime, particularly on the islands.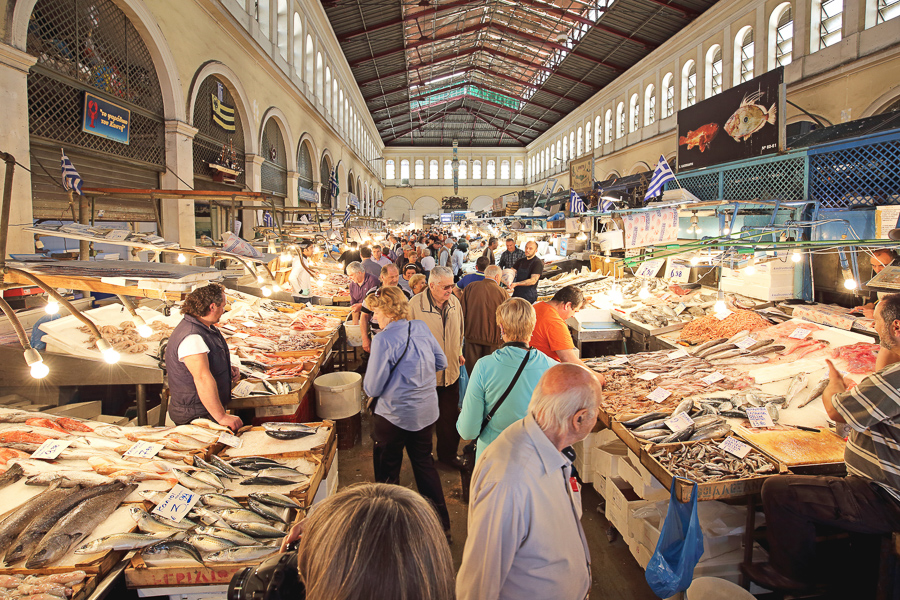 If you are partying all night, visiting nightclubs and taking part in the more seedy aspects of Greece travel, then of course you'd be more exposed to potential crime, but the average traveller won't have any issues in the country.
Festivals and crazy parties like those found on Mykonos and Rhodes may also be hot beds for petty theft.
You won't likely be stopped to check your vaccination card on entering Greece, but CDC does recommend the following vaccinations for Greece:
Hepatitis A, hepatitis B, rabies, meningitis, polio, measles, mumps and rubella (MMR), Tdap (tetanus, diphtheria and pertussis), chickenpox, shingles, pneumonia and influenza.
Don't let this scare you! Overall, Greece travel is very safe.
Phone & Internet in Greece
Whenever we've travelled Greece we've always picked up a local SIM card and loaded it up with data and calling. Having a mobile phone is a good way to give yourself peace of mind when travelling. Even though Greece is safe, it's nice to be connected, at the very least to use in the event of danger or being stranded.
As of 2018, the EU Parliament and Council (EU co-legislators) provisionally agreed on a reform of EU telecom rules, banning roaming charges across the region. This means that if you already have a SIM card from another European country, you can use it in Greece without charge.
If you're travelling from the US, Canada, Australia or another foreign country outside of the EU, then simply make sure your phone is unlocked and purchase a SIM card when you land.
The main carriers are Cosmote, Vodafone and Wind and they all have varying plans, bundles and prepaid packages. The last couple of times we were in Greece we bought a Wind SIM card and a Vodafone SIM card (both were €5) and loaded them up with credit at the Wind or Vodafone stores or one of the thousands of kiosks and corner stores that sell credit around the country.
Once credit is on the phone you can purchase data and calling packages. Examples of rates for data are:
700MB valid for a month, for €7
1GB valid for a day, for €1
3GB valid for a weekend, for €2
10GB valid at night (20:00 to 8:00) for a month, for €6
More Greece Media
Before traveling in Greece, it's best to forget any preconceived notions and stereotypes that you have of the country and do a bit of proper research. There are plenty of great travel blogs out there, as well as more specific blogs run by expats who have lived in Greece for several years. You can also join Facebook groups where you can ask questions to locals and expats to help you plan your trip.
Movies About Greece
Before you travel to Greece, why not watch a few films about the country? There are plenty of great movies and documentaries about/shot in Greece that will give you a glimpse into the country. Not surprisingly, many of these are set in ancient times. Here are a few recommendations:
300: An incredible cinematic masterpiece of art, war and gore, 300 the Battle of Thermopylae, Leonidas, king of the Greek city state of Sparta. The character (played by Gerard Butler) leads his astoundingly outnumbered army up against the massive Persian force.
Troy: Based on Homer's "Iliad", Troy is one of my favourite medieval movies, Troy follows the life of the main character Achilles (played by Brad Pitt) who has god-like skills in battle. The fight scenes in this movie are timeless and it will keep you on the edge of your seat.
Immortals: Another Ancient Greek movie about power-hungry King Hyperion (played by Mickey Rourke) and his ruthless army march across Greece, leaving a wake of burnt villages, corpses and terror in their wake.
My Big Fat Greek Wedding: This 2002 independent romantic holiday was a bit slow to start in the box office, but after doing 241.4 million in North America it is considered the top-grossing romantic comedy of all time. As far as non-ancient Greek movies are concerned, it's the one to watch. It's all about a middle-class Greek-American woman who falls in love with a rich white Anglo-Saxon Protestant. It's relatively funny and gives you a good idea of the importance of family, food and wine amongst Greek people.
Books About Greece
What better way to kill time on that flight to Greece than reading a book about the country? Save those Netflix shows for later and read up on the country you're headed to instead. Here are a couple recommendations for books on Greece:
The Iliad: Well, I mentioned Troy as one of the best Greek movies so I had to include the book that the movie was based on.
The Colossus of Maroussi: National Geographic said about this book: "Miller captures the spirit and warmth of the resilient Greek people in his story of a wartime journey from Athens to Crete."
Zorba the Greek: This book was first published in 1946 and is about a Greek working man by the same name who is a passionate lover of life. The book has been acclaimed as one of the truly memorable creations of literature.
Greece Travel Blogs
Greece is such a popular travel destination that there are blogs about it in many different languages. Reading blog posts about Greece is a great way to learn more about the country and get some ideas for your trip. Here are a few that you should definitely check out before your trip:
Goats On The Road:The "Goats" have travelled around Greece a couple of times numerous destinations in the country. Read destination guides, tips on digital nomad life, and more.
Santorini Dave: This may not be the best designed blog in the world, or the easiest to navigate, but it has some great information on travelling to Greece.
Greeka.com: This is a great site with loads of information on all things Greece.
Best Greece Travel Guide Book
We can't help it, we are old school and we still love to pick up a guidebook before we travel somewhere. We love the smell of a physical book and the ease of flipping through actual pages, but these days they're also available in PDF and Kindle formats of course. Our favorite Greece guidebook is the Lonely Planet Greece Travel Guide.
More Posts About Greece
Travel Resources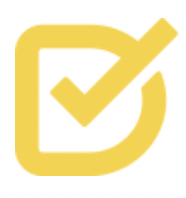 DiscoverCars
Discover Cars searches across all the main car rental sites and finds the best deal. Opt for full insurance coverage for more peace of mind and enjoy the freedom of a car.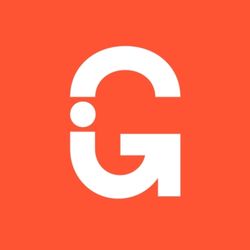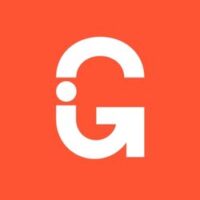 Get-Your-Guide
Our go-to website for booking tours around the world. Get-Your-Guide has a massive library of cool local experiences in almost every country.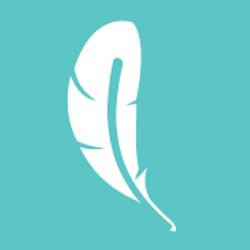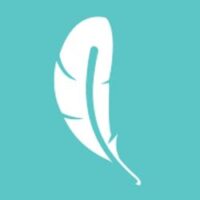 SafetyWing
The best travel insurance for full-time nomads by far. Get awesome rates, and excellent coverage, and sleep easy knowing you're insured against COVID.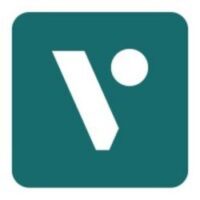 Viator
Another excellent tour booking engine that's better for available tours in the US. Viator also has great local experiences around the world.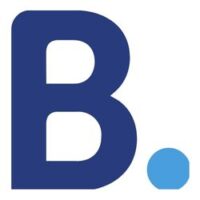 Booking.com
Our top choice for booking hotels and hostels, Booking.com is the easiest-to-use accommodation booking engine and often has the best prices on hotels.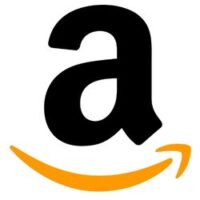 Amazon Gear
Anything from backpacks and luggage, to AirTags and guidebooks, you'll find everything you need for travel on the Amazon store.