Famous all around the world for its stunning sunsets, there are loads of other amazing things to do in Santorini. Thira, as the island is officially named, is a world-renowned destination and is one of the best places to visit in Greece.
The crescent-shaped island owes its existence to countless volcanic eruptions that have happened over the years in what is still the most active volcanic area in the Aegean Sea.
Among the best things to see in Santorini is the impressive caldera, which renders the island unique in terms of natural landscape.
If you've been wondering what to do in Santorini, the island is home to both natural and historical treasures that are worth exploring — it may be small, but Santorini has a lot to offer!
The best way to do so is by renting a car for at least a couple of days. The island is very compact and one of the best things to do in Santorini is a mini road trip across its jaw-dropping terrain.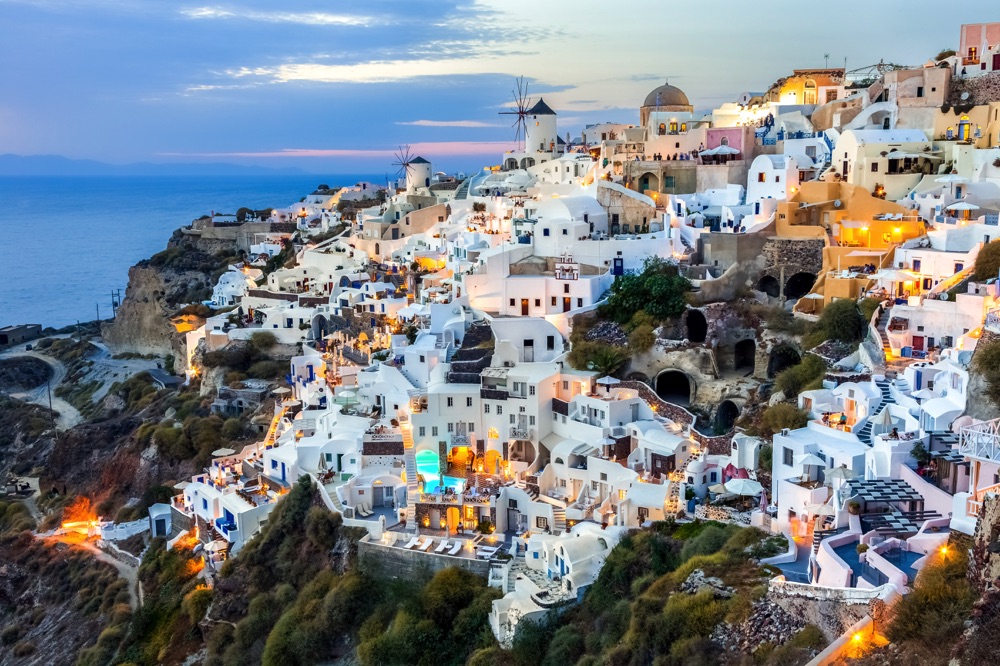 The first time I visited Santorini was back in 1997. Ever since then, I have fallen under the spell of many of the other Greek Islands. Yet a piece of my heart is forever left in Santorini.
I've returned numerous times over the decades and have witnessed all the changes that have happened to Santorini. Not once did its charms fail to make me fall in love with the island all over again.
These are the 15 best things to do in Santorini you won't want to miss.
1. Get Lost in Oia's Narrow Streets
Oia is the most photographed town in Santorini for good reason. Architecturally speaking, Oia is one of a kind with its softly curved whitewashed buildings which look as though they are made of whipping cream.
Strolling along Oia's picturesque alleys feels like a dream you never want to wake up from.
Perched on the northern end of the caldera, the entire town of Oia is carved on the rock overlooking the Aegean Sea. Walking along the enchanting maze of narrow alleys is among the best free things to do in Santorini.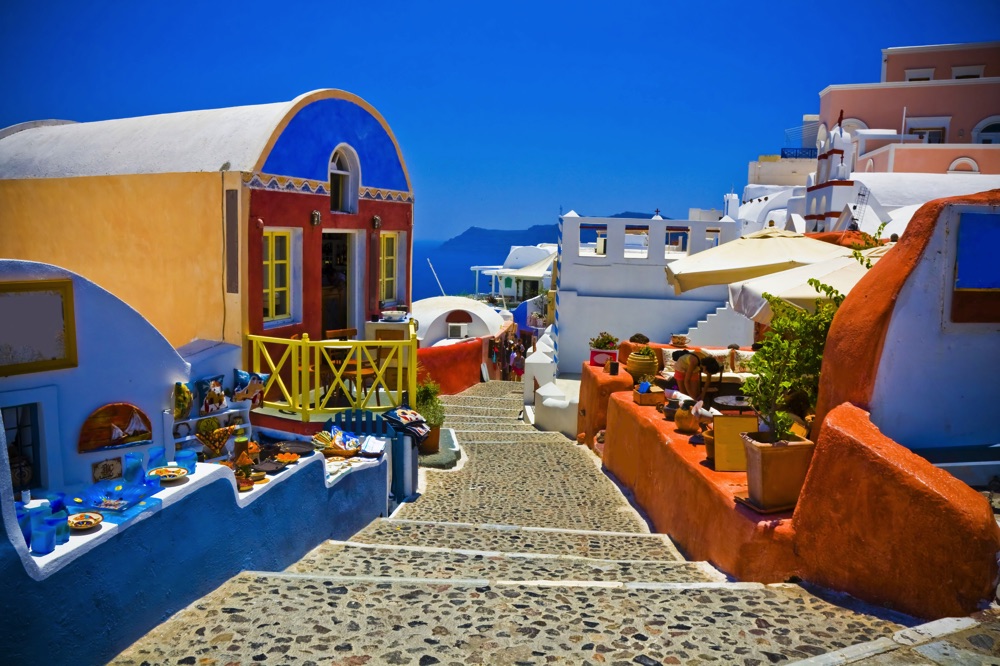 However, Oia's beauty is the reason why the tiny island town often attracts unbearably large numbers of visitors, especially during peak season. Therefore, the best time to visit Oia is May and October while July and August should be avoided at all costs.
2. Enjoy One of The Best Sunsets in The World
Oia's sunset is probably the main reason why Santorini has acquired such worldwide fame. There's nothing like watching the red sphere take a deep dive into the sea, while everything around is dyed in hues of red, orange and gold.
The ruins of Oia's Byzantine Castle is the best spot to enjoy the sunset. That said, it can get really, really crowded. So, unless you're staying at one of Oia's gorgeous cave hotels and, therefore, are able to experience the sunset from the peace and quiet of your private veranda, why not head to Fira instead?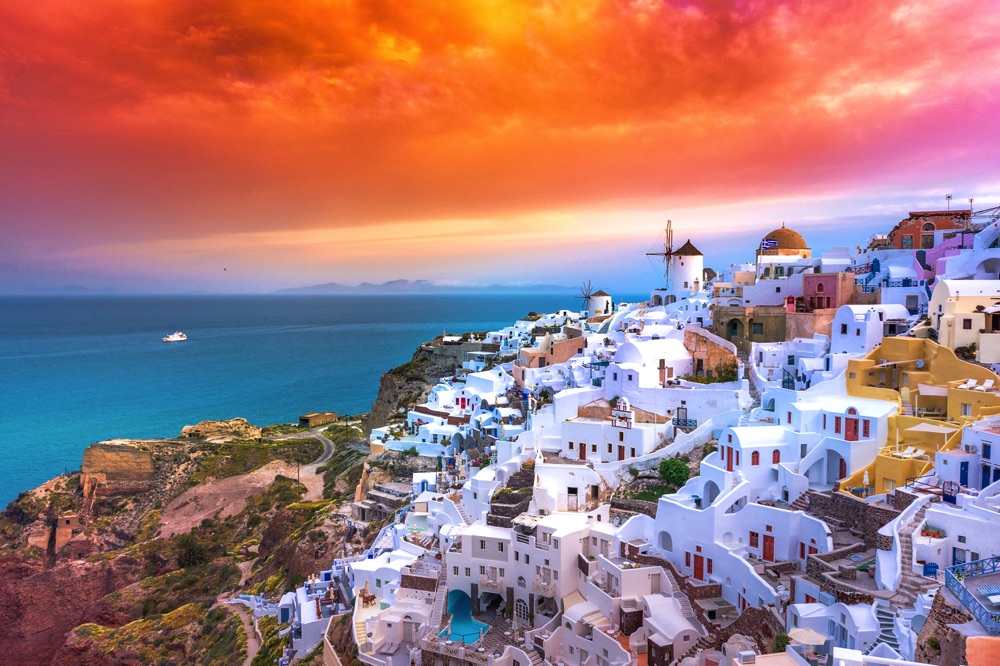 The sunsets at Fira are equally as stunning as Oia's!
In fact, it's even more impressive as the sun, instead of diving into the sea, leaves the stage by hiding behind the volcano.
Find a secluded spot along the cliff or, better still, choose a table at one of the bars hanging on the cliff and wait for the sun to dip in style. Witnessing a sunset in Santorini is one of the best things to do in all of Greece.
3. Join a Winery Tour
Santorini produces some of the best dry wines in Greece, namely Assyrtiko and Nykteri, as well as Vinsanto, the island's famous dessert wine. Santorini wines are not only top-quality but also unique because of the special qualities of the volcanic soil on which grapes grow.
One of the best activities in Santorini is hands down a tour of the island's wineries. Among them, the modern and elegant Santo Wines Winery near Pyrgos Village offers tours as well as tastings with breathtaking views of the caldera — which is actually a great place to watch the sunset as well.
Click here for a small group tour that takes you to 3 different wineries, and includes a knowledgeable guide and 12 wine tastings.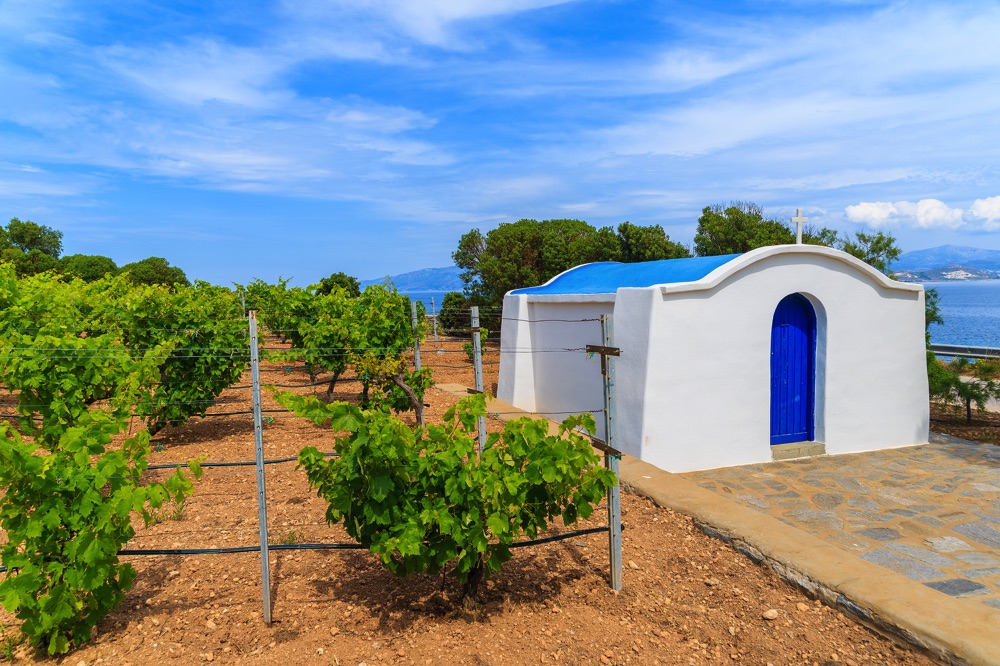 If you're into wine, joining a wine tour is a must do in Santorini.
☞ SEE ALSO: 15 Best Airbnbs in Naxos
4. Swim At The Red, White & Black Beaches
All that volcanic activity I mentioned earlier is responsible for yet another unique phenomenon in Santorini.
What you see on the island's beaches is not your regular kind of sand and pebbles (which you might find in nearby Italy), but lava which has been solidified throughout the centuries. Hence, the various colours.
The Red Beach in Akrotiri is by far the most impressive one in Santorini. As its name suggests, both the sand and the cliffs that loom over the beach are red in colour, creating an utterly spectacular, almost unreal, effect. Access to the Red Beach is either by boat or via an easy footpath.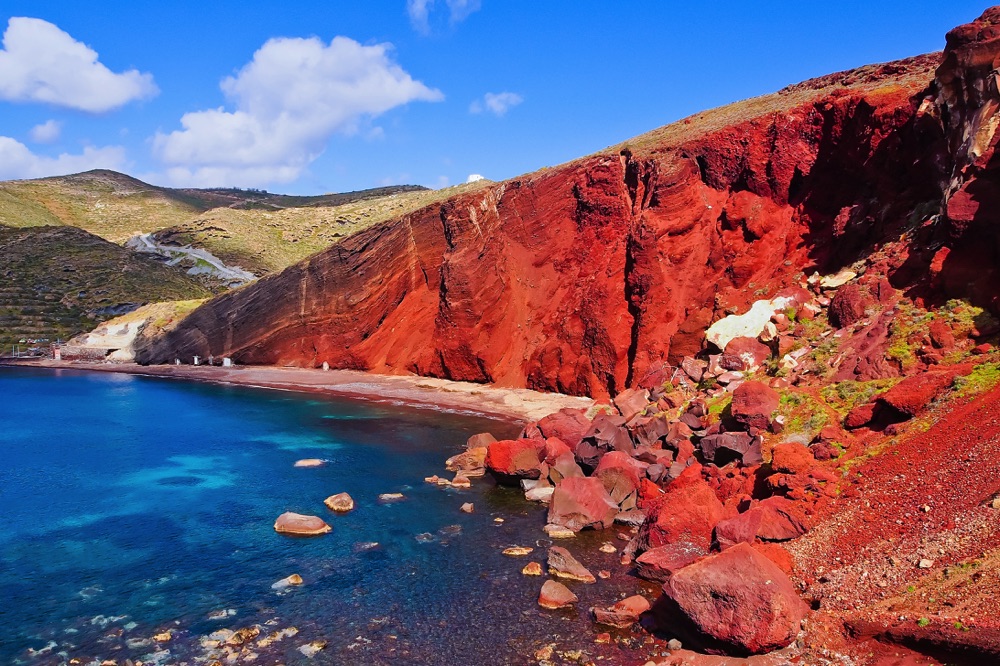 On the other side of the rock lies a different beach which is bright white in colour. The White Beach is one of the most wonderful places to visit in Santorini and it's nearly as impressive as the Red Beach, to which it is connected by boat service.
Last but not least, Black Beach happens to be the best beach in Santorini. Its official name is Perissa but most people call it Black Beach because of the colour of the sand.
Santorini is famous for many things but its beaches aren't the best in Greece. That said, Perissa is an exception to this rule and is the ideal place for a fantastic day at the beach!
If you'd like to sail around the island on a luxurious catamaran, with stops at the two of these beaches, the hot springs of the volcano, snorkelling and swimming and a fabulous lunch on board, click here to check out a very highly rated tour!
5. Hike From Fira to Oia: One of The Best Things To Do in Santorini
Santorini usually comes off as the epitome of glamour and, oftentimes, a playground for the rich and famous. Although this is true to some extent, don't forget that Santorini is, first and foremost, a picturesque Greek island of breathtaking natural beauty and stunning architecture.
One of the best ways to savour both its natural charms and architectural wonders is by walking the entire length of the path that connects Fira to Oia. This 10km hike is among the most scenic ones in Greece as it involves walking along the rim of the caldera for the most part.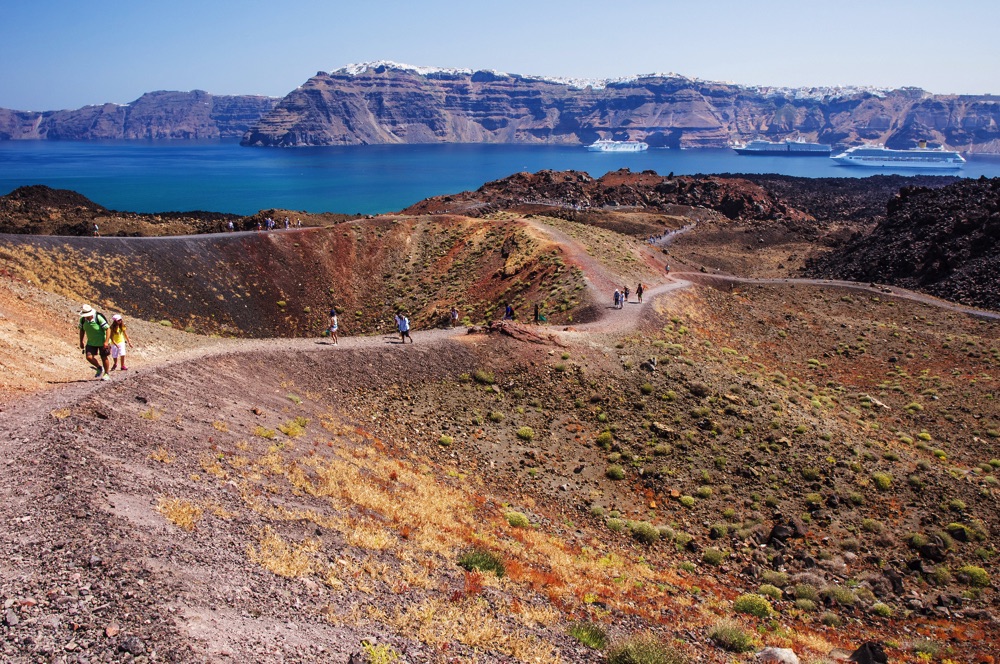 This hike has both uphill and downhill walks, no matter which direction you choose (either from Fira to Oia or vice versa). Also, there is absolutely no shade along the route — if visiting Santorini in the summer, make sure you set off for the hike early in the morning to avoid the unbearable heat.
The hike from Fira to Oia is one of the most fascinating things to do in Santorini. And it is totally free.
6. Indulge in a Sunset Caldera Cruise
Sometimes, it's totally worth spending some extra cash to have a once-in-a-lifetime experience! One of the most upscale activities in Santorini is taking a cruise of the caldera at sunset.
There are many sunset cruises to choose from that range from less than €50 to €1000 and more. Most of them offer meals and drinks, while, if you really want to splurge, there's also the possibility for a private tour on a catamaran or sailing boat.
No matter the details, all sunset caldera cruises have one thing in common — they offer unforgettable sunset views from the best vantage point. Click here for one of the most popular sunset tours, which includes dinner and wine for around $100.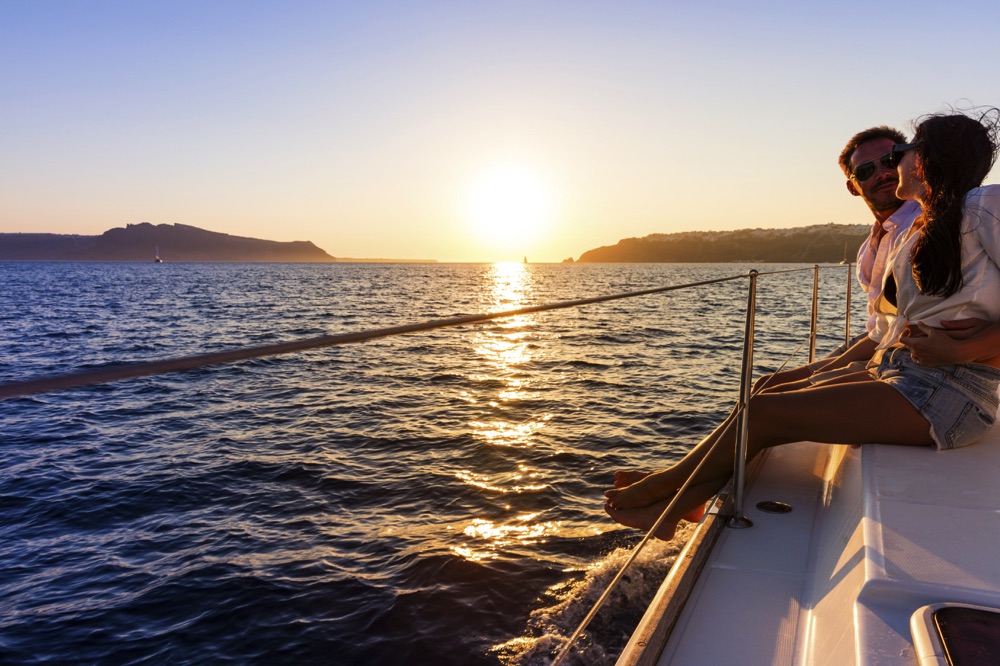 7. Eat The Best Souvlaki in Santorini
Going back to more budget-friendly things to do in Santorini, let me introduce you to the best souvlaki on the island: Lucky's Souvlakis in Fira.
On an island famous for its top-end (expensive) dining options, a down-to-earth meal consisting of the most famous street food in Greece should not be overlooked.
To us Greeks, it's generally known that the farther away from mainland Greece you go, the less tasty the souvlaki gets. Therefore, we typically think that the Greek islands aren't the best places in the country to try souvlaki.
So, it's pretty incredible that such good souvlaki can be found not only on a Greek island but on one of the most touristy ones!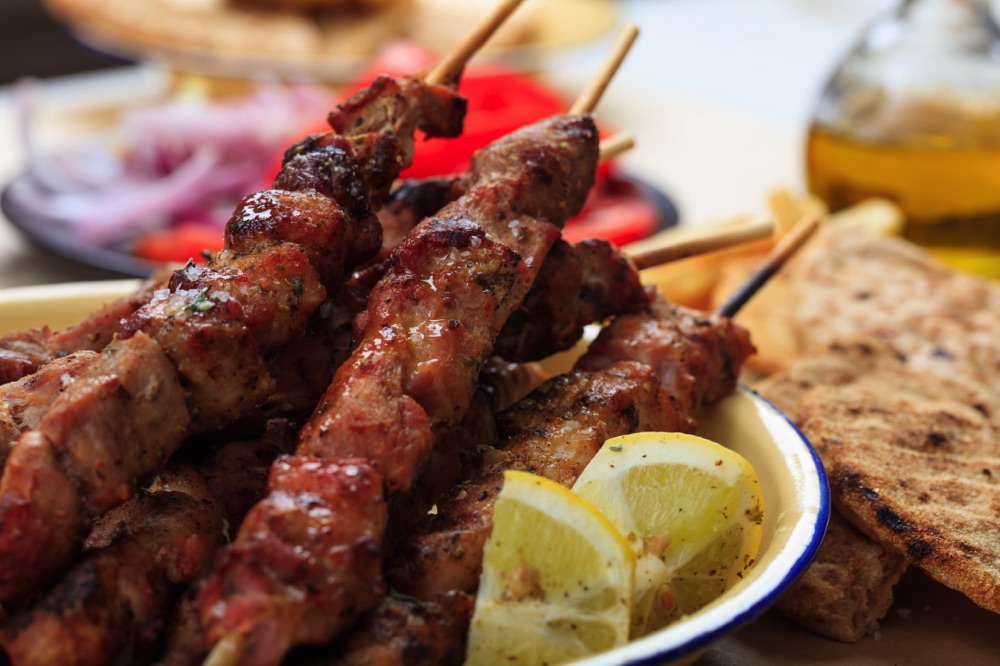 Every time I visit Santorini, I make sure I eat at Lucky's Souvlakis at least once.
Even though I no longer eat meat, I'm happy to say that there are also vegetarian options that can easily compete with the original souvlaki in terms of taste and quality. Greek food is some of the best in the world, don't miss out on this souvlaki.
8. Visit The Volcano: One of The Most Exciting Things To Do in Santorini
Geologically speaking, the island of Santorini itself, the caldera, Thirassia Island, and all the other nearby islets are part of one and the same volcano.
That said, a tour of the volcano means visiting two specific volcanic islets: Palea Kameni and Nea Kameni.
Reasonably priced boat tours to both of these tiny islands start daily from Athinios Port (Santorini's main port), the Old Port in Fira and Ammoudi Bay in Oia.
Nea Kameni is the first stop on this boat tour. There, after a 30-minute hike, you can stand next to the active volcano's crater which almost always puffs a bit of smoke and smells of sulphur.
Apart from the unreal setting of Nea Kameni Island itself, the views of Santorini are out of this world. Check out this small group catamaran tour which includes snorkelling, lunch and much more. Or this tour which includes dinner.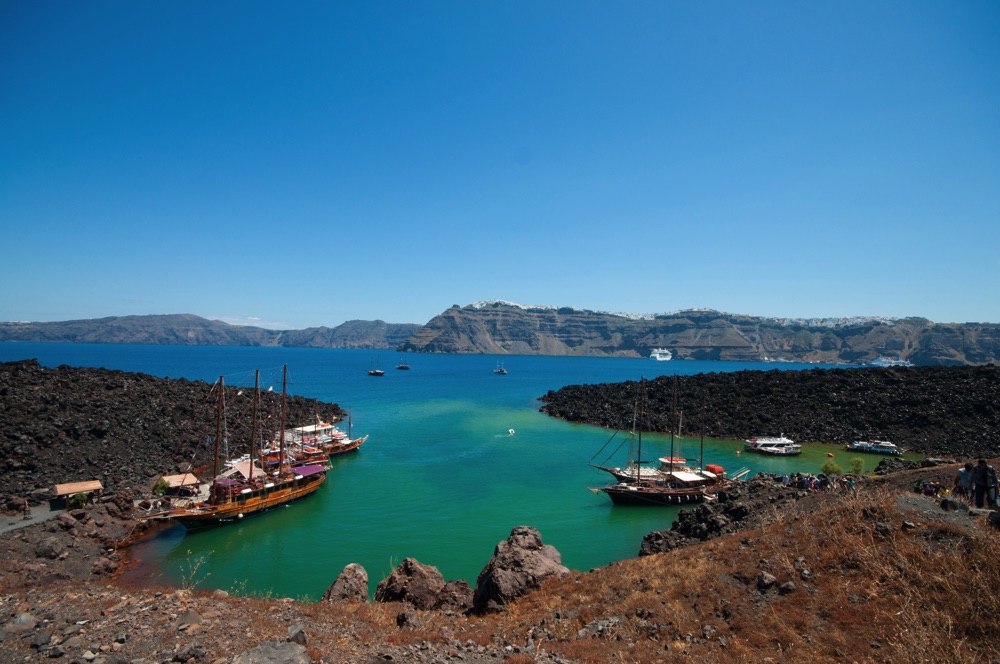 Leaving Nea Kameni behind, the boat then heads to Palea Kameni.
Here, you don't get to step on the island itself, but you can jump in the water and experience swimming in the sulphur springs. The latter is responsible for turning the water a weird but tranquil hue of green, and for the high water temperatures, even in winter.
Having the chance to walk along an active volcano crater and swim in green sulphur waters doesn't happen every day so make sure you add this tour to your list of must-do activities in Santorini.
9. Step Inside Atlantis Bookstore
Strolling along the main marble walkway in Oia, you will definitely stumble upon the town's only bookstore, the famous Atlantis Books.
What started off as a crazy idea of two American friends who were spending their summer vacation on Santorini Island and realised there was nowhere to buy books when they had finished theirs, grew to become one of the world's best and most picturesque bookstores.
Atlantis Books has a wide selection of literature in many languages, such as English, Italian, Spanish, Greek, French, German and Mandarin. Stepping inside the quaint cave shop is a unique experience in its own right.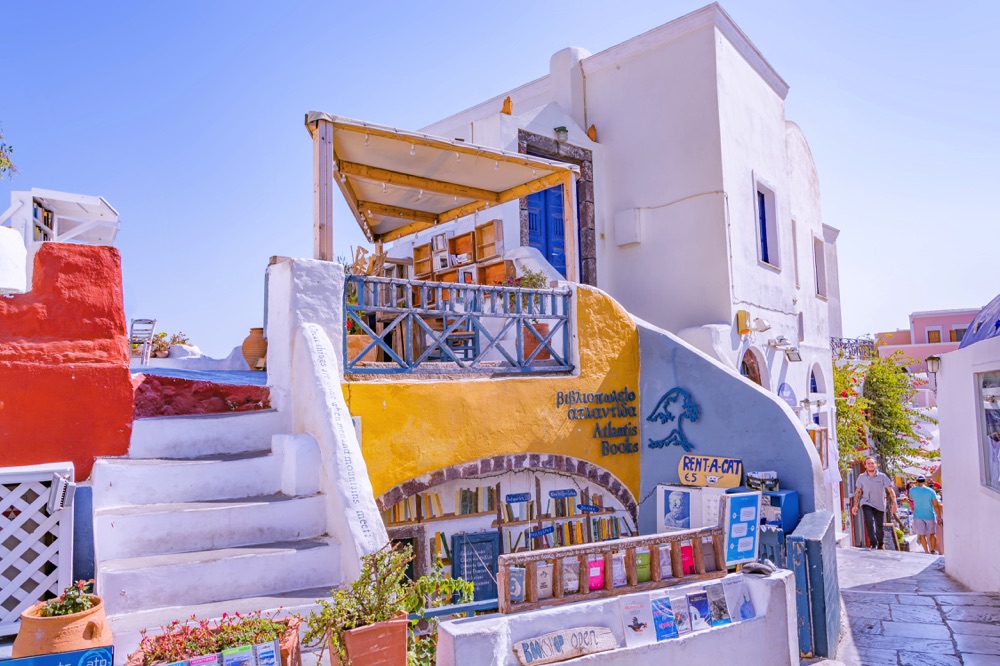 10. Watch a Movie At The Open Air Cinema in Kamari
One of the best things to do in Greece during summer or spring is to watch a movie at an open-air cinema.
Kamari Village in Santorini is home to one of the best open-air cinemas in the world. With easy access either by car or by public transport (the bus stop is right outside the cinema's door), not spending at least one evening there is inexcusable!
The cinema opened its gates in 1987. Ever since then, it has been offering locals and visitors alike the chance to watch films in the most charming setting while its bar serves fantastic cocktails and snacks.
If you are wondering what to do in Santorini that's a bit more offtrack, the open-air cinema in Kamari awaits.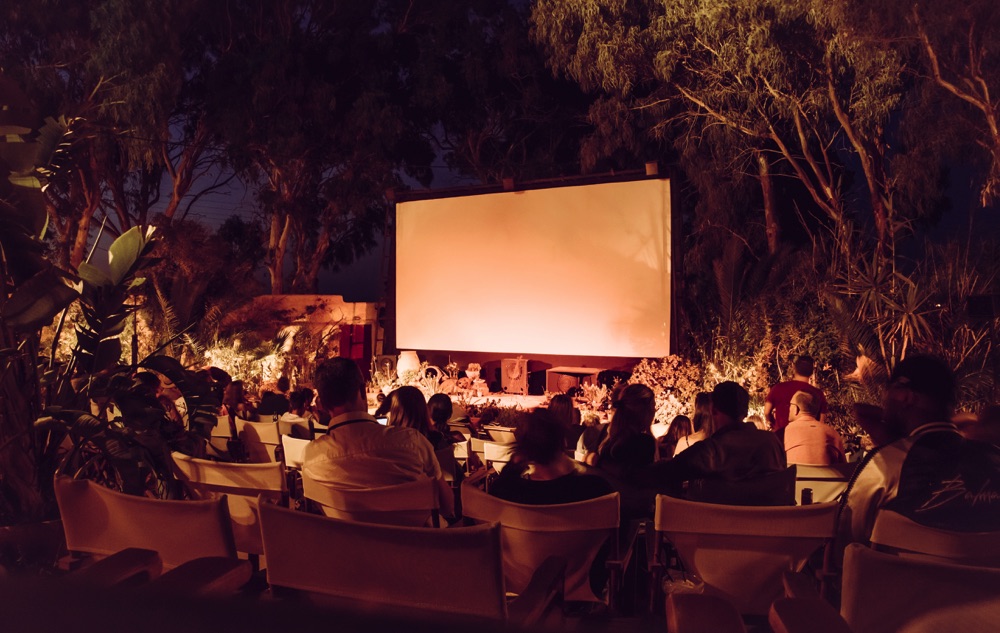 Tickets cost €8 and the cinema is open from May through October. Lights go off and the film starts every day at 21:30, but make sure you're there earlier if you want to choose the perfect spot. Click here to find it on the map and click here for more details.
11. Explore The Charms of Pyrgos Village
Oia, Fira and Imerovigli are the most popular places to visit in Santorini. However, there are many other lesser-known towns and villages to explore on the island.
My personal favourite is Pyrgos Village. Standing at the highest point in Santorini, Pyrgos offers magnificent views of the entire island.
But, it's not only the view that makes Pyrgos an essential stop on your itinerary. Pyrgos is a fortress settlement, typical of the Cyclades Islands. Its architecture is a superb blend of whitewashed island buildings and gorgeous neoclassical mansions.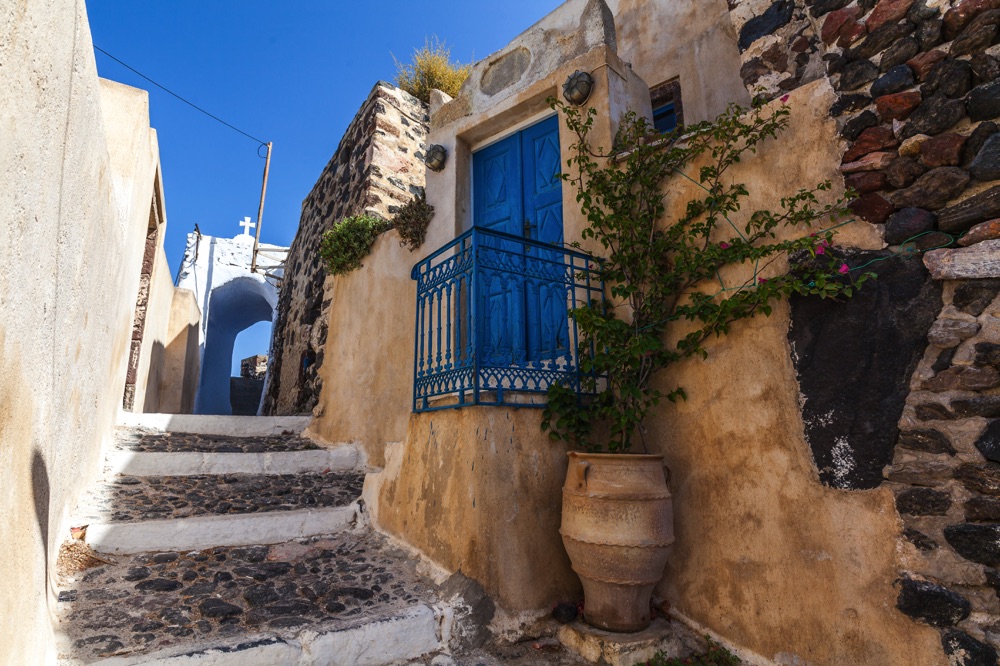 Wandering around the narrow alleys is amazing.
If you happen to be in Santorini at Easter, make sure you visit Pyrgos on Good Friday. On this day, the entire hillside village lights flaming torches and the spectacle is very unique.
12. Take a Ride On The Santorini Cable Car
If you want to see Santorini from a different perspective, then the island's cable car is exactly what you need. The cable car connects the Old Port to Fira Town in just 3 minutes and it's one of the quirkiest things to do in Santorini.
It goes without saying that the wise option is to take the cable car from the port to the town so as to save yourselves the uphill walk.
The cable car runs every 20 minutes from morning until evening or until late at night (23:00) during peak season. A single ticket costs €6/adult and €3/child.
If you're already in Fira but still want to experience the cable car, I suggest you descended the stairs from Fira to the Old Port and then get on board the cable car to climb back up to Fira.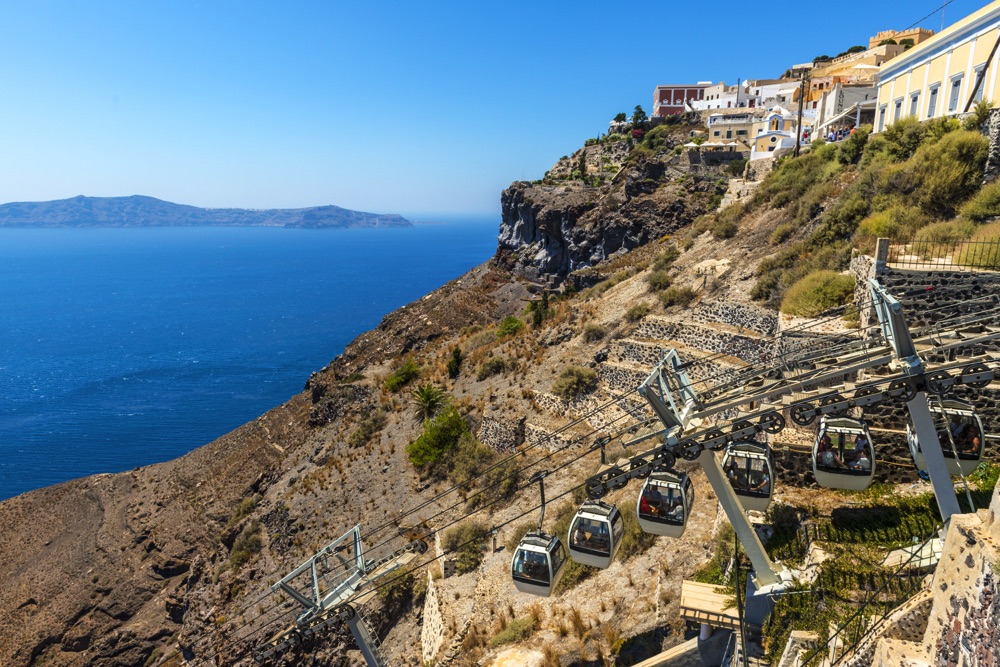 Whatever you do, I implore you not to ride the poor Santorini donkeys. Although necessary in older times, when there was no cable car, nowadays the donkeys are nothing but a tourist attraction. We should all do our best to be responsible travellers, and make animal activities like this come to a halt.
13. See Ancient Akrotiri, One of The Best Places To Visit in Santorini
Ancient Akrotiri is definitely one of the best things to see in Santorini and among the most impressive archaeological sites in Greece.
Akrotiri was an important trade centre and prosperous city in ancient times. Excavations have revealed paved streets, elaborate drainage systems and top-quality pottery, all of which prove that Akrotiri was a very developed centre of the ancient world.
The volcanic eruption that destroyed Santorini in the 16th century BC buried the ancient town of Akrotiri under tons of ash. This devastating instance in Akrotiri's past is also the reason why we now know so much about this ancient settlement.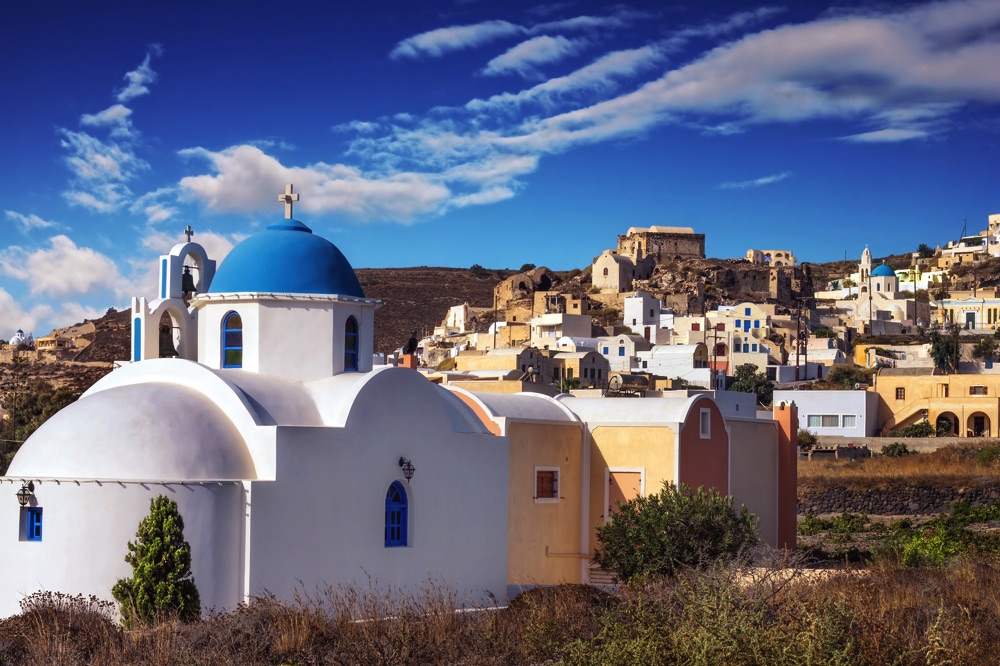 The fact that the entire town of Ancient Akrotiri was buried in volcanic ash means that the town has been very well preserved throughout the centuries. Parts of beautiful frescoes have remained almost completely intact, while roads, houses and everyday objects are still visible.
A full ticket costs €12 while the reduced one costs €6. The archaeological site of Ancient Akrotiri is open every day, except Tuesdays, throughout the year. Click here for a popular, affordable tour of Akrotiri, or this small-group tour which takes in a couple of beaches, as well as a trip to Akrotiri,
14. Experience The Island's Nightlife
Although my party-animal days are (almost) over, I do appreciate a good night out every now and then. Santorini has no shortage of places to either dance the night away or chill and people watch with a cocktail — or three.
The indisputable nightlife capital of Greece might be Mykonos, but in Santorini, you can't beat Fira Town. Be it romantic cocktail bars or loud nightclubs, Fira is where the island's heart beats every night, until the early morning hours.
By far, my favourite bar for a glass of wine or a cocktail at sunset is PK Cocktail Bar. With more than 40 years of history, this cocktail bar on the cliff offers breathtaking views of the volcano and the caldera.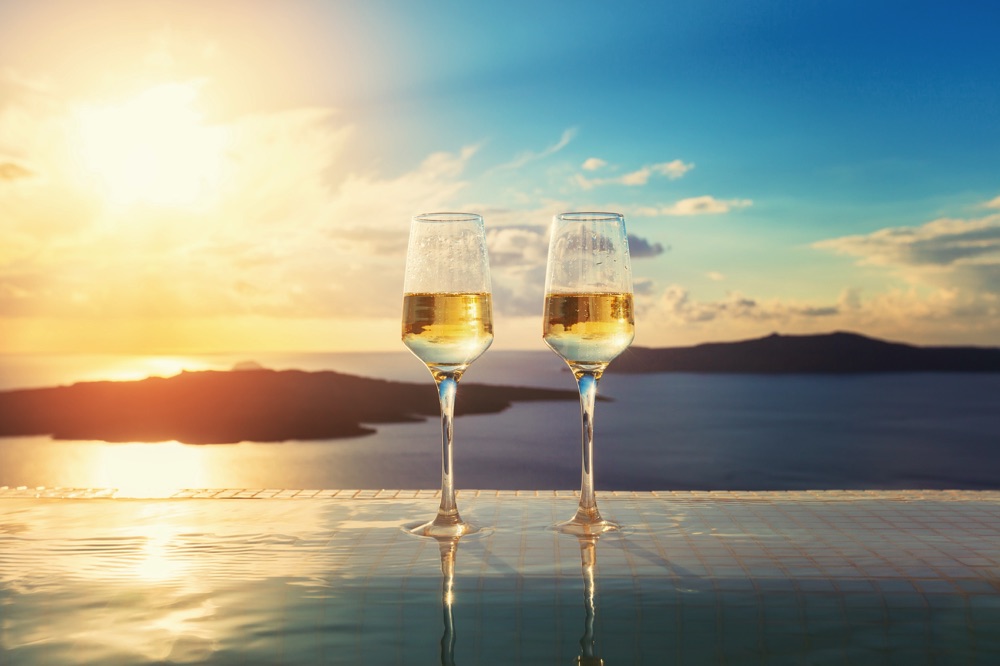 When the night falls, the list of nightclubs is seemingly endless.
It's important to note that most of these nightclubs have been around for many decades. This says a lot about the quality of services they offer.
Among them, Koo Club and Mamounia Club Santorini have become something of a legend, considering that even I have been frequenting them since I was 18 years old!
Looking for a place to stay close to all of the best bars and action, without breaking your budget? Check out this post for information on the best hostels around Santorini.
15. Take a Day Trip To Thirassia Island
Santorini and Thirassia were once one and the same island but the infamous 16th-century volcanic eruption caused Thirassia to be detached from the main island.
Thirassia is the exact opposite of Santorini in terms of numbers of visitors and popularity. With just a couple hundred permanent residents and only five villages, Thirassia is a tranquil haven, just a stone's throw from vibrant Santorini.
Most tour companies operate day trips from Santorini to Thirassia. Some of the volcano boat tours I mentioned earlier include Thirassia in their itineraries as well.
However, you can also plan your own day trip to Thirassia — to ensure you spend as much (or as little) time as you want on the island.
In that case, you will either travel to Thirassia by regular ferry, which is scheduled to reach the port of Thirassia on specific days of the week, or by the island's small ferry-boat. Tickets for both start from as low as €3.
Once on the island, you'll immediately be carried away by its laid-back, friendly ambience, and its irresistible peacefulness.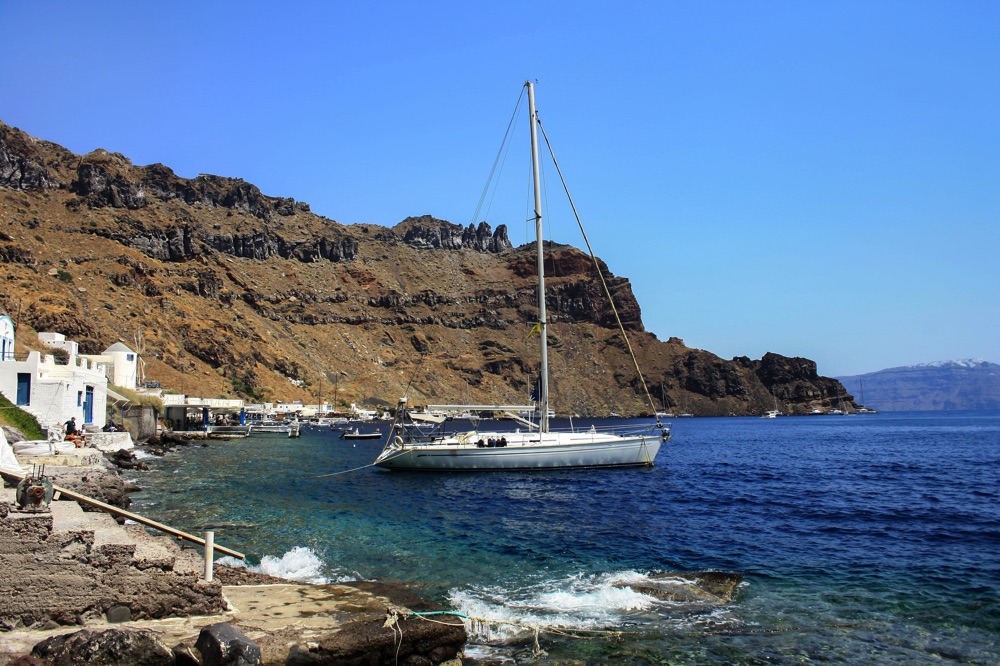 Bonus! Volunteer with Animals
Why not give back on your trip to Santorini? If you're an animal lover, you'll want to check out the Santorini Animal Welfare Association, which was founded in 1982 and is home to dogs, cats, donkeys, horses, pigs and more.
As a volunteer, you can assist by cleaning the shelters, walking the dogs, feeding the animals and of course, giving them lots of love and attention! Volunteers are welcome from 8:00am – 1:00pm. Learn more here.
Now You Know What To Do in Santorini
Although Greece boasts thousands of stunning islands, Santorini is the most unique. Nowhere in the country can you witness the beauty of entire settlements being built on the rim of the caldera, with buildings clinging onto the cliffside.
When wondering what there is to do in Santorini, many people think that Oia's sunsets and the island's architecture are the only unique things to see (which couldn't be farther from the truth), or they've heard that Santorini is too crowded or expensive.
Trust me, there's much to discover on Santorini and I hope my list of things to do here proved just that!
Touristy or not, Santorini deserves a place high on your travel list. With careful planning, you can have good weather with fewer crowds, making your trip to Santorini an unforgettable experience.
Images in this article are courtesy of Shutterstock, a provider of high quality, royalty-free images and videos.
Like This Article? Pin it!