The best time to visit Greece depends on a lot more than just the weather. When deciding when to go, you should also consider what kind of holiday you're looking for, the crowds, festivals, events and prices as well. Greece can be counted on to be beautiful all year round if you pick the right place and time to visit. The winter months in the northern regions of the country can be quite harsh. Whereas in the southern Greek Islands such as Crete, winter can be quite mild and both sunny and warm.
When most people picture Greece, they think of the Greek Islands. However, travelling in Greece is not only about sand and turquoise blue water. Once the heat of the summer is over, autumn grips the land bringing heavy rains before the biting cold of the winter months set in.
Choosing the best time to visit Greece and the Greek Islands will help ensure that your trip is an unforgettable one. The weather varies much throughout the country, but in this post, you will find out everything you need to know about the best time to visit Greece no matter where you're heading.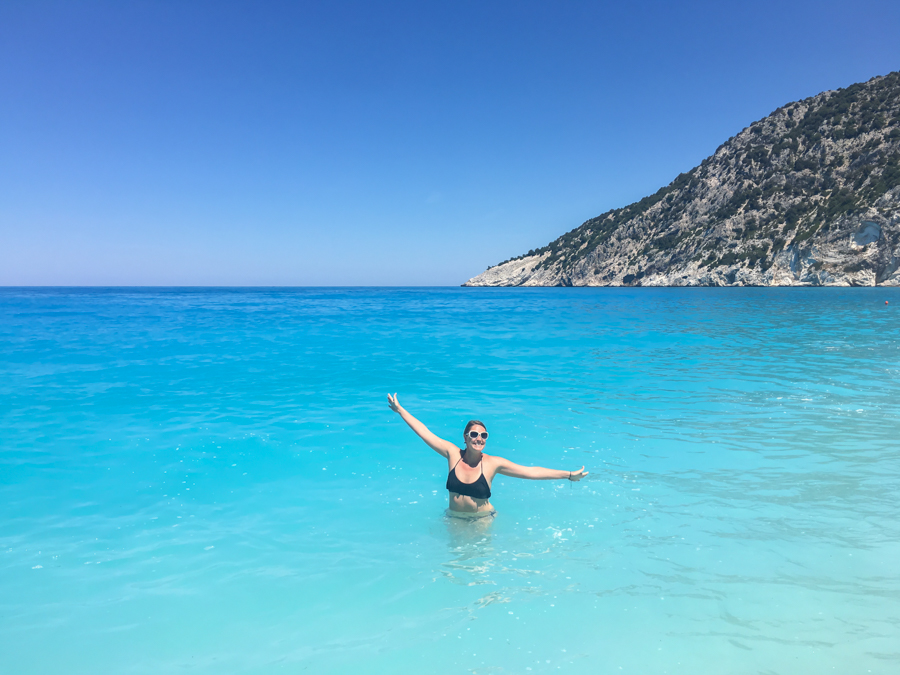 The Best Time To Visit Greece Based On Weather
The Best Time To Visit Greece Overall
The warmest time of the year for both the mainland and also the Greek Islands is from late May to early October. During these months, the entire country is sunny and warm and also swimming becomes easier as the waters warm.
In May the ocean temperatures start to rise and from July to the beginning of September, they are at their warmest. This is the best time to visit Greece if you are looking for hot weather and great swimming conditions.
When most travellers are trying to decide what is the best time to visit Greece, they'll usually think of the weather first. That's only natural! Nobody wants to be rained on during their entire holiday. So we'll start this guide with Greece weather.
Spring: Mid-March to Mid-June
Springtime in Greece is often heralded as the best time to visit. The throngs of tourists are yet to arrive and a calm peacefulness reigns throughout this Mediterranean paradise. You can have the best beaches in Greece all to yourself!
Although still a little chilly on the mainland, from mid-April islands such as Crete, Santorini and Rhodes are basking in the sunshine. Finally after the winter, the temperature of the ocean around the southern Greek Islands is warm enough for swimming.
However, do be aware of the Easter weekend. Greece is an extremely religious country and during Easter, locals often celebrate by hitting the islands. During this time it can get very difficult to find accommodation if you have not booked far enough in advance.
The springtime is a great time to plan a trip to the capital of Athens. The city experiences nice temperatures during these months, yet to feel the scorching summer heat. Also, the tourist hotspots are not too crowded during the spring months.
READ MORE: 15 Cool Things To Do in Zakynthos Greece
Summer: Mid-June to Mid-September
With the arrival of summer comes soaring temperatures and flocks of tourists. This is when the weather in Greece is at its peak with daily temperatures of 90 degrees (32 ° Celcius).
The summer months are also when the tourist industry goes into overdrive, with millions descending on the Greek Islands. But, with so many amazing places to visit in Greece, I don't blame them for travelling to Greece!
☞ SEE ALSO: Things to Do in Zakynthos
At this time of year, the entire country is covered in sunshine and the wine is flowing. The beaches are full and the oceans are wonderfully warm. For those that are heading here for a beach holiday and do not mind the crowds, this is the time of year for you.
The party islands of Mykonos, Corfu and Los are in full swing and are a beacon for those who love to party. If however, it is a more relaxed holiday that you are looking for, Skyros and Naxos are just two of the beautiful, more quiet islands waiting to be explored.
READ MORE: Discovering the Magic of Kefalonia, Greece: Our 5 Day Travel Guide
Autumn: Mid-September to Mid-December
Although many picture the weather in Greece as perfect all year round, heading to the mainland at this time of year will soon change your mind.
The countryside bursts into colour with the leaves turning red, brown and golden, changing the landscape completely. Leave the Greek Islands at this time of year and explore more of mainland Greece for a different perspective of the country.
Autumn is the time of year when the harvest begins. The vineyards are in full swing with grapes ready for the taking. This is also a good time to get work as a picker as this is when the famous Greek olives are harvested. If you are a backpacker looking to earn a few extra bucks ask in the villages and at local farms for work.
If you are a food lover (and who isn't?), this is the best time to visit Greece.
Winter: Mid-December to Mid-March
The weather in Greece changes completely in the winter months, especially in the mountain regions of the country. Ice and snow grip the high northern regions transforming the land completely.
The coastal regions and Greek Islands experience less of winter than the northern regions, however strong winds and high humidity can give the southern regions a biting feel.
Tourism drops off completely during the winter. Gone are the millions of tourists, leaving only the locals behind. This is the best time to visit Greece to see the country as the locals do.
☞ SEE ALSO: Things to Do in Corfu
This is another time of the year when Athens is a great place to visit. The cafes are quiet and the tourist spots such as the Acropolis and Museums are eerily empty. The prices of everything are also lower during winter.
However, if you are planning a trip to the Greek Islands at this time of the year, you should think again. Most of the ferries stop running during the winter, with many of the bars, restaurants and hotels closing also.
The Greek Islands are deserted at this time of the year. Really only the southern regions of the mainland are worth visiting during winter.

Best Time To Visit Greece By Type of Holiday
Not all holidays are created equal! That's why we've broken down the best time to visit Greece based on what you might get up to while you're there. Whether you're going for sightseeing, bargain hunting or beaches, we've got you covered.
Best Time To Visit Greece For A Beach Holiday
With the weather in Greece being at its best in June, July, August and September, this is the best time to visit to top up your tan, lay on the beach and swim in the ocean. This is the best time to visit Greece for guaranteed sunshine.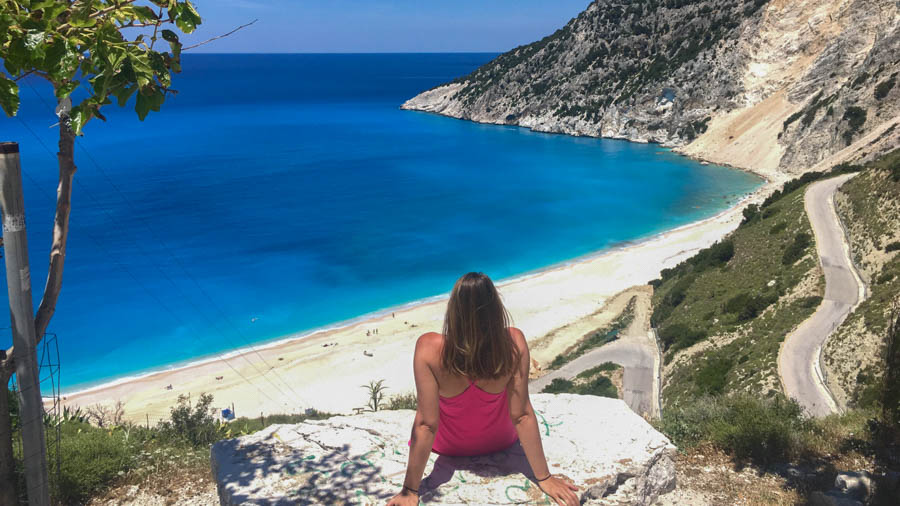 The Best Time To Visit Greece For Parties
The summer months are when the nightlife in the Greek Islands really kick into gear. Islands such as Mykonos, Los, Corfu and Santorini begin to bounce with the sound of DJ's and revelers. From June until October is the best time to visit Greece to experience the nightlife.
Best Time To Visit Greece For Sightseeing
If you are visiting more for the culture of one of Europe's oldest civilizations, the weather in Greece will mean little. Actually, the scorching summer months may be more of a hindrance than a blessing. To avoid both the heat and the crowds, April, May, October and November are the best time to visit Greece.
The months of June through to September are also great for sightseeing, however, they are hotter and far busier.
READ MORE: Chios, Greece: Unearthing the Magic of The North Aegean
Best Time To Visit Greece To Save Money
Like most places in the world, the low season is by far the cheapest time of year to visit. In the summer months, everything from food and transportation to hotels rise in price.
Although the weather can not be relied upon, the absolute cheapest time to visit is from December to April.
For cheap deals with the chance of great weather, the best time to visit is May, early June, late September and early October. Although the weather can not be absolutely guaranteed, the prices can.
READ MORE: Visiting Lesvos, Greece: Our 5 Day Travel Guide
When is Low Season in Greece?
Wintertime is the low season, with the weather in Greece being at its worst. Grey skies, wind and rain all accompany this time of the year. From November to April there are limited flights and ferries throughout Greece and only a few hotels and restaurants open on most of the islands.
However, if you really wish to visit the Greek Islands at this time of the year, there are still some options available. Santorini has year-round tourism and avoids the worst of the winter weather. Also, the island of Crete, which has its own large population, can still offer up a good time.
Beyond Santorini and Crete, visiting the Greek Islands in winter will be a very quiet affair. Head to the mainland, more specifically, Athens. The capital of Greece is a year-round destination.
When is High Season in Greece?
Late June to early September is the high season in Greece. During the summer months, the tourism industry is in full flow. Ferries and flights are numerous, the waters are warm, the weather in Greece is at its best and the beaches are full. However, keep in mind that this is also when prices are at their peak.
During these months, the entire country is hospitable and open for business. For hot weather, beautiful beaches and great nightlife, the high season is the time to visit.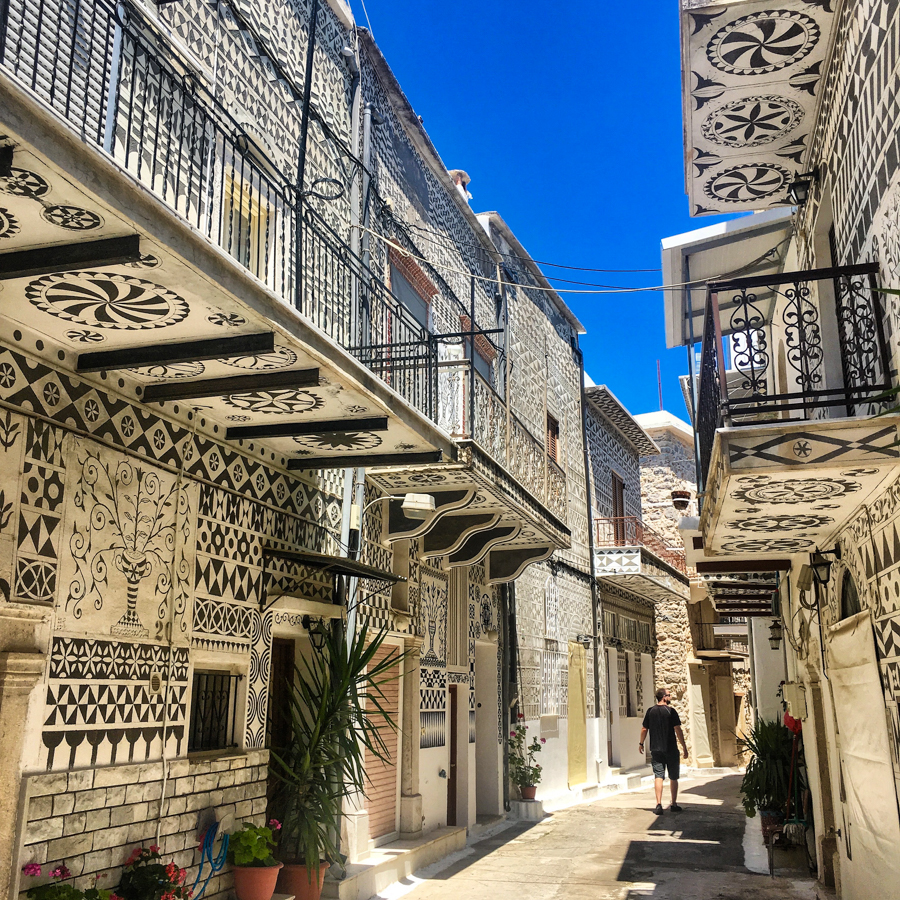 In Between Seasons (Shoulder Season)
May, early June, late September and October are the shoulder seasons in Greece. Meaning that they are neither in high season nor low season.
During these months, all ferries and flights are operational and all of the hotels and restaurants are open. The summer crowds are yet to descend and the weather is nice and warm, although not at its peak.
For those that are looking for a great deal, this is the best time of year to visit Greece.
The Best Time To Visit Greece By Month
Sometimes you simply have holidays at a certain time of the year. We get it! Every time we go to Greece it's been a last-minute decision, which means we find ourselves frantically searching what the country will be like at that time. Here is a list of the best times to visit Greece month-by-month.
Greece in January
Weather in Greece around this time can be a bit chilly. Weather in Greece in January hovers at an average of 12°C / 54°F with a high of 14°C / 57°F and a low of 10°C / 50°F. This probably isn't the best time to visit Greece for a beach holiday, but it's a great time for visiting sites in Athens like The Acropolis when there are fewer crowds and it's not too hot to walk around.
Some festivals and events in Greece in January include the Feast of Saint Basil's (New Years Day). Greek people celebrate this like we celebrate Christmas with gift exchanges, feasting and parties. There's also the Epiphany on January 6th which sees processions throughout the country. Dariece and I were in Macedonia for this one year and it was amazing to see. Lastly, in January you can catch Greece's largest festival, Patras. This is their local Carnival with parades, floats, masquerades and crazy parties.
Greece in February
Weather in Greece in February is pretty much the same as January. It's a bit cold at 12°C / 54°F on average with a high of 14°C / 57°F and a low of 10°C / 50°F. There are still fewer crowds in Greece in February and you can enjoy discounts even lower than January because it's further away from Christmas and Carnival. You might want to avoid Mykonos and Santorini if you're looking for nightlife and parties as many of the best clubs close down in February.
The official end of Carnival in Greece happens in February and it's known as Apokries. The 3-weeks of carnival reaches its pinnacle on the final Sunday before Lent before finally finishing on Ash Monday.
Greece in March
March is part of the spring months which, in my opinion – along with fall – is the best time to visit Greece. Temperatures begin to rise in March with averages hitting 14°C / 57°F on average with a high of 16°C / 61°F and a low of 11°C / 52°F. Crowds are still less now than in the summer months and prices are still lower as well. March is a great time to visit Athens, Peloponnese and other mainland destinations. It's also one of the best times to visit the Greek Islands.
For events, this is when you'll see the annual half-marathon in Athens where 20,000+ runners race through the streets of the capital. Feast of the Annunciation (Greek Independence Day) also takes place in March. Religiously, Greek Orthodox belief is that this is the day when Gabriel told Mary she'd be giving birth to God's Son, Jesus. Sometimes Easter will fall in March as well.
Greece in April
April is probably the best time to visit Greece overall, rivalled only by maybe September as the perfect month to be in Greece. April is great. The beaches warm up a bit with the weather. There's hardly any rain and the air starts to warm up on the Med. You can expect averages of 16°C / 61°F with highs of 18°C / 64°F and lows of 13°C / 55°F. There are more than 11 hours of sunshine in the day in April and less than 14 millimetres of rain on most islands.
Crowds pick up considerably around Easter / holy week but aside from that, it's not too crowded in Greece. The International Film Festival happens in Greece in April, as does the Technopolis Jazz Festival (both in the Capital). The Feast of St George is celebrated on April 23rd on most years, a series of Greek Orthodox ceremonies typically held in monasteries and churches, this is a good time to feast and dance in holy places.
Greece in May
Temperatures begin their incline into the summer months. Greece in May is warm with averages of 20°C / 68°F with highs of 23°C / 73°F and lows of 17°C / 63°F. There's usually 12 hours of sunshine per day and only 3 days of rain on Santorini! This is a great time to visit Greece.
As far as holidays, festivals and events go, you can catch Salsa Spring Festival, the Corfu Beach Festival at the start of the month and May Day is also a holiday in the country.
Greece in June
June and July is the best time to visit Greece for beach holidays. It's warm enough around the country now to swim in the sea, in fact… you'll want to. With highs of 28°C / 81°F, lows of 21°C / 50°F and an average daily temperature of 24°C / 75°F, this is a great time to visit the Greek Islands.
Summer is in full swing which means it's hot and starting to get crowded. You can skip some of the crowds if you visit Greece in early June, but come mid-late June and there will be a lot of tourists and vacationing Greeks around the entire country.
Festivals and events include the 5-day long European Music Day which sees classical, orchestral and an array of different music genres. There's the Athens and Epidavros Open Air Festival which takes place under the Acropolis and at the Theater of Epidavros. This festival goes on for 3 months, so whether you're in Greece in June, July or August, you should be able to see part of it.
If you're in Greece in June you can also see the Miaoulia Festival which consists of dancing, parades and concerts which celebrate the War of Independence. Lastly, June hosts Greece's Navy Week to celebrate it's long nautical history at many maritime ports throughout the country.
Greece in July
If you don't mind crowds, this is the best time to visit Greece and the Greek Islands in particular. It is hot in July with highs reaching 29°C / 84°F. It's also a very dry time to visit Greece. In Santorini for example, there's only typically one day of rain in July and less than 8mm on the island throughout the month! Athens hits its highest temperatures of the year in July, so it might not be the best time to visit Greece for historical sites like the Acropolis.
Festivals in July are in full swing as well. You can hit up Hippocratia in Kos which runs through the entire Summer. It includes concerts, theatre and art shows. The self-explanatory Hydra Puppet Festival takes place on the island of Hydra and Sani Festival is hosted by the Sani Resort in Thessaloniki.
Greece in August
Just as hot as July and just as crowded, August is another summer month where you'll want to be on the islands. Temperatures still hit highs of 29°C / 84°F and rainfall is abysmal, with many islands recording so little rain that many graphs show no rain at all year on year.
The best thing to do in Greece in August is to head to the beach with a towel, some sandals and a bottle full of sunblock. It's also a good time to check out the Aegina International Music Festival which hosts pretty much every type of music you can think of from around the world.
It's also the month of the Feast of The Assumption of the Virgin, a nationwide celebration that takes place on the 15th of the month. There's also Olympus Festival at the base of Mount Olympus in Pieria where you'll find concerts performed in an ancient theatre.
Free Eath Festival will also take place in Nikiti Greece in August 2020 which celebrates for 7 days with concerts, parties and dancing.
Greece in September
The start of September is still considered high season, so don't expect to this still isn't the best time to visit Greece if you want to avoid the crowds or find discounts, but the weather starts to cool down and the crowds start to thin near the end of the month.
Temperatures hover around 23°C / 73°F on average, while there's a slight uptick in rainy days (only 2 on most islands with less than 8 millimetres throughout the month).
September is a good month for festivals, with the Aegina Fistiki Festival taking place in Aegina, the Aeschylus Festival at Eleusis (22 km / 14 mi from Athens) and the International Music Festival kicking off in Santorini. For the latter, crowds descend on the tiny island so make sure you pre-book your accommodation for this 2-week period.
Greece in October
October is officially Fall in Greece, but it's still a great time to visit. The busy summer crowds have officially dispersed and now that everyone's back in school / at work, you can again start to have some parts of the country to yourself. It'll still be super busy on the main islands and in Athens, but definitely not as much as in July and August.
The weather is cooling as well in October, with highs reaching just 23°C / 73°F, lows as cool as 18°C / 64°F and an average daily temperature of 20.5°C / 69°F.
Festivals in Greece in October include the Chestnut Festival which takes place on the last weekend of October in Crete. This festival is famous for great folk music, dancing, partying and of course, chestnuts.
Around the country, you can see celebrations for Ochi day which include parades, church services and re-enactments of the nation's refusal of surrender to Mussolini in the 1940s.
In Santorini, in October you can take part in The Santorini Experience which sees visitors competing in swimming and running.
Greece in November
There are hardly any crowds in November and the sea is again becoming a bit too cold to swim in for most travellers. The average temperature dips to just 16.5°C / 62°F and it rarely gets warmer than 19°C / 66°F. This is the best time to visit Greece for discounts as many of the hotels and tour operators are trying to squeeze the last bit of profit out of the season before it ends.
Events in Greece in November include the Feast of Synaxis of the Archangels which takes place on November 8th. There's also a Music Showcase in Thessaloniki which boasts excellent Greek contemporary music concerts and on the 25th of November, there are parties and parades celebrating St. Andreas Name Day in Patras.
Greece in December
Greece is one of the coldest times of the year in Greece, with averages dipping to 6°C / 42°F in Northern cities like Thassos, and it rarely gets warmer than 16°C / 61°F in Southern islands like Crete.
There are fewer tourist crowds in December, but many Greeks come home from overseas to celebrate Christmas and New Year with their families. Other than those two main events in December, there's also the Feast of Saint Nicholas on December 6th and Kladaries on December 23rd.
Pack Your Bags For Greece!
So there you have it, now you know when is the best time to visit Greece, depending on your needs.
The weather in Greece is beautiful for most of the year, which makes the country one of the world's #1 travel destinations. I hope that this has answered all of your questions and that you can now go ahead and book your perfect holiday.
Like This Article? Pin it!