The biggest of the Ionian Islands, Kefalonia Greece is as diverse as it is vast. From the farmland and vineyards of the Paliki Peninsula to the sheer cliffs and rocky shoreline of the north, this island is filled with surprises.
"Look at the colour of the water, these beaches are amazing!" Nick and I were grinning ear to ear on the drive from the ferry terminal to our hotel. Passing by numerous little sandy coves, we were in awe of the pristine coastline. Our friend and driver, Jerry, responded with "Really? That's nothing. Wait until you see Myrtos".
We were about to be spoiled for choice when it came to Kefalonia beaches.
With just 4 nights to get under the skin of Kefalonia Greece, we consulted our map and came up with a game plan to tackle the island – which ended up being one of our favourite places to visit in Greece.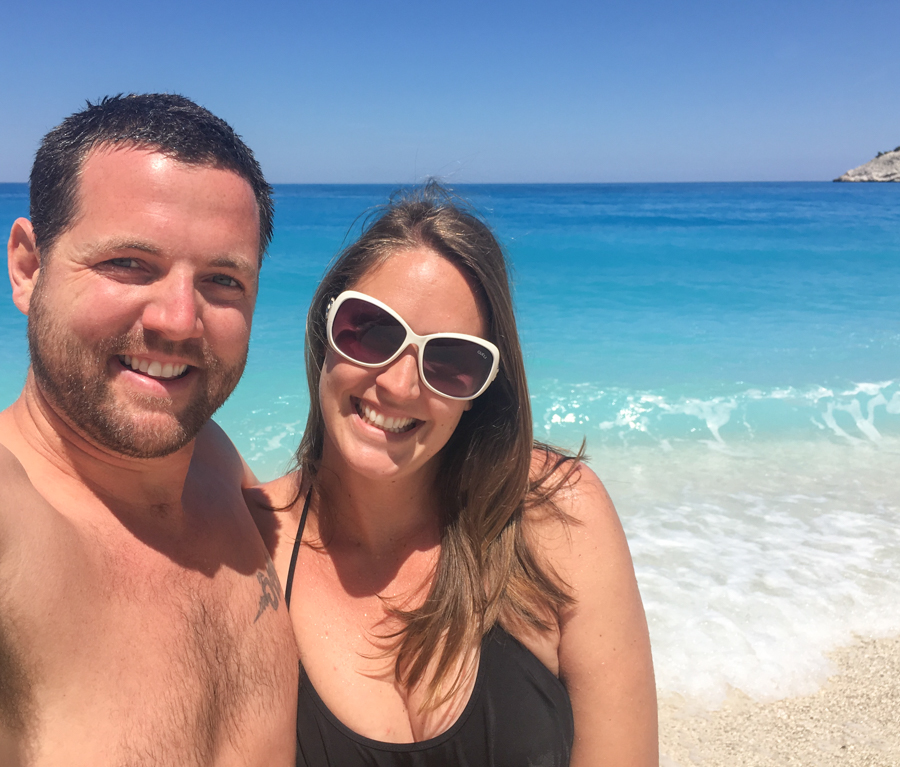 Don't miss the traveller tips & advice at the bottom of each section, and our travel video at the end of this post! Also make sure you check out Our Greece Travel Guide for everything you need to know about travelling in Greece and the Greek Islands.
Kefalonia Island: Lassi & Argostoli
As with our travels on Zakynthos Island, our first stop was to pick up a rental car. Kefalonia Island is extremely mountainous and many of the natural sites and quaint towns are spread out. In my opinion, having a car here (and in most of Greece) is a must in order to see all of the wonderful places on offer.
Pulling up at White Rocks Hotel in Lassi, we couldn't believe this would be our accommodation for the next 4 nights. An extremely friendly porter greeted us and took our backpacks up to the room. Opening the door, we were blown away by the views from our private balcony, which overlooked the gorgeous, blue flag Platis Gialos beach.
The room was modern and tastefully decorated, with an ensuite bathroom complete with a bathtub. The bedroom was perfect, but we were mesmerized by the view.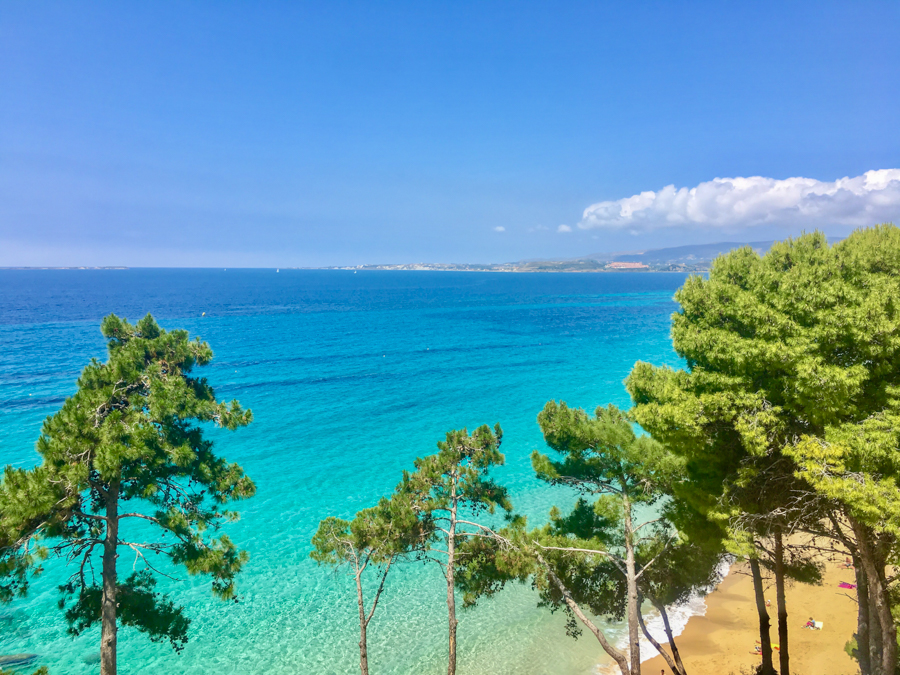 The entire property was set on a cliff above the sea. Not only was the blue flag beach right below our room, but the private Tourkopodaro Beach was just steps away. Tables and chairs lined the cement walkway on the cliffside, making it the perfect spot for breakfast, or a romantic dinner.
We found it difficult to peel ourselves away from these two beaches and our beautiful room, but there was much more of the area to discover. First up, the capital!
The capital city of Argostoli has some lovely plazas, numerous cafes & restaurants, walking streets and a waterfront promenade which is a great place for a stroll.
☞ SEE ALSO: Things To Do in Zante (Zakynthos) – A List of The Best 15
There's a footbridge (The De Bosset Bridge / Drapano Bridge), which connects Argostoli with the opposite side of the bay. This bridge is actually the largest stone bridge over a sea in the world and is a great place for a walk in the late afternoon. If you're lucky, you'll be able to spot some loggerhead turtles in the water, as well as many sea birds.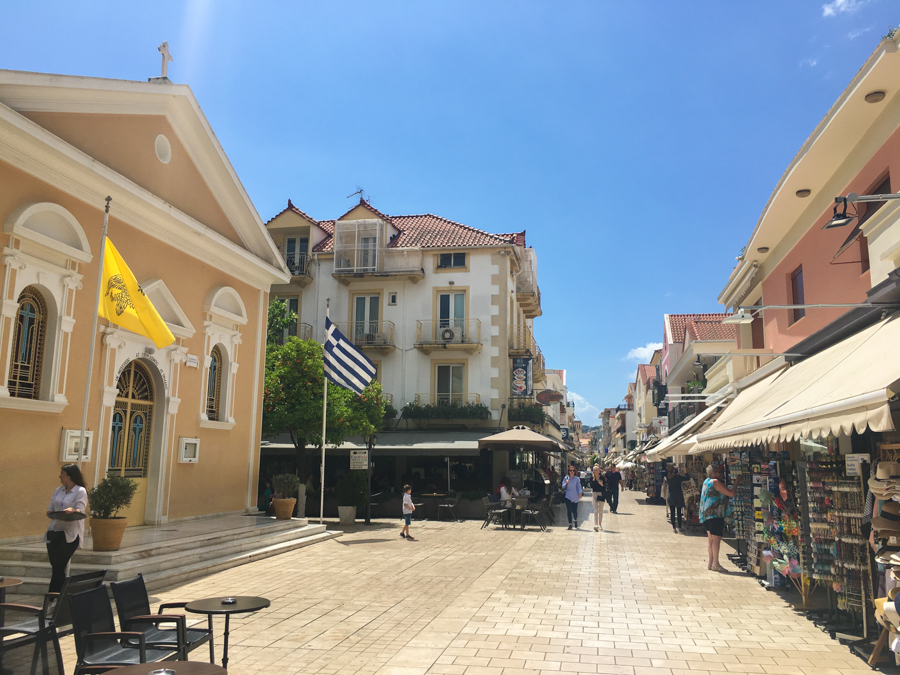 Lassi turned out to be an excellent place to base ourselves for the 4 nights on Kefalonia island. Not only was the capital city just 2 kilometers away, but Lassi itself had gorgeous beaches, many shops and an excellent tavern, Sto Psito, which we checked out on our first night on the island.
☞ SEE ALSO: Things To Do in Corfu – A List of The Best
We entered through a flowery archway and made our way to the tables with a view of the sea. The open-air patio was the ultimate dining spot, with a light breeze and unobscured views of the sunset. The owner, Christo, greeted us with a bottle of wine from the Sklavos Winery (more about that winery below!), followed by his recommendations for typical Kefalonian food.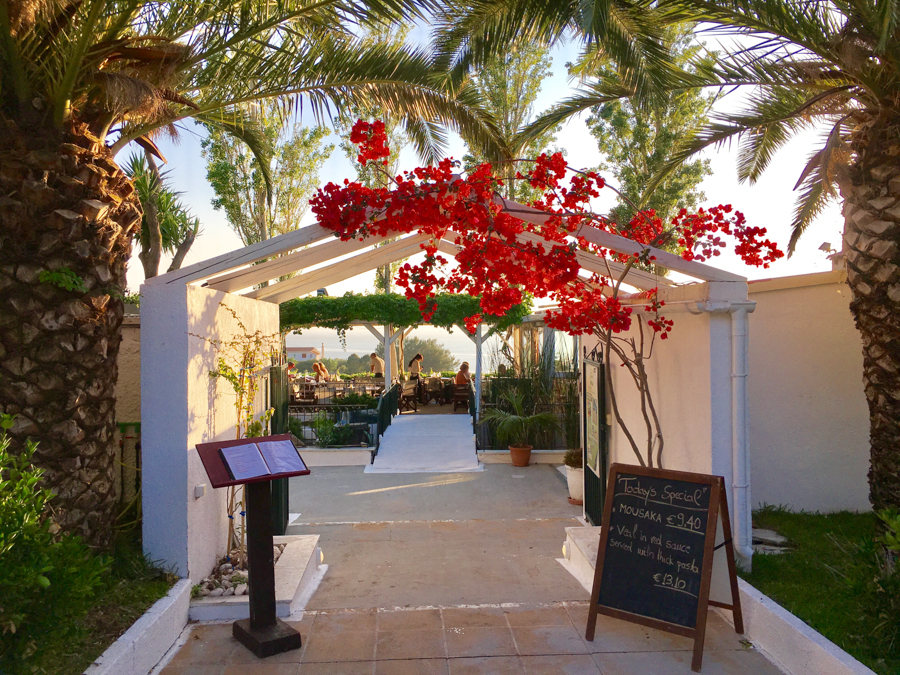 We sampled strapatsada (scrambled eggs with tomato and feta), traditional stewed goat with potatoes and a Mediterranean chicken with basil, sun-dried tomatoes and feta cheese. The ingredients were all locally sourced, freshly made and absolutely delicious! If you're looking for a restaurant in Lassi / Argostoli, don't miss this place.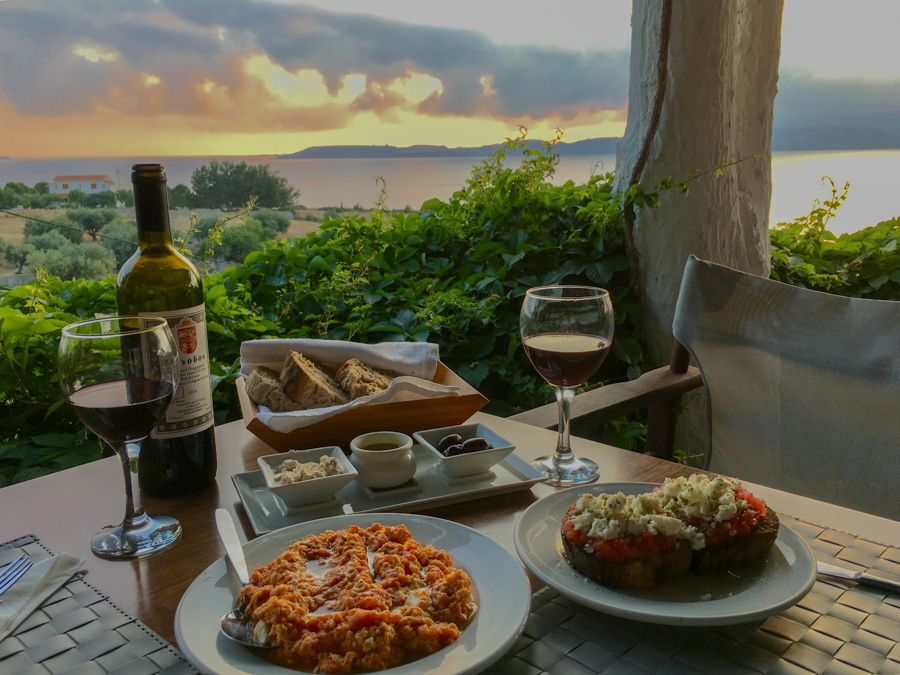 TIPS & ADVICE:
The Platis Gialos beach is sandy and has clear water. There's no shade here so bring an umbrella – or rent one. There's an outdoor shower and a volleyball net.
Lassi offers beautiful beaches, restaurants and the White Rocks Hotel is a great accommodation option. You can choose half board, full board, or just the room itself.
The family-run restaurant of Sto Psito is our recommendation. Traditional meals are around €11 and up, while appetizers are €4 and up. Click to reserve.
Our car was rented with Etam KCG Travel which is located in Lassi.
Petrol costs €1.38 / Litre.
Kefalonia Island: The Paliki Peninsula
Kefalonia is a uniquely shaped, puzzle-piece-looking island with a mass of land dangling off of the western side called the Paliki Peninsula. In order to get over to the Peninsula, you must either take a ferry-boat across the channel from the capital of Argostoli, or you can drive (like we did) and make a day out of it.
Driving gave us the opportunity to witness the countryside morph from towering rocky coastline into flat farmland, marshy grasslands, vineyards and clay cliffs!
On the northern end of the peninsula, there are still some very dramatic cliffs. Most notable is Petani Beach with its aquamarine water and beachside taverns. It was a stormy afternoon when we visited, but this was still a stunning lunch spot – and a great place to sample the local seafood.
Will full bellies, we continued on to the southeastern end of the peninsula to the village of Lixouri, which is the second largest on Kefalonia.
This place is normally fairly busy and bustling, but when we visited, it was like a ghost town! 3,000 people inhabit Lixouri, yet there was no one around. It was Sunday, it was the shoulder season and it was also the time of day when the residents would be resting.
☞ SEE ALSO: Weather in Greece – When is The Best Time to Visit?
Feeling as though we had the place to ourselves, we strolled around the streets and enjoyed the peace and quiet. The main square of Plateia Petritsi is surrounded by cute cafes with views over the water.
Further back from the plaza you'll find narrow alleyways with churches, while just 15 kilometers away you can find the isolated Monastery of Kipoureon.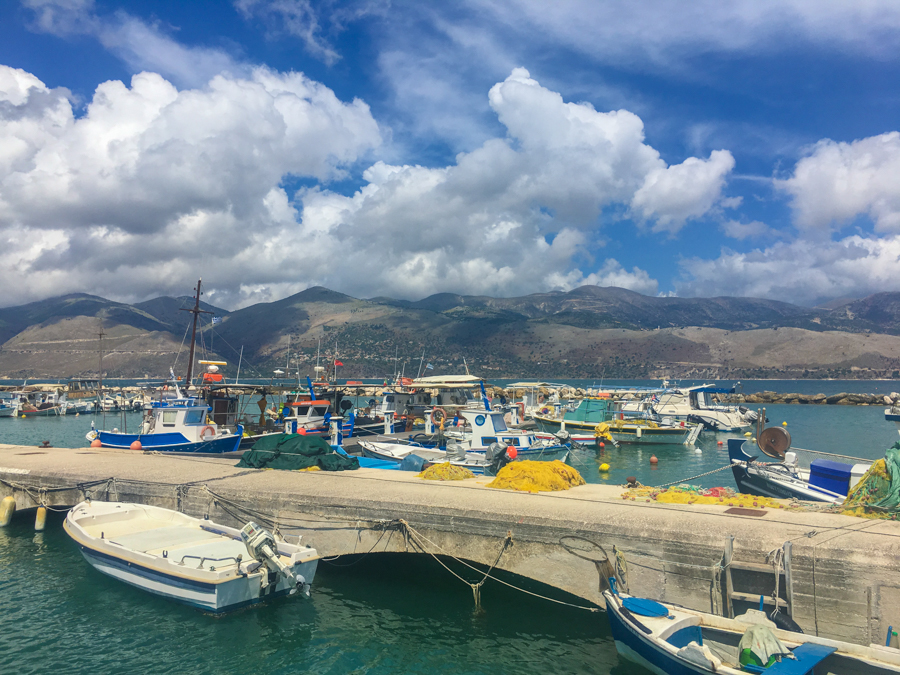 Continuing further south for 7 kilometers, we arrived at the rust-coloured beach of Xi, which was backed by white clay cliffs and had the calmest water we'd seen so far.
This 4 kilometer beach is a sort-of DIY spa. Rub the mud from the cliffs all over your body and let it dry in the sun. Once it's hardened, go for a swim to remove the clay and enjoy your soft skin!
Xi Beach was another unique stretch of sand that we added to our list of favourite Kefalonia beaches.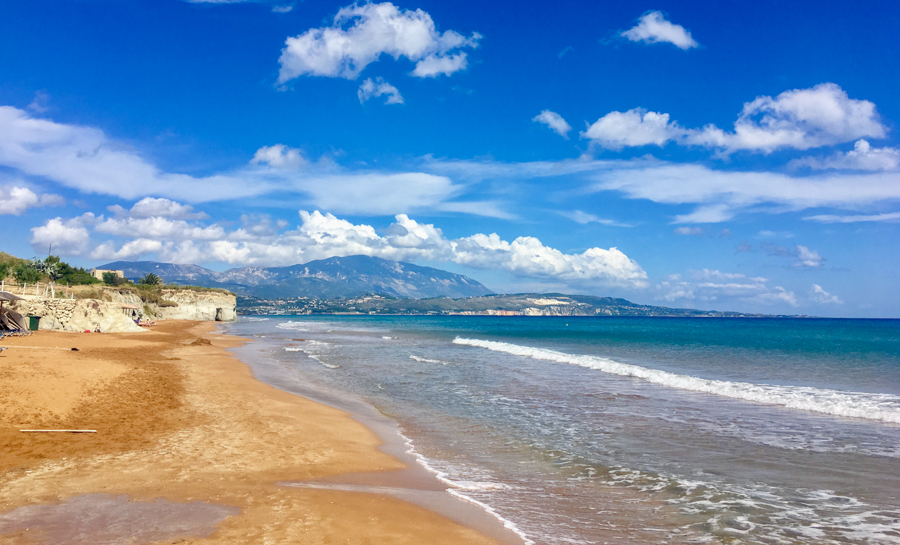 After eating and lazing on the beach, we were feeling a bit thirsty and decided to visit a nearby winery and vineyard.
Over the past few years, we've become interested in wine and wine production. Having visited numerous wineries and vineyards in the nearby countries of Malta, Italy and Bulgaria, it was time to check out what Greece had to offer!
So far, we had been very impressed by the table wines in the country, and could only imagine what an oaked, aged bottle would taste like.
☞ SEE ALSO: Chios Greece – Our 5 Day Travel Guide
We met up with Mr. Sklavos, who is quite possibly the most laid-back person we've ever come across. We greeted him and within one minute, he had picked up a worm that was on the driveway, washed it off with water and gently placed it next to a vine.
This was our introduction to the winery, the owner, and the biodynamic practices taking place here.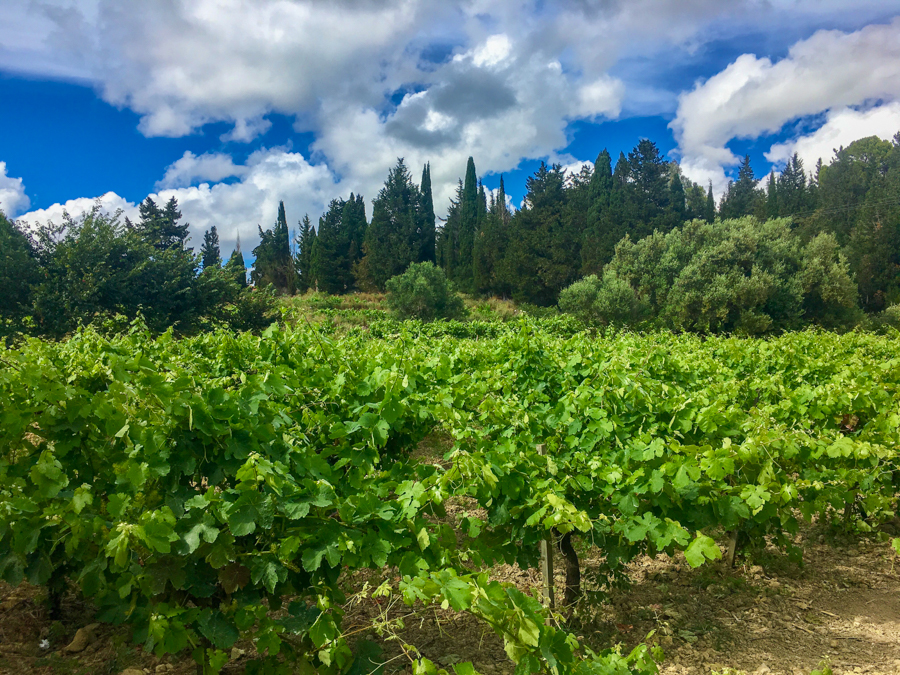 Worms are used to naturally aerate the soil and rather than using chemicals, the worms also aid in the removal of harmful minerals from the soil. They take in the minerals, process them, and "poop" them out as a healthy mixture of clay and humus.
The methods used here were fascinating! Not only the use of worms, but the fact that planting and harvesting is done based on The Maria Thun astronomical calendar.
Mr. Sklavos has just moved in here and will have tours ready within a month or so, but we were able to get an insider look into the production, the vineyards and of course, the wine itself.
We sampled the local varieties of Mavrodaphne and Vostilidi, wandered around the pristine vineyard and enjoyed chatting with the owner about his life and use of biodynamic techniques.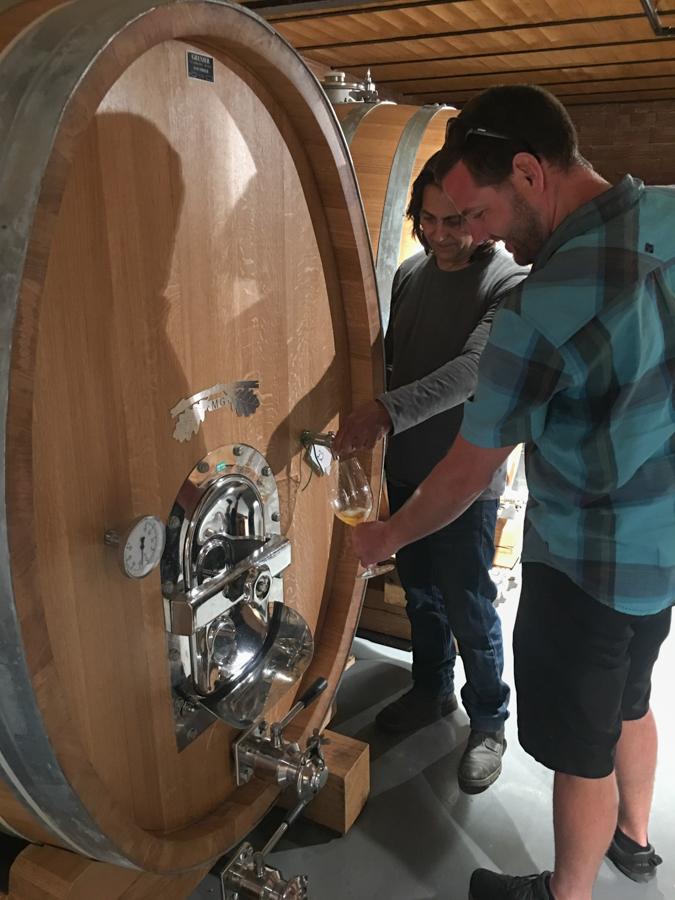 TIPS & ADVICE:
Check out Erasmias Petani Restaurant at Petani Beach for great seafood. Meals are around €10 each, and the portions are large – try the mussel risotto!
Sklavos Winery isn't marked on maps yet, and the website isn't up and running either. In order to get here, we suggest calling the owner, Mr. Sklavos, at 6946000748. He'll be able to help you arrange a tour and tasting, and would be more than happy to do so.
Gas stations are few and far between on the peninsula (and actually, in Kefalonia as a whole). Make sure to gas up when you can.
From Argostoli to Lixouri, ferries run daily from 7:00am to 9:30pm, every half an hour until 5:30pm, after that, they are every hour. The cost is €2.80 for foot passengers and €4 for a vehicle.
Kefalonia Travel: Myrtos, Assos & Fiskardo (the North)
We were absolutely blown away by Myrtos Beach and the seaside towns of Assos and Fiskardo. These truly are some of the most amazing spots on Kefalonia island, if not Greece.
Rounding the final bend on our drive to Myrtos Beach, Nick slammed on the breaks and brought the car to a screeching halt.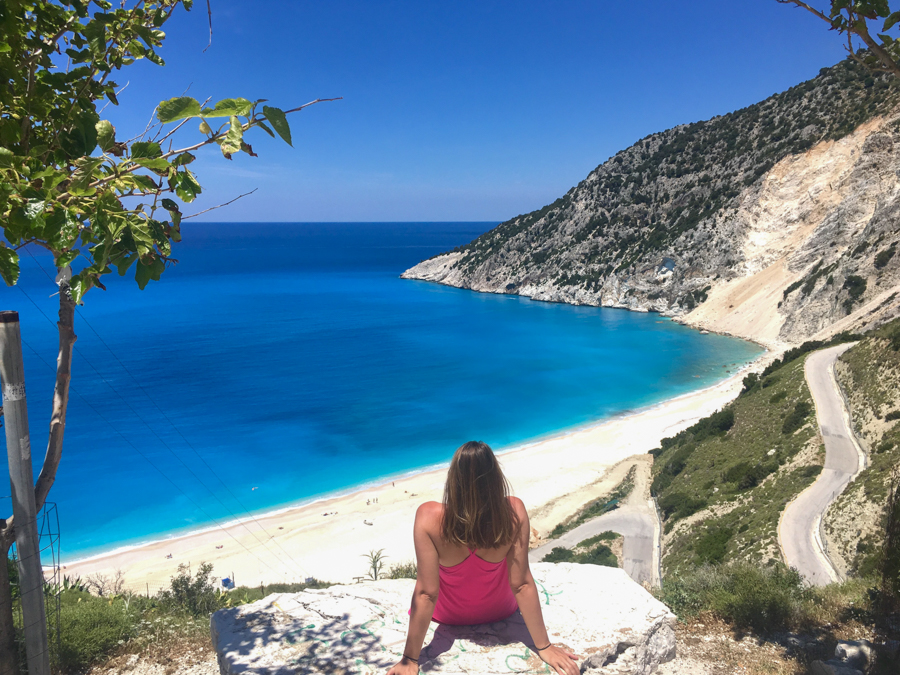 Below us was the beach that we had heard so much about. The water was so incredibly bright and neon, that it seemed as though there was a spotlight below it, illuminating the sea!
There was hardly any sand, but the rocks were blindingly white, and the sheer cliffs backing the beach only added to its beauty. The Kefalonia beaches are some of the best beaches in Greece.
We floated in ecstasy in the powder blue water before heading off. With no umbrellas or trees here, by midday, the sun was at its most intense and we needed to seek out some shade, and some lunch.
Moving further north along the scenic coastline, we arrived at Assos. This colourful, quaint village is one of the most picturesque spots we've seen. With just 100 inhabitants, the Venetian-styled village is a great place to spend a lazy afternoon – which is exactly what we did.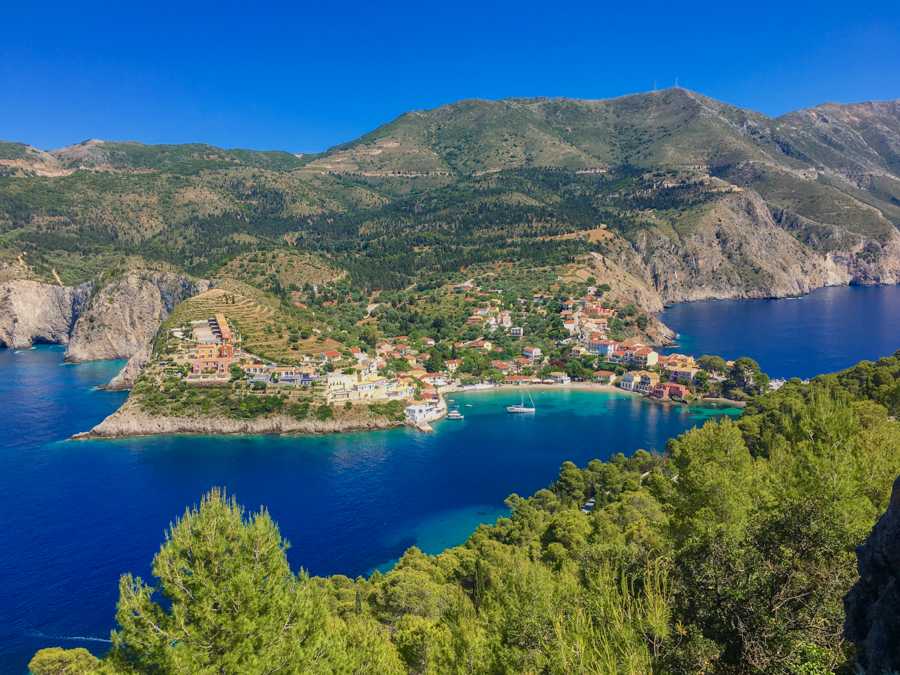 Vines and flowers cling to pastel-coloured homes, low-rise buildings line the waterfront promenade and quiet little lanes provide a shady stroll. There is one small bay here with crystal-clear water and a couple of restaurants.
This is the perfect spot for cooling off after hiking to the remains of the nearby 16th century Venetian Fortress.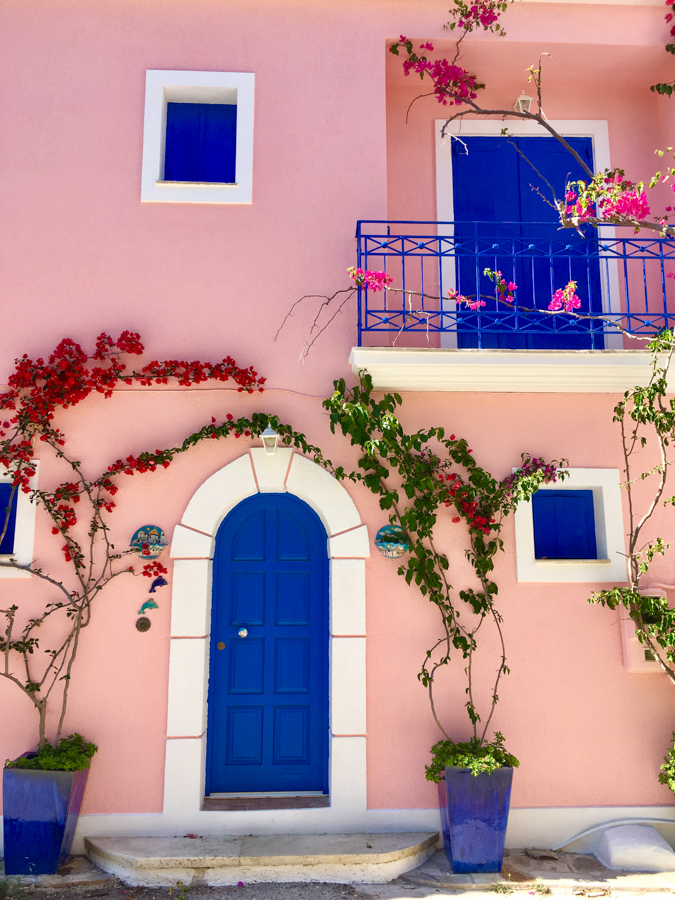 Apart from the main bay, there are numerous little hidden coves around the area, just take your pick!
Finally, after lazing on two gorgeous Kefalonia beaches, we made our way to the very northern part of the island to the more upscale sailing village of Fiskardo, which was lucky to escape damage from the 1953 earthquake (the rest of Kefalonia Island didn't fare so well).
☞ SEE ALSO: Lesvos Greece – Our 5 Day Travel Guide
Well-known by sailors and yachties, this beautiful village is becoming more popular with tourists as well. The construction of hotels and a shopping center uncovered numerous, well-preserved remains from the Roman era – including graves, a bathhouse, a theatre and homes.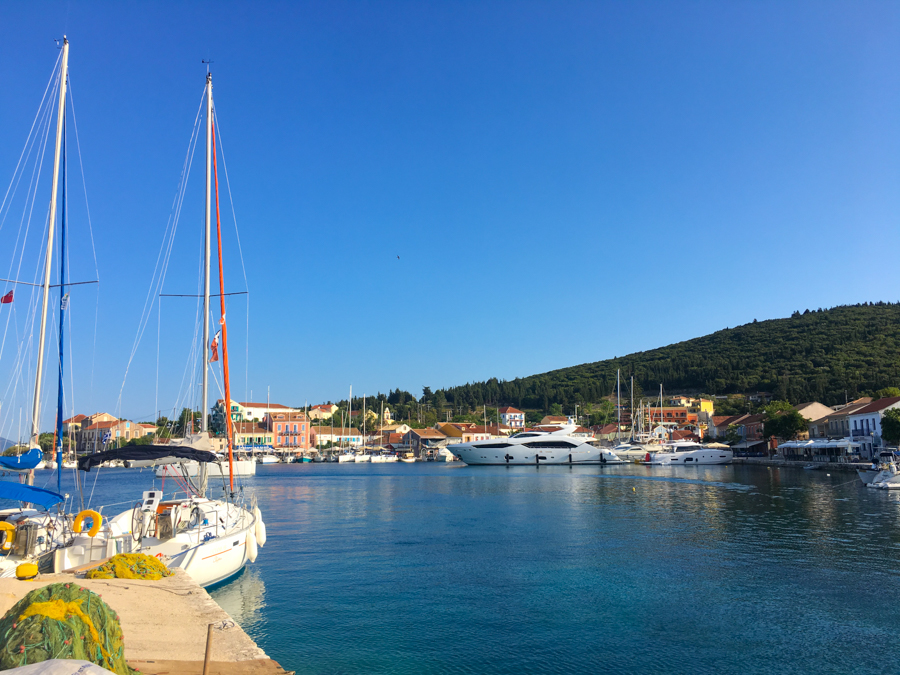 As soon as we arrived, we made a wardrobe change from our beach sarong and board shorts into something more appropriate for dinner in this area.
Thankfully, the food wasn't pretentious or overly priced and the people we encountered were just as friendly as everywhere else on Kefalonia island.
We settled in for a romantic dinner on the water at Vasso's Restaurant, a recommendation from our friend Jerry. A bubbly waiter arrived with suggestions of the chef. Because we know Greek portions are massive, we had been mentally preparing ourselves for the upcoming feast!
To start with, we had a fresh Greek salad, a platter of local dips made with cheese and spices, yogurt and dill, and whipped potato with garlic. We moved on to fried local cheese, zucchini balls, tomato courgettes, and pastry stuffed with cheese. From there, a platter of deep-fried anchovies and squid arrived, followed by traditional meatballs and pasta.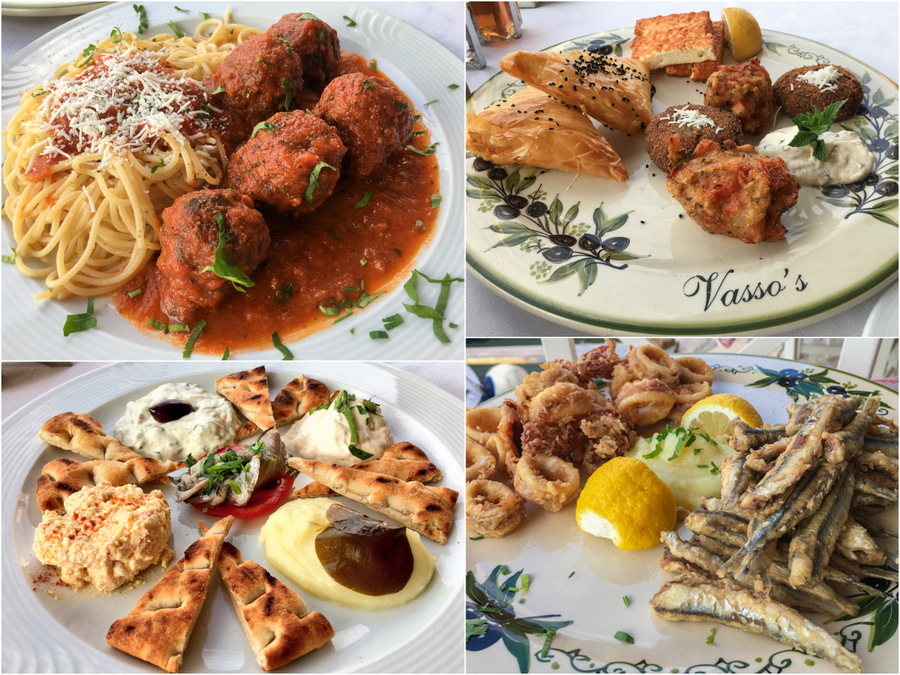 It was pure gluttony and we didn't care. The food at Vasso's was amazing!
Even though we were in a food coma, we had to drive 1.5 hours back to White Rocks Hotel where we promptly passed out after a memorable day.
TIPS & ADVICE:
Just minutes from Myrtos Beach is Alexandros Restaurant / Tavern. The food here is delicious and the family is lovely. Appetizers are from €2 and mains are from €6.50.
Hiking up to the castle at Assos takes about 30 minutes each way. Try to time your visit for when the sun is lower in the sky. Make sure to bring water, sunscreen and a hat – there are no vendors here. Admission is free.
For drinks at Assos, check out Blue Cafe. Big bottles of beer go for €3.50 and the view is free!
Fiskardo is a romantic village and even though it's quite far from the capital, it's worth the drive. Make sure to eat at Vasso's Restaurant. The food there was fresh and local, while the service was professional and friendly.
Kefalonia Island: Melissani Cave & Sami
The diversity of Kefalonia island kept on coming!
When we heard that there was an underground river and cave located in the center of the island (like a cenote in Mexico), we had to check it out. Together with other tourists, we hopped on a little wooden boat and were paddled around by a guide.
An earthquake 5,000 years ago had an effect on this cave. Looking up, there was a massive opening in the ceiling, allowing beams of sunlight to penetrate the otherwise dark cavity. The illuminated, brackish water was so clear that we could spot eels down below.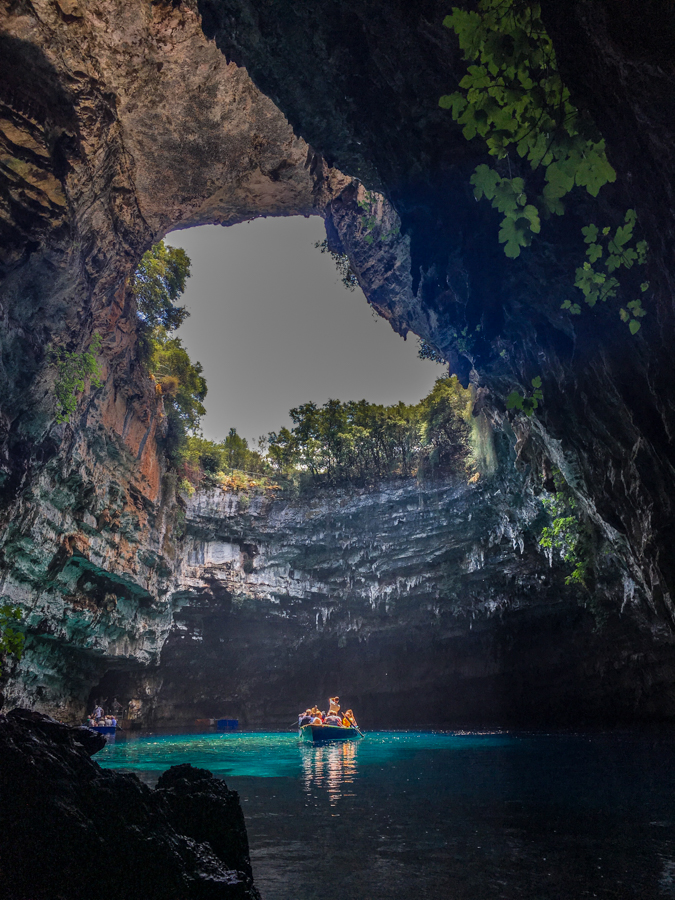 The water in the cave travels for 19 kilometers over the course of 2 weeks from near the city of Argostoli, before passing through this cave and emptying out into the sea. Although the boat tour was short, about 15 minutes in total, the guide was informative and the site was beautiful.
From here, the small harbour town of Sami is just a 2 kilometer drive away. This is where the 2001 movie Captain Corelli's Mandolin was filmed.
For us, this was just a little pit stop on our way back to our hotel, and even though it was a pretty place, we much preferred Assos and Fiskardo in terms of aesthetics.
TIPS & ADVICE:
Try to visit Melissani Cave around noon so you can see the sunlight beaming in through the ceiling. The entrance fee is €7 for adults and €4 for kids.
In Sami, a good restaurant with a beautiful setting is Il Familia. For €19, we had a huge mixed grill to share, plus bread, a dip and dessert.
Give Yourself Some Time to Travel Kefalonia
Kefalonia island is large, mountainous and very diverse. There are numerous towns, beaches and sites to explore. To really get a feel for the magic of this Ionian Island, make sure to give yourself some time, at least a week.
Our trip was much too short (due to ferry strikes, we lost a couple of days) and as we headed to the airport for our Aegean Airlines flight to Corfu Island, we were sad to say goodbye to this beautiful place, but are certain that we'll be back to discover more of the hidden gems on offer.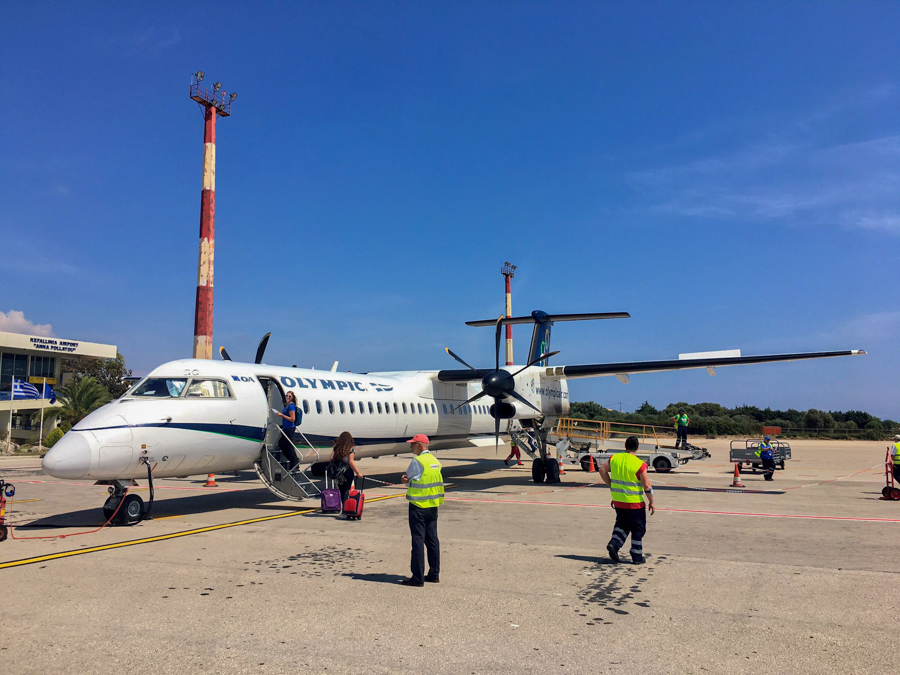 Kefalonia Travel Video
In my opinion, Kefalonia island has the best beaches in Greece! From Myrtos to Assos to Platias, this island is truly blessed with beaches. But that's not all that there is too offer here. In this week's episode, we rent another car on Kefalonia and explore for a few days.
We drive all the way around the island (except for the Southeast) and see many beautiful places including the Paliki Peninsula, Assos Town, Myrtos Beach, Fiskardo, Argostoli, Sklavos Winery and much more!
We eat delicious Greek food, swim in some of the most beautiful water we've ever seen, meet new friends, and try new wines.
This is definitely one of the best islands in Greece and we will return one day to explore some more. For now, check out our video for a guide to Kefalonia.
For more on travelling Greece, have a look at our articles and information on the islands of Zakynthos, Corfu, Chios and Lesvos, Athens, Santorini and Crete!
A huge thank-you to Discover Greece for assisting with our stay on Kefalonia Island. For more useful advice and information on travelling to Greece, check out the wonderful Discover Greece travel portal. All opinions and thoughts remain our own, despite any complimentary services received.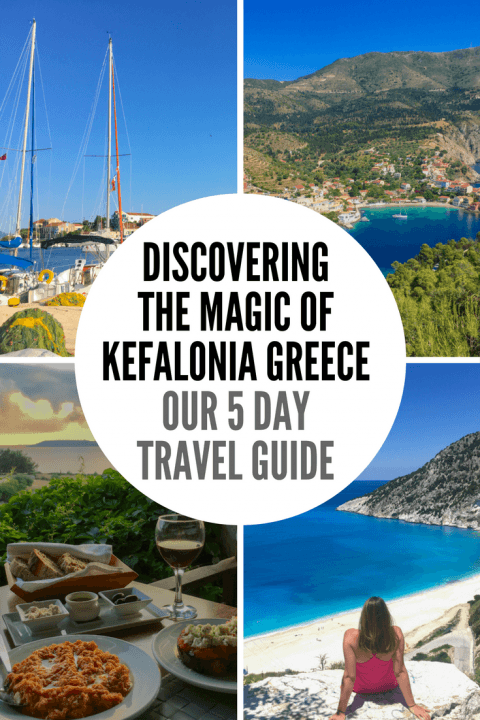 Like This Article? Pin it!