Chios Greece is quite possibly the most fascinating island we've been to, certainly in Greece. We've all heard of the popular tourist spots of Crete, Santorini, Mykonos and Corfu, but what about Chios?
With medieval villages, a unique culture, welcoming locals, exquisite beaches (one of the best beaches in Greece that we saw) and traditional food and products, what's not to love?!
Isn't this what we as travellers are seeking when we set off to see the world?
The island that everyone seemed to have forgotten about was ours to explore for five days, and the minute we arrived, we knew we could have stayed much longer.
Here's my Chios travel guide to help you plan your trip to this offtrack Greek island.
About Chios and the Refugee Crisis
With some negative news stories being spread both locally and internationally, we were determined to uncover the truth about this magical Mastic island.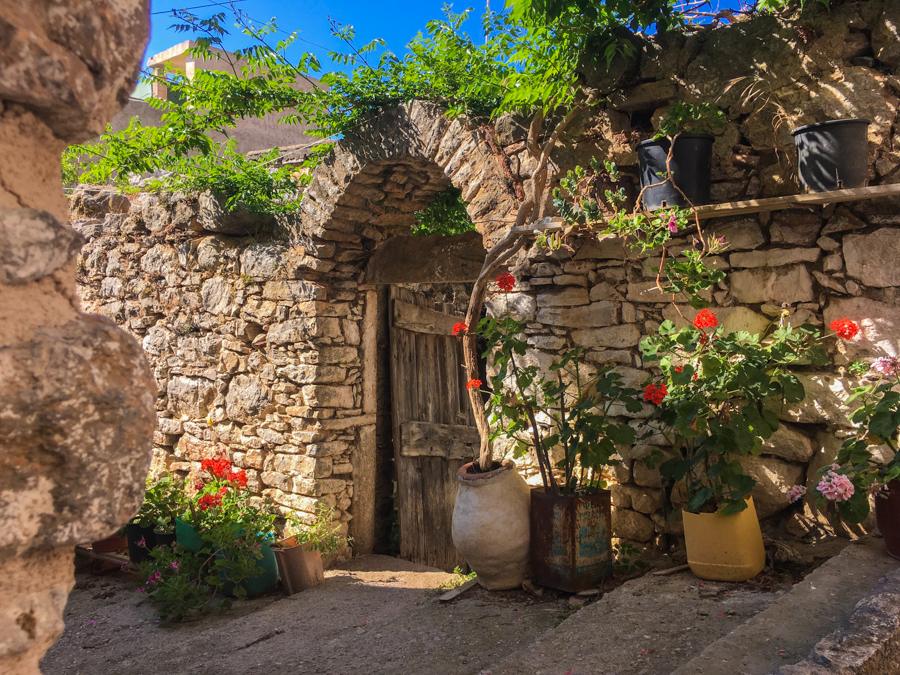 You've probably heard about the Refugee Crisis in Europe which started back in 2015. Chios Greece is located just 7 kilometers from Turkey (a first stop for refugees from Syria and further afield), making this island a popular stepping stone for those fleeing war-torn countries in hopes of finding a better future in Europe for themselves and for their families.
In the beginning, it was incredibly overwhelming for local authorities to deal with the influx of visitors arriving on the shores and no one was really sure how to deal with it. As you can imagine, the refugees were hungry and in need of shelter.
Graciously, the residents of Chios Greece offered food, water, shelter and money to complete strangers! Recently, the government has provided the refugees with cash cards, which allow them to purchase food and any other goods they may need while they are stuck in limbo.
No one knows whether these people will be sent back to their homeland, to Turkey, or further west into Europe. It's heartbreaking to know that families are still living in tents to this day and don't have a home. To add to this heartbreak is the fact that the news has made this situation sound dangerous, keeping tourists from visiting.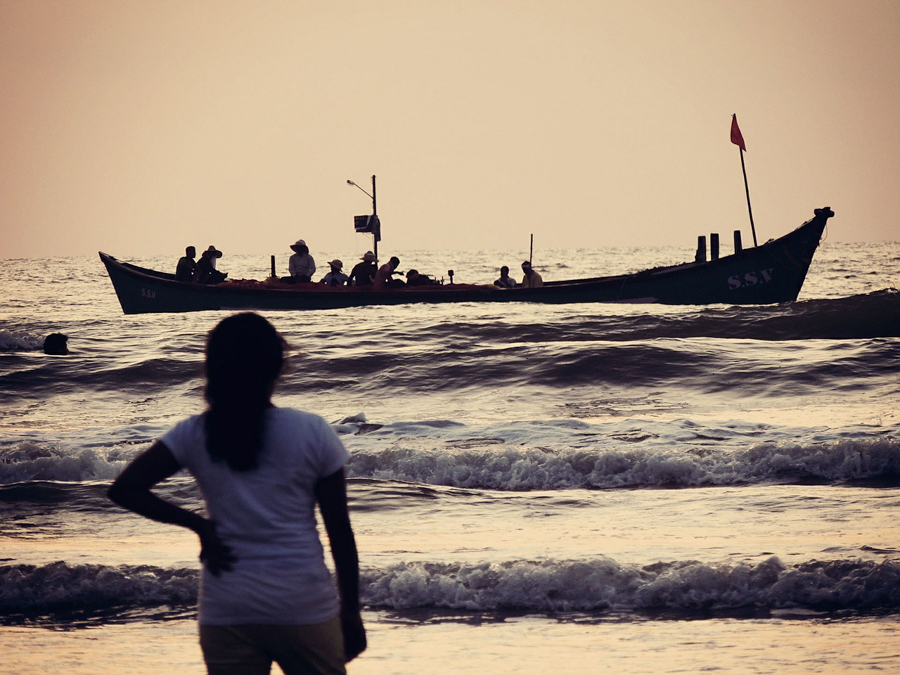 How having an encounter with a refugee is considered dangerous is beyond me.
The refugee situation in Europe is a difficult one – the locals don't know what to do with the foreigners and the refugees are stuck with nowhere to go.
Everyone we spoke to on Chios Island was empathetic to the refugees and had a very optimistic view of the future for tourism on the island. In fact, there are more reservations for accommodation and tours this summer than in the previous year.
The resilient attitude of the people living here, both local "Chiotes" and Greeks from other islands was astounding. Based on our (very positive) firsthand experience, we believe the unique island of Chios is safe for tourists, and it would be a shame to miss this amazing destination based on displaced and disheartened people.
Go.
Chios Island is a place you shouldn't miss and is by far one of the best places to visit in Greece.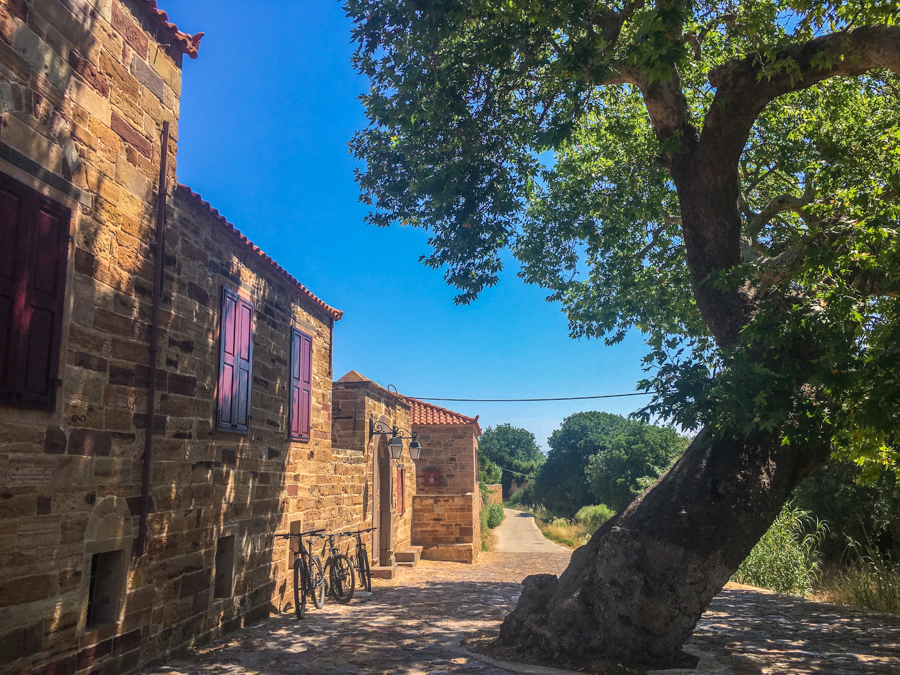 Where to Stay in Chios
Although Chios is the 5th largest island in Greece, because we were traveling in the off-season, we had the roads practically to ourselves.
Making our way to the southeastern end of the island, we arrived at Emporios Bay, which would be our studio apartment for the next four nights. Our balcony overlooked the large shared pool and rolling green hills covered in shrubs.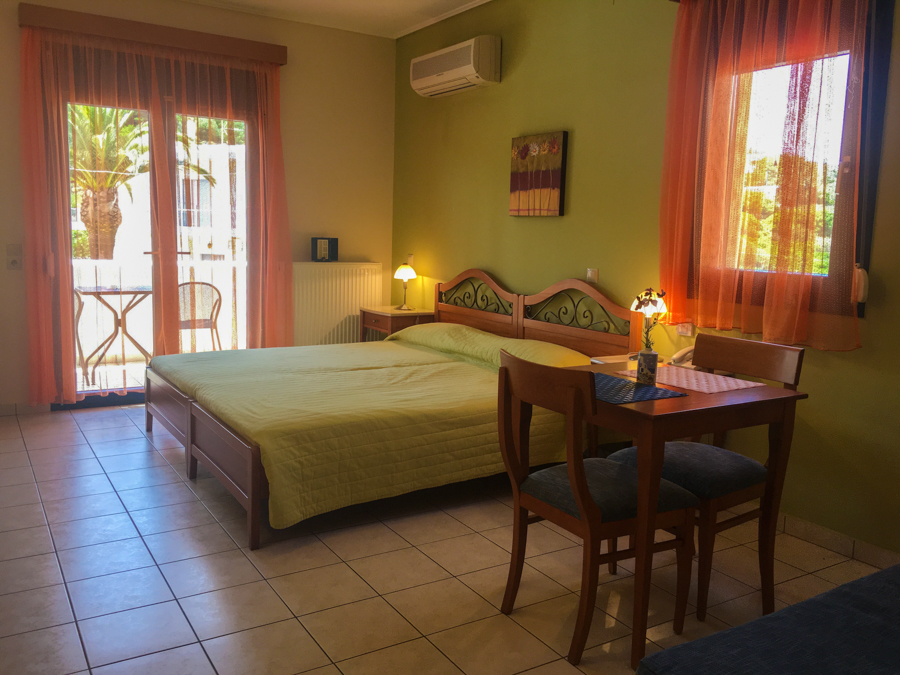 With no noise pollution other than that of chirping birds, this place was incredibly peaceful.
☞ SEE ALSO: Things To Do in Zakynthos
The family-run apartment is comfortable, clean, and in an excellent location.
We were steps from the glass-calm sea and harbor, and a 5-minute walk brought us to the volcanic Mavra Volia beach, a large bay with black stones and perfectly clear water. A pathway leading from this bay brought us to the neighboring Emporios Mavros Gialos beach.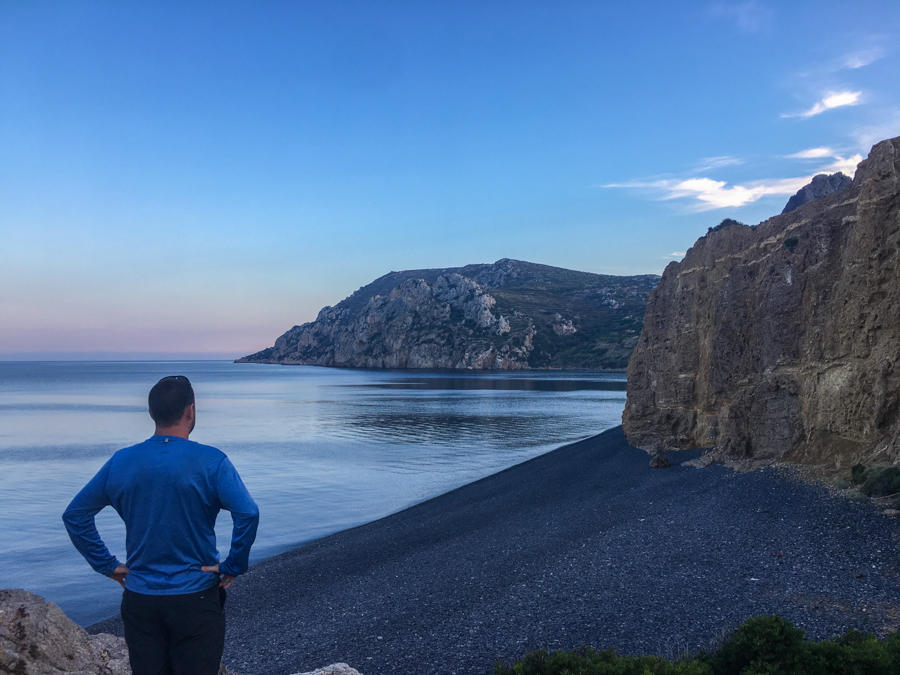 Our apartment was just a couple of minutes by foot from two of the nicest beaches on the island!
See Also: The Ultimate Guide To Travel in Greece & The Greek Islands
Mastic Culture in Chios
With just a few days to explore Chios, we dropped off our bags and headed to the impressive Mastic Museum to meet with Roula from Masticulture to learn about the fascinating Mastiha (Mastic) culture of the island, something we had never heard of prior to visiting Chios Greece.
Mastic trees grow all over the world, but the sap that is so valuable is only produced by the trees on this particular island…and only those growing in the southern half of Chios Island!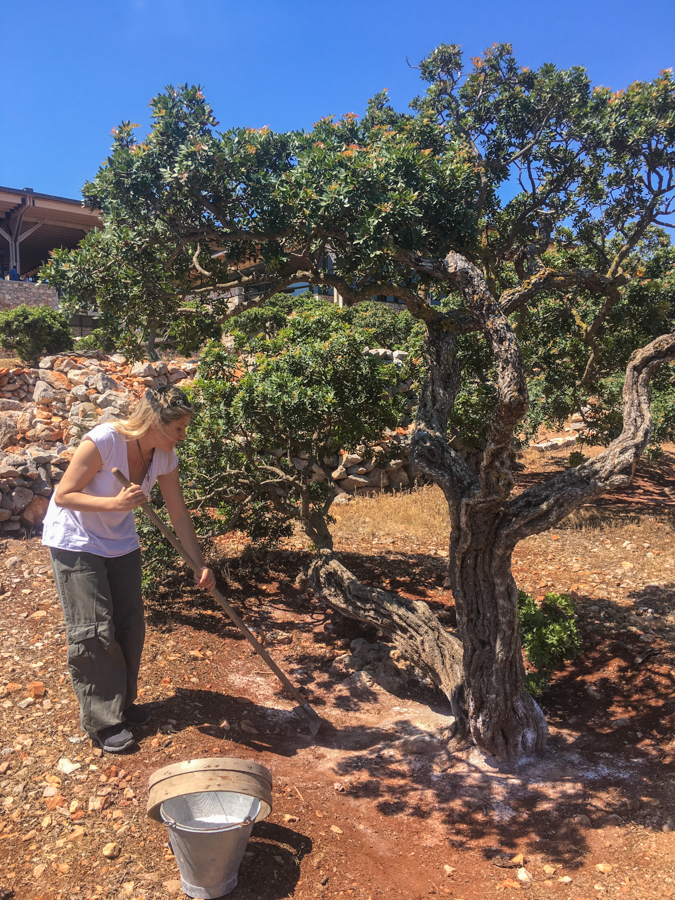 The resin, or "tears" as it's commonly referred to, have been a part of Chios' history for centuries. In fact, this tree was the reason for many foreign attempts at conquering Chios, which ultimately led to the fortification of many of the villages on the island.
☞ SEE ALSO: Things to Do in Corfu
When the bark of the tree is slashed using a special tool, the sap trickles out and hardens. Once all of the resin is collected (including bits of bark, dirt, stones, leaves, etc.) the arduous process of sifting, storing, washing, drying, and cleaning the sap begins.
All of this is done by women, by hand.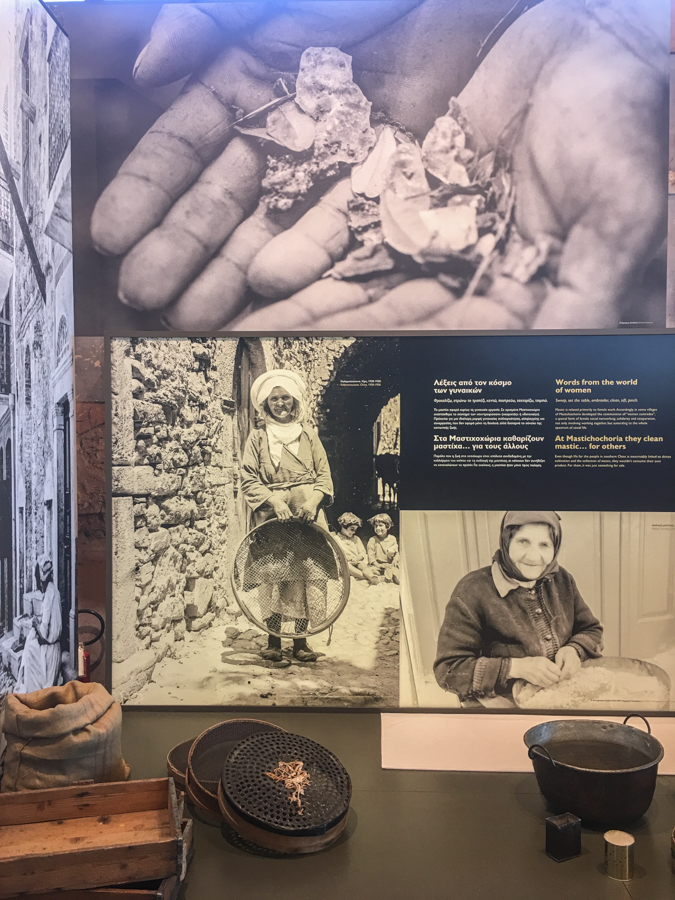 Because cleaning resin is such a boring job, the women of Chios Island came up with a brilliant idea to make it more of a social get-together, complete with gossip and wine.
As well as having a pine flavor and being a popular product for chewing gum, mastic has excellent health benefits. It's been proven to work as an anti-inflammatory and anti-bacterial product.
Plus, mastic is a natural cure for stomach aches and ulcers. If you want whiter teeth or to prevent cavities, chew some mastic! This stuff is magic.
☞ SEE ALSO: Weather in Greece – When is The Best Time to Visit?
Roula taught us all about mastic and how the culture, architecture, and landscape of Chios have evolved around it. She even invited us out for some cocktails made with, you guessed it, mastic liquor.
Oz cocktail bar is located in the town of Chios. Stepping off of the pedestrian-only street, we entered into a funky bar, complete with energetic staff and a "laboratory" for creating a drink to suit our tastes.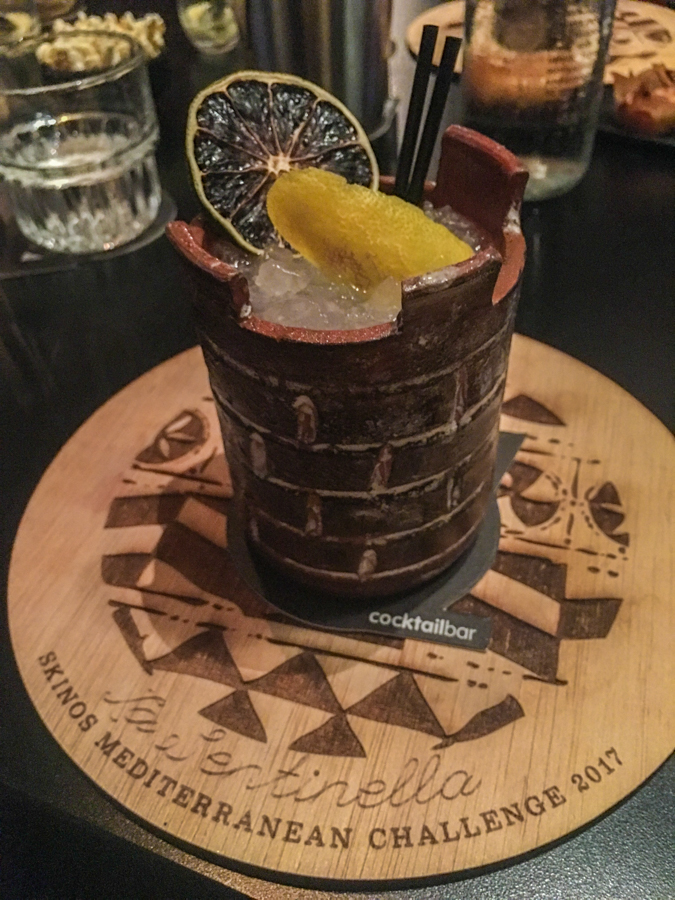 Needless to say, it was a fun evening. After having a drink made with rum, and a drink made with mastic liquor, I can honestly say I preferred the local flavor.
Best Villages in Chios
From the mastic museum and mastic liquor, we moved on to visit the Mastic Medieval Villages of Mesta, Pyrgi and Olympoi, which all derived from the production of mastic products (see, everything on this island revolves around the mastic tree!).
☞ SEE ALSO: Lesvos Greece – Our 5 Day Travel Guide
Because the "tears" were so valuable and mainly used by the rich, fortified villages were built in the 14th century to protect this product from Arab pirates.
Some villages have underground tunnels, and all of them have narrow, confusing alleyways with dead-ends.
Locals lived on the second level of their homes, and their livestock lived on the bottom. Being raised up on the second level gave them a better vantage point over attackers, and an escape route to the neighboring rooftops if needed.
☞ SEE ALSO: Kefalonia Greece: Our 5 Day Travel Guide
Pyrgi Village
First up on our day of village exploration was Pyrgi with its white and black geometric "xysta" designs, which are carved into the buildings by hand.
The lanes were so narrow that the neighboring balconies practically touched each other above our heads. Bright bougainvillea plants climbed up the facade of the homes, reaching for the balcony on the second level.
Stone tunnels provided some much-needed shade as we wandered through this pretty village.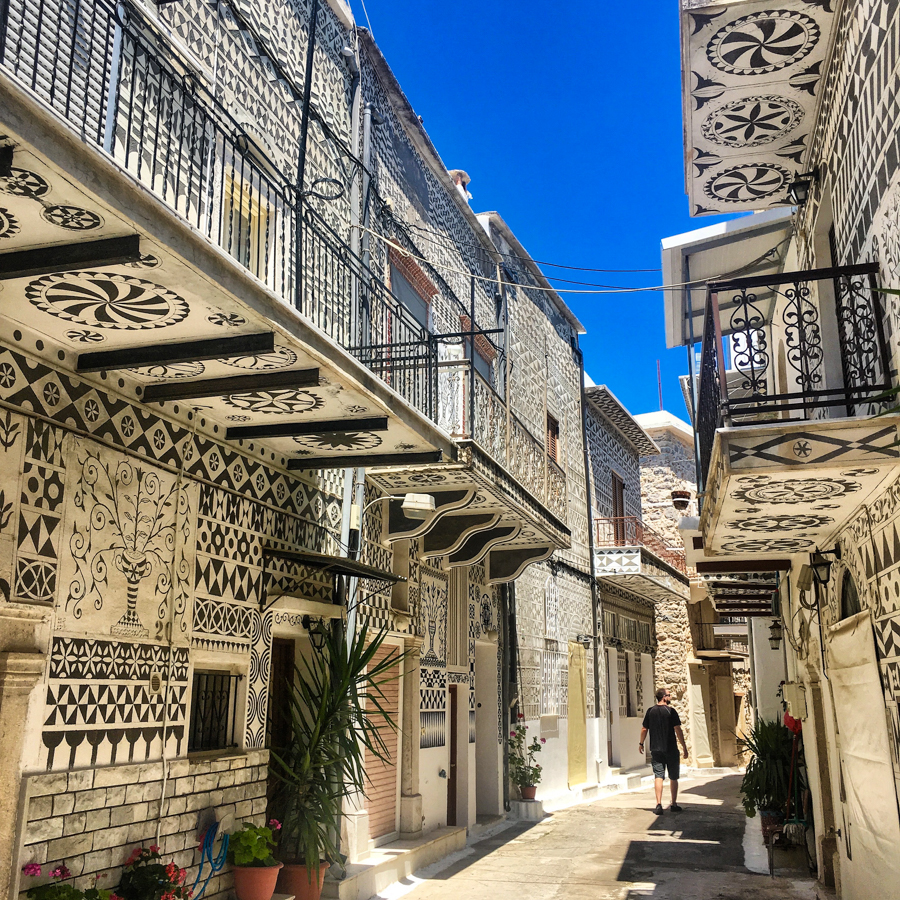 Friendly locals spoke to us in a language native to their village (each village has its own dialect), and we replied with English and smiles. We visited the Byzantine Agioi Apostolo church, which dates back to the 13th or 14th century, before moving on to visit two more Mastic villages in the area.
Mesta Village
Mesta is probably the best-preserved medieval village in Chios Greece, and the most popular for visitors as it has numerous accommodation options.
Apart from a couple of Turkish tourists, we had the village to ourselves, and we loved it. One of the many joys of off-season travel for sure!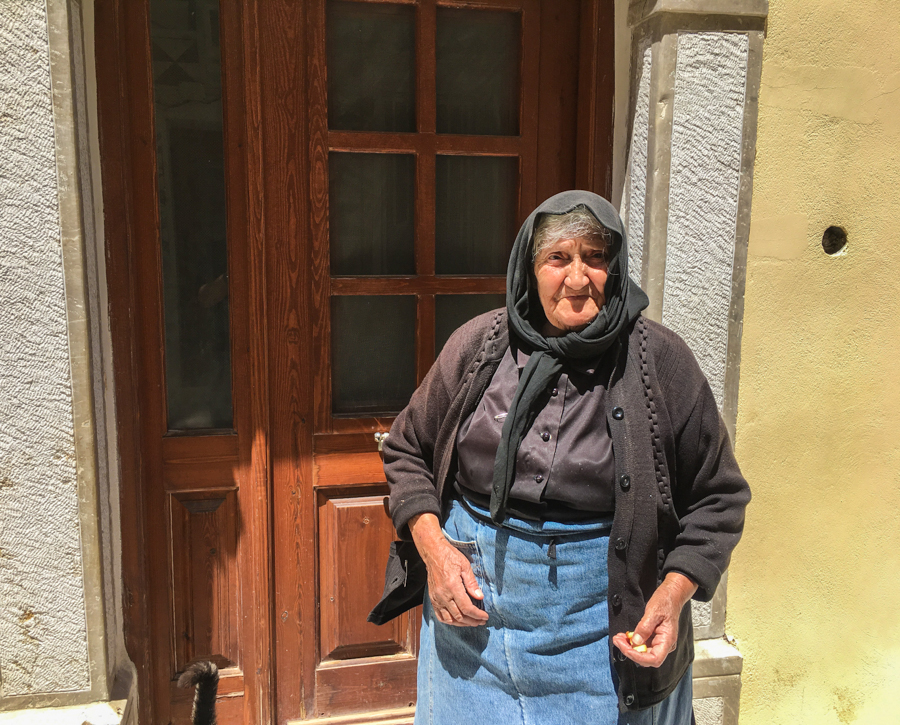 As with Pyrgi, vines and flowers climbed up stone walls, while the towering Megalos Taksiarhis church dominated the center of the village.
Entering the religious building, which was built in 1868, we couldn't believe how ornate it was. Apart from someone who was sweeping the grounds, we were the only people in there.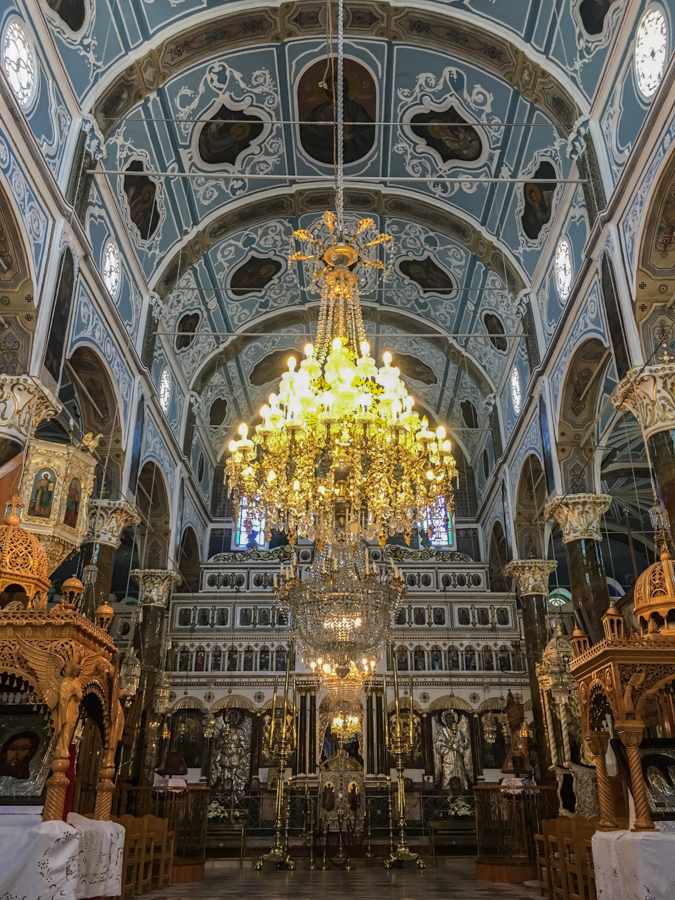 Olympoi Village
Finally, we made our way to Olympoi, a village with a fantastic restaurant, beautiful buildings and welcoming locals. The village has one entrance and all of the homes are attached, with the doors facing inwards.
This means, if you were to look at Olympoi from the outside, you would only see what looks like a walled fortress.
As if a trip to Mesta and Olympoi wasn't interesting enough, we found out that there's actually a pathway connecting the two villages!
The hike takes about an hour and passes by ancient churches and stunning farmland. This is one of the eight marked walking routes available on Chios Island.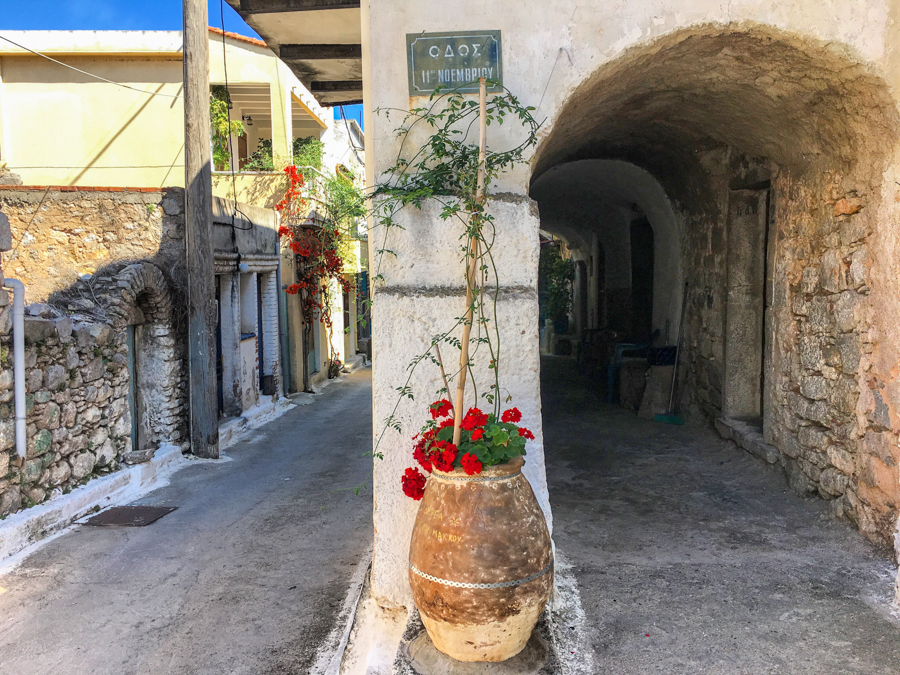 Kampos Village
These three medieval villages were some of the most unusual places we've ever explored, but, Chios Greece would delight us with one more of its famous villages, Kampos.
Kampos is a village where the elite from the Genoese period (1304–1566) lived in mansions that still stand today.
Immediately, we noticed the difference in architecture on Chios island compared to the Ionian Islands where we were traveling previously.
The islands of Zakynthos, Kefalonia and Corfu were under Venetian Rule for much of their history, while Chios Island fell to the Byzantines, Genoese, and Ottomans.
Things To Do in Chios
There are so many fun things to do in Chios. Here are a few of our favorites.
Mountain Biking
Triandafyllia from Goat Trails (how perfect is that name?!) met up with us for our day of biking around the scenic area. Heading off on our mountain bikes, we cycled through farmland, while zigging and zagging through orange groves.
We explored narrow lanes lined with bushy trees and low stone walls. We passed by gorgeous mansions, and pretty plazas, while learning about the history of the area from our guide.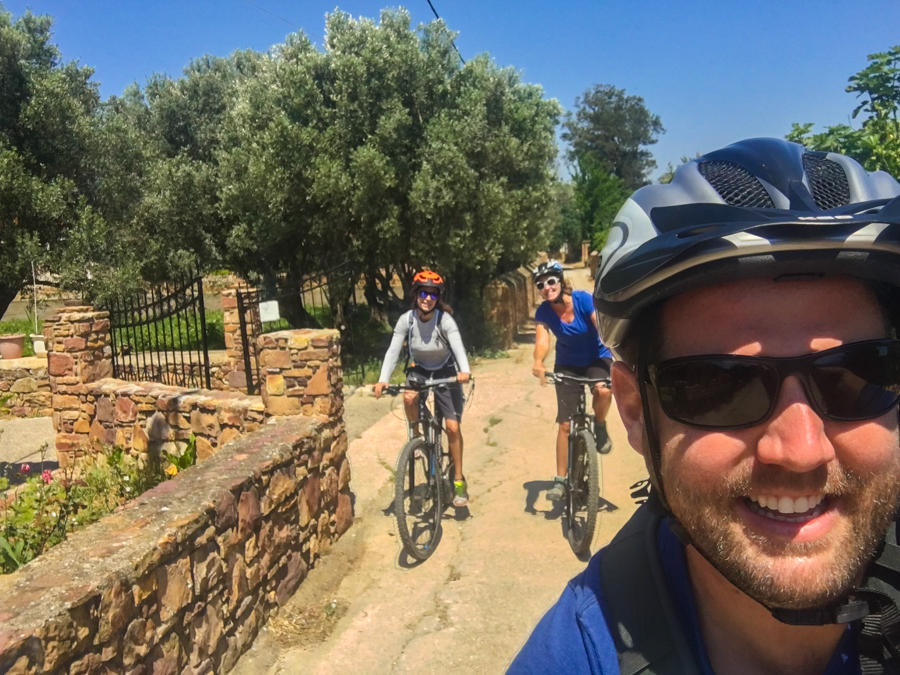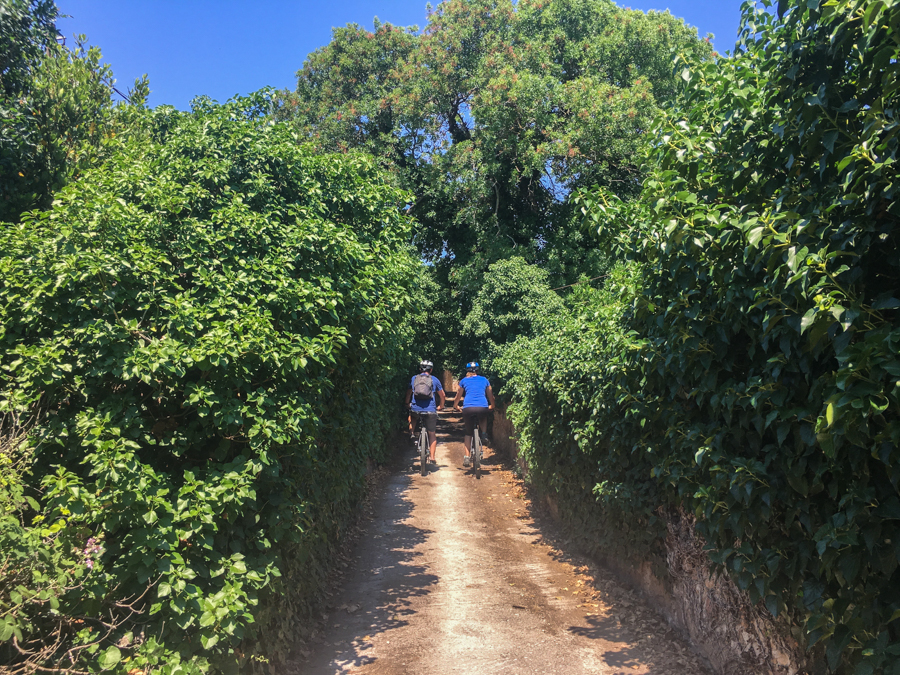 Just as the sun was getting too hot to bear, the tour was finished and it was time to fill our bellies with food, and cool off with a local beer. Together with Triandafyllia, we made our way to Astrakia in Kampos, which was the setting of our afternoon cooking lesson.
Cooking Class
We hadn't even tasted any food or learned how to cook any traditional dishes, but we were already in awe of the perfect locale and the wonderful people who would be joining us.
We would be spending the afternoon with Elias and his wife Joanna, (who are the owners of Chios Cooking Lessons), Triandafyllia and her boyfriend Pedro (from Goat Trails), Dora (the chef) and Maria (the translator for Dora).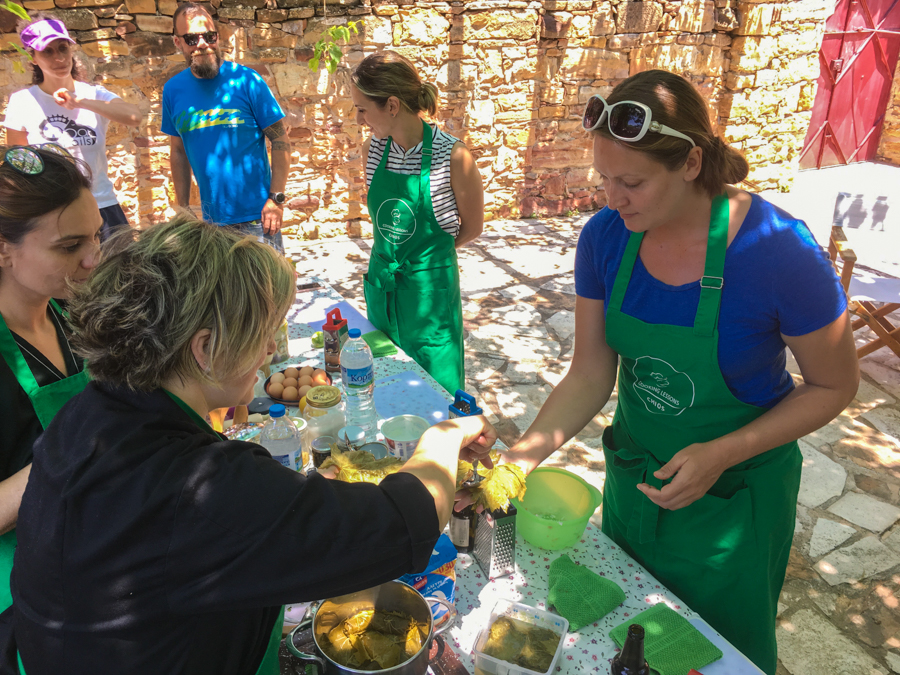 Some other friends of Elias and Joanna stopped by throughout the day to say hello, and the entire afternoon felt like we were just hanging out at a friend's house, rather than being on a tour.
We learned about Chios Island cuisine from chef Dora, while watching her expertly roll pasta around the stem of a spartos plant to help form the shape, while keeping a hole in the middle of the dough.
Elias and Triandafyllia explained about the traditional candy, alcohol and food products, made from mastic and aloe vera, all while sipping on the local Chios Beer, which is unfiltered and very tasty!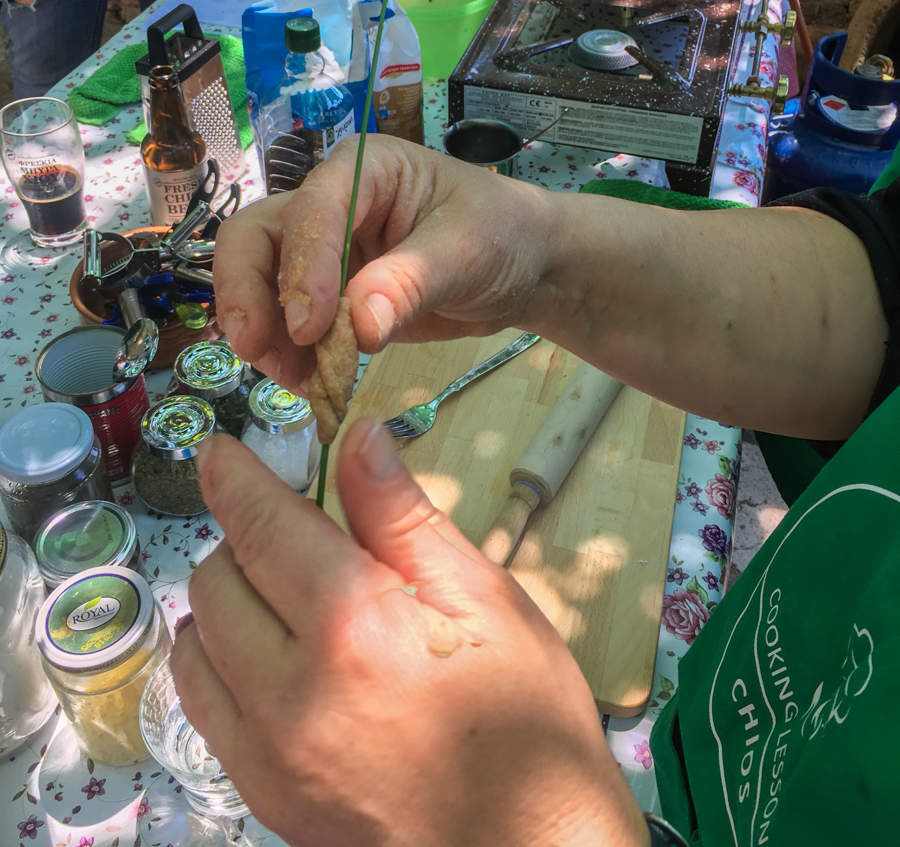 All of the ingredients were locally sourced and the menu for the afternoon was prepared and made with love.
We helped with the cooking and were rewarded for our efforts with delicious yaprakia (stuffed vine leaves), Greek salad, traditional pasta with red sauce, zucchini balls, and an omellete dish.
Interspersed between the dishes on the table were numerous appetizers – fresh bread, local white cheese, olives, fried bread, and cherry tomatoes.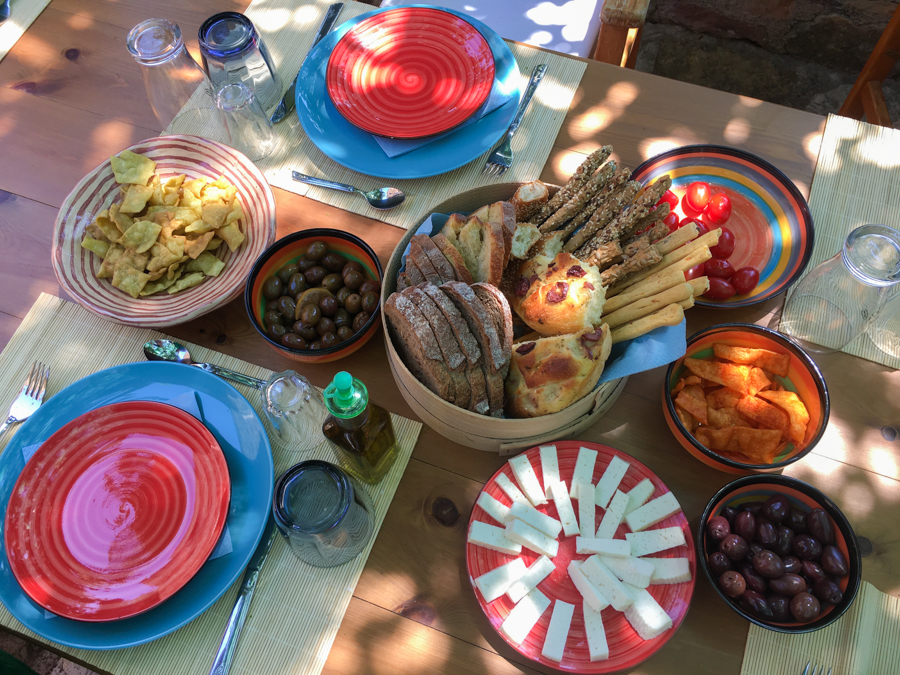 The setting and food were fantastic, but the company we found ourselves surrounded by and the conversations we had were the best part. We'll never forget this afternoon with our new friends from Chios Greece.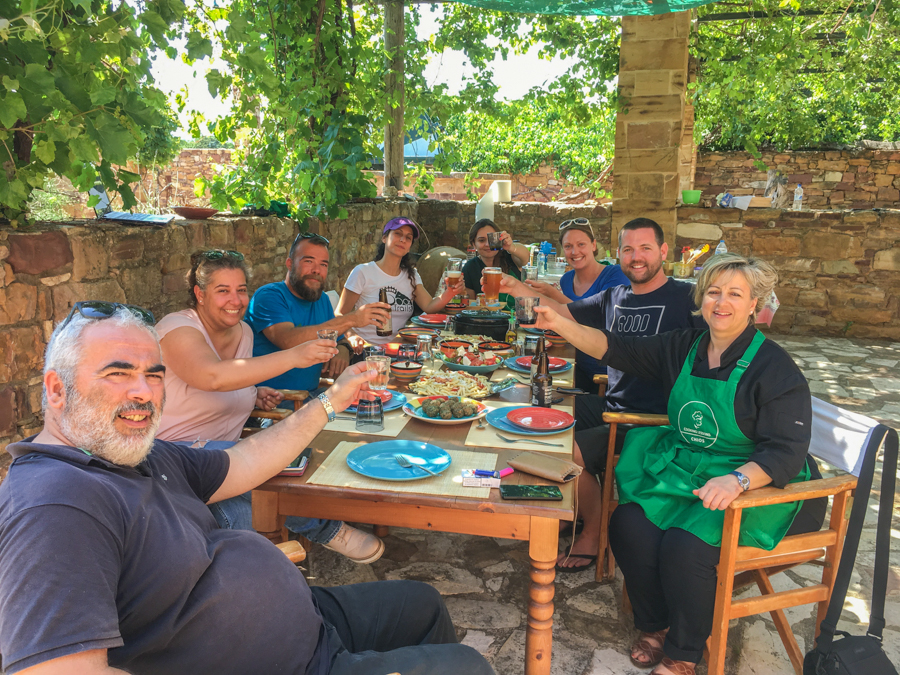 In Conclusion
Chios Island is one of those travel destinations that will stay in our minds for years to come. Not only were we amazed by the history and medieval villages, the mastic culture, and the pristine beaches, but the people we met really made an impact on our trip.
From the lovely Roula and Vasillis and the entire group from Chios Cooking Lessons and Goat Trails, to the wonderful family at Emporios Bay Hotel, and all of the owners of restaurants and bars that we spoke to, everyone had a story to tell, and everyone welcomed us with open arms.
We'll be back to Chios, that's for sure.
Traveler Tips for Visiting Chios Greece
Before visiting Chios, read these top tips:
A huge thank-you to Discover Greece for assisting with our flight, accommodation, and tours during our trip to Chios Greece! The rest of Chios Island we planned, booked, and paid for ourselves. All opinions and thoughts remain our own, despite any complimentary services received.
SaveSave
Like This Article? Pin it!