We were invited by Riviera Maya Tourism to come and explore the unique activities and diverse nature that this area of Mexico has to offer. This is the first time we've worked directly with a tourism board and we couldn't have been more thrilled about our first Press Trip, an accomplishment that we as travel bloggers were definitely proud of.
We were greeted at the Playa del Carmen bus station by a bubbly, friendly woman named Jessica. She is one of the PR Executives at Riviera Maya and together with our driver, Juan Carlos, the four of us enjoyed a day of ecological wonder and theatrical excitement!
We started the day with breakfast at the popular restaurant, La Cueva del Chango. We decided to order mollettes, which have become one of our new favourite Mexican foods. These filling delights consist of toast smothered in refried beans and topped with copious amounts of melted cheese.
We were now ready for our day, which thankfully started out by us walking off our enormous meal. We hit the streets of Playa del Carmen and wandered around the famous 5th Avenue. It felt a bit like Koh San Road in Thailand, but a more upmarket version. Row upon row of high-end shops and restaurants lined the streets.
Even though the beach here is beautiful, we kind of felt like we were walking through a shopping mall. So, we decided to stroll a few blocks away from 5th Ave. and were greeted with a more local, Mexican feel. We actually didn't see any other foreigners and found small eateries and parks.
It was nice to walk off our food and check out a more authentic version of Playa del Carmen before getting back into the vehicle.
There are many magical things about the Yucatán Peninsula, but the underground caves, sink holes (cenotes) and caverns are especially unique. This area has a lot of limestone and during the wet season it receives heavy rains.
Rain and limestone are two perfect ingredients for the creation of cenotes. We've seen many caves, an outstanding grotto in Lebanon and an underground river in the Philippines, but they were very different from what we were about to see.
Rio Secreto – An Underground River System
Rio Secreto is a long network of underground rivers in the Riviera Maya. To date, they have mapped out over 12kms of semi-sunken caves!  The story of how it was discovered is almost as incredible as the caves themselves.
A Maya man who owned the property was out hunting Iguanas one day. He spotted his prey, but unfortunately, the Iguana was too fast for him and dashed away and into a hole. The man heard a splash and suddenly realized that there was water in the Iguana's hiding spot.
Little did he know that his land was sitting on a jackpot! He still owns all of the land, but Rio Secreto, an eco-tour company, rents the property from him and pays him handsomely each month.
The Rio Secreto Experience:
We donned our life jackets, water shoes, wet suits and helmets and together with our enthusiastic and knowledgable guide, we set off to explore the underground world. We hiked through the jungle before arriving at the mouth of the cave.
Nick and I both thought "ya, it looks pretty cool, but we'll see if it's actually as good as they say". It turns out, it is as amazing as the brochures and tour agencies describe!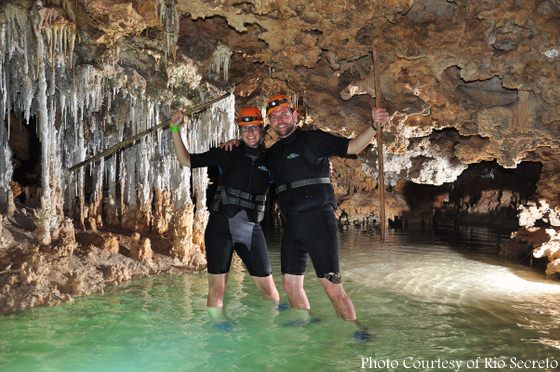 We walked, swam and floated down the river system for about a kilometer, stopping along the way to learn about the various stalagmites, stalactites and animals which inhabit this cave. One of our favourite parts was when we all stopped walking, sat in the water and turned off our headlamps. We meditated in complete and utter silence for about a minute.
We could hear nothing but the dripping of water from the ceiling and it didn't mater if our eyes were open or closed, we couldn't see a thing.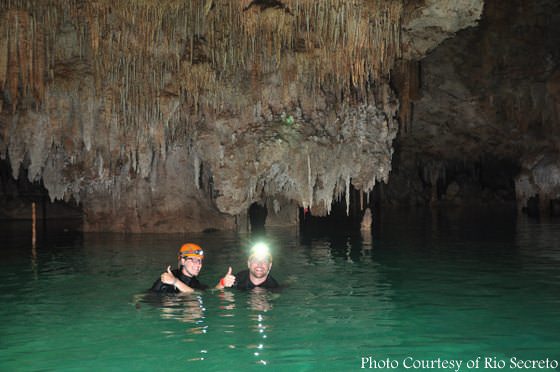 Our guide knew everything there was to know about this underground cave system and had an answer for every question that was thrown at him. It was a great feeling to know that we were being led by someone who is so passionate and enthusiastic about the conservation of this ecosystem.
Costs & Information:
Including our delicious buffet lunch and shot of Xtabentun liquor at the end, the tour was approximately 3.5 hours long with about 45 minutes in the actual cave. Including transport from Playa del Carmen, the tour costs $109. If you choose to get to Rio Secreto yourself, the entrance fee is $79 for adults and $39.50 for children (aged 4 – 11).
The fee includes a buffet lunch, knowledgeable guide and gear. There is a photographer in the cave with you and at the end of the tour, cd's containing photos from the trip are available for purchase.
What To Bring & What You Can't Bring:
Except for your bathing suit, everything you need for the experience is provided.
No cameras are allowed inside the cave and you must shower off before entering (in order to eliminate toxins such as sunscreen, lotions, gels, etc.) Lockers are provided for your clothing and personal belongings.
Final Thoughts and Opinions
In our opinion, this is a must-see in the Riviera Maya! We were both really surprised at how well-preserved the cave system was and were impressed by the knowledge and professional attitude of the guide.
A maximum of just 8 people are allowed in each group, which makes for an intimate and enjoyable experience. Groups are staggered and we never saw another group while we were in the cave.
It's refreshing to go on a tour that actually has the well-being of the ecosystem in mind. Although the entrance fee may be a bit pricey, the efforts made by this company to conserve the ecology and environment, as well as the level of professionalism shown by the staff, makes the fee worth every penny.
By the end of the tour, Nick and I were getting pretty tired, we'd been up since 6:00 am and had seen and done a lot. However, our energy levels spiked when we arrived at the eco-theme park of Mexico, Xcaret. Stay tuned to hear about our amazing experiences there!
Here's a quick video of our exciting day of Cave Exploration!
Like it? Pin it! 🙂

Have you ever been on a tour that was conscious (or not conscious) of the environment? Share with us below.