Wander down any road in Mexico and the exquisite aromas will draw you to one of the many restaurants or street stalls. The tantalizing smell of spices and herbs being cooked is palpable. The mouth-watering ingredients used in Mexico are some of the best we've come across in all of our travels!
We've been eating our way through the Yucatan Peninsula and haven't found a dish that we don't like. There are endless things to do in Mexico, with eating being a huge highlight. Here's a preview of some of the many scrumptious foods you can find on offer in this spicy region.
Mexican Breakfast Foods:
1. Chilaquiles
This isn't exactly a wholesome, healthy breakfast like we're used to in North America! Tortilla chips are smothered in green or red salsa and topped with pulled chicken pieces or eggs, some onions, cream and sometimes cheese. Typically beans are served on the side.
2. Molletes
If you thought the chilaquiles were a bit heavy for a breakfast food, you definitely wouldn't be able to handle molletes! These are delicious. Bolillos (Mexican styled baguette) are cut in half and smothered with refried black beans and a white cheese called chihuahua, which is similar to a Monterey Jack or White Cheddar.
The final step is to grill face up in the oven until the cheese is perfectly melted. Needless to say, these are one of our favourite Mexican breakfasts and eating these was one of our favourite things to do in Playa del Carmen.
3. Huevo Rancheros
This dish means "rancher's eggs" and is one of the lighter menu options for breakfast. Two eggs are served sunny-side up on whole wheat tortillas and topped with pureed tomato & chili sauce and a few bits of cheese. Usually it's accompanied by refried beans and a couple of tortilla chips.
4. Huevos al Gusto
If you order "huevos al gusto" here in Mexico, the waiter will be looking at you strangely, while waiting for your response. This menu item literally means "eggs to your pleasure", or, eggs of your choice, so you'll have to specify how you want them.
One of the specialties in the Yucatán State is eggs with longaniza (a type of sausage similar to chorizo) and we were lucky enough to have scrambled eggs with this specialty sausage and cactus while staying at Posada San Juan in Valladolid! They were fantastic.
Mexican Snack & Lunch Foods:
1. Tacos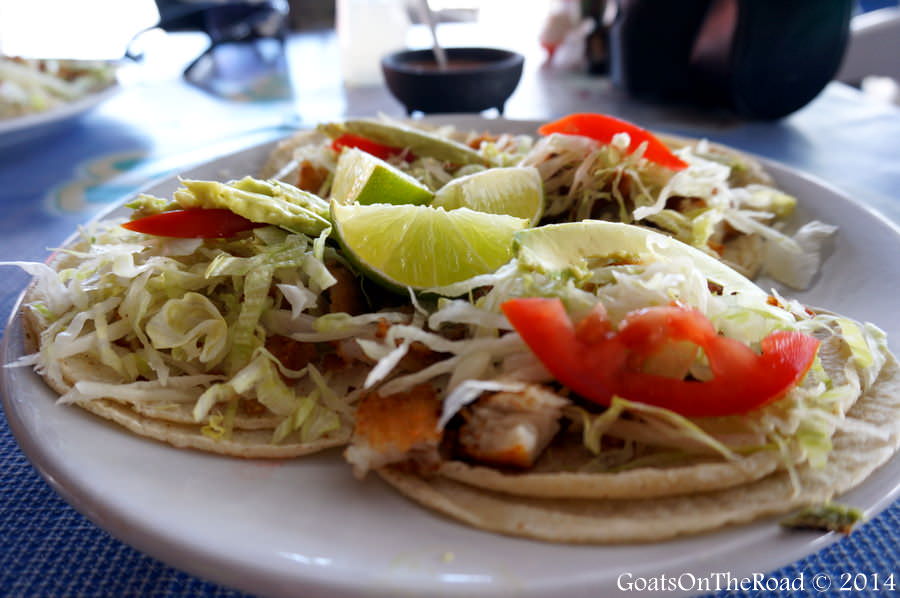 This is a food we're familiar with back in North America…except we make them complete different in Canada! Here in Mexico, tacos are small, soft, corn tortilla shells that are laid flat and topped with meats of your choice. Popular options include fish, chorizo, beef, chicken and vegetarian.
Usually some lettuce, avocado, onion and wedges of lime will come with the tacos as well. Fish tacos are so light, refreshing and fabulous. They're definitely our favourites.
2. Quesedillas
These are basically soft tacos filled with cheese and sometimes meat, folded to form a half-moon shape and fried in a pan on both sides. They make for a great snack food or lunch.
3. Empanadas
Empanadas are made with wheat or corn flour dough and served in different varieties all over the world. Sometimes they're sweet, other times they're savoury. The ones we've had here in Mexico have been stuffed with cheese and meats of our choice. The dough is then deep-fried and served with salty cheese and salsa on top.
4. Huaraches
These oblong shaped snacks originated in Mexico City in the 1930's and have been popular ever since. The dough is thicker than tacos or quesedillas and is topped with meat, red or green salsa, onions, cilantro and cheese on top. They're Nick's favourite Mexican snack food.
5. Churros
This is more of a fairground or street-side stall type of a food. The smell of these "Mexican doughnuts" being cooked is irresistible! Nick has definitely had his share of these deep-fried, sugar-coated pastries since being here.
6. Sopa de Lima
This is one of my favourite foods! It's a healthy, flavourful soup found in the Yucatán State. Made with shredded turkey or chicken, tomatoes, onion, crushed up tortilla chips and the perfect balance of lime and spice.
Mexican Dinner Foods:
1. Burritos
Burritos are actually a Mexican-American (Tex-Mex) food and are really only found and eaten in the northern part of Mexico. Burrito actually means "little donkey"! Either way, this wrapped delight is starting to pop up in other parts of the country as well and we're happy about that! Fl
our wraps are stuffed with meat and refried beans and rolled up. Here in Mexico, they put the toppings (salsa, lettuce, cheese, onions) on the outside, whereas in North America, we put everything inside.
2. Pollo Pibil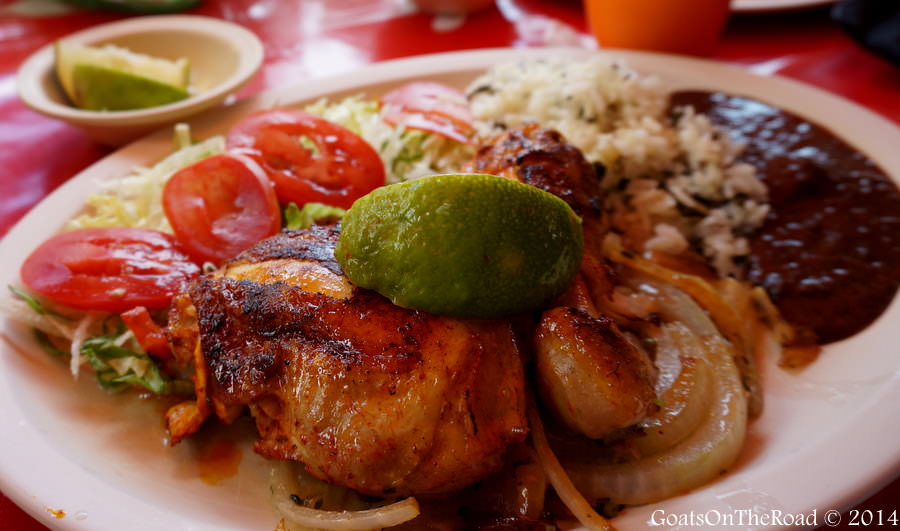 Another healthy option for a meal here in Mexico! This is a Yucatán-styled chicken, which is marinated in citrus juices and achiote paste, roasted and topped with grilled onions. The flavours are bright, light and absolutely scrumptious.
3. Queso Relleno
This isn't at the top of my favourite foods list, but it's a traditional food in the Yucatán State. Queso Relleno is complex and full of rich flavours. Because of this, I can only handle having a few bites of it.
It's a dish consisting of a hollowed out ball of Dutch Edam cheese, stuffed with ground pork and seasonings, which is baked until the cheese is soft. The sauce includes raisins, chickpeas, onions, tomatoes, olives, capers and peppers. Quite the mix of flavours.
4. Pescado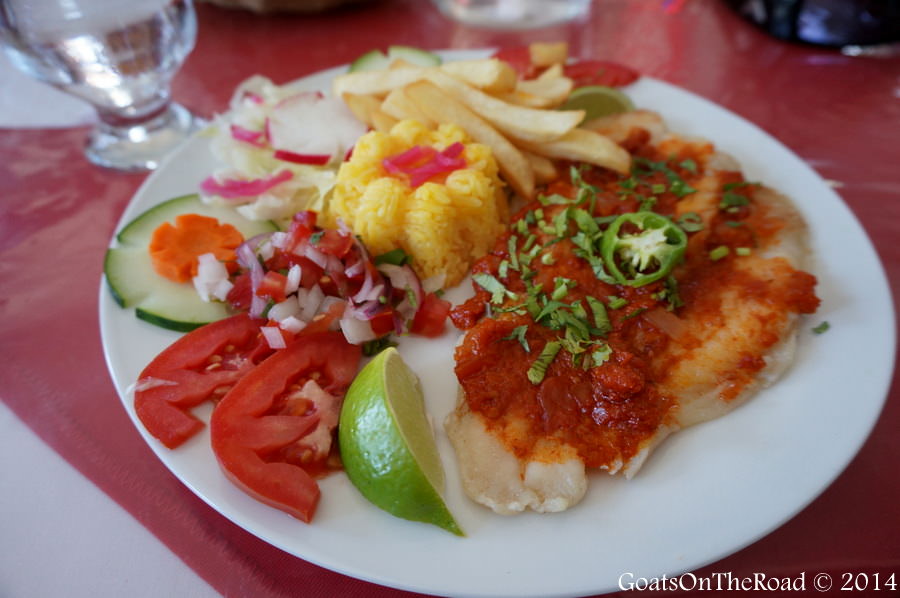 One of the perks of travelling near the coast is being able to have fresh fish (pescado)! We were able to cook up the catch of the day ourselves when we spent 8 days on the Island of Holbox, and since then, we've been ordering fish at restaurants every chance we get.
5. Chile Relleno
These cheese-stuffed poblano peppers are amazing! The peppers are coated in an egg batter and fried until golden brown. Typically they are topped with a red salsa and served with rice.
6. Tamales
When we spent 2 weeks in Valladolid, we were lucky enough to make Tamales in the traditional Maya underground oven, called a pib. Although it was interesting and fun to make Tamales the authentic way, it's much easier to order them in a restaurant.
Made with a starchy, thick, corn-based dough, these pockets of deliciousness can be stuffed with anything from meat to cheese, to fruits and vegetables. Once filled, they're wrapped in a banana leaf and cooked in the pib, or steamed in a pot. Once unwrapped from the banana leaf, they're typically topped with a salsa and enjoyed piping hot.
Hungry yet?!
These are just some of the numerous foods we've been enjoying during our travels through the southern region of Mexico. With such a variety of spices, ingredients and traditions, we could spend years here and still have hundreds of dishes to try.
Every day is a culinary adventure and one that we're more than happy to be a part of!
Do you like Mexican Food? Have any favourites? Share with us below!
Like it? Pin it! 🙂