Paros is an island in the heart of the Cyclades Islands in Greece with over 10,000 inhabitants and 120 kilometers of coastline. Serene landscapes, fertile valleys, and rolling hills are dotted with small churches and monasteries, complemented by endless sandy beaches with azure blue waters.
Not only is the natural landscape stunning, but there are numerous things to do in Paros to keep you entertained. This is one of the best places to visit in Greece.
On Paros island, you'll find ancient, medieval ruins and monuments, picturesque white sugar-cube towns and villages, and no shortage of tavernas bars and cafes.
You can expect all of this, plus reasonable prices, excellent tourist facilities, and friendly people who know the true meaning of hospitality. It's easy to see why many regard Paros as the quintessential Island for any Greece travel itinerary.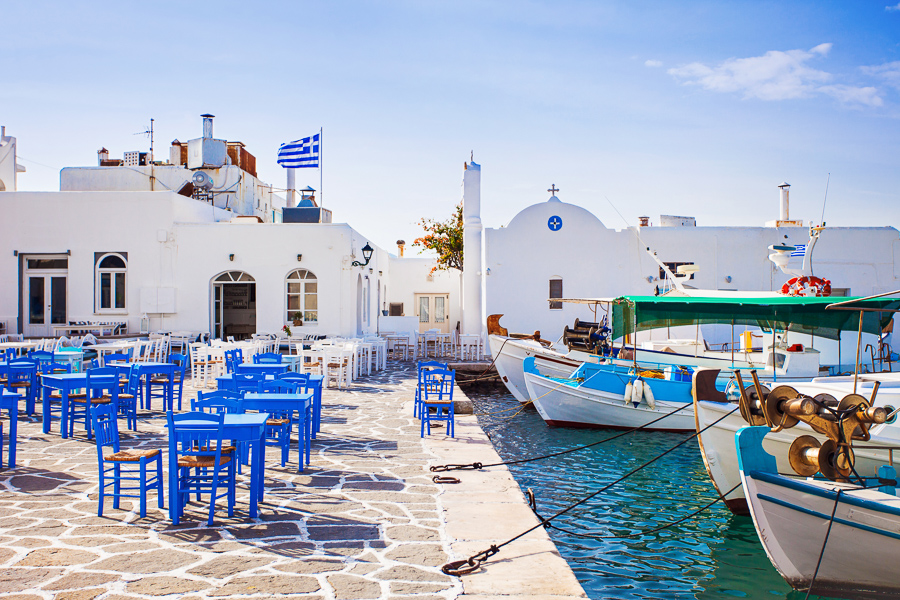 They say Paros is like Mykonos was 20 years ago. It has all the charm and atmosphere but without the heaving crowds and steep prices which is one of the main reasons why my partner and I fell in love with it.
So much so, we have been back 4 years running now and really consider ourselves to be amongst family when we visit.
There are so many things to do in Paros, and it's just the right size. It really does tick all the boxes and there truly is something for everyone.
Here is some practical information for Paros. If you'd like to skip this and jump to the Things To Do in Paros section, click here.
When to Visit Paros Island
Ideally, the best time to visit Greece is between May and October, and the same is true for Paros. The weather is good and the 'season' is open — many places close for business during the other months.
The peak season is July and August when the Europeans take their holidays and it can be both hot and windy then too. Personally, we love June or September when it is still lively enough but not so busy.
The 'Meltemi' is a strong wind that blows through the Cyclades down from Turkey usually between July and September. It can be very powerful and for this reason, Paros is very popular with avid windsurfing and wakeboarding fanatics but it's also easy to find a protected bay, street, or quiet corner so the wind can be manageable.
How to Get to Paros Island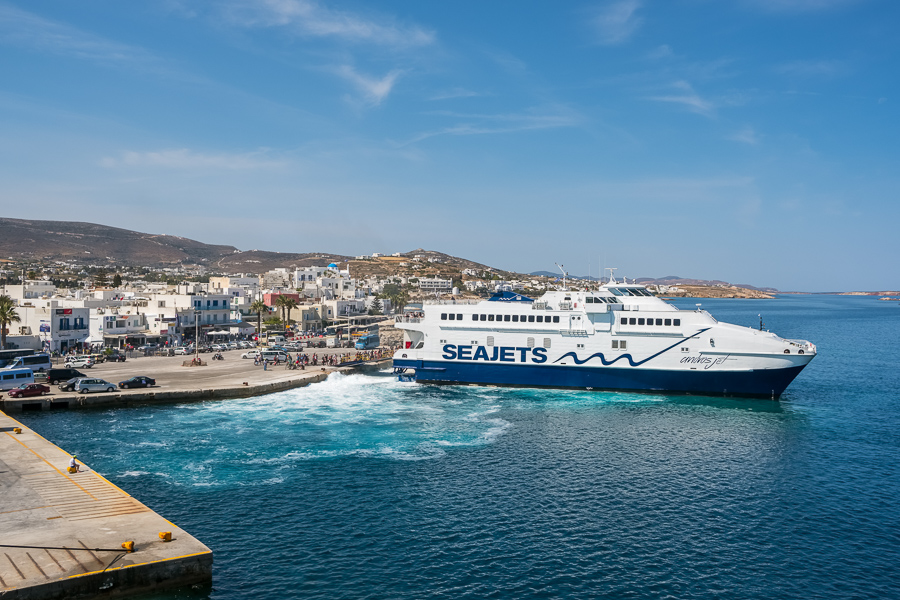 You can get to Paros by boat or plane. Due to its position and importance, Paros is connected not just to Piraeus (the port of Athens – one of the busiest passenger ports in the world!) but also to Rafina which is closer to the airport.
Paros is often the first stop in the Cyclades for many of the ferries and is the stopping-off point on the way to Mykonos, Naxos, Ios, Santorini, and all the other Cyclades Islands, as well as linking with routes servicing the Dodecanese and Crete.
It's only 3 hours from Piraeus to Paros on the fast ferry and there is now a new train link direct to the port from the airport.
The airport on the island was completely rebuilt in late 2016 and there is now a new small terminal and a longer runway. There are countless possibilities both on the island and to destinations beyond.
For information about the ferry routes and to book tickets we recommend Ferry Hopper. And, check out my website for more Greece travel advice.
Getting Around Paros Island
Paros has a great public bus system that can take you to most beaches and towns on the island. This is especially convenient for anyone on a budget as the bus ride is only 1.80 Euro ($2.09 USD). You can find a timetable here.
There are also plenty of rental places around the island where you can rent cars, quad bikes, and scooters. Be warned they can book out quickly in the peak season so plan ahead if you are visiting in Summer. Click here to see the latest rates on rental cars with Discover Cars.
This year, they have started issuing fines if you are driving without an international driver's license so it pays to travel with one.
When it comes to quad bikes and scooters, make sure you check your insurance. Many people find out the hard way that they are not covered and accidents on the islands can be difficult to manage, not to mention, expensive.
Best Things To Do in Paros, Greece
Let's get into it. For such a small island, there really are many things to see and discover in Paros. Here are the 21 best.
1. Visit Parikia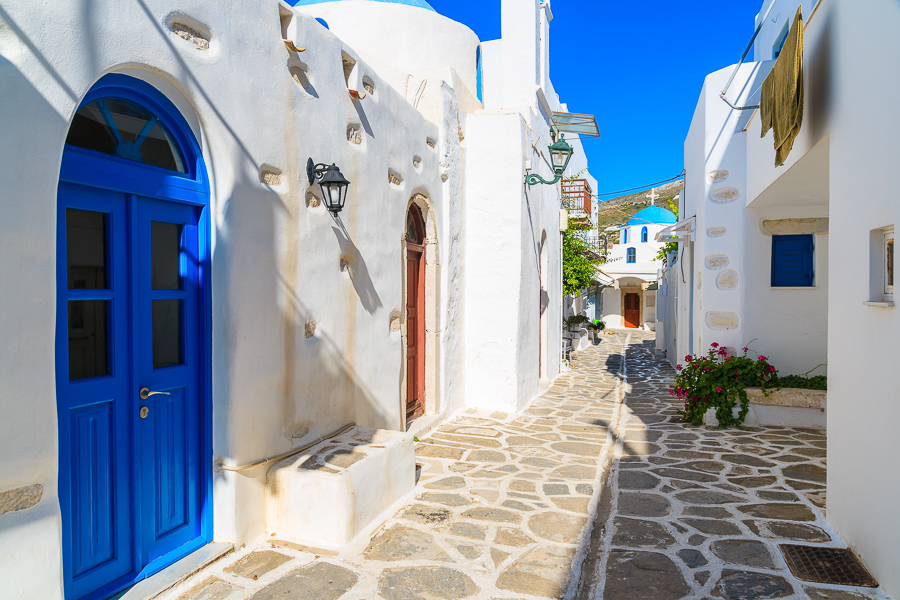 The capital and main port of the island, Parikia is also the commercial and business hub. There are many restaurants and cafes along the waterfront and through a maze of alleys in the old town.
In true Cycladic style, it's a labyrinth of narrow whitewashed streets and a great place to stay if you want to be close to everything.
All of the major banks and services are located here as are laundries, supermarkets, the hospital, and various tourist services.
There are also some very interesting historical monuments and points of interest including an ancient windmill and a fascinating Church (see next point).
2. See Panagia Ekatontapiliani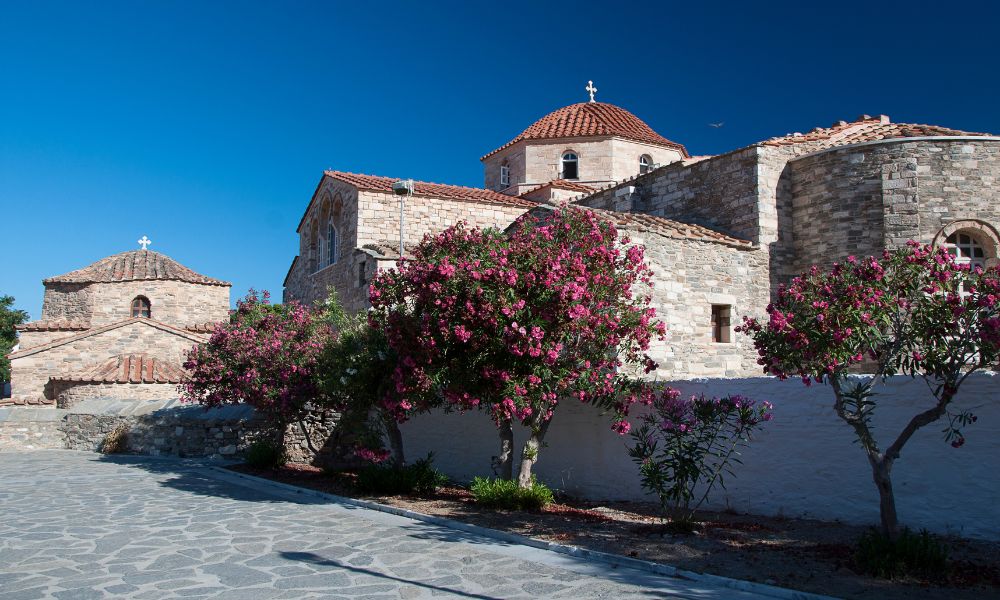 This is one of Greece's most important Byzantine monuments. Built originally in the 4th century it's also known as the Church of a Hundred Doors.
Legend has it that 99 doors have been found in the Church and that the 100th will be discovered when Constantinople (Istanbul) is returned to Greece again.
Entrance here is free, and opening hours (at the time of publication) are 7am‑9pm. In the low season: 7am‑2pm and 4pm‑8pm.
Address: Ekatontapiliahs, Paros 844 00, Greece. Find the church on the map, here.
3. Explore the Fishing Village of Naousa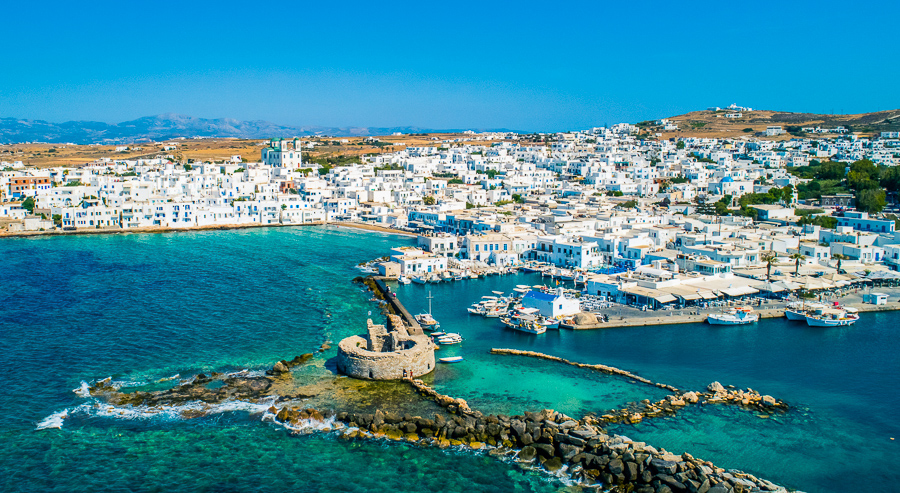 Located in the North of the island about 20 minutes drive from Parikia, this lively fishing village is where we prefer to stay. It's a little quieter than Parikia during the day but really comes alive at night when it can be quite the party town.
It's still a fishing village at heart and much of the nightlife revolves around the small compact harbour. This area is the most expensive, but it's also possible to get a cheap and cheerful meal in one of the many winding back streets. Click here for directions.
4. Visit the Town of Lefkes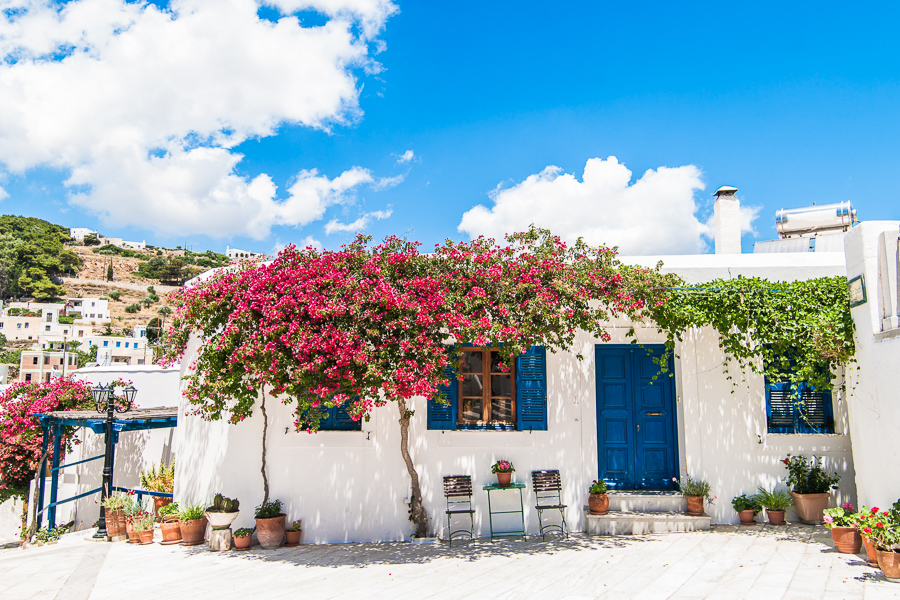 A small medieval town nestled in the mountains behind Naousa with views over neighbouring Naxos. Lefkas has all the makings of the Cyclades — white houses, blue doors, and dripping vibrant pink Bougainvillea. A trip here is one of the best things to do in Paros.
It's a lovely town to visit for a day and you can find some excellent handmade local pottery, jewelry, and other crafts, as well as things such as honey and figs sold by the road.
Some people love to stay here every year and it's possible to find some very inexpensive rooms on Booking.com, or just by wandering through the village.
5. Explore Piso Livadi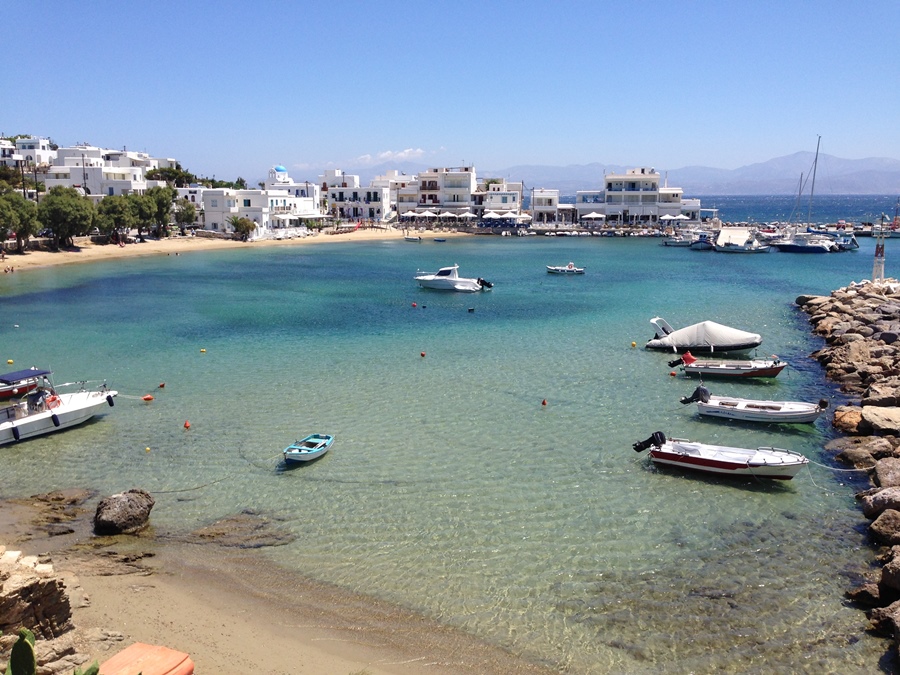 A small and picturesque fishing port on the southeast of the island, Piso Livadi has a number of charming tavernas famous for their local seafood dishes. Don't miss Ouzeri Halaris!
Sampling the regional cuisine is one of the best things to do in Greece — make sure you don't miss the mussels here!
Once a very small and quiet bay, it has become more popular in recent years and is the main port to embark on sailing adventures over the Small Cyclades islands or to Antiparos. Click here for a popular sailing trip.
6. Golden Beach (One of the Top Things to do in Paros if You're Feeling Active!)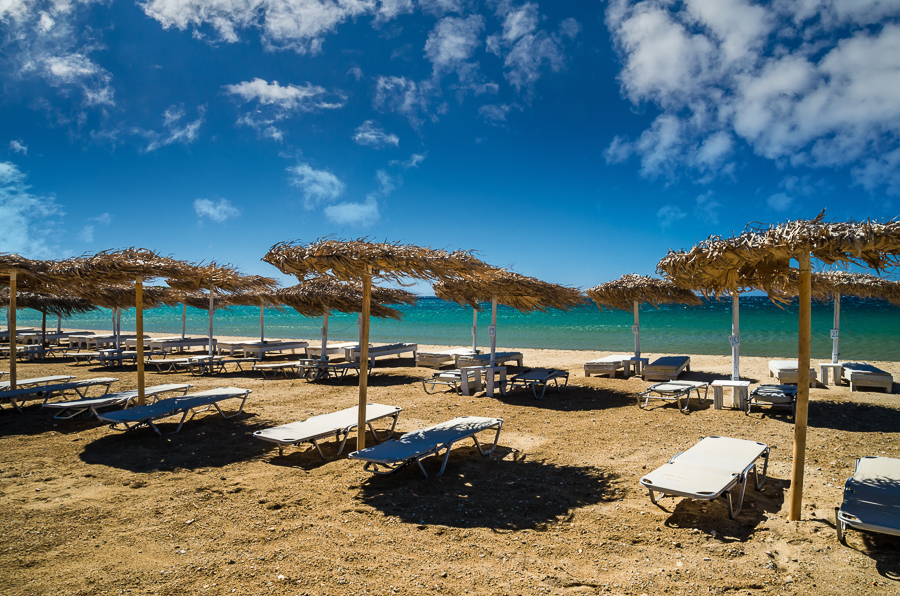 A little further south from Piso Livadi is Golden Beach, considered by many to be one of the best beaches in Greece for water sports, if not the world.
As well as some very good hotels and tavernas, you will also find a number of places to rent windsurfers, kayaks, stand-up paddleboards, and wakeboards.
There are also some lovely and rather funky little beach-inspired shops and boutiques. It can be very windy when the Meltemi is blowing but for many people, that is part of its appeal.
If you're into watersports, a trip to Golden Beach should be on your list of things to do in Paros.
Rental prices vary from place to place and year to year but are relatively inexpensive. For one hour of windsurfing, expect to pay around 25 euros ($29), SUP is around $20 euros ($23) for an hour, while kayaks go for 15 euros per hour ($17).
There are several rental places right on the beach. Click here for details.
7. Visit Drios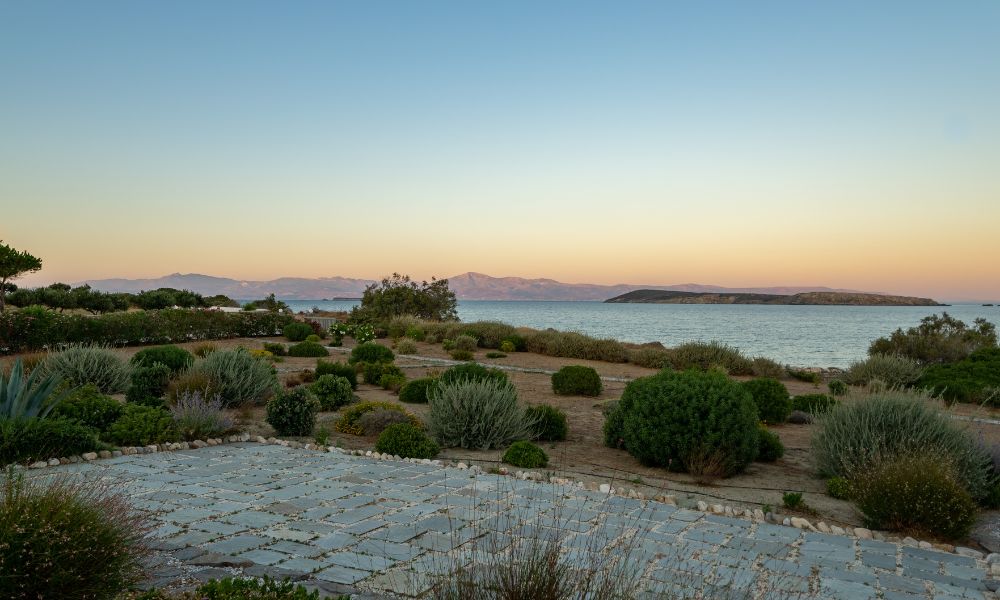 Another small fishing village, Drios was once the ancient port of the island and is one of the greenest villages in Paros.
Here you can enjoy typical Cycladic hospitality, delicious cuisine, and very tranquil surroundings. It's possible to rent a little room right on the beach for the price of a nice meal and there are a number of quiet sandy beaches, including a nudist one close by.
Be sure to check out Aspro Chorion, the small charming settlement above Drios. Get directions to Drios here.
8. Laze on Kolombithres Beach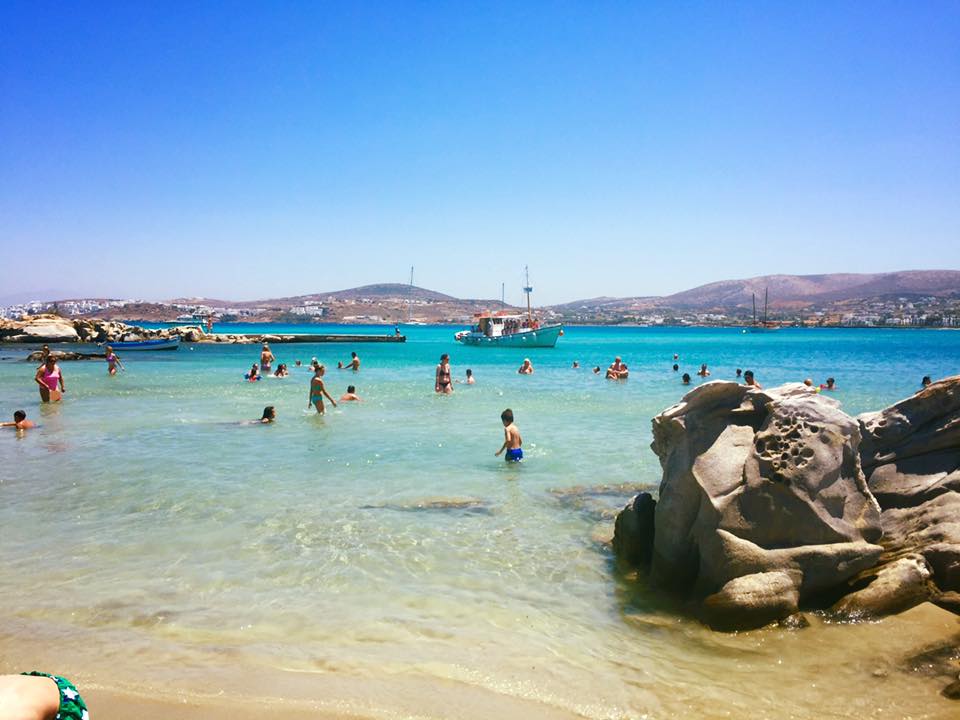 The beach at Kolimbithres is one of the most famous in Paros and is located west of Naousa in Plastira Bay. It has huge boulders of granite positioned into the sea that has been worn away over the centuries into smooth sunbathing platforms.
The water here is shallow and crystal clear and there is an excellent taverna right next to the beach which has some of the best home cooking on the island.
You can drive around or catch the small public ferry over from Naousa. While there are numerous things to do in Paros, don't miss spending a day at this beach.
9. Relax on Santa Maria Beach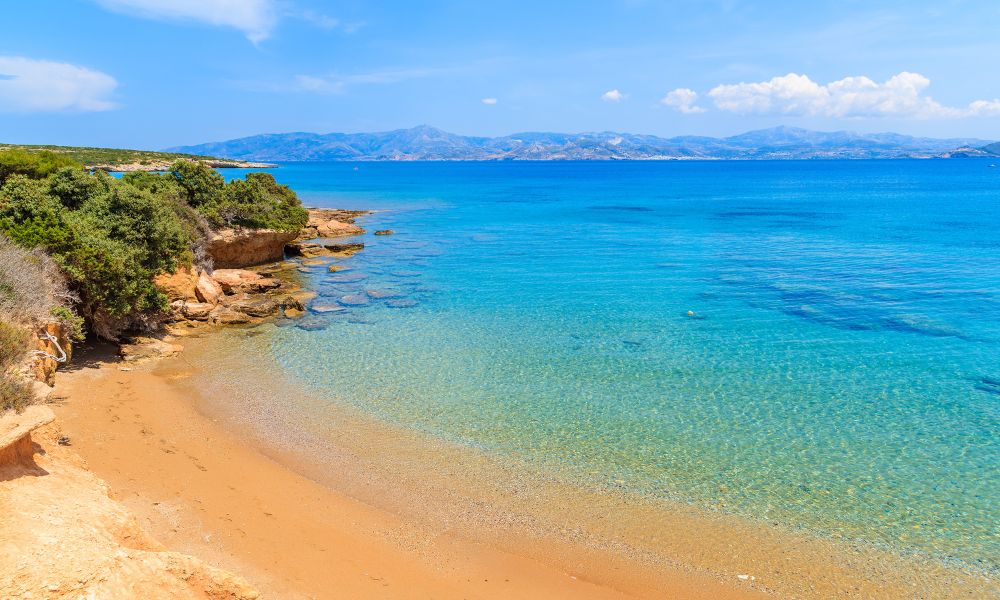 Another very popular beach that is well-known for its windsurfing, water skiing, and scuba diving facilities.
Santa Maria is located about a 10-minute drive east of Naoussa and is surrounded by beach bars, tavernas, and restaurants which gives it a more cosmopolitan feel and has been a favourite of Scandinavian families for decades.
Address: Paros 844 01, Greece. Find this beautiful beach here on the map.
---
Planning a trip to other places in Greece? Don't miss the awesome things to do in Ios, the fun things to do in Zante (Zakynthos), and the incredible things to do in Corfu! Kefalonia Island is filled with things to see and do, while Chios Island and Lesvos Island are more offtrack and offer travellers a plethora of sights and activities. Plus, if you're visiting the mainland, don't miss the top sights and things to do in Athens, and the awe-inspiring Meteora Monasteries.
---
10. Visit the Village of Ampelas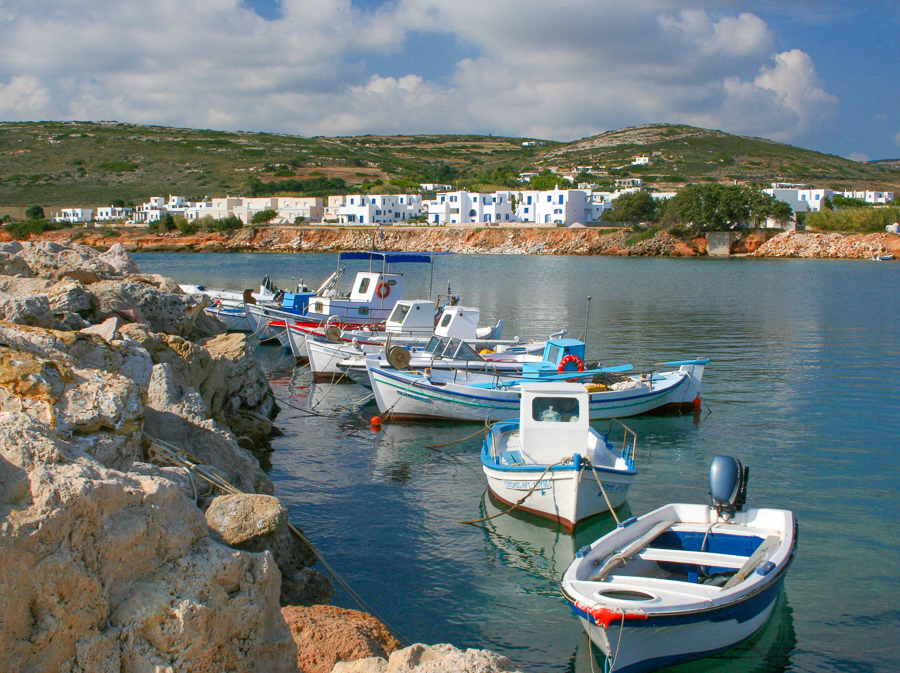 Ampelas is a small village and beach about 15 minutes drive from Naousa. There is a small man-made seawall that ensures calm water almost every day and a couple of very good tavernas on the beach, including the very popular Thalami and Christiana.
There is also a good modern restaurant/beach club on the beach called Aspro that provides sun loungers and beachside service to diners. A great spot for a long, lazy lunch and swim — with hardly any other people around. Find Ampelas on the map here.
11. Check Out the Small Village of Aliki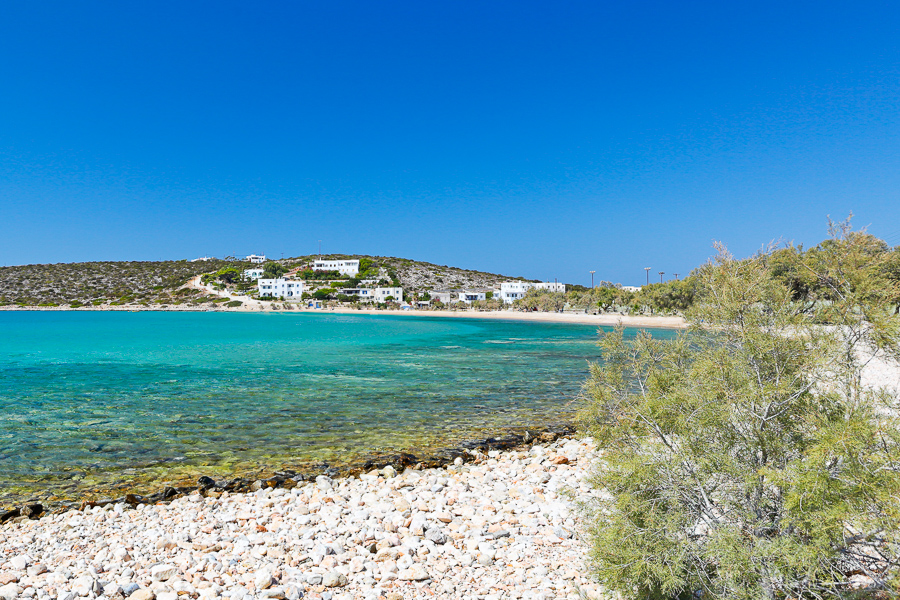 Aliki means 'salt marsh' in Greek and this village got its name from the adjoining one at the southern end of the island.
Quite close to the airport in Aliki you will also find the Cycladic Folklore Museum. Many cultural events are held in Aliki, such as the feast of St. John of Klidonas in June, the feast of Christ the Savior on the 6th of August and the feast of the Holy Cross in September.
It's a lovely village with a number of excellent seafood tavernas and small rooms and pensions to stay in. Click here to find Aliki on the map.
12. Experience Butterfly Valley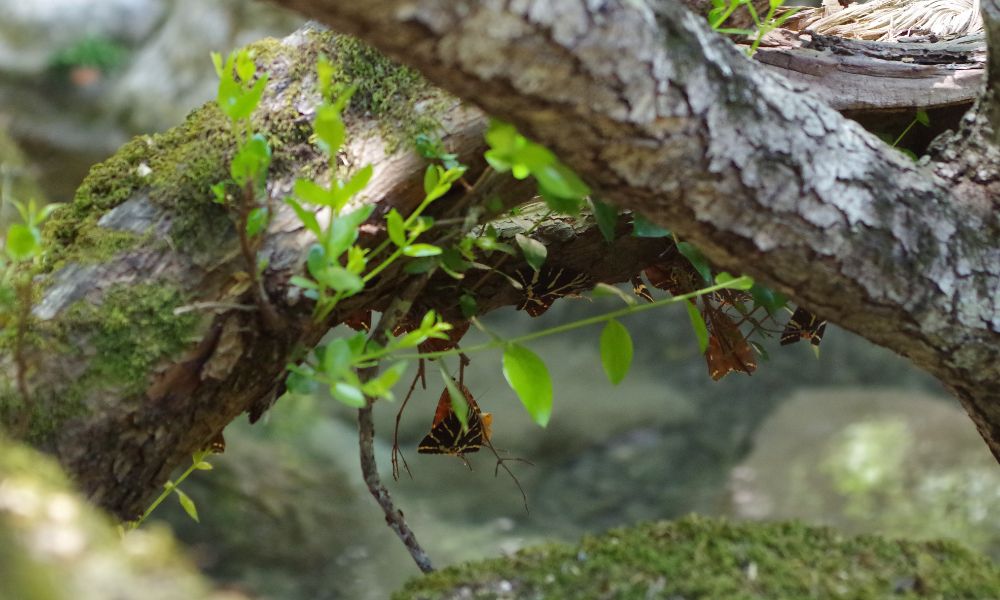 Located 5km south of Parikia, near the Monastery of Jesus of Woods, this valley is referred to as Petaloudes, which means Butterfly in Greek.
Every year during the summer months (starting in June), the valley is verdant as the Jersey Tiger Moths seem to wrap the entire valley, creating a truly breathtaking natural phenomenon.
Address: Petaloudes, 84400, Paros- Greece. Get directions here.
13. Take the Ferry to Antiparos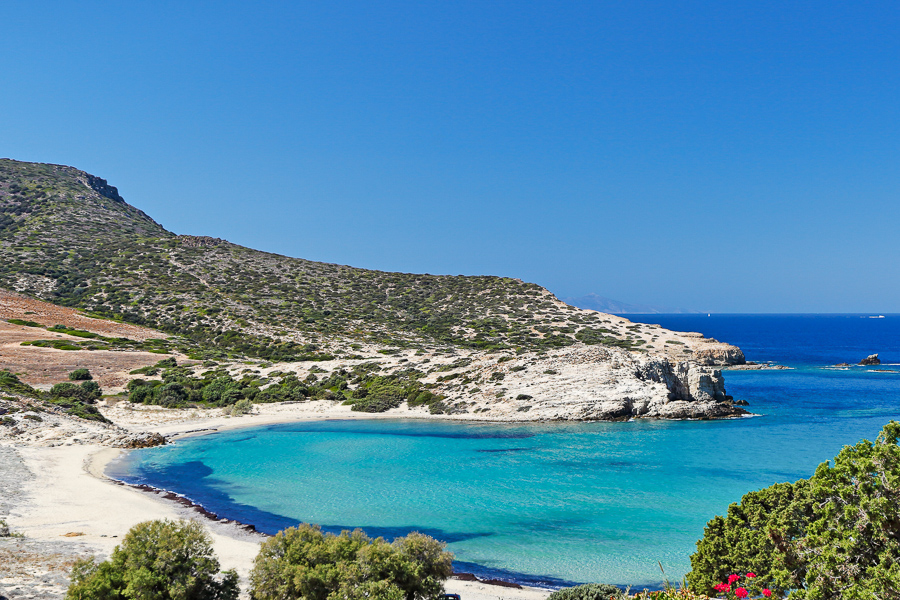 Antiparos is a very picturesque and laid-back island located just off the coast of Paros. It's a perfect day trip or if you have the time, stay a day or two. Ferries from Paros to Antiparos depart every 30 minutes from Parikia and the trip is about 10 minutes.
If you have a rental car, you can catch the car ferry from the township a little further south of Parikia in Punda, and then the trip is only 7 minutes.
Antiparos is home to a number of celebrities most notably Tom Hanks and his Greek wife Rita Wilson. They are much-loved (and protected) by the locals and participate in many local events when they visit each summer.
If you'd rather sail to Antiparos, hop aboard a catamaran! This beautiful boat will whisk you away to Antiparos, Panteronisi and Despotiko while enjoying swims in the crystal clear sea. Throughout the day, you'll eat and drink traditional Greek foods and snacks. Wine and beer are included. Find out more here.
14. Day Trip to Mykonos or Santorini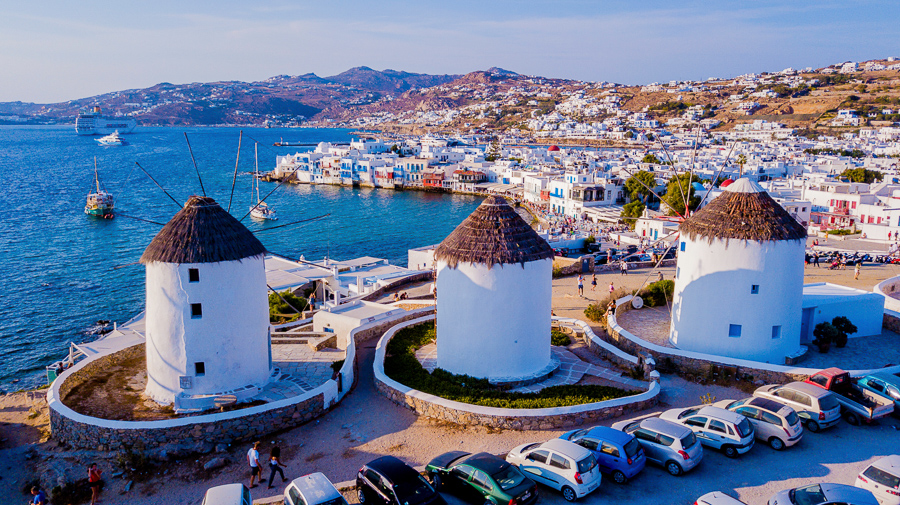 You don't need to stay on the two most expensive islands in Greece to enjoy them. There are ferries numerous times a day to Santorini and several will also stop at Naxos and Ios. A day trip to nearby islands is definitely one of the top things to do in Paros.
The Blue Star ferries are huge and more like small cruise ships with great restaurants, bars and cabins. It takes about 3 hours to get to Santorini but it can be a pleasant trip and worth it to see what all the fuss is about (trust me, it's worth it!). Click here for ferry listings.
Mykonos is only an hour away and it's quite possible to pop over for lunch, although you will unlikely be there when the hard-core partying starts around midnight.
So, if you want to enjoy the party, you'll have to spend the night if your budget allows it. If not, day trips from Paros to Mykonos are possible and still enjoyable.
15. Take a Day Trip to Naxos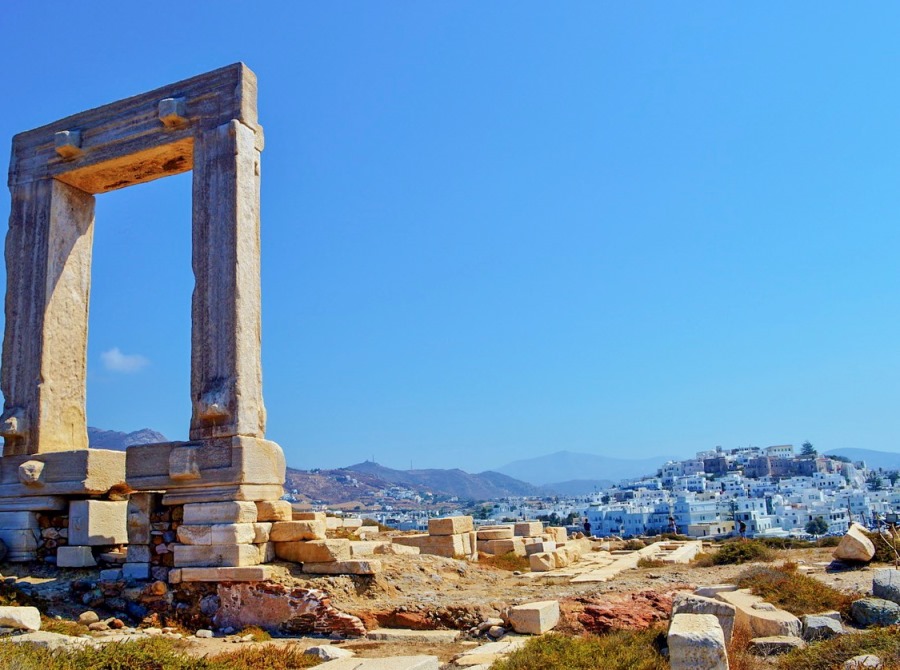 Naxos is a fabulous island only 20 minutes away from Paros and is both fascinating and fun. There are some great beaches on this huge island but you will need a car to get to most of them especially if you are pressed for time.
St. George beach at the southern end of Naxos town is a lovely calm beach, great for families, and there are a number of excellent tavernas right on the sand. While you can definitely visit on a day trip from Paros, there are numerous things to do in Naxos and excellent villas to rent…you may want to spend the night!
16. Sail the Small Cyclades
Sailing around the Greek Islands can be a lot more difficult, and expensive than people realize. On Paros, however, it's possible to join a boat, or privately charter one, from either Naousa or Piso Livadi.
Enjoy a stunning day trip around the Small Cyclades, a group of spectacular islands at the southern end of Naxos which include Koufanisi and Danousa.
The cost of this tour varies dramatically depending on the size and style of the boat, which islands you visit, the duration of the trip, and how many people are on board.
Expect to pay anywhere from 20 euros ($23) per person to 150 euros ($165). Click here to learn more about boat trips around the Small Cyclades.
17. Go Shopping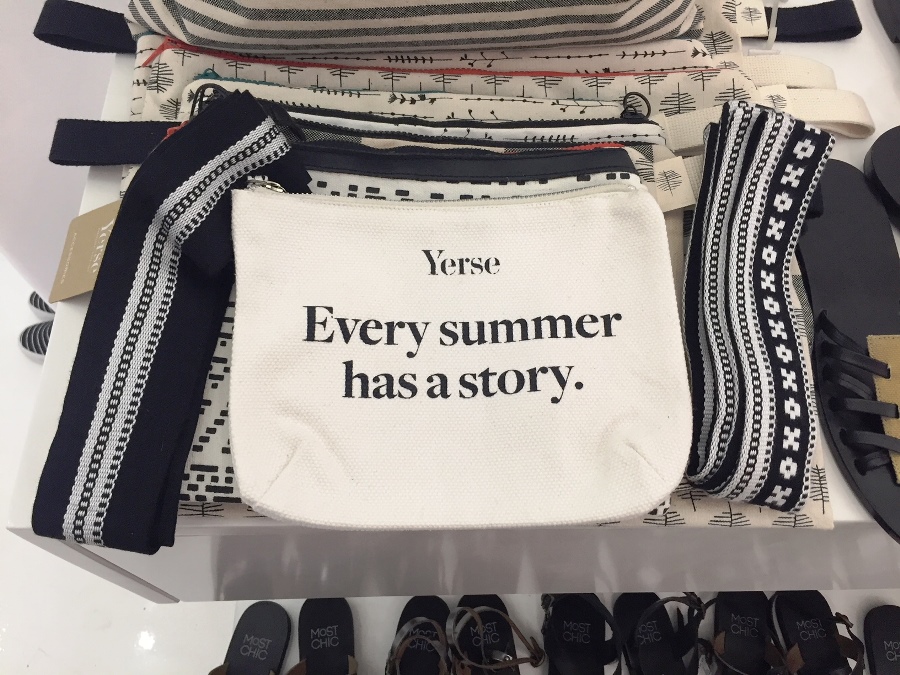 There are some great little boutiques and stores in both Parikia and Naousa and even a few funky places in the smaller villages as well.
There are small markets, high-end boutiques, and local Greek designer wear and jewellery, much of it very affordable. If you're looking to find something special to take home from your trip this would definitely be the place to do it.
18. Visit a Winery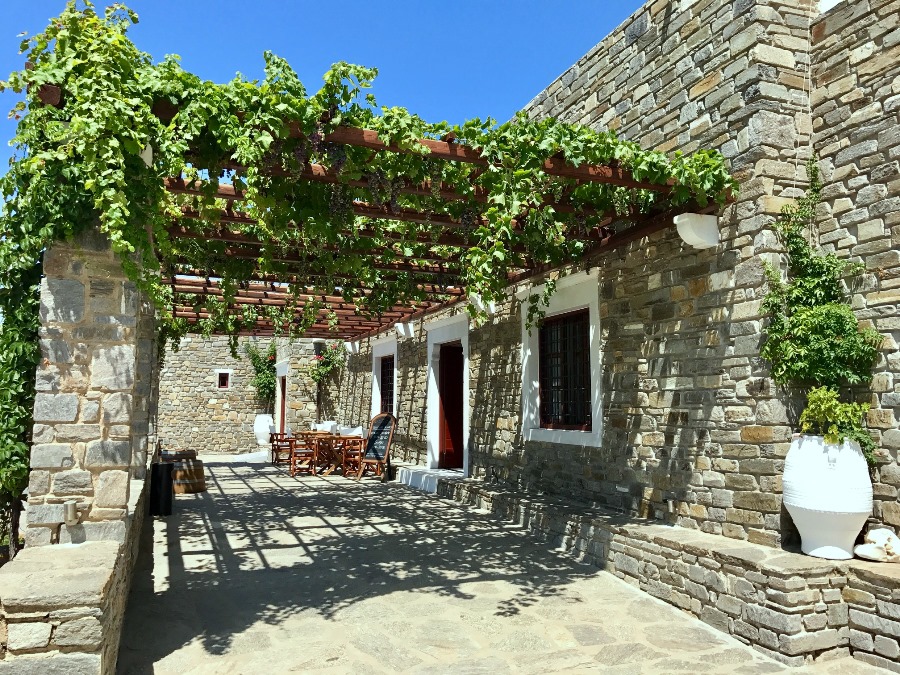 There are a couple of excellent wineries on Paros. Established in 1910, Moraitis Winery is just at the back of the town of Naousa and has a very good cellar that also sells light meals and cheese platters.
The ideal climate conditions of the Cycladic landscape have led to the production of some great reds, whites and rose wines.
You may notice as you drive around the island that the vines are left to grow on the ground instead of on a trellis. This is so the wind doesn't blow the grapes away during the Meltemi (strong winds that blow through the Cyclades from July – September).
If you're into wines, a trip to a winery is one of the top things to do in Paros.
Moraitis Winery Address: Epar.Od. Naoussas-Marpissas, Naousa 844 01, Greece. Get directions here.
19. Attend a Festival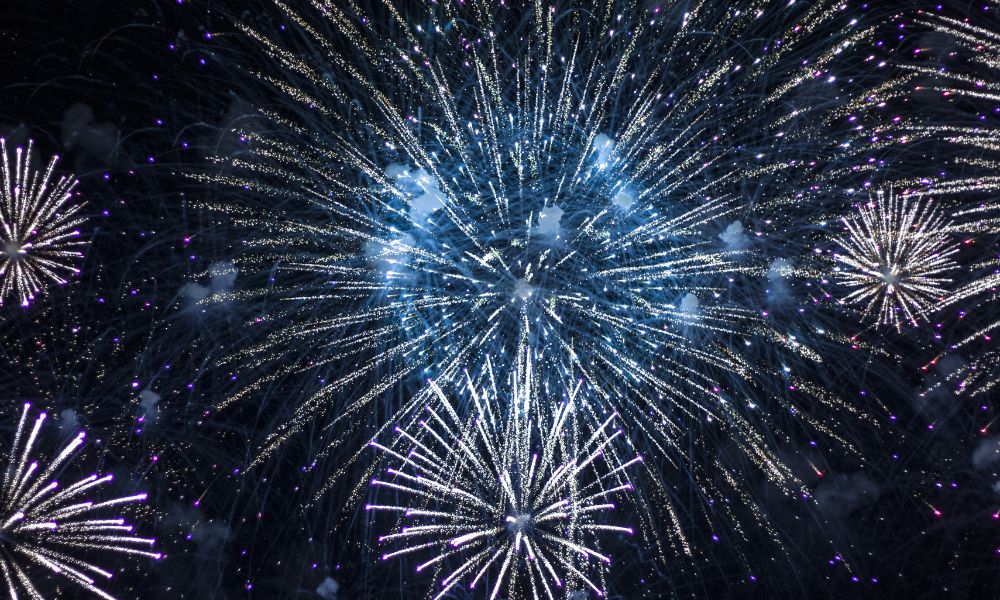 The Greeks love a festival and there are more than 10 religious festivals on Paros between July and September alone! Find a full list here.
The Pirates Festival is a colourful celebration representing the raids of the pirates in Paros that were usual in Medieval times. Young boys dress in traditional pirate costumes and jump from the caciques (fishing boats) running through the crowd to snatch the young girls away. Fireworks, traditional music, and dancing coincide with much feasting and frivolity.
Another very popular event is The Fish and Wine Festival which takes place in Marpissa on the first Sunday of July.
Small or larger festivals involving art exhibitions, dance and music events, concerts, theatrical performances or book fairs are scheduled towards the end of the summer. These festivals and events are among the top cultural things to do in Paros.
20. Indulge in Fine Dining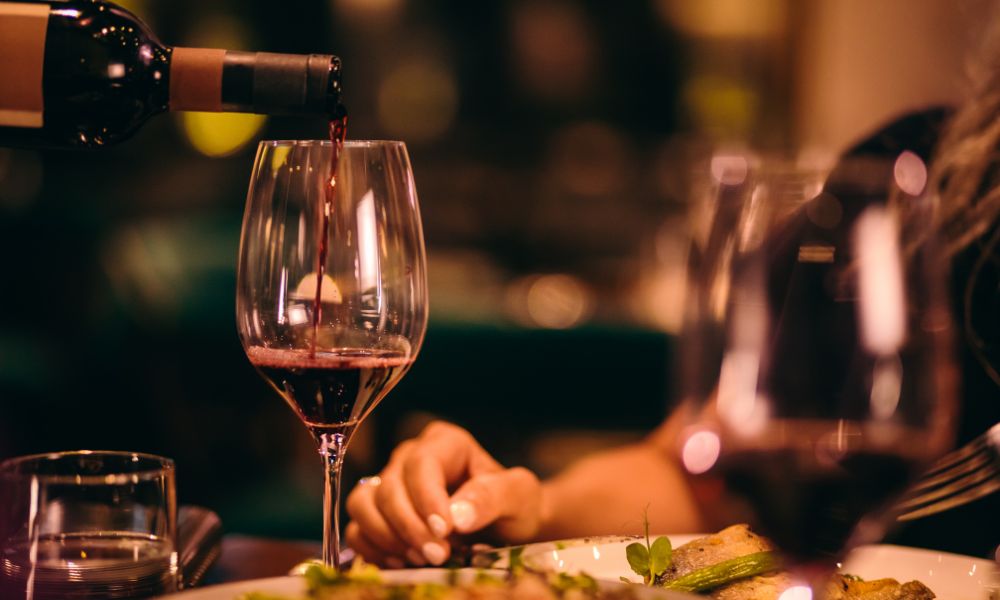 While traditional tavernas abound across the island, there are a number of excellent fine dining choices too.
Incredible sunsets and white tablecloth service is found at Siparos a few minutes' drive past Naoussa — we enjoyed a very special group birthday celebration here recently.
The Seven Senses Gastronomy in Drios is successfully filling a gap at the southern end of the island, and if you're looking for a change from seafood and Greek cuisine, Le Sud in Naousa is worth a look.
21. Watch the Incredible Sunsets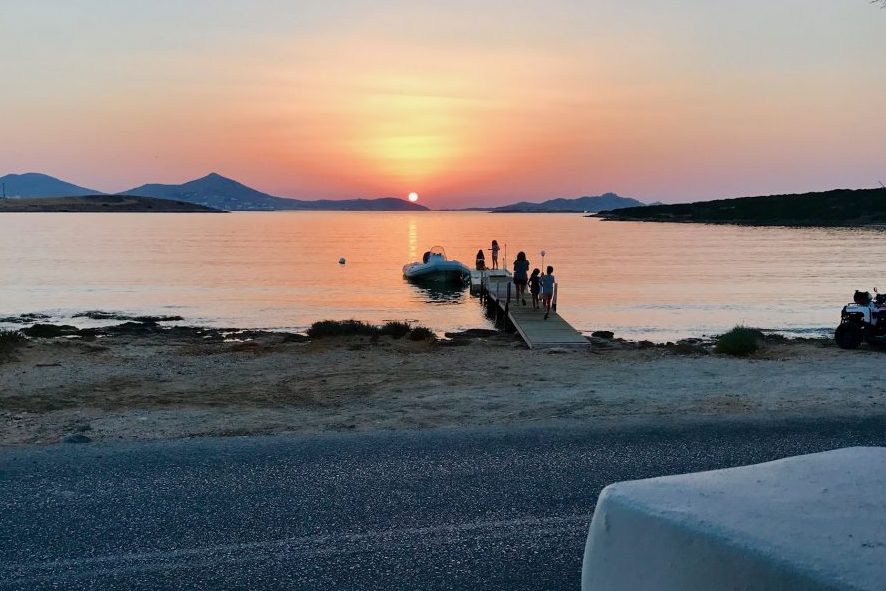 All of the Cycladic islands offer incredible vistas of the famous Mediterranean sunsets and it's easy to find many west-facing locations.
On Paros, Parikia and west-located villages like Punda have the best spots but there are restaurants such as the above-mentioned Siparos that also have magnificent golden views in the evenings.
The beauty of a Greek sunset is the sun is so large and sets quite slowly. It's a very hypnotic effect!
Other Activities in Paros
A fun way to explore the island is to rent your own boat and be a captain for a day! These small speedboats are a lot of fun – pull up at secluded coves, moor up and jump off for a swim, and have the freedom to go where you want. If you don't feel comfortable driving, you can also hire a captain. Find out more and book your boat here.
If you're interested in local experiences, food, and cooking, you won't want to miss this incredible cooking class.
Create a tasty meal with a chef who grew up in Paros. Through the experience, you'll learn her grandmother's recipes, make new friends, and enjoy a meal with wine and ouzo. Learn more about this highly-rated experience here.
If art is more your thing, head out to create your own marble sculpture. The perfect souvenir from Paros! Find out more about this fun experience in Paros here.
Visiting Paros: FAQ's
What is Paros best known for?
Paros is best known for its high-quality white marble, fun festivals and parties, and of course, its beautiful beaches.
Is 2 days enough for Paros?
With 2 days in Paros, you'll be able to explore a few of the villages and beaches. Rent a car to explore at your own pace and stop where you want to. Give yourself more time if you want to join a fun boat tour, a cooking class, visit a winery, and have time to relax and unwind.
What's the best thing to do in Paros?
The best thing to do in Paros is to get out on the water! Join a catamaran or sailboat trip and enjoy the day. Or, hire your own boat to explore the coastline. Finally, if you don't want to be out on the water, you can simply enjoy swimming from one of the many beautiful beaches.
Which is nicer Naxos or Paros?
Naxos and Paros are both beautiful islands in Greece. Paros has a bit more going on than Naxos. Paros is a flatter island while Naxos is more mountainous. Both of the islands have excellent beaches and restaurants, and due to the winds, Naxos and Paros are known for their watersports (kitesurfing, sailing, windsurfing).
Now You Know What To Do in Paros
There are so many things to do in Paros (and eat!) that I could go on forever. The "island for everyone" really does live up to its reputation and for that reason, we will continue to visit each year.
If you are lucky enough to be visiting Greece for the first time or even your 30th time, make sure Paros is on your itinerary.
Like This Article? Pin it!