The capital of the southeastern Puglia region of Italy, Bari, is a vibrant port city on the Adriatic Sea. Known for its atmospheric Old Town, medieval churches, stunning beaches, and delicious food and wine, there are so many incredible things to do in Bari.
I spent time in Bari last month and really loved the city. It receives far fewer tourists than other Italian cities like Rome, Florence, and Naples, it's much cheaper and has a really authentic and laidback vibe.
In this post, I'll describe some of the top things to see and places to visit in Bari. Some of these are free, others you have to pay for, but all are great and definitely worthwhile.
Best Things to Do in Bari
However long you have to spend sightseeing in Bari, I recommend checking out at least some of the following.
1. Explore the Citta Vecchia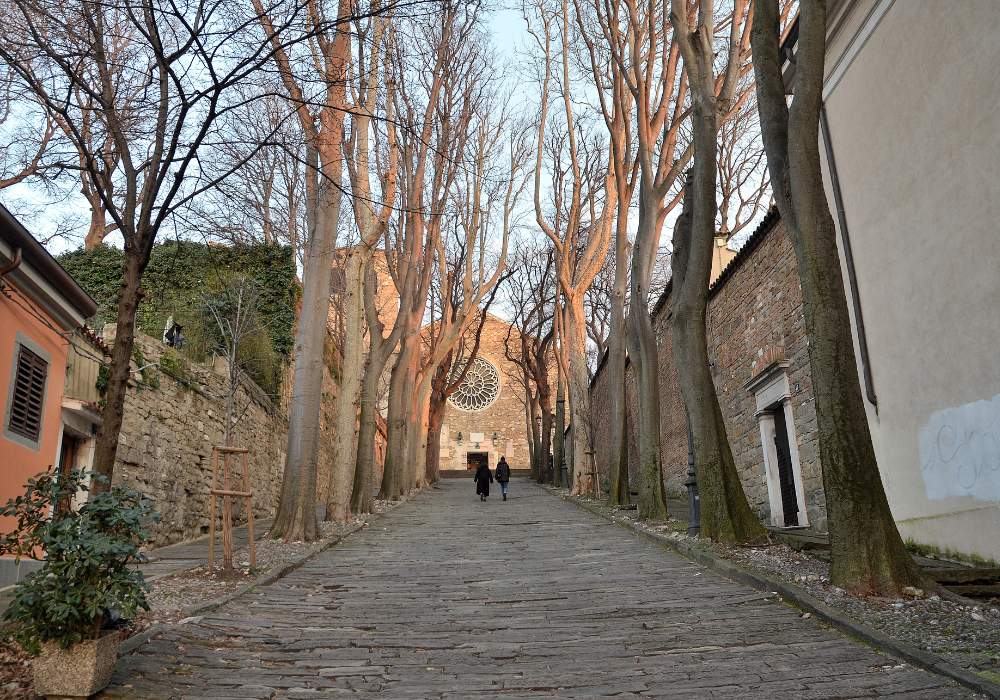 Many of the top places to visit in Bari are located in its Old Town – a maze of narrow, winding streets and back alleys that lies just south of the modern port area. It's a fascinating place, with more than 2,000 years of history.
The majority of the historic buildings in Citta Vecchia are intact, and the whole district has a wonderfully unique feel. It's easy to get lost wandering through the backstreets, but this is part of the fun.
Every corner you turn you'll see something new. Women sit at wooden tables in the street making handmade orecchiette pasta, picturesque little squares are decorated with flowers, and locals sit together chatting over a coffee or glasses of wine.
The whole place feels like a time warp, and you get the sense that life hasn't changed much here in hundreds of years. It's an amazing place to while away a few hours and exploring it is one of the best activities in Bari.
2. Visit the Basilica Di San Nicola
Dating back to the 12th century, the Basilica of Saint Nicholas was built on the site of a church that was destroyed by an earthquake in 1089.
The exterior of the basilica is incredibly ornate, with two large towers and a stunning façade. The interior is just as impressive, with beautiful mosaics and paintings adorning the walls and ceilings.
It's dedicated to Saint Nicholas (AKA Saint Nick, or Santa Claus, of Christmas Eve fame), who was born in Patara, in modern-day Turkey, and later became the Bishop of Myra.
The remains of Saint Nicholas are actually buried in the crypt of the basilica, and it's a place of pilgrimage for Orthodox Christians from all over the world.
Address: Largo Abate Elia, 13, 70122, Bari BA, Italy
3. Check Out Bari Cathedral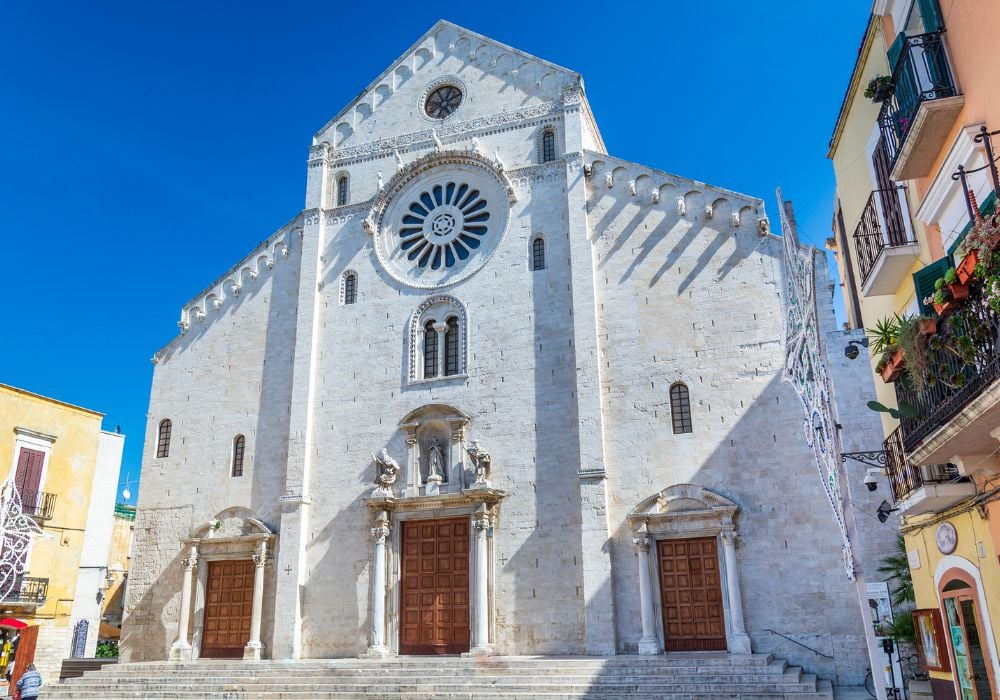 Another church in Bari that's worth visiting is the Cattedrale Metropolitana Primaziale San Sabino (or Bari Cathedralfor short), which dates back to the 11th century.
The cathedral is located in the heart of Citta Vecchia and is a beautiful example of Romanesque architecture. Inside, the cathedral's treasury (Tesoro) contains a series of precious relics and other historical artifacts, as well as a museum.
Underneath the cathedral lies a series of archaeological excavations, showing the remains of an ancient Roman road from the 2nd century and a Byzantine church from the 9th century. There are also the remains of a beautifully ornate mosaic.
Address: Piazza dell'Odegitria, 70122, Bari BA, Italy
4. Take a Historical Walking Tour of Bari
One of the best ways to learn about the rich and fascinating history of this amazing city is to take part in a historical walking tour of Bari.
There are several different tours to choose from, but I recommend this one. Your passionate local guide will show you around the city's most important and iconic sights, and teach you about the history, culture, and lifestyle of the people of Bari.
I thought I knew a lot about what to do in Bari, but after taking this walking tour, I realized there's so much more to the city.
5. Chill Out at the Beach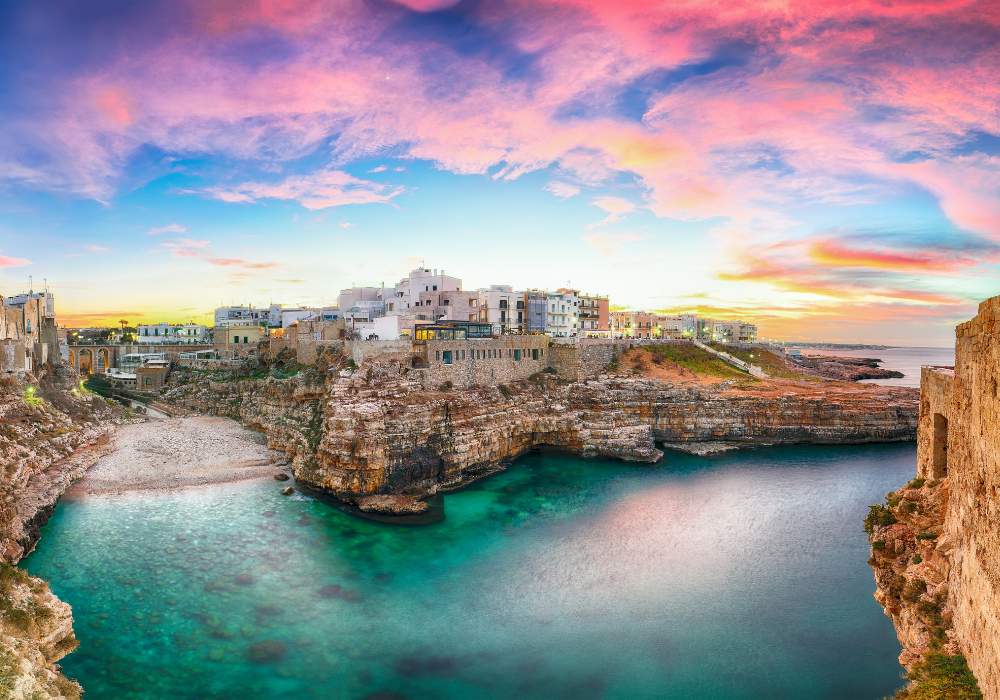 Puglia is home to some of the best beaches in Italy. Many of these are located a short distance from Bari and make a perfect day trip (or half-day trip) away from the city.
Perhaps the most famous beach near Bari is Lama Monachile (also known as Cala Porto), in the pretty little town of Polignano a Mare. This small white pebble beach is at the end of a steep-sided rocky canyon framed by vertical cliffs and has gorgeous turquoise water.
Other great beaches near Bari include Cala Paura (also in Polignano a Mare) and Cala Porta Vecchia (in romantic Monopoli). These are all easy to reach with public transport (train or bus) from Bari.
However, if you don't have time to leave the city, you can still enjoy some beach time. Check out Pane e Pomodoro Beach, a sandy beach 3 kilometers southeast of the city center. The name translates as "Bread and Tomato" (don't ask me why).
6. Go on a Street Food Tour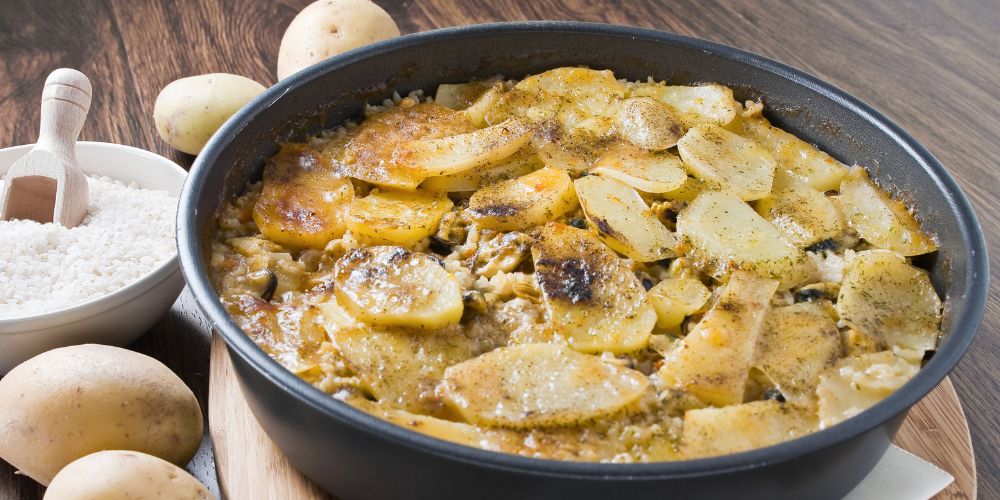 Bari is famous for its delicious street food, so be sure to try as much of it as possible while you're in town. One of the best ways to sample some of Bari's best street food is to go on a street food tour.
This is an excellent option and will introduce you to some of the city's most famous dishes. You'll visit popular local places, and immerse yourself in Bari's rich culinary culture.
Some of my favorite local Puglia specialties include:
Orecchiette pasta with sautéed broccoli rabe (also known as rapini).
Tiella – a hearty traditional dish made with rice, potatoes, and mussels (think of it as a Puglian paella).
Focaccia Barese – probably the best focaccia you will ever eat, topped with ripe tomatoes, olives, olive oil, and oregano.
Polpette – cheesy fried dumplings made using stale bread (and sometimes fish, meat, or vegetables), either served crispy by themselves, or in a rich sauce.
7. Explore Castello Svevo (One of My Favorite Places to Visit in Bari)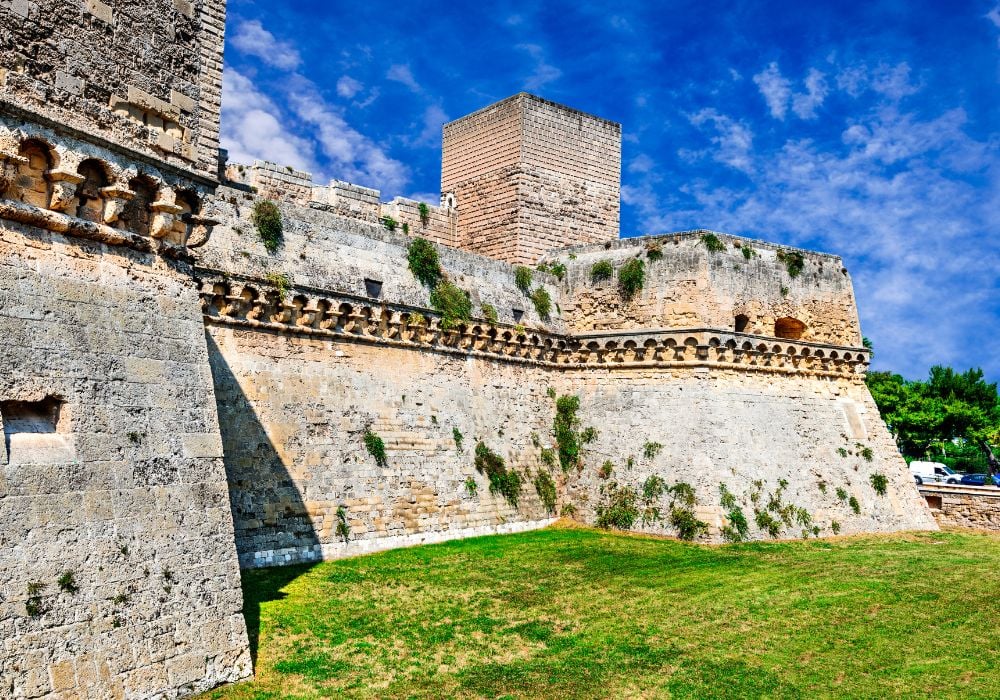 Castello Svevo di Bari is a Norman castle that was built, destroyed, and then rebuilt in the 12th and 13th centuries. It's an imposing structure right next to the sea, and with its thick walls and moat, it's easy to imagine how this castle served as one of the old city's main points of defense throughout the centuries.
The castle has been through a lot historically and has been damaged by earthquakes on several occasions. Despite this, the whole structure is amazingly well intact.
Today, the castle is used as an exhibition center and a museum dedicated to the history of the castle, as well as the city of Bari more widely. Exploring the giant rooms and extensive grounds is extremely evocative and is definitely one of the best places to see in Bari.
8. Stroll Along the Seafront Promenade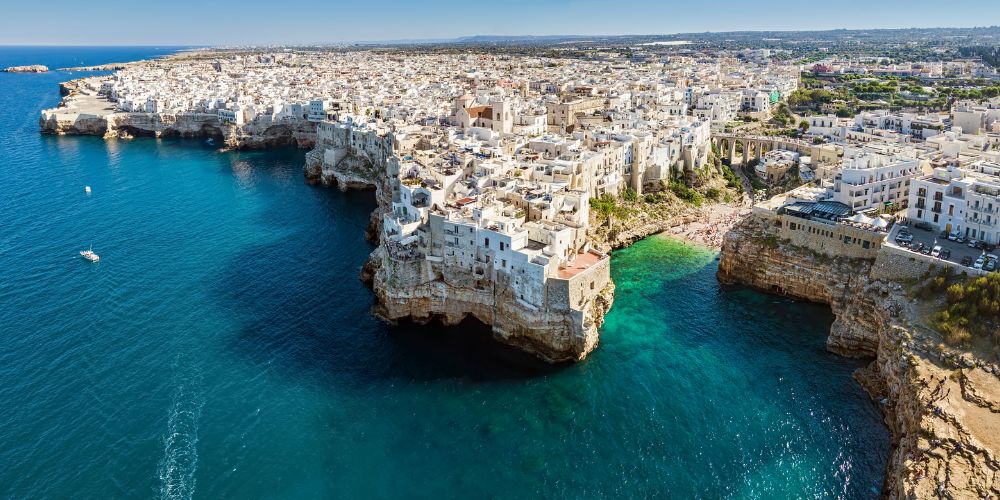 Bari has a beautiful long promenade (called Lungomare Nazario Sauro) that runs along the seafront. It's a great place to take a stroll, relax, and take in the views. There are also several cafes and restaurants along the promenade, so you can stop for a coffee or a bite to eat if you like.
You can also extend the walk all the way to the Molo Sant'Antonio lighthouse, which is located at the end of the sea wall marking the entrance to the sailing and pleasure boat harbor. This used to be the city's main harbor, until the construction of the larger commercial Port of Bari in 1850.
Here you're likely to see people fishing and hanging out with friends, painting boats, or taking sailing lessons in the sheltered marina. I love to sit and watch all this go on while enjoying the fresh sea air.
In the evening, the promenade comes alive with locals and tourists alike, and people come to watch the spectacular sunset. This is one of my favorite things to do in Bari at night – there's just a really lovely atmosphere here.
9. Take a Traditional Puglian Cooking Class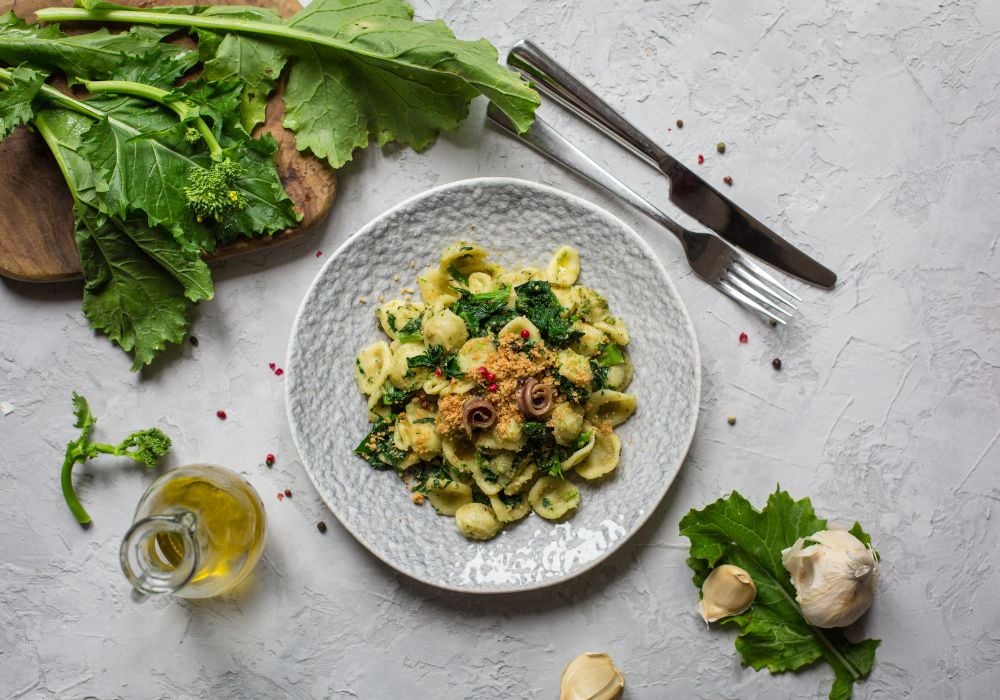 Puglian food tends to be fairly simple and showcases the freshness and high quality of local and seasonal ingredients, including tomatoes, beans, artichokes, peppers, and seafood.
For an unforgettable experience where you can learn how to make some classic and delicious, local dishes, take a traditional Puglian cooking class. There are several different classes to choose from, but I recommend this one, which takes place at the host's home, close to the Central Station.
During the class, you'll learn how to make fresh orecchiette (Puglia's famous pasta that looks like little ears), traditional focaccia Barese (with oregano and fresh tomatoes), and sauces with recipes and techniques passed down through generations. This is one of the most fun things to do in Bari – I highly recommend it!
10. People-Watch in the Piazza Mercantile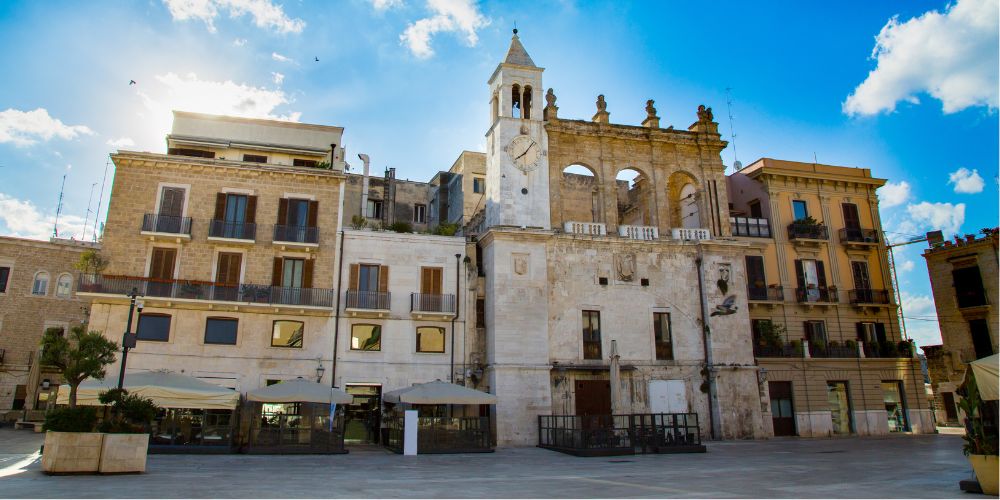 Piazza Mercantile is one of the main squares on the edge of the Old Town of Bari. It's a great place to sit with a spritz or gelato and people-watch.
This historical medieval square has been a meeting place for centuries. People have come here to trade their goods ever since the 14th century, and even today it's a popular spot for locals to meet and hang out together.
The buildings around the square are incredibly picturesque, including the Palazzo della Dogana, the 16th-century clock tower, and the baroque Fontana della Pigna fountain. Taking a seat and enjoying this pretty little corner of the city is one of the best free things to do in Bari, Puglia.
11. See Bari on a Segway Tour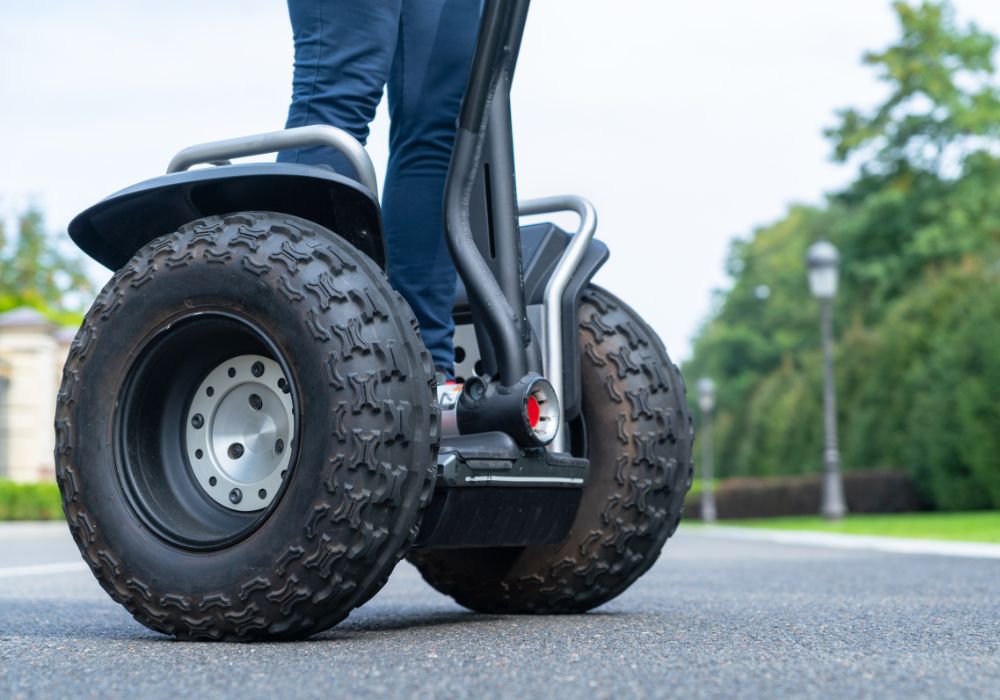 Segways can be very divisive: some people love them, and some people really don't. If you're in the first camp, consider joining this tour.
After a quick briefing, you'll set off exploring some of the city's better-known sights, as well as some hidden gems and secret spots. You'll visit places in both the Old Town and the modern city, including the Petruzzelli Theater and Bari's main fish market.
And at the end, you can enjoy some delicious traditional homemade ice cream. I had a great time on the segway, but maybe the ice cream was my favorite part.
12. Chill Out in Parco 2 Giugno
Parco 2 Giugno is a public park just south of the center of Bari. It's a popular spot with locals and is the perfect place to relax and take a break during a busy day of sightseeing.
The park has a variety of different plants and trees, as well as a lake that's home to turtles, ducks, and other birds. If you're looking for things to do in Bari for families, I recommend checking this place out.
There's also a playground for children, and a little cafe kiosk selling coffee, water, beer, and other refreshments.
13. Go on a Sailing Trip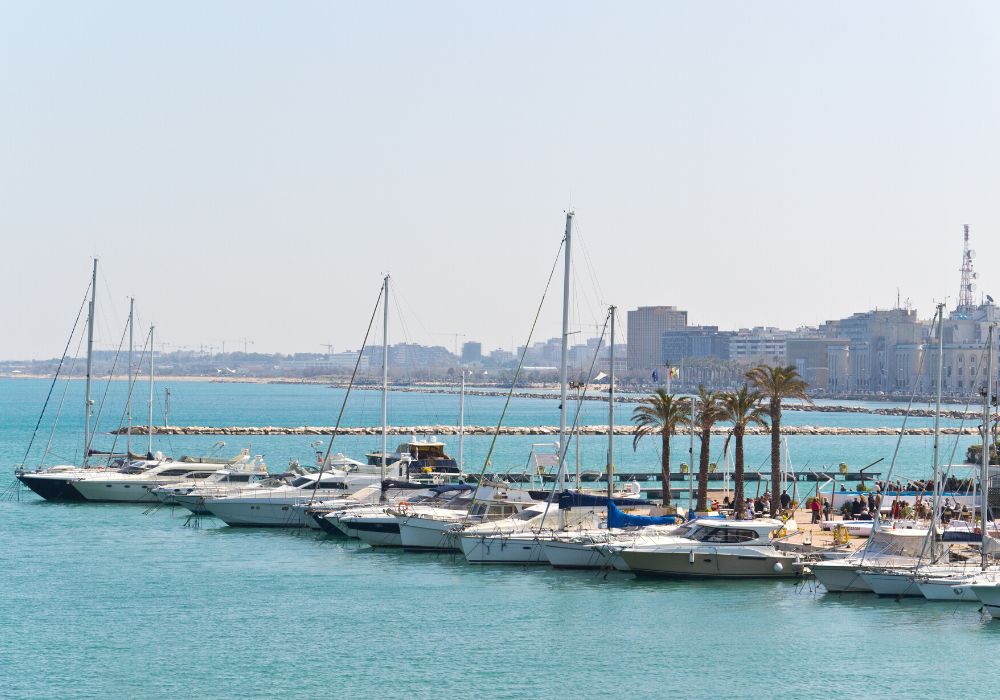 Bari is located on the Adriatic Sea, and sailing is a popular pastime here. There are several operators that offer sailing trips from Bari, and you'll get to relax on deck and enjoy the stunning coastline as you sail past.
Being on the water gives you a unique perspective of Bari itself, and many sailing trips allow you the chance to swim in the clear blue waters of the Mediterranean. It's fairly common to see dolphins and a range of other aquatic life while you're on the boat too.
This is an excellent sunset sailing trip that has fantastic reviews and is one of the best things to do in Bari for couples. What could be more romantic than sitting on the deck of a sailboat, watching the sunset over the sea, with an aperitivo in hand?
(To be honest, even if you're traveling by yourself, this is still a pretty awesome experience!)
14. Snag a Bargain at Poggiofranco Market
Mercato di Poggiofranco is one of the largest open-air markets in Bari and is the perfect place to pick up some souvenirs. The main market takes place on Saturday mornings, from 8 am until around 1.30 pm.
To find the market, head to Viale Madre Teresa di Calcutta, which is located 2.5 kilometers south of the Central Station, in the Poggiofranco district. You can either walk or take a bus, or a taxi.
Here you'll find a huge range of items from clothes, shoes, and accessories to food and drink, homeware, and kitchen utensils. You name it, you'll probably get it here.
You'll also find stalls selling locally made products, which make great gifts to take home. If you're in town on a Saturday and are looking for a bargain, and an insight into the lives of the people who live in Bari, I recommend swinging by Mercato di Poggiofranco.
15. Take a Trip to Monopoli
Monopoli is a beautiful coastal city and one of the best places to visit near Bari. It takes about 40 minutes to drive there, or you can catch the regional train from Bari Central Station, which takes about 35 minutes.
At the heart of Monopoli is the centro storico, or historical center – a labyrinth of beautiful old whitewashed buildings, with green window shutters, colorful flowerboxes, and cobbled streets polished smooth by hundreds of years of passing feet.
There's also an ancient fishing harbor that's still used today, where you can see local fishermen bringing in their catch, ready to be taken straight to the city's restaurants.
If you're looking to spend some time on the beach, check out Cala Porta Vecchia, which is located just south of the main Old Town.
I also recommend taking a stroll along the paved pedestrianized walkway that runs along the edge of the Old Town, next to the seafront. It's beautiful here at any time of day but it's especially magical and atmospheric at sunset.
See full post: 15 Best Things to Do in Monopoli.
16. Learn About the City's History at Museo Civico
The Museo Civico is a small museum dedicated to the history of Bari. It's located in an old palazzo in the Old Town and is definitely worth a visit if you're interested in learning about the city's past.
The museum houses a collection of historical artifacts, as well as a library and an archive. There's also a section dedicated to the city's traditional culture, which is really interesting.
The museum hosts a range of events and exhibitions throughout the year. See here for more information on what's on during your visit.
Address: Str. Sagges, 13, 70122, Bari BA, Italy
17. Make A Day Trip To Alberobello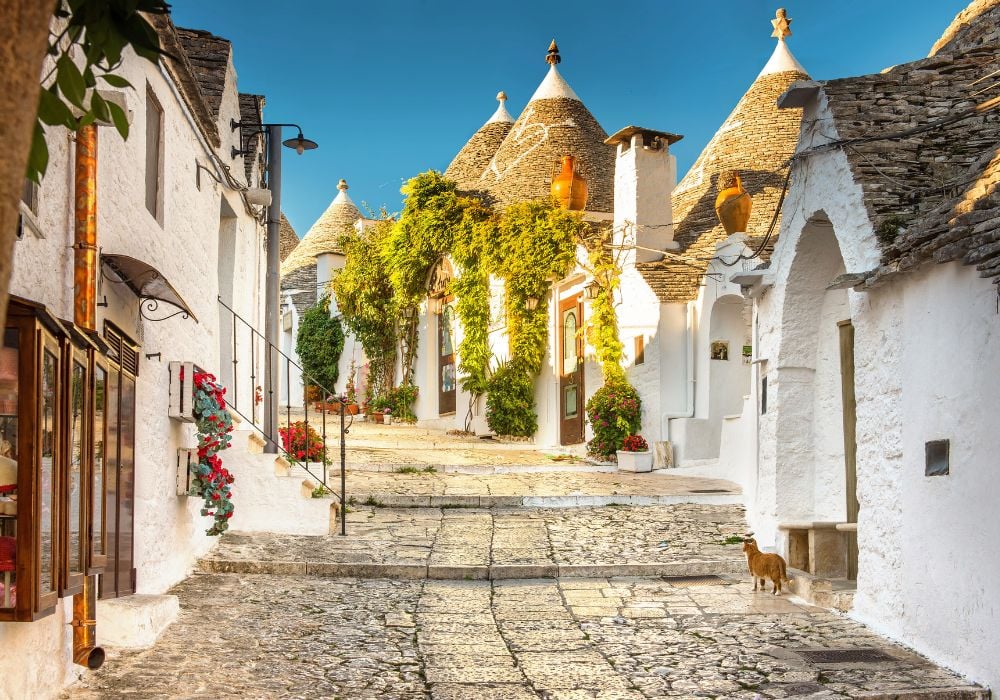 Alberobello is a small Puglian town famous for its unique "trulli" houses – traditional conical-roofed dwellings that are made entirely from stone.
If you have the time, there are many other things to do near Bari, and Alberobello is one of the most interesting.
It's about an hour away from Bari by car, and there's also a bus that runs between the two places (although this does take almost twice as long). An easier option if you don't have your own car is to take a guided trip from Bari (see below). Learn more about Alberobello in this post.
18. Check Out the Teatro Petruzzelli
The Teatro Petruzzelli is one of the most important cultural institutions in Bari. It's a large theater and opera house that regularly hosts a range of theater, ballet, opera, and concert performances.
The building itself dates from 1904 and is incredibly ornate and beautiful inside. Even if you're not planning to catch a performance there, it's still well worth taking a look inside.
Address: Corso Cavour, 12, 70122, Bari BA, Italy
19. Join a Bike Tour
Another fun way to see the main tourist attractions in Bari, Italy is to take a bike tour. You'll cover far more ground than you could on foot, so it's a great way to see more of the city, especially if you only have a limited amount of time.
This tour has excellent reviews and will take you through the Old Town of Bari, as well as a few of the city's other, less-visited neighborhoods. Your guide will also take you to one of their favorite ice cream shops for you to cool off and enjoy a well-earned treat.
Alternatively, you could always hire a bike and explore by yourself. But for the tour, click here for more information.
20. Go on a Day Trip to Matera
Matera is a city in the neighboring region of Basilicata. Historians believe Matera to be the third-oldest continually inhabited city in the world, and that people have lived here for at least 9,000 years.
Built on top of a rocky hill, it's really spectacular and definitely worth a visit. The city is best known for its Sassi District, which is home to a complex of prehistoric cave dwellings and a medieval rock church carved into the mountain.
Tip: When deciding what things to do around Bari, if you had to pick only one of Alberobello or Matera to visit, personally I would go with Matera. I found it more atmospheric and less touristy. However, if you'd like to visit both cities in one day, consider joining this guided trip.
Quick Travel Itineraries for Bari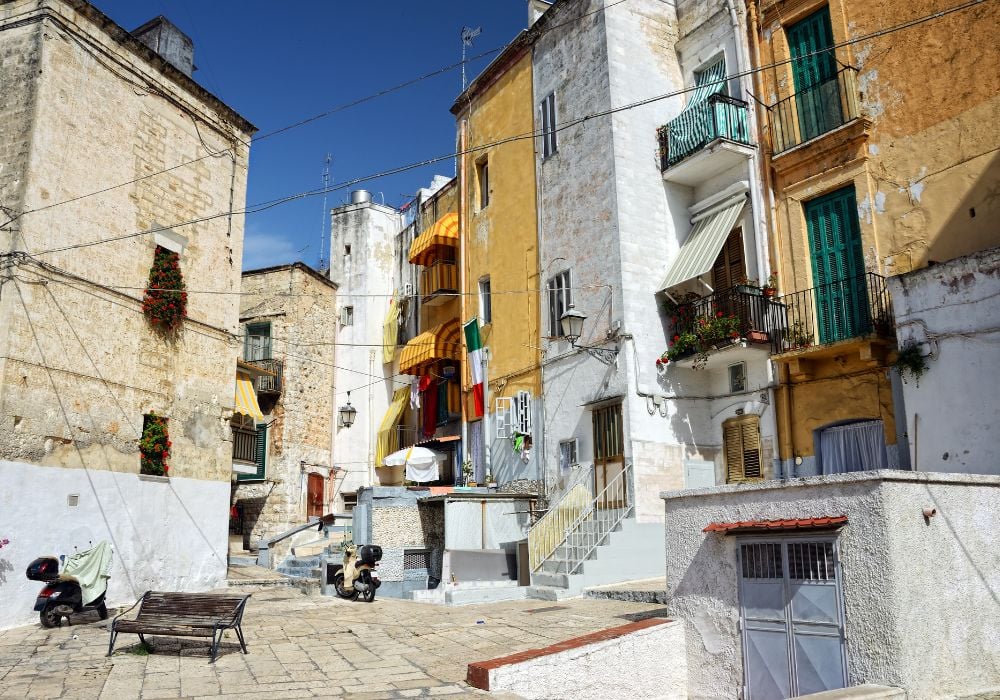 Here are a few suggested itineraries to help you decide what to see and do in Bari.
1 Day in Bari Itinerary
You can see most of the main Bari attractions in one day.
Start your day by exploring the Old Town. Visit the Basilica di San Nicola, the Castello Normanno-Svevo, and the Cattedrale di San Sabino. Then head to the Murat district for some shopping.
Later on, head to the beach for a swim, and end your day with a meal at one of Bari's excellent restaurants.
2-3 Days in Bari Itinerary
If you have two or three days, you can explore Bari's surroundings as well as the city itself.
Spend the first day exploring the city, as per the above itinerary. On day two, take a day trip to either Matera or Alberobello (or, if you'd like to see both places in one day, consider joining this tour).
If you have a third day, take the train to the nearby town of Polignano a Mare, which is perfectly picturesque and home to some of southern Italy's best beaches, including Lama Monachile and Cala Paura. End your last day with this amazing sunset sailing trip.
1 Week in Bari Itinerary
With a week, you can comfortably do all of the activities in Bari I've described in this post, and still have some spare time to spend however you wish.
I recommend spending at least two days in the city itself, essentially following the above itinerary, but giving yourself more time to enjoy each activity and spend longer in each place. On one of your Bari days, hiring a bike will enable you to see even more of the city.
With the additional days, I'd recommend taking day trips to Monopoli and Matera/Alberobello. And if you want to spend a whole day on the beach, go right ahead.
Where to Stay in Bari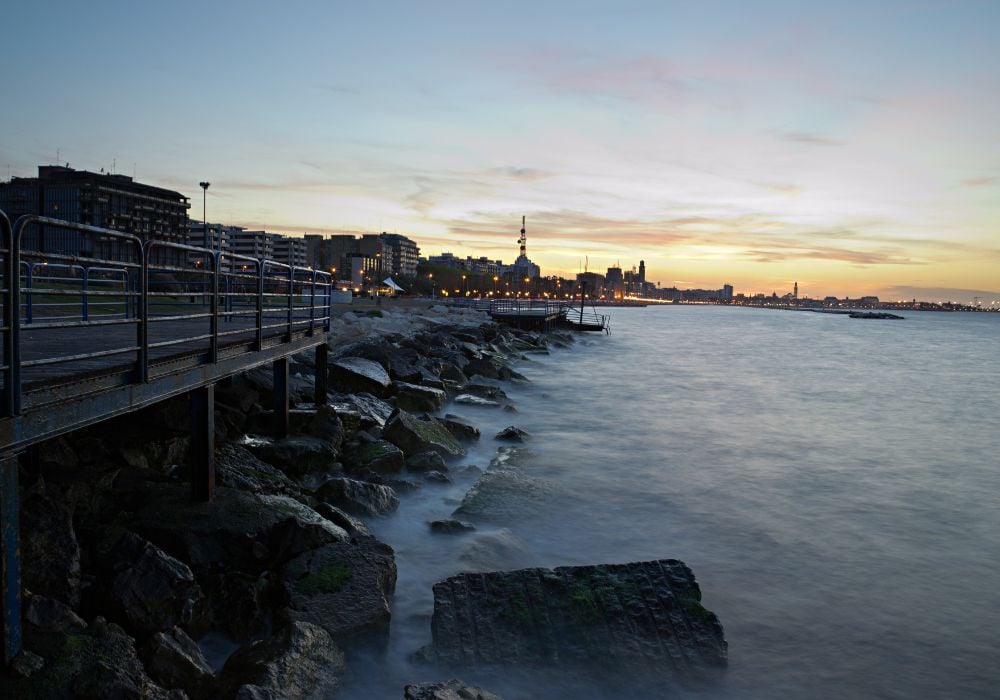 These are a few of the best neighborhoods in Bari for tourists.
Bari Vecchia – Best for First-time Visitors and Sightseeing
Bari Vecchia (Old Bari) is the historic center of Bari and is where you'll find most of the city's most famous sights and attractions.
It's super atmospheric, with a maze of cobbled backstreets, and many quaint restaurants and cafes spilling out into the attractive little plazas. Check out this great accommodation in Bari Vecchia.
Murat – Best for Shopping and Nightlife
Located just south of Bari Vecchia, Murat is the modern heart of Bari. Here you'll find many of the city's best shops, restaurants, and bars. This is a great place to stay in Murat.
Madonnella – Best for Beach Lovers
If you want to be close to the beach, I recommend staying in Madonella. Here you'll be near Pane e Pomodoro beach (the best beach in the city), as well as the Lungomare Nazario Sauro seafront promenade where there are also loads of cafes and bars that are particularly popular with locals.
Have a look at this excellent apartment in the area.
Best Restaurants in Bari
There's amazing food throughout Bari. If you're looking for some specific recommendations, check out these places.
Al Pescatore
Located right next to the Castello Svevo, Al Pescatore serves some of the best fresh fish and seafood in the city. The quality is excellent and the prices are reasonable. Try the traditional local raw fish and the fritto misto (mixed fried seafood).
Assaporando le Delizie Pugliesi
This traditional little restaurant is in a small square next to the Metropolitan Cathedral, in the heart of Bari's Old Town. They serve delicious pasta and a range of other local specialties, all of which are cheap and fantastic.
Their menu changes frequently, but I had the orecchiette pasta with broccoli rabe and it was incredible. This is also a lovely place to sit with a spritz and watch the world go by.
Per Bacco
In the new part of town, close to the Lungomare seafront promenade, Per Bacco is a midrange, intimate restaurant with a very cozy atmosphere and wonderful owners.
The menu is small and features traditional Puglian specialties – try the ravioli stuffed with turnip tops and anchovies. Prices are midrange and very fair.
Magda
Magda is a bakery and a cafe located on the bustling Via Prospero Petroni. It's a solid favorite with the locals and serves a range of focaccias, flatbreads, sweet and savory pastries, and other traditional snacks.
This is the perfect place to come if you're looking for a cheap and delicious place to eat in the center of Bari. I had the best focaccia of my life here, and their arancini balls are also insanely good.
Getting to Bari
Bari has an international airport with flights from all over Europe, including budget carriers Ryanair, EasyJet, and Wizz Air. If you're flying from outside of Europe, you'll probably have to connect via Rome, Milan, or another major European city.
You can also reach Bari by train. The city is a major stop on the Frecciargento high-speed railway network, which connects it to various other major Italian destinations such as Rome, Venice, and Naples.
Alternatively, you can reach Bari by ferry from Albania, Greece, Montenegro, and Croatia. These ferries also transport cars.
Once you get to Bari, the city center is walkable, and you can get to most other major destinations via public transport. However, if you'd like to explore more of the surrounding region, including more out-of-the-way places, you can also hire a car (often the cheapest from the airport).
Things to Do in Bari: FAQs
Still wondering what to do in Bari? Here are some answers to commonly asked questions about visiting Bari and what stuff to do in Bari.
What is Bari known for?
Bari is known for its beautiful architecture, atmospheric Old Town, great food, and lovely beaches. It's also one of southern Italy's major ports and is a major transport hub for the region.
When is the best time to visit Bari?
The best time to visit Bari is in the spring (April-May) or autumn (September-October), when the weather is warm but not too hot and there are fewer tourists. However, Bari is a great destination year-round, so visit whenever you can.
Is Bari worth visiting?
Absolutely! Bari is a charming city with plenty to see and do. Whether you're interested in history, art, food, or just relaxing on the beach, Bari has something for you.
How many days should I spend in Bari?
You can see most of Bari's main sights in one day. However, I recommend spending two or three days here if you can, to really get a feel for the atmosphere of the city and surrounding region.
Is Bari safe?
Yes, Bari is as safe as any other major Italian city. Of course, petty crime can happen anywhere, but as long as you take the usual sensible precautions, you shouldn't have any issues during your time there.
What is the most popular thing to do in Bari?
The most popular thing to do in Bari is to stroll around the atmospheric Old Town, which is full of beautiful medieval buildings and winding alleyways. Here you can watch women making pasta by hand on the street – one of the most iconic things to see in Bari, Italy.
What is the best beach in Bari?
The best beach in Bari itself is Pane e Pomodoro beach. However, the most famous beach in the area is Lama Monachile, in the nearby town of Polignano a Mare.
What foods should I try in Bari?
Orechiette pasta is probably Bari's most iconic dish and is typically served with broccoli rabe (or rapini). Other must-try dishes include tiella (a rice dish with potatoes and mussels), focaccia barese, and polpette (cheesy fried dumplings).
Now You Know What to Do in Bari
These are just a few of the top things to do in Bari, Italy. It's a great city and one that I would love to return to.
The vibe is friendly and chill, it's sunny for most of the year, and you'll be surrounded by far fewer tourists than in many other popular Italian cities. If you get the chance to visit Bari, I highly recommend it.
Like This Article? Pin It!