Otranto is an ancient fortified town located in the far southeastern corner of Puglia, Italy. The town's mixture of history and culture makes it a fantastic place to explore, and there are plenty of things to do in Otranto.
Whether you're looking to explore the town's historic sights and experience its culture, gorge on delicious food, relax on a sunny Mediterranean beach, or all of the above, you'll find enough places to visit in Otranto to keep you busy for at least a few days.
The town is home to a stunning Old Town but receives fewer tourists than some of the other more popular destinations in Puglia. This is one of the things that I like most about it, as it's possible to explore the town without having to contend with crowds of other visitors.
Best Things To Do in Otranto
Otranto is a fairly small town but it has a lot more to offer than its size may suggest. Here's my pick of the top things to see and do in Otranto and the surrounding area:
1. Take a Walking Tour of the Town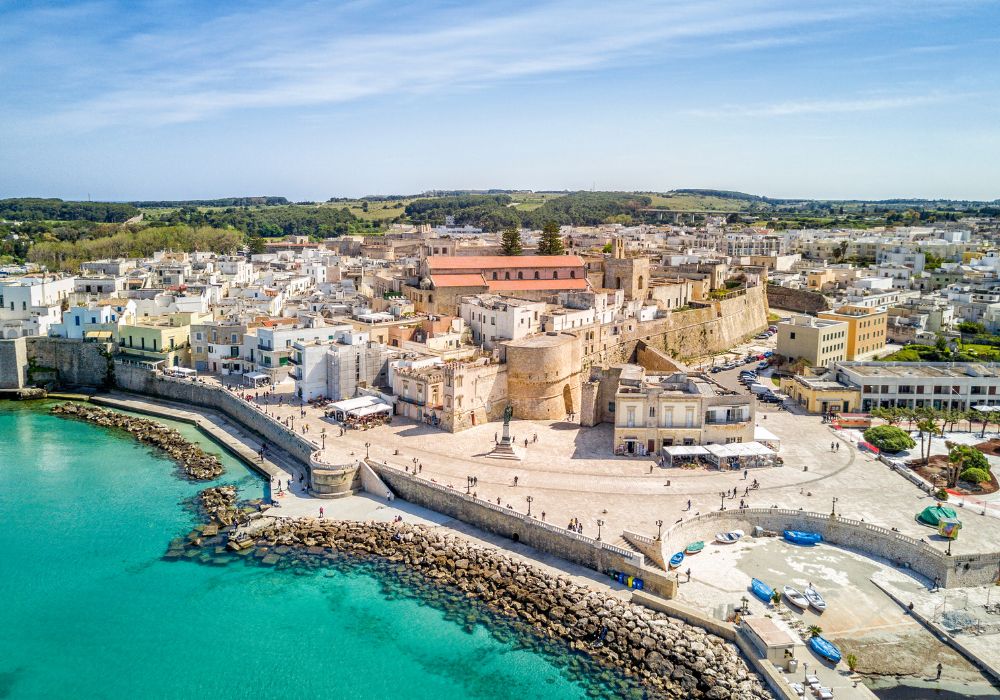 One of the first things I like to do whenever I explore a new destination is to take a walking tour. This is a great way to orient and familiarize yourself with the place, and the guides have a wealth of local knowledge, tips, and recommendations that you might not find out otherwise.
This highly-reviewed walking tour is run by a friendly and knowledgeable local guide who will show you some hidden gems and a few of their favorite places, in addition to the classic tourist attractions in Otranto.
It's definitely one of the best things to do in Otranto!
2. Discover the Centro Storico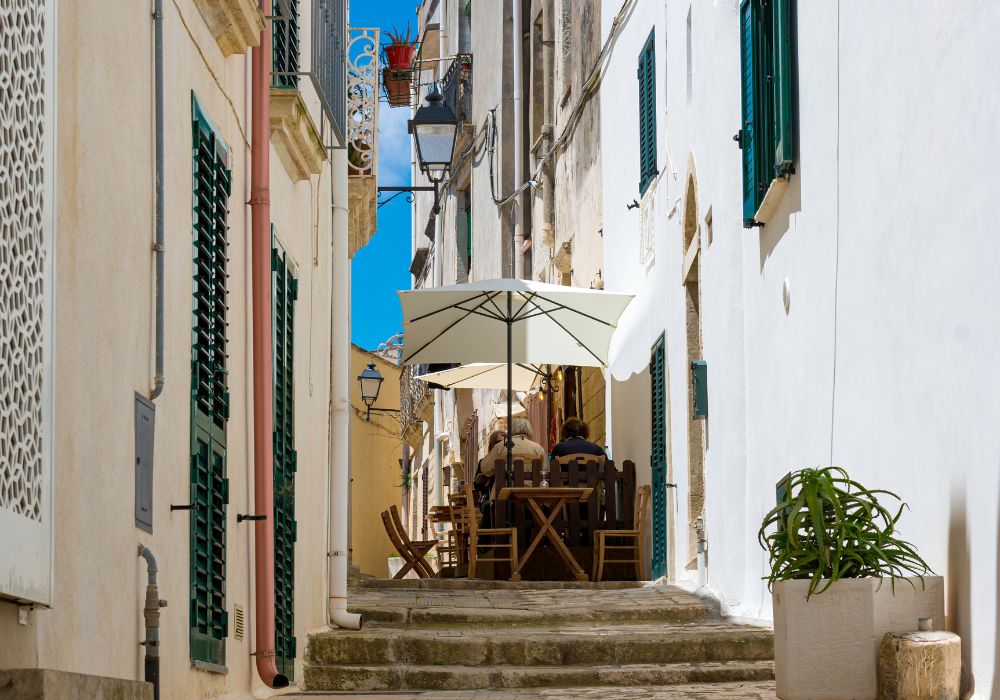 The historical center of Otranto (or Centro Storico, in Italian) is incredibly well-preserved, with twisting streets and alleyways, ancient monuments, and several beautiful churches to get lost amongst.
It's a paradise for history buffs, with a series of prehistoric houses located near the harbor, and a number of ancient Greek ruins scattered here and there. Even if you're not big into ancient history, it's still a stunning place to explore and is wonderfully atmospheric.
Be sure to take your time wandering the cobbled streets, checking out the many hidden little squares and passageways, and soaking up the atmosphere. Don't forget to bring your camera – it's extremely photogenic!
Address: Centro Storico, 73028 Otranto LE, Italy
3. Visit the Cathedral of Otranto (One of the Most Famous Places to Visit in Otranto)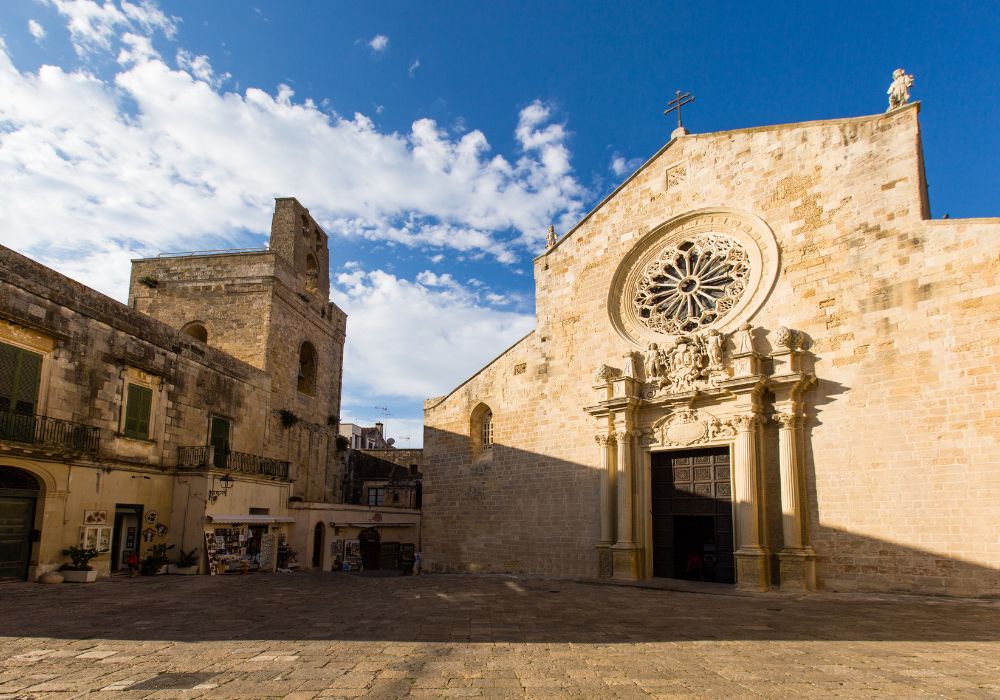 The Cathedral of Otranto is one of the town's most iconic monuments. Built in 1088, it's an amazing blend of Norman, Romanesque, and Renaissance architecture, with intricate sculptures on its façade.
Inside, the floor of the cathedral is covered in a series of beautiful and well-preserved 12th-century mosaics. The large rose window at the front of the cathedral is a beautiful piece of artwork alone.
Address: Piazza Basilica, 1, 73028 Otranto LE, Italy
4. Explore the Aragonese Castle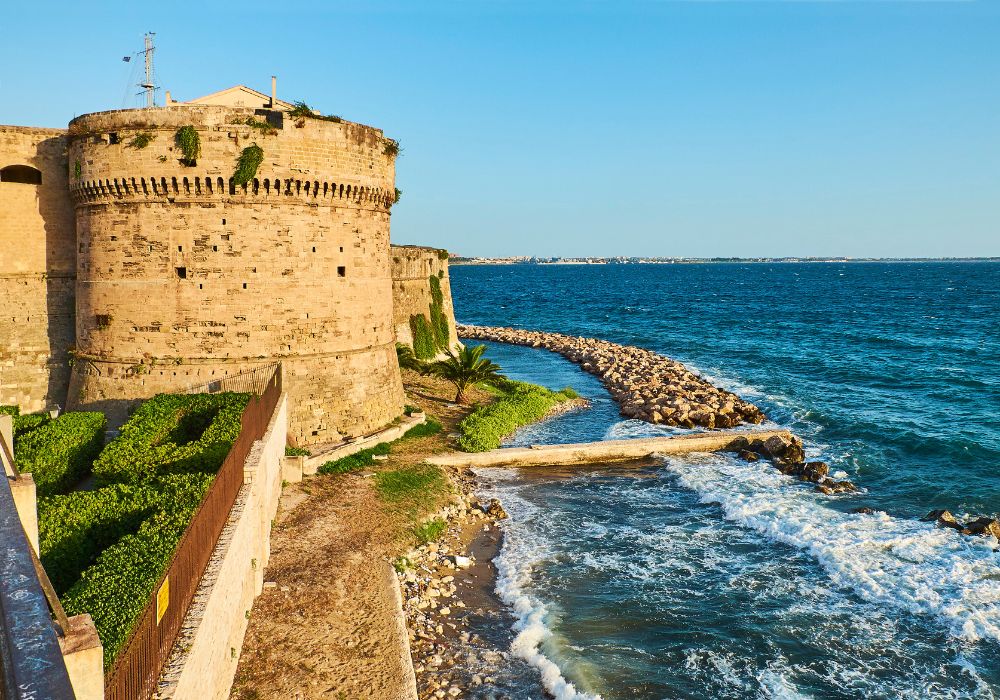 The Aragonese Castle (or Castello Aragonese) is one of Otranto's most iconic landmarks. Surrounded by a deep moat and built with thick stone walls, the castle was erected in 1485 by King Ferdinand I and is perched on a rocky outcrop overlooking the town's harbor.
It was modified and strengthened over the centuries, with adaptations mirroring the advances of technology and weapons throughout time. Underneath the castle lies a maze of hidden passageways and chambers that have been used as both a prison and a food store in contrast.
The castle walls offer amazing views of the Old Town, the harbor, and out to sea. This is one of the top things to see in Otranto, and it's definitely worth spending at least an hour or so here. Entry costs €3 per adult and is free for under-18s.
Address: Piazza Castello, 73028 Otranto LE, Italy
5. Head to the Beach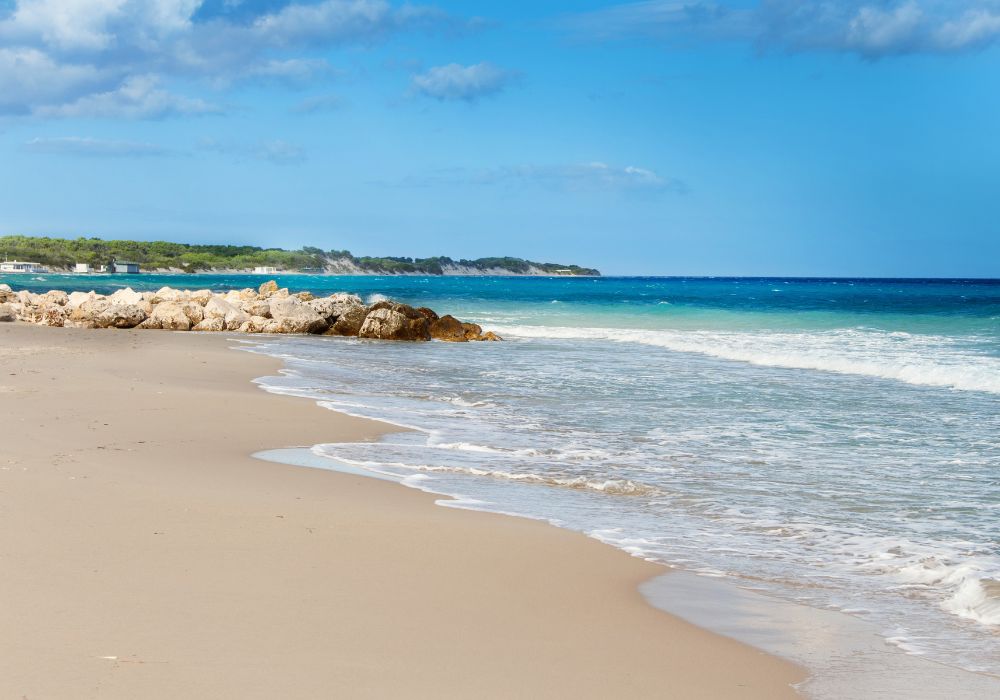 The area around Otranto is home to some incredible beaches. Heading out for a day on the beach is one of the best things to do in Otranto for families and anyone looking for a fix of sand, sea, and sun.
There are a few beaches located just north of the town within fairly easy walking distance from the Centro Storico, including Spiaggia dei Gradoni, Spiaggia della Riviera degli Haethei, and Lido della Staffa.
However, if you have a car and don't mind traveling a little further, you can visit some truly spectacular beaches. Alimini beach is a long stretch of white sand backed by dunes and a pine forest. The water is warm, crystal clear, and perfect for swimming (as long as the wind isn't blowing too much).
When the wind picks up – as it often does in this part of Puglia – Alimini beach (among others in the area) becomes an ideal spot for windsurfing. You'll find a handful of operators along the beach offering windsurfing lessons and rentals, and the natural settings couldn't be better.
Finally, Castro Marina has some of the most perfectly azure-colored water in all of Italy. It's very sheltered, so you can swim here even when the sea elsewhere starts to get a bit too choppy. A 'proper' beach is lacking, but the water is so incredible here I had to mention it.
6. Swim in the Grotta della Poesia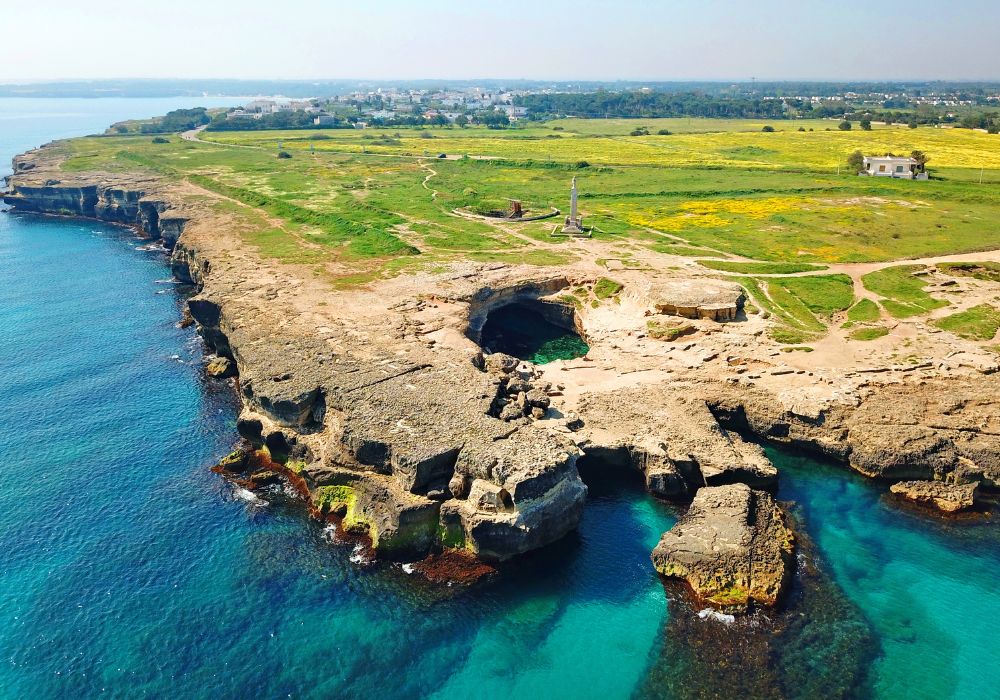 Grotta della Poesia (or Cave of Poetry) is an amazing natural pool surrounded on all sides by steep limestone cliffs. The pool is fed by water from the sea via a series of tunnels and caves. It reminded me a bit of the Mexican cenotes, or the Bimmah Sinkhole in Oman, but with saltwater.
To get down to the pool, there's a set of steps carved into the surrounding rockface. Or, if you're feeling brave, you can do what the local daredevils do and jump in. Of course, be careful, and only jump where the water is deep enough and it's safe to (if in doubt, watch where other people land).
This is one of the most popular things to do around Otranto and it can get busy, especially on weekends. Try to visit midweek if you can, as it's usually nicer and less crowded.
Address: Strada Statale San Cataldo, 73026 Roca Vecchia LE, Italy
7. Cycle Through the Salento Countryside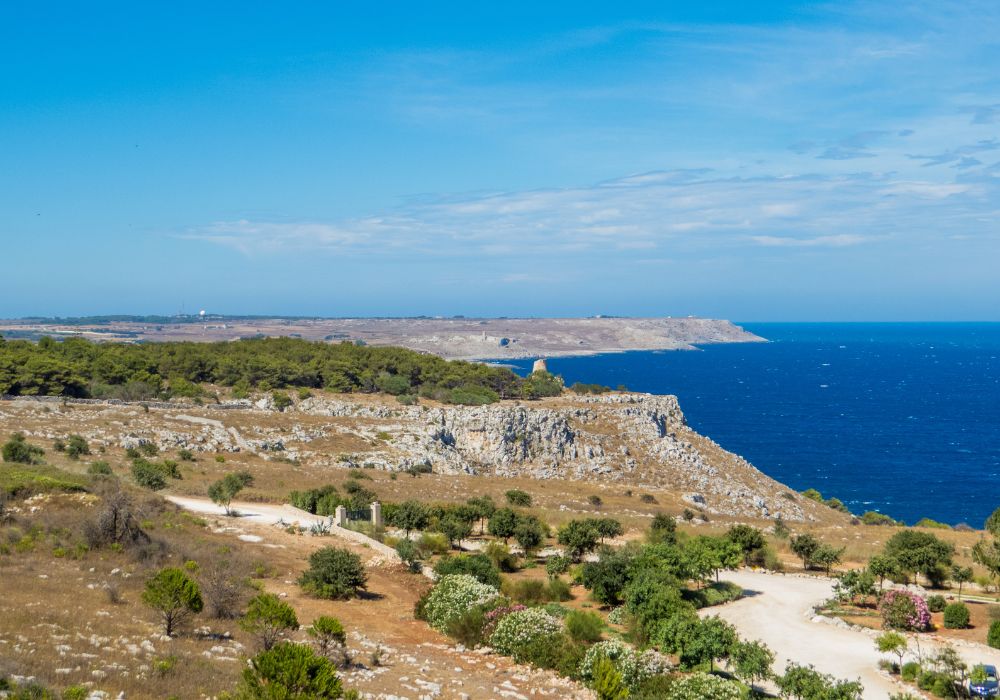 Salento is the name given to the southeastern half of Puglia which sticks out into the Mediterranean forming the "heel" of Italy. It's a peaceful, attractive region with gently rolling hills, quaint old villages, beautiful beaches, and a wild, rocky coastline.
One of my favorite ways to explore the countryside around Otranto is on two wheels. You can hire a bike from one of the various cycle shops in town – this store comes highly reviewed and is close to the historical center – and head out by yourself.
Or, if you'd rather go out on a guided trip, this full-day bike tour takes you to some of the best local spots. You'll get to visit prehistoric ruins, swim in the turquoise waters of Porto Badisco, taste regional delicacies, and explore some lesser-known areas along the magnificent Salento coastline.
8. Go Hiking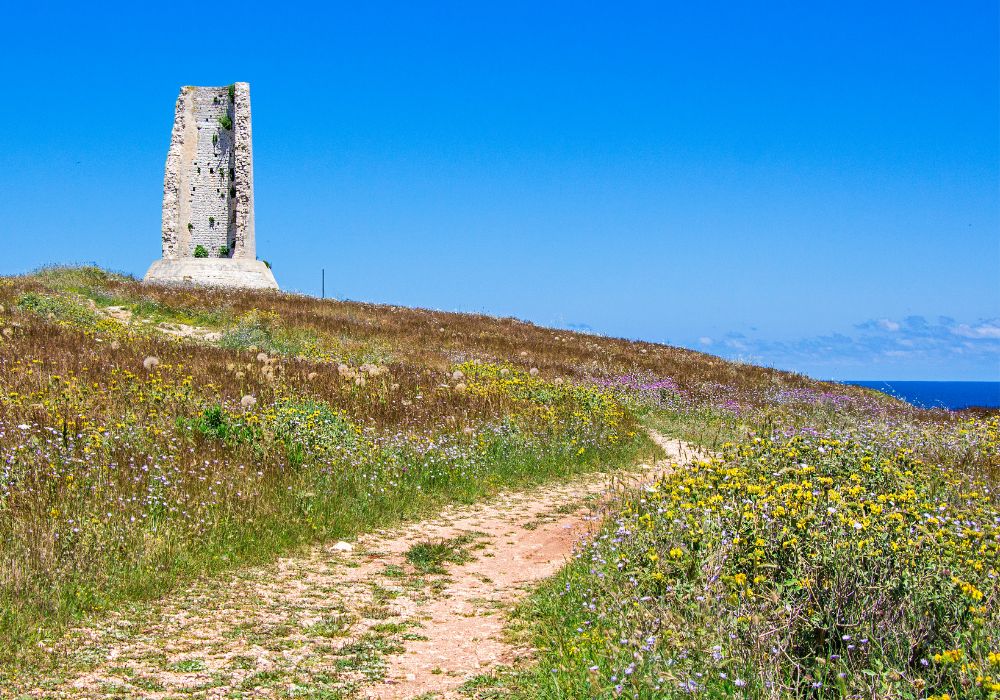 The area around Otranto features some fantastic hiking trails. The Costa Otranto Regional Nature Park is an area spanning more than 3,200 hectares (7,900 acres) and over 50 kilometers of coastline.
It's a perfect place to explore by foot, with trails passing ancient olive groves and pine forests along the rugged cliff tops, and through historic villages and hamlets where you get the sense that life hasn't changed much for hundreds of years. Keep an eye out for local wildlife and seabirds.
If you want to head out by yourself, I recommend downloading Maps.me (my favorite offline map app) and then heading out south from the city towards the ruined Torre del Serpe lighthouse. From here, there's a beautiful coastal trail that runs along the sparkling, azure waters of the Adriatic.
Alternatively, you can join this guided hiking trip which takes you on a half-day hiking tour of the area. It starts in Otranto town and you'll visit Torre del Serpe, Cava di Bauxite (an old quarry lake surrounded by vivid red and orange-colored rock), and various other picturesque spots in the ldro Valley.
9. Catch Sunset from the Lungomare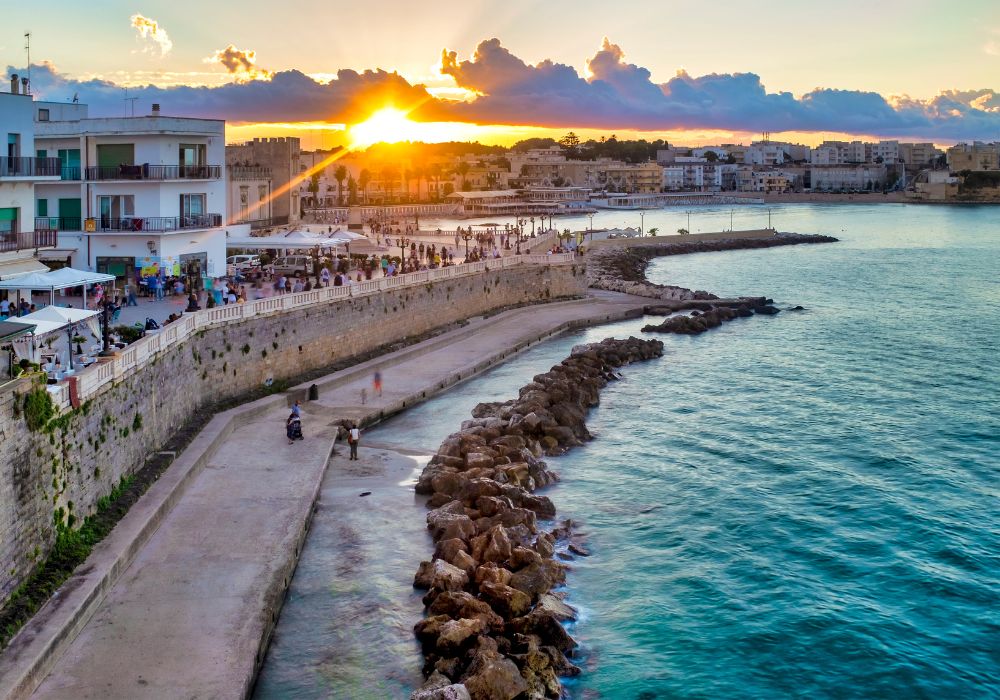 Many Italian coastal cities have a Lungomare, or seafront promenade, and Otranto's one is particularly special. The deep azure sea, bright blue sky, and dazzling white stone buildings of the Old Town combine to create a sight that looks like something straight out of a travel magazine.
It's a wonderful place for a walk at any time of the day, but my favorite time to come here is sunset. As the sun goes down it paints the southern Mediterranean sky shades of pink and purple, which reflect in the sea and onto the white buildings along the seafront.
Each night visitors are treated to a different display, and there are benches where you can sit and enjoy nature's show. It's really amazing and is a perfect thing to do pre-dinner.
Address: Lungomare Terra D'Otranto, 73028 Otranto, Province of Lecce, Italy
10. Take a Cooking Class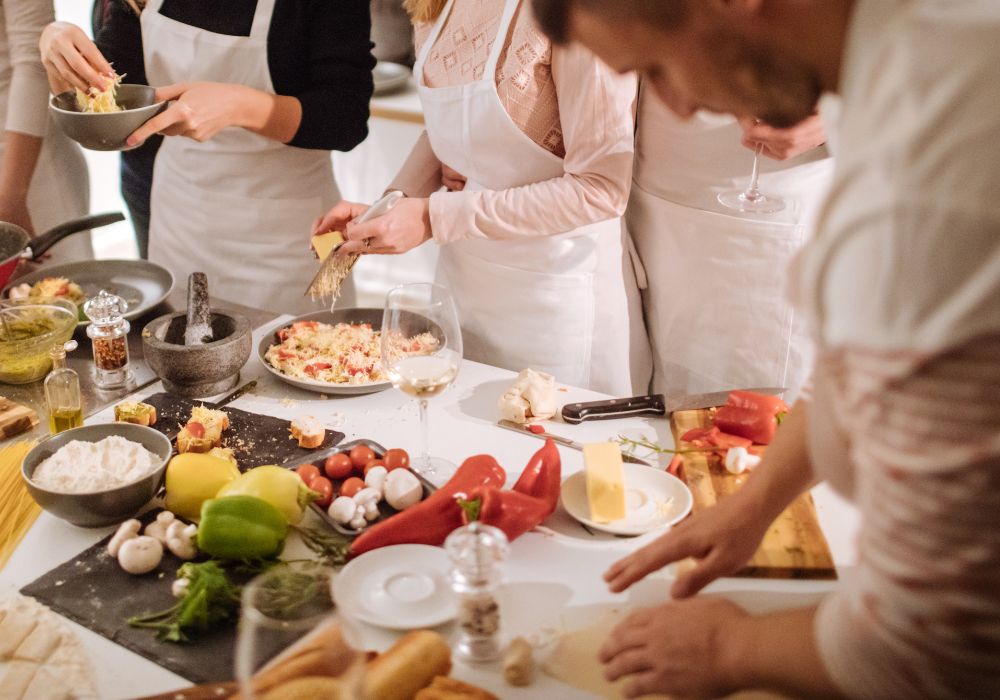 Puglian food is among my favorite types of Italian cuisine. Some of my favorite local dishes include orecchiette with broccoli rabe, focaccia, polpette, and tiella. The flavors are just so fresh and delicious, and really showcase the best of the local produce.
If you'd like to learn how to make traditional Puglian food yourself, I recommend taking a cooking class during your stay. This is one of the best things to do in Otranto for couples or friends, (although you could definitely attend by yourself if you're traveling solo).
There are a few different options to choose from. In this small group pasta and tiramisu-making class, you'll learn how to roll fresh pasta (known locally as sfoglia) by hand, how to make regular and filled pasta, and how to prepare your very own tiramisu.
If you're looking for something even more authentic, take a look at this cooking class which takes place in a traditional local home. Your teacher will show you how to make three regional recipes, which you'll then enjoy together with a selection of local wines.
11. Stroll Around the Ancient Marina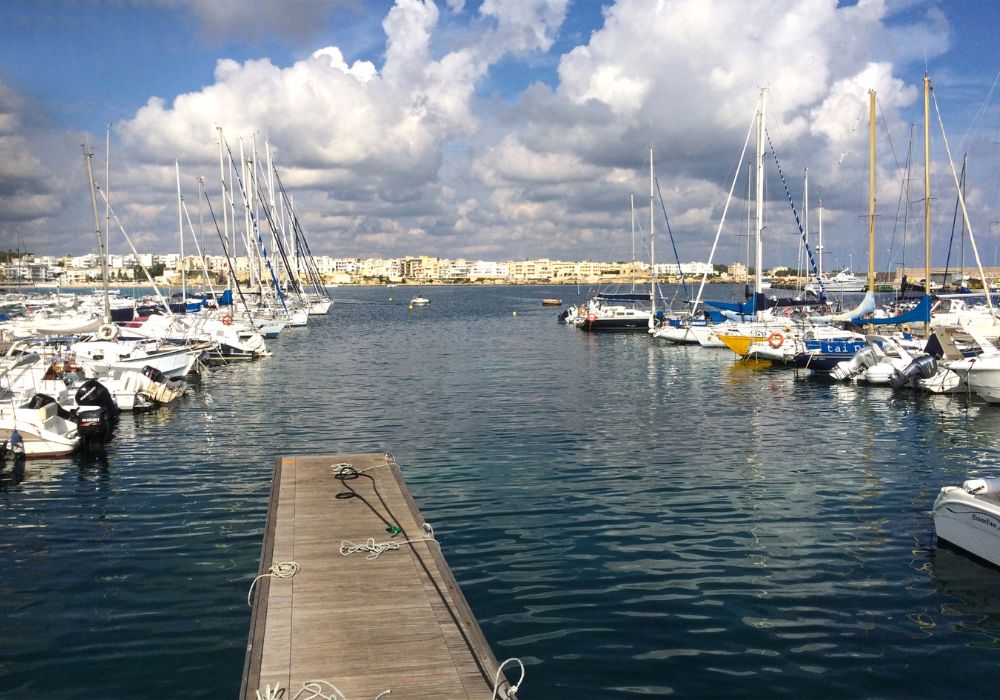 Porto di Otranto is one of the oldest natural harbors in Italy. In fact, the city of Otranto lies on the site of an ancient Greek port city known as Hydrus which was an important political and trade hub, being the closest point to Greece on the Italian peninsula.
Today, Otranto harbor is used mostly as a marina for fishing and pleasure boats, and taking a stroll around the marina is one of my favorite free things to do in Otranto.
You'll likely see locals painting their boats, repairing nets, and chatting with their neighbors. It's a very pleasant, slow-moving place, perfect for soaking up the atmosphere of this beautiful historical town.
Address: Via del Porto, 73028 Otranto LE, Italy
12. Visit the Torre Pinta Tower and Tunnels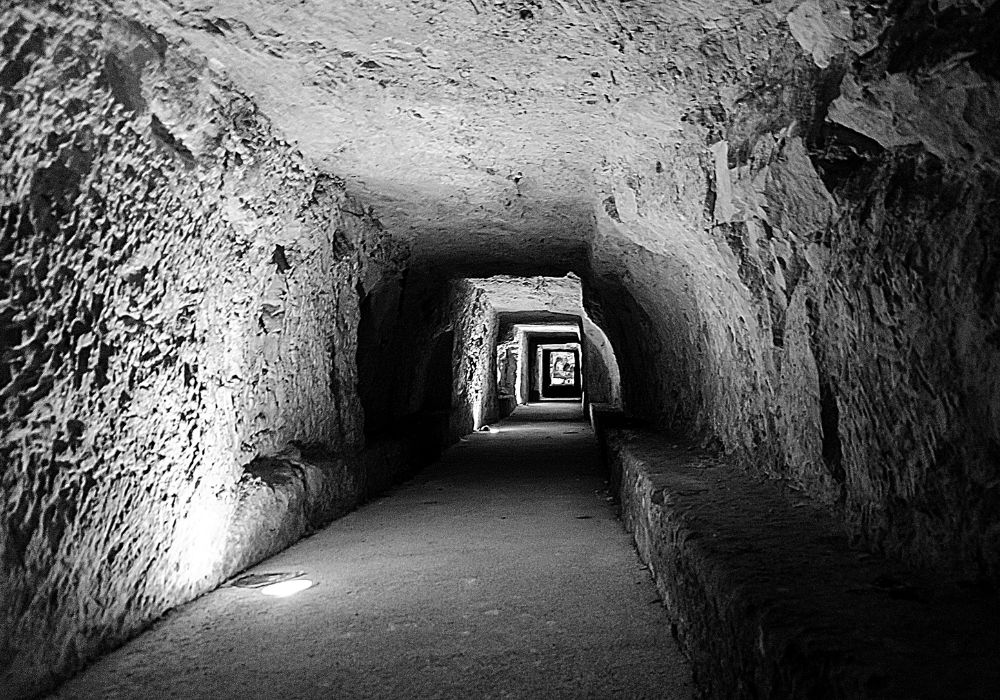 The Ipogeo di Torre Pinta is a fascinating ancient complex that's well worth a visit. Its exact purpose is unknown, but the tower itself is believed to have been used as a dovecote for housing carrier pigeons, which were possibly used by the military for sending messages.
Underneath, there's a network of underground passages, chambers, and tombs which are thought to be at least 2,000 years old. It contains an oven (presumably used for cremation), as well as hundreds of cavities in the walls, possibly used to house the cremated ashes of the dead.
This amazing place was only discovered in 1976 and lies on privately-owned land. To visit, head to the Tenuta Torre Pinta guesthouse (which is located next to the site) and ask for the key in exchange for a small donation.
Address: Via Memorie, 73028 Otranto LE, Italy
13. Taste Ciceri e Tria
Otranto has plenty of wonderful restaurants that serve delicious Puglian dishes such as orecchiette, focaccia, and fresh seafood. One other dish that's particularly popular in Otranto is known locally as "ciceri e tria".
Made with thick ribbons of pasta, some of which is boiled and some of which is fried ciceri e tria is created by mixing the pasta together with chickpeas and a generous helping of the finest local olive oil. It's quite unusual, I've never had anything quite like it before, but it's very tasty.
You'll find ciceri e tria on menus all over this part of Salento. One of the best places in Otranto to try it, and a range of other Puglian classics, is Il Pumo restaurant. It's one of my favorite places in townnand enjoying a meal here is one of the best things to do in Otranto at night.
Address: Via Presbitero Pantaleone, 73028 Otranto LE, Italy
14. Make a Day Trip to Santa Cesarea Terme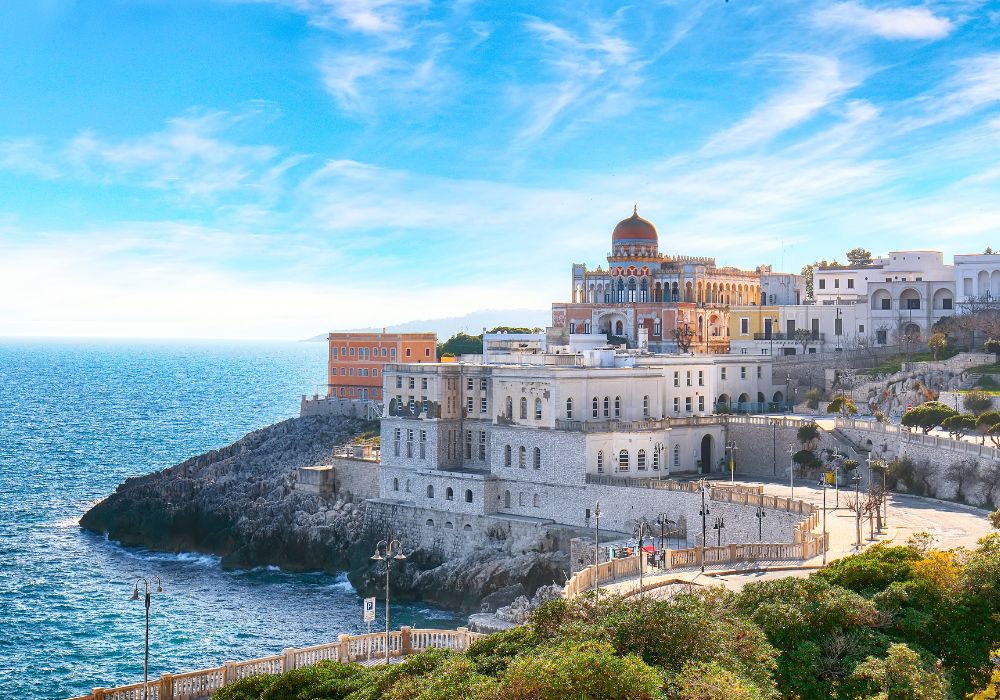 Just a few kilometers south of Otranto lies the small spa town of Santa Cesarea Terme. It's a tiny place that's incredibly picturesque and is known for its hot springs and amazing thermal baths.
You can bathe in the hot springs which are rich in sulfur and iodine, and supposedly great for curing a whole host of ailments. The baths are open between May and November and you can also treat yourself to a number of massages, mud, and hot mineral treatments.
It takes about 25 minutes to drive from Otranto to Santa Cesarea Terme. To make the journey by public transport, you need to take the train from Otranto to Maglie, then catch a bus from Maglie to Santa Cesarea Terme. The journey takes about 90 minutes in total.
Address: Santa Cesarea Terme, 73020 Province of Lecce, Italy
15. Step Foot on the Easternmost Point of Italy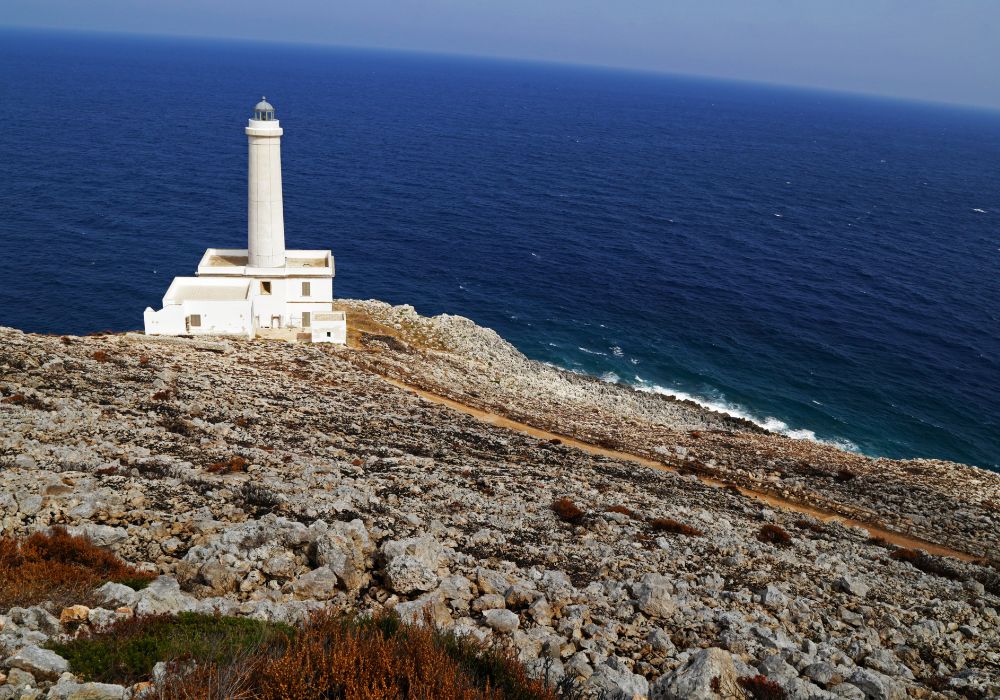 Otranto is also close to the 19th-century Punta Palascìa lighthouse which stands at the easternmost point of Italy. The whole place feels very rugged and remote, and it's another fantastic spot to watch the sunset.
This is also the point where the Adriatic Sea becomes the Ionian Sea. You can see loads of seabirds here, including gulls, terns, and cormorants.
To get to the lighthouse, it's an easy 10-minute drive from the center of Otranto. If you don't have a car, you could also walk, although it's about 5 kilometers (3 miles) each way.
Address: SP87, 73028 Otranto LE, Italy
Quick Travel Itineraries For Otranto
Here are a few suggested Otranto travel itineraries to help you get the most out of your time there:
1 Day in Otranto Itinerary
You can see most of the main Otranto attractions in one day, although you won't have time to visit all of the places in the surrounding area that are mentioned in this post.
Start by taking a walking tour of the town to orient yourself and get your bearings. Most walking tours visit the Cathedral, so afterward, it's time to check out the Aragonese Castle. Spend the rest of the morning exploring the Centro Storico.
In the afternoon, you can either take a cooking class or visit one of the spectacular beaches nearby. Finish your day with a meal in one of the restaurants I can recommend below, followed by an evening stroll through the ancient marina.
2-3 Days in Otranto Itinerary
Spend your first day sightseeing in Otranto itself, as suggested above.
On day two, you can either go for a hike or take a long bike ride to explore the beautiful Salento countryside.
If you have a third day (and a car), take a day trip out to Torre Pinta, then head across to the Grotta della Poesia for a refreshing dip. Finish off your last day by enjoying the sunset from the Punta Palascìa lighthouse.
1 Week in Otranto Itinerary
With a week in Otranto, you can comfortably do all of the things listed in this post. You'll have plenty of time, so you can take things easy and really enjoy each activity.
The order you do things is totally up to you, but I recommend spending at least two full days in the town so you can get a good sense of the place. Then, be sure to spend a full day hiking and/or cycling in the surrounding countryside, and another at the beach.
Provided you have your own car, it'd be fairly easy to combine seeing Grotta della Poesia, Grotta dei Cervi, Torre Pinta, and the Punta Palascìa lighthouse in one (fairly long) day – pack snacks!
Finally, I suggest taking a full-day trip to visit Santa Cesarea Terme for a relaxing spa treatment (you've earned it!) to round off your week.
Where to Stay in Otranto
These are a few of the best neighborhoods in Otranto for tourists:
Centro Storico – Best for First-time Visitors
Otranto's Old Town is the best place for most visitors to stay. You'll be within easy walking distance of all of the town's major attractions and most of its best restaurants. The atmosphere is wonderful and it's a lovely place to explore at all times of the day, right through the night.
Check out this amazing mid-range apartment that has an unbeatable location and a terrace with stunning views out over the Centro Storico.
Outskirts of Otranto – Best for Budget Travelers
Otranto isn't a particularly big place and the majority of accommodation options are located in the city center. However, there are a few places a little further out that tend to be cheaper and so might be better for budget travelers to consider.
This is an excellent one-bedroom budget apartment that's only a 15-minute walk from the historical center.
Northern Suburbs – Best for Beach Lovers
There are several great beaches just north of the town, across the Bay of Otranto. This would be a great place to stay if you want to be within easy walking distance of the beach. From here, it's about a 30-minute walk (or a 10-minute drive) to the center of town.
Check out this fantastic apartment that's right next to the beach and features a terrace with fantastic sea views.
Best Restaurants in Otranto
Don't miss these great places to eat in Otranto:
Il Pumo Restaurant
Il Pumo is by far my favorite restaurant in Otranto. It's elegant and fancy, but not overpriced, and serves a range of local specialties. Their seafood is amazing and they usually have several excellent dishes of the day.
Retro Gusto
Retro Gusto is an upmarket restaurant located on the edge of the Centro Storico. It's best known for its delicious fresh seafood, and every dish is beautifully presented. It's a little on the pricey side, but I think it's worth it as the quality is really excellent. Try the spaghetti with lobster and the grilled grouper fish.
Icon Restaurant Otranto
Located close to the marina and the castle, Icon is primarily a seafood restaurant (try their seared tuna) but it also offers a number of tasty vegetarian options. Their wine list is great too, and they have a balcony/terrace area where you can eat while enjoying a fantastic view of the Old Town.
Nelson Park
A short walk from the center of town, Nelson Park is one of the best pizzerias in the area. It's popular with the locals (which tells you all you need to know) and has a pretty garden area. They also serve a delicious antipasti platter of local cheeses, cured meats, and breads – most Italian!
Pasticceria Merola
Pasticceria Merola is an amazing bakery that serves a range of delicious pastries as well as gelato. Try their ricotta pasticciotto (a type of pastry filled with sweet ricotta) – it's incredible; you won't regret it.
Getting To Otranto
The nearest international airport to Otranto is Brindisi, which is served by several major European airlines including Ryanair, easyJet, British Airways, and Finnair. From there, it's a 1-1.5 hour drive to Otranto.
I highly recommend hiring a car at the airport if possible as the public transport options in Salento are somewhat limited. Although be sure to check that your apartment has parking facilities before booking anything.
If you're using public transport, you'll need to travel via Lecce and can do the journey by either bus or train. It takes anything from 2.5-4 hours, depending on the time of day and day you're traveling.
For those arriving from another region of Italy, you can take a long-distance, high-speed train to Bari (the capital of and largest city in Puglia), then another train to Lecce. Then, make the final leg of the journey either by regional train or bus.
If you're coming from Lecce, you can also take this convenient private transfer service. Alternatively, check out this full-day guided day trip from Lecce that includes Otranto and three other picturesque Salento towns: Leuca, Gallipoli, and Galatina.
Once you get to Otranto, you can walk to all of the major destinations in the town itself. However, to get to many of the other places described in this post, you'll probably either need to hire a car or join a guided tour that includes transport from Otranto.
Things To Do in Otranto: FAQs
Here are some answers to commonly asked questions about visiting Otranto:
What is Otranto known for?
Otranto is particularly known for its stunning 11th-century cathedral, its attractive ancient harbor, and its imposing Aragonese castle. The town is also close to several beautiful beaches and has many great restaurants.
When is the best time to visit Otranto?
The best time to visit Otranto is in May or September (i.e. late spring or early autumn). It's usually warm and sunny, not too hot, and much less crowded than during the peak summer season. September is my favorite month in Otranto as the sea is still lovely and warm from the long, hot summer.
Is Otranto worth visiting?
Yes, Otranto is definitely worth visiting. There are many beautiful places to see in Otranto, and it's also just a really pleasant little town to spend some time in.
How many days should I spend in Otranto?
There's enough to do in Otranto to keep you busy for at least one day. However, as you can tell from this post, there are many other fantastic things to do and places to visit near Otranto.

I'd recommend staying for at least two or three nights if you can. It's a great place to base yourself to explore more of the wider region.
Is Otranto safe?
Yes, Otranto is a very safe town. Of course, petty crimes such as pickpocketing can happen anywhere, so it's always a good idea to take the usual precautions when traveling.
What is the most popular thing to do in Otranto?
Exploring the Centro Storico, including the Cathedral and the Castle, is the most popular thing to do in Otranto.
What is the best beach in Otranto?
There are a few great beaches located just north of the main town, including Spiaggia dei Gradoni, Spiaggia della Riviera degli Haethei, and Lido della Staffa. However, if you don't mind traveling a little further afield, Alimini beach is even better.
What foods should I try in Otranto?
I recommend trying some traditional Puglian and Salento specialties during your time in Otranto. These include orecchiette pasta (especially if it's served with broccoli rabe), ciceri e tria, focaccia, sfogliatelle, and panzerotti.
In Closing
Now you know what to see and do in Otranto, one of my favorite places in Puglia. It's a great destination in its own right, with many fun things to do in Otranto and the surrounding area.
Otranto isn't exactly off the beaten track, although it rarely feels too crowded, especially compared with many other popular places in Puglia.
If you have your own car, Otranto is a great place to base yourself when exploring the wider region, especially if you prefer staying in smaller, quieter towns as opposed to big cities. I could easily spend several weeks here enjoying the friendly, laid-back vibe and the leisurely pace of life. I hope this post helps you to plan your trip!
Like This Article? Pin it!