Porto Limnionas was one of our favourite places in Zante, and apparently one of the most popular places for tourists to visit as it was quite busy when we were there, even though we visited in the shoulder season (May).
Despite the crowds, this breathtaking secluded cove surrounded by jagged cliffs is one of the most picturesque beaches on the island, rivalled perhaps only by the world-famous Navagio Beach.
There is a decent restaurant here, parking and lots of sunbeds with views over the bay. There isn't really a beach as such, but at the end of the cove, there is some pebbly sand submerged under the water where you can stand.
Many people (including us) choose to just jump off of the rocks and into the crystal clear Ionian Sea from here.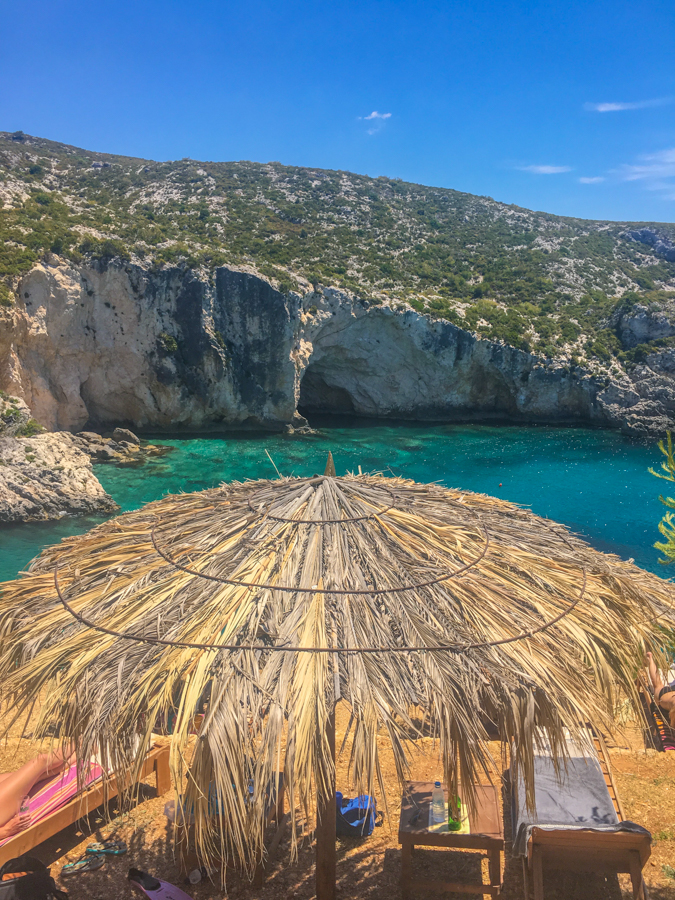 In this post, I'm going to break down all the important things you need to know about visiting Porto Limnionas Beach like the best restaurants nearby, where to stay, how to get here and more.
See Also: Everything You Need To Know About Travelling in Greece
Let's get started exploring Porto Limnionas Beach in Zakynthos, Greece
About Porto Limnionas
Perhaps most famous for the dazzling colours of the sea here and the calm, secluded waters, great for swimming, as well as the beautiful Porto Limnionas Tavern, the cove of Porto Limnionas is firmly placed on most travellers' itinerary when they plan a trip to Zakynthos Island.
Where is Porto Limnionas?
Porto Limnionas is located on Zakynthos, a small, but popular tourist island (405 km² / 156 mi²) which bobs in the Ionian Sea about 20 kilometres west of the westernmost point of the Greek Peloponnese Mainland. Zakynthos is around 250 kilometres west of the capital of Athens.
Zakynthos is one of the most popular places to visit in Greece, and for good reason.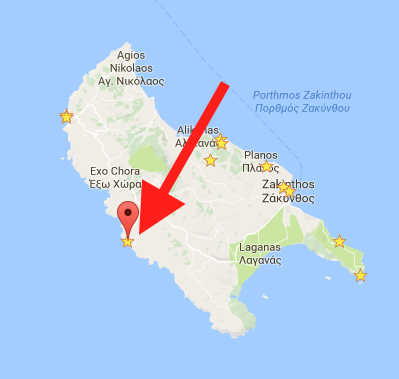 Porto Limnionas itself is nestled between towering cliffs on the west side of the island about 7 kilometres from Agios Leon and
On the west side of the island, approximately 7 km from Agios Leon and about 30 kilometres (47-minute drive) from the capital of the island, Zante Town.
How To Get To Porto Limnionas
The best way to get to Porto Limnionas is by renting a car. In fact, I highly recommend renting a car for the duration of your stay in Zakynthos, or at least for a few days to see the island.
While you can visit Porto Limnionas as part of a day tour (as well as other popular beach areas like Gerakas Beach, Xigia Beach & Alykes Beach), you'll find that most of the tours that circle the island start at around €30 per person.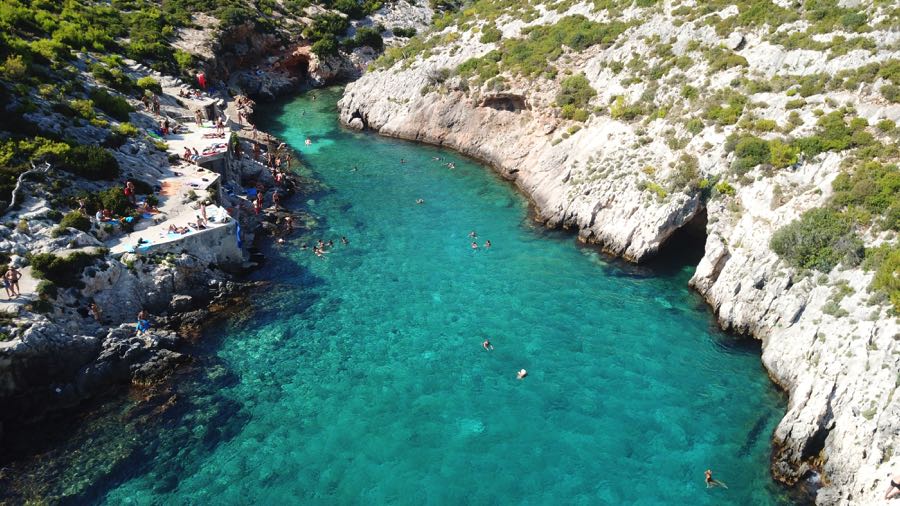 A car rental will only cost around €15 – €20 per day plus gas, so it's a much better deal to have a car instead, plus you'll be able to have the freedom to stop where and when you want. If you're two or more people sharing the cost of the car, it's a no-brainer.
There is no public transport to get to Porto Limnionas from popular tourist areas like Zante Town, Laganas or Insilivi, so you're best option is definitely to rent a car. We always rent our cars through Expedia.com (not a sponsor) and generally find the best deals there.
Best Time To Visit Porto Limnionas Zakynthos
Because the cliffs are so high around Porto Limnionas, the place can completely change depending on where the sun is in the sky and how cloudy or sunny it is. That's why it's best to plan to come to Porto Limnionas at not only the perfect time of day but the best time of year as well.
The Best Time of Day To Visit Porto Limnionas
The best time of day to visit Porto Limnionas is between 11 am and 3 pm when the sun is most likely to be directly overhead. Of course, this changes depending on what season you visit, but this beach looks absolutely breathtaking when the sun is overhead and illuminating the brilliant colours of the Ionian Sea and the rocks at the bottom of the cove.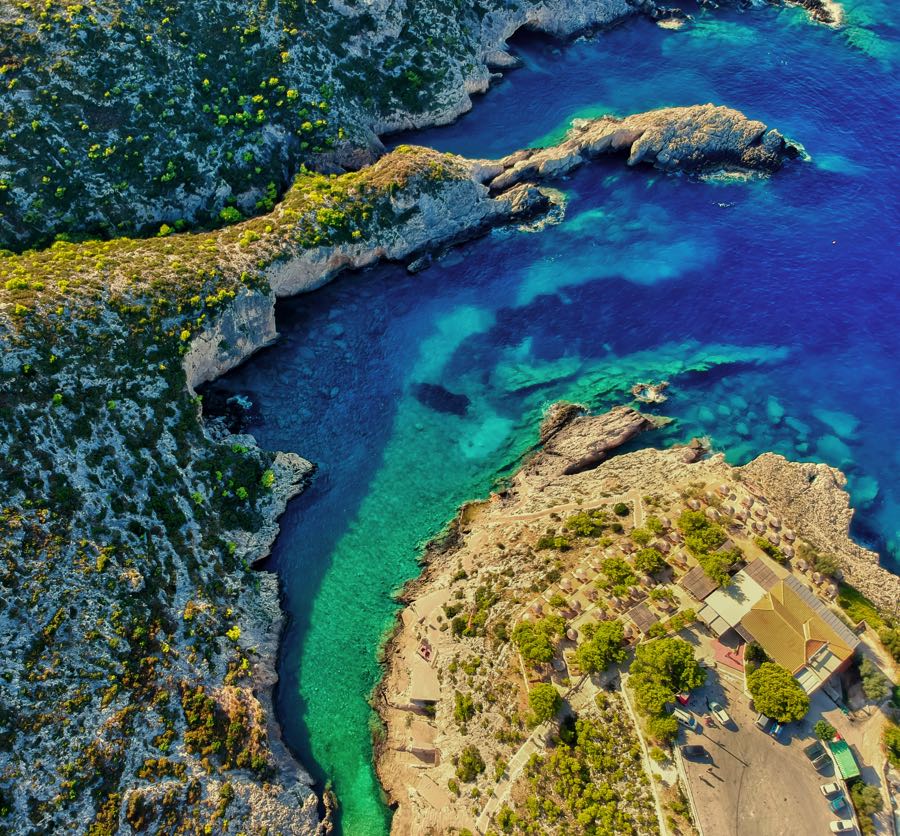 The Best Time Of Year to Visit Porto Limnionas
The best time of year to visit Zakynthos (and thus Porto Limnionas) is any time between March and the beginning of November.
Our favourite time to visit Greece is in the shoulder season, either in the Spring (March to May) or in the fall (September to early-November). Of course, at either end of these dates, the sea can be quite chilly and the weather can be less predictable, but there are way fewer crowds at this time.
Porto Limnionas can get insanely busy in the peak season (July and August), so if you're coming during these months just know that while you may be able to enjoy the warmest seas of the year and the sunniest weather, you'll also have to share the cove with hundreds of other tourists.
The Type of Sand on Porto Limnionas
As I mentioned earlier, there isn't really any exposed sand at Porto Limnionas and while many people, including locals (and us), often call it one of the best beaches in Zakynthos (and even the best in Greece), in truth it's not actually a beach.
I know, one of the best past times for tourists in Greece is to lay your towel in the sand and soak up the sun, but you won't be doing that here.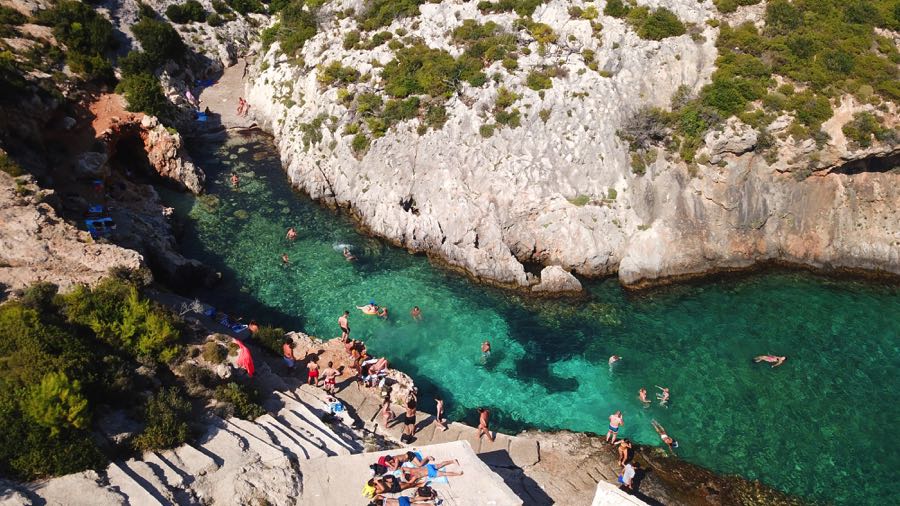 The bottom of the bay is large boulders for the most part, except for in the most narrow part of the cove where the two sides of the cliffs converge. Here there is some pebbly light-coloured sand, but it's submerged pretty much all of the time, so it could hardly be called a beach.
Still, many people choose to swim from the rocks over to the sandy cove so they can stand up and relax while looking out at the beautiful view of the sea.
Facilities on Porto Limnionas
Thanks to the Porto Limnionas Tavern, there are some great facilities at the beach here. The restaurant serves up delicious meals and drinks and they also offer the beach chairs to rent with umbrellas (charged at €5 per person per day at the time we visited).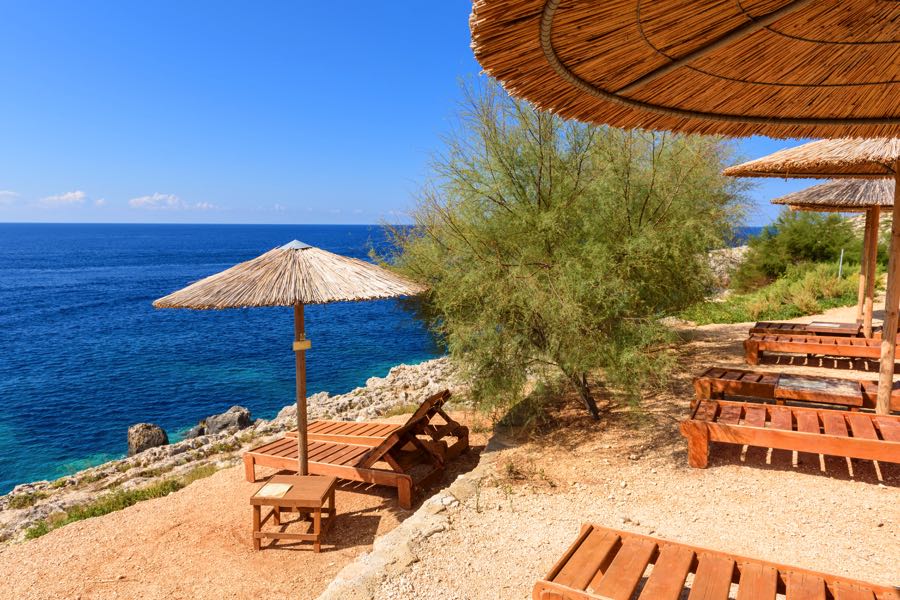 If you want to save some money, you can swim and enjoy the view at Porto Limnionas and maybe have lunch at the tavern, and then move onto nearby Porto Rosso where they offer lounge chairs and umbrellas for free when you order a drink on the beach.
When we were there, there was nowhere to rent a snorkel and mask, but this is a great place for snorkelling on Zante Island. The visibility is stunning and there are many caves to explore here as well.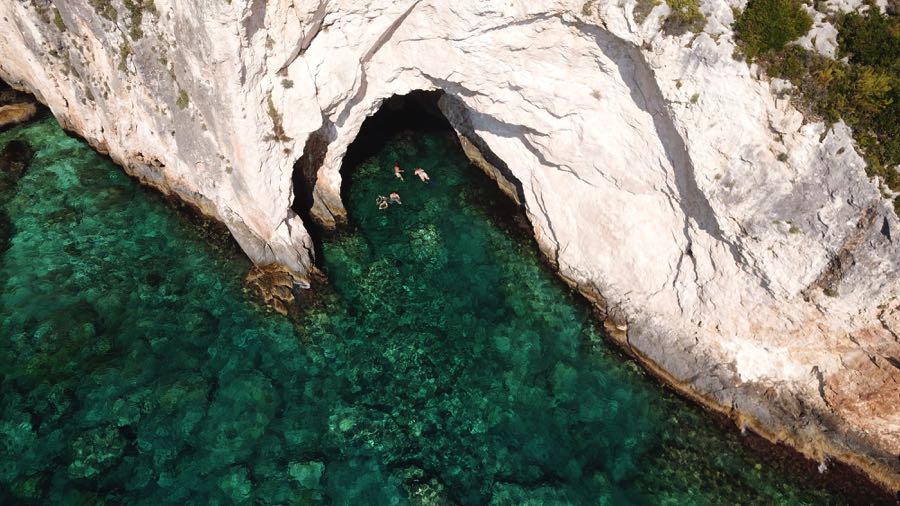 There is free parking at the top of the hill.
Where To Stay Near Porto Limnionas
There aren't a lot of great hotel options near Porto Limnionas, so I wouldn't recommend planning to stay here just for a visit to the cove. Instead, stay in one of the more popular destinations on Zakynthos Island and simply visit Porto Limnionas for a couple of hours as part of a day trip.
Here are some great hotels in other parts of the island.
Keri Village
Keri Village is still on the west side of the island around a 45-minute drive south of Porto Limnionas. Here you have a few great hotel options including Keri Village & Spa (rooms from $117/night) and Revera Stone Villas (rooms from $45/night). This is also the town where you can check out the breathtaking Keri Cliffs and the Keri Lighthouse.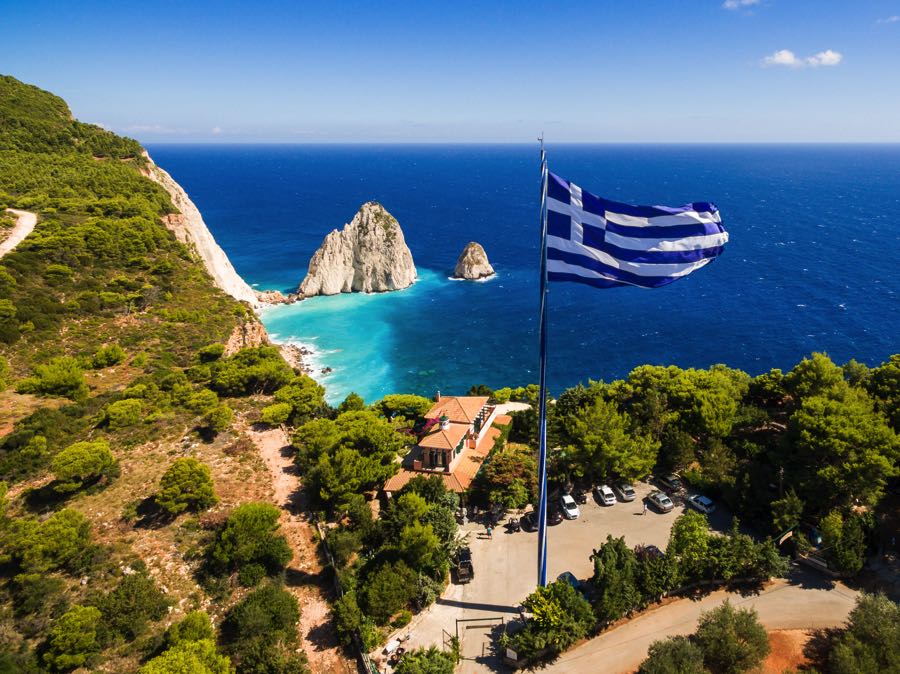 Keri Beach
There are two Keris on Zakynthos, one is the village on the west side of the island that's perched on the famous cliffs (above), and the other is Keri Beach area on the east coast about 15 minutes drive from Keri Village. Here you have some cool hotel and apartment options like Blue Lake (rooms from $42/night) and Villa Regina (rooms from $40 / night).
Laganas Beach
This is one of the most popular places to stay in Zakynthos. There's plenty of restaurants and bars here, a nice beach and some of the best nightlife on the island. It can be crammed with young partiers during the high season but is still a good option for places to stay. Popular options include The Mediterranean Beach Hotel (rooms from $80/night) and Agave Boutique Hotel (rooms from $47/night).
Best Restaurants Near Porto Limnionas
There's one obvious option for the restaurants near Porto Limnionas and that's the tavern by the same name, but if you have your own car you can visit some other restaurants nearby.
Porto Limnionas Tavern (Porto Limnionas)
📍Zante 290 92, Greece
⭐︎ 4.4/5 (2,194 Google Reviews)
💵 €3-6 Appetizers, €6-10 Mains
Porto Linionas Tavern may be a little bit more expensive than some of the other restaurants on Zakynthos Island, but you do pay a bit extra for the stunning view over the cove. When we visited, the service wasn't so great, but they could've just been having an off day because the reviews speak for themselves.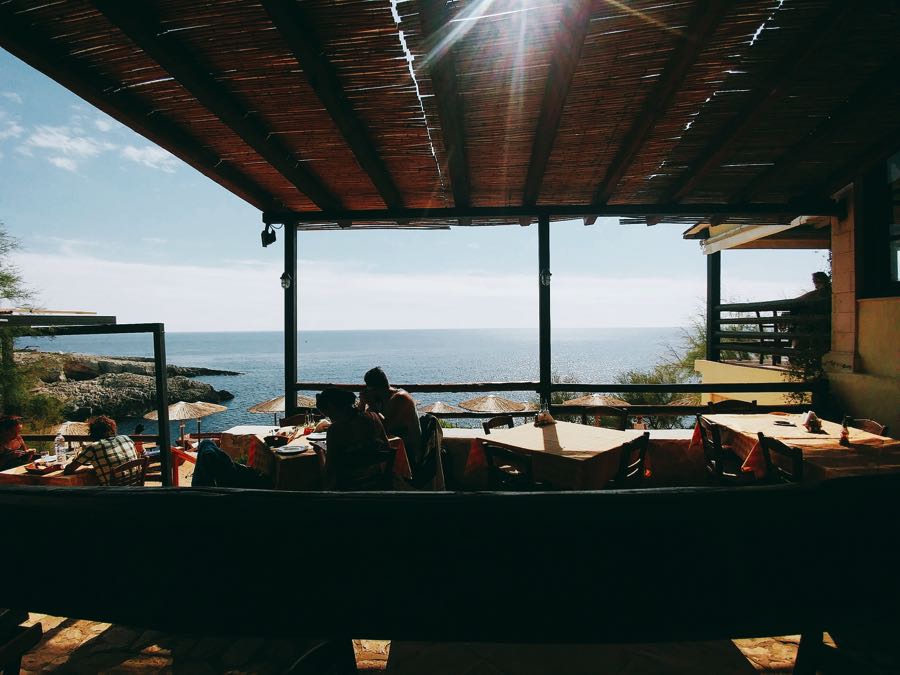 Restorang Fondo (Porto Roxa)
📍Artemisia 290 92, Greece
⭐︎ 4.3/5 (38 Google Reviews)
💵 €3-6 Appetizers, €6-10 Mains
This restaurant is a popular option on Porto Roxa beach just a few-minute drive south from Porto Limnionas. They have good food, beautiful views and friendly staff. Note that the umbrellas and sun chairs on the beach are only free for those who purchase something from the restaurant. Make it clear to the staff that you plan to eat and stay if you do plan to do so as there has been some confusion with guests before.
Ampelostrates (Koiliomenos)
📍Koiliomenos 290 92, Greece
⭐︎ 4.9/5 (107 Google Reviews)
💵 €3-5 Appetizers, €5-8 Mains
In the town of Koiliomenos about a 20-minute drive east and inland of Porto Limnionas is this very traditional and very underrated Greek Tavern. The food and staff here is amazing and the atmosphere is buzzing. If you want an authentic Greek dining experience, this is the place to come. They also have amazing wine here.
Should You Go To Porto Limnionas?
Porto Limnionas is a great stop on any round-the-island tour of Zakynthos. I wouldn't plan to stay nearby as there are better hotel and village options around the city, but definitely come here for the afternoon and enjoy the view, a swim and some food.
If you're planning lunch with a view, then you can't beat Porto Limnionas Tavern and if you want a more authentic Greek dining experience then definitely check out Ampelostrates in Koiliomenos.
Either way, don't miss the breathtaking cove of Porto Limnionas.
Like This Article? Pin it!