Gerakas Beach may not be on many lists of the best beaches in Greece, but when considering the best beaches in Zakynthos, you can't miss out on this one. If you're planning on visiting Zakynthos then you really don't want to miss out on this long, stunning stretch of golden sand on the southern tip of the island.
It may not get the same press as the most photographed beach in Greece, Navagio, but the quieter, southern cousin of Shipwreck Cove is still worth a visit.
See Also: The Ultimate Guide To Greece Travel
About Gerakas Beach
Pulling into the parking lot you'd be forgiven for not understanding what all the fuss was about. But as you start to walk down the long switchback wooden ramps towards Garakas Beach, you'll quickly realize why this is a popular haunt for those looking for some sun and sand in Zakynthos.
This is part of the protected National Marine Park of Zakynthos because it's a popular nesting and breeding ground for the famous Loggerhead Turtles that frequent these shores.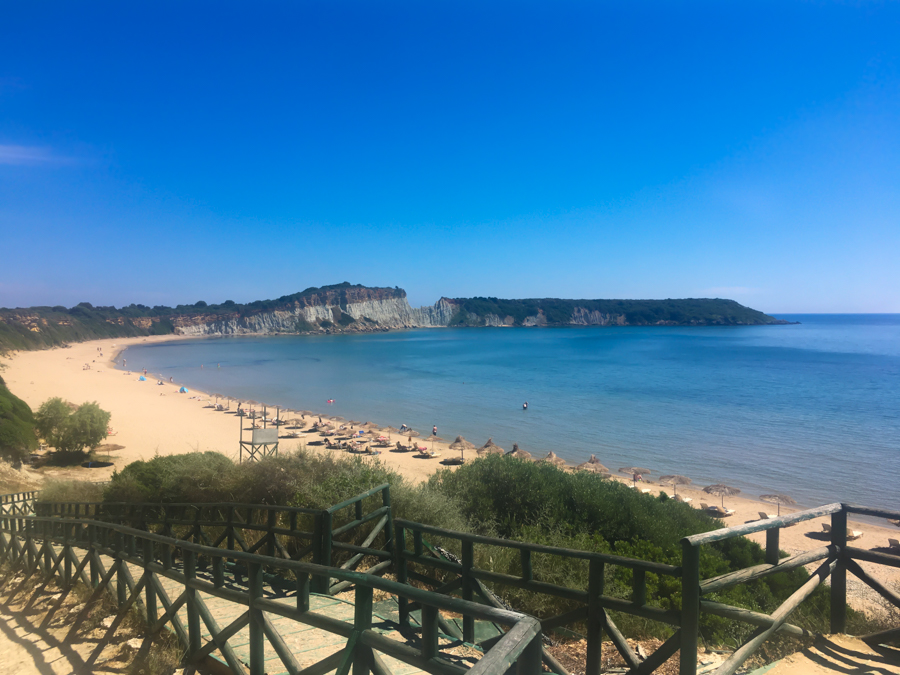 There is also some medicinal mud clay here that was once enjoyed by all tourists who visited, but unfortunately, the mud has since deteriorated, making the ridge unstable so it is now actually closed off to visitors.
Where is Gerakas Beach?
Gerakas Beach is on the southeastern point of Zakynthos Island in the Ionian Sea of Western Greece. The beach is situated on a long peninsula that juts out from the south part of the island.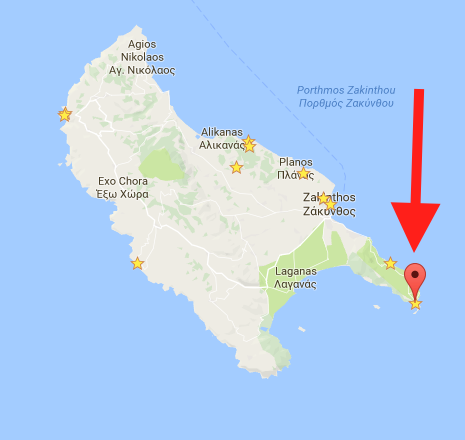 The beach faces to the west, so it would be a good place to relax and watch the sunset over the island of Zakynthos, however, the beach closes at 8:00 pm because as part of the National Marine Park, it has to be clear in the evening when the loggerhead turtles come up on the sand to lay their eggs.
Seeing Loggerheads in Zakynthos is definitely one of the best things to do in Greece and Gerakas Beach is one of the best places to find them. You have a pretty good chance of coming face to face with one of these enormous creatures while swimming in the water here.
How To Get There
📍Gerakas Beach – Zakynthos 291 00, Greece
Gerakas Beach is about a 10-minute walk south of the nearest town of Vasilikos. There are 4-6 public buses that run every day between Vasilikos and Zante Town depending on the season.
The best way to get to Vasilikos and Gerakas Beach is to rent your own car. We rented a car for our entire 10 days stay in Zakynthos and we couldn't recommend it enough. It's cheap (around €15 / day) and the roads are easy to get around.
I recommend downloading the Google Maps app (iOS and Android) on your phone and then downloading the map of Zakynthos to use offline. Then simply click the location link above and save the location on your map. Then you can easily get driving directions there at any time, even when you're offline.
If you don't feel comfortable driving and don't want to take public transport, there are also some tours that can take you around the entire island of Zakynthos including a stop at Gerakas Beach. Check GetYourGuide for tours on Zakynthos.
Best Time To Visit
The beach itself is actually only open between 7 am and 8 pm every day because it's part of the Marine National Park in Zakynthos. But to make the most of your trip to Gerakas Beach, you may want to come at the optimal time.
The Best Time of Day To Visit Gerakas Beach
The best time of day to visit Gerakas Beach in Zakynthos is around mid-day when the sun is directly overhead and it illuminates the beautiful Ionian Sea and golden sand of the beach.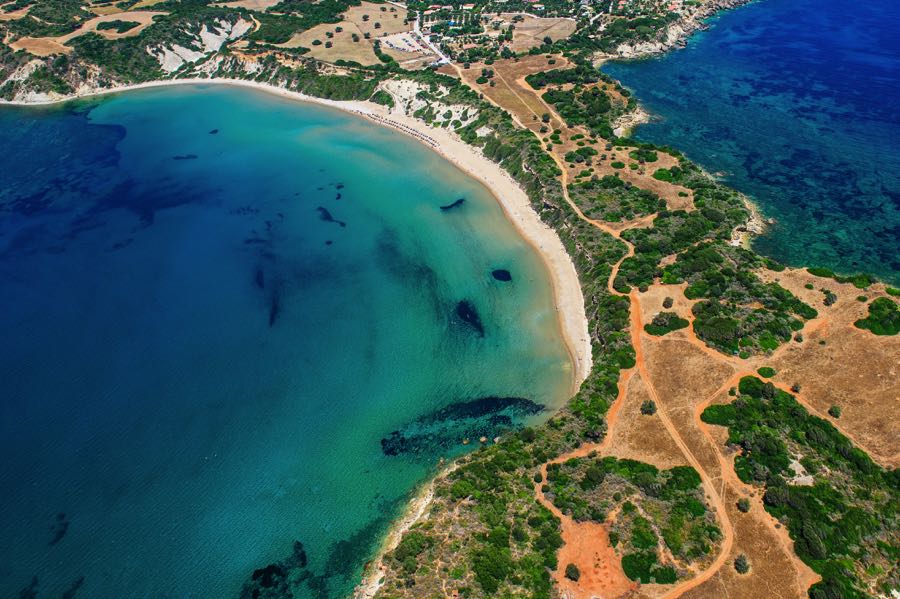 If you want to avoid the crowds, however, it's recommended to come in the early morning (7 am – 11 am) or the late afternoon (3 pm to 8 pm) when most of the crowds have thinned out.
The Best Time Of Year to Visit Gerakas Beach
The best time to visit Zakynthos is the same as the best time to visit Greece. If you want the best chances of good weather, you can come to Zakynthos anytime between March and early November.
The absolute peak season is July and August and during this time Gerakas Beach can be quite busy, but even in the high season, the beach is quieter than many others on the island like Navagio Beach and Laganas Beach.
We prefer to visit Zakynthos in the shoulder season, either between March and May or September and early-November when the sea is still relatively warm, the weather is usually decent and there are much fewer crowds.
The Type of Sand on Gerakas Beach
The sand at Gerakas Beach is actually quite soft and there aren't very many rocks in the water to stub your toes on. The incline going out into the sea is also quite gradual, making this a great beach for families.
You won't get into any deep water until you are about 100 meters offshore here, so you'll see plenty of people playing water sports and lounging around, even far from the sand.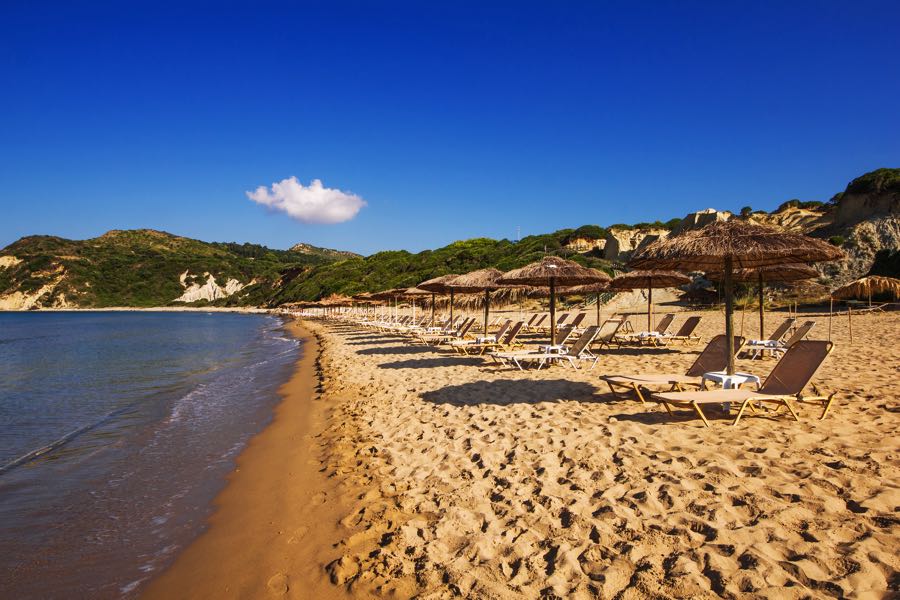 The colour of the sand is golden and when the sun hits it from overhead it illuminates the stunningly clear Ionian water, making for that typical brilliant blue hue that you'd expect from Greece, with a tinge of turquoise.
Swimming With Turtles on Gerakas Beach
Gerakas Beach is part of the National Marine Park of Zakynthos which means that it's a popular nesting and hunting habitat for the beautiful Loggerhead Turtles of Zakynthos.
This is one of the best places to swim with Loggerhead Turtles in Zakynthos, so make sure you bring your snorkel and mask when visiting Gerakas Beach.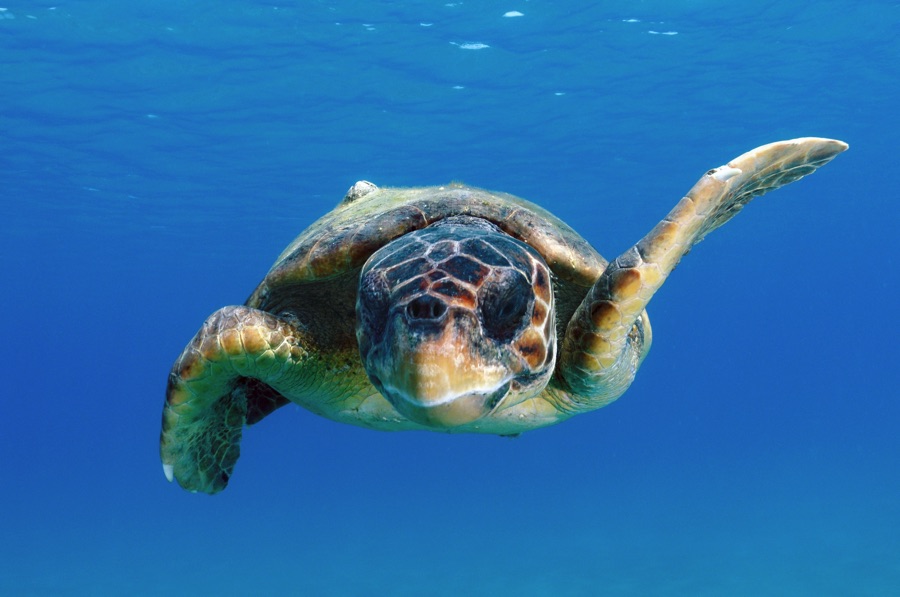 On the way to the beach at the end of the main road in Vasilikos, you'll see the Zakynthos Sea Turtle Rescue & Information Center. Depending on the season you can see baby turtles and recovering adult turtles in the tanks here.
Facilities On The Beach
Because the beach is part of the National Marine Park of Zakynthos, you won't find any facilities on the beach like toilets, change rooms, beach bars or showers.
It's also worth noting that you're not allowed to bring your own umbrella here because of the possibility of damaging a turtle nest. There are security guards on the beach who will tell you where you can and cannot sit.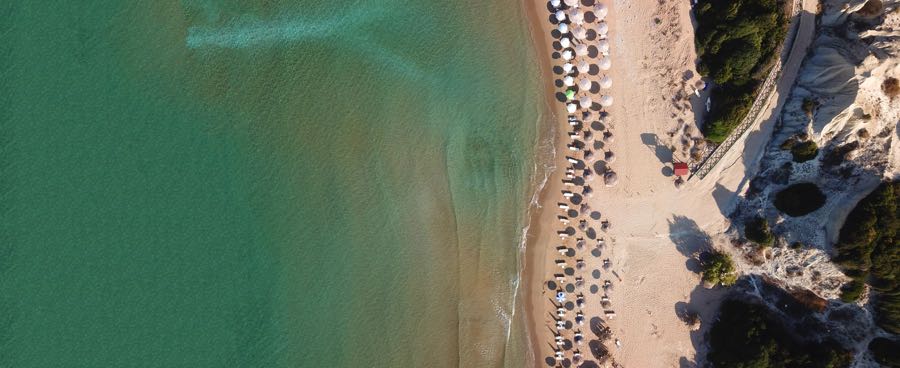 They will charge you €8 for a couple of chairs with an umbrella for the day. If you don't want to pay it then you can simply lie on the sand with a towel, but just know that there isn't much natural shade on this beach and it can be very hot in the middle of the day.
Where To Stay Near Gerakas Beach
If you want to stay near Gerakas beach then the most obvious place is in Vasilikos, but if you have a car you can also stay at one of the other tourist towns in the south. Here's a list of some of the best places to stay near Gerakas Beach.
In Vasilikos (10-minute Walk From Gerakas Beach)
Vasilikos is a nice town to stay in Zakynthos. It offers a wide range of accommodations including luxury hotels, apartments, beach bungalows and studios and there's also some great bars and restaurants here.
Hotels in Vasilikos
Villa Lavente (Rooms from €44/nt): Villa Levante is located in a lush hillside about a 15-minute drive North of Gerakas Beach and about 5 minutes outside fo the town of Vasilikos. Rooms are air-conditioned and they also have small apartments with kitchens or kitchenettes and private bathrooms.
Villagio Studios & Apartments (Rooms from €65/nt): This is another lovely place just 10 minutes drive north of Gerakas beach and just on the outskirts of Vasilikos town. They have an amazing 9.7/10 from reviews on Booking.com, this complex is also close to Casa Playa Beach and just 800 meters from Agios Nikolaos Beach.
Athena Studios (Rooms from €65/nt): At just 150 meters from the sand, Athena Studios is one of the closest accommodation options to Gerakas Beach. Rooms are bright and modern with local furnishings and light wood accents. They have one and two-bedroom apartments available. All have kitchens, TVs and patios.
Zante Town (30-minute Drive From Gerakas Beach)
Zante town is a little further away from Gerakas Beach but it's a popular place to stay in Zakynthos. If you are looking up where to stay in Zakynthos and you don't think that Vasilikos is for you, then you may want to stay in the capital of Zante Town. There are plenty of hotel options in Zante Town and it is connected to the Gerakas Beach area by a public bus that runs 4-6 times per day.
Click Here to see the best hotel options in Zante Town on Booking.com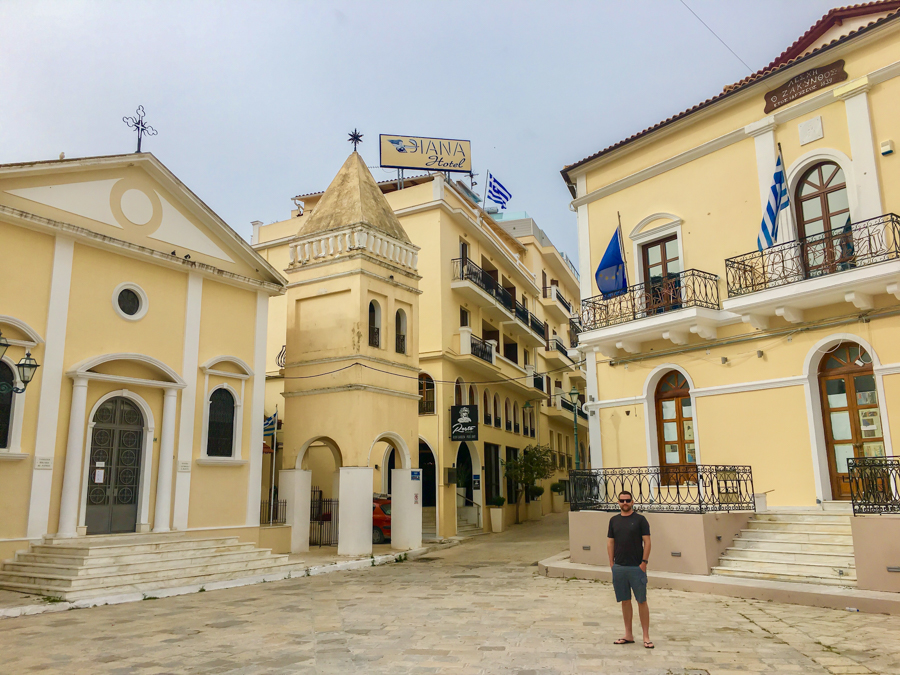 Laganas Beach (34-minute Drive From Gerakas Beach)
Laganas Beach is a younger part of Zakynthos and one of the most popular places to stay on the south side of the island. There is a bit more going on here than in Zante Town and Vasilikos, including more restaurants, accommodation options and some decent nightlife.
Click Here to see the best hotel options in Laganas Beach on Booking.com
Best Restaurants Near Gerakas Beach
There are plenty of restaurants near Gerakas Beach but none actually on the sand. If you want to have lunch during the day, or swim at the beach all day and then have dinner afterwards, then the best restaurants near Gerakas Beach are in the town of Vasilikos. Here are a few of the best:
Taverna Nikos
📍Vasilikos 291 00, Greece
⭐︎ 4.4/5 (177 Reviews)
Taverna Nikos is one of the closest restaurants to Gerakas Beach. Set on the road on the way to the sand, this is a popular place for beachgoers to stop for meals. They have really affordable prices compared to some other nearby restaurants. At the time of writing it was cash only.
Taverna Galini
📍Zakinthos 291 00, Greece
⭐︎ 4.6/5 (179 Reviews)
This place is set a little further back, closer to the center of Vasilikos town about a 10-minute walk to the beach. The prices are good and its set on a bit of a farm with goats, rabbits and turkeys roaming around, making it great for families. The food is affordable and there's a lovely view of the garden and the animals.
Ristorante Italiano e Pizzeria Da Camillo
📍Vasilikos 291 00, Greece
⭐︎ 4.5/5 (156 Reviews)
Another super popular place in Vasilikos, if you're tired of Greek food and you're looking for some pasta and pizza then this is the place. The prices are good and the service is quick and friendly. Keep in mind that this place is often full around mealtime in high season, so you may want to call to reserve a table.
Should You Go?
Gerakas Beach is easily one of the best beaches in Zakynthos. Make sure that you take the time to come down and check it out. Whether you stay in Vasilikos Town for a couple of nights, or you just stop by the beach for a swim with some Loggerhead Turtles, it's definitely worth your time.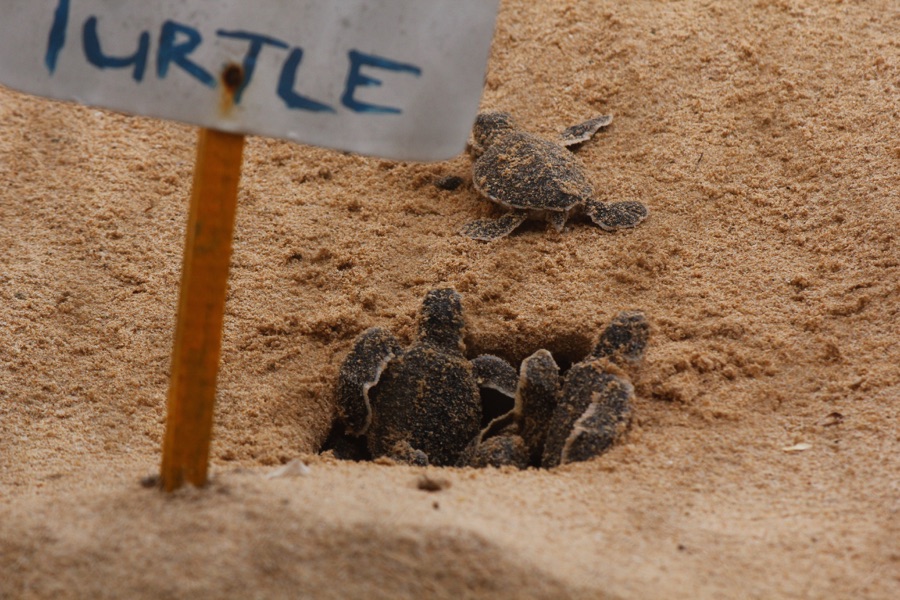 This is one of the shallowest and calmest beaches in Zakynthos and it's really easy to get to, but usually not too crowded. Especially when comparing it to Navagio or Laganas. If you're looking for a relaxing place to soak up the sun in Zakynthos (and maybe spot a turtle or two), this is the spot.