After staying on the island for over 2 weeks and visiting many of the nicest coves, we found that while Xigia Beach, with its towering cliffs, white pebbly sand and natural sulphur mud may not have been one of the best beaches in Greece, but it was definitely one of the best beaches in Zakynthos.
There are actually 2 Xigia Beaches side-by-side, one to the south and one to the north. This post will be about the one that is slightly further north of Zakynthos island which is the one that is the most scenic and has the best Sulphur mud.
SEE ALSO: The Ultimate Travel Guide to Greece and our Complete Guide to Travelling to Zakynthos
Where Is Xigia Beach?
📍Elation 290 91, Zakynthos, Greece
Xigia Beach is located in the Koroni region on the northeastern coast of Zakynthos Island in the Ionian Sea of Greece. Xigia Beach is easiest to reach by car and I recommend renting a car while you're in Zakynthos Island as there are plenty of things to do in Zakynthos that will require transport.
You'll want to be able to get around to many of them each day (like Zante Town, The Venetian Castle, the famous Navagio Beach and Lofos Restaurant to name a few).

I recommend downloading the Google Maps app and then downloading the map of Zakynthos to use offline. You can then Click Here or click the map address above to see directions to Xigia Beach.
There are a couple of sulphur beaches side by side here, but I recommend the north one as it is more picturesque with tall cliffs sheltering the white pebble sand on three sides.
Best Time of Day To See Xigia Beach
As with most beaches in Zakynthos, the best time to see Xigia Beach is at mid-day, when the sun is directly overhead and illuminates the white pebbles and the incredible Ionion Sea to make a truly breathtaking beach photo.
You can also visit Xigia Beach in the early morning as the sun rises over the mainland of Greece here in the morning. There are sometimes people strolling along the beaches here at daybreak.
When To Go To Zakynthos
The best time to visit Zakynthos is the same as the best time to visit Greece and the Greek Islands. We prefer to come in the Spring (March-May) or the Fall (August – October) when there are fewer crowds, but the weather is still nice and the sea is still warm enough to swim (March is still a bit nippy).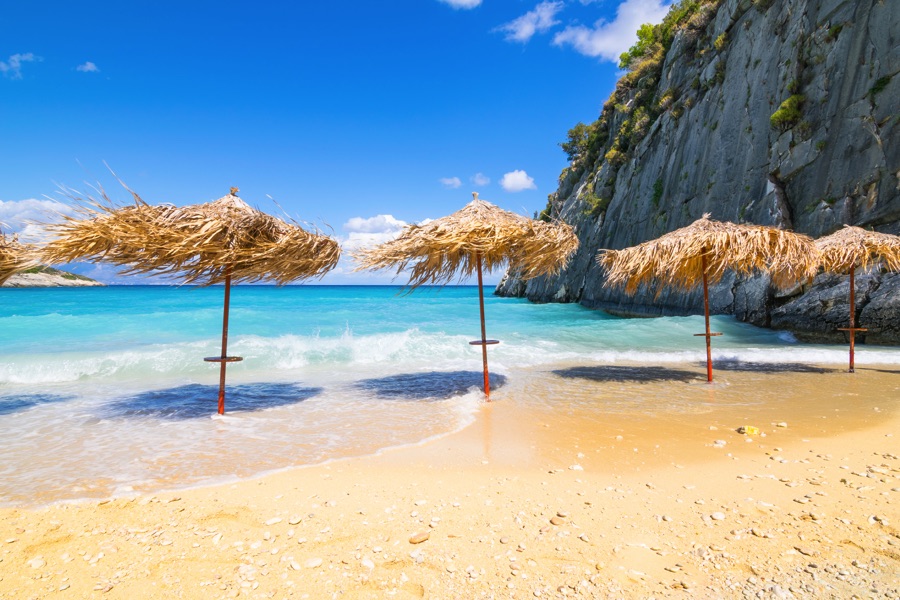 Most people come to Greece in the summer months because that is when many people are on summer holidays. At this time Xigia Beach and other beaches like Navagio Beach (Shipwreck Cove) can be packed with tourists.
But it's the hottest time in Zakynthos as well and it's when the sea is at its warmest, so its a great time to visit the islands if you want to laze in the sand and get a nice suntan.
How To Get To Xigia Beach
The best way to get to Xigia Beach is by getting your own rental car. There are some public buses that can get you to Xigia Beach from Zakynthos Town. You'll have to stop over and switch buses in Alykes first (35 minutes), then from Alykes, you'll have to take a taxi (€8-10).
There are also some tours that will take you to Xigia Beach but they will be a part of a larger day trip that will likely cost up to €30.
Which brings me back to my best option for getting to Xigia Beach in Zakynthos and for getting everywhere else on this fantastic island. Rent a car! You can find car rentals for around €15 / day when you rent for a week on Expedia and it's worth it.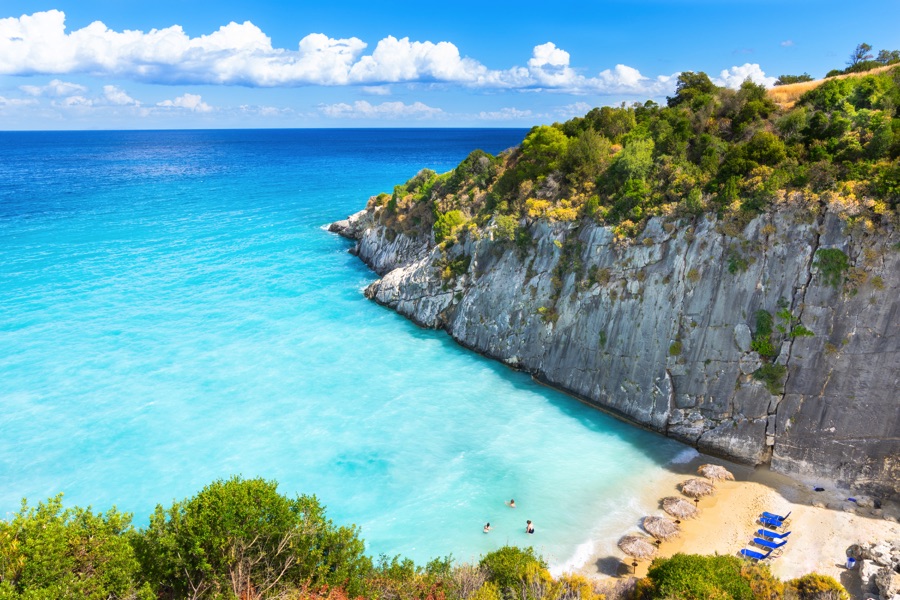 Considering the buses around Zakynthos aren't that easy to figure out (most destinations aren't on Google Maps at the time of writing), and tours around the island are expensive, it's worth it to rent a car and the roads are easy enough to drive on.
The Type of Sand on Xigia Beach
Xigia Beach is like many other beaches in Zakynthos and in the rest of the Ionian Sea. It may look like perfect white powdery sand from where you park your car and start to head down to the beach, but it's actually not.
But when you take the first step onto the beach and cringe slightly in pain as your feet, you'll quickly realize that it's actually tiny pebbles. It's best to wear water shoes or at least flip flops so that you can be comfortable while walking around and heading out for a swim.
The Sulphur Springs
Between a small crack in the jagged rock walls that surround Xigia Beach is a sulphur spring that oozes a smelly, milky white substance into the water, turning the sea around it a little bit cloudy.
This is the sulphur that gives the beach its name, but before you get too deterred by the scent, keep in mind that sulphur is known to help muscle and bone pain, as well as skin problems. You're basically swimming in a fountain of youth, so if you must, plug your nose until you get used to the smell, jump in and enjoy the health benefits of this breathtaking beach.
Where To Stay Near Xigia Beach
There are a few hotels and places to stay near Xigia Beach, but this isn't what you'll likely choose when thinking of where to stay in Zakynthos. The best hotels are in Zante Town, Laganas, Tsilivi and Vasilikos, but if you want to stay near Xigia Beach there are a few options.
Emerald Suites (10 Minutes North By Car): Emerald Suites is a 4-Star hotel north of Xigia Beach in a town called Askos. It has good reviews on Google and Booking.com and rooms here start at around $300 / night in the shoulder season. Check out the latest prices on Booking.com.
Xigia Beach Residence (Walking Distance): Xigia Beach Residence is walking distance to Xigia Sulphur Beach and is the closest and most affordable options you'll likely find in the area. It gets a 9.8 Review and is around $60 per night in the shoulder season. Check out the latest prices on Booking.com.
Best Restaurants Near Xigia Beach
If you're making a day of it, you might as well head to one of the nearby restaurants. The beach itself is delightfully uncommercialized, so you won't find any bars or restaurants right on the sand, but that's part of what adds to the allure. If you want to have a meal near Xigia Beach, check out these places: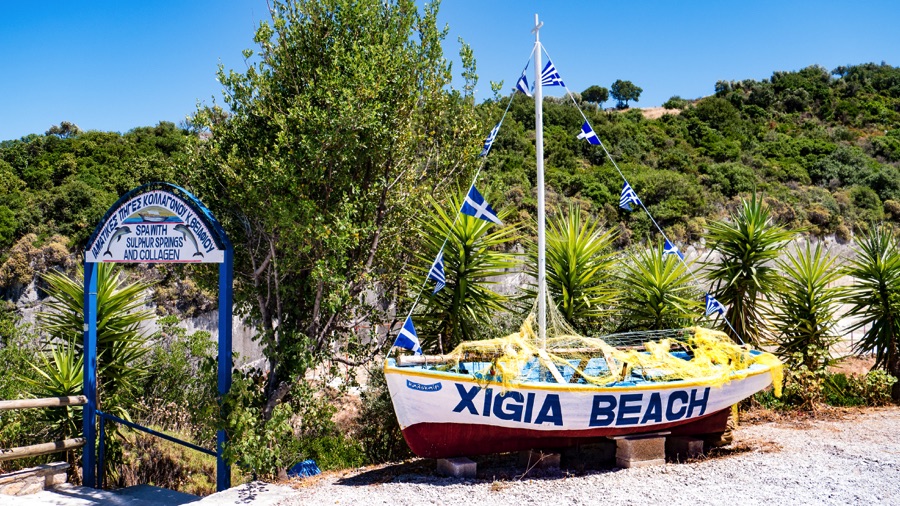 Xigia Tavern: As you leave South Xigia Beach and hit the main road, you'll see the beautiful Xigia Tavern up a hill about 500 meters away. The restaurant, like Lofos Restaurant in Zakynthos, has a spectacular view of the Ionian Sea and offers up some great food as well. They do great steamed muscles here.
Taverna to Pelagaki: Another nice little Greek Taverna with a view over Xigia Beach, Taverna to Pelagaki does pizza, meat and potato dishes, souvlaki and a great octopus meal as well.
Should You Go?
Xigia Beach is a great experience for sure. More than just a beach, the milky sulphur leaking into the water gives the tiny rock sheltered cove a very unique feel. There is a bit of an odour in the air, but it's worth it for the health benefits.
It's a relaxed place and while it may not have the best restaurants in Zakynthos nearby, there are a couple of cool little taverns where you can stop in for a bit to eat. The sand is pebbly and there's not much natural shade in midday, so bring an umbrella if you can.
Xigia Beach is a beach and a free spa experience all wrapped up in one so I'd definitely recommend checking it out on your next trip to Zakynthos Greece.
Like This Article? Pin it!