Alykes Beach may not be one of the best beaches in Greece, but it's definitely one of the best beaches in Zakynthos. In fact, after travelling around the island for more than two weeks, this was our favourite stretch of sand.
Not only is this bay filled with softer sand than most Ionian Beaches making it easier to walk around and swim without wearing footwear, but it also had one of the best restaurants in Zakynthos located right on the beach.
In this post, I'm going to break down everything you need to know about Alykes Beach in Zakynthos. Whether you want to stay near the beach, or just go there and have lunch as part of a day trip, this post will cover it all.
See Also: The Ultimate Guide To Travelling in Greece
About Alykes Beach
Alykes Beach is a stunning stretch of granulated golden sand that has actually been awarded the blue flag for cleanliness, an honour that is not given to a lot of beaches in the world. In fact, Greece has the second most Blue Flag Awarded beaches in the world which is something that they are very proud of.
It's perhaps most famous for the massive Alykes Beach resort, but despite having one of the biggest beach resorts on the island, it's still one of the most chilled out beaches in Zakynthos.
Where is Alykes Beach?
Alykes Beach is located off the east northeast point of Zakynthos Island, a small island of about 40,000 people in the Ionian Sea in western Greece. This is one of the best places to visit in Greece.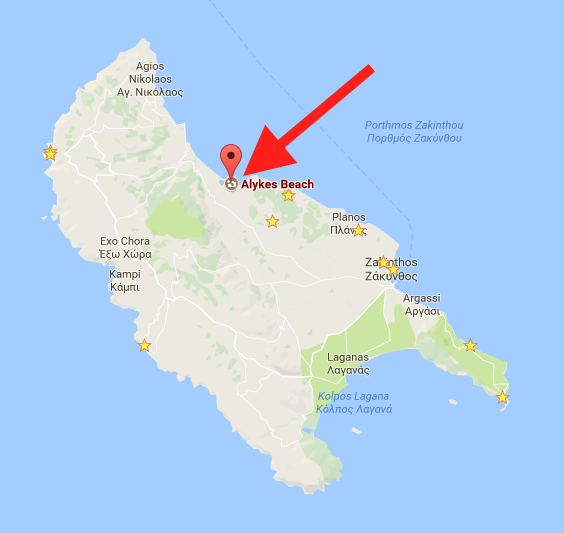 Zakynthos is about 20 kilometres west of mainland Peloponnese Greece and about 249 kilometres west of the capital of Athens City.
Alykes Beach itself is located in the town of Katastari in Zakynthos Island. The city has plenty of restaurants, bars and accommodation options and many people will end up choosing Katastari when deciding where to stay in Zakynthos.
How To Get To Alykes Beach
📍Alykes Beach: Katastari 290 90 – Zakynthos, Greece
Because Zakynthos is a small island and it doesn't have the best public transport system, I recommend renting a car for the duration of your stay. We rented a car for the entire time we were there and it was the perfect way to get around and see all the things to do in Zakynthos.
A rental car will cost you around €15 – €20 per day depending on the size of the vehicle, insurance and the season in which you travel.
There are a few public buses that go between Zante Town and Akyles Beach, but they stop running in the late afternoon. There are also quite a few tour operators on the main road in Katastari town which offer trips into Zante town and back.
There's also a touristy road train (Trainiki) that passes by Alykes Beach and up to the nearby village of Pigadakia. You can also rent motorbikes, quads, bikes and scooters from tour operators and rental companies on the main roads in town.
Best Time To Visit Alykes Beach Zakynthos
If you're coming to Akykes Beach Zakynthos on part of a day trip, then you'll want to time your trip for the best time of day to visit Alykes Beach, and if you're trying to decide the best time to visit Zakynthos, then you'll also want to know the best time to visit Greece as a whole.
The Best Time of Day To Visit Alykes Beach
The best time of day to visit Alykes Beach is the same as any beach in Greece. You'll likely want to arrive mid-day when the sun is directly overhead and illuminating the brilliantly blue Ionian Sea at the beach.
Sunrise is also a great time to visit Alykes Beach as you can see the sun climbing up over the Greek Mainland at certain times of the year. Sunset's a beautiful time to visit as well, but don't expect to see the sun hit the sea here. If you want to see that you'll have to go to beaches on the west coast like Porto Limnionus or from the cliffs of Kampi.
The Best Time Of Year to Visit Alykes Beach
The best time to go to Zakynthos is anytime between March and November when the Sea is warm enough (it'll be a bit chilly at either end though), the weather is warm and tourist sights, restaurants and accommodations are open.
We prefer to visit Zakynthos in the shoulder season, between March and May or September to Early November. The sea is a bit cooler at these times, but there are way fewer people on the island and the tourist sights (like Navagio Beach) are much less crowded.
The summer months (June to August) are also a great time to visit Alykes Beach Zakynthos. This is when the Ionian is at its warmest, but daytime temperatures can reach 40°C (104°F) so it's not really comfortable to be anywhere besides the water. Also, the crowds can take away from the peaceful nature of the beach.
The Type of Sand on Alykes Beach
Alykes Beach Zakynthos is a unique beach on the island because it actually has nice, granular golden sand. So many other beaches in Zakynthos and in the rest of the Ionian and Mediterranean have pebbles, which make it very uncomfortable to walk on them.
Alykes Beach is sandy enough that you can stroll along large stretches of it in bare feet and you can also lay your towel down in the sand comfortably, without having a bunch of stones poking into your backside!
Where To Stay Near Alykes Beach
When deciding on where to stay in Zakynthos, you may find that Alykes Beach area is a great option. There are plenty of hotels and apartments available, as well as a few cool guest houses and the massive Alykes Beach Resort. Here are a few of the top-rated places to stay on Alykes Beach.
Kanela Studios: Whenever we visit Greece we always book little apartments on Booking.com and Kanela Studios is a great option for those looking to do the same close to Alykes Beach. These cozy and well-decorated studios are just 30 minutes from the sand and are surrounded by a lush garden with a stone-paved sun terrace. They have 9.6 stars on Booking.com reviews and prices start at around $80 per night in the high season. See Prices on Booking.com.
Villa Ana Alykes: Set just 100 meters from Alykes Beach, Villa Anna offers a holiday home with 2 comfy air-conditioned rooms with a patio and free wifi. There is a kitchen, dining area and washing machine. This is a great option for two couples or a family on a longer stay. Prices start at around $78 per night and they have 9.8 out of 10 on reviews on Booking.com. See Prices on Booking.com.
Alykanas Village Resort: If you're looking for more of a resort feel then this is likely the best option for you near Alykes Beach. It's a 4-star hotel with all the amenities you'd expect from a place of this calibre. It gets raving reviews on Booking.com and prices are around €84 – €251 on average per night depending on when you visit. See Prices on Booking.com.
Best Restaurants Near Alykes Beach
There are so many restaurants to choose from around Alykes Beach, but our favourites are on the sand. In fact, our favourite restaurant in Zakynthos was located on the small jetty that separates Alykes Beach from Alykanas Beach next door.
Porto Paradiso
📍Katastari 290 90, Zakynthos, Greece
This funky little beach bar and restaurant is definitely one of the best restaurants in Zakynthos. It has tasty food, great service and if you order a drink or a meal from here, you can use the beach lounge chairs for free. We spent a couple of afternoons just chilling at this beach bar with a Mykonos beer in hand. Highly recommended.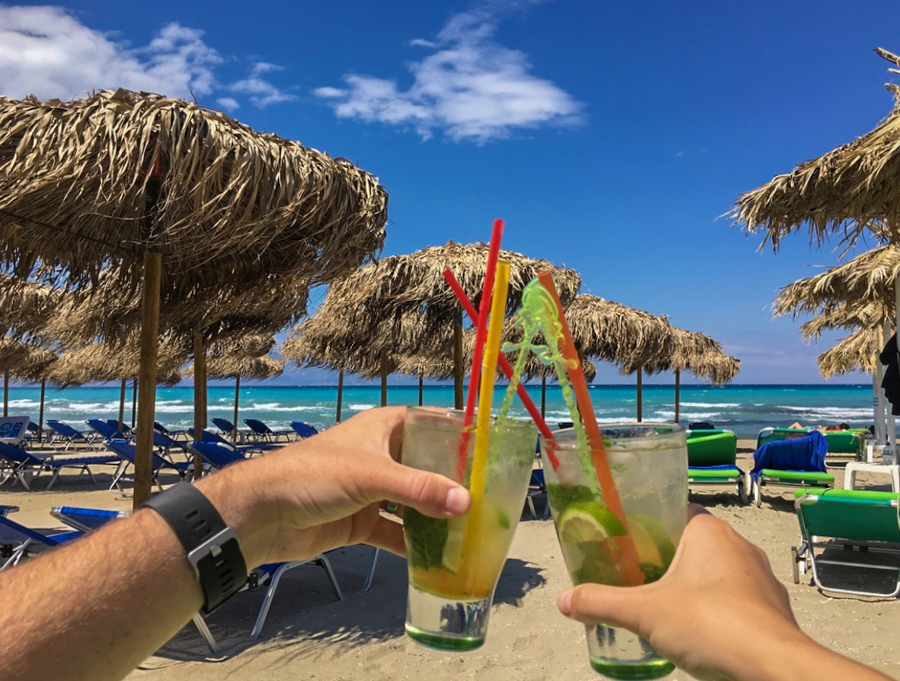 To Koukounari Taverna
📍Katastari 290 90, Zakynthos, Greece
This is a really popular place with amazing reviews on Google and Trip Advisor. They have a great staff and the food here is delicious. Try the Greek dishes like the chicken souvlaki and the chocolate souffle for dessert.
Paporo Beach Restaurant
📍Katastari 290 90, Zakynthos, Greece
Another great beach restaurant set right on the sand, Paporo is a great option on Alykes Beach. It's literally right next door to Porto Paradiso. The food here is a bit more expensive and a bit more fancy (with strange dangling shrimp kababs zipping out of the kitchen), but it's clean, the service is good and you can't beat the location.
Asteria Taverna
📍Katastari 290 90, Zakynthos, Greece
This is another perfectly situated taverna right on Alykes beach. They have delicious Greek food with a really friendly chef and staff. They're open breakfast, lunch and dinner and they have some tasty dessert pancakes on the menu as well.
Pita Break Grill House
📍Katastari 290 90, Zakynthos, Greece
This super-local joint is set on the main road back from the beach, but it's well worth a visit. They serve, you guessed it, delicious pitas and gyros for an affordable price (around €2.50 for a pita) and they have ice-cold beer for cheap here as well.
Should You Go?
Alykes Beach is definitely a must-visit stretch of sand on any Zakynthos itinerary. If you're coming to the island, make sure that you get out and explore a bit. It's not a huge place, but there are so many things to do in Zakynthos.
Alykes Beach area is a great place to stay in Zakynthos, but even if you don't stay in Katastari town, at least come here for a day or a half-day to eat at Porto Paradiso (or the other restaurants listed) and laze on the sand for a bit. It's a chilled out and safe place to swim and sunbathe.
Like This Article? Pin it!