Bali is one of the most talked-about travel destinations in the world, and for good reason. With hip beach towns, traditional villages, a couple of volcanoes, and even a few smaller islands off the coast, there are plenty of places to visit in Bali.
While Bali may look a bit unassuming on the map next to gargantuan Java – the most populous island of Indonesia and home to the capital of Jakarta – there's a lot going on here.
A quick ride can bring you from a bustling tourist hot spot to a tranquil Hindu temple in the rice fields. Or perhaps you'd rather cool off with a swim in a rushing waterfall. There are countless things to do in Bali to keep you busy!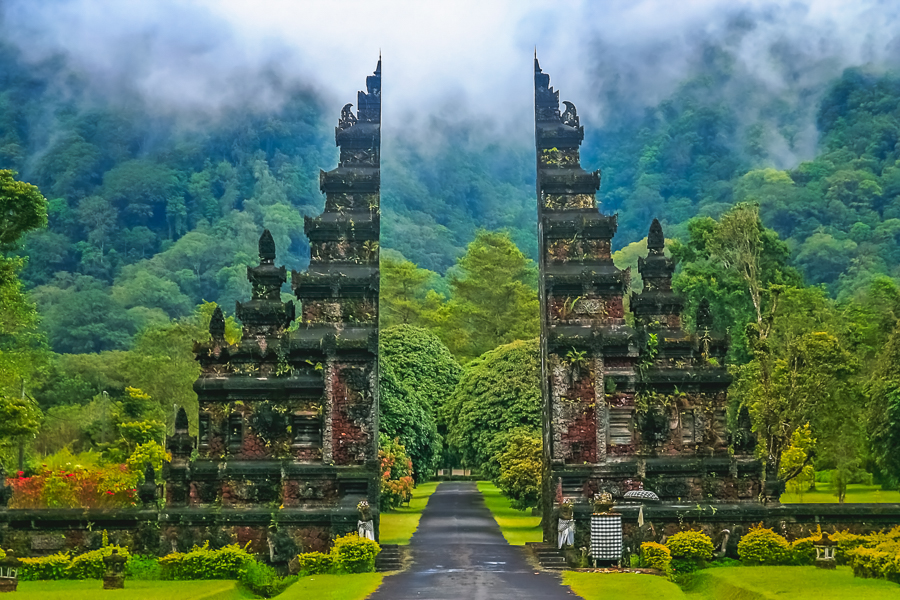 I first visited on a short vacation while I was teaching English in China. That trip was the impetus to quit my high-paying job and leave my cushy life to go on a gap year. A second, slightly longer trip to Bali still wasn't enough, so I applied for the Darmasiswa program and moved there for a year to study the language and culture of Indonesia.
You may be tempted to just plop down in your beach chair, but I'm here to encourage you to get out there and explore all that this idyllic island has to offer. Having made many loops around the island, I know where to go in Bali and am excited to share my list with you.
Here's my list of the 15 most amazing places to visit in Bali.
1. Seminyak
One of the best places to visit in Bali is the trendy and stylish beach town of Seminyak. It's just north of the chaos of Kuta-Legian, but it feels worlds apart. Here you'll find boutique hotels and swanky villas as well as some excellent dining, shopping, and nightlife.
While the town itself is nice, the highlight of Seminyak is definitely Double 6 Beach.
The waves are mild here, so it's a good spot for swimming, boogie-boarding, and surfing. It's the perfect place for beginners and there are plenty of surf schools around to help you start carving up waves. After all, surfing is huge here in Bali.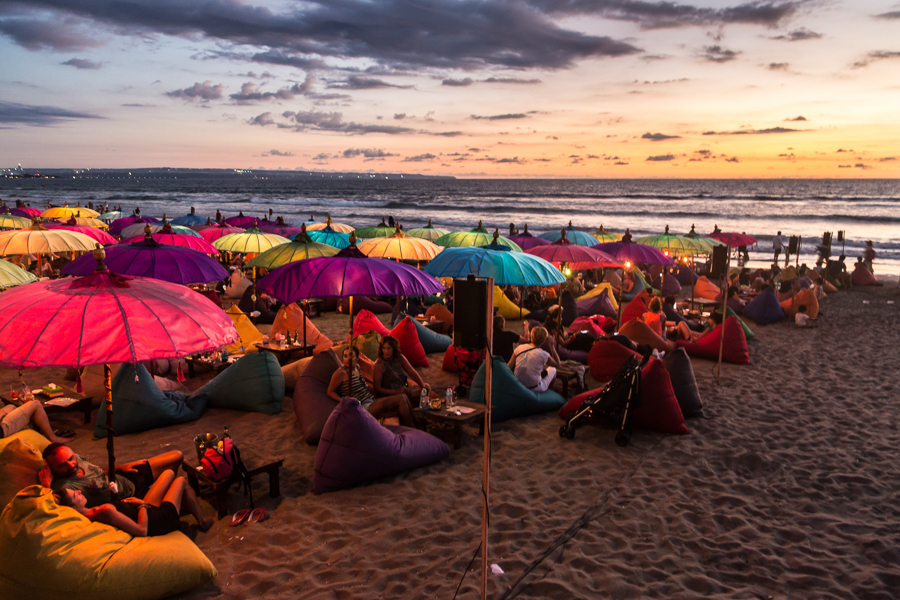 This west-facing beach is a prime spot to watch sunset. Locals and tourists alike gather here every night to watch the sun dip below the horizon.
One of my favorite things to do in Bali is plopping my sarong down in the sand at Double 6, dumping some rum into a fresh young coconut (I call it a coco-rum-onut) and watching the sunset.
There are also plenty of awesome bars to take in the sunset in Seminyak. My personal favorite is La Plancha, where they have a multitude of colored bean bags and lights on the beach, tasty cocktails, and some fantastic food choices. Other fun spots include the upscale Ku De Ta and the Double Six Rooftop Bar.
With so many amenities and a much more laid-back vibe than its southern neighbors, Seminyak is the perfect beachfront base for your Bali trip. Be sure to check out our guide on where to stay in Seminyak to find the perfect spot.
2. Ubud (where to go in Bali for culture, nature and relaxation)
Our next stop is the cultural and spiritual heart of Bali — Ubud.
Located about an hour north of the capital, this is actually a cluster of different villages that are each run by their own local committee (known as banjar in Indonesian). For the purpose of travel, though, it's easier to just refer to the whole area as Ubud.
In the central part of town, you'll find the Ubud Palace and the market. This corner is often clogged with day-trippers and a seemingly never-ending stream of taxi drivers and touts. If it's a bit of peace and quiet you seek, you'll have to dig a little deeper in Ubud!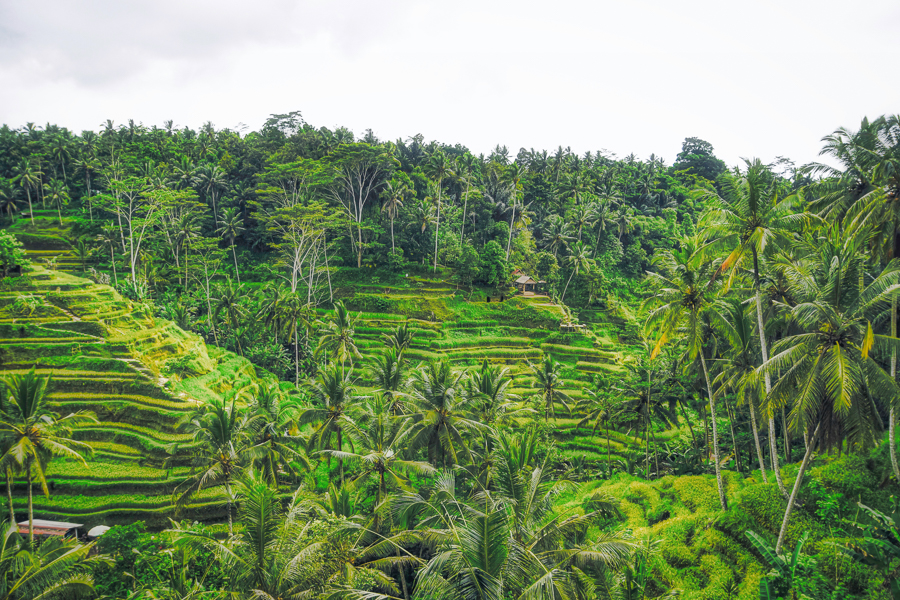 Thankfully it's not that hard to get your zen on in this town. One of the most popular things to do in Ubud is taking a yoga or meditation class, and there are plenty of excellent studios to choose from.
If that's not your thing, you can always just go for a stroll along the scenic Campuhan Ridge Walk out into the rice fields.
Ubud is also home to a few amazing museums, such as the Blanco Renaissance Museum and the Agung Rai Museum of Art. It's a major center of Balinese dance as well, and there are nightly performances at venues all over town. I recommend grabbing dinner at the Lotus Cafe so you can see a show at the beautiful Water Palace.
Food, nature and culture are what make Ubud one of the best places to visit in Bali and should be included in your itinerary.
3. Mt. Batur and Mt. Agung
Indonesia is located in the Ring of Fire, and Bali alone is home to two active volcanoes. If you're trying to figure out what to do in Bali and are up for a challenging adventure, you can try to reach the peak of one or both of them!
Mt. Batur is the more accessible of the two and is an easier hike.
It's 1,717 meters tall and can be climbed in just a few hours. Even though it's relatively easy, you really can't hike Mt. Batur on your own. This is because of the "company" (i.e. local mafia) that controls the trail and access to it. Don't bother trying to deal with them and just book a tour with a reputable company.
I can personally recommend visiting Mt. Batur with Bali Eco Cycling. They have a variety of options for tours, including their summit, swim, and spa tour that includes a soak in the hot springs and a massage. What better way to relax after climbing an active volcano? Check their website to explore the options.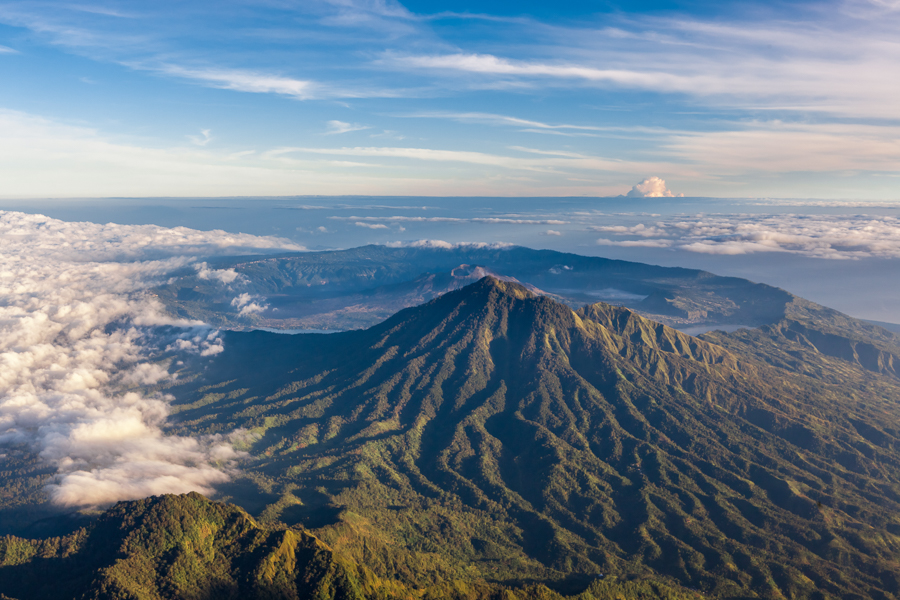 Those seeking a bit more of a challenge may head to Mt. Agung, Bali's tallest and holiest mountain. In fact, Bali's Mother Temple (Pura Besakih) is located on the slopes of the volcano.
Towering at 3,031 meters, reaching the peak is no joke! You have to start the trek in the middle of the night to get to the summit for sunrise.
Note: Mt. Agung has been quite active these days, having erupted as recently as June, 2019. You may want to check on the activity there before getting your hopes up about going on a trek. Despite being able to see the volcano from my house on a clear day, I never made it to the summit of Mt. Agung. It's high on my list of things to do in Bali when I make my triumphant return.
4. Canggu
Next up on our list of where to go in Bali is Canggu. This town has long been popular with surfers but is starting to attract more visitors and digital nomads.
Since the beaches here are grey or black sand and the waves can be a bit rough, you won't find huge crowds of tourists or touts here.
It's nice being able to kick back in a beach chair and crack an ice-cold Bintang without being swarmed by people trying to sell you sarongs. The breaks in Canggu are great for more advanced surfers or for a bit of extreme boogie-boarding.
Not too long ago, the area was nothing but rice paddies.
As with much of Bali, change has been quick here. Canggu is now home to plenty of hotels, villas, restaurants, and bars catering to a new wave of visitors. Popular hangouts here include Old Man's and Finns.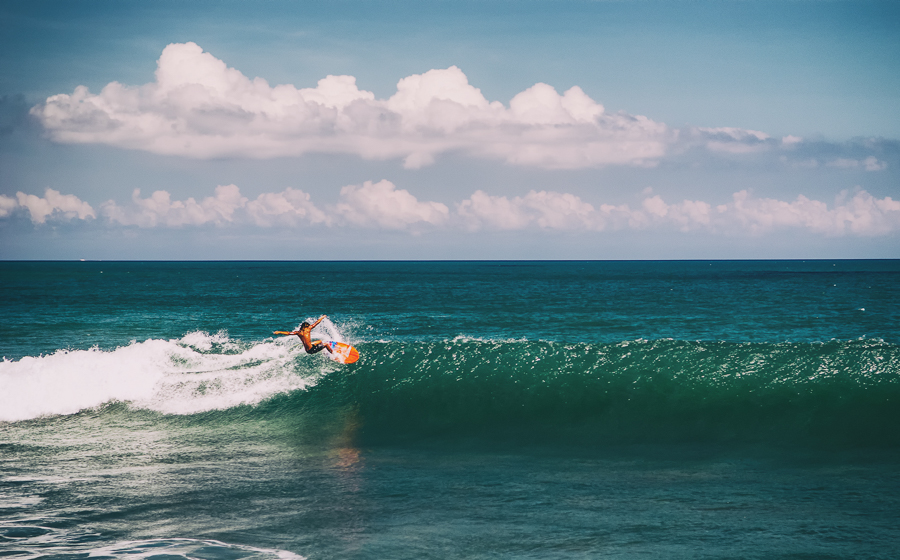 Canggu is also one of the best cities to visit in Bali for digital nomads, with several co-working spaces and cafes to choose from for your productivity needs.
If you're thinking about working remotely from here, be sure to read this guide to digital nomad life in Canggu. I always enjoyed visiting Canggu, and next time I head to the island I'm hoping to use it as a nomad base.
5. Sidemen
One of my absolute favorite places to visit in Bali is the tranquil town of Sidemen. Just so you know, it's pronounced "see-da-men" and not "side-men." If the crowds of the beach towns and Ubud get to be too much for you, this is the perfect place to escape to.
Sidemen is a traditional Balinese village full of terraced rice fields and Hindu temples.
You won't find any McDonald's or Starbucks out here! That being said, the town has developed into quite the tourist destination in recent years. It's home to several excellent hotels, spas, and restaurants, making it a great spot for some good old fashioned R&R.
If you're interested in learning about Balinese culture, Sidemen is an excellent choice. You can head to a workshop to learn about the village's lovely songket style of weaving or sign up for a cooking class to make Balinese classics like pepes ikan.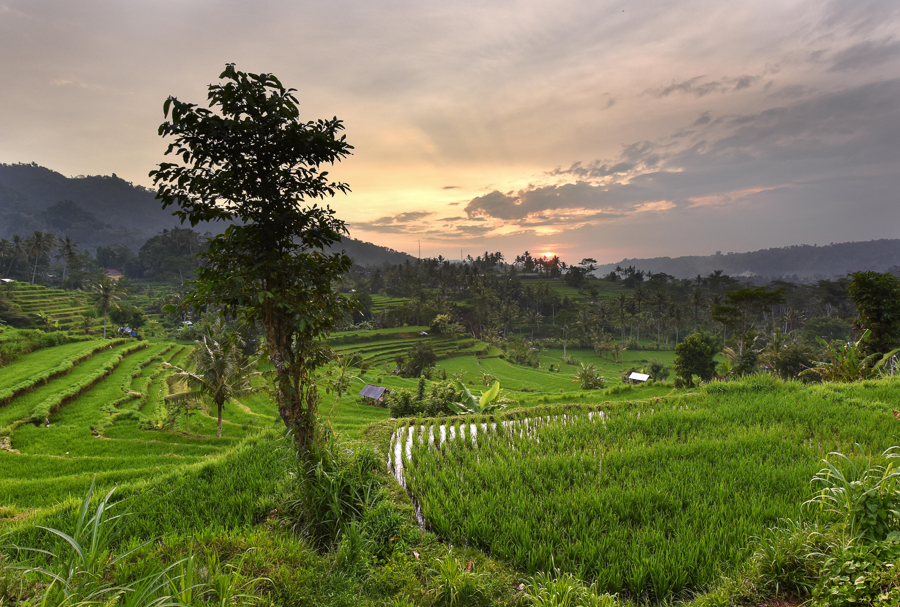 Perhaps one of the best things to do in Bali is simply jumping on your motorbike and going for a ride.
Sidemen is the perfect base for exploring one of the most beautiful areas of Bali. Just don't be surprised if you get stuck in a bit of a traffic jam when a traditional funeral procession comes through the streets! Rather than get frustrated, just sit back and take it all in and enjoy this eye-opening cultural experience.
6. Amed (one of the best places to visit in Bali for scuba and snorkelling)
If you're hoping to spend the majority of your trip to Bali underwater, then Amed is the place to be. Much like Ubud, this is actually a cluster of villages that get grouped together for simplicity's sake. Amed is located on the northeast coast of Bali, which literally feels like a different planet when compared with the crowded beach towns of the south.
It's a quiet place where most people make a living off of fishing and salt production rather than hustling tourists. I've been all over the island, and I can definitively say that Amed is one of the best places to visit in Bali.
As it's very near the very active Mt. Agung, the beaches of Amed are black volcanic sand. This deters the throngs of sun-seekers who crowd the beaches of Kuta and makes for a much more relaxed vibe.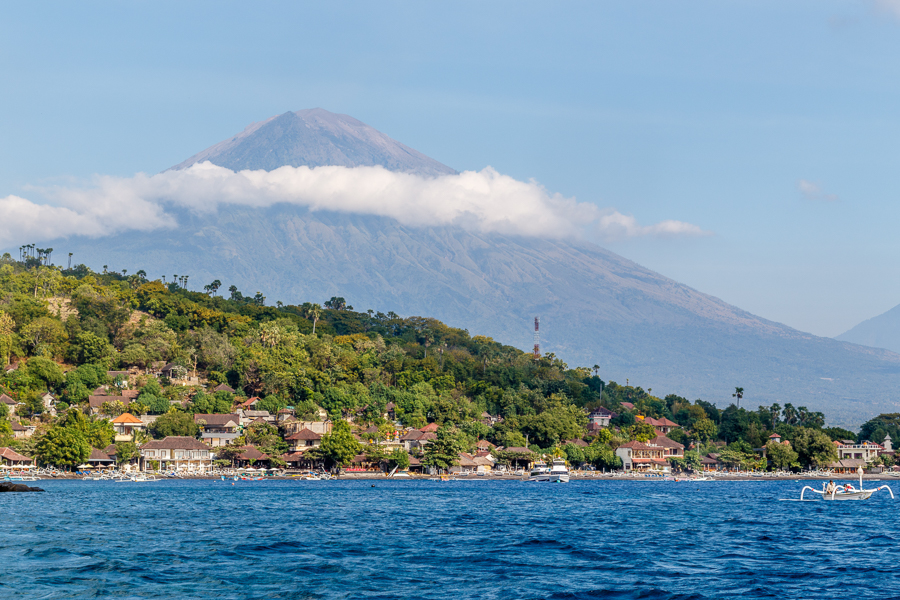 A small tourist industry exists here, thanks in large part to the excellent snorkeling and diving opportunities just offshore. There are plenty of dive shops in Amed and a variety of options for exploration under the sea. The most popular dive site in all of Bali is Tulamben, and it's located just a short drive away.
For more on diving in Indonesia, be sure to check out these posts:
You don't have to be a diver to enjoy Amed, though. There's some great snorkeling to be had just offshore from many of the beaches. You can simply swim out for a few minutes and look around the amazing Japanese shipwreck. There's also an easy hike that takes you to a nice viewpoint of the area and plenty of choices when it comes to guest houses and restaurants.
7. Bukit Peninsula
Next up in our grand tour of Bali is the Bukit Peninsula. This rugged and rocky mass of land in the south is just barely connected to Bali. It definitely feels like a whole different island down here.
Even though Bukit is home to some of the best beaches in all of Bali, it's generally free of the crowds. That's due to the fact that many of the beaches can only be reached by walking down a few hundred stairs, which means you need to walk back up when you leave!
If you're willing to sweat a bit and work your leg muscles, you're spoiled for choices when it comes to beaches. Some of the best include Balangan, Green Bowl, and Padang-Padang. With a rented scooter and a few days, you can try to hit all the beaches of Bukit.
One of the top things to do in Bali is to visit the area in Bukit known as Uluwatu. Here you'll find the cliff-side Uluwatu temple, which is home to some naughty monkeys and a nightly kecak performance that's absolutely mind-blowing. I highly recommend adding it to your Bali itinerary.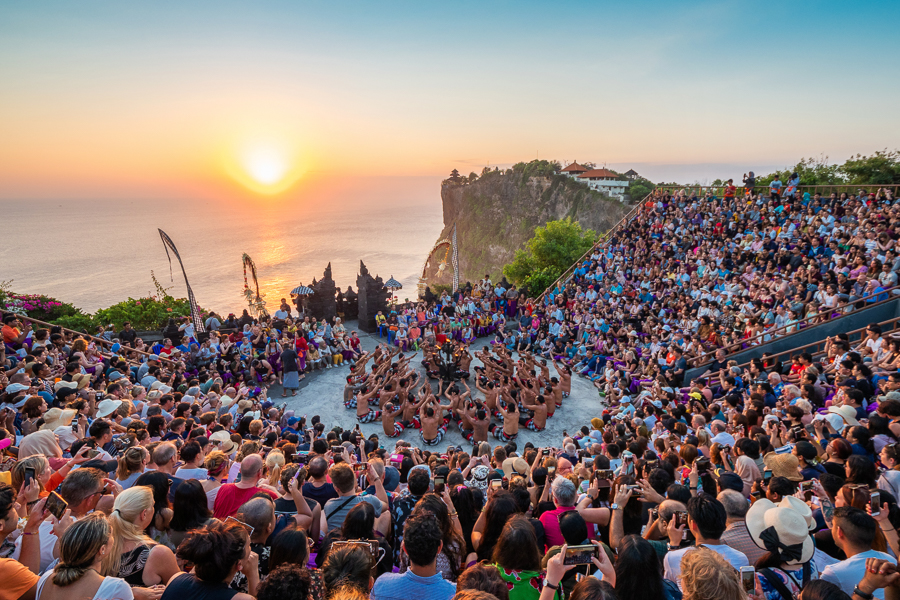 If you're wondering where to go in Bali for surfing, Uluwatu is one of the best spots.
If you're like me and can't stand on a board to save your life, just pull up a chair at one of the bars on the cliff and watch the experts carve up the waves below. Single Fin is the go-to bar/restaurant in the area, especially for their rowdy Sunday night shindigs.
Take a tour of Bali in just one minute in this video!
8. Candidasa
For those who prefer a more laid-back vibe on vacation, the town of Candidasa on Bali's east coast is a solid option. Despite being one of the most beautiful places to visit in Bali, it manages to fly under the radar of most visitors.
One reason Candidasa is free of crowds is that there aren't really any beaches here. They mined the coral reef here a few decades ago in order to get materials for construction, and this caused the beach to be washed away. Don't freak out, though — you can easily access the Virgin Beach from here, which just might be the best beach in Bali.
The best part about staying in Candidasa is its proximity to Bali's water palaces. Tirta Ganggaa and Taman Ujung area are both easily visited and are absolutely stunning places to explore. Snap lots of photos here, because these are some of the most Instagram-able places on the island!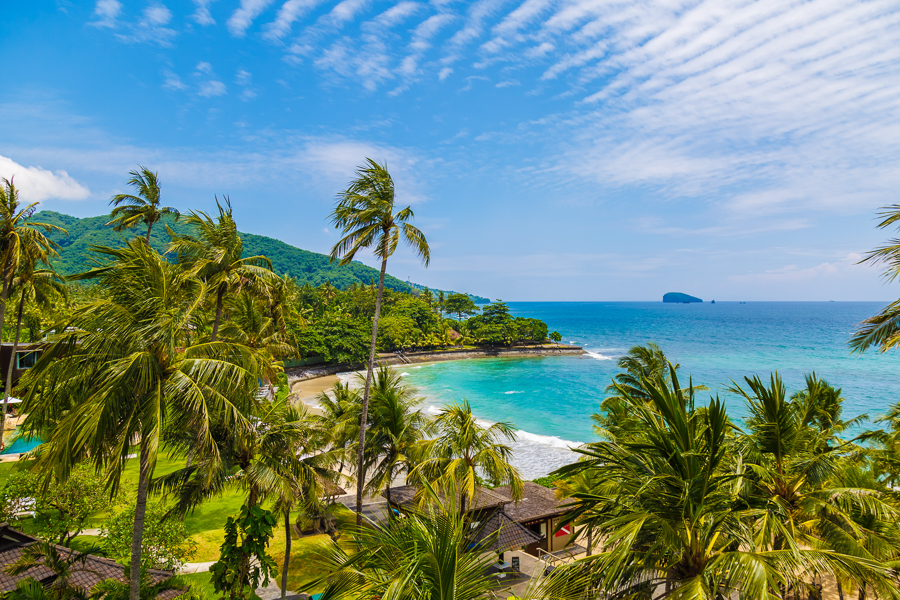 Another popular activity in this area is visiting the original Balinese village of Tenganan. The people here have maintained their traditional way of life despite the wave of development on the island. Although arranged tours here are admittedly a bit contrived, it's still an interesting place to see.
Note: If you're looking for somewhere to stay in Candidasa, we recommend Lotus Bungalows. These cute bungalows are set on beautiful tropical grounds, with a large infinity pool overlooking the sea. This chilled-out place is in a good location for sight-seeing in the area, and best of all, this is an affordable option. Click here to learn more about our stay in Candidasa and at Lotus Bungalows.
9. Munduk
While lounging on the beach is great and all, there are also some awesome places to visit in Bali that are up in the mountains. One such spot is the small town of Munduk. It's located in northern Bali near the three lakes and the perfect base for exploring the area.
With a day or two in Munduk, you have a lot of options for what to see and do. For starters, you can go hiking around the Tamblingan and Buyan lakes to enjoy some amazing views and cool mountain air.
After a nice hike, head to the nearby Banjar hot springs. Here you'll find several pools full of therapeutic spring water surrounded by tropical gardens. There are a few dragon fountains spitting water out that make for a great massage as well!
The next day you can head downhill a bit to visit Lake Beratan, which is home to one of Bali's most important temples. Thanks to its location, Ulun Danu Beratan appears to be floating in the lake! Be sure to bring your camera for this one as it's one of the most photogenic spots in Bali.
There are a handful of local guest houses and restaurants in Munduk to ensure a comfortable stay. If it's shopping and nightlife you're looking for, though, you'll be disappointed. This is a place to go for some peace and quiet out in nature and it's one of my all-time favorite spots in Bali.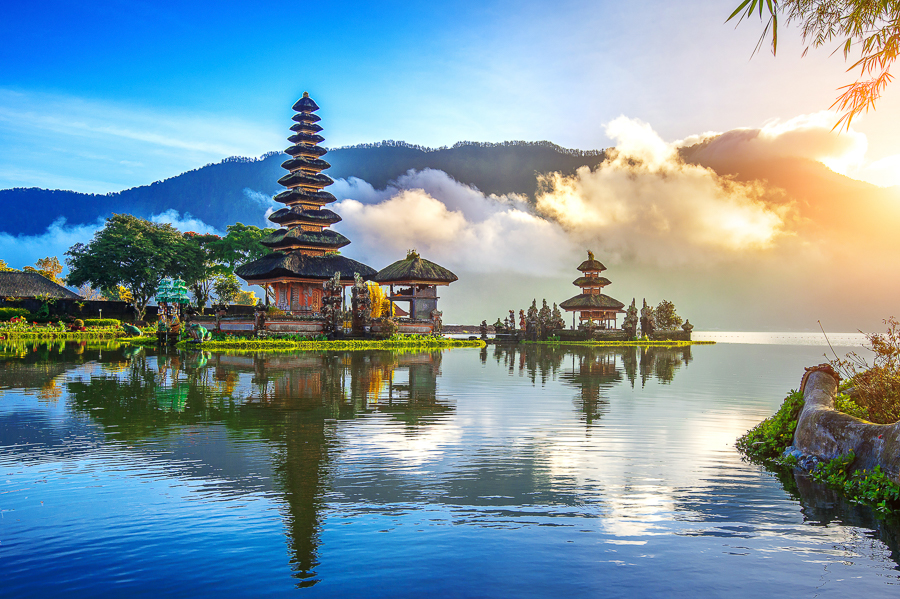 10. Sanur
I may be a bit biased towards the next destination, as it's where I spent most of my time living on the island. That being said, I firmly believe Sanur is one of the best places to visit in Bali.
This quiet beach town is located on the southeast coast of Bali and is just a short ride from the airport. I'm not joking when I say it's a sleepy place. In fact, many people refer to it as "Snore" for that very reason!
Despite being home to a sizable expat population and having a tourist strip full of hotels, spas, and restaurants, Sanur remains a traditional Balinese fishing village at heart.
This is a great place to experience the local way of life, especially during major holidays such as the Balinese New Year (Day of Silence) or the annual kite festival.
One of the best ways to experience all that the town has to offer is by joining one of the Sanur Cycle Tours. They've got lots of awesome options for exploring Sanur on two wheels, including their popular Jurassic Park Tour. You won't see any dinosaurs on this one, but you will get to wander around an abandoned theme park.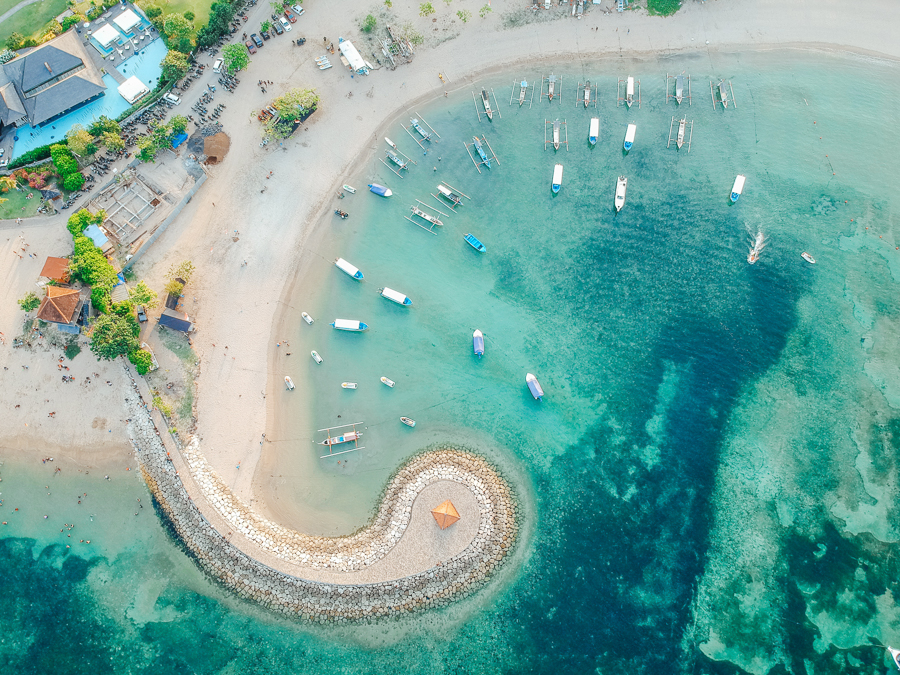 Since it's on the east coast, you won't find big waves here. It might be the best beach in Bali for just chilling in the ocean, and you can enjoy some SUPing here if you're into that. Sanur also makes a great base to explore the next few spots on our list of the best places to visit in Bali.
11. Serangan Island
In all my time on the Island of the Gods, I found one of the most interesting places to visit in Bali to be Serangan Island.
It's located just south of Sanur and is connected to the main island by a bridge. Even though it's just a stone's throw from the over-developed tourist zones of the south, Serangan remains a traditional slice of rural life in Bali.
The island is full of dirt roads and farmland, so the only traffic you'll have to worry about here are the cows!
There are also a few temples you can check out here as well as a turtle conservation center. It's free to visit, so they fund the place by putting turtles up for "adoption." With your donation, they let you name a turtle and release it back into the wild.
One thing I love about Serangan Island is just hanging out on the beach. This is very much a local beach with no frills. It's the kind of place where you lay your towel on the sand, order up some ikan bakar (grilled fish), and maybe sip on some arak (the local spirit).
They don't see many tourists over here, so you won't find the pushy touts that you get on the west coast beaches.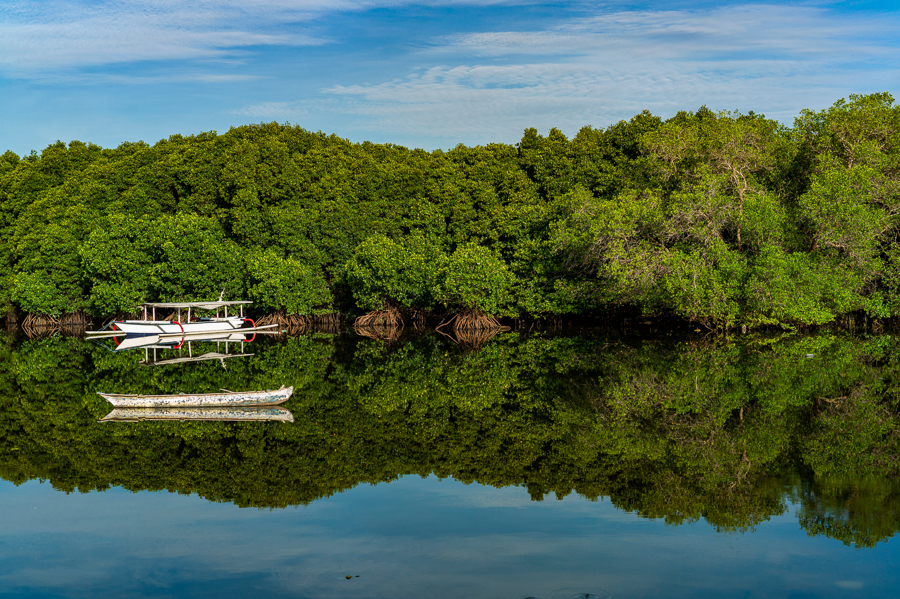 12. Nusa Islands
From Sanur, you can easily catch a boat to visit the nearby Nusa Islands. Although they're three separate islands, these are actually a part of Bali. It only takes about half an hour to reach them from Sanur, so you can even pop over just for a day trip.
If you can squeeze it in your itinerary, I highly recommend spending a night or two over here.
All three islands are worth taking the time to explore and are home to some stunning beaches. Here you'll find some solid breaks for surfing as well as some of the best snorkeling and diving opportunities in Bali.
The most popular island for tourists is Nusa Lembongan, where you'll find a good selection of hotels and restaurants. We spent a few days on Lembongan at the end of our first visit to Bali and it was a major highlight of the trip.
In the middle is Nusa Ceningan, which is the smallest of the three. It's home to the scenic Blue Lagoon and a "Secret Beach" that really isn't that secret.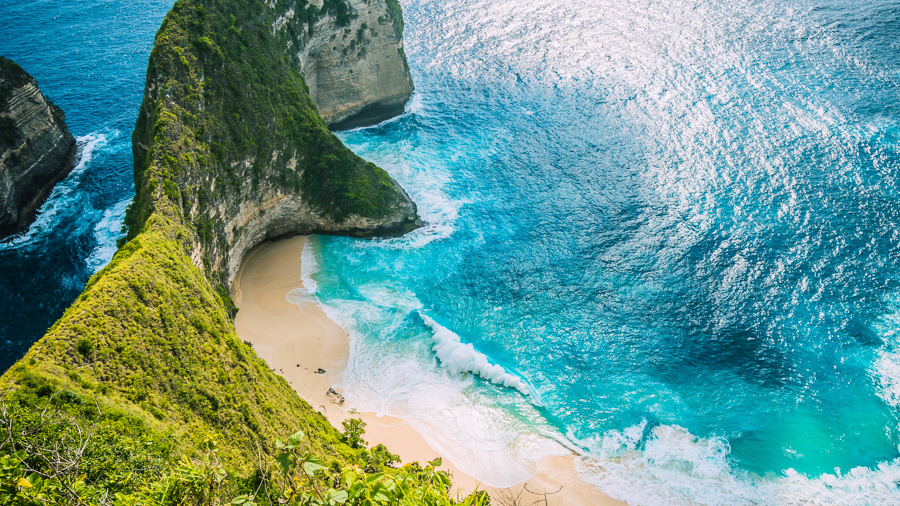 The biggest of the islands is Nusa Penida — a rugged, hilly, relatively undeveloped island. I recommend hiring a guide for the day to explore Nusa Penida so you get the most of your visit. When we did that, we were actually allowed to go into this huge temple in a cave during a ceremony since we were with locals.
13. West Bali National Park
It takes quite a bit of effort to reach, but West Bali National Park is well worth it.
This is located in the far northwest corner of the island and is actually very close to the ferry crossing over to Java. If you're traveling to or from Java, you should definitely be sure to include a stop here.
There are two different park offices where you can go to buy your permit and arrange for a guide. The entrance fee for the park costs about $15 per person and you'll need to hire a guide if you want to do some hiking here.
The most popular option for hiking here is the Tegal Bunder Trail, which is pretty easy and only takes around two hours. For more of a challenge, you can embark on the Gunung Klatakan Trail, which takes up to eight hours to complete.
In addition to hiking, West Bali National Park is one of the best places to go snorkeling or diving. Sign up for a tour to visit Menjangan Island, which is named after the many deer who call it home. I've done snorkeling and diving tours of Menjangan and had a fantastic time on both.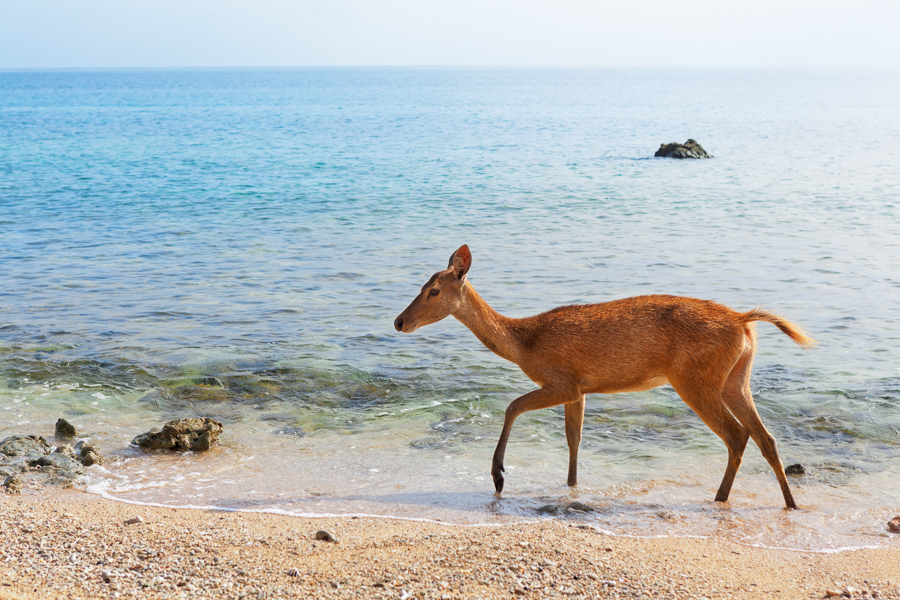 14. Pemuteran and Lovina
Even though they're two separate towns, I'm grouping a few places in North Bali together. First up, there's the small town of Pemuteran. There's not a whole lot going on here, but this is the perfect base for exploring West Bali National Park as it's just up the road.
In addition to hiking or diving in the park, you can also explore a few temples near town.
Pura Pulaki is home to a bunch of monkeys, who are believed to be the guardians of the temple. Just across the street, Pura Pabean boasts some incredible ocean views. Both are easily visited on a half-day trip from Pemuteran.
About an hour or so up the road, you'll find the sleepy beach town of Lovina.
If seeing dolphins is on your list of things to do in Bali, then you'll definitely want to include a stop here. You can spot the lumba-lumba (Indonesian for dolphin) early in the morning and it's super easy to arrange a boat tour. There's even a statue of dolphins right on the beach!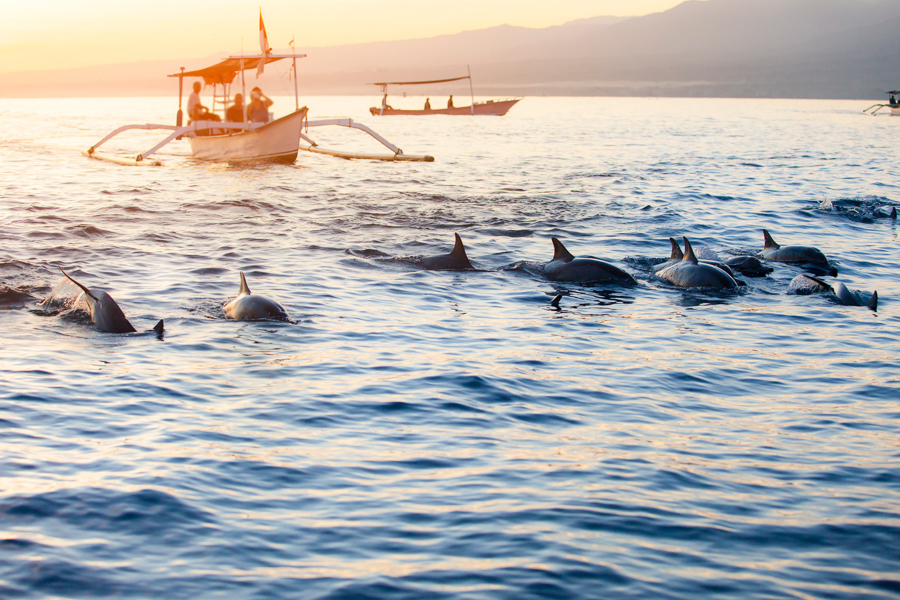 Both Pemuteran and Lovina have a decent selection of hotels, restaurants, and bars. They're also both devoid of the crowds that plague the southern beach towns, making them some of the most peaceful places to visit in Bali.
15. Denpasar
Last but not least, we head to the capital city of Bali — Denpasar.
While most visitors skip out on Denpasar entirely, I think it's well worth a visit. There's plenty to see and do here and it's easily visited on a half-day trip from any of the southern beach towns.
Start your visit to Denpasar off in Puputan Park. This large green space is home to the impressive Bajra Sandhi, which is a monument to the Balinese people.
It's worth it to head inside to see the detailed dioramas that depict the history of Bali and its people. Plus, you get some great views of the park from the third floor.
Another must-see in Denpasar is the Bali Museum. While it's not the most impressive museum in the world, it's worth the $1.50 entrance fee to check out the traditional architecture and the unique Balinese artifacts.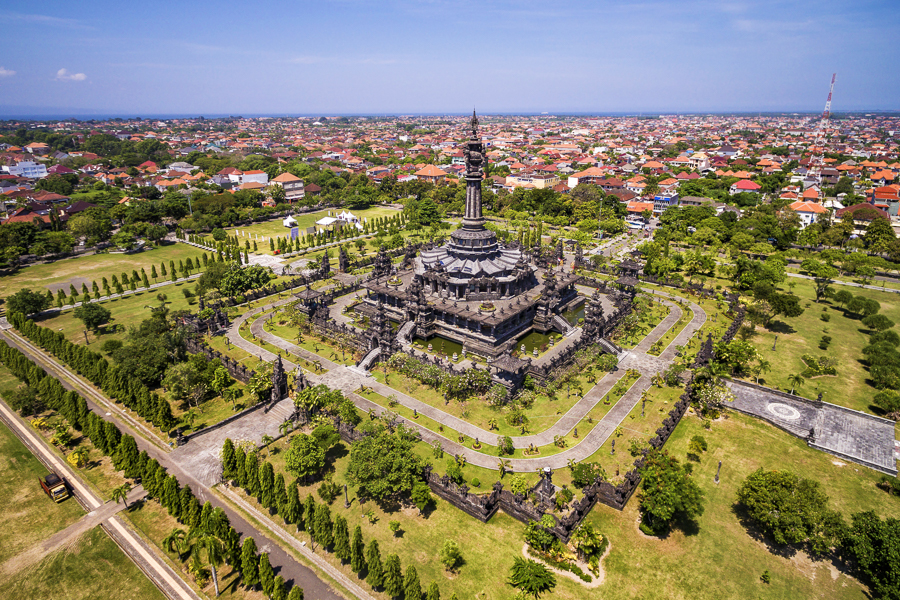 Next door, you'll find one of the most important temples in the city. Pura Agung Jagatnatha is dedicated to the supreme god Sanghyang Widi and is a beautiful place to check out. If you come under-dressed as I did, they'll let you borrow a sarong to wear so you can go inside and have a look.
In the capital city, it should come as no surprise that there are also plenty of places to shop and eat. Find a local restaurant and sit down to a plate of nasi campur (mixed rice) for a classic Indonesian dining experience.
Why Kuta is Not One of the Best Places to Visit in Bali
You'll note that I didn't include the popular Kuta-Legian area of Bali. This is because it's by far the busiest tourist area of Bali and therefore (in my opinion), it's also the worst.
It's full of chain hotels, American fast-food restaurants, and obnoxiously loud clubs. It's also a hot spot for con artists and thieves who prey on clueless, drunk tourists.
When I think of Kuta, I think of people speeding down the street on a motorbike. I also think of the crooked money changers that rip you off and the opportunistic thieves who snatch bags as they drive by.
Whenever people ask me where to go in Bali, my first response is "Definitely NOT Kuta!"
There are far too many better places to visit in Bali.
As a tourist, Kuta is fun for one night out I suppose, but beyond that, you're far better off spending your precious time on the Island of the Gods elsewhere and I hope my list helped you decide where to go in Bali to enjoy the pristine nature — away from the crowds.
Now You Know Where To Go in Bali!
I recommend mixing up your Bali itinerary. Spend a few days in a beach town, then head up in the mountains or rice fields for a change of pace. Add in a side trip to the Nusa Islands if you can, or just cruise up to the north to explore a quieter side of Bali.
Whatever you do, you're going to love it and will inevitably start planning your return trip before you leave! After traveling there twice and living there for a year, I'm still not even done with Bali. There's just so much to see and do on this beautiful island that you can keep coming back and always discover something new.
Have you been to Bali and have an awesome recommendation? Leave a comment below and let us know!
Images in this article are courtesy of Shutterstock.com.
Like This Article? Pin it!