Thailand has been a popular tourist destination for many years and although things have changed since the hippie days and $1 beach huts, Thailand is still one of the most affordable countries to visit and has lots to offer every type of traveller.
There are endless places to visit in Thailand, from islands and beaches to cities and villages, this is a country you could return to again and again.
In this post, I'm going to list the top places to visit in Thailand this year. Read on and start planning your trip to the Land of Smiles!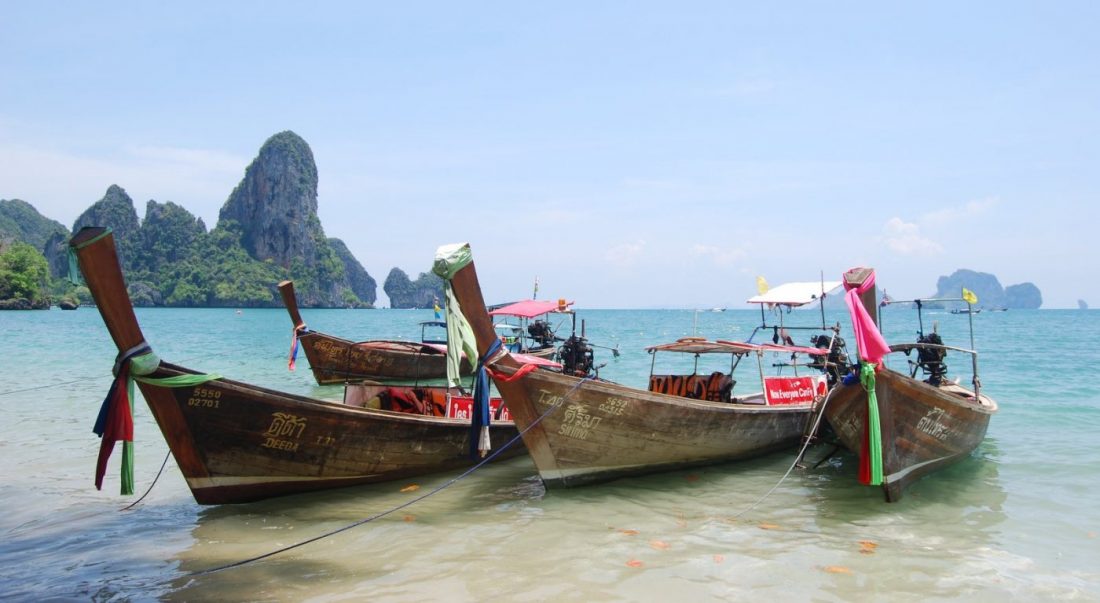 1. Bangkok (The City of Angels)
The capital city of Thailand is a must-see for sure. If you're arriving by air, chances are you'll be landing in Bangkok, but if you come to Thailand by boat, train or bus from a neighbouring country, make sure you make your way to the big city.
Bangkok is unlike any place I've ever been to — it's a city that never sleeps. The streets are bustling with people going to work, vendors selling their goods, and motorbikes zipping by.
Thailand boasts one of the best cuisines of any country in the world, but the street food in Bangkok is the best in the country. The parties and nightlife here are amazing and there's a unique blend of modern commercialism and historic sites.
Not only is the vibe incredible and the food fantastic, but there are endless things to do in Bangkok. Don't miss the Chatuchak weekend market, the Royal Palace and the parks (Lumphini is great). Also, make sure to have a drink at Moon Bar, cruise the Chao Phraya River, shop at the electronic mall…and so much more. Bangkok is definitely one of the top places to visit in Thailand.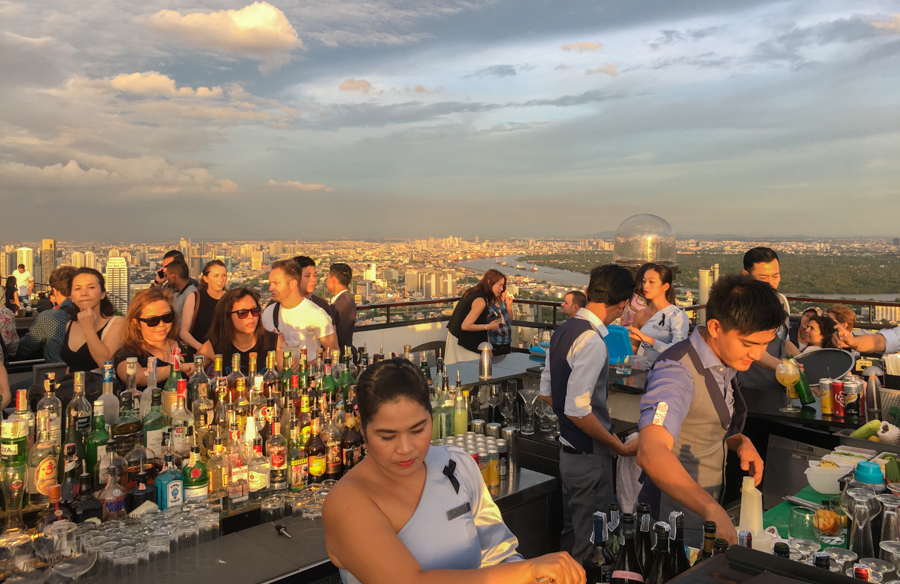 Read more about Bangkok on GoatsOnTheRoad:
In Bangkok, we stayed at and recommend D Varee Xpress and Siri Sathorn Executive Residence. Both of these accommodations are in Silom, a neighbourhood we've chosen to stay in during our past visits to the city. For all accommodation options in Bangkok, click here to see reviews and check prices on Booking.com.
Book Overland Transport From Bangkok
2. Hua Hin
Want to travel and vacation like the locals do? Hua Hin is one of the places to visit in Thailand to do just that! This is a popular weekend destination for Thais and expats, and if you're looking for the best beach on the mainland, this is where you'll find it. Hua Hin's sandy stretch is 8 kilometers long, and if you arrive during the week, you'll basically have the place to yourself.
Don't miss Chopstick Hill and the Wat on top, the night market, the floating market, the historic train station, the nearby Rajabhakti Park and the popular Cha-Am resort area (which is around 20 kilometers north).
☞ Click here to see reviews and compare prices on accommodation in Hua Hin on Booking.com
3. Khao Yai National Park
Thailand is filled with natural treasures just waiting to be explored. If you're interested in seeing Asian Elephants, gibbons, macaques, pythons, bears and more, then definitely check out Khao Yai National Park. This protected area spans 6,155 square kilometers (2,376 square miles) and was the first national park in Thailand. Today there are 127 parks in the country for you to explore.
You can camp with your own tent, rent a tent in the park, or stay in a cabin. If you prefer to stay outside of the park and visit during the day, there are many accommodation options along Thanarat Road, which runs from Pak Chong down to Mu Si and the Khao Yai gates.
Khao Yai National Park is a hiker's paradise! There are numerous trails you can take via foot or bicycle, and lots of waterfalls to visit. A ranger is recommended for hiking. For our guide to the park, click here. Visiting this National Park is one of the best things to do in Thailand.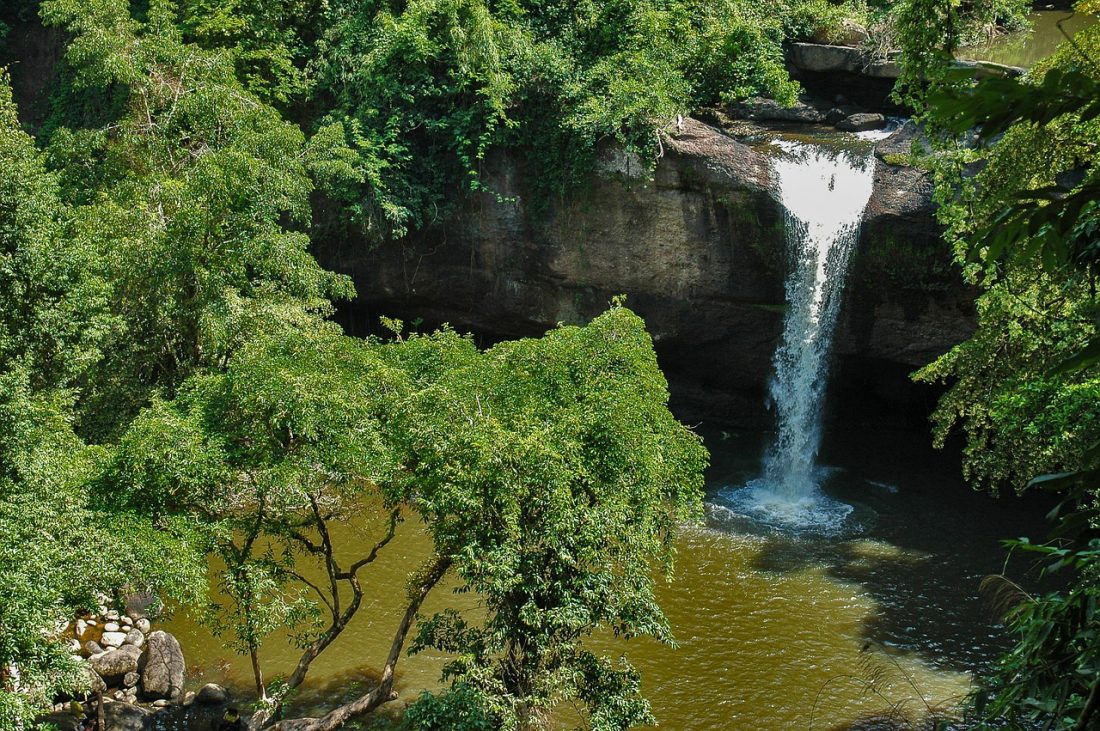 4. Koh Chang
This has to be one of the best islands and one of the top places to visit in Thailand. When planning an island-hopping getaway, most travellers think to head south to the Andaman Islands or the southern Gulf trio (Samui, Phangan & Tao)…but, there are some great places in the northern Gulf of Thailand! Koh Chang (Elephant Island) is one such destination.
Despite becoming more popular over the years, this mountainous island still retains its off-track vibe, depending on where on the island you visit. White Sands Beach has an amazing stretch of sand and while this is the busiest beach on the island, with the most resorts, there is still a backpacker scene at the far north end with huts available for rent.
If you're looking for the party scene, then you'll want to head to Lonely Beach. If you're after a chilled out, low key place, then check out Bang Bao Beach and the southeastern villages.
As with many islands in Thailand, the best way to get around and explore Koh Chang is by motorbike. There are more than 5 waterfalls on Koh Chang with many of them on the east coast, which can all be explored by bike. Other days can be spent snorkelling, fishing, diving, sailing, joining a cooking class or just relaxing in a hammock on the beach.
Bonus Tip: If you're going to Cambodia, this island is on the way and makes for a great stopover 😀
☞ Click here to compare prices on accommodation and see reviews on Booking.com.
Book Overland Transport From Koh Chang
5. Khao Lak
Located in the gorgeous Andaman Sea, Khao Lak offers travellers a diverse holiday. Whether you want to chill out on the beach, chase waterfalls, or do some awesome day trips to offshore islands, you'll find it on Khao Lak.
Sadly, this island was hit hard during the 2004 tsunami with around 4,000 fatalities. These days, there is a proper tsunami warning system in place, and escape routes as well. Because of this tragedy, there's actually a museum set up for visitors to better understand what happened back in 2004.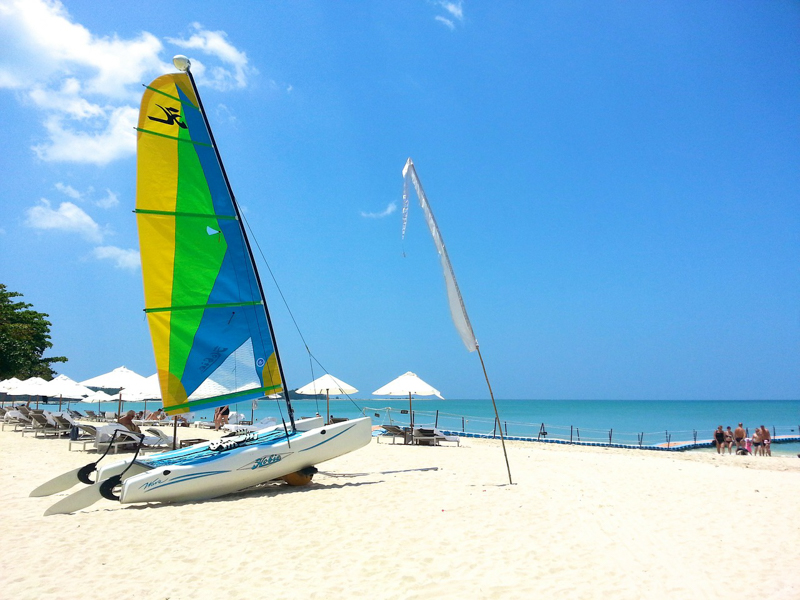 But, it's not all doom and gloom here! The beaches of Khao Lak are stunning, the National Parks are a great spot for hiking and wildlife spotting, and the numerous waterfalls are a great place to relax and cool off.
You can also join a liveaboard boat and do some epic scuba diving around the Similan and Surin Islands! For eating, you'll find an excellent night market and fantastic seafood restaurants. Regardless of the past natural disaster, this is still one of the best places to visit in Thailand if you're looking for a relaxing holiday.
See Also: The Essential Traveller's Guide to Khao Lak
☞ Click here to see reviews and compare prices on accommodation in Khao Lak on Booking.com
Book Transport From Khao Lak
6. Koh Muk (Koh Mook)
If you're looking for a less developed, beautiful island, then definitely check out Koh Muk! Located south of Koh Lanta in the Andaman Sea, you'll find this small, idyllic island.
The jumping-off point for Koh Muk is the city of Trang, with a boat to the island taking only around 30 minutes. Once you arrive on Koh Muk, get ready for some serious relaxation. This is one of the most chilled-out places to visit in Thailand.
This is an island that moves at a slow pace. You'll find small villages, empty beaches, and friendly locals. Koh Muk offers numerous types of accommodation from simple huts and bungalows to air-conditioned resorts (just a couple).
This is definitely the place to get a hut on the beach and simply enjoy the view. If you're feeling a bit more active, consider doing a snorkelling day trip, or visiting Emerald Cave.
☞ Click here to see reviews and compare prices on accommodation on Koh Muk with Booking.com
7. Pai
This funky hippie village in Northern Thailand is a place you won't want to miss. Sure, it's become more popular over the years, but it's still a great place to chill out in a cheap hut alongside the river. Pai is surrounded by rice paddies, jungle, and waterfalls, making this a great place to get away from it all.
Don't miss Pai's nighttime walking street and market, Pombok and Mo Paeng Waterfalls, hot springs, the canyon, and of course, hanging out at one of the many cafes and bars. For such a small town, there are numerous things to do in Pai to keep you busy. This is one of the best places to visit in Thailand if you're looking to chill out away from the beaches.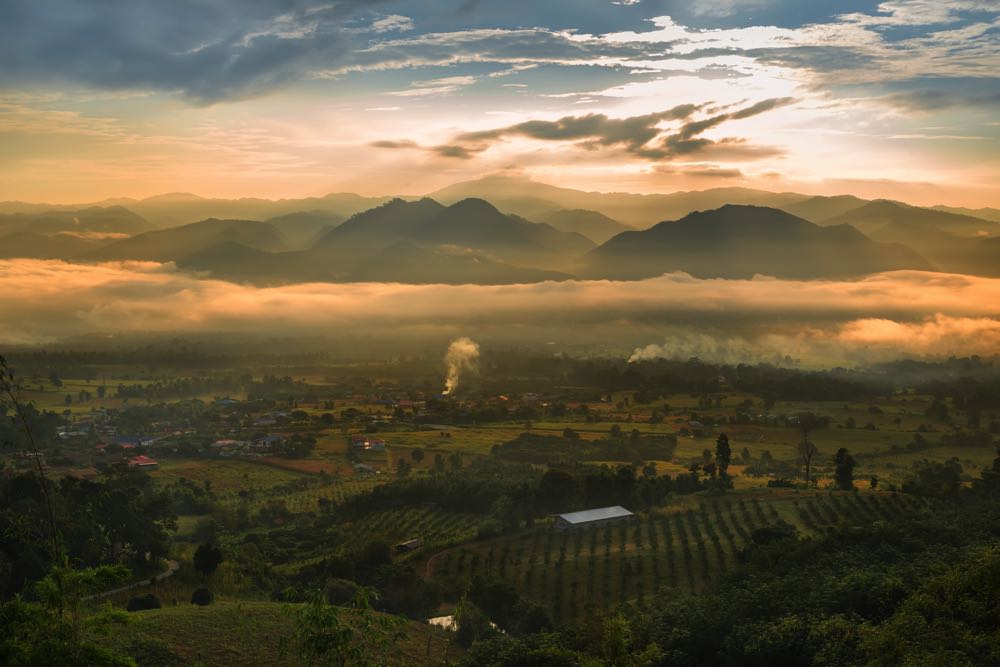 ☞ Click here to see reviews and compare prices on accommodation in Pai on Booking.com
8. Chiang Mai
Another popular place to see in the north of Thailand is Chiang Mai. This destination has recently become a hotspot for digital nomads due to its solid internet, excellent amenities, affordable accommodation, and entrepreneurial scene.
However, it's still an awesome place for travellers to visit! Chiang Mai is a walled city offering many things to do within the city itself, plus some great day trips.
If you're a foodie, you won't be disappointed in Chiang Mai, which offers cuisines from all around the world, plus some incredible Thai food as well. If you're curious how the tasty Thai meals are prepared, join a cooking class and learn how to make Pad Thai, spring rolls, curry and more.
Also, make sure you don't miss the night market, Wat Chedi Luang, Muay Thai boxing and getting a Thai massage. Yep, there are loads of cool things to do in Chiang Mai!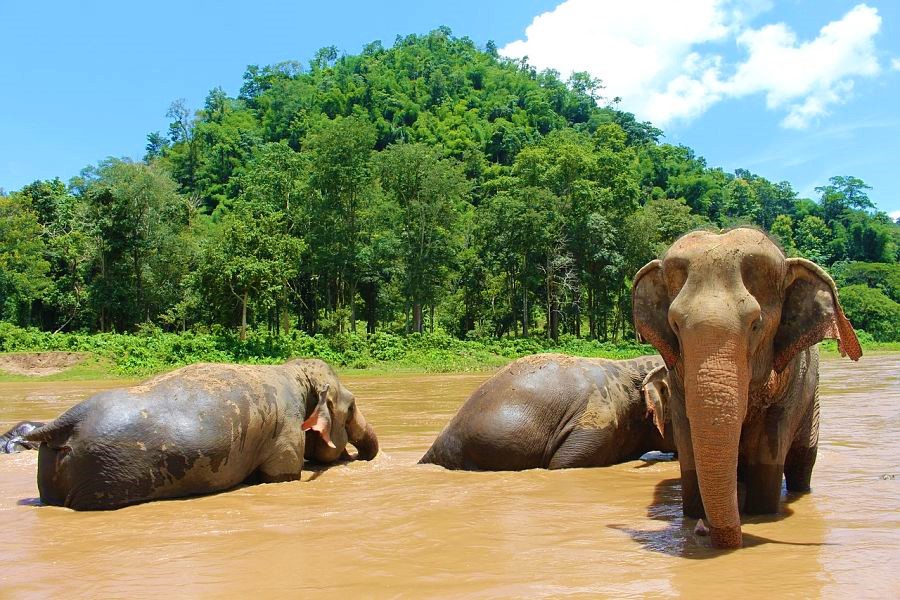 For day trips outside of Chiang Mai, I recommend visiting the Bo Sang Handicraft Centre which makes beautiful umbrellas from scratch, and the Elephant Nature Park which is a rehabilitation center for abused and mistreated elephants.
As an awesome 4 day trip, you can rent a motorbike and ride the Mae Hong Son Loop from Chiang Mai, which takes in Mae Sariang, Mae Hong Son and Pai.
See Also:
☞ Click here to see reviews & compare prices on accommodation in Chiang Mai on Booking.com
9. Railay (One of Our Favourite Places to Visit in Thailand!)
Technically Railay isn't an island, but since you can only access it by boat, it feels like one. This awesome destination is located in the Krabi area of Thailand and is a must-see for rock climbers, backpackers, and holidaymakers.
Limestone karsts jut out of the sea providing an incredible scene as you arrive by boat. The beaches here are beautiful and the lush, mountainous backdrop is pretty spectacular.
There are 4 beaches to visit on Railay, and all of them are easy to reach. West Railay is the main beach that you'll arrive at and offers the most restaurants and accommodations. East Railay is where many of the backpacker accommodations are, but the beach there isn't great for swimming.
Tonsai is the backpacker and rock climbing hub, and to get here you need to do a jungle hike, walk around at low tide, or take a boat. And finally, Phrah Nang beach is a stunning place that offers cave swimming…and a cave with wooden penis statues.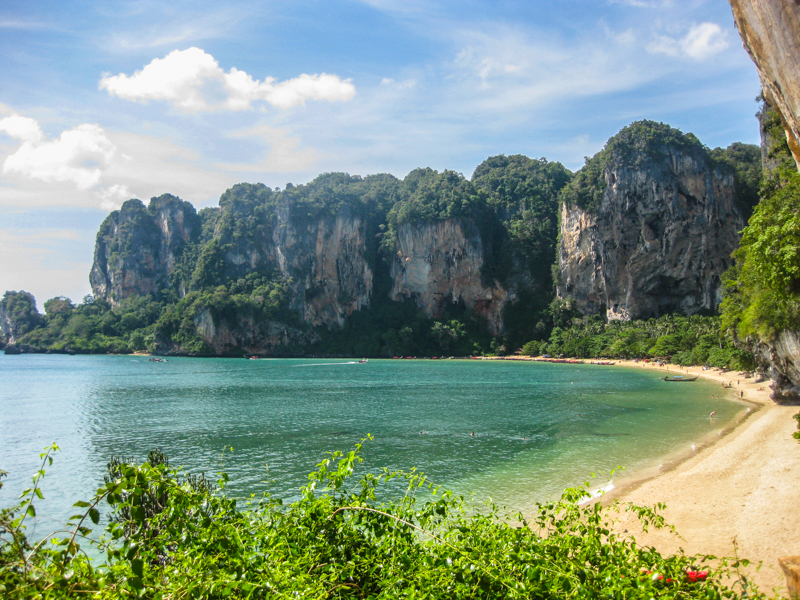 Beyond the beaches, don't miss hiking to the Railay viewpoint (which is a difficult climb, but worth it) and if you're up for it, check out the lagoon while you're up there. You should also check out Diamond Cave (stalagmites and stalactites) and Princess Cave (penis statues).
Finally, if you're feeling active, you can go kayaking for the afternoon, followed up with a beautiful sunset. Don't miss Railay, it's definitely one of our favourite places to visit in Thailand. Learn more about planning a trip to Krabi here.
☞ Click here to see reviews and compare prices on accommodation in Railay on Booking.com
10. Koh Samui
If you're looking for a more upscale holiday with a pristine beach, then Koh Samui is the island you're after. We spent 1.5 months living here as Digital Nomads and enjoyed our luxury villa in the jungle, our motorbike rides to the beach, the night markets and of course, the lovely Thai people.
We stayed in the Lamai area, which we found to have a good mix between having enough to see and do, but not being overcrowded.
On Koh Samui, you'll want to check out the night markets which are in different towns: Bophut (Fridays), Mae Nam (Thursdays), Lamai (Sundays), Chaweng (food court daily, shopping stalls closed Fridays and Sundays).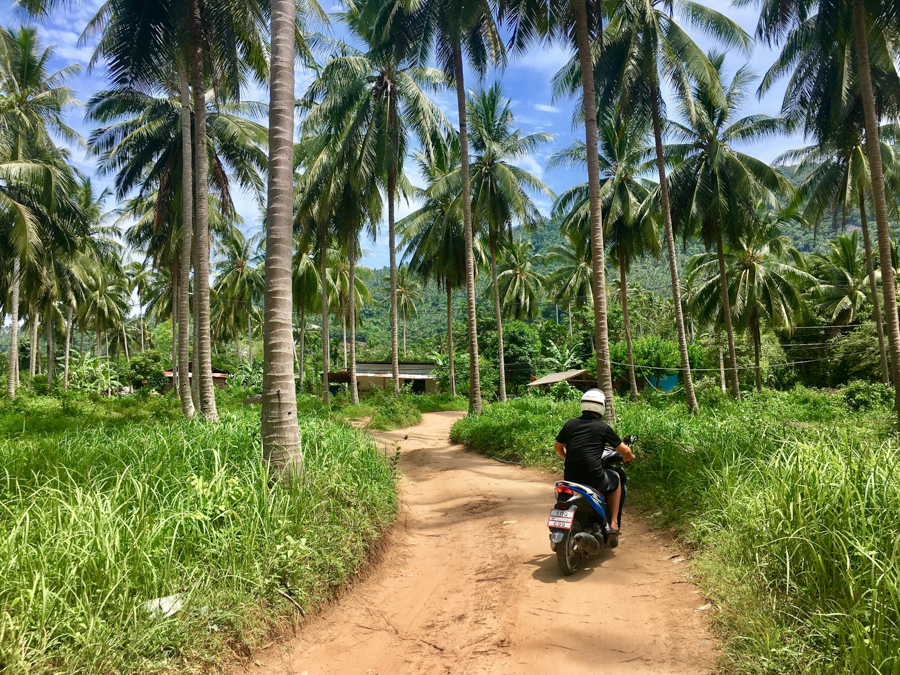 For beaches, Lamai beach is beautiful with the center to southern end being the best places for swimming. Chaweng beach has incredibly powdery white sand backed by hotels and palm trees. Lipa Noi is a pristine spot on the west coast with just a couple of accommodation options, I highly recommend checking out that beach for a peaceful afternoon. Mae Nam is another great area with a pretty 7-kilometer beach, numerous restaurants, and funky beach bars.
Make sure you rent a motorbike during your stay and drive the shortcut to Mae Nam from Lamai. This ride is absolutely stunning and virtually vehicle free! Finally, don't miss the Namuang Waterfalls 1 & 2 (18m and 80m respectively), and Hin Lad Waterfall (a secluded spot). There are lots of fun things to do in Koh Samui to keep you busy.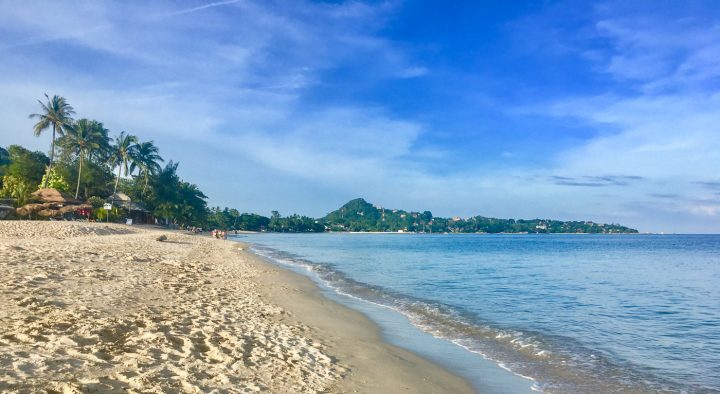 *Bonus, there are numerous things to do in Koh Phangan, which is the neighbouring island with Koh Samui. Hop on a 30-minute boat ride and check out Koh Phangan for the day.
See Also: A Digital Nomad Guide to Living on Koh Samui
☞ Click here to see reviews & compare prices on accommodation on Koh Samui on Booking.com
11. Koh Lanta
The more popular neighbouring hotspots of Phuket and Koh Phi Phi tend to make it onto most traveller's itineraries, but less developed Koh Lanta is still worthy of a visit. The west coast of the island is dotted with beautiful beaches, many of which are practically empty. Don't miss Kawkwang, Khlong Dao, Long Beach, Bamboo Beach and especially, Mu Koh Lanta National Park.
Once you have your fill of beach time, head to the old town for a stroll, join a cooking class, do some yoga, explore the markets, and of course, make sure to watch sunset from one of the many funky beach bars. There are lots of things to do in Koh Lanta, click here to learn more.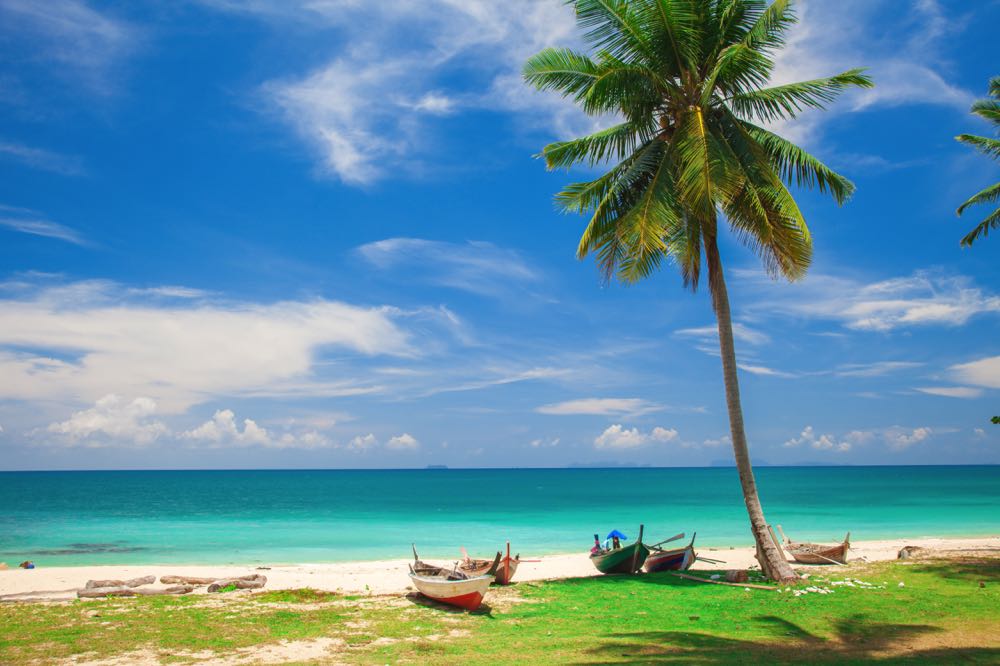 ☞ Click here to see reviews & compare prices on accommodation on Koh Lanta on Booking.com
12. Koh Kood (Koh Kut)
We travelled to Koh Kood during our very first year-long trip in 2008. Although things have definitely changed on the island since that time, it's still a relatively off-track destination with hardly any development compared to other islands in Thailand.
Koh Kood is one of the places to visit in Thailand if you're interested in relaxed evenings, lazy beach days and enjoying the peace and quiet. It's not a place for partying, shopping or nightlife.
The west and south coasts of the island are where you'll find the accommodation and the best beaches. There aren't any beaches on the east coast, while the center of the island is pretty much filled with an impenetrable amount of rubber plantations and dense jungle. Klong Chao waterfall is located on the west coast of the island, in the center, and is the most popular waterfall on Koh Kood.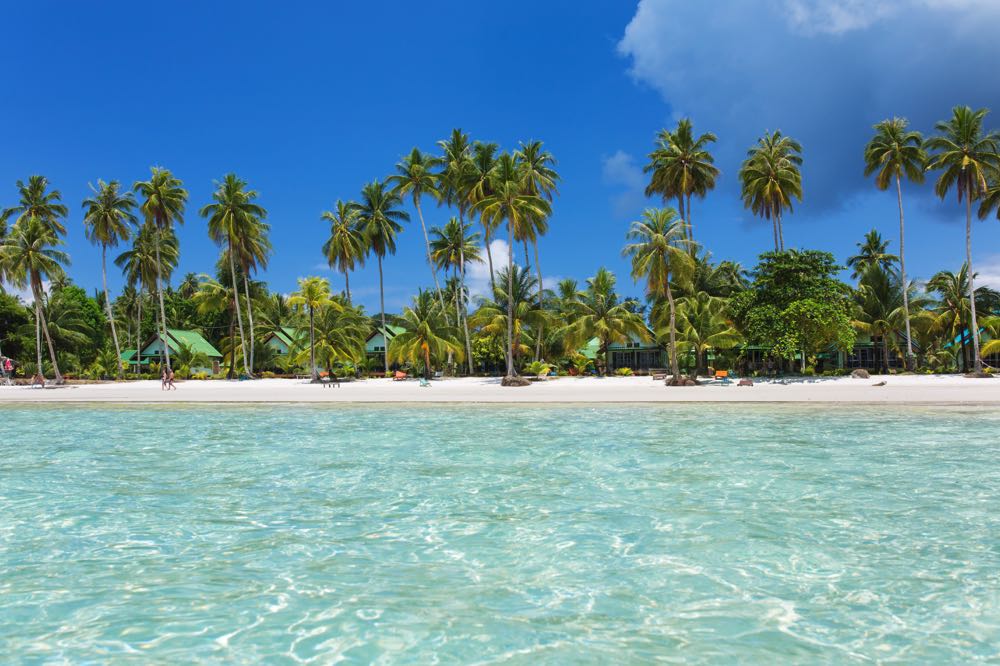 ☞ Click here to see reviews & compare prices on accommodation on Koh Kood on Booking.com
13. Koh Lipe
Little Koh Lipe sits in the southern Andaman Sea, actually quite close to Langkawi Island in Malaysia. This 2 kilometer by 1 kilometer island may be small in size, but surprisingly there are quite a few things to do in Koh Lipe.
Apart from spending hours on end soaking up the sun on some of Koh Lipe's incredible beaches, you'll also find lots of activities on offer here. For starters, you can rent a kayak and explore the nearby islands, which are just a quick 10 minute or so paddle away. The water around Koh Lipe is calm, making kayaking a breeze.
Another option is to hike to the Koh Lipe viewpoint for excellent views over nearby Koh Adang. The sunset is good from here as well, but be prepared to hike back in the dark. If you'd like to visit Koh Adang, hire a boatman from the pier for 100 baht per person.
Once on the island, there are 3 viewpoints you can hike up to, with the third one taking around an hour to reach. As with any tropical hike, make sure you have a sufficient amount of water, a hat, bug spray, and sunscreen.
☞ Click here to see reviews & compare prices on accommodation on Koh Lipe on Booking.com
14. Chiang Rai
If you're visiting the north of Thailand (and you should), then you can't miss Chiang Rai. This small city is about a 3-hour bus ride from Chiang Mai and is worth the 185 baht. Chiang Rai is most famous for its aptly named White Temple (Wat Rong Khun), which is blindingly white!
Even if you think you've seen way too many Wats and you're "templed out", don't miss this unique site. The carvings here are ornate and detailed, and although photography isn't allowed inside, you'll get more than enough incredible photos of the outside.
There are numerous other things to do in Chiang Rai including the clock tower, Baan Dam Museum, the bustling night market and Khun Korn Waterfall. Chiang Rai is also known for its lychees and pineapples, so make sure to visit one of the many farms and villages surrounding the city.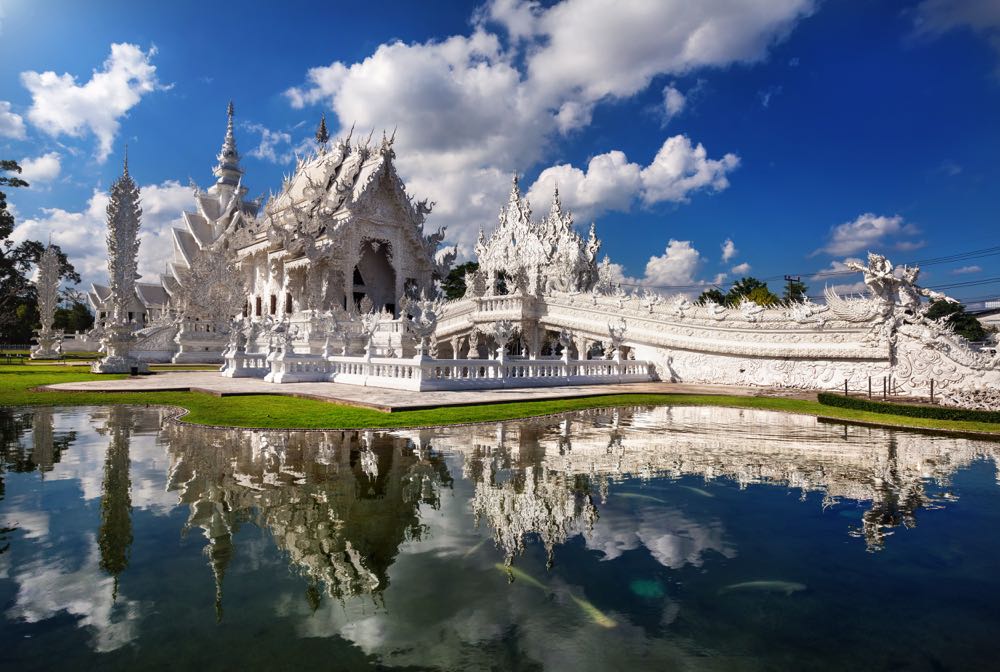 ☞ Click here to see reviews & compare prices on accommodation in Chiang Rai on Booking.com
15. Historic City of Ayutthaya
If you're interested in history, culture, and ruins, this is a site you won't want to miss during your travels in Thailand. Ayutthaya was founded in c. 1350 and was destroyed by the Burmese in the 18th century. What you see today are the remains, which have been restored and are protected by UNESCO.
At the Ayutthaya Historical Park you'll find statues of reclining Buddhas, seated Buddhas, headless Buddhas, a Buddha face that has been absorbed by tree roots, numerous stupas and much more. The ruins here are incredible and can be visited on a day trip from Bangkok.
The journey to Ayutthaya takes about an hour by minivan, which can be taken from Mo Chit bus station. Once you reach the site, you'll probably want to hire a tuk-tuk, or a bicycle to explore the ruins. Alternatively, there are fully guided tours that you can easily organize from a tour agent in Bangkok (be sure to check ratings & recommendations before booking)
While you can walk to some of the areas, Ayutthaya is quite spread out so hiring transport is a wise choice for those hot days.
☞ Click here to see reviews & compare prices on accommodation in Bangkok on Booking.com
16. Koh Tao
"Turtle Island" is definitely one of the best places to visit in Thailand. It's also one of the best places in the world to get scuba certified. There are numerous dive shops that offer open-water courses at very reasonable prices. Plus, it's possible to actually learn in the sea instead of in a pool. That definitely gives you a heads up once you're actually ready to dive.
Not interested in diving? No worries! Plenty of visitors to Koh Tao skip out on the scuba diving. There are many more things to do in Koh Tao including hiking, kayaking, snorkeling, and even playing mini-golf.
If you're looking for a more relaxing vacation, you can find that here as well. Koh Tao has some great beaches to chill out on, or you could just hang by the pool all day sipping tropical drinks.
As an island that's very much on the "Banana Pancake Trail", Koh Tao also has quite the party scene. The Koh Tao pub crawl is recommended if you're looking for a wild night out. Buckets of booze, ladyboy cabaret shows, and fire twirlers. It's sure to be a crazy night.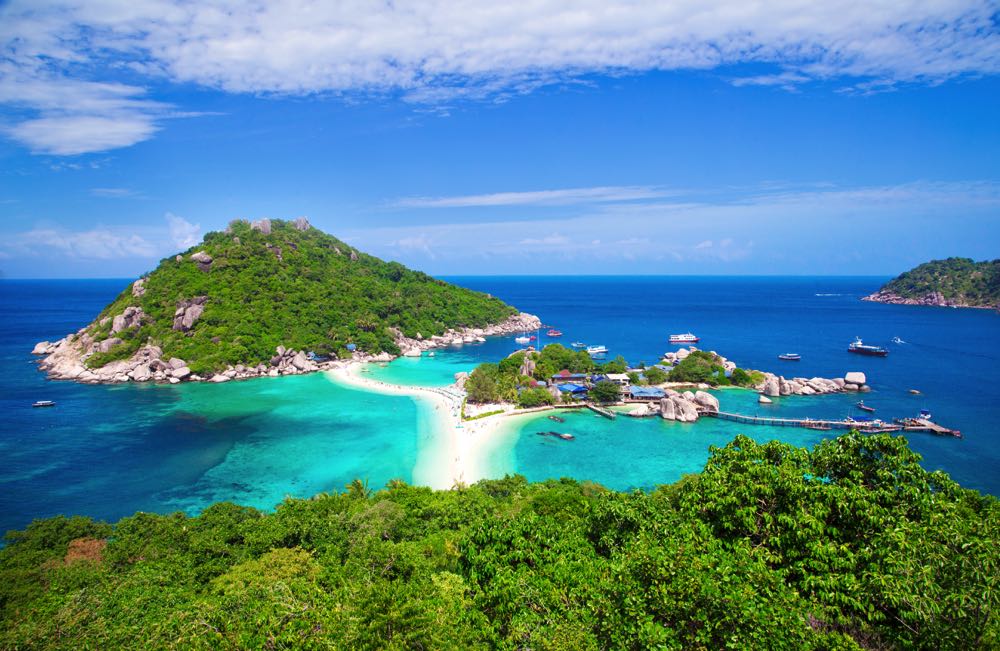 17. Korat
This city is actually called Nakhon Ratchasim, but it's more commonly referred to simply as Korat. Thanks to its accessibility to Bangkok, it's the perfect place to begin a trip in the Isaan (Northeast) region of Thailand.
Isaan is one of the places to visit in Thailand if you're looking to escape the hordes of bucket-drinking backpackers and selfie-snapping tour groups. You won't find many banana pancakes here, but you will find some of the best food in Thailand. Load up on some Pad krapao moo (spicy minced pork cooked with basil), which will only cost you about a dollar here.
The most visited attraction is a statue of Thao Suranaree, a local heroine who helped defeat an attack from intruding Laotian forces in 1826. You'll see locals kneel before the statue making offerings of flowers and incense. There's even a small museum here that details her famous victory.
As with other Thai cities, you'll also find plenty of temples, markets, and parks to explore in Korat. If you want to see what life is like in Thailand without mass tourism, this is a great place to visit. From here you'll also have easy access to places like Khao Yai National Park and Phimai Historical Park.
18. Mae Hong Son
One of the best adventures you can take in Thailand is riding the 1,864 curves of the Mae Hong Son Loop. Rent a motorbike in Chiang Mai, pick up a map, and hit the road on this epic loop around Northern Thailand.
This motorbike journey is named after the province that you spend much of the trip riding through. The capital city goes by the same name, and you'll definitely end up spending at least a night here if you do the loop.
While you're in this small Thai city in the mountains, be sure to check out the picturesque pond and the temple. It's illuminated at night and is a beautiful sight. There's also a small night market here where you can score some tasty and cheap Thai street food.
With a couple of days here, there's plenty more to see and do. You can ride up to a hilltop temple for some incredible views, see a cave full of fish, or relax at a mud spa.
Many backpackers also use Mae Hong Son as a jump-off point for treks in the surrounding area. Every tourism office in this small town can help arrange trekking trips, so get out there and see some of the countryside – one of the best places to visit in Thailand for sure!