Thailand was once considered just a backpacker's paradise, but the smiling locals, glittering temples and golden beaches of this diverse destination have become a siren's song for all types of travellers.
Online travel agent, TravelOnline, says Thailand is one of its best-selling holiday destinations and it's easy to see why. There are so many places to visit in Thailand, plus, this exotic destination is historic and naturally beautiful with its own unique culture.
One of the biggest drawcards to backpacking Thailand is the food, which we can guarantee will far surpass your favourite local Thai restaurant. You may have tried some of these dishes before, but experiencing them the authentic Thai way is a totally new experience – like eating pizza in Italy or croissants in France.
Thai food even made our list of the top 10 best countries for food.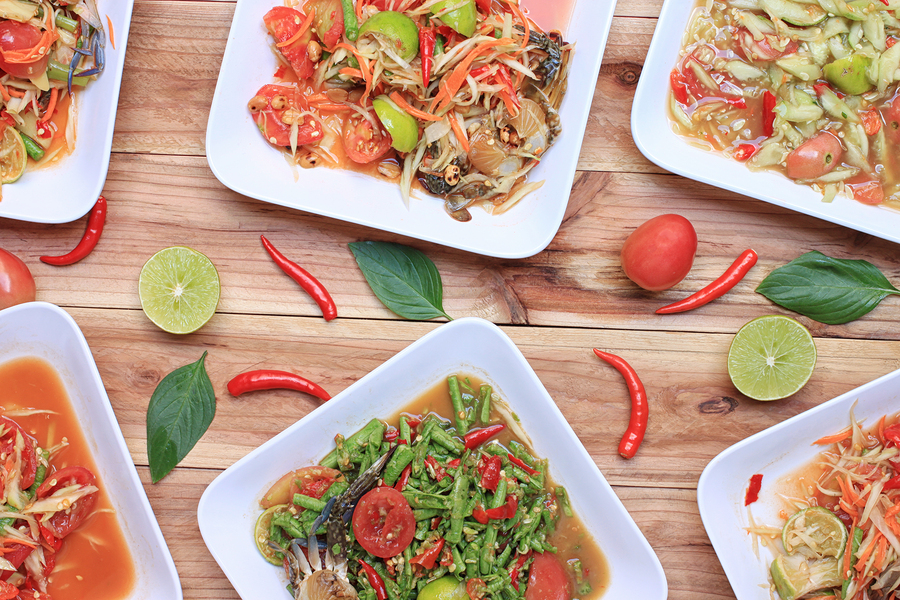 Thai cuisine is known for its light food, that is heavy on flavour. Incorporating strong aromatics and bold flavours, Thai food is a fusion of traditional Southeast Asian influences. The flavours of Thai food combine the taste fundamentals of sweet, salty, sour and bitter to achieve complex yet well-balanced flavours.
A cuisine originally introduced by the Chinese, Thai food has evolved over time to become its own traditional culinary style. Thai food features regional dishes unique to northern, southern, central and north-eastern parts of the country. Each region has its own cuisine with signature ingredients and flavours.
Here are the 10 best foods to try – trust us, eating is one of the top things to do in Thailand!
Pad Thai
This Thai style fried noodle dish will be a familiar choice for most but are a must-try when visiting Thailand. You absolutely cannot beat the delicious marriage of hand formed noodles, crunchy bean sprouts, sweet onions and creamy egg smothered in this famous savoury sauce.
Combining sugar, fish sauce, chilli and ground peanuts results in a tasty mountain of noodle goodness that is the perfect balance between soft, chewy and crunchy.
Thailand is already one of the cheapest countries to visit, but getting a Pad Thai on the street in Bangkok for under $1 will always help out your travel budget.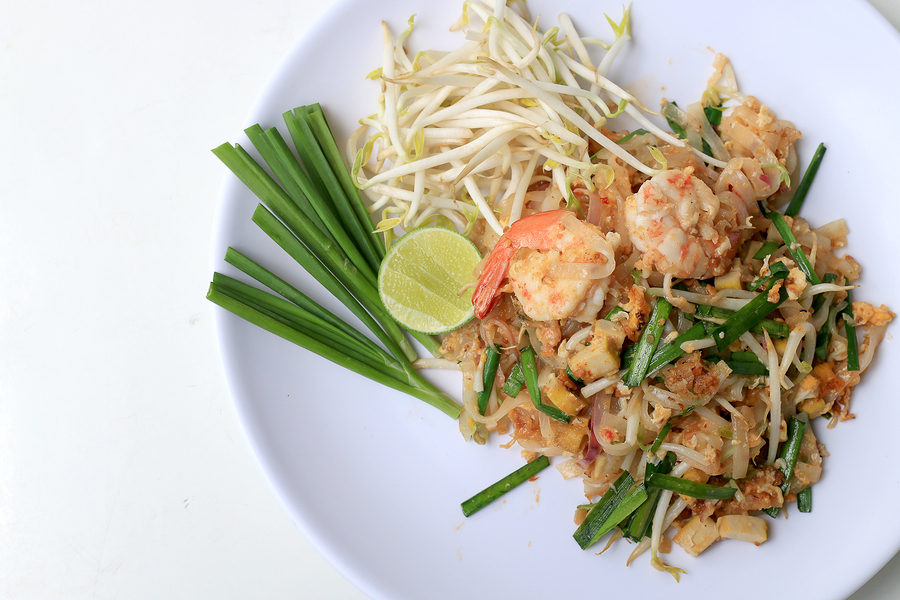 Pad Thai is a dish that can be found all over Thailand. But, you'll start to notice that the most authentic food is found in and around Bangkok. Once you head south to the islands it seems like the locals tone down the spiciness of the dishes to suit tourists' palates. For a unique experience, you can sample Pad Thai while sitting in a boat on the water at the Floating Market just outside of Bangkok.
[widget id="shortcodes-ultimate-5″]
Fried Rice
Another familiar option for those who aren't feeling too adventurous, this popular lunch dish is known as Khao Pad by the locals. A tasty way to use up leftover vegetables, this delicious dish combines rice, vegetables, chilli, basil, onion and egg with your choice of protein. Think white meats like chicken, prawn or crab. Served with a wedge of lime and sliced cucumber this is a hearty yet refreshing meal.
READ MORE: 25 Awesome Things to Do in Thailand
Green Chicken Curry
If you love a creamy curry, you won't find a more authentic version than this. The complex flavour profile of green curry paste is rounded out with coconut milk and simmered with sweet basil, coriander, fresh bamboo shoots, mini eggplant and succulent chicken. Served hot over fragrant rice to soak up all that delicious sauce you'll be in curry heaven. Look for Gaeng Keow Wan Kai on the menu if you want to try this one.
☞ Want more Thailand posts? SEE ALSO:
Spicy Beef Salad
For all the meat lovers who want to maintain their beach bods, this fiery yet fresh salad offers all the flavour of a meat hit without the after meal bloat. Tender beef strips are marinated in a bold, spicy and flavoursome sauce then grilled to perfection and served atop a mountain of fresh leaves, spearmint, coriander, dried chilli, lime and onion. The Thai call it Yam Nua but we just call it yum!
Red Curry
When in Thailand, try all the different curries on offer. Also known as Gaeng Daeng, this red curry is also coconut based and achieves a fragrant, delicate and sweet taste by combining traditional red curry paste and coconut milk and simmering your choice of meat until tender. Add kaffir lime leaves and this mild curry transforms into something really special.
Morning Glory
Thai food offers offers a wide variety of vegetable dishes. Morning glory, also known as Pak Boong, this leafy green is common around Southeast Asia and is characterised by hollow stems and delicate leaves. When combined with chilli, garlic, fermented black bean, oyster sauce and fish sauce you get this quick and easy side dish that will soon become a favourite.
READ MORE: Guide To Backpacking Thailand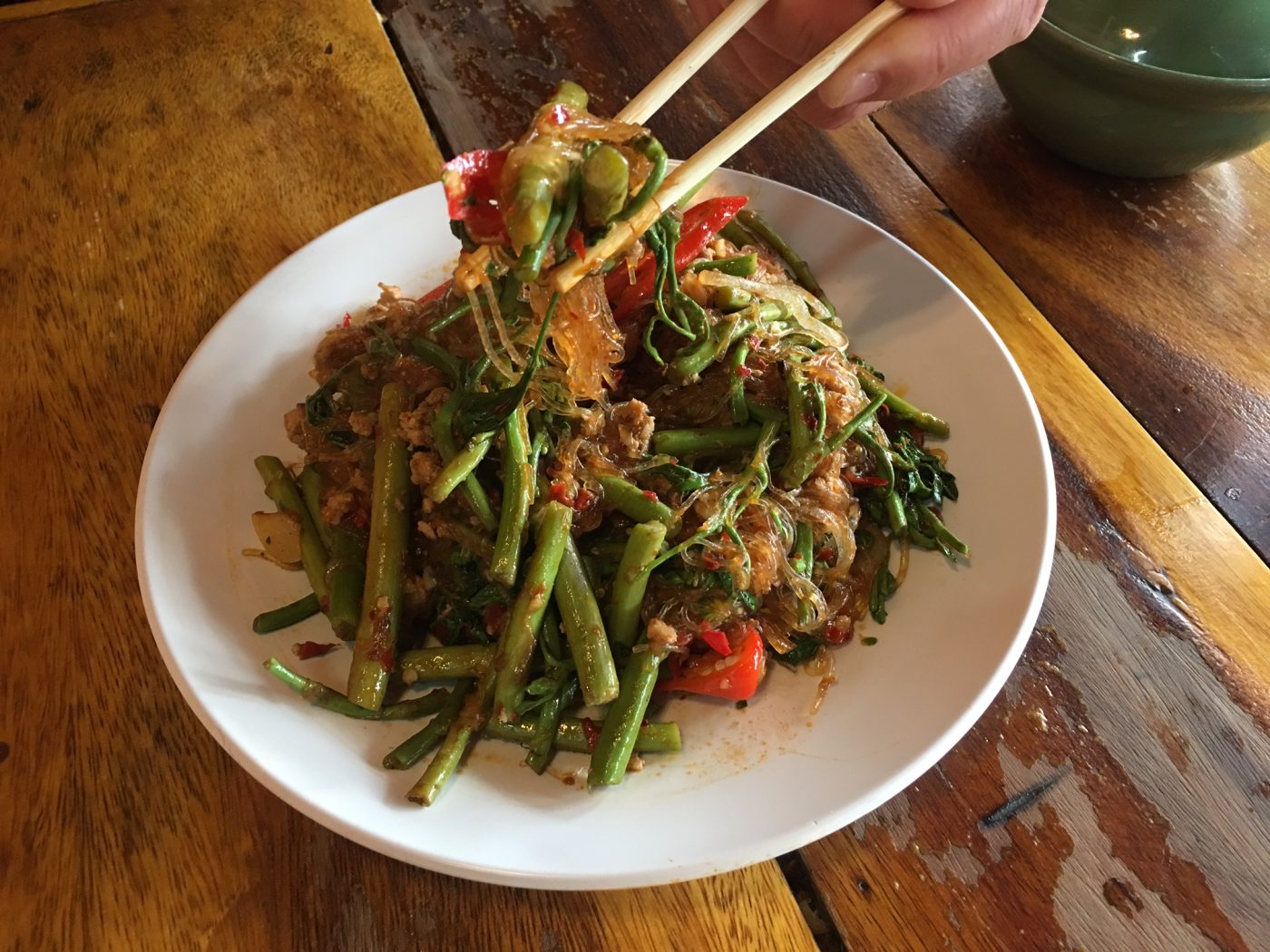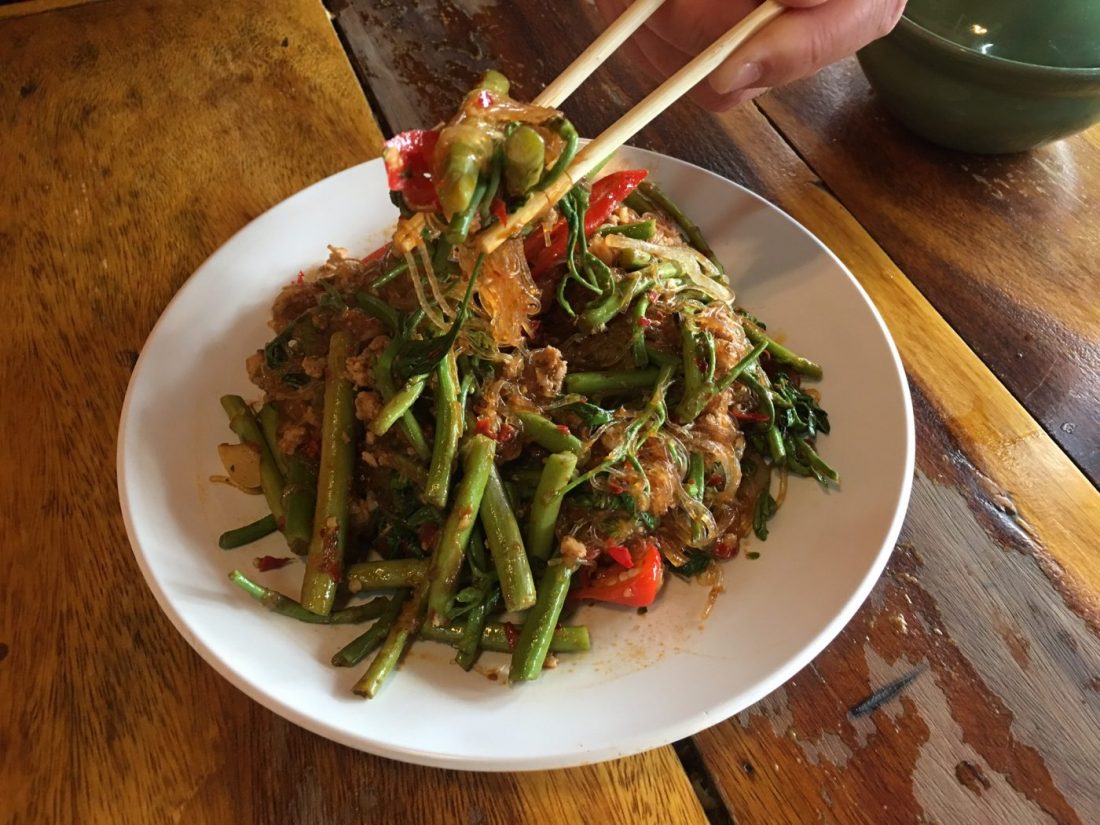 Spicy Shrimp Soup
You might have seen this dish on menus back home as Tom Yum Goong, but we guarantee you've never tasted it quite like this. Drawing on the complex balance of taste fundamentals, this soup gets its bold and refreshing palette from the combination of lime juice, lemongrass, shallots, chilli and galangal. Fresh prawns and straw mushrooms add some oomph and help to round out this soup's hot, spicy and sour finish.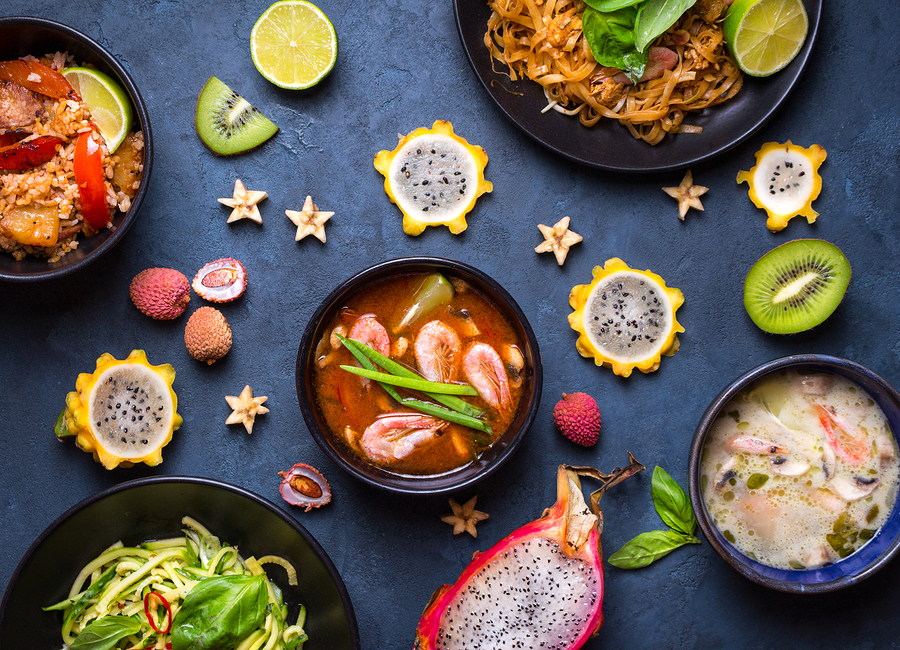 Chicken Cashew Nut
A favourite with both tourists and locals, this classic dish combines sweet and savoury flavours for an irresistible contrast. Honey, soy sauce and chilli are simmered with carrot, onions, mushrooms and succulent sautéed chicken then finished with roasted cashews for a mouth-watering combination of textures. If you're looking for this familiar favourite on the menu, look for Kai Med Ma Muang.
Spicy Green Papaya Salad
Although this can be an acquired taste, you simply have to try it when visiting Thailand. Also known as Som Tum, this interesting salad combines crunchy green beans, juicy cherry tomatoes and raw papaya with a sweet, spicy and sour paste of ground chilli and garlic. Depending on where you are, you may have the opportunity to try regional variations that use peanuts, dry shrimp or salted crab.
Chicken in Coconut Soup
If you prefer your spice to create flavour rather than heat than this milder version of a Tom Yum Soup will be a winner. Known in Thai as Tom Kha Kai, this flavoursome soup combines fresh lime leaves, lemongrass, shallots, chilli and ginger. Tender chicken strips and warm coconut milk smooth out the chilli kick into a pleasant spicy hum.
READ MORE: A Digital Nomad Guide to Living in Bangkok, Thailand
Bonus! Khao Soi
If you're planning a trip to Chiang Mai, this is one of the best dishes you'll want to sample. Basically, it's a bowl of soup flavoured with yellow curry and coconut milk. The flavourful broth is accompanied by tender chicken on top and some crunchy noodles. Eating this dish is one of the top things to do in Chiang Mai, by far.
Dig In!
Whether you're dining out at a restaurant or grabbing a meal on the go from a street vendor, sampling the traditional Thai food on offer is an essential part of your Thailand experience. These are just a few of our favourites, but with such variety on offer there are new flavours to discover at every meal.
Like this article? Pin it!
SaveSave