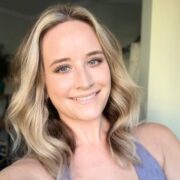 Local Of:

Jacksonville, Florida

Expert of:

All things West Coast, Northeast Florida, SE Asia, and the Yucatan Peninsula

Travel Style:

Foodie, Budget, Backpacker, Midrange, Wildlife & Nature, Beach Bum, City Lover, Hiker, Chill & Relax, Arts & Museums

Traveling Since:

2013

Favorite Destinations:

Thailand, Greece, Mexico, Bali, Las Vegas

Backpack or Suitcase:

Depends on the mood! 

Window or Isle:

Always want an aisle seat – I like the freedom to be able to get up whenever I want.

Bus or Train:

There's something super fun and magical about a long train ride.

Education:

Portland State University
Connect With Ashley
Facebook  |  Instagram  |  Website  |  LinkedIn
Ashley's Expertise
Ashley has been writing professionally for over 15 years with travel being her favorite genre. She's been lucky enough to travel to 25 countries with no plans of stopping anytime soon. 
Ashley is from Fullerton, California, grew up in Portland, Oregon, and currently resides in the oldest city in the U.S. – Saint Augustine, Florida. She loves trying new food, finding cool microbreweries, and being by the ocean.
Ashley Around The World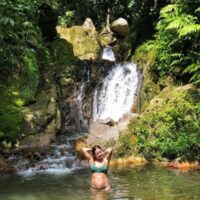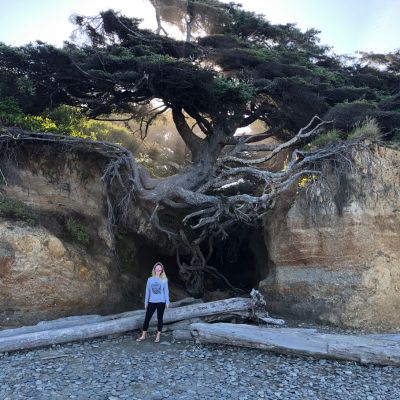 Ashley's #1 Travel Tip
Always eat where the locals eat! No matter what country or city you're in, find out where the locals like to eat and go there. Chances are – it's cheaper than touristy spots, it's delicious, and you can meet new friends.
Do some research before you visit to see what the most popular local dishes are and where to get them. Of course, the best research is getting ou there and talking to the residents.
Ashley's Favorite Food
Ashley's favorite dish to have while traveling is called Char Kway Teow. It's a stir-friend noodle dish that can be found all over Malaysia. The best place to find the most delicious char kway teow is the big food hall in Georgetown, Malaysia on the island of Penang.
Ashley's Favorite Destination
Picking a favorite travel destination is hard for Ashley because there are so many beautiful places out there. Koh Samui, Thailand and the Mediterranean are her top favorite destinations if she had to choose.
The people of Thailand are some of the most friendly she's ever encountered and the island of Koh Samui is one of the most gorgeous places she's seen. In fact, she has a tattoo of her favorite view! Plus, the food is so fresh and so affordable. You can live like a king on a very small budget.
The Mediterranean is also hard to beat when it comes to beauty. And, of course, yet again – the food! There's nothing better than a bright caprese salad and a freshly-caught fish while taking in the views of the sea.
Where Have You Lived?
Ashley has been a nomad throughout her entire life – moving around as a kid and then forever exploring as an adult. Her places of residence include: Fullerton, California; Denver, Colorado; Portland, Oregon; Astoria, Oregon; Playa del Carmen, Mexico; Koh Samui, Thailand; Chang Mai, Thailand; Hoi An, Vietnam; Saint Augustine, Florida.
With travel in her blood, Ashley knows she'll be on the move again someday, but she's loving the warm and friendly Florida life. 
Funny Travel Quirk
As much as Ashley loves to travel, one of her biggest fears is flying. Any sort of turbulence freaks her out but she's learning to find coping mechanisms like eating super sour candy or listening to a meditation app.
She also can't sleep anywhere without it being completely dark and silent, so Ashley always travels with heavy duty ear plugs and a blackout eye mask.
Posts By Ashley