Pick up any guidebook to Thailand, and you'll likely see the same image gracing the front cover – a longtail boat floating in the sea with stunning karst mountain peaks in the distance. It's so good I even used it as the featured image for this post!
If you'd like to take this photo for yourself, you'll have to get to Krabi.
This province in the southwest of the country is one of the best places to visit in Thailand, and for good reason. From chilling out on pristine beaches, to enjoying a wealth of outdoor activities, to visiting awe-inspiring temples, there are plenty of awesome things to do in Krabi.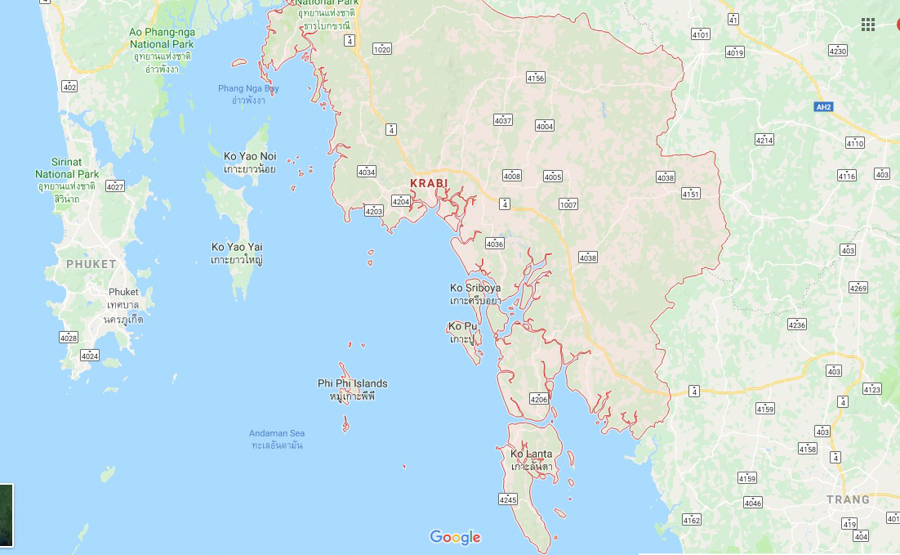 Read on for 21 great ideas for things to do when travelling to Krabi.
1. Chill Out in Ao Nang
If you're looking for the perfect base from which to explore all that Krabi has to offer, Ao Nang is a great choice. This resort town is conveniently located about a 40-minute drive from the airport. It's also a hub for longtail boats and ferries making short trips to nearby beaches and islands.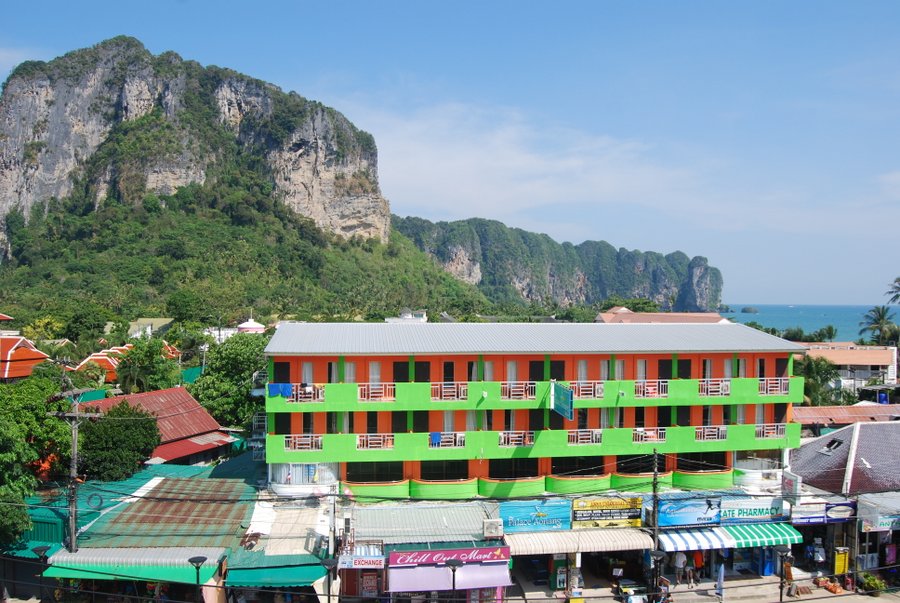 Ao Nang has plenty of choices for accommodation, dining, shopping, and nightlife to suit all budgets. There are also countless travel agents who can help you plan some amazing day trips and more spas than you can count for when you feel like relaxing and unwinding. Chilling out in Ao Nang is definitely one of the top things to do in Krabi.
📍Click here for the location of Ao Nang on Google Maps
🏠 Looking for somewhere to stay in Ao Nang? Click here to see the best places and reviews on Booking.com, or click here to browse available homes on Airbnb (don't forget your Airbnb coupon code!) Goats On The Road personally uses both of these platforms, and highly recommends them.
2. Go Diving
Even though getting scuba certified is one of the most popular things to do in Koh Tao, Krabi rivals it in terms of scuba diving opportunities. There are tons of dive shops here offering a variety of courses and free dive trips.
Some of the most popular dive sites include Phi Phi Marine National Park, the King Cruiser wreck, and the Shark Point Marine Sanctuary. You can easily fill up your entire trip to Krabi with the world-class diving that's on offer here.
3. Check out the Tiger Cave Temple
If you need a break from the beach, take a day trip out to the amazing Tiger Cave Temple (Wat Tham Suea). While the temple might not be as impressive as the ones found in the Ayutthaya Historical Park, it's still pretty incredible.
As the story goes, a monk climbed up the hill to meditate and found tigers roaming around the cave. There also appears to be tiger paw prints inside on the walls of the cave, so perhaps there's truth to the legend.
It's a tough climb up the stairs – 1,237 of them to be exact – but you're rewarded when you reach the top. In addition to a massive golden Buddha statue, you'll be able to enjoy sweeping views off to the side. Making the hike up to this temple should be high atop your list of things to do in Krabi.
📍Click here for the location of the Tiger Cave Temple on Google Maps.

4. Rock Climbing
Krabi is known as a Mecca for rock climbers thanks to its abundance of karst mountains (especially around Railay). Whether you're an absolute beginner or a pro, you can get out and enjoy some rock climbing in Krabi. There are literally hundreds of different climbing routes of varying difficulties to try here. Rock climbing is one of the most adventurous things to do in Thailand – give it a try!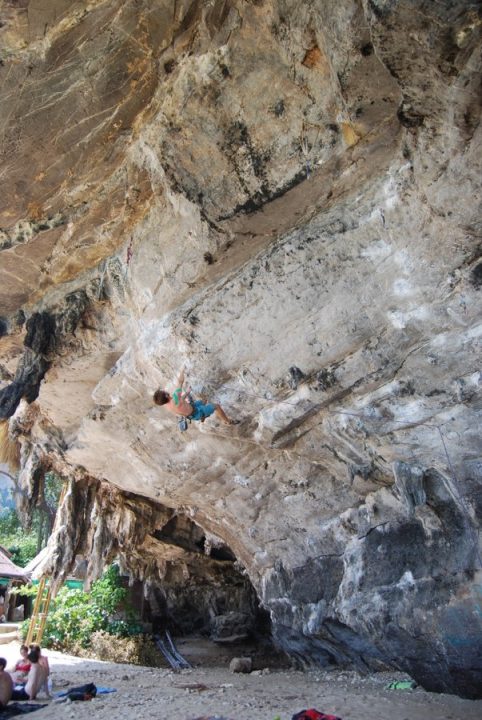 If you're just starting out, there are plenty of training centres that will get you started. Sign up for a 3-day course to learn the basics and get going. Those who are already trained can jump right in and start scaling those epic karst peaks. Check out this popular 4 hour class, or this longer 8 hour one.
📍Click here for the location of Ton Sai Beach (Railay) on Google Maps.


5. Get Pampered in a Spa
After all that diving, hiking, and climbing, you'll definitely need a break. Thankfully there are tons of excellent spas to choose from in Krabi. Best of all, pampering yourself in a spa is super affordable in Thailand (around $10 for an hour).
Go ahead and get a Thai massage every day of your trip. Chances are it will cost less than one spa visit back at home!
6. Go on a 4-Island Tour
Exploring the islands off the coast is definitely one of the best things to do in Krabi. A popular choice is the 4-Island Tour, where you travel by longtail boat to visit four gorgeous islands. Along the way, you get to enjoy some snorkeling and sun bathing in addition to admiring the majestic rock formations jutting out of the sea.
These tours also typically include a picnic lunch on the beach, making them a great value for a fun day out in the water. Check out the tours below, leaving from a couple of different islands in Krabi. Have a look at the islands that are visited in each day trip, as they aren't all the same.
Leaving from Krabi Town, Klong Muang, Ao Nang or Railay Beach:

Leaving from Phuket:

Leaving from Koh Lanta:

7. Go Kayaking
Renting a kayak is a great way to get some exercise and enjoy the famous scenery of Krabi at the same time. Most shops will also include snorkeling gear, so you can head out and make your own day trip.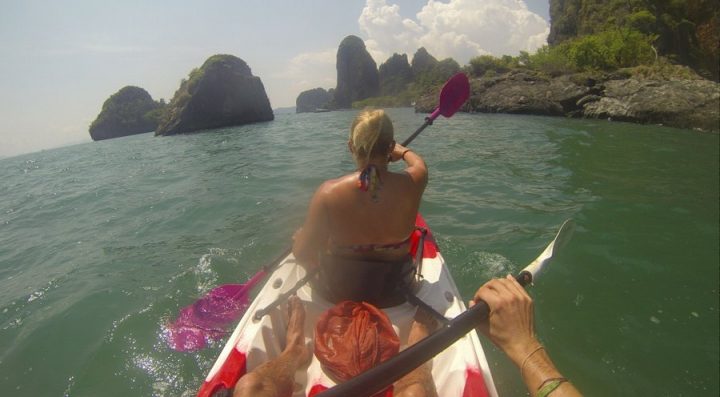 Be sure to bring your waterproof camera to take some awesome shots as you paddle and snorkel your way between picturesque beaches. An easy trip you can make is between Tonsai and Railay.
Or, opt to join a longer day tour and spend the day paddling around the epic landscapes! (Some of the tours combine the trip with a sunset cruise or other activities). Here are some of the most popular kayaking tours in Krabi:



8. Explore Krabi Town
While most travellers decide to skip the capital city, Krabi Town is worth checking out for a day or two. Staying in town definitely gives you more of a feel for the "real Thailand" than staying on the coast or the islands. It's also much cheaper!
With a short stay here, you can check out some temples, museums, and the excellent markets. Fill up on delicious, authentic Thai food for super cheap and then check out some live music at a local bar.
📍Click here for the location of Krabi Town on Google Maps.
☞ See Also: Things To Do in Bangkok – A List Of The Best
9. Visit the Phi Phi Islands
One of the top destinations in Krabi is the archipelago known as the Phi Phi Islands. Some choose to visit the islands on a day trip from Ao Nang, while others opt to stay a while on the largest island of Koh Phi Phi Don.
It may be a small island, but it has developed at breakneck speed since they had to rebuild after the 2004 tsunami.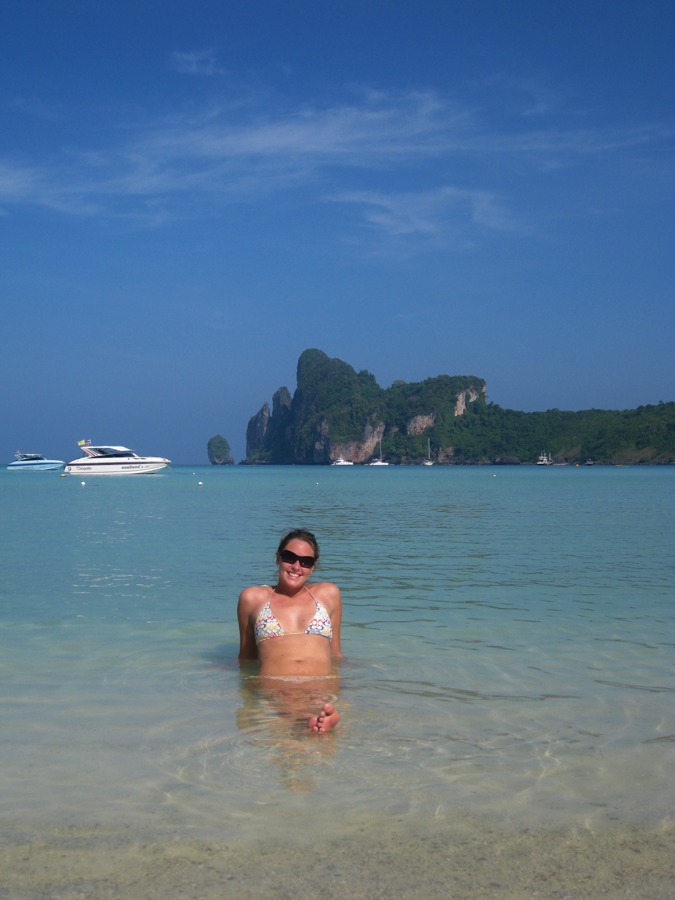 It should be noted that the famous Maya Bay, which was used in the filming of the backpacker cult-classic film The Beach, has been closed to visitors for several months now. Don't be upset, though, because this is necessary to preserve the fragile ecosystem. There are plenty of other places for you to go on a snorkeling tour around the Phi Phi islands.
📍Click here for the location of the Phi Phi Islands on Google Maps.
Check out these top trips and tours which leave for the Phi Phi Islands from various destinations in Krabi:




10. Thung Teao Forest Park
A must-do day trip in Krabi is Thung Teao Forest Natural Park. First up, you can head into the nature reserve to walk the short trail to the stunning Emerald Pool. Take your time on the trail and keep an eye out for wildlife along the way. Go ahead and take a dip in the pleasant water and enjoy.
You can get yourself here if you're comfortable on a motorbike, or you can just sign up for a tour. Expert tip – try to go early in the morning or after 4PM to avoid the crowds! Most tours combine this with the next item on our list, so you can visit two awesome places in one day.
📍Click here for the location of the Emerald Pool on Google Maps.

11. Soak in Hot Springs
One of the most relaxing things to do in Krabi is soaking in natural hot springs. The hot water comes from thermal streams that fill up the natural stone jacuzzis, making for the perfect place to relax. These thermal waters are said to have therapeutic benefits, so it's good for your health as well!
It's become so popular that they even diverted some of the water to a few man-made pools and added in changing facilities. The hot springs are called Namtok Ron Khlong Thom and are about 70km outside of Krabi town. The cost is 90 baht ($2.75) to enter.
📍Click here for the location of the hot springs on Google Maps.
☞ See Also: Things To Do in Chiang Mai – 17 Things You Don't Want To Miss
12. Hike from Railay to Tonsai
The beach towns of Railay and Tonsai aren't technically islands, but they sure feel like it! That's because there's no way to get to either beaches except for taking a longtail boat over from Ao Nang. It only takes 10-15 minutes, but it feels worlds apart from the super-developed resort town.
Tonsai is a favourite among backpackers and rock climbers, while Railay attracts more families and vacationers. Wherever you decide to stay, you can take a short hike from one to the other. Bring your towel and bathing suit, chill on the beach for a while, and then catch the short and cheap water taxi back to the other side.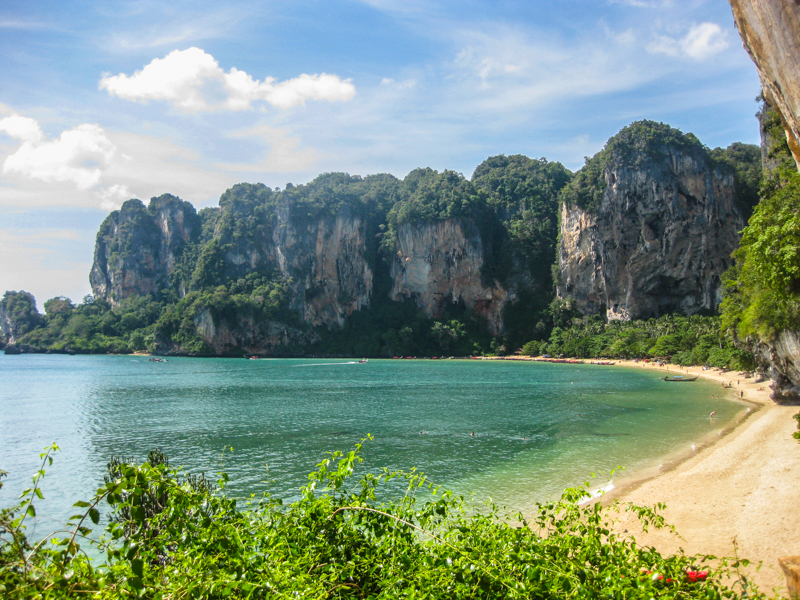 ☞ See Also: Things To Do in Koh Phangan
13. See Khao Khanab Nam Mountains
The twin mountains of Khao Khanab Nam are the icons of Krabi. They're located on either side of the river, and you can even see their reflection in the water when the light hits them just right.
While they're great to look at from afar, you should definitely go in for a closer look. Climb one of the mountains for some excellent views and go below to explore the caves that are underneath them.
📍Click here for the location of Khao Khanab Nam on Google Maps.
☞ See Also: Backpacking Thailand – The Ultimate Guide
14. Be in Awe of Wat Kaew
In addition to the Tiger Cave Temple, Krabi is home to the stunning Wat Kaew. This Buddhist temple is located on a small hill in Krabi town, so it's very easy to visit if you're staying there. This gorgeous white temple features a grand staircase flanked by golden dragons.
📍Click here for the location of Wat Kaew.
15. Island Vacation on Koh Lanta
If you've come to Krabi for a vacation on an idyllic island, then Koh Lanta is the place for you. This beautiful island has plenty of tourist amenities, but is far less developed and crazy than the more popular Phi Phi Islands or Phuket.
Head to the western side of the island and you'll find several stunning beaches, most of which are empty. Back in town, you've got plenty of choices for places to wine and dine. Just be warned – Koh Lanta is a laid-back island paradise that you'll probably never want to leave!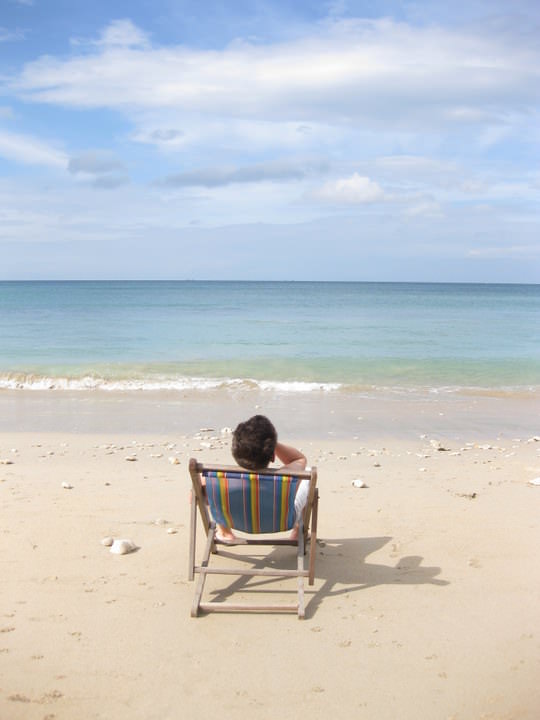 📍Click here for the location of Koh Lanta on Google Maps.
16. Go Whitewater Rafting
A relatively new activity in Krabi is whitewater rafting on the Songpraek River. These rapids aren't too intense, so no experience is necessary. A short training session before getting in the raft is all you'll need.
It's about an hour and a half drive away from Ao Nang, and many tour operators in town can set you up. As the trip down the river is very quick, tours usually include another stop or two, such as ATV riding or ziplining. One of these combo tours is surely one of the most fun things to do in Krabi.
☞ See Also: Things To Do in Pai – Thailand's Hippie Town
17. Visit the Seashell Graveyard
Don't let that name freak you out – the Seashell Graveyard is a really interesting place to visit in Krabi! The Thai name is Susan Hoi, so you can just use that if you're spooked.
Once upon a time (some 40 million years ago), it was a large freshwater swamp home to many different mollusks. The beach is now home to giant slabs of limestone that were formed by the fossilized shells, hence the name.
📍Click here for the location of Susan Hoi on Google Maps.
☞ See Also: Things To Do in Chiang Rai
18. Visit an Elephant Sanctuary
If you're hoping to get up close with Thailand's national animal, you'll definitely want to include a visit to the Krabi Elephant Sanctuary on your itinerary. Just to be clear, there is no elephant riding going on here!
This is an ethical operation providing a new life for elephants who have been overworked in the logging and tourism industries.
Hanging out with the friendly pachyderms is sure to be an unforgettable experience, and by visiting places like this you can rest well at night knowing that you're supporting a good cause and hopefully an end to the misuse of elephants in Thailand. Click here to learn more.
📍Click here for the location of the Elephant Sanctuary on Google Maps.
☞ See Also: Things To Do in Koh Lipe – Top 21 Things You Don't Want To Miss
19. See An Interesting Cave or Two
With all these majestic limestone peaks around, it should come as no surprise that Krabi is home to some interesting caves. Checking out some of the stalagmites and stalactites makes for a nice break from the sun and sand. Stepping into a cave is nature's air conditioning.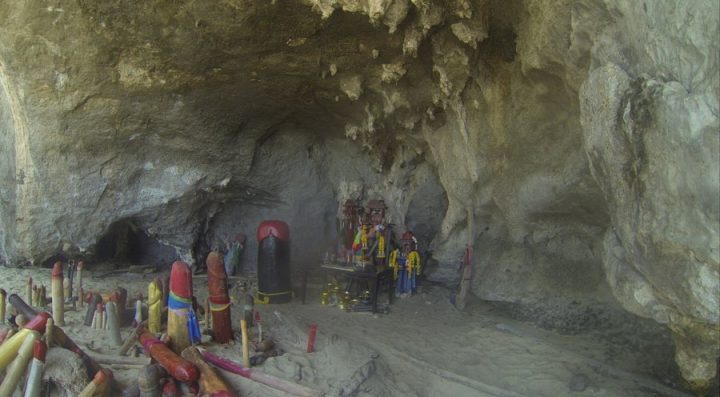 Perhaps the most interesting cave in Krabi is the one on Phra Nang beach in Railay. From a distance, you'll notice many colorful statues of different shapes and sizes. Upon closer inspection, you'll find that this is a cave full of wooden phalluses.
Locals hoping to start a family visit the cave to make offerings for a fertile womb, while most tourists just snap silly photos for Instagram.
📍Click here for the location of Phra Nang Beach (and the cave) on Google Maps.
20. Take a Thai Cooking Class
After travelling in Thailand, it's inevitable that you'll miss the place when you get back home. Especially the food. You will definitely miss the food. Why not sign up for a Thai cooking class and learn how to cook some of it yourself? Then you can impress your friends back at home by whipping up some real Thai food.
Classes are easy to find in tourist centres like Ao Nang, including the highly rated Krabi Thai Cookery School. Classes are around $45 / person, including transportation and cooking of 4 dishes. Sign up for a class and get cooking! It's definitely one of the tastiest things to do in Krabi.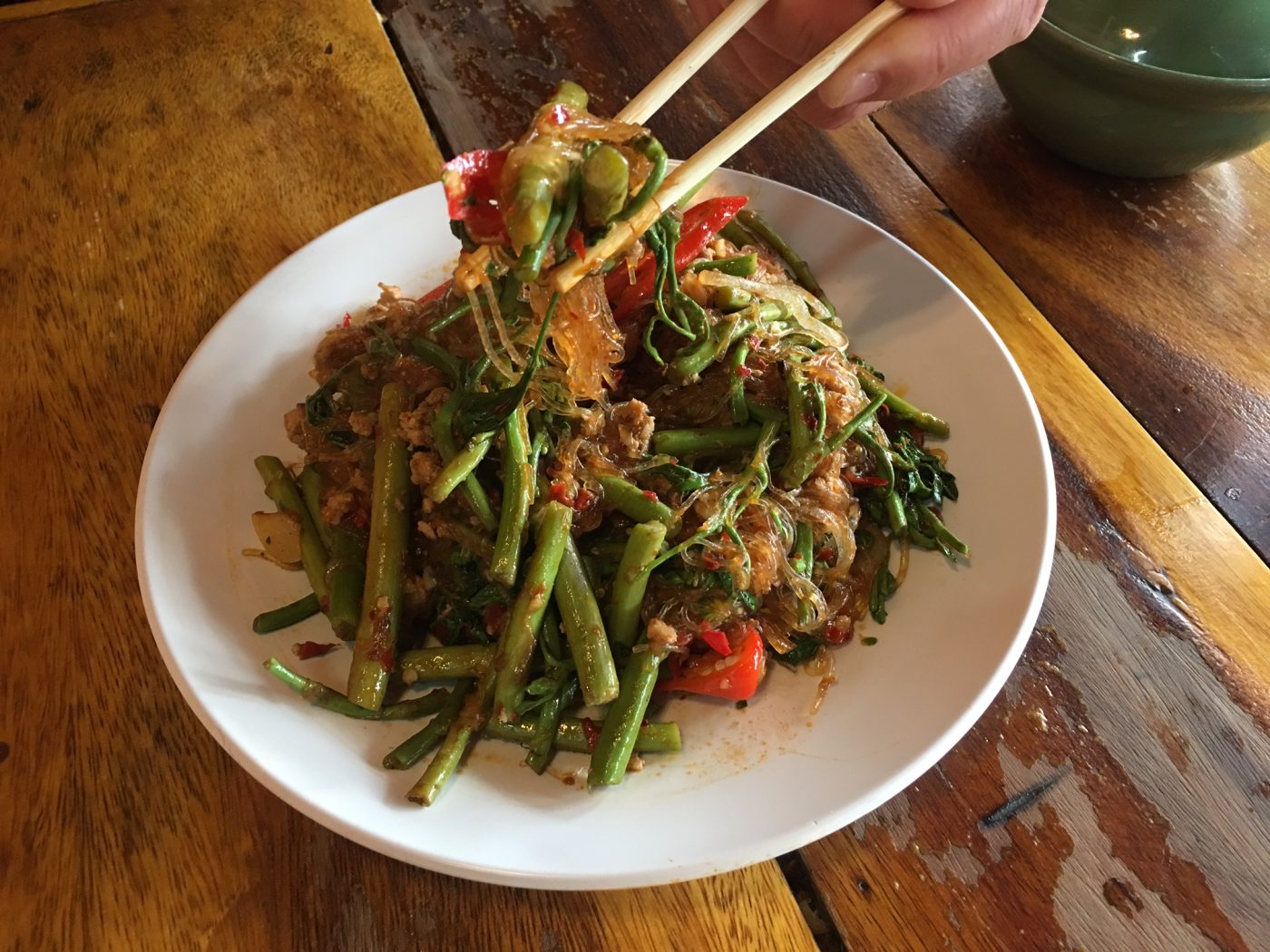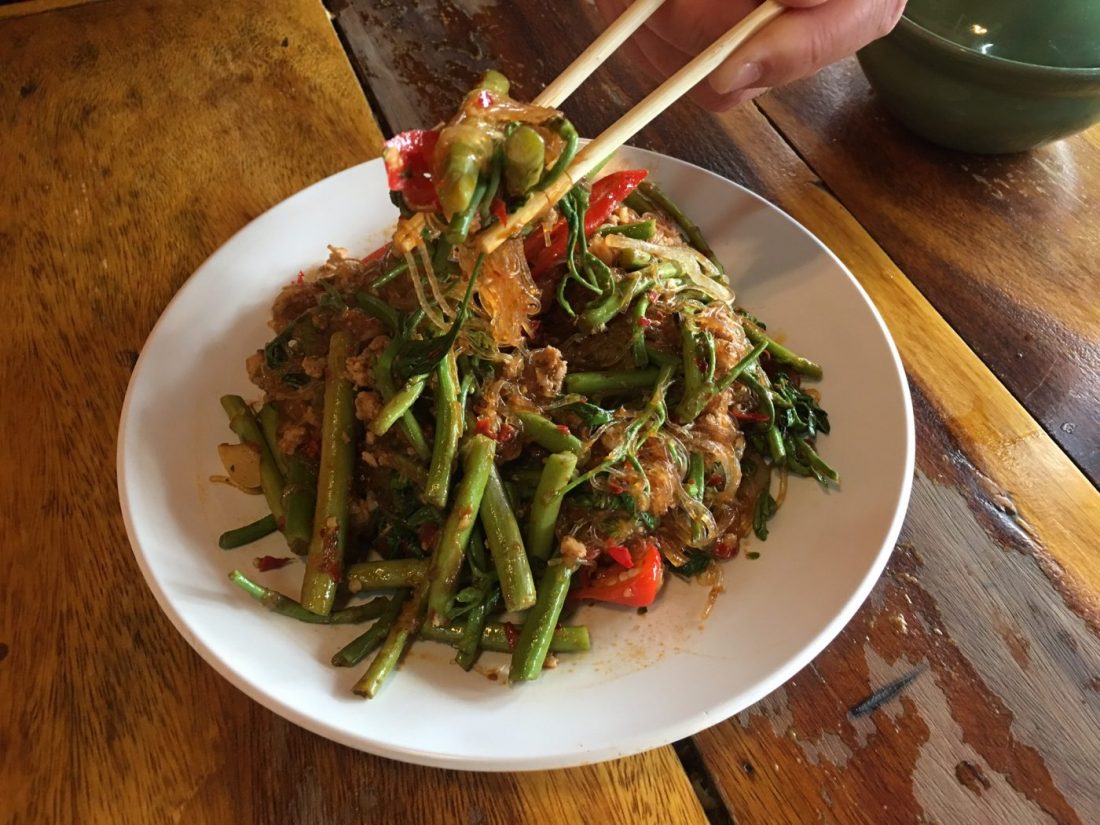 ☞ See Also: The Essential Traveller's Guide to Khao Lak
21. Party in Tonsai
While there are plenty of bars in Ao Nang and Railay, nothing beats partying in Tonsai. The rustic, no-frills backpacker bars here are tons of fun. You'll likely find reggae music, pool tables, board games, slack lines, and lots of people playing with fire.
For an awesome night out in Tonsai, start at Small World, which has to be one of the best-decorated backpacker bars in Southeast Asia. If you want to party hard, cruise over to the Sunset Pirate Bar. The guys running that place are an absolute riot, so get ready for a fun night. See for yourself in our "Streets, Beats & Eats" episode about Tonsai:
☞ See Also: Mae Hong Son Loop – The Ultimate Guide to Thailand's Popular Motorbike Trip
Ready to Enjoy All of The Fun Things To Do in Krabi?!
Now that you've read about some of the awesome things to do in Krabi, I'm sure you're ready to book that flight to Thailand. My best advice to you is to dedicate at least a week to this magical part of the country. That's a good amount of time to spend in this area if you can swing one month in Thailand.
Honestly, you could spend your entire trip in Krabi and not be bored for a single second. You've got beaches, islands, caves, waterfalls, temples, hot springs, mountains – the list goes on and on. Few destinations offer as much as Krabi, so stay a while and experience a bit of everything.
Like This Article? Pin it!