There are a surprising number of things to do in Koh Lipe. The tiny island is a traveller's paradise tucked away in the far southwest corner of Thailand. With turquoise blue waters that lap against powder sand beaches, Koh Lipe is the place to go for chilled out fun. This island is definitely one of the best places to visit in Thailand!
Surrounded by calm seas and mountainous, jungle-clad islands, Koh Lipe is more than just a beach-bummer spot. There are activities here to keep even the most adventurous traveller entertained. It's small enough to feel intimate, but big enough to offer almost everything, even a bit of nightlife for those who seek it. The entire island is within walking distance, so there's no need to worry about a safe ride home.
The pace of life slows here, to something even slower than "island-time". Shirts and shoes seem to be optional everywhere, and the friendly islanders are always ready with a wave and cheerful "Sawadee ka". There are so many things to do in Thailand and Koh Lipe is no different. I spent an amazing week soaking up everything Koh Lipe had to offer and in this post I'm going to share my favourite spots and best experiences on the island. Read on and plan your trip to paradise.
Things To Do In Koh Lipe On Sunrise Beach
Known as Hat Chao Ley by the local people, this 2-kilometre-long stretch of pristine white sand is located on the east side of Koh Lipe. This is a "less touristy" alternative to the more popular things to do in Koh Lipe like Pattaya Beach and although there are some funky beach bungalows here, there is also some more recent resort development on the beach as well. Regardless, this tranquil bay is blessed with natural beauty and a laid back atmosphere, making it hard for many visitors to leave.
If you are backpacking Thailand and beach relaxation is on your list of things to do in Koh Lipe, then look no further!
1. Watch The Sunrise
As the name suggests, this is the perfect place on the island to watch the sunrise. Even if you're not a morning person, it's still one of the best things to do in Koh Lipe. It's worth getting up early at least once. Find a spot on the sand and watch the magic as the sun peaks up over the horizon.
If you're staying on Sunrise beach, you can just walk out your front door or, if you're lucky, even watch from your balcony. If you're staying elsewhere, enjoy a quiet early-morning stroll along walking street and then find a place to sit anywhere along the beach to watch the show.
2. Snorkel From The Beach
It's impossible to visit the Thai islands and not spend a bit of time underwater. Koh Lipe is no exception. Some of the most impressive things to see in Koh Lipe are below the surface of the calm blue seas. The waters around the island are part of Taruato Marine Park, and are teaming with life. The variety of fish and coral is enough to excite even the most experienced snorkeler and the ease of snorkelling right off the beach makes it that much better.
It's possible to snorkel straight from the beach anywhere on the island, but the snorkelling off the southern end of Sunrise Beach (in front of Idyllic resort) is the best. Go at high tide because the coral is quite shallow, and wear fins because there can be a bit of current. At low tide, head to the north end of the beach instead (in front of Mountain Resort).
If you don't have your own equipment, you can rent snorkel gear from any of the dive shops on the beach and spend your day enjoying the underwater world. Rental fees are typically 50 baht (US $1.50) per piece (mask and snorkel, fins) or around 150 baht (US $4.50) for the full set.
3. Enjoy a Cocktail At Sea La Vie
After a day of lazing in the sand or playing in the ocean, it's nice to unwind with a drink on the beach. One of the best places in Koh Lipe for a beach-front cocktail is Sea la Vie. You can lounge on a hammock or relax on a comfy cushion with your toes in the sand. The selection is staggering, but I suggest the local rum. It'd be a shame to visit Thailand without at least trying a SangSom cocktail.
Sea la Vie is easy to find and very accessible. It's just south of the entrance to Sunrise Beach from Walking Street.
4. Watch a Movie At OMG! Sports Bar
The island is way too small for a movie theatre, so watching a movie is one of the unlikely tourist activities in Koh Lipe. Thankfully, if you're wanting a movie fix on something bigger than an iPad, OMG! has you covered. Head there any night for the 7pm movie. No guarantees what the movie will be, but does it really matter? Just make sure you put bug spray on, the mosquitos can be ferocious.
If you're not interested in the movie, you can play billiards or darts instead, or just relax and enjoy the atmosphere. The food is delicious. It may not be as good as experiencing authentic Thai food, but the Western food is the best on the island if you're feeling homesick or craving a big, juicy burger.
OMG! isn't right on the beach, and you kind of have to go looking for it. Head West on Walking Street from Sunrise Beach and take the first right. The sports bar is a few minutes walk ahead on the left. Once you get close you'll be able to hear it.
5. Do a Yoga Class At Castaway Beach Resort
If you're more into relaxation, a Yoga Class at Castaway Beach Resort is one of the ideal things to do in Koh Lipe. You can start your day with a sunrise meditation or slow-paced Hatha yoga class right beside the beach.
Classes are one hour long and run every day except Sunday. They're offered three times daily at 7am, 9am and 4:30pm and are 400 baht (US $12) for an hour. Classes can fill up, especially during busy season, so try to book ahead if you can. The 7am class requires pre-booking and payment ahead of time, but for the others it's highly recommended, but not required.
6. Kayak To A Deserted Island
The search for a deserted island paradise doesn't take much effort here. The nearby islands of Koh Usen and Koh Kra are perfect places to hang out for a few hours, reading, snorkelling, or just relaxing on the beach without another soul in sight. This is one of the things to do in Koh Lipe that's an absolute must.
Both islands are a short kayak from sunrise beach; Koh Usen from the south end and Koh Kra from the north end. Kayaks are available to rent from Castaway Divers for 200 baht (US $6)/hr, or from many other restaurants and hotels around the island. Standard pricing starts from 150 baht (US $4.50)/hr or 300 baht (US $9)/day.
Best Places To Stay on Sunrise Beach
---
Things To Do In Koh Lipe On Sunset Beach
In Thai Sunest Beach is called Hat Pramong and not surprisingly, is on the opposite side (west) of the island to Sunrise beach. Like its adjacent competitor, this stretch of sand is famous for the changing colors of the sky, but because this bay faces west, it's a better spot for those who don't enjoy waking up early to catch the sunrise. But there is more to do here than sit down in the late afternoon and watch the sky explode with colors over a cocktail.
As far as finding things to do in Koh Lipe goes, this beach may not be the best option because it's so calm and reserved. This is the quietest bay on the island with only a few restaurants, bars and accommodation options, but it's proximity to Walking Street (10 minute walk away) means that you are still close enough to the action.
7. Watch the Sunset from Boom Boom Bar
Even if you don't want to get up early to watch the sun rise, you'll definitely want to catch a sunset from the aptly-named Sunset Beach. Since this beach is significantly quieter than the others, any spot on the sand is a perfect place to enjoy the sunset. If you prefer your sunset with a cocktail, Boom Boom Bar is the place to go.
When you enter Sunset Beach take a left and you'll run right into Boom Boom Bar, along the Western stretch of the beach.
8. Search For Bioluminescent Plankton
Of all the breathtaking, natural things to see in Koh Lipe, the Bioluminescent plankton might be the coolest. It's not always easy to spot, so you might need a bit of luck, but if you do find it, it's out of this world!
You can join a special tour to one of the neighbouring islands to hunt for the plankton after sunset, or you can just walk along the darker parts on the Western end of sunset beach and hope for a bit of luck.
Best Places To Stay on Sunset Beach
---
Things To Do In Koh Lipe On Pattaya Beach
This is the main tourism hub for planning things to do in Koh Lipe and when you arrive here, you'll see why. This massive stretch of blindingly white sand and turquoise water has long been the favourite hangout spot for backpackers, flashpackers and resort-goers alike. A lot of people choose to stay here because there are so many bars, restaurants and accommodation options and while it can get extremely busy in the high season (November – April), there are numerous quieter beaches within a 10-15 minute walk from Pattaya.
If you're looking for exciting, outdoors and adventurous things to do in Koh Lipe, then you'll likely come here to book your excursions and experiences.
9. Watch A Fire Show
In the evening there's often a few fire shows going on around Koh Lipe. I suggest checking out the one at the Reggae bar where there's usually a couple guys on the beach, spinning fire. The beach is decorated with sand-shapes and candles, people relax on cushions in the sand, with the reggae beat pumping in the background. It's everything an island night should be.
When you enter Pattaya from Walking Street, take a left and walk a few hundred meters up the beach. The Reggae Bar is just past Art Beach Club. If you don't want to walk all the way down to Pattaya beach, you can often catch a fire show at Maya Bar on Walking Street as well.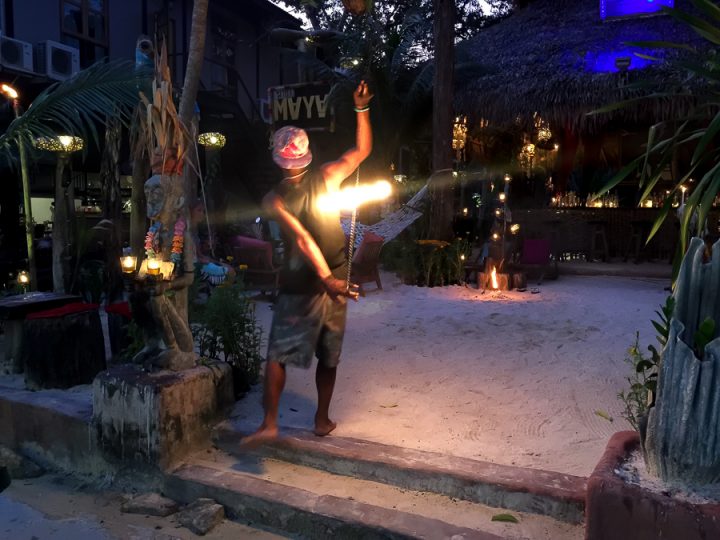 10. Go For a Swim at Art Beach Club
If you're getting tired of salt in your hair and sand between your toes, one of the things to do in Koh Lipe is to take a dip in a pool rather than the ocean. Art Beach Club has a great pool with a sea view. This resort has a different vibe from the rest of the island and many people feel it's ruining the ambiance of Koh Lipe. Nevertheless, the pool is fantastic.
Art Beach Club is located just southeast of Walking Street, and you'll hear it before you see it. Drinks start from 220 baht (US $6.60), the most expensive on the island by far.
Best Places To Stay on Pattaya Beach
---
Things To Do In Koh Lipe On Walking Street
The Koh Lipe Walking Street is basically the center of the main town on the entire island. This is main street, and you'll find pretty much everything that you'd expect to find in a bustling Thai town including massage parlours, plenty of bars and restaurants, tour operators and countless souvenir shops. Simply strolling along Walking Street is one of the things to do in Koh Lipe that you won't be able to skip because it's such a central road.
11. Wander Around The Entire Island
Koh Lipe is so small that you can walk across it in all directions in no time at all (it only takes about 45 minutes to walk the length of the island). There are some motorcycles and motorcycle taxis on the island, as well as a couple of trucks, but for the most part it's very pedestrian friendly. Walking street is the center of everything, but it's also fun to wander down the side streets and see what you find.
12. Enjoy Some Delicious Pad Thai To-Go
From about noon onward you can find delicious Pad Thai to-go along Walking Street. It's cooked fresh right in front of you, then tossed in a small container to enjoy on the beach, or wherever you choose. There are plenty of places in Koh Lipe to eat, but Pad Thai from the street is one of the cheapest and most delicious options!
If you've participated in Trash Hero and don't want to contribute to the excessive amounts of trash on the island, consider bringing your own take-away container for the Pad Thai.
A massive helping costs around 100 baht (US $3), and is loaded with fresh veggies and chicken.
13. Gorge On Roti From Thai Pancake Shop 2
Thai Roti is the perfect meal, any time of day. One of the best places in Koh Lipe for Roti is Thai Pancake Shop 2. There are so many options it's hard to pick which one you want. They come loaded up with eggs and veggies for a meal-size serving, or full of banana and chocolate sauce for a delicious dessert (or breakfast.). It might be worth bringing a friend or two so you can share more than one.
Thai Pancake Shop 2 is near the middle of Walking Street and easily accessible from all sides of the island.
14. Shop for Beachwear and Souvenirs
Walking street is lined with tourist shops selling all sorts of items, including some really cute beachwear at great prices. There are crocheted cover-ups and cute sundresses for the ladies, and tank tops for the guys (admittedly there's significantly less selection for men, sorry guys!). One of the things to do in Koh Lipe that's unavoidable is a wander down Walking Street, and window shopping along the way gives you something to do while you walk.
If you're needing to stock up on souvenirs for friends at home, Walking Street has you covered. There's a great variety of souvenirs, and it's significantly less stressful compared to the bigger markets elsewhere in Thailand.
15. Stop In For Happy Hour At Maya Bar
Koh Lipe isn't a big party island, but there are a few places to enjoy a drink or two. Maya Bar has great drinks at a reasonable price and the location allows for some fabulous people watching while you sip your cocktail. You can stop in for a drink before dinner, or head there after dinner if you're looking for a bit of dancing too.
Maya Bar is in the center of the action, right at the crossroad at the center of Walking Street. Happy hour runs from 5-8pm, and there's usually great music and a fire dancer to keep you entertained.
Best Places To Stay on Walking Street
---
Things To Do Around Koh Lipe
There are more things to do in Koh Lipe than the beaches listed above. If you're looking for the best things to do in Koh Lipe, you'll have to explore further out and take part in some of the cool initiatives and fun activities on the island. Below are a few things that you can do anywhere on the island, as well as some other spots that I haven't listed yet.
16. Be A Trash Hero
This is seriously one of the most rewarding and fun activities in Koh Lipe. Trash in the ocean is a huge problem throughout the world, and Thailand is no exception. The ability to get together and pick up trash with a group of locals and travellers is a rewarding way to spend your time.
Every Monday morning at 10am, Trash Hero gathers where Walking Street meets Pattaya beach, for a community trash pick-up. They don't just clean up Koh Lipe either. The group often heads to neighbouring islands to clean up garbage that's washed ashore from the ocean. It's completely free, includes a snack, time to swim and a free lunch on your return to Koh Lipe.
If you're not on the island on a Monday, consider doing your part and picking up a bag or two of trash from the beach on your own.
17. Enjoy A Thai Massage On The Beach
No trip to Thailand is complete without enjoying a Thai massage. The stretching and joint-cracking intermixed with a deep tissue poking and prodding is like no other, and feels even better after the bumpy boat ride to the island!
There are massage parlours lining both sides of Walking Street, but having a massage on the beach is one of the most relaxing things to do in Koh Lipe. Your best bet is to turn right on Pattaya beach, and walk a few hundred meters until you come to the open-air bamboo huts advertising a massage. Prices are pretty standard across the island, starting at 300 baht (US $9) per hour for a basic Thai massage and 400 baht (US $12) for an hour-long oil massage.
18. Swim In The Crystal Blue Waters Of The Andaman Sea
How can you visit an island as beautiful as Koh Lipe and not swim in the ocean?! Even if you don't know how to swim, the water is so calm and warm, it's easy to just lounge around in it for a bit.
During high season (November to April), boats come in to Pattaya beach, making it the busiest beach and the least desirable place to swim. There are a few designated swimming spots, so be sure to stay within those if you're swimming from Pattaya beach. The other two beaches are great for swimming all year round. Sunset beach is the quietest, and Sunrise beach has the best sand.
19. Chill Out With A Good Book
Nothing quite makes one feel as if they're on vacation like getting lost in a good book. Despite all the things to do in Koh Lipe, it's nice to spend a bit of time just relaxing. You can find a spot under a palm tree or on a hammock, and spend the heat of the day reading.
20. Go On A Long-Boat Snorkelling Trip
Even if you've spent some time snorkelling from the beaches of Koh Lipe, it's still worth going a bit further afield on a long-boat snorkelling trip. Koh Ra Wi and Koh Adang are the most popular and are included on every itinerary. The waters off Koh Ra Wi can get a bit filled with trash sadly, which really detracts from the experience.
The Western shore of Koh Adang, however, is simply stunning. The coral is healthy, there's a huge abundance of fish, and chances are you'll have the whole place to yourself (or at least it'll only be your group).
There are a few different tours that run from the Koh Lipe, and it's possible to join a tour any day of the week. If you're traveling as a group, you can hire a long-boat for the day, bring snorkelling equipment, and go on your own. The cost for a tour is around 800 baht (US $24) per person. Inquire at any of the dive shops or tourist agents along Walking Street, and be sure to compare prices and negotiate!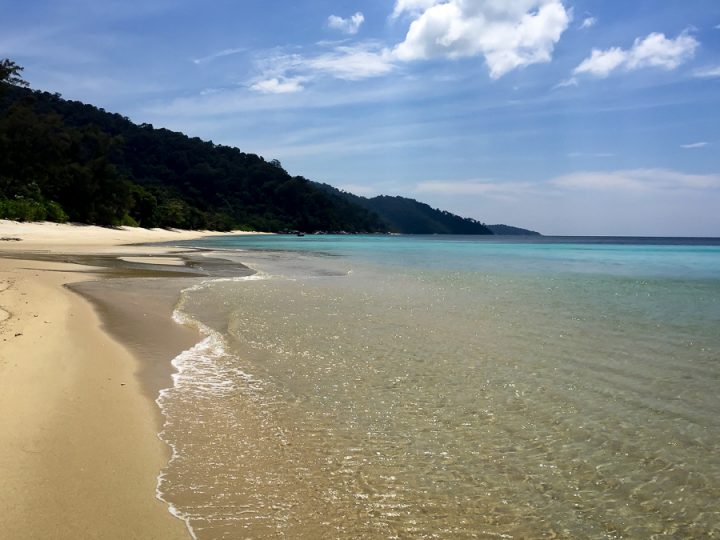 21. Hike Koh Adang For A Bird's Eye View Of Koh Lipe.
One of the coolest things to see in Koh Lipe is viewing the island itself, from above. The hiking trail on Koh Adang goes past three look-outs, the third of which has the best view across the straight to Koh Lipe. It's not a strenuous hike, and takes less than an hour to get to the top.
If you're feeling extra energetic you can kayak to Koh Adang. If not, grab a long tail boat taxi from Sunrise Beach for around 100 baht (US $3). Once you get to the island check in at the ranger station and they'll point you in the direction for the hike. Don't forget to slather on the sunscreen and bring lots of water with you.
Best Places To Stay Around Koh Lipe
---
Koh Lipe is waiting for you…
With so many different things to do in Koh Lipe there's something for everyone. It takes a bit of energy to get to there, but that makes it even more special. When you jump off the boat and plunge your feet into the softest sand you've ever felt, it makes the extra effort seem immediately worth it.
Koh Lipe is less of a party island than many of its neighbours, but offers the ultimate in relaxation. The ability to wander everywhere with or without shoes just screams vacation, and makes the entire island feel a bit like your own personal resort. Add to this a few outdoor activities, some cool bars and great food and you quickly realize why this island is becoming less and less "off-track" each year.
If this hasn't convinced you to visit, I'm not sure what will. Pack your bags, and go discover for yourself all the incredible things to do in Koh Lipe.
Like This Article? Pin it!