Nicky previously worked in the NHS for almost 14 years and found that being chained to a desk simply wasn't for her. Her passion for travel allowed her to see more of the world and do the one thing she loves – to write, with her trusty pet dog Harry by her side.
Local Of:

Chesterfield, United Kingdom 

Expert of:

Chesterfield, United Kingdom, Turkey, Florida 

Travel Style:

Foodie, history, wildlife, beach bum, city lover 

Traveling Since:

2005

Favorite Destinations:

Turkey, USA

Backpack or Suitcase:

Suitcase

Window or Aisle:

Window

Bus or Train:

Bus
Nicola's Expertise
I'm a firm believer in the school of life, and I think the best way to learn is to jump on a plane, immerse yourself in a new culture, eat the food, embarrass yourself trying to speak a few words of a new language, and just go for it. That's exactly what I did, and it's enriched my life beyond measure. 
I love writing, it's something I've done since I was small. You could say I've got a pretty vivid imagination but I shrug that off: at least I see the world through child-like eyes! I've been a writer now for more than ten years and being able to do that while seeing the wonder of the world …. Well, I'm lucky. 
Nicola Around The World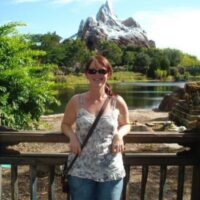 Nicola's #1 Travel Tip
Feel the fear and do it anyway — I think the worst thing you can do while traveling is allow fear to stop you from really exploring. It's easy for shyness or social anxiety to get in the way of speaking to new people, or embarrassment to stop you from asking a question. You might get squeamish trying a new food because it's new to you. Forget all that. 
The only way to really see a place is to throw yourself into it and throw caution to the wind. Now, that doesn't mean taking massive risks, but trying new things isn't going to hurt you as long as it's not dangerous. And what's the worst that can happen? Someone giggles because you said something wrong. Or maybe you just don't like a particular street food and it makes you feel sick for an hour. You'll live! 
Nicola's Favorite Food
You can keep your steaks and your fancy meals; the one thing I love and would eat for any meal is menemen. This is a Turkish omelet-style dish of onions, peppers, tomatoes, and eggs, and it's delicious. Every single person makes it a little differently, but my favorite was from a local lady in Istanbul with a small restaurant near the Galata Tower. I've never found one as tasty since. 
Nicola's Favorite Destination
I love beaches and amazing scenery but Istanbul is my all-time favorite place to visit, no matter what the time of year. However, in wintertime, the city is just magical and there is never a lack of things to see and do. 
There is history at every turn, some of it going so far back that it's unfathomable. But there is also nature, a few beaches here and there, great shopping, and the best food you'll try anywhere. I always return with my jeans a little tighter than when I set off! 
Where Have You Lived?
I was born and raised in Chesterfield, which is near the Peak District in England. However, I have lived in several places in Turkey in the past, and completely fell in love with the country. 
On top of that, I have lived in Florida for a couple of short stints, including Orlando and Tampa. 
Funny Travel Quirk
I don't really like flying, and that's pretty inconvenient when you want to see the world. I've got this horrible habit of suddenly wanting to question how the plane stays in the sky just after it's taken off. I have to distract myself with Netflix, books, or chocolate. 
I'm also terrible at packing. I'm one of those people who wants to take everything "just in case." I convince myself that my trip will be ruined if I don't take that one sweater. Excess baggage charges are no fun, let me tell you. 
Posts By Nicola