Before you jump on a plane, train, or into your car, you'll need to know the best time to visit Tampa. After all, if you go at a time that doesn't suit what you have planned, it's going to affect your trip. However, there is some good news: Tampa is great no matter which month you visit.
Tampa doesn't really have four seasons, it has two: hot and humid, and mild and dry. That makes figuring out when to go to Tampa a lot easier.
However, it does have a busier season when crowds are abundant; if you visit between May to August, you're going to see line-ups but don't let that put you off because Tampa is fantastic no matter the time of year.
I've visited Tampa more times than I have fingers on my hands and stayed for several weeks at a time. There are so many things to do in Tampa that the weather will just be a background theme to all the fun you're having. But, to help you pinpoint the best time for you, let's explore Tampa throughout the year:
Overall Best Time To Visit Tampa
Personally, I like the period between the end of September to December. During this time, the highest risk for hurricanes has passed, the humidity has thankfully calmed down, and the bulk of the crowds have receded.
The other plus point is that hotels tend to be cheaper at this time too, so you can often grab a bargain as long as you avoid Thanksgiving, Christmas, and New Year. I'm not a huge lover of extreme heat, so June to August is far too hot for me, and the humidity is off the scale.
If you enjoy beach time and want to catch a tan, the best time to visit Tampa is September. I enjoy this month because it's warm and sunny, but not unbearable. Of course, everyone will have their preferences, but if you want to get the most out of the area, the lower temperatures during these months will help you do that.
Peak Season in Tampa
(May-August)
Between May and August, you'll experience heat, humidity, and crowds, but there's also a lot going on. It's about weighing up a balance and working out when to visit Tampa according to your needs.
If you're into festivals, this is a good time to visit as this is when the Sunset Music Festival and two beer festivals: BeerFest (in July) and Bolts Brew Fest are held. You can also enjoy plenty of beach time to cool down from the heat.
As with peak season anywhere in the world, hotel prices are higher during this time of the year. A good hotel in Downtown will cost you around $430 per night in July, compared to around $370 in October.
Shoulder Season in Tampa
(September and April)
I think the shoulder season is the best time to go to Tampa. It offers all the fun of peak season but without the extremes. September is a wonderful month because the humidity has started to drop and trust me, the air in August is extremely heavy. September offers some relief while remaining warm.
April is a similar story; the weather is warming up but hasn't quite hit the high notes yet. You can also check out Taste @ The Straz, a must-do for foodies. At this point, hotels may also charge far less, and you can often get a room for around $100 cheaper than during peak season.
Off-Season in Tampa
(October and January to March)
You can't call this an off-season, but if you're considering the weather, it could fall into that category. I like this time of year because the rain doesn't last long. It's the best time to travel to Tampa if you're looking for hotel deals, as you can usually find a high-quality hotel in Downtown for around $300 per night or less — even on a weekend in Tampa.
The Oktoberfest (in October) is a pull for many craft beer lovers, and the quieter vibe means you can explore a lot easier. The only downside is that fewer outdoor activities, such as watersports, may be available, simply because there aren't as many tourists compared to the months to come.
When to Visit Tampa For Beaches
If you're looking for fun in the sun, I'd suggest visiting between May and the end of July. However, bear in mind that July is the hottest month, so only visit if you're a serious fan of heat. The plus point is that the sea is always wonderfully refreshing and offers plenty of relief.
There are countless beaches around Tampa Bay, and a few of my favorites include Clearwater, St. Pete Beach, and Ben T Davis Beach, which is the closest to Downtown. You'll find that beaches are more crowded at this time, but there are more facilities and water sports on offer.
When to Visit Tampa For Festivals
The ironic thing about figuring out when to travel to Tampa for festivals is that most events tend to fall into the so-called off-season. Between January and April, there are some great festivals to attend, including Tampa Pride, Tampa Bay Beer Week, and Taste @ The Straz.
However, the peak season is when you'll find not only regular festivals but ad-hoc ones too. It seems like there's always something going on between May and August, including the Sunset Music Festival, Bolts Brew Fest, and BeerFest. Yes, Tampa loves its craft beer.
When to Visit Tampa For Historical Sites
The most historic part of Tampa is Ybor City and the best time to visit Tampa if you want to explore the area freely is between October and November, or between January and March. At these times, the weather is a lot better for walking around (without sweating), and the crowds are less intense.
The Ybor City Historic Walking Tour is a great choice at this time of year and is ideal for those looking for something slow-paced. However, you could just as simply walk around and look at the architecture, exploring on your own steam. This is a lot easier when the weather is cooler and less humid.
When to Visit Tampa For Wildlife
The wider Tampa area is home to a lot of different species of wildlife, and it's always a great idea to head out and explore. I always enjoy dolphin-watching and the good news is that the best month to visit Tampa for that is, well, anytime! Just make sure you book your tour for mid-morning as that's when you're most likely to spot something.
If you enjoy bird-watching, the months between December to March are best for spotting different species. There are many hiking trails in Tampa that are ideal for bird watching, such as Lettuce Lake Park Boardwalk.
When to Visit Tampa For Cheap Prices
Between January and the end of April, you can find some great deals on hotels. During January and February, you can often find high-quality hotels for around $100-$150 less per night than during the peak season. Some savings may be higher if you spend enough time shopping around.
This is the best time to visit Tampa if you want to keep some money in your pocket and use it to explore more freely. While restaurant and shop prices will remain the same, you're more likely to see discounts, such as New Year sales compared to other times of the year.
When to Visit Tampa For Hiking
The best time of year to visit Tampa for hiking is between September and December. Many of Tampa's trails are open all year round, but at this time, you'll be able to walk without worrying about too much rain and uncomfortable temperatures. As a result, you'll see a lot more of the area and experience fewer crowds.
I discovered a love for hiking in Tampa, after initially being skeptical of any form of physical exercise while on vacation. Lizards Tail is a particular favorite of mine, which takes you through Cypress Creek Preserve and offers stunning views. I also enjoyed Eureka Springs Boardwalk, which is a short walk ideal for families.
The Riverwalk is also classed as a trail, and when the weather is cooler, and there are fewer people around, it's much easier to explore and take your own sweet time.
The Best Time to Visit Tampa By Month
In our quest to figure out the best time to visit Tampa, let's take a look at each month and learn more about the average weather conditions and what it's like in the city throughout the year.
Remember, Tampa is a large city, and no matter what the month, it's packed with things to see and do. The only thing you need to make sure of is that you can easily tick off whatever you add to your must-do list, without being hindered by things outside of your control.
Tampa in January
Tampa in January means winter, but don't even think about snow. We're talking about a quiet time, when everyone is recovering from New Year, and the weather is mild and sometimes rainy. One of the best places to visit in January is Florida.
Weather in Tampa in January
The average daily temperature at this time of year is around 70°F/22°C. Evenings can be a little cooler, but certainly not cold, and you are very unlikely to see snow. What you may see is a little drizzle, with an average of just 6 days of rain throughout the month.
As you can see, these mild temperatures are ideal for exploring, and all you'll need is a light jacket in the day and perhaps something a little warmer for the evenings. Despite it being the coolest month, it's still far from cold.
Things To Do in Tampa in January
While January is quieter, there's still a lot to see and do. All the main attractions are open, and the Gasparilla Pirate Festival is a real highlight. You'll see parades, music, costumes, and a whole lot of fun, celebrating Tampa's swashbuckling past.
Taking a Historic Ybor City Food Walking Tour is a good idea at this time because you'll be a lot freer to explore. It's a great introduction to the area and helps you discover places to return to during your stay.
Tampa in February
When visiting Tampa in February you can enjoy all the Valentine's celebrations while still being able to explore openly thanks to cooler weather.
Weather in Tampa in February
Weather in February is very similar to January, with daytime temperatures hovering around 73°F/23°C. The chance of rain is around 17% on any given day, but it's usually light and not torrential. I've visited Tampa at this time, and I found it really mild and pleasant.
Things To Do in Tampa in February
A great event to attend in February is the Florida State Fair. There are rides, shows, food, and everything you can imagine to celebrate the Sunshine State. It's also a great time to spot manatees as they gather abundantly during the winter – you never know how many you might see.
Check out hotels and restaurants around Valentine's Day as many have special menus on offer, but remember to reserve a table in advance as places fill quickly.
Tampa in March
Tampa in March means we're heading slowly toward the warmer weather, and this is a great time to head outdoors and explore nature.
Weather in Tampa in March
You'll see a slow warming up happening in March, with daytime temperatures around 77°F/25°C, with slightly cooler evenings. It's less likely to rain too, with a low chance of 13% each day. It may be a little cloudy most of the time, but you're still sure to see some beautiful blue skies.
Things To Do in Tampa in March
March is the ideal time to head out hiking – one of my favorite activities. There are many trails around Tampa and with the milder weather, you'll enjoy them much more. Most tour companies start their sunset cruises at this time of year, and this is the ideal time to take a tour without so many crowds. Click here for details.
The Gasparilla Music Festival takes place in March/April, and you can catch live bands in Downtown, along with craft beer stalls and delicious food.
Tampa in April
Visiting Tampa in April is one of my favorite times to go. The weather is beautifully warm, there are enough visitors to make things interesting, and plenty of activities to enjoy.
Weather in Tampa in April
It's not likely to rain in April, so make the most of the dry weather before the wetter season just around the corner. Temperatures tend to hover around 83°F/28°C during the day, with lows of 66°F/19°C at night; it's wonderfully mild at this time of year.
You're probably not going to need a jacket even in the evenings, but I'd recommend keeping an umbrella in your bag if possible, just in case of sudden downpours. For me, this is the best time to visit Tampa if you want to spend most of your time outdoors.
Things To Do in Tampa in April
If you love Blues music, head to the Tampa Bay Blues Festival which lasts for three days every April. It's a great chance to listen to some fantastic music and mingle with like-minded people. You'll also notice stalls selling delicious food and drinks.
Outdoor activities are a great idea at this time. I enjoyed a kayaking tour last April, and it was so much fun, especially as the kayak had a glass bottom. Exploring the Riverwalk is always recommended, and with the peak season not yet in full swing, you'll be able to walk a lot more freely than at other times of the year.
Tampa in May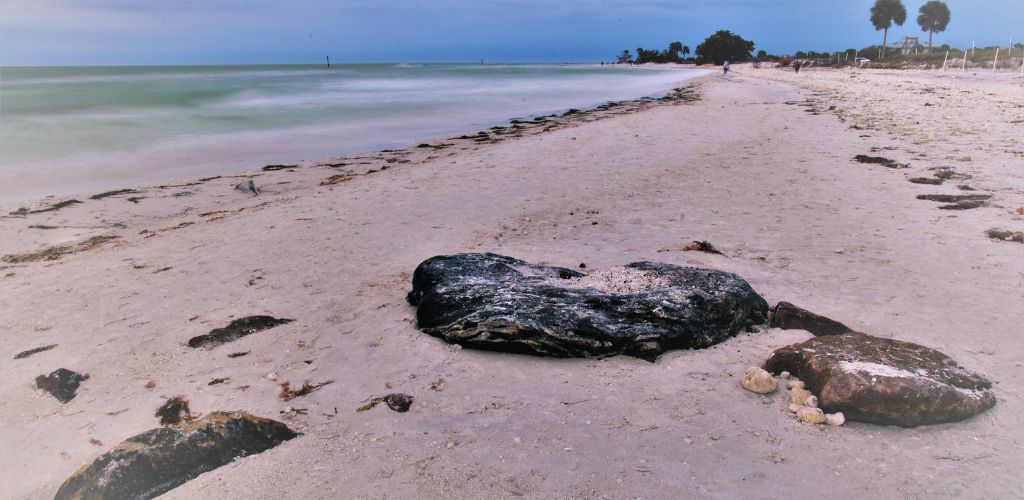 Tampa in May means summer is starting, and while the extreme heat hasn't hit yet, it's not far away. This is a good time to visit if you want to hit the beach, but don't want to fight for a space on the sand.
Weather in Tampa in May
May is the last month before the start of the hurricane season, and temperatures are certainly warming up. You can expect an average of 87°F/31°C with very mild evenings indeed. The chance of rain is still very low so this is a good time to make the most of the dry weather.
Things To Do in Tampa in May
Head to the beach in May and you'll enjoy peace and quiet with some beautifully warm days. Ben T Davis Beach is very close to Downtown but you can also go a little further afield and check out Honeymoon Island State Park or the ever-popular Clearwater Beach.
You'll likely find lots of celebrations for Cinco de Mayo (on May 5th), which are always great fun to take part in. If you want to visit a Mexican restaurant in particular, make sure you reserve a table well in advance.
Tampa in June
June 1st is the official start of the Atlantic hurricane season, but you shouldn't let that worry you too much. Tampa is very well prepared for hurricanes, and you'll hear about any possible adverse weather well ahead of time, with all precautions taken. Check the National Hurricane Center page here.
Weather in Tampa in June
Tampa in June is very warm indeed, and humidity is starting to enter the fore. You can expect temperatures of around 88°F/31°C, although the humidity might make it feel slightly warmer. I'm not a big lover of hot weather, but I find June suits me fine.
The chance of rain starts to sneak up a little at this time, with a 30% chance on any given day. When showers do fall, however, they tend to be quite fleeting. Just keep an umbrella with you, and you'll be fine.
Things To Do in Tampa in June
It's definitely time to enjoy the beach now and head out to the parks around the city itself. The Tampa Bay Zipline Adventure is a great thing to add to your itinerary in June, with slightly fewer crowds but fantastic weather for zipping through stunning scenery.
Alternatively, head out on a dolphin sightseeing cruise and see if you can spot any of these gentle animals while they're searching for food. If you're not one to head to the beach, another great way to fill a day is to visit Adventure Island Park – a huge waterpark with space to chill too. Click here for ticket details.
Tampa in July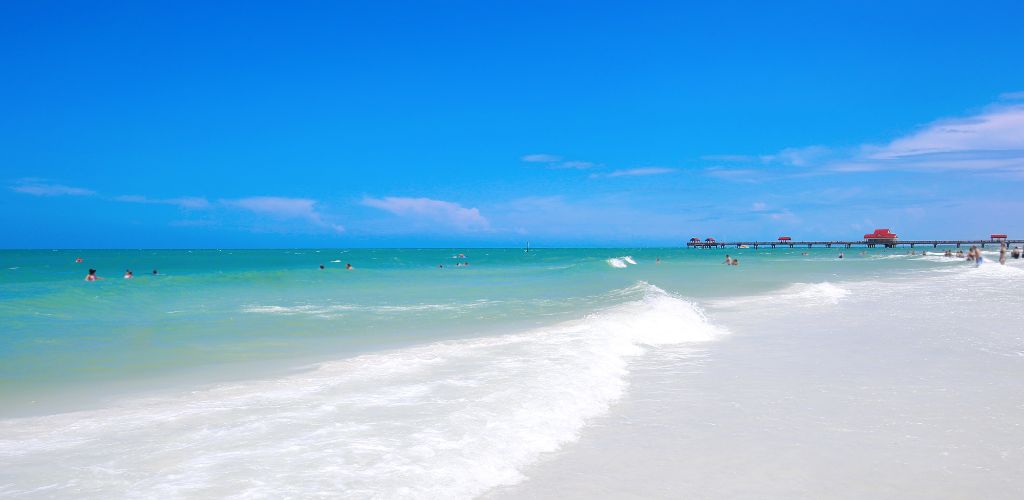 Tampa in July is hot, hot, hot. Yes, this is the hottest month of the year so if you like the heat, this is the month for you. If you don't, well, perhaps wait a few months before you visit.
Weather in Tampa in July
The average daytime temperature in July is a very sticky 90°F/33°C and humidity is extremely high. The chance of rain is around 30% any day, and it's best to seek shade whenever you can.
Of course, if you're all about the beach and summer fun, this is the best time to visit Tampa. You will certainly need your air conditioning to sleep at night, however, as nighttimes are just as sticky as the day and don't seem to get much cooler.
Things To Do in Tampa in July
At this time of year, Tampa is bright and vibrant. It's a busy time of year as we're now into the peak season, so if you visit any of the main attractions, it's a good idea to book your tickets online beforehand to avoid the queues.
If you want to dodge the stickiness of the city, I'd highly recommend the Fort De Soto Beach Guided E-Bike Tour. You'll get to explore wildlife and nature, and there's plenty of shade too, perfect for avoiding the sun. The beach here is also beautiful. Click here for more information.
Evenings are very warm so you'll want to dine outdoors. Luckily, Tampa has plenty of restaurants that tick that box, including a firm favorite of mine—Ulele.
Tampa in August
Tampa in August means rain. This is the wettest month of the year, but that doesn't mean it's going to be a monsoon either. The plus point is that August is packed with fantastic events and things to do.
Weather in Tampa in August
It's still very warm in August, with an average daytime temperature of around 88°F/31°C and very warm evenings. Again, air conditioning is a must at this time of year; there's no way I would have survived August's humidity without it.
It's too warm to wear a rain jacket, so I'd just suggest keeping an umbrella handy or seeking shelter if a downpour does come about. Despite the risk of rain, you'll get a good 13 hours of sunshine on average per day, so you'll need sun protection.
Things To Do in Tampa in August
Check out Tampa Bay Comic Con, which lasts three days every year and is a must-do for comic book fans (and anyone who wants a good day out). I'd also recommend making the most of those warm evenings by taking the Tampa Terrors Ghost Tour. Whether you see anything spooky or not, it's such a fun evening. There are plenty of ghost tours available.
St. Pete Beach is very close to the city and is an amazing day trip from Tampa during the hottest times of the year. You'll find lots of things to see and do there, and it's only a 30-minute drive away. If you'd rather stay close to the city, try the Tampa History Cruise, helping you learn more about the area and soaking up the sun at the same time.
Tampa in September
Visiting Tampa in September is one of my favorite things to do; I love the weather, I love the vibe, and thankfully, the humidity is starting to fall.
Weather in Tampa in September
The weather toward the end of September is better than at the beginning, when it's still quite humid and warm, however, mid-month and into the last week brings wonderful conditions. While it might not look like temperatures have fallen much, with an average of 86°F/30°C, the drop in humidity makes it feel a lot more comfortable.
Of course, this is the middle of the hurricane season but simply remember to listen to local news. If a hurricane does head Tampa's way, just follow instructions and guidance until it passes. Remember, just because it's hurricane season doesn't mean you're going to experience one.
Things To Do in Tampa in September
The major crowds have ebbed away by the middle of September, so you can get out and see more without people getting in your way. Mid-September is the start of the NFL season, so heading to see the Tampa Bay Buccaneers at the Raymond James Stadium is a thrilling thing to do.
The Tampa Bay Boat Show takes place every September, and you don't have to be a sailing enthusiast to enjoy it. You can also take advantage of fewer visitors by taking a guided city tour in a deluxe golf cart; it's great fun and allows you to take in the city without taking a toll on your feet.
Tampa in October
It's spooky season and visiting Tampa in October means you can learn more about the city's haunted past.
Weather in Tampa in October
There are some fun events happening in October, and the slightly cooler weather allows you to enjoy them to the fullest. You can expect daily highs of around 82°F/28°C and there's a noticeable drop in humidity. The chance of rain also drops, to 15%.
I've never needed a light jacket in October as evenings are still very mild.
Things To Do in Tampa in October
Every October, the Tampa Bay Oktoberfest rolls into the city, and this is a must-do for craft beer fans or anyone just looking to have a good time. This three-day event is held at Curtis Hixon Waterfront Park and features German-inspired food, drinks, and entertainment.
Anyone visiting with children should check out Seminole Height Great Pumpkin Patch, which runs for most of October and is a great opportunity to head outdoors and find the perfect pumpkin.
Of course, it wouldn't be October without a ghost tour, would it? I loved the Ghost Hunters Paranormal Ghost Tour, and I felt like a real-life ghostbuster with the paranormal hunting equipment.
Tampa in November
November is the last month of the hurricane season and also brings very pleasant weather, giving you the chance to pack your days with sightseeing options.
Weather in Tampa in November
Mild temperatures are back at 77°F/25°C with much cooler evenings; you might not even need air conditioning. Tampa in November is a lot quieter than the last couple of months, but for me, it's the best time to visit Tampa if you have a long list of things you want to see and do.
It's much less likely to rain in November, and you can still walk around in a T-shirt during the day. You might need a light jacket on some evenings.
Things To Do in Tampa in November
The main event in November is Thanksgiving. On the fourth Thursday of the month, you'll be able to join in with celebrations all over the city. Some restaurants and bars may close for the day, but many will remain open for special events.
The Tampa Bay Times Turkey Trot in Downtown is a must. This event takes place on Thanksgiving itself and holds a fun race for adults and a shorter race for kids. The atmosphere is vibrant, with food, costumes, music, and general merriment. You don't need to book tickets, but if you want to take part in the race, you'll need to register beforehand. Click here for details.
Car fans should head to the Tampa Convention Center for the Tampa Bay International Auto Show. You can test drive cars, learn more about new models, and essentially fill your mind with everything vehicle-related.
Tampa in December
The last month of the year is one of festivities, and you might be picturing snow in your mind. That's not going to happen in Tampa in December, but there is a lot to see and do.
Weather in Tampa in December
Mild and pleasant are the best ways to sum up the weather in December, with average daily highs of 73°F /23°C. Evenings can be chilly, but it's a great excuse to wear a fancy coat and hit the town in style.
It doesn't tend to rain very much in December, so it's a great time to explore the festivities happening around the city.
Things To Do in Tampa in December
During the evening, head to Tampa Theater and catch a festive movie, and be sure to check out the Christmas Boat Parade, which you can see from the Riverwalk. It's a beautiful sight to see, with colored lights and music everywhere.
Simply walking around the city and soaking up the atmosphere is one of my favorite things to do as the festive season approaches.
If you're staying for Christmas, it's a good idea to reserve tables at restaurants ahead of time, especially for New Year's. On New Year's Eve there are exclusive parties at most of the top hotels and eateries, so choose one that suits you and get dressed up.
Best Time to Visit Tampa: FAQS
Here are some answers to frequently asked questions about the best time to visit Tampa, FL:
What month is hurricane season in Tampa?
The hurricane season runs from June to the end of November.
What is the rainy season in Tampa, Florida?
The rainiest time of the year occurs at the same time as the highest temperatures, increasing humidity. You can expect the most rainfall between June and September, with August being the wettest month.
What is the warmest month in Tampa?
The best time to visit Tampa for high temperatures is July.
What is the coldest month in Tampa?
January is the coldest month, however, daily temperatures are still hovering around 70°F/22°C, so still very mild.
Is Tampa warm all year?
Tampa is never very cold, and temperatures tend to be quite mild even during the winter. In fact, the cooler months are the best time to visit Tampa if you want to explore.
Is Tampa hotter than Orlando?
With extremely high humidity, Orlando is much hotter than Tampa in the summer months. However, Tampa is milder during the winter months.
In Conclusion
The best time to visit Tampa varies for each kind of traveler, depending on what you want to see and do. The main point is that Tampa isn't a city with cold temperatures, and the bars and restaurants never really close. The off-season is determined by the lower temperatures, not necessarily a lack of things to occupy curious visitors.
All major attractions remain open year-round, depending on whether you can handle high temperatures and humidity enough to visit in the summer. If you can't, don't hesitate to save a little money on hotel prices and visit Tampa during its so-called 'winter.' Trust me, this place doesn't know what winter is!