Visiting Tampa is always a thrill. Whether it's your first time, or you're returning for the tenth time, there are plenty of things to do in Tampa; both right in the heart of the city and on the outskirts. It's one of my favorite places to visit in the US.
Tampa is huge, packed with history, nature, culture, fantastic restaurants and bars in abundance. There's nothing more you could possibly need. Sightseeing in Tampa is a blast, but it pays to do your research beforehand and know the best spots to head to.
The first time I visited Tampa, I wasn't really sure what to expect; after all, I went on a whim after a friend suggested I might like it. They were right, and I've revisited countless times since.
In this post, I'll share my experiences in Tampa. By the end of this read, you'll have a curated list of things to do, and you'll be raring to get started.
Best Things To Do in Tampa
The first thing you need to know is that Tampa is a very large city so prior knowledge of the best spots to head to is always useful. Thankfully, I had a Tampa-native friend to help me on my first trip, and the good news is that I can share all of those hidden gems with you.
If you don't know where you're going, you could find yourself wandering around aimlessly and wasting time. By having a plan, you can be much more targeted and get more out of your time.
So, whether you're looking for nature in Channelside, partying in Downtown, or you're all about history in Ybor City, or want to grab a decent cup of coffee, this list of places to visit in Tampa will help you out.
1. Tampa Riverwalk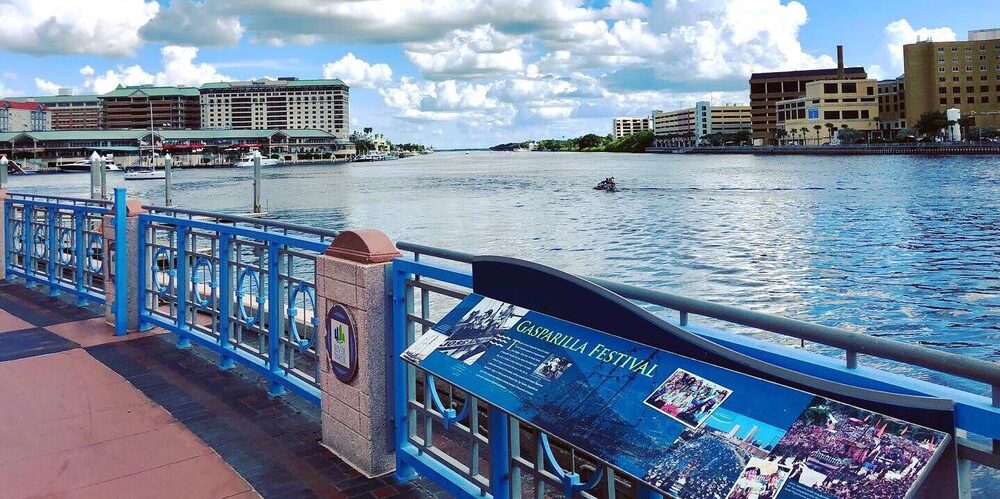 One of the top things to do in Tampa is to wander down the Riverwalk. Covering 2.6 miles, this pedestrianized pathway takes you through some of Channelside's best sights and along the Hillsborough River.
It will also showcase how attractive this city really is. This is one of the best areas for walking and hiking in Tampa.
I found some truly great restaurants along this walk, including Big Ray's Fish Camp and River's Edge. If you can time your visit for sunset, you'll catch the best photo opportunities around. The best news is that it's free, so you'll have more cash for the other attractions on this list.
Address: Tampa, FL 33602, USA. Click here for directions.
2. Tampa Bay History Center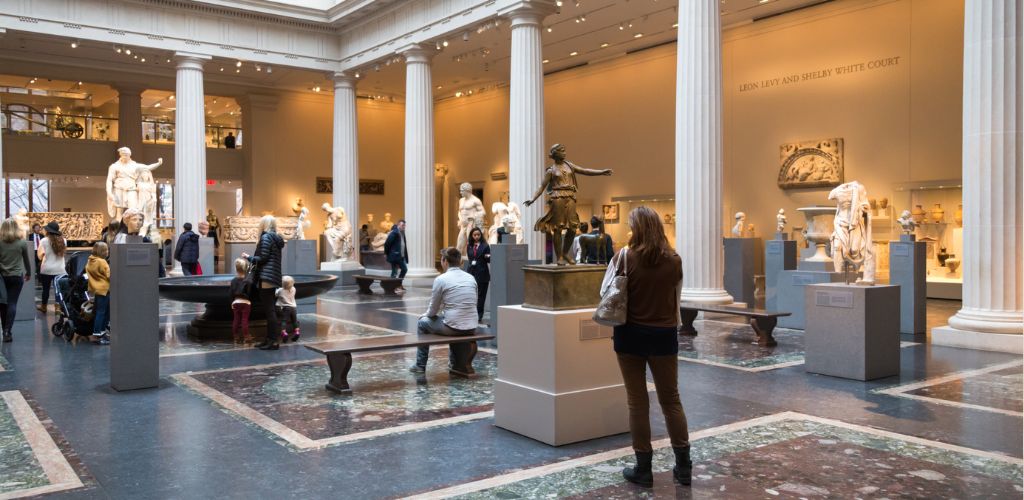 If you're looking for Tampa attractions that allow you to learn while also exploring, the Tampa Bay History Center is for you.
This museum is super-interactive and has three floors packed with exhibits and stories from the earliest beginnings of the entire Florida area, including the first known pirates.
It's also quite low-cost which is ideal if you're traveling with kids and you're keen for them to learn something from their trip. You can see this museum within 2-3 hours maximum, which frees up plenty more time to explore the rest of Downtown. It's also a good choice for an exceptionally hot or rainy day.
Address: 801 Water St, Tampa, FL 33602, USA. Click here for directions.
3. Big Cat Rescue
This big cat sanctuary left me feeling extremely emotional, but it's amazing to see vital work in rehabilitating these majestic creatures back into their natural habitats.
It's one of the best places to visit in Tampa simply because by heading there, you're helping out and giving something back.
The company rescues and rehabilitates lions, tigers, and other species with the hope of nursing them back to health and releasing them into the wild. They also help orphaned species integrate into new families. You'll learn about just how endangered these stunning animals really are and what we can do as a society to help them thrive.
Address: 12802 Easy St, Tampa, FL 33625, USA. Click here for directions.
4. Tampa Theater
From old movies to new shows, no trip to Tampa would be complete without visiting the beautiful Tampa Theater.
Located in the heart of Downtown, you'll instantly be drawn to the historic appearance of the building, transporting you back in time. The architecture inside doesn't disappoint either.
The theater was built in 1926 and has been a mainstay in the city ever since. They show the latest movies in comfortable surroundings, as well as blasts from the past and events throughout the year. So, grab yourself some popcorn, make yourself comfortable, and enjoy your visit. Click here to check what's on.
Address: 711 N Franklin St, Tampa, FL 33602, USA. Click here for directions.
5. Amalie Arena
Amalie Arena is the official home of the Tampa Bay Lightning. However, that's not all this arena is famous for.
I'll admit I know nothing about ice hockey, but I did manage to catch a concert here and enjoy a pretty delicious meal.
There are lots of things to do at night in Tampa, but if you want to do something memorable and out of the ordinary, this is the spot for you. You'll need to book tickets ahead of time for ice hockey matches and major concerts, but the website provides up-to-date information about its events. Click here for details of upcoming shows.
Address: 401 Channelside Dr, Tampa, FL 33602, USA. Click here for directions.
6. Glazer Children's Museum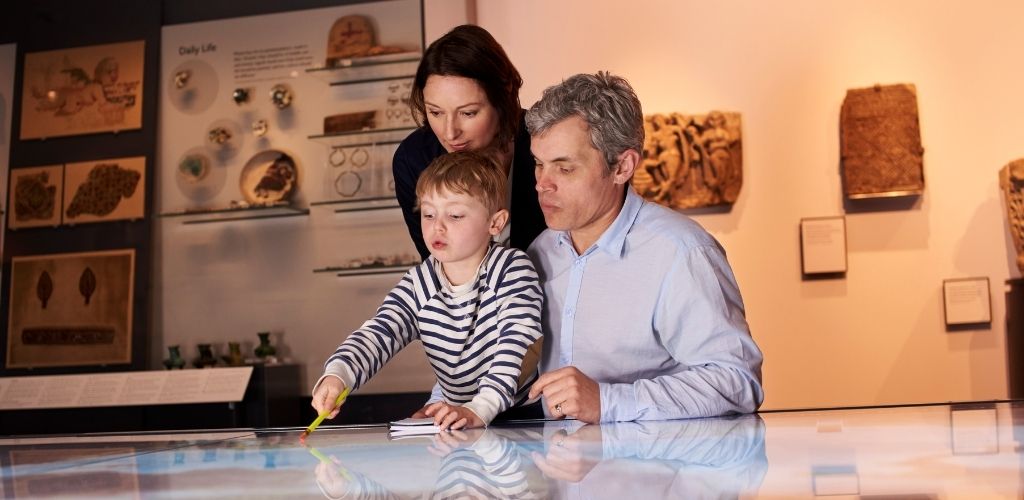 There are many things to do in Tampa with children but a few hours in the top-class Glazer Children's Museum is a perfect idea. The on-site cafe is a good spot for parents to relax while their children blow off some steam and offers a large menu of refreshments and snacks.
Everything here is interactive, meaning kids can run, play, explore, and learn on the go. They'll likely be having so much fun, they won't even realize they're learning! The museum also runs its very popular Camp Imagine program, which offers different camps throughout the year and can be booked in advance. Click here for more details.
Address: 110 W Gasparilla Plaza, Tampa, FL 33602, USA. Click here for directions.
7. Sacred Heart Catholic Church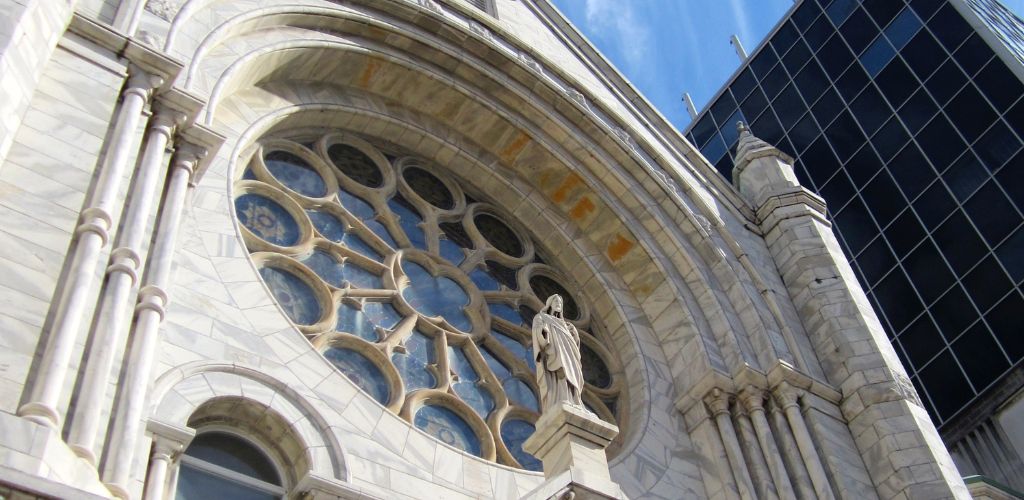 The beautiful Sacred Heart Catholic Church is one of the city's oldest, dating back to 1905. You don't have to be religious to enjoy a visit to this serene and picturesque church, but if you do wish to attend mass, services run daily and are open to everyone.
The building itself is one of the best places to visit in Tampa for history alone. The stained-glass windows are crafted to perfection, and the architecture maintains its original details. It's a stunning place of historical importance, and somewhere you should definitely check out.
Address: 509 N Florida Ave, Tampa, FL, USA. Click here for directions.
8. Ybor City Historic Walking Tour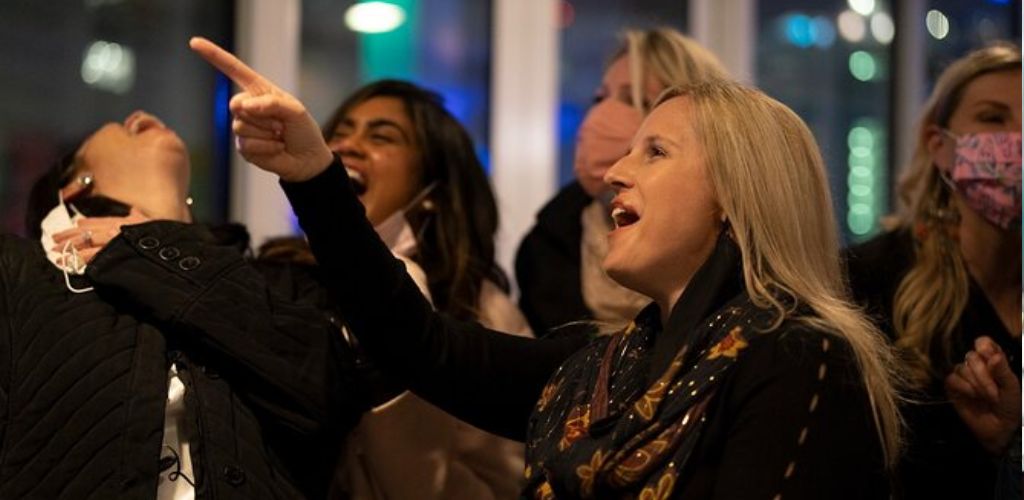 Many people ask what to see in Tampa for history, but it's hard to pinpoint specific places that aren't far apart.
That's where the Ybor City Historic Walking Tour comes in useful, as it helps you see a lot in a short space of time.
Ybor City is the center of the city's cigar production history, and this tour will take you through all the most important areas, with the help of a knowledgeable guide. You'll learn about cigars, food, architecture, and culture, all within a few informative hours.
My feet hurt at the end of it, but I highly recommend this tour. It's easy to incorporate into half a day before heading off to fill the rest of your time with another activity. Click here for more details.
Address: 1603 E 7th Ave, Tampa, FL 33605, USA. Click here for directions.
9. Wat Mongkolratanaram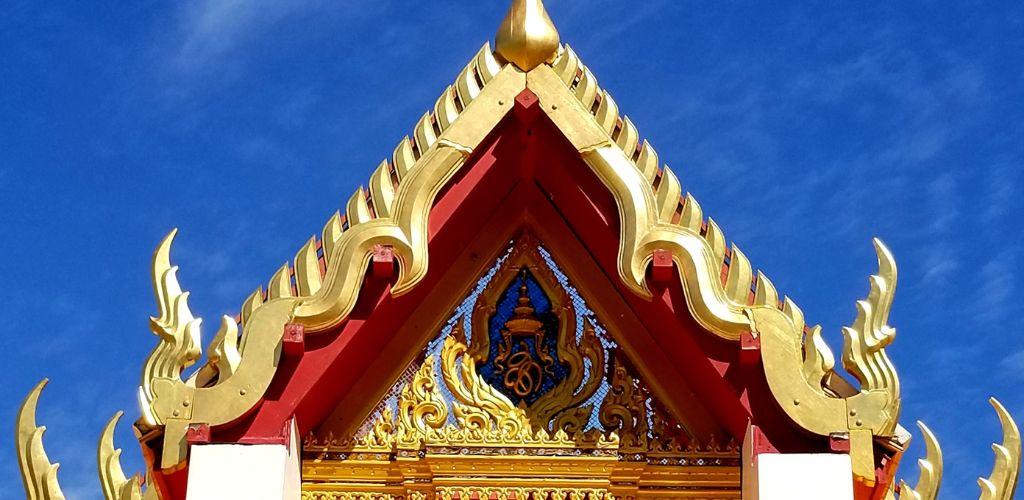 Wat Mongkolratanaram is one of the places to visit in Tampa that might raise some eyebrows; after all, it sounds Thai, but you're in Florida, not Bangkok. However, the beauty of this Buddhist temple is that it allows you to learn about a Tampa community that may not immediately jump to mind.
Not only is the architecture spectacular, but the temple acts as a support center and also houses a Sunday market where you can try all types of Thai food. Believe me, I found a new appreciation for this kind of cuisine. You can try unique dishes and also buy ingredients to take home to create your own.
Address: 5306 Palm River Rd, Tampa, FL 33619, USA. Click here for directions.
10. Busch Gardens
Without a shadow of a doubt, Busch Gardens is one of the most fun things to do in Tampa. Covering a huge 335 acres of space, Busch Gardens is an African-themed park with rides, shows, food, and everything else you can imagine. You might need to spend more than one day here to really appreciate all it has to offer.
If you're worried about visiting as a solo traveler or without kids, don't be; this is a place that has something for everyone. If I could go back today, I would. Book your tickets ahead of time to avoid the huge queues and to give yourself more time to explore this massive expanse of fun in the sun. Click here for more details.
Address: 1 Busch Gardens Blvd, Williamsburg, VA 23185, USA. Click here for directions.
11. Kraken CycleBoats
When looking for things to do in Tampa, you're sure to be tempted toward the water at least once – I know I was.
That's when I found Kraken Cycleboats, and for me, it was one of the quirkiest but most enjoyable activities I took part in.
Rather than walking around the city, you'll pedal your way around on the water, checking out the cityscape from a totally different viewpoint. Your legs will burn by the end, but that's when you know you've had a workout, and you're free to eat a huge meal at the end of it.
Address: 333 S Franklin St, Tampa, FL 33602, USA. Click here for directions.
12. Ben T Davis Beach
There aren't that many free things to do in Tampa but a day on the beach won't cost you a dime. Ben T Davis Beach is a place straight from vacation brochures, with clear, blue sea, and white sand. It's the single best way to kick back and relax, clearing your mind of the hustle and bustle of the city. It's also only half an hour away from Downtown by car.
What I love about this beach is that it's a hidden gem in many ways. Most people head to Clearwater, but a day here will be quieter and far more relaxing. Take your own picnic and blanket, as there are very few amenities, but from there, just enjoy what Mother Nature has to offer.
Address: 7740 W Courtney Campbell Cswy, Tampa, FL 33607, USA. Click here for directions.
13. Lettuce Lake Park
Located just outside of the city center, Lettuce Lake Park transports you into abundant nature. Here, you can wander to your heart's content without bumping into anyone and enjoy the fresh air all around you. The park is a huge 240-acre in size, with cycling and walking activities to enjoy.
The lake does contain alligators, so you're probably best to just look at the water rather than get in it, but I found the park to be a wonderful break from the norm. Don't get me wrong; the city is fantastic, but sometimes you just want to hear yourself breathe with nothing but trees and open spaces beside you.
Address: 6920 E Fletcher Ave, Tampa, FL 33637, USA. Click here for directions.
14. Sunset Cruise With Sunshine Skyway Bridge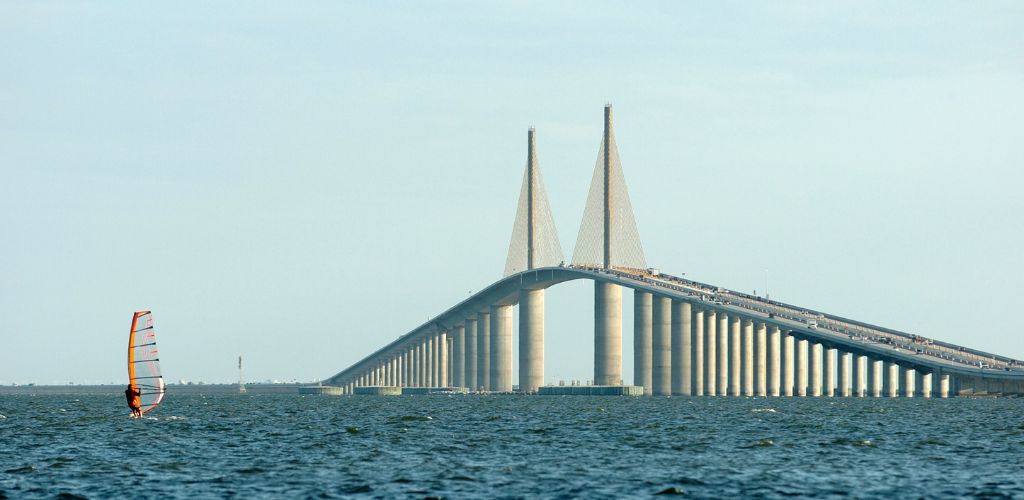 One cool thing to do in Tampa is to head off on the Sunset Cruise, via the Sunshine Skyway Bridge. The trip only takes two hours, so it's the perfect start to an evening. The cruise sets off from St. Petersburg, which is just a 20-minute drive away from Downtown Tampa, and allows you to enjoy a serene evening on the water.
As you float gently around Tampa Bay, the imposing Sunshine Skyway Bridge comes into view, with its ever-changing colors. Definitely have your camera ready for this one, and prepare for your jaw to drop when you see the sunset. Food and drinks aren't included in this tour, so be sure to fuel up beforehand or plan dinner for after you dock. Click here for more details.
Address: Dock Q48 on St. Petersburg Pier, 400 2nd Ave NE, St. Petersburg, FL 33701, USA. Click here for directions.
15. Tampa Terrors Ghost Tour
The Tampa Terrors Ghost Tour is one of the most unique things to do in Tampa, but it's not for the faint of heart. I booked this because I have a gruesome fascination with spooky, and it did not disappoint. There are other ghost tours in Tampa available, too.
It turns out that Tampa is far more haunted than I ever could have imagined.
This one-hour-long walking tour takes you through some of the most ghostly streets and locations in central Tampa. Will you see some spirits or experience other paranormal activity? Who knows, but you'll have fun and learn more about the city's past as you go. Click here for more details.
Address: 711 N Franklin St, Tampa, FL 33602, USA. Click here for directions.
16. Tampa Bay Brewing Company
Craft beer fans will adore this place. A visit to the Tampa Bay Brewing Company is one of the best things to do in Tampa for couples and makes for a great night out for foodies. I loved the chilled-out vibe and the friendliness of everyone; I had a fantastic evening here and got to try many types of beers I didn't even know existed.
The beer menu is quite extensive, and there are many events held throughout the year. I visited during the Badass Beer Festival, and I'm planning on heading back again. If you're visiting during this time, I'd recommend you go; it's a really fun night out.
Address: 1600 E 8th Ave, Tampa, FL 33605, USA. Click here for directions.
17. Tiki Boat Downtown Tampa
Sticking with the drinking vibe, if you're looking for unique stuff to do in Tampa, it has to be the Tiki Boat. I went on this tour with a friend of mine, and we had a blast, while also appreciating the beauty of Downtown Tampa without having to walk. It's also a relatively low-cost activity, with plenty of photo opportunities to take in.
You'll need to take your own drinks, however, you're given a free cooler and a Bluetooth stereo so you can play your own music. From there, you float down the Hillsborough River and enjoy a chilled-out yet extremely fun 90 minutes. It's quite likely you won't want to get off the boat once your time is up. Click here for more details.
Address: Water Works Park, 1701 N Highland Ave, Tampa, FL 33602, USA. Click here for directions.
18. Tampa History Cruise
The Tampa History Cruise is hands down one of the best things to do in Tampa if you're a history buff. There's only so much you can experience on land, but this cruise will help you learn about the region's maritime history, including its bloodthirsty pirates. The tour lasts for 1.5 hours and manages to pack a lot into its duration.
You'll pass alongside the houses of famous figures from the area's history, and the notorious Plant Hotel. The multi-language commentary will give you plenty of information and help you to really appreciate the rich history of Tampa. Click here for more details.
Address: History Center/Amalie Arena, Tampa, FL 33602, USA. Click here for directions.
19. Tampa Museum of Art
Art and culture fans might wonder what to do in Tampa to satisfy their artistic cravings, well, the Tampa Museum of Art is the best spot.
Packed with exhibits dating back to Ancient Greek and Roman times, this museum will leave you more than fulfilled.
You can also grab a delicious snack at the on-site cafe and pick up some souvenirs to take back home for your loved ones. The museum has several rotating exhibits throughout the year and events are held from time to time. Be sure to check out their website to see what's on when you're visiting Tampa.
Address: 120 W Gasparilla Plaza, Tampa, FL 33602, USA. Click here for directions.
20. Adventure Island
One of the top things to do in Tampa for families is a thrilling day out at Adventure Island. When the sun is beating down, the best thing to do is jump in the water, and this huge water park is ideal for just that. Surprisingly, it's also a great place to chill out, which isn't something you can often say about theme parks.
Small children will love the newest attraction, called Shaka-Laka Shores, while older kids will enjoy the numerous water slides and wave pools. Personally, I enjoyed chilling out in my private cabana, and there are plenty of restaurants and cafes around for ice cream and refreshments. Click here for more information.
Address: 10001 McKinley Dr, Tampa, FL 33612, USA. Click here for directions.
21. Dolphin Sightseeing Cruise
The Tampa Bay waters are brimming with sealife, not least a large number of bottlenose dolphins. If you're anything like me, any chance to spot these adorable creatures is a must-do.
I found this dolphin sightseeing cruise to be one of the best things to do in Tampa and it was a definite highlight of my entire time in the city. It's something I've done more than once.
The cruise lasts for 90 minutes, so keep your eyes peeled. Meanwhile, you'll learn about conservation efforts for the marine life within the bay, including sea turtles and manatees. The other plus point is that the scenery around you is breathtaking too; even if a dolphin doesn't grace you with its presence, you won't be too disappointed. Click here for details.
Address: History Center/Amalie Arena, Tampa, FL 33602, USA. Click here for directions.
22. Zip Line Adventure
If you're looking to scream at the top of your lungs, Zip Line Adventures is just the ticket.
I have to admit that I was a little nervous about trying this out, but I'm so glad I did. It's one of the top tourist attractions in Tampa that will have you talking about it for a long time afterward.
A bonus of adding this activity to your itinerary is that, as it's not up there with one of the most advertised attractions, you won't have to queue or fight for space.
Located in the beautiful Mobbly Bayou Wilderness Preserve, the course has five zip lines, a huge suspension bridge, and plenty of other adrenaline pastimes to try. It's the perfect half-day trip to get out of the city limits, and you'll be able to say "I did that" for a long time afterward. Click here for more information.
Address: Empower Adventures Tampa Bay, 423 Lafayette Blvd, Oldsmar, FL 34677, USA. Click here for directions.
23. TPC Tampa Golf Course
There are many sporting attractions in Tampa, but the year-round mild weather means that golf is definitely on the menu. The TPC Tampa Golf Course is one of the most famous, having hosted events on the PGA Tour for decades. If you're someone who loves golf, or you've always wanted to try, TPC is a great place to start.
Not only is this 18-hole course very picturesque, but keen golfers will find it pretty challenging too. You'll find a grill restaurant on-site, and many events and tournaments take place throughout the year. The course is located in some of the greenest landscapes around the city, which is often welcome when visiting a large metropolis.
Address: 5300 W Lutz Lake Fern Rd, Lutz, FL 33558, US. Click here for directions.
24. Try a Cuban Sandwich at Columbia Restaurant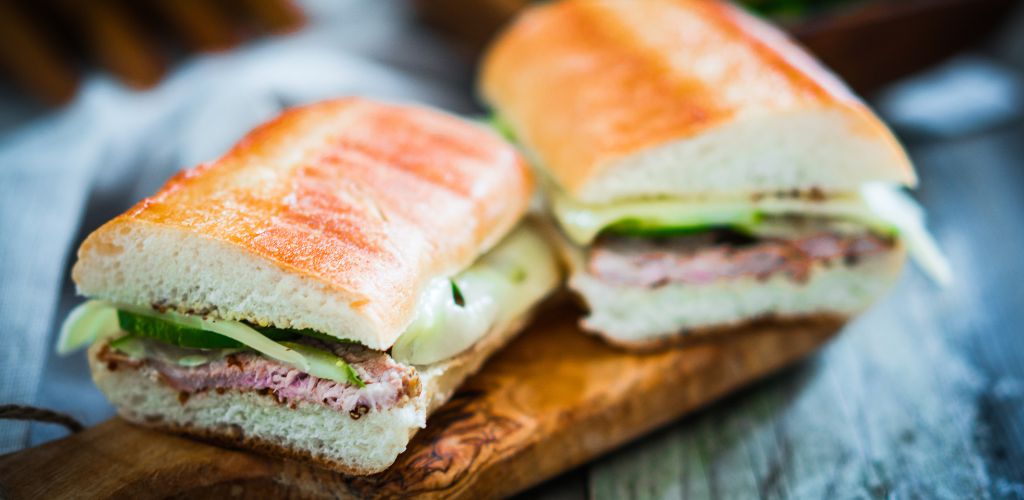 Sampling the original Cuban sandwich at the famous Columbia Restaurant is a rite of passage and one of the top things to do in Tampa. Having opened its doors in 1905, the original cigar workers in Ybor City descended here daily to enjoy the famous Cuban sandwich. If you eat just one thing in Tampa, let it be this.
You might wonder what's so special about a sandwich, but believe me, you have to try it to understand. Layers of meat are proportioned carefully between the freshest bread, along with pickles, Swiss cheese, and mustard. It's a taste explosion and your time in Tampa isn't complete without it.
If you ask any of the locals, they'll tell you this sandwich is the best outside of Cuba itself.
Address: 2117 E 7th Ave, Tampa, FL 33605, US. Click here for directions.
25. Hillsborough River State Park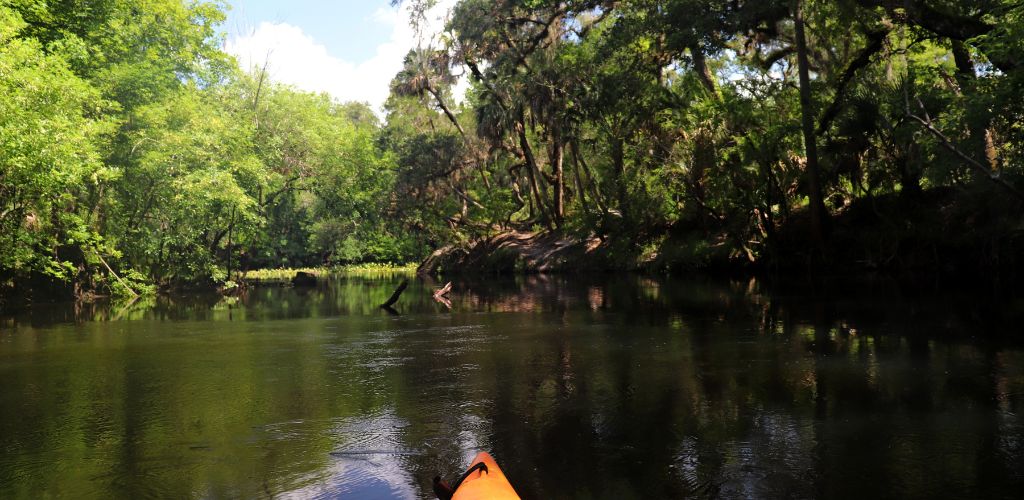 If you're looking for things to see in Tampa that allow you to drench yourself in nature and relaxation, a day in the Hillsborough River State Park is on the agenda.
Founded in 1938, this is the ideal spot to run free and explore the natural side of this huge city.
The views from here are also second to none and give you some fantastic photo opportunities to fill up your camera reel.
There's a small fee to enter, but from there, it's just total R&R all the way. However, if you do feel the need for adrenaline calling, the park is also home to Class 2 rapids. I passed on the rapids and decided to simply take a picnic and unwind in some shade.
Address: 15402 U.S. 301 North Thonotosassa FL 33592, USA. Click here for directions.
Quick Travel Itineraries For Tampa
It's easy to look at a list of things to do in Tampa and understand the fact that there are many attractions, but piecing together your time can be quite challenging.
Attractions are often far apart from one another; if you don't do your research, you'll spend far too much time on the road and not enough time exploring the things you want to see. Not to mention, driving in a new location can be stressful.
In this section, you'll find itineraries for 1 day, 2-3 days, and 7 days in Tampa. These sample itineraries will give you an idea of the types of attractions you can group together within a day. Feel free to mix up and replace some attractions that call out to you more, but the more you can pack into your time, the better in my eyes.
1 Day in Tampa Itinerary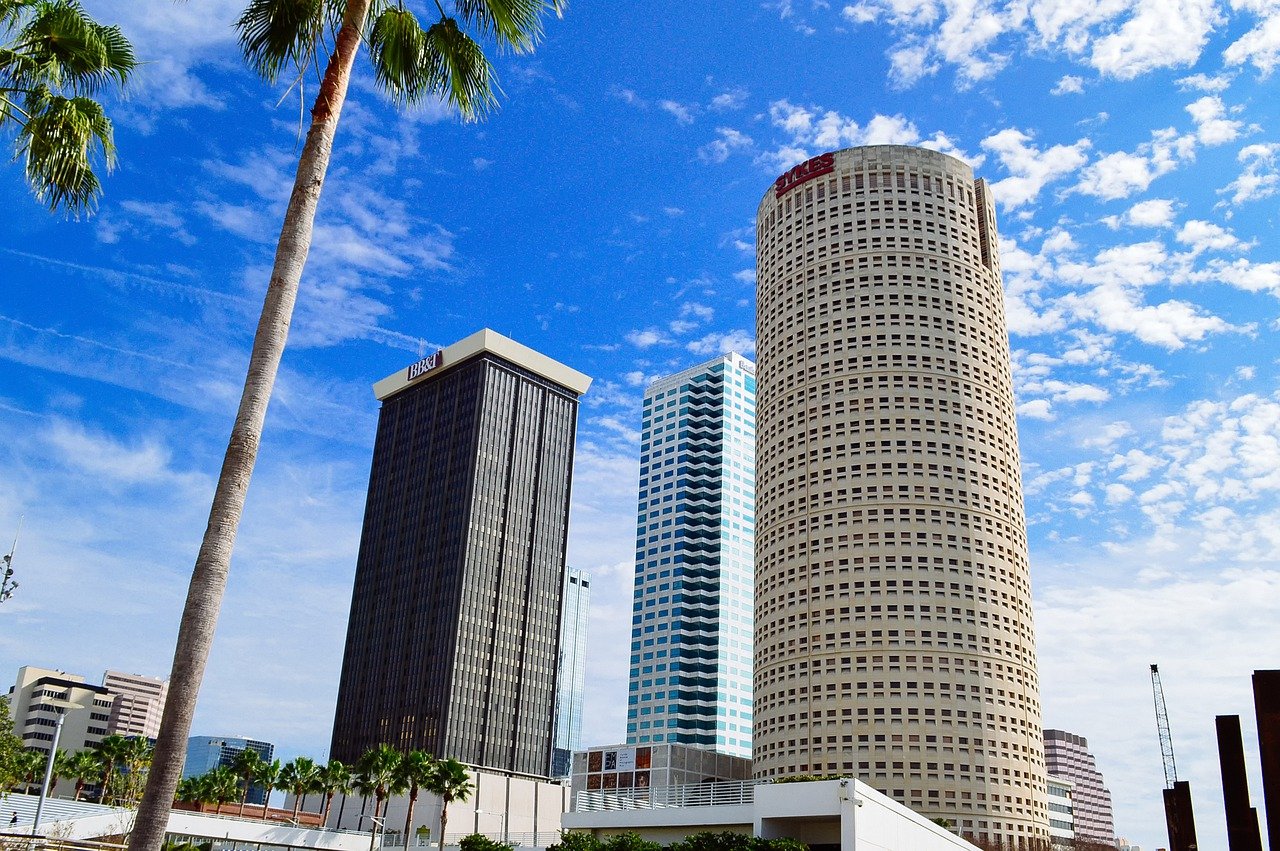 If you're short on time and you only have one day in Tampa, the Riverwalk is the best spot to begin your adventure. Spending your day here means you get to take in an overview of Channelside and into Downtown, plus, there are many fantastic restaurants and shops along the way.
Watching the hustle and bustle of the city is intoxicating in itself, and of course, a free thing to do in Tampa. The beauty of spending time here is that you can easily transition from day to night. Enjoy the sunset over the water and devour a top-class meal in the evening.
There's plenty of nightlife around this area, so you certainly won't be bored when night falls. It's a good idea to book a hotel in this area (Channelside) as you won't have far too venture back at the end of a very tiring evening.
2-3 Days in Tampa Itinerary
Two to three days in Tampa isn't enough time to see everything, but it's a good amount of time to whet your appetite for more. Of course, you can always return. I think the best starting point is always Riverwalk and if you choose to stay in Channelside or Downtown, you're centrally based with ease of movement.
Spend some time walking around the area and visit the Tampa Bay History Center for an hour or two. When evening falls, check out Tampa Theater and take in a movie or a special event. On day two, head to Busch Gardens for a full and exhausting day of screaming at the top of your lungs. If you have a car, you're good to go, but if not, public transport can take you there.
On your final day, take the Ybor City Historic Walking Tour, and remember to call into the Columbia Restaurant to grab one of their famous Cuban sandwiches. In the evening, visit the Tampa Bay Brewing Company to wind down and soak up some last-minute fun before it's time to leave.
1 Week in Tampa Itinerary
One full week in Tampa means you can fit plenty into your time, including some day trips from Tampa. As always, I recommend starting off on the Tampa Riverwalk to get your bearings and the feel of the city. In the evening, check out the Tampa Terrors Ghost Tour. If you're into all things spooky, this walk will definitely give you a thrill.
On your second day, immerse yourself in local wildlife by heading over to the Big Cat Rescue Center and spending half a day there, before taking the Dolphin Sightseeing Cruise in the afternoon.
Both of these activities will show you a completely different side of this sometimes hectic city. On day three, it's time to head to Busch Gardens huge African-themed park.
On your fourth day, you'll need to recover, so a full day enjoying the wonder of Ben T Davis Beach is a great idea. Remember to take some snacks, refreshments, and a blanket. Then, spend your fifth day exploring history on the Ybor City Historic Walking Tour, before heading over to Amalie Arena to catch a game, show, or a meal.
On your penultimate day, splash around at Adventure Island, before heading over to Riverwalk for a meal. You've packed in a lot of things to do in Tampa, so on your final day, it's time to unwind before heading home. That means immersing yourself in nature at Hillsborough River State Park and taking plenty of photos along the way to capture your stay.
Where to Stay in Tampa
Tampa is a huge city, and that's something I didn't fully appreciate before I visited. The best way to get the most out of your time is to base yourself in the right area. Simply writing 'Tampa' into a hotel search site could lead you to stay in a part of the city that is far away from what you really want to see and do.
There are several neighborhoods in the Tampa area, so let's look at the best ones for a short stay of up to one week, and the types of things they're best for. Within these of these main neighborhoods, you'll find plenty of hotel choices.
Downtown Tampa – Best for Nightlife
Downtown Tampa features all the best nightlife in the city, while also being home to some of the top restaurants and attractions too.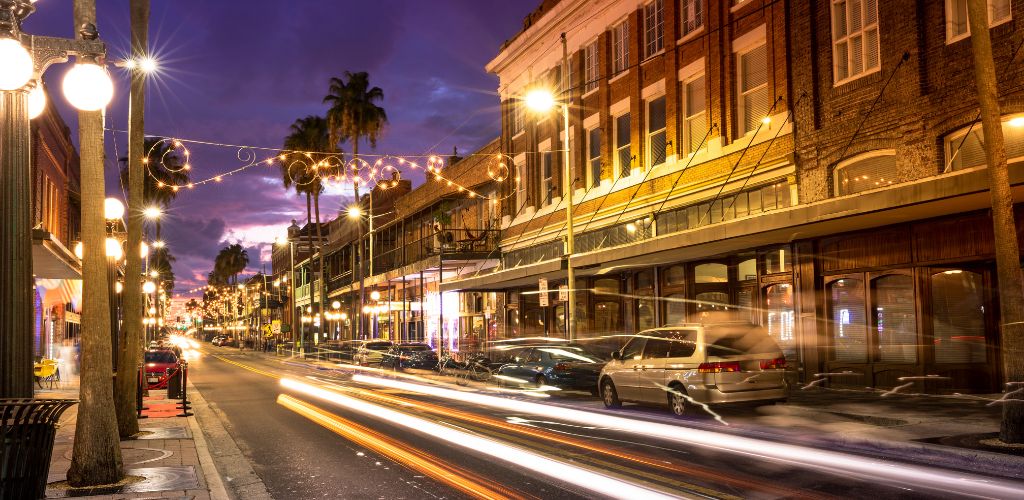 This is where the most upmarket restaurants can be found, and it's best to book a table in advance if you don't want to be disappointed.
It's also a great spot to base yourself if evenings are your focus and while it can be busy and loud, it will mean you don't have to travel far once your night is over. Check out Hyatt Place Tampa Downtown.
Channelside – Best for First-Time Visitors
Channelside is vibrant and busy but slightly less overwhelming than Downtown; making it the perfect area for first-timers. It's also where you'll find the Riverwalk—one of the best things to do in Tampa—along with nature, shops, restaurants, and attractions overlooking the Hillsborough River.
Channelside also runs into Downtown, so it's ideal for walking, and it's a slightly more serene neighborhood for couples too. Check out The Tampa EDITION.
Ybor City – Best for History Buffs
Ybor City is the historic center of Tampa, and this is where the cigar production industry was based back in the day.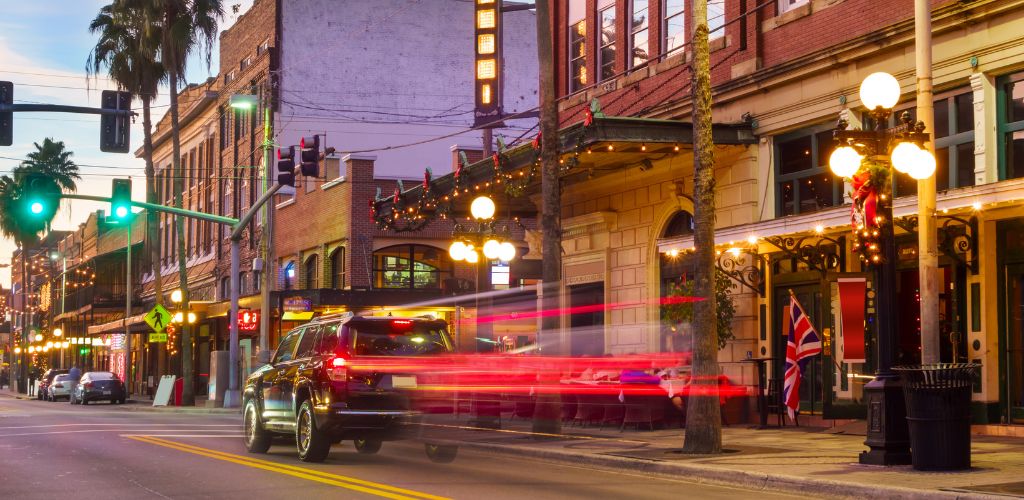 There are many old cigar factories and museums here, and the architecture alone is dripping with old-world charm, perfect for learning more beyond the modern-day fare.
Ybor City is also cheaper than Downtown and Channelside, with a range of restaurants and bars to suit all budgets. Check out Hampton Inn & Suites.
Best Restaurants in Tampa
One of the best things to do in Tampa is to eat. As a huge city, there's naturally an abundance of places to dine, but it can be hard to know the best spots to fill your stomach after a long day of sightseeing.
Most of the best restaurants in Tampa will require you to book a table ahead of time, but within Seminole Heights and North Tampa in particular, you'll find more laid-back dining experiences, and you can usually just drop in and find a table.
Barterhouse
Couples and groups looking for somewhere chic and stylish should head to Barterhouse in Ybor City.
I can only describe this restaurant as tapas-style, simply because the dishes are small and mix-and-match. However, the food is firmly American with a slight Cuban twist.
The sea scallops were to die for and you must check out their cocktail menu for something a little different. Click here for directions.
Bern's Steakhouse
Huge, juicy steaks and supremely fresh seafood at the order of the day at Bern's Steakhouse, which has been serving happy guests since 1956. You'll need to dress smartly to be allowed inside, and I'd recommend calling at least two days ahead if you want to secure a table.
Be sure to check out their extensive wine list too; it's one of the biggest I've ever seen, and it's a great spot for romantic evenings or special occasions. Click here for directions.
Donatello
Donatello is considered one of the best Italian restaurants in Tampa, which also doubles up as a live jazz lounge on certain nights of the week.
It has a sophisticated and vibrant atmosphere for everyone to enjoy, with reasonable prices, and portion sizes are predictably large. The fresh seafood pasta is famous around the local area, and the menu features a huge range of starters. Click here for directions.
Ella's American Folk Art Cafe
Ella's American Folk Art Cafe is located in low-key Seminole Heights, and it's a great spot to enjoy a delicious meal and chill out after a long day.
The restaurant functions as an art gallery and music venue all at the same time and is always full of locals. However, in my opinion, the best thing about it is the Soul Food Sunday menu. I had the beef brisket sandwich and homemade key lime pie—I could eat it all again right now. Click here for directions.
Ulele
Housed in the renovated Water Works building, Ulele is a very popular spot in Tampa and one you should definitely head to for an enjoyable evening out. You can choose to sit outside and gaze at the water or inside if you prefer, making it the perfect chilled-out dining option.
The menu is extensive, and my favorites were the charbroiled oysters and the coconut ice cream. I also loved the range of choices available from their huge wine list. Click here for directions.
Getting to Tampa
The great thing about visiting Tampa is how easy it is to get to and get around. The city has its own international airport that's just 15 minutes away by road from Downtown, with regular shuttle buses and taxis available. You can also easily hire a car from the airport and drive around on your own steam if you prefer.
If you're visiting Orlando, you can reach Tampa easily by road; the two cities are a 1.5-hour journey away from one another, and you can drive comfortably by following the I-4 W route. It's possible to spend just one day in Tampa, but if you can, book at least a couple of days to explore the main sights.
It's best to hire a car when you're in Tampa as it will allow you more freedom and allow you to get around and see more. Distances between attractions can be quite large, and driving will give you the opportunity to go at your own pace. However, Lyft and Uber are readily available, as well as buses and trolleys between major neighborhoods and tourist attractions.
Things To Do in Tampa: FAQs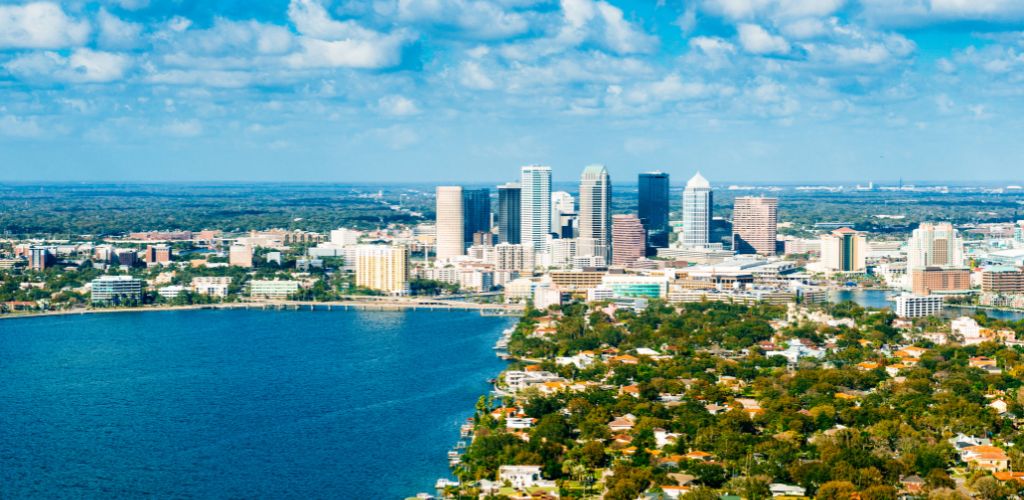 Here are some answers to commonly asked questions about visiting Tampa:
What is Tampa known for?
Tampa has a history of cigar production, but beyond that, it's famous for its thrill-seeking theme parks, amazing beaches, vibrant nightlife, and delicious gastronomy. Of course, the weather is pretty good too, and it's one of the most action-packed cities you'll likely visit.
When is the best time to visit Tampa?
To avoid the hottest temperatures, October to December is a great time to visit Tampa. This allows you to explore more comfortably. However, do bear in mind that this is also the peak of the Atlantic hurricane season and the occasional passing storm is possible.
Is Tampa worth visiting?
Yes! There's so much to see and do; you won't be bored. While so many people head to Orlando for activities such as theme park fun and Mickey Mouse vibes, Tampa gives you all that (minus Mickey) and much more. It's a city that ticks every box.
How many days should I spend in Tampa?
If you can stay for 7 days, you'll be able to see a lot in a week, but if you're pressed for time, 3 days would allow you to see a good amount. If you visit for less than two days, it's very likely that you'll need to return to experience the other things on your list.
Is Tampa safe?
Yes. Tampa is considered a safe US city. While the main touristic parts of Tampa suffer from petty crime, such as pickpocketing, it's the same as any large city worldwide. You simply need to keep your common sense at the forefront of your mind and don't flash your valuables while out and about.
What is the most popular thing to do in Tampa?
Busch Gardens is one of Tampa's most famous attractions, but Riverwalk is also up there amongst the most popular things to do. It really depends on what you're interested in as to where you should target your time. However, Tampa is also a city that's packed with history.
What is the best beach in Tampa?
While there are some excellent, quieter beaches around Tampa, Clearwater is one of the most famous and most beautiful beaches in the Tampa Bay Area. However, this is also a very busy spot, especially during the hottest months of the year.
What foods should I try in Tampa?
Columbia's restaurant's Cuban sandwich is a 100% must-try. Tampa is a very international city that has been influenced by visitors for decades, meaning you'll find all manner of cuisine to try. The fresh seafood here is something else.
Is 3 days enough in Tampa?
If you're pushed for time, seeing a good amount of Tampa in three days is possible. However, you won't see everything. If you can, a week will give you more time to see everything that interests you and absorb the feel of this vibrant city.
In Closing
It's easy to look at a large city like Tampa and feel overwhelmed, not knowing where to start or even where to stay. The beauty of Tampa is that all neighborhoods seem to flow into one another. While there is a fair distance between them, you can plan your time and make sure you don't miss any of the major Tampa attractions.
Tampa has always been one of my favorite cities, and I hope this list of things to see and do has shown you why. For me, it's the perfect blend of history, gastronomy, fun, nature, and culture. I can't think of anything that it lacks, but for sure, you need to read up before you go and know a little background information; that way, you won't miss anything.
A pair of comfortable shoes will undoubtedly serve you well in this vast city, and you may find that once you return home, you're pining to head back to Tampa and throw yourself into the bright lights again. However, if you ever tire of Tampa, you should consider a day trip.