Orlando, Florida, is known for its vibrant atmosphere and world-class attractions. From thrilling theme parks to beautiful natural wonders, there's no shortage of things to do in Orlando. No matter where you stay in Orlando, there are endless options to build your ideal vacation itinerary.
Living in Orlando, Florida for over ten years has provided me with extensive knowledge about this popular destination. From its vibrant culture to world-famous attractions, Orlando offers a unique and exciting experience for residents and visitors alike. There's an unbelievable amount of stuff to do in Orlando! This is one of the top places to visit in the United States.
Best Things To Do in Orlando
As a long-time resident of Orlando, with nearly fifteen years of experience exploring the area, I've compiled a list of the 15 best things to do in this remarkable city. Whether you're a local seeking new adventures or a visitor looking to make the most of your time in Orlando, these attractions are sure to provide some unforgettable experiences.
1. Dinner and a Show at the Pirates Dinner Adventure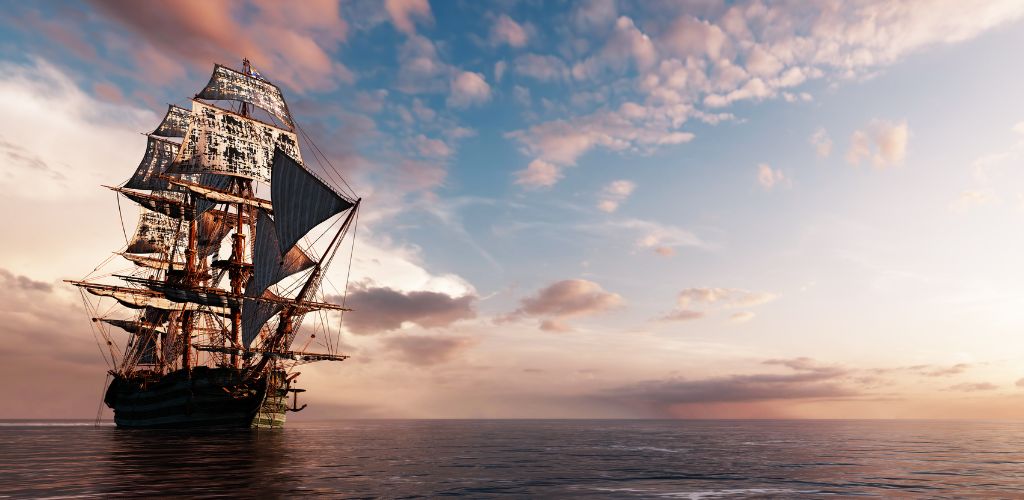 Pirate's Dinner Adventure in Orlando is a thrilling and immersive dining experience that transports guests to a world of swashbuckling pirates and exciting adventures on the high seas.
It's one of the more unique things to do in Orlando. This dinner show has gained popularity among locals and tourists alike. As you step into the Pirate Dinner Adventure, you're immediately greeted by an atmosphere that perfectly captures the essence of a pirate's life as the decor is intricately designed, with a pirate ship as the centerpiece.
One of the highlights of the Pirate Dinner Adventure is the captivating performances throughout the evening. From the moment the show begins, you're treated to a spectacle of acrobatics, sword fights, and aerial stunts which was my favorite part of the whole experience.
While the entertainment is the main draw of the Pirate Dinner Adventure, the dining experience is equally impressive. The menu features a variety of delicious options, including seafood, chicken, and vegetarian dishes.
Address: 6400 Carrier Drive, Orlando FL 32819
2. Go On a Manatee Encounter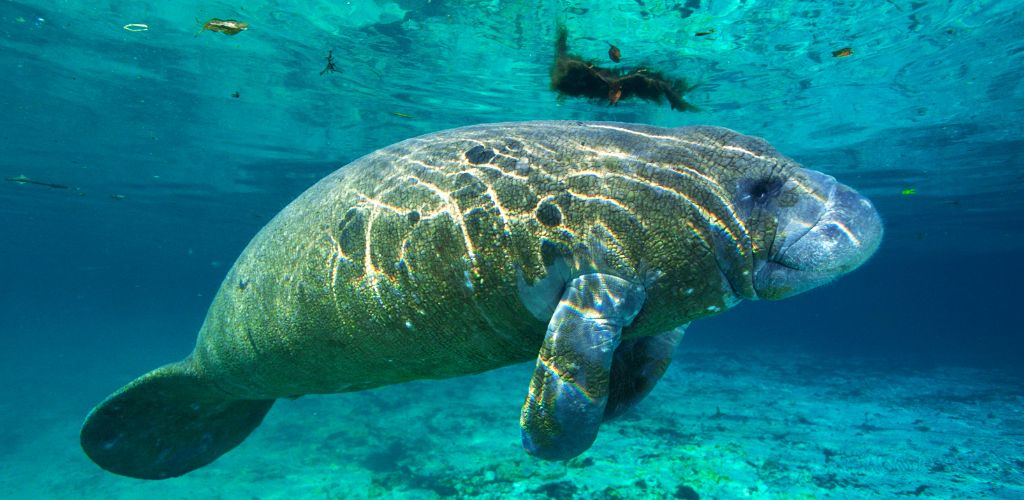 This 3-hour Manatee Encounter by Kayak tour offers visitors a unique opportunity to paddle along the crystal-clear waters of a spring-fed river. Led by professional local wilderness guides, participants will have the chance to observe and photograph a wide range of fascinating wildlife, including manatees, alligators, otters, and large wading birds.
This remarkable tour is sure to leave you with unforgettable memories of Orlando's natural wonders. Since manatees are one of my favorite animals I love to watch these majestic creatures up close.
These gentle giants, also known as sea cows, inhabit the river and can often be spotted gracefully swimming or leisurely grazing on aquatic plants. Get your cameras ready to capture these magnificent creatures as they gracefully glide through the water. This tour truly is one of the more serene things to do near Orlando.
Address: French Landing 2398 W French Ave, Orange City, FL 32763
3. Visit the Chocolate Kingdom Factory
The Orlando Chocolate Kingdom Factory Adventure Tour offers an exciting opportunity for guests to witness the fascinating journey of cacao beans as they're transformed into delectable chocolate bars.
At Chocolate Kingdom, visitors can embark on an interactive adventure tour suitable for all ages, where you'll not only learn about the chocolate-making process but also indulge in a variety of chocolate treats.
One of the highlights of the Chocolate Kingdom Adventure Tour is the opportunity to customize your own chocolate bar. With a choice of 17 different ingredient options, guests can create their own delicious and personalized treat.
In addition to the captivating tour and chocolate customization, guests can also indulge in the delightful combination of Chocolate Kingdom wine and chocolate pairings – a personal favorite.
Address: 9901 Hawaiian Court, Orlando, FL 32819
4. Experience the Kennedy Space Center
The Kennedy Space Center, located in Orlando, Florida, is undeniably one of the top places to visit in Orlando. Known for its rich history and contributions to space exploration, the Space Center offers a unique and captivating experience for all visitors. It's one of the best Orlando attractions by far.
I loved the mix of fun and learning opportunities at the Kennedy Space Center. This place holds a special space in my heart as one of my all-time favorite destinations.
There are several reasons why I highly recommend a visit to this extraordinary place. First and foremost, the Kennedy Space Center is an incredible showcase of human achievement and scientific advancement. As the primary launch site for NASA, it has played a pivotal role in numerous space missions, including the historic Apollo moon landing.
Address: Space Commerce Way, Merritt Island, FL 32953
5. Take a Helicopter Flight
This Narrated Helicopter Flight Over the Theme Parks offers a thrilling experience for those seeking cool things to do in Orlando. This unique adventure allows you to witness the breathtaking views of Orlando's iconic amusements from the comfort of a helicopter.
With large viewing windows, you can take in the mesmerizing sights and capture stunning aerial photos of some of the best things to see in Orlando.
As you embark on this narrated flight, your experienced pilot will point out the highlights of Orlando's theme parks. From the enchanting Universal Studios to the magical world of Disney, you'll gain a bird's-eye view of these beloved attractions. My favorite part of this helicopter flight is the opportunity to snap some truly epic aerial photos.
Capture the magic of Orlando's theme parks from a vantage point that few have experienced. Whether you're a photography enthusiast or simply want to create lasting memories, this helicopter flight will provide you with countless photo opportunities.
Address: 4010 4th St, Kissimmee, FL 34741
6. Go Kayaking/Paddleboarding at Night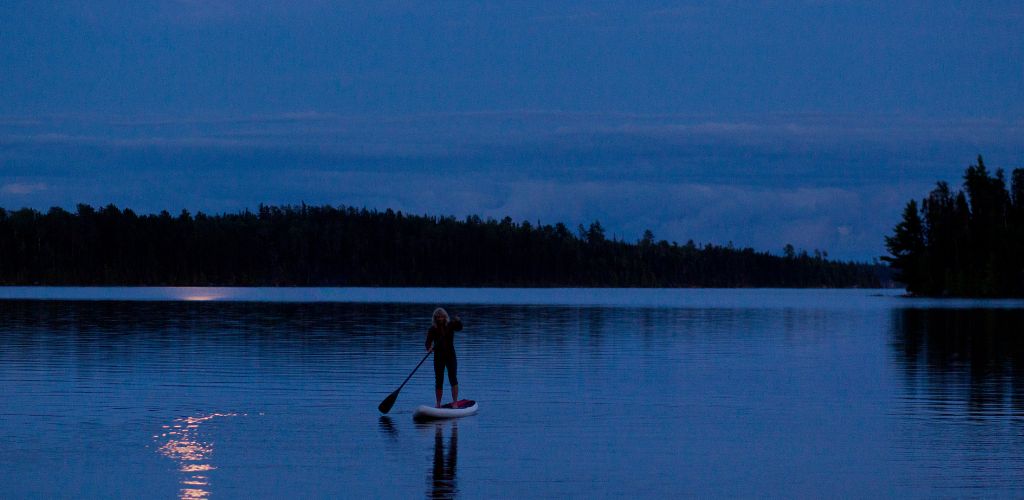 One of the more unique things to do in Orlando is to experience the Neon Night Glow Clear Kayak/Paddleboard in Paradise. This one-of-a-kind adventure allows you to see the city of Orlando in a completely new light as you paddle across Lake Ivanhoe.
Whether you choose a kayak or a paddleboard, both are equipped with vibrant LED lighting on their undersides, creating a stunning visual display.
The night glow experience offers a magical atmosphere as you paddle under the moonlight. Even if you're a beginner, you can navigate the waters with ease, thanks to the stability and user-friendly design of the equipment.
During the Neon Night Glow Clear Kayak/Paddleboard experience, you'll have at least 1.5 hours to explore the lake at lesuire. As you glide through the water, surrounded by the illuminated glow, you'll be captivated by the beauty of the night sky and the reflections dancing on the lake's surface. This is amongst one of the best things to do in Orlando at night.
Address: 344 NE Ivanhoe Blvd, Orlando, FL 32804, USA
7. Go for a Stroll at Lake Eola Park
Lake Eola Park in Orlando is undeniably a great place for both tourists and locals to visit. As someone who thoroughly enjoys spending time there, I find it to be the perfect retreat from the hustle and bustle of everyday life.
One of my favorite activities is going to the park with a book in hand, taking an unrushed stroll, and finding a tranquil spot to sit down and enjoy a good read while immersing myself in the breathtaking surroundings of the lake.
Lake Eola Park offers a serene and picturesque setting that captivates visitors with its natural beauty. The park's centerpiece is the stunning Lake Eola, where shimmering waters reflect the charm of the surrounding landscape. Aside from its scenic beauty, Lake Eola Park also boasts a range of amenities and attractions that add to its appeal.  
Address: Orlando, FL 32801
8. Watch a Medieval Times Performance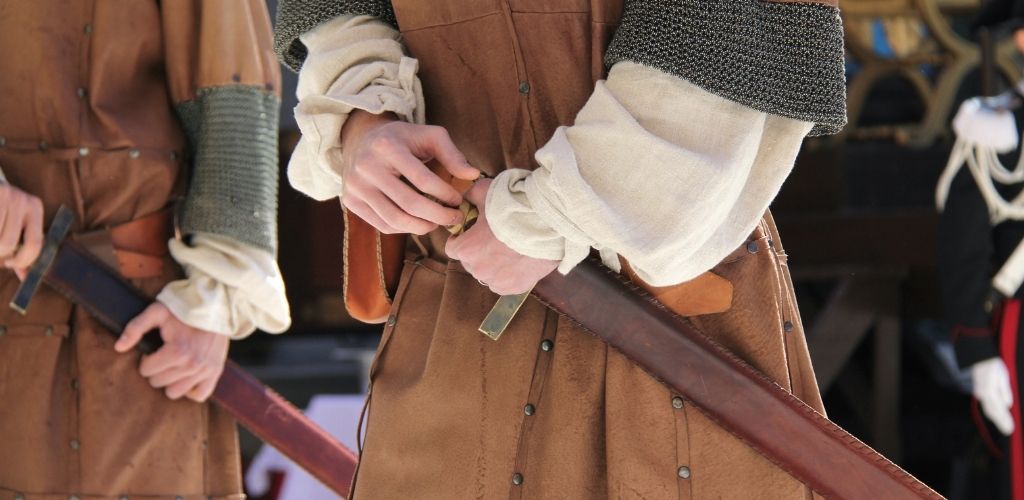 Medieval Times is undoubtedly one of the best places to visit in Orlando. Located in the heart of Central Florida, this unique and immersive experience takes you back in time to the medieval era. Step into a world of knights, kings, and princesses as you enter the majestic castle.
As you take your seat in the grand arena, you're greeted with a feast fit for a king. Indulge in a delicious four-course meal, which includes hearty soup, succulent roasted chicken, sweet buttered corn, and delectable desserts. The soup was spectacular. Vegetarian options are also available, ensuring that everyone can enjoy the feast.
The highlight of the Medieval Times experience is the exhilarating live tournament that takes place right before your eyes. In addition to the show, Medieval Times also offers activities and attractions. Explore the castle's Hall of Arms, where you can admire medieval artifacts and weaponry.
Address: 4510 W Vine Street, Kissimmee, FL 34746
9. Catch a Basketball Game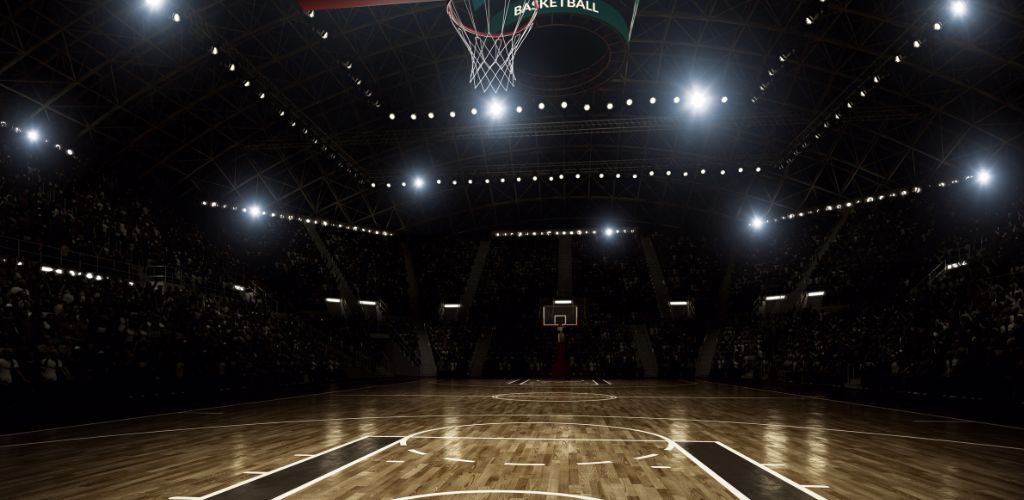 A great thing to do in Orlando for families is to head to the Amway Arena and watch the Orlando Magic play basketball. The Amway Arena, located in downtown Orlando, is the home stadium of the Orlando Magic, an NBA team.
With its state-of-the-art facilities and lively atmosphere, it provides an exciting and memorable experience for families. I love to get popcorn and soda and sit back, relax, and enjoy the game.
Watching a basketball game at the Amway Arena isn't just about the sport itself; it's about the entire experience. As you enter the space, you'll be greeted by the vibrant energy of the crowd.
The atmosphere is electrifying, and you can't help but get caught up in the enthusiasm of it all.
Address: 400 West Church Street, Orlando, FL 32801
10. Visit the Beautiful Harry P Leu Gardens
Harry P Leu Gardens, located in Orlando, is undoubtedly one of the most cherished attractions in the area, especially considering that it offers free admission. This beautiful garden is a haven for nature lovers and those seeking tranquility amidst the bustling city.
Spanning over 50 acres, Harry P. Leu Gardens boasts a stunning array of flora and fauna, making it a paradise for botany enthusiasts. The garden is home to a diverse collection of plants, including tropical and subtropical species; captivating visitors with their vibrant colors and intoxicating aromas.
Visitors can explore the various themed gardens within the grounds, each offering a unique experience. From the enchanting Butterfly Garden, where visitors can witness these delicate creatures fluttering around fragrant flowers, to the serene Rose Garden.
The Rose Garden is my favorite spot, with its meticulously manicured beds of roses in full bloom, there's something here for everyone to enjoy.
Address: 1920 N Forest Ave, Orlando, FL 32803
11. See the Stars at Madame Tussaud's Wax Museum
For anyone interested in sightseeing in Orlando, a visit to Madame Tussaud's Wax Museum is a must. Located on International Drive, this iconic museum offers a unique and immersive experience for visitors of all ages.
With its incredibly lifelike wax figures, the museum brings to life celebrities, historical figures, and sports stars. I love to visit Madame Tussaud's Wax Museum and take pictures with all the wax figurines which are constantly updated.
As you step into the museum, you'll be amazed by the attention to detail and the uncanny resemblance of the wax figures to their real-life counterparts.
From movie stars such as Marilyn Monroe and Johnny Depp to world leaders like Barack Obama and Queen Elizabeth II, you'll find a diverse range of famous personalities at Madame Tussauds. It's as close to meeting them in person as you're likely to get and is a great day out for families.
Address: 8387 International Dr, Orlando, FL 32819
12. See Breathtaking Views from The Orlando Eye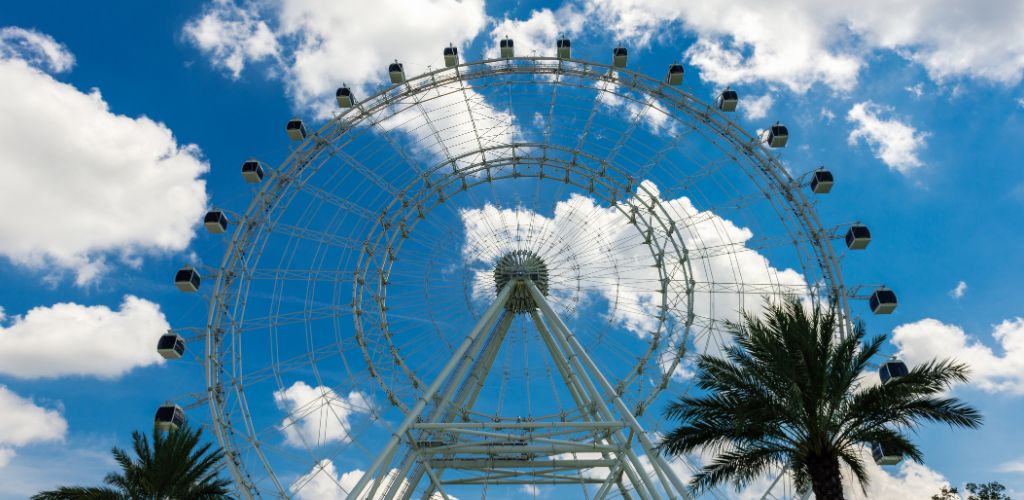 One of the top attractions in Orlando is the Orlando Eye. Located on International Drive, this iconic giant Ferris wheel offers breathtaking views of the city and its surroundings.
Standing at a height of 400 feet, the Orlando Eye is an impressive sight to behold. Its 30 air-conditioned capsules provide a comfortable and enjoyable experience for visitors of all ages. Each capsule can accommodate up to 15 people, making it a great activity for families, friends, or even solo travelers.
As you ascend to the top, you'll be treated to panoramic vistas of downtown Orlando, the theme parks, and the beautiful Florida landscape. On a clear day, you can see for miles, taking in the stunning sights from a unique perspective. I love to see the Disney Theme parks from this view, it's a really special sight.
For those seeking a particularly exceptional experience, there are also private capsules available for special occasions, such as birthdays or anniversaries. These exclusive capsules offer a more intimate setting and can be customized to create a memorable and romantic atmosphere and is one thing to do in Orlando for couples.
Address: International Drive, Orlando, FL 32819
13. Dinner and a Show at Mango's Tropical Cafe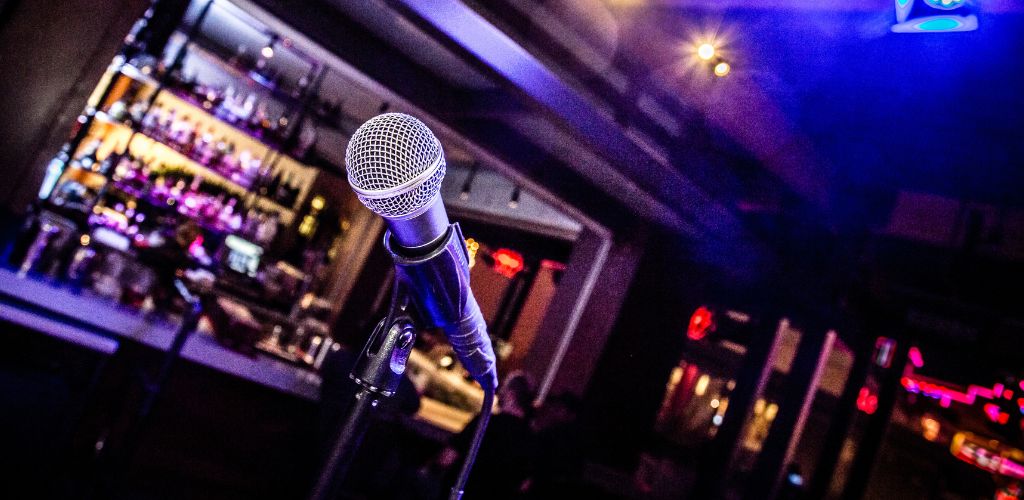 Also located on International Drive in Orlando, Mango's Tropical Cafe and Dinner Show is a must-visit for any visitor to the city. Situated in the heart of the famous International Drive, Mango's Tropical Cafe is a hub of excitement and entertainment.
Guests can indulge in a delicious meal while being treated to paramount live entertainment. My favorite part of the show is the variety of captivating performances, including a sensational Michael Jackson tribute that pays homage to the King of Pop's iconic music and dance moves.
But Mango's Tropical Cafe isn't only a place to enjoy great food and entertainment; it's an experience that encapsulates the vibrant spirit of Orlando.
Whether you're visiting with family, friends, or even alone, this venue guarantees a night filled with excitement, laughter, and incredible memories. So, if you find yourself on International Drive in Orlando, make sure to carve out time to visit Mango's Tropical Cafe and Dinner Show.
Address: 8126 International Drive, Orlando, FL 32819
14. Play and Learn at Wonderworks Orlando
Wonderworks Orlando is indeed one of the most sought-after tourist attractions in the bustling city of Orlando. Situated on the vibrant International Drive (there's a lot going on here), this captivating museum offers a world of wonders for visitors of all ages.
This museum stands out for its unique concept and innovative approach to interactive learning. As soon as you step inside, you'll be greeted by an upside-down building, setting the stage for the extraordinary experience within its walls. Each time I visit Wonderworks, I learn something new from its amazing exhibits.
This museum truly has everything you could imagine. From mind-bending displays to thrilling rides, Wonderworks Orlando ensures you'll never have a dull moment. Explore the wonders of science, art, and imagination as you engage in hands-on activities and thought-provoking displays.
Address: 9067 International Drive, Orlando, FL 32819
15. Join an Everglades Airboat Tour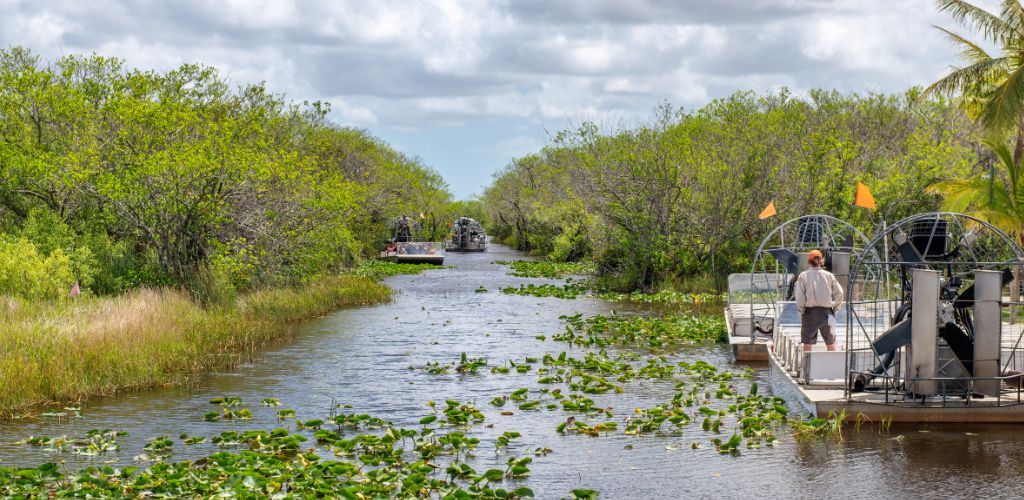 This exceptional airboat ride experience in Central Florida's Everglades offers a thrilling adventure for outdoorsy individuals and families. With options for 30-minute or 1-hour rides, visitors can immerse themselves in the natural beauty of the region while witnessing native wildlife in their undisturbed habitat.
Central Florida is renowned for its stunning landscapes and diverse ecosystems, and this airboat ride allows you to explore these wonders up close. When I took this tour I made sure to bring my camera to capture pictures of the beautiful sights – I'm so glad I did; don't forget yours!
One of the main attractions of this airboat experience is the opportunity to see native wildlife in their natural environment. From alligators and turtles to various bird species, the Everglades is home to a rich assortment of animals.
With each passing moment, you may spot these creatures as they go about their daily routines, providing a unique and unforgettable experience for nature enthusiasts and wildlife lovers.
Address: 3301 Lake Cypress Rd, Kenansville, FL 34739
16. Watch a Comedy/Magic Show (+Pizza!)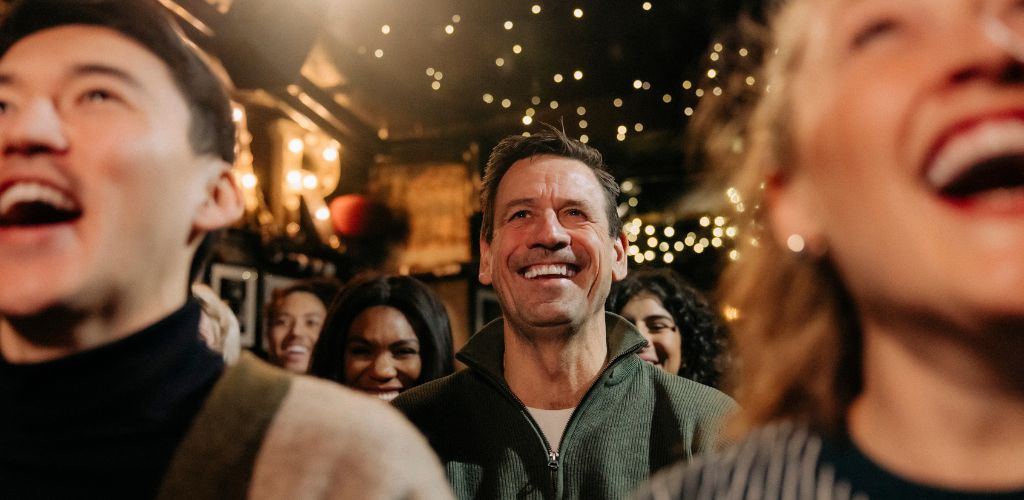 The Outta Control Magic Comedy Dinner Show is a thrilling 90-minute improv comedy performance that guarantees an evening filled with energy, interaction, and nonstop fun. Sit back and enjoy the show as talented performers take the stage, ready to amaze and entertain you.
While you indulge in this one-of-a-kind experience, you'll also have the pleasure of savoring delicious pizza, fresh salad, and refreshing soft drinks.
The pizza, my go-to, rivals that of New York and Chicago, and this delectable meal perfectly complements the comedic extravaganza unfolding before your eyes.
Address: 9067 International Drive, Orlando, FL 32819
17. Have a Meal at the Hard Rock Cafe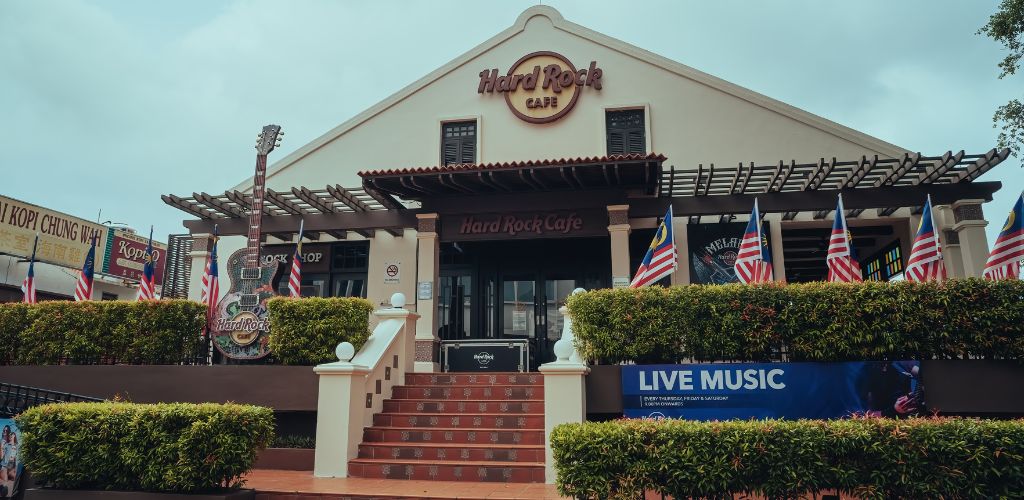 When visiting Orlando, a great idea for those seeking things to do is to have a meal at the Hard Rock Cafe Orlando. This iconic restaurant offers a unique dining experience that combines delicious food, a lively atmosphere, and a lively rock 'n' roll ambiance.
Located in the heart of Universal CityWalk, the Hard Rock Cafe Orlando is easily accessible and is a popular choice among both locals and tourists. The menu at the Hard Rock Cafe Orlando is diverse and caters to all tastes.
Whether you're in the mood for classic American dishes like juicy burgers and mouth-watering steaks or prefer to explore international flavors with dishes such as fajitas or hickory-smoked ribs, there's something for every palate. My personal favorite is the Legendary Burger.
Address: 6050 Universal Blvd, Orlando, FL 32819
18. Enjoy a Glass of Wine at Lakeridge Winery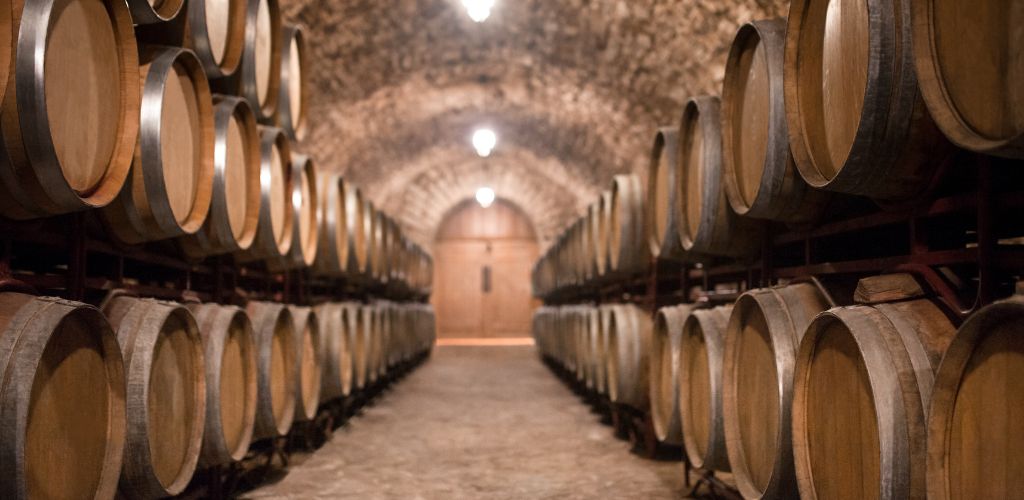 Lakeridge Winery located in Clermont, just outside of Orlando, is a popular destination that I highly recommend visiting. Whether you're a tourist or a resident, this winery offers a fantastic experience for everyone. What I love most about Lakeridge Winery is the festivals and live music they offer throughout the year.
Situated in the heart of Central Florida's rolling hills, Lakeridge Winery is known for its beautiful vineyards and picturesque surroundings.
The winery itself is spread across 127 acres, making it one of the largest wineries in the state. The sprawling property is home to various grape varietals, including the native Muscadine grapes, which thrive in the warm Florida climate.
Address: 19239 US Hwy 27, Clermont, FL, 34715
19. Go Blueberry Picking at Southern Hill Farms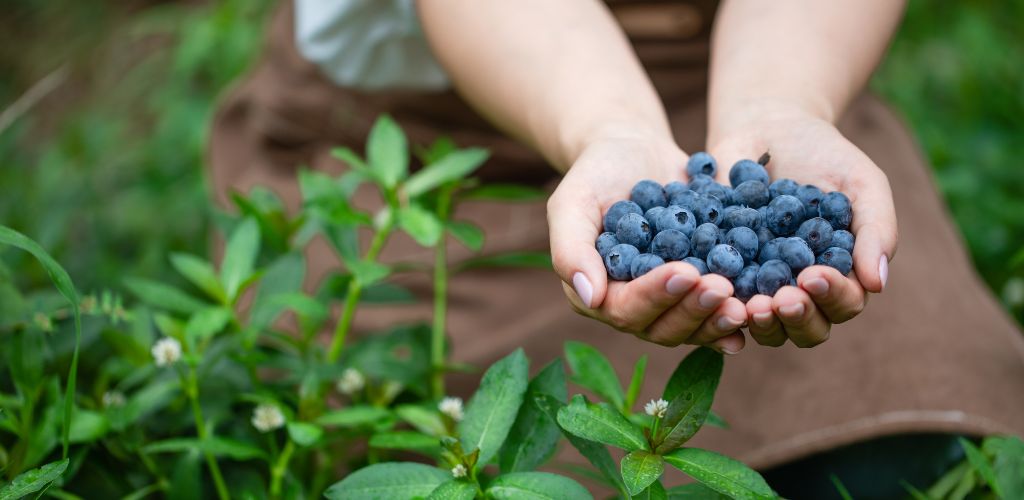 Southern Hill Farms, located in Orlando, is a delightful destination for blueberry picking. The farm offers festivals throughout the year, providing visitors with an enjoyable, outdoor experience.
One of the highlights of these festivals, and my favorite thing about Southern Hill Farms, is the live music, which adds a vibrant atmosphere to the surroundings.
In addition to the blueberry picking and festivals, Southern Hill Farms offers a variety of tasty food options from food carts. Whether you're in the mood for a savory snack or a sweet treat, there's sure to be something to satisfy every craving. The farm also features games and a playground, making it an ideal spot for families with children.
Address: 16651 Schofield Rd, Clermont, FL 34714
20. Enjoy Food & Drinks at the Margaritaville Resort & Spa
The Margaritaville Resort and Spa in Orlando is an absolute gem and is one of my personal favorite places to visit. This tropical paradise offers a plethora of amenities and activities that will make your stay unforgettable.
When it comes to food, Margaritaville Resort and Spa is known for its "cheeseburgers in paradise." Indulge in a juicy, mouthwatering burger that will transport you to culinary heaven.
For those looking to relax and unwind with a drink in hand, Margaritaville Resort and Spa has you covered with its great selection of beverages.
I love to sip on a handcrafted cocktail or enjoy a cold beer while basking in the laid-back atmosphere of this tropical oasis. It's an ideal place for couples to spend some quality time together. Find out more here.
Address: 8000 Fins Up Cir, Kissimmee, FL 34747
21. Get Off the Beaten Track on a Quad Bike Adventure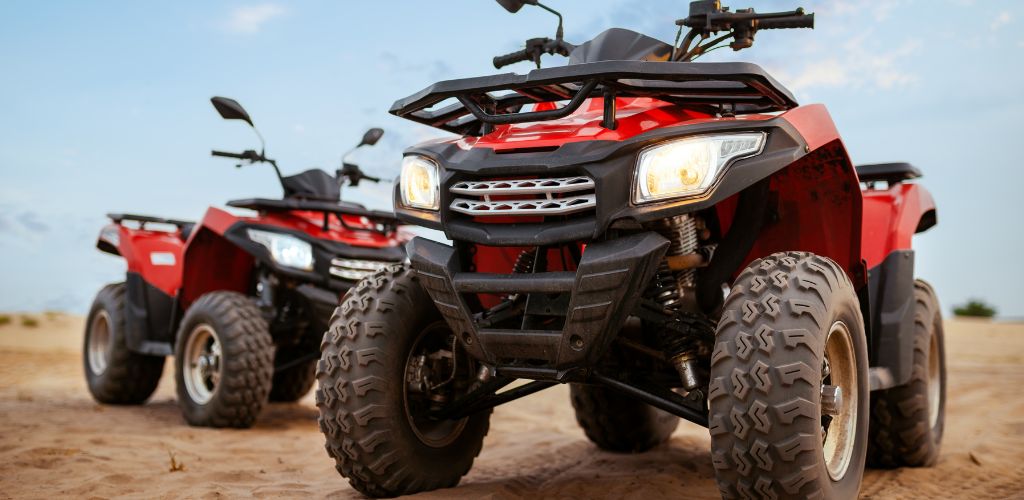 The single-seat ATV Quad Bike Adventure in Clermont, Florida offers a unique and exhilarating way to explore the stunning landscape of the state.
This adventure allows you to traverse through picturesque orange groves and expansive wetlands, providing an opportunity to immerse yourself in the natural beauty of Florida. As someone who loves this state and all it has to offer, this unique experience is one of my top things to do.
As you embark on this thrilling ATV ride, keep your eyes peeled for the chance to encounter local wildlife. It's not uncommon to spot various species of birds, reptiles, and mammals along the way. This adventure truly offers a one-of-a-kind experience to appreciate the rich biodiversity that Florida has to offer.
Address: 4000 FL-33, Clermont, FL 34714
22. Color Your World at the Crayola Experience in Orlando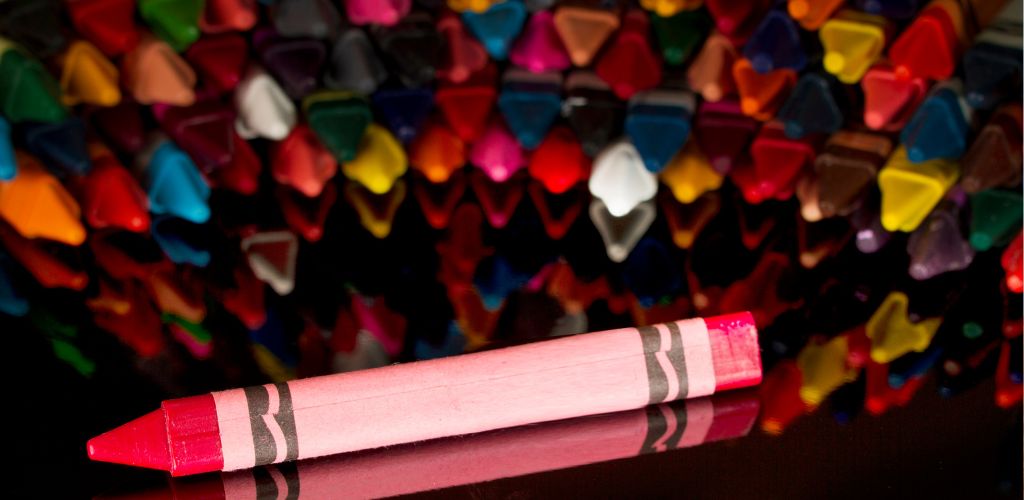 A great place to visit in Orlando for families is the Crayola Experience. Located in the Florida Mall, this interactive attraction offers a unique and immersive experience for kids (and big kids).
At the Crayola Experience, families can explore a variety of hands-on activities that celebrate the colorful world of Crayola.
With several different attractions to explore, there's something for everyone to enjoy. I love to create personalized crayons to bring artwork to life on a digital platform.
Address: 8001 S Orange Blossom Trl, Orlando, FL 32809
23. Witness Orlando's Polynesian Fire Luau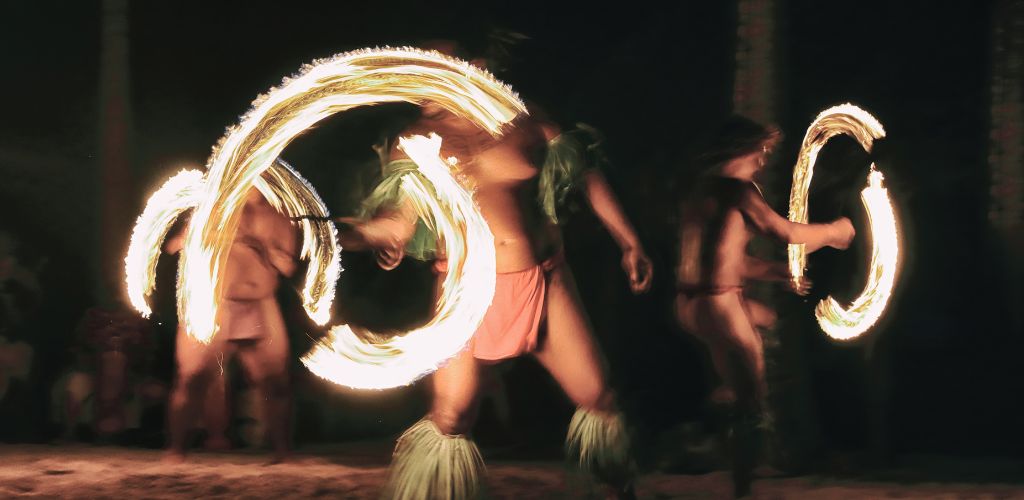 One of the most enjoyable activities to partake in while in Orlando is the Polynesian Fire Luau and Dinner Show. This particular event offers a delightful dinner buffet, with tea and coffee included.
As you indulge in the scrumptious offerings, prepare yourself for a captivating show that showcases the rich, cultural heritage of Hawaii, Tahiti, Tonga, and the Polynesian islands. The show features talented performers who will transport you to the enchanting world of Polynesia through their mesmerizing dance routines.
From the graceful Hawaiian hula to the energetic Tahitian and Tongan performances, every moment is filled with vibrant colors and infectious energy. I love to watch the fire dancers during the luau while enjoying the delicious dinner buffet. It's a great way to spend an evening in Orlando.
Address: 6464 International Dr, Orlando, FL 32819
24. Rent a Jetski
Orlando, Florida is best known for its world-class theme parks and entertainment, but it also offers a fantastic opportunity for water enthusiasts.
If you enjoy the water and seek an exhilarating experience, renting a jet ski on a private lake in Lake Buena Vista should be on your bucket list. For someone who loves being on the water, this is one of my favorite things to do in Orlando.
Nestled in the heart of Orlando, Lake Buena Vista provides a picturesque setting for jet ski rentals. This private lake offers a serene and controlled environment, ensuring a safe and enjoyable ride.
With its crystal-clear waters and stunning natural beauty, Lake Buena Vista provides the perfect backdrop for an unforgettable adventure on a jet ski.
Address: 13245 Lake Bryan Dr, Orlando, FL 32821
25. Stroll Through the Titanic Artifact Exhibition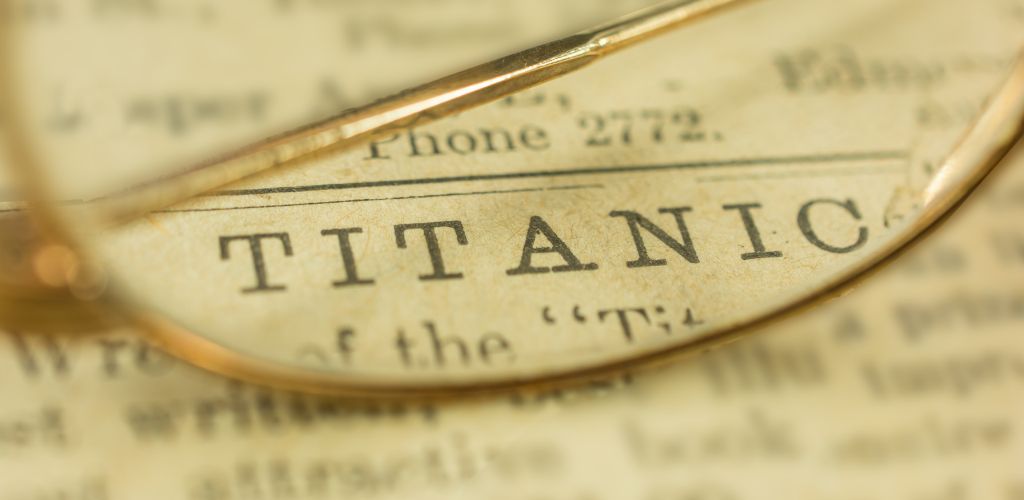 The Titanic Artifact Exhibition in Orlando is a must-visit destination for fans of the hit movie Titanic. This exhibition offers a unique opportunity to see true artifacts from the legendary ship.
As a personal favorite of mine, I highly recommend experiencing the awe-inspiring collection of items that were recovered from the depths of the ocean.
One of the most captivating aspects of the exhibition is the chance to see items that were once part of the ship itself. From intricate pieces of the ship's structure to the personal belongings of the passengers, each artifact tells a sorrowful story.
You can marvel at the ornate china used in the ship's dining rooms or gaze at the delicate jewelry that once adorned the passengers.
Address: 7324 International Dr, Orlando, FL 32819
The Best Places to Visit in Orlando, Florida: FAQs
Visiting Orlando can leave you with a lot of questions. Here's a list of the most frequently asked questions to help you make the most of your vacation:
What is Orlando known for?
Orlando, Florida is best known for Walt Disney World and Universal Studios.
When is the best time to visit Orlando?
The best time to visit Orlando is between September to mid-November when the city offers comfortable temperatures and reasonable airfare and hotel rates.
Is Orlando worth visiting?
Yes, Orlando is worth visiting because of the endless amounts of fun to be had, and exciting things to do in the area.
How many days should I spend in Orlando?
It is recommended to spend 5-14 days in Orlando to fully experience all the city has to offer.
Is Orlando safe?
Overall, Orlando is a safe place to visit. That being said, it's important to practice common sense when moving around and take regular precautions (as needed when exploring any large city); avoid walking with too much cash, and don't flash valuables.
What is the most popular thing to do in Orlando?
The most popular thing to do in Orlando is visit the Walt Disney World resort.
What is the best beach in Orlando?
Cocoa Beach is the best beach in the Orlando area.
What foods should I try in Orlando?
The best foods to try in Orlando are classic Cuban sandwiches.
Is 3 days enough in Orlando?
It is recommended to spend at least 5 days in Orlando.
In Closing
Now that you know the 25 best things to do in Orlando, it's up to you to decide what to do first! Orlando, Florida, is a vibrant destination that offers a wide range of activities and attractions for visitors of all ages. Whether you're a thrill-seeker, a nature lover, or a history buff, there's something for everyone in this exciting sunshine city.
If you ever tire of Orlando, Tampa is a 2-hour drive away with plenty of things to do!