If you have a free weekend in Tampa, you need to plan your time carefully. There's so much to see and do in Tampa, you really don't want to miss any of the good stuff. Thankfully, you're in the right place; this 2-day itinerary will show you the highlights and whet your appetite for more.
Many people ask if 2 days in Tampa is enough, and while I think it is, you're not going to see everything. I've visited Tampa countless times, and I still don't believe I've exhausted all corners of the city. But, a weekend break in Tampa will show you some of the best bits, and will certainly put a smile on your face.
For a weekend away, you'd struggle to find a better place. You'll need comfortable shoes, but you'll have a camera roll and a heart full of memories by the end. You'll also get to try some of the most delicious food around. Don't miss our complete Florida travel guide as well!
Weekend in Tampa (2-Day Itinerary)
To help you get the most out of your time, I've devised a 2-day itinerary for Tampa. This will show you some of my favorite parts of the city without wearing you out in the process. However, it's important to remember that if you want to see more, you'll simply have to return.
This city is huge, and distances between sights can be large. If you can hire a car, you'll get to see more, but I've created a bespoke itinerary that will give you the perfect first glimpse into this wonderful destination. The only question is when you'll return.
Day 1 in Tampa
Your weekend in Tampa is about to begin, so get those comfortable walking shoes on and prepare for a whirlwind day and night. Let's start in Downtown – the heart and soul of the city.
Day 1: Morning
They say that breakfast is the most important meal of the day, so naturally, that's where we'll start. One of my favorite spots in Downtown is the aptly named Tampa Breakfast. The Portobello mushroom tower is a favorite of mine, but the menu is large and reasonably priced, with fantastic coffee, (you'll need the caffeine for the day ahead!). See this great list of the best cafes and coffee shops in Tampa.
Once you're fueled up, it's time to wander down Riverwalk. This is a promenade that goes for 2.4 miles, packed with views, parks, eateries, and shops. It's a great way to get your bearings and soak up the vibrant atmosphere of the city; in fact, you can't do Tampa in two days without starting here.
Next, it's time to explore history at the fascinating Tampa Bay History Center. Packed with interactive exhibits and events throughout the year, you can learn about days gone by. By this point, you'll be hungry and ready for lunch.
Day 1: Afternoon
No weekend in Tampa would be complete without hitting Ybor City and trying the famous Cuban sandwich, but before that, it's time to eat and walk. The Ybor City Food Walking Tour is one of my favorite things to do, and for three hours, you'll snack and learn on the go. A helpful guide will give you the low-down on Ybor City itself and its unique history.
Once your tour has finished, spend a little more time exploring the colorful cigar shops. Your guide will have told you that this was once the Cigar Capital of the World, and there are still many shops to visit and purchase your own Cuban cigars. Even if you aren't a smoker, it's a great photo opportunity and a chance to grab a gift for someone back home.
Before you head back to your hotel to get dressed for the evening, there's one thing you need to do: sample the Cuban sandwich. You may still be full, but you need to try this, it's a rite of passage in Tampa. Your destination is one of the best restaurants in Tampa, the famous Columbia Restaurant. Locals flock here, so you know it's good.
Day 1: Evening
By this point you're unlikely to be hungry at all, so let's forgo dinner and jump straight into evening entertainment. A really fun thing to do is the Tampa Terrors Ghost Tour. It takes just one hour, and if you're spending the weekend in Tampa with friends, it's a must-do; I didn't see any ghosts, but I really enjoyed it. See more ghost tours in Tampa here.
To finish off the evening, head to one of Downtown's famous craft beer spots. The Wicked Pour is one of my favorite bars in Tampa, and you can even pour your own beer from a huge range. Alternatively, The Pint & Brew is the ideal place for craft beer fans, with a massive locally brewed selection, all with rather amusing names.
After that, it's time to stumble back to your hotel, as your first day is complete. Your feet may be throbbing, but you've covered some serious ground and you'll certainly sleep well.
Day 2 in Tampa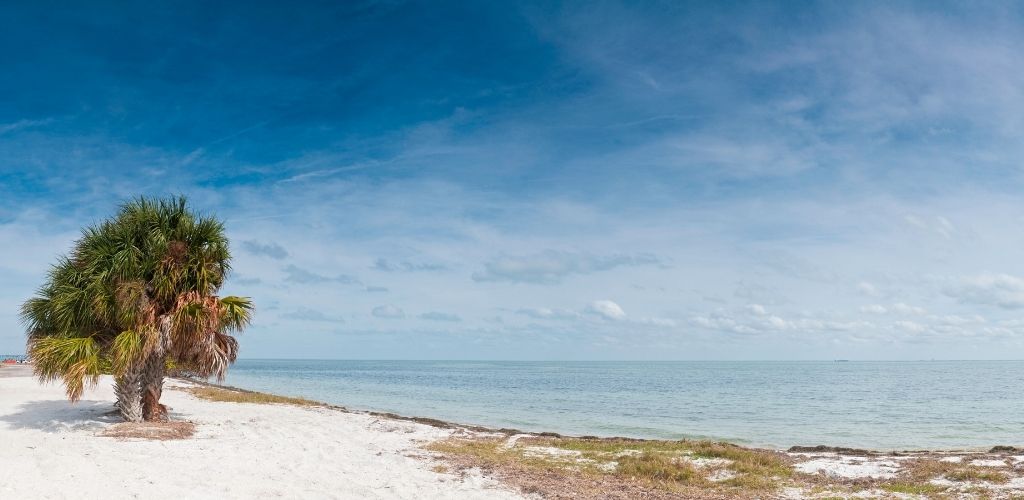 It's now the second day of your weekend away in Tampa, and it's time to pack even more into your time. Today, you're going to start with a short outing, before returning to Downtown to finish off your 2 day break.
Day 2: Morning
First things first, it's time to eat. Samaria Cafe in Downtown is another of my regular breakfast haunts, with delicious sandwiches made from scratch. The homemade chocolate croissant is divine, but the Grand Slam breakfast will fill you up until well into the afternoon. I'd recommend taking some of the croissants for later — you don't want to miss them.
Next up on your 2-day trip to Tampa, we're going to jump in the car (or taxi) and drive for 40 minutes to St. Pete Beach, one of the best beaches in Tampa. You can either choose to spend a few hours swimming and sunbathing, or you can take my advice and join this 2-Hour Speedboat Adventure. You're sure to get your adrenaline pumping, the view is breathtaking, and you might even see dolphins.
All of that fresh sea air will have made you hungry, so head to Rick's Reef for a light lunch. I love the chilled-out feel of this place, and they serve great coffee. The gator bites are also delicious, as well as their crab cake sandwich.
Day 2: Afternoon
Jump back into the car and head back over to Tampa, where you're going to visit the Big Cat Rescue Sanctuary. This place really opened my eyes, and I learned so much about rescuing and caring for sick and orphaned big cats. Take a tour with a guide and learn more about their fantastic rescue and rehabilitation efforts.
You've seen a lot so far during your weekend in Tampa, but we're not done yet. Next up is the Henry B Plant Museum back over in Downtown. The first time I visited here, I was surprised at how much history there is in the local area, as well as the earliest days of tourism. The building dates back to 1891 and is beautifully preserved.
Spend a couple of hours exploring the museum and the surrounding streets, before venturing back to your hotel. Tonight is your last night, and you need to feel fresh for all the fun you're about to have.
Day 2: Evening
Whether it's a romantic weekend in Tampa or you're visiting with friends, it's going to be a busy one.
I suggest starting your final evening in Tampa aboard a tiki boat! Hop on a tiki boat and enjoy some drinks before going for dinner. You can also choose to do this later in the evening, or even during the day. Find out details here.
For food, head to Ulele -one of the most popular restaurants in Tampa. The menu is packed with dishes inspired by food from the local area, all cooked on a huge grill; I highly recommend the tocobaga tuna and the fire-roasted chicken.
Once you're full and ready to go, take a trip to Tampa Theater. You can catch a show or simply explore the building, which dates back to 1926. There are many events held here throughout the year, so check what's on before you visit so you don't miss out.
Full of culture and ready to enjoy the rest of the evening, CW's Gin Joint is your final destination. It's a good idea to reserve a table beforehand as this spot gets very busy – once you see the opulence inside, you'll understand why. It's not all about gin either, as the cocktails here are like nothing you've tried before and the live jazz is incredible.
How to Get to Tampa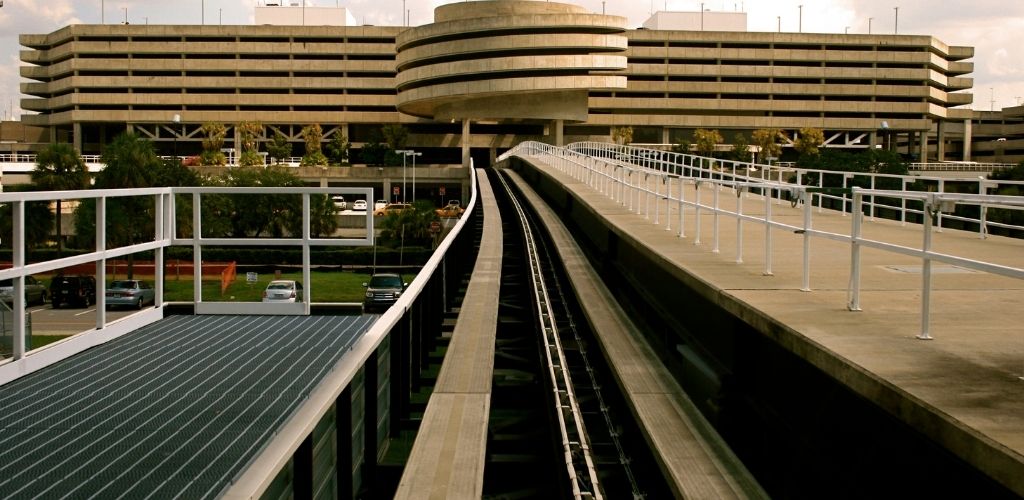 The easiest and most popular way to get to Tampa from anywhere outside of Florida is to fly. Tampa International Airport is huge and serves all major domestic airlines in the US, as well as internationally.
Once at the airport, it's very easy to get to Downtown and beyond; the Line 30 bus serves the airport and all major neighborhoods regularly, or you can take a taxi in just 15 minutes.
If you're traveling from Orlando, you can either drive via the I-4W, take the Greyhound bus (1 hour 40 minutes), or the train, which will take just over 2 hours. Click here for bus information, and click here for train information. Exploring both Orlando and Tampa is a great idea in my opinion.
Of course, a weekend break in Tampa is a short amount of time, so it's advisable to hire a car if possible. It's an especially great idea if you plan on doing any quick day trips around Tampa. You can do this from the airport when you arrive, or you can visit any major car hire store in the city, such as Enterprise, Sixt, or Alamo. You'll need a full, clean driving license, and a credit card. Click here to search for the best price on rental cars.
I enjoy walking around Tampa as much as possible and while some attractions aren't walkable, Downtown and Channelside are easily connected, even as far as Ybor City. The local bus network is also very easy to use, or you can alternatively use Uber or Lyft. Click here for bus information.
Where to Stay With 2 Days in Tampa
For your two-day trip to Tampa, you're going to need a central place to stay, and several neighborhoods fit the bill. Channelside and Downtown are the easiest places for a short weekend break, but Ybor City is also a great option. Here's where to stay in Tampa for a weekend away:
Downtown Tampa: For a weekend in Tampa, I'd recommend Downtown. It's a lively, busy area but it's extremely central and offers great nightlife with fantastic gastronomy. Most of the city's major sights are very easy to reach from here. The Tampa EDITION is a top pick and boasts a fantastic restaurant.
Channelside: If you'd rather not be surrounded by noise, Channelside is the perfect place to stay. You can walk directly onto the Riverwalk and explore parks and restaurants very easily. It's also home to many upmarket hotels, giving you a chance at complete R&R. I thoroughly enjoyed my stay at Le Meridien Tampa.
Ybor City: A great base for a weekend getaway in Tampa is Ybor City – a foodie's dream. There's great nightlife here, although slightly less frenetic than Downtown, and it's certainly cheaper. History fans will also enjoy this part of the city. Hotel Haya is highly recommended.
Tips for a Weekend Trip to Tampa
With just two days in Tampa, you're going to need some insider information to help your trip go as smoothly as possible. I've got plenty of experience in visiting this city, so let me impart some of my gems of wisdom to you:
1. Dress for comfort, not style: I can't emphasize this enough. Sure, you want to look good, but you're only in Tampa for the weekend, and that means you need to move quickly. Even walking down the Riverwalk involves some mileage, so go with comfortable shoes and clothing to help you enjoy the experience without distractions.
2. Hire a car if possible: I mentioned this a little earlier, but it's such an important point. You'll see a lot more in the limited time you have if you rent a car in Tampa.
Driving in Tampa is very easy; the roads are clearly marked, and it's a calm experience. While public transport is good, it may not always run to schedule, and it can add unnecessary stress to your day. Alternatively, go with Uber/Lyft, or regular taxis.
3. Plan your visit at the right time of year: Tampa is an all-year-round city, but if you want to avoid possible hurricanes and crowds, it's a good idea to find out when's best for you to visit. I enjoy the months between January to May as the weather is mild, plenty is going on, yet it's possible to get a great deal on a hotel.
If you visit between June to November, there is the potential for poor weather due to hurricanes, although don't let that completely dictate your choice. Find out more in our post on the best time to visit Tampa.
4. Remember sun protection: I'm giving you this tip from personal experience because I don't want your weekend trip to Tampa to be ruined by sunburn. Simply walking around in the sun is enough to get burnt, so always wear sun protection, carry a bottle of water, and wear a hat. It's better to be prepared. Safe not sorry and all that!
5. Reserve tables at restaurants: Some of the more laid-back restaurants will have walk-in tables available, but if you want to visit a top-class spot, I recommend you call the day before and reserve a table. You don't want to have your heart set on an eatery, only to have your 48 hours in Tampa ruined by lack of availability.
6. Avoid public holidays: If you want to see as much as possible, it's best to avoid public holidays. At these times, the city is packed, and getting around is extremely difficult. You'll also see queues for the most popular attractions, which will hold up your time and cause you to miss out.
7. Avoid the lightning: The first time I saw Tampa lightning I was shocked; it was somehow beautiful but terrifying all at the same time. Lightning storms are common across the whole of Florida; if you see any, don't panic, just go inside a restaurant, bar, or museum, and by the time you come out, it will have gone. Don't be tempted to say outside and take pictures, especially if you're in an open space.
8. Layers are your friend: It's never that cold in Tampa, even during its so-called 'winter', but you'll need a jacket in the evenings outside of July and August. Take layers and pack lightly; there are some fantastic shopping opportunities in the city, and you'll want to save space for your purchases.
9. Purchase the Tampa Riverwalk Attraction Pass: The Riverwalk Attraction Pass allows discounted admission to many of the Riverwalk's top spots and will save you plenty of money while you explore. It's certainly worth looking into if you have your heart set on any particular sights while reducing queueing time too. Click here for details.
10. Take guided tours wherever possible: Tampa has a lot of hidden history and culture, and the best way to learn about it all is via a knowledgeable guide. Of course, you can explore on your own steam, but a guide will enrich your visit to a whole new level. If you enjoyed your experience, remember to tip: around 20% is always a good rule of thumb. Click here for tours.
FAQs About a Weekend Getaway in Tampa
Here are some answers to frequently asked questions about a weekend getaway in Tampa, FL:
Can you do Tampa in just a weekend?
A weekend in Tampa is a short amount of time, but it's possible to get a taste of the city in that time. By basing yourself centrally, e.g. in Downtown or Channeside, you'll be able to see more, including the famous Riverwalk.
How do I spend my weekend in Tampa?
A mixture of nature, food, nightlife, history, and culture is the best place to start. A weekend in Tampa will be fast-paced and tiring, but it's possible to see a lot if you're organized with your time.
Is a weekend in Tampa enough?
A weekend break in Tampa is okay, but certainly not enough to see everything the city has to offer. See it as a taster and then visit again at a later date.
Where should I stay for 2 days in Tampa?
Downtown or Channelside are the best places to stay if you only have two days in Tampa. These neighborhoods are central and cut down on traveling time. There are countless hotels in both areas.
How much would a weekend in Tampa cost?
A carefully planned weekend itinerary in Tampa won't break the bank. It depends on what you want to see, but you can tailor your visit to any budget.
What's the best month to visit Tampa?
November is a good time to visit Tampa. At this point, the hurricane season is coming to an end, and the weather is warm, without being overwhelming. There's also less humidity to affect your visit. On the flip side, July is extremely hot.
Is Tampa Riverwalk worth visiting?
Riverwalk is one of the best things to do when you spend the weekend in Tampa. You can walk, explore, and see a lot in a short amount of time, and it doesn't cost anything unless you go inside an attraction or restaurant.
Is Tampa as fun as Miami?
Both Tampa and Miami are fantastic places to visit in their own right, and it depends on what you want to see and do. While Miami is primarily about nightlife, Tampa offers more for families and is an all-rounder type of destination.
What can couples do in Tampa?
There's plenty for couples to do in Tampa. Food tours, the Riverwalk, spending time at a stunning Tampa Bay beach, enjoying the sunset, and amazing nightlife are all on offer.
Is Clearwater or Tampa better?
A weekend break in Tampa will show you more than a few days in Clearwater, however, Clearwater Beach is hands down one of the best in Tampa Bay. Ultimately, Tampa itself has a lot more going on and more variety of activities.
Enjoy Your Weekend Trip to Tampa
I'm not going to lie, a weekend in Tampa is a short amount of time to explore this vibrant city. There's so much to see and do that even a week would challenge you to see everything. But a weekend is better than nothing and will definitely show you the highlights of this lively city.
A good tip is to hire a car; that way you don't waste time waiting for buses or walking. Don't be fearful of driving in Tampa, (if I can do it, anyone can!). And in the end, you'll be grateful for how much you get to experience during your action-packed weekend.
Whether you're looking for a romantic break, a fun-filled time with friends, or something else entirely, you'll find it in Tampa. This is a city that continually surprises me in the best possible way, even after all these years.