If you're interested in learning more about the history and culture of the Land of Smiles, one of the best places to visit in Thailand is the ancient Ayutthaya Historical Park. The ruins of this former kingdom are quite impressive and a lot of fun to explore.
While it's a doable day trip from Bangkok, you may want to stay a night or two to make sure you see all of the Ayutthaya temples.
Read on for a comprehensive guide to visiting the Ayutthaya Historical Park and temples, including information on how to get there and where to stay. But first, a little history lesson!
A Brief History of Ayutthaya Historical Park
The Kingdom of Ayutthaya lasted from 1350 until 1767 and was founded by King U Thong after the decline of Sukhothai – which is another excellent set of ruins you should definitely visit in Thailand, by the way.
U Thong had the Ayutthaya temples built on an island surrounded by three rivers that connected the city to the sea. This strategic location protected the kingdom from invaders as well as floods.
This prime location helped Ayutthaya develop into one of the largest urban areas in the world. It became a hub of diplomacy and trade, as merchants from all corners of the globe flocked here. When the nearby kingdom of Angkor fell, it was Ayutthaya that filled the void.
At its peak, Ayutthaya had around one million inhabitants. Thanks to its location between China, India, and the Malay archipelago, it developed into the trading capital of the world. It was a place where east and west met and did business, with Chinese, Arabs, Portuguese, French, Indians and more trading with each other.
When European traders returned home, they described Ayutthaya as the grandest city they had ever seen. Indeed, the king spared no expenses with the construction of this expansive kingdom. All of the Ayutthaya temples were elegantly decorated in a variety of styles, showing fine craftsmanship and artistic detail.
As the history books show us, all good things tend to come to an end at some point. The Burmese invaded Ayutthaya in 1765 and took the city after two bloody years of fighting. They stole the kingdom's treasures, enslaved the people, and burned many of the Ayutthaya temples to the ground.
Rather than rebuild, the king had the capital moved down the river to Thonburi. The ruins of the Ayutthaya temples were restored centuries later, and they received UNESCO World Heritage status in 1991.
Now that you know a bit about the history of this former Siamese kingdom, it's time to plan your trip to the Ayuttaya Historical Park.
Getting to the Ayutthaya Historical Park
Train to Ayutthaya Historical Park
The best way to get to the Ayutthaya Historical Park from Bangkok is by hopping on the train. There are trains every hour or so from Hualamphong station, so you can just show up and buy your ticket for the next one.
Taking the train to Ayutthaya is not only scenic, but it's great for your budget. Tickets for the 3rd class seats only cost around $0.50! It's a quick trip, too – the journey from the capital only takes about an hour and a half.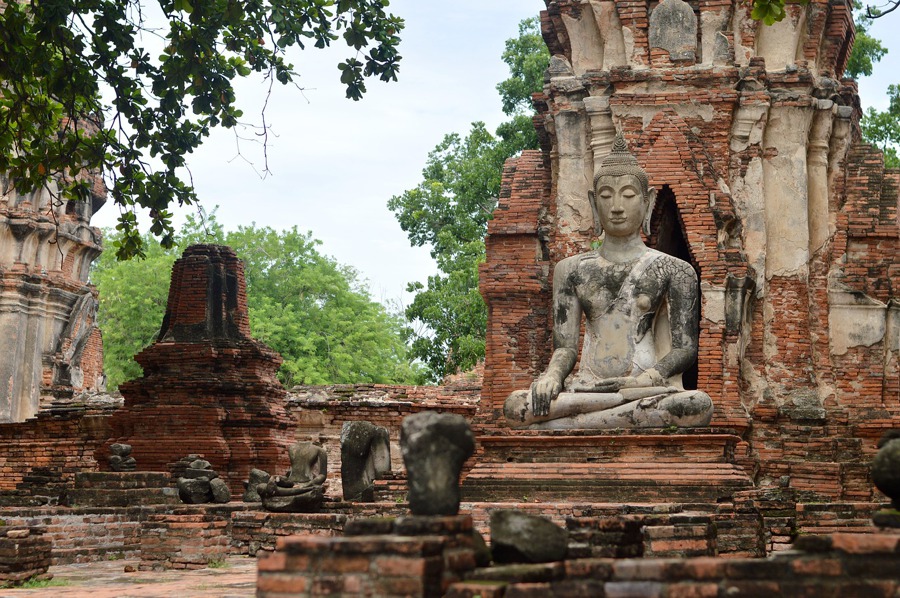 Buses to Ayutthaya Historical Park
There are also buses that travel from Bangkok to Ayutthaya, leaving from the Northern Bus Terminal at Mo Chit. This only really makes sense if you're staying near the station, as the bus costs more and takes longer than the train.
River Cruise / Cycling to Ayutthaya Historical Park
If you're looking for a more interesting way to travel to Ayutthaya, you can sign up for a bus / river cruise combo. This tour makes a few stops along the way. You'll need to book the popular tour in advance, as they're only for tourists. A day trip with lunch included costs about $55, which you can book here.
Another option is to join a bike tour of the Ayutthaya Historical Park. Cycle for 43 kilometers past ancient temples – a great way to get some exercise and have a more authentic experience. The van supported trip is operated by Grasshopper Adventures, which is a highly rated company in Thailand. Click here to learn more about this option for visiting the Ayutthaya temples.
Popular Tours From Bangkok to the Ayutthaya Historical Park:

Getting Around Ayutthaya Historical Park
Once you arrive at the train or bus station, you'll need to sort out a way to explore the temples. The Ayutthaya Historical Park is separate from the modern city, and is located just across the river from the train station.
You have a few options for getting around the Ayutthaya temples. Those looking to get a bit of exercise can rent a bicycle to explore the ancient kingdom. They're readily available and only cost about $2 for the day, and you'll need to leave some form of ID as a deposit.
If you're going to be cycling around the temples, it's best to get an early start. The sun can be intense and unforgiving during the day, so you'll want to do as much as you can in the morning and take a break to escape the midday heat. Be sure to bring a hat, some sunscreen, and plenty of water if you choose to explore Ayutthaya Historical Park on two wheels.
Those looking to avoid the peddling part of the tour can opt to rent a motorbike instead. There are a few places in the city that rent bikes out for about $10-14 a day. You'll be able to cover more ground on a motorbike, but you'll also have to deal with the often chaotic Thai traffic. This option is best for more experienced riders.
Perhaps you'd rather just sit back, relax, and let someone else take you around the ruins. In that case, your best bet is hiring a tuk-tuk for the day. Drivers wait outside of the train station and the legitimate ones have their names displayed on a board of tourist officials.
You can expect to pay around $10 an hour for a tuk-tuk to whisk you around the Ayutthaya temples.
We hired a tuk-tuk driver on our visit to Ayutthaya Historical Park and were very happy we did so. Not only did it take out the hassle of navigating our way around the city, but our driver also helped us decide on which temples to visit and in which order.
When we needed a break, he even recommended a nice restaurant on the riverfront. I'm sure he got a kickback from the owners, but it was a tasty lunch so we didn't mind.
💡 Sadly there are elephant rides available at the Ayutthaya Historical Park, which is something that Goats On The Road doesn't condone or recommend. As responsible travellers, it's best to avoid the awful animal tourism in Thailand and use pedal or motor power to visit the magical temples.
A Guide to The Top Ayutthaya Temples
With so many temples to see, you might have to pick and choose a bit. Let's learn a bit about the top Ayutthaya temples to make your planning a bit easier.
Impressive Buddha Relics
Perhaps the most famous temple at the Ayutthaya Historical Park is Wat Mahatat. As the story goes, the king had a revelation that led to the appearance of Buddha relics. He built this temple to store said relics, and he made sure it was a grand one.
The highlight of visiting this temple is seeing a Buddha head entwined in the roots of a tree. It's fine to take a picture with the Buddha image, but just make sure you do it from a kneeling position, as it's disrespectful to be above the Buddha.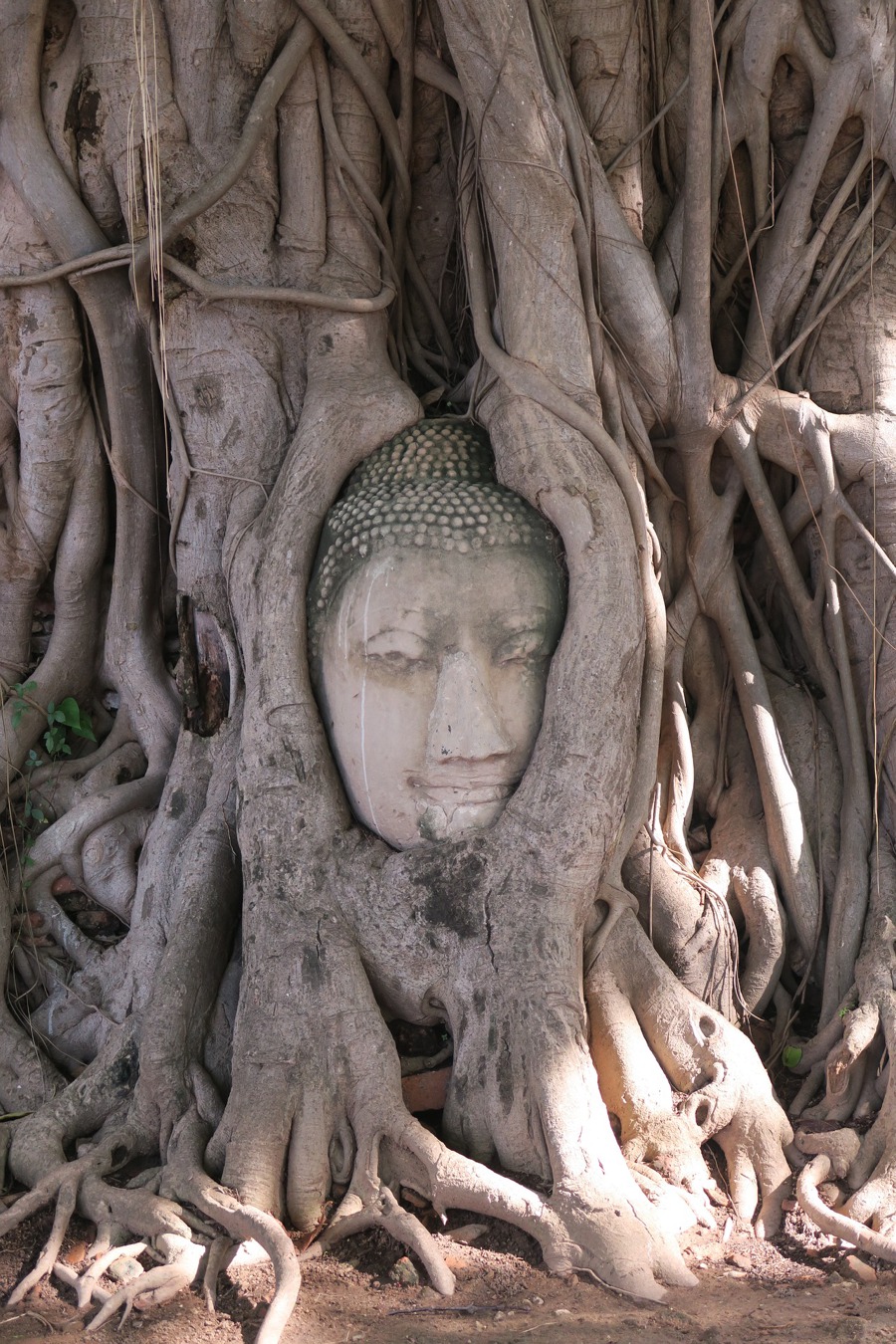 Temples Containing Ashes
Nearby, you'll find Wat Ratchaburana. This temple was the symbolic centre of the old city and the king built it to house the ashes of his two brothers. If you're wondering how they died, it was a result of fighting each other for control of the throne.
Another temple that contains ashes is Wat Phra Si Sanphet. It was built to be the king's private chapel and eventually came to hold the ashes of three former kings.
Golden Buddhas and Scenic River Locations
One of the oldest of the Ayutthaya temples is Wat Phananchoeng. Inside, you'll find a massive golden Buddha statue. Towering at 19 metres, it barely fits inside of the temple.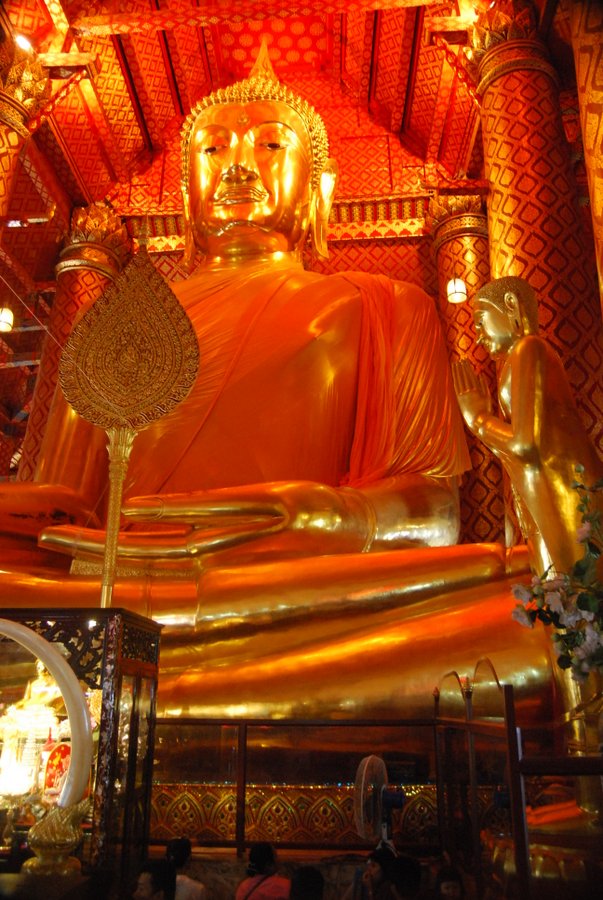 This temple remains very busy, as people come here to make offerings and donations. You'll notice many smaller Buddha statues around the huge one, each one representing a personal donation to the temple.
You can see another huge Buddha at Wihan Phra Mongkhon Bophit. This is the Grand Palace of Ayutthaya, and it's home to a replica of another giant golden Buddha.
When the Burmese invaded, they tried to melt down the statue. They didn't succeed, but they did start a fire that destroyed both the temple and the Buddha.
One of the most scenic of the Ayutthaya temples is Wat Chai Wattanaram. With a name meaning "The Temple of Long Reign and Glorious Era," you know this is a good one!
This temple is located on the banks of the Chao Phraya River, and it's believed to be the site of the king's mother's cremation. This beautiful temple on the river is a great place to wind down your tour of the Ayutthaya temples.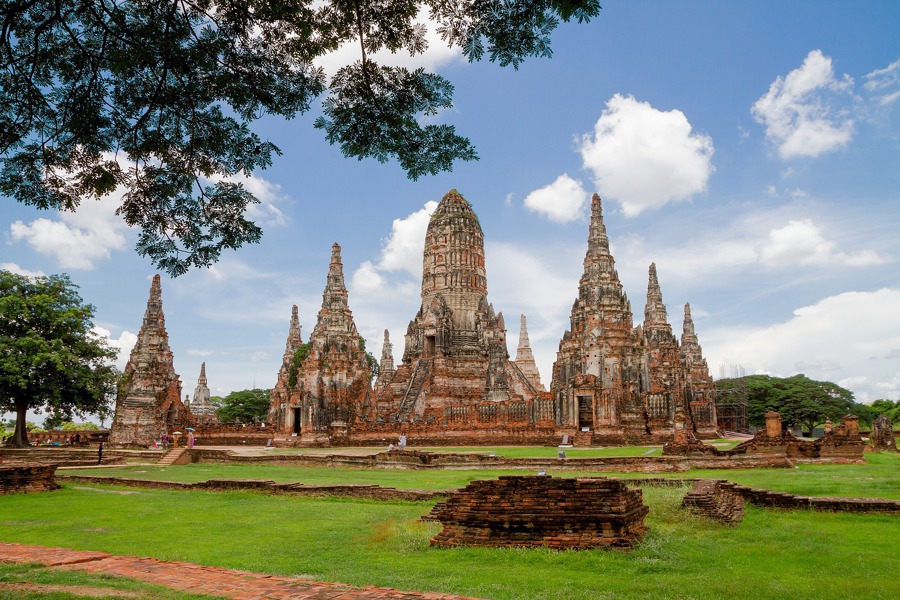 Useful Information for Visting Ayutthaya Historical Park
Some of the Ayutthaya temples are free to visit, while others have a small entrance fee of around 50 Baht ($1.50). There's also a ticket you can buy that allows you to visit 6 temples for 220 Baht ($6.70). It's easy enough to just pay as you go, so just make sure you have some Baht handy.
Even though most of the temples are in ruins, you still need to dress appropriately to visit these religious temples. Wear long pants or skirts, and shorts that cover your shoulders. Remove your shoes when entering active temples. Save the short shorts and tank tops for the Full Moon Party, kids.
Ready to Visit The Ayutthaya Historical Park?!
The ancient kingdom of Ayutthaya is a fascinating place to explore. It's such an easy day trip out of Bangkok, or you could make a stopover here on your way up to Chiang Mai. However you decide to visit, be sure to add a stop to wander around the Ayutthaya temples on your trip around the Kingdom of Smiles.
Like This Article? Pin it!