Airbnb Coupon 2021
You must log-out of any Airbnb account on your device before clicking the button below. You will have to create a new Airbnb account with a new email to get this $55 Airbnb Coupon.
Airbnb Coupon Code: Get up to $55 USD discount off your next booking on Airbnb!
Or read on to find out how to get a $55 Airbnb Coupon
Airbnb coupon codes are available for anyone who refers a friend. It's a program that the platform is currently running to try to inspire people to use their service for the first time. This is an airbnb coupon code USA and worldwide, so it will work wherever you're accessing it from.
** Updated March 2021: The Air BnB coupon is currently worth $55. $40 towards an accommodation rental and $15 for an Airbnb Experience.
Every Airbnb promotion code is for $55 USD (or the equivalent in your account's currency) and you can use the Airbnb coupon even if you already have an Airbnb account. To get the full $55 Airbnb coupon, you can book accommodation and an experience.
If you've read elsewhere that someone is offering an Airbnb discount code that's higher than $55 USD, then their information is out of date.
As of 2021, every promo code Airbnb coupon will only offer $55 off your first booking of $80 or more. Some of our favourite Airbnb's we've stayed in have been around $20 / night, so that $40 discount is like two nights free, plus you can get $15 off your first experience / tour with Airbnb promo codes.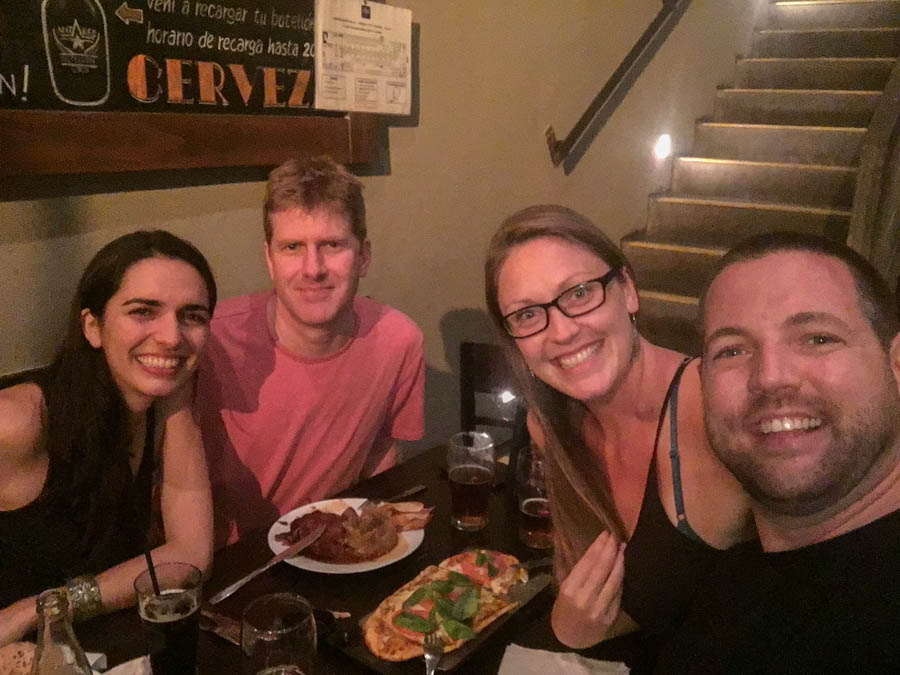 Get $55 Airbnb Coupon Now
Getting the $55 Airbnb discount is pretty simple actually. All you have to do is click the button above, start a new account and you'll get a $55 coupon code for free.
In this article, I'm not only going to tell you about the $55 coupon Airbnb is offering. I'm also going to tell you about some of our best Airbnb experiences, other ways you can save money when booking apartments and how to ensure that the place you booked will not disappoint you.
Using The Airbnb Coupon
Once you've clicked the Airbnb coupon code button above and you set up a new Airbnb account with an email that's not been used to create another account, the $55 USD Airbnb coupon will automatically be added to your account.
Updated March 2021: The coupon no longer shows up in the top of your screen when you look on the website or on the app. Now you have to start the booking process to see it.
After getting the coupon via email, go on the Airbnb app or website, enter your dates and pick a Stay or Experience. Then, from the listing click "Reserve". Don't worry, you won't be charged yet. In the next screen you will see your coupon subtracted from the total cost as "Credits".
If you're on mobile, then after you create a new account and get your Airbnb coupon, you'll see it appear by where it lists the nightly rate, but you'll only see it when you're looking at a specific property. If you don't see it at the top, click on the menu (your profile image) and then click the "Invite Your Friends" link.
If you still don't see your Airbnb promo code after clicking the discount link, please contact Airbnb as there is likely an issue with your device or perhaps you already have an Airbnb account, in which case the Airbnb promo code won't work.
Other Ways For Airbnb Discounts
While the Airbnb coupon is a great way to instantly save $40 USD on your next booking and $15 off an experience, there are other ways to save money on the platform. The people who run Airbnb have a bunch of relatively hidden features that you may not know about, but can save you a lot of money when booking an apartment online.
Book a Longer Stay
Long-stay rebates are automatically added to Airbnb rentals and the owners of the properties are able to customize the amount of the Airbnb discount. If you book a place for 1 week, there's often a discount of up to 20% off the nightly rate, while if you book for 1 month or more, you'll get a monthly discount that often surpasses 35%.
We had a one month stay in Mexico one time and we saved 40%.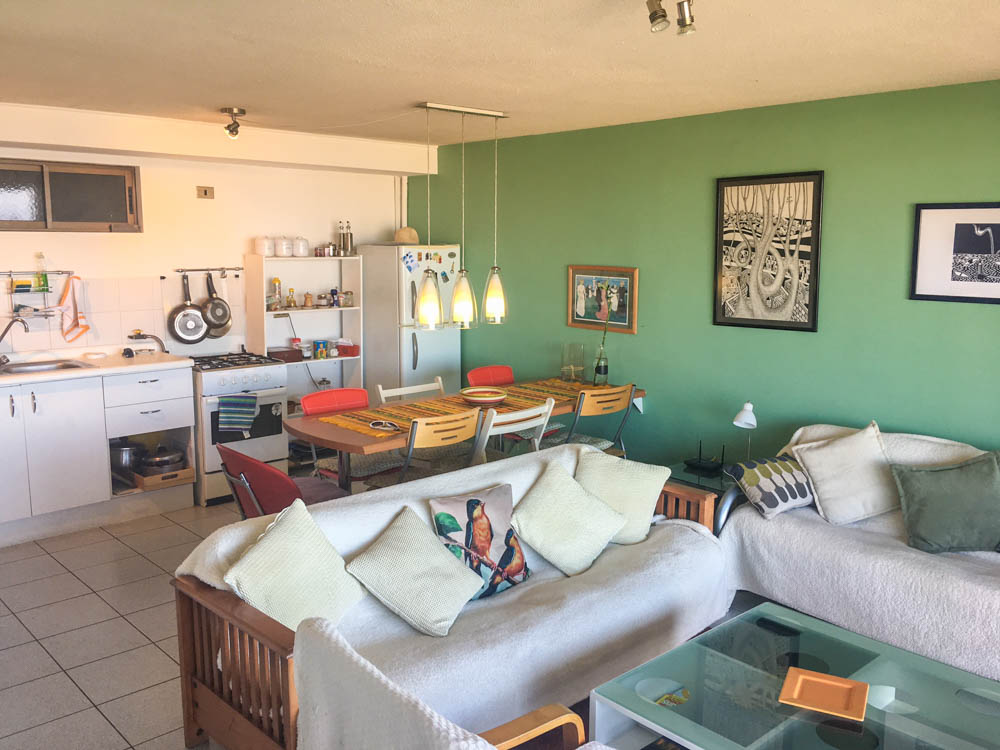 Ask The Owner For An Airbnb Discount
This is a little known feature that very few users know about. The platform actually allows hosts to add a special Airbnb discount for anyone who books their property. All you have to do is ask. When looking at a property on the website, You'll see a button that says "Contact Host". You can simply message the host and ask them to offer you an Airbnb discount.
Perhaps you're staying for 4 nights and the weekly discount doesn't appear, or the place is just a little bit out of your budget. Oftentimes the host would rather have you stay for a little bit less, rather than losing your business altogether. Send them a message and ask for an Airbnb discount! We've saved an additional 10% doing this.
Cook For Yourself
One of the best parts about booking on Airbnb instead of a hotel, is that you get your own kitchen while you travel the world. Take advantage of this and save money by cooking for yourself. Even if you just eat breakfast and drink coffee at the apartment and then eat lunch and dinner out, this can save you money on your overall stay.
Become a Host Yourself & Earn Money
Okay, so you're not actually earning any Airbnb coupon for becoming a host, but you can earn quite a bit of money by renting out your place. If you travel a lot, why not put your place up on Airbnb and earn some extra income?
Becoming a host is easy, simply click here and you can quickly go through the sign-up process.
Airbnb will walk you through the steps of listing your property like picking a "home type", "room type", "occupancy" and the city your property is listed in. Once you're done, you'll be able to earn an income from Airbnb. They'll even show you a calculator to guess how much you can list your room / property for and how much you can expect to earn per night, per week, and per month.
Refer an Airbnb Host And Receive $100
This is another great way to get an Airbnb coupon and is one of our best travel tips. If you have some friends who own a property but aren't on Airbnb yet, you can have them list their place on Airbnb and start earning money from it. If they use your referral link, you'll get a $100 cash (better than an Airbnb Coupon) after their first guest checks out.
In total you can earn up to $2,500 from referring hosts and $5,000 from referring your friends to Airbnb. That's $7,500 cash instead of Airbnb Coupons!
Want To Give Your Friends a $40 Airbnb Coupon? Share this post!
[shareaholic app="share_buttons" id="5567865″]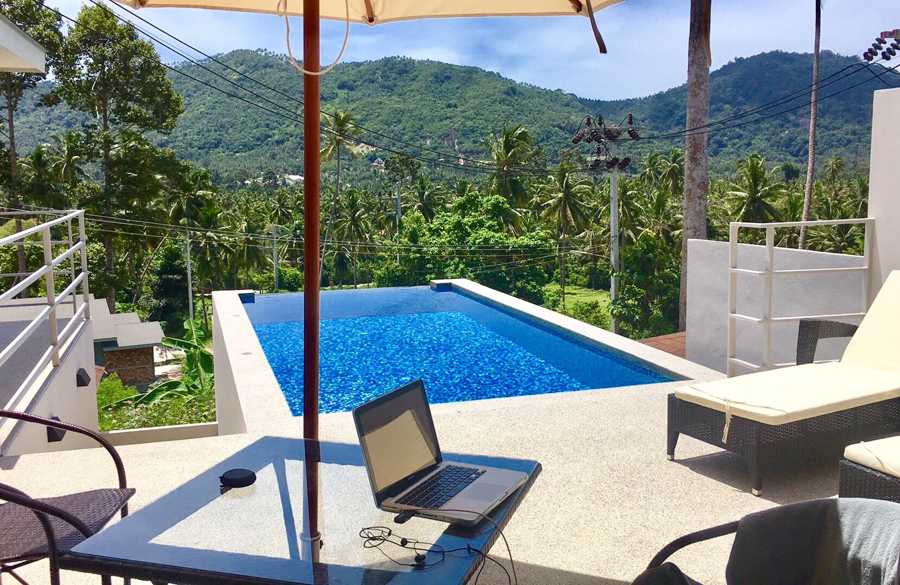 Share & Get An Airbnb Coupon
Now that you've received your Airbnb coupon code and you saved $40 USD from your first booking on the account, it's time to get your own Airbnb discount codes. All you have to do is share Airbnb with your friends.
*Update March 2021: Airbnb is no longer offering coupons for sharing the Airbnb link. This means that the coupon you receive from this page will still work, but I won't get anything for sharing it with you, and you won't get anything when you share yours.
Just like I'm sharing with you, you can also email or message your friends and tell them to use your link to sign-up for a new Airbnb account and get an Airbnb coupon.
When someone signs up using your code, they'll get $40 and you'll get a credit as well. How cool is that? It's kind of like a pay it forward type scenario.
To give your friends an Airbnb coupon and to get an Airbnb coupon yourself, you simply have to login to your account, hover over your profile picture in the top right of the screen and click "Refer a Friend" and then share that link with your friends.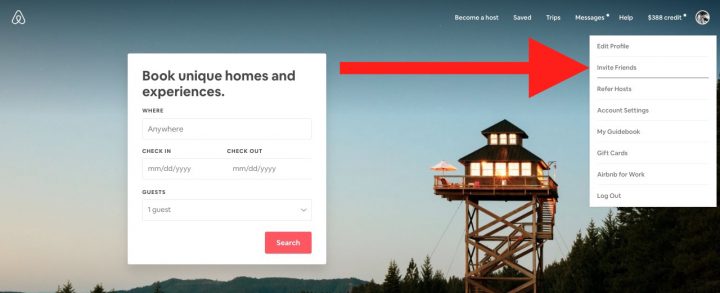 While using our coupon code will give you $25 USD instantly, if you're sharing your own link, you'll have to wait until your friend actually books a trip before you'll get your travel credit.
Once you have received the credit, you'll see it appear in the top right of the screen and it will automatically be taken off of any bookings you make on Airbnb. So far we've made a few hundred dollars in Airbnb travel credits and it's helped us to pay for our apartments on many different trips. It's a win-win for everybody.
*New as of November 2020
Join Airbnb Associates
As of mid-2020, anybody can now join the Airbnb associates program and earn money. What does this mean for you? Stay at a place on Airbnb and if you love it, you can share a special link with your friend. If your friend books and stays there, you'll get a commission!
This is even better than an Airbnb Coupon because unlike an Airbnb discount code, you can get cash and spend it on whatever you want. Airbnb codes are only available for use on Airbnb, but of course, cash can be used everywhere!
How To Pick The Perfect Airbnb
Now that you've received your $25 – $55 Airbnb coupon, you can start browsing the platform for the perfect Airbnb property for you.
When it comes to booking the right place, there are a few things that you want to keep in mind. While the platform is generally very good and there are many great places available, there are some Airbnb scams to beware of and there are also some horror stories. By following these simple rules, you'll definitely avoid these issues.
Rule #1 – Always Book on The Platform
While contacting the hosts (as noted earlier in this post) to ask for an Airbnb discount, you may be tempted to try to ask them to book off the platform in order to save on the hefty Airbnb fees. While this can save you money, you have to be EXTREMELY careful when doing so.
The Airbnb platform is very secure and they offer their users insurance and buyer's protection, but if you're booking outside of the platform, you will not be protected.
We once contacted a host off of the platform and he sent us a link via email to book the place. The link even looked exactly like the Airbnb website, but it turned out it wasn't and it was a complete scam. Luckily we noticed it and didn't book the apartment, which would've cost us over $3,000!
If you use our Airbnb coupon code and you book directly on the platform, you won't have an issue. Read more about this Airbnb scam here.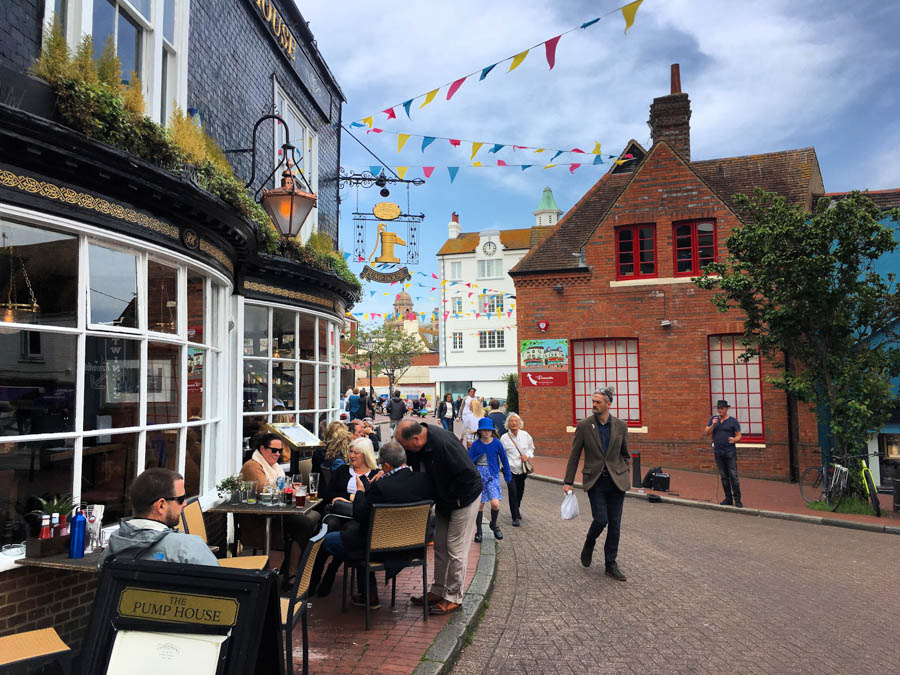 Rule #2 – Always Read Reviews
On the Airbnb platform, the reviews are the most important thing to look at. We often search for apartments with the "Superhost" filter on to make sure that any properties we're seeing are from very well-reviewed hosts. A superhost is a person who have a 4.8+ star overall rating, have a 90%+ response rate, zero cancellations and at least 10 stays per year.
Basically, Superhosts are the best of the best on Airbnb. If you're booking with a Superhost – particularly one with 100 reviews or more – you're pretty much guaranteed to have a great stay.
It's worth noting that while we do recommend contacting hosts to ask for an Airbnb discount, you may find that they're so busy they don't feel they need to give you one. Still, if you use our Airbnb coupon, you'll get your $40 off which will help.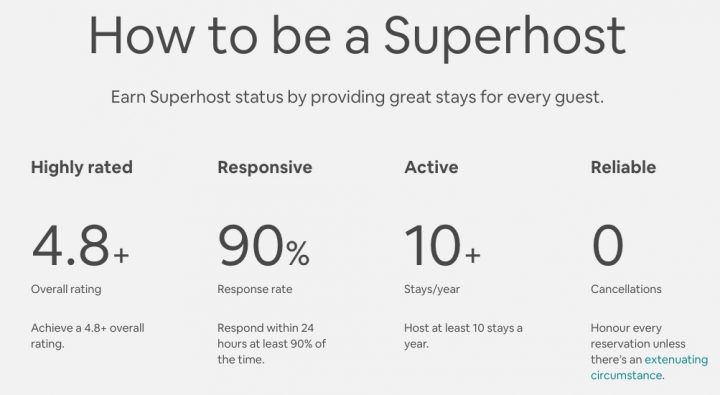 Of course, you don't only have to book with Superhosts. You can also simply check for hosts who have at least 4+ star reviews. Oftentimes, the property is amazing but they had one really picky guest stay there who gave them a 1-star review, which would mean they lost their Superhost status.
It's sad, but it's true. Even if you're not booking strictly with Superhosts, you should always try to stay in places that have 4+ stars overall on their account. Also, always check for the most recent reviews. If a property has 5 stars overall, but hasn't had a review in over a year, then the place may not have been maintained. It's best to rely on recent reviews.
Rule #3 – Location, Location, Location
Some places on Airbnb have great reviews and look amazing in the photos, but it turns out they are way out of town. Make sure you check the map on the listing to get an idea of where the apartment is located.
Some people really want to be away from it all, so they still give a 5-star review even though the place is 45 minutes outside of town. Whenever you're about to book, make sure you check on the map and also look through the reviews to see if anyone mentions anything about the location.
Places To Spend Your Airbnb Coupon
For a little bit more inspiration on where to spend your Airbnb coupon, I'll show you a few of our favourite places on Airbnb. Some of them we've already stayed at, and some of them are on our Airbnb wish-list. We've been using this platform for over 3 years and we love it.
We've stayed in some awesome places during that time and apart from one so-so experience, we've been really pleased with our stays.
Airbnb's We've Stayed In & Recommend
While I won't be listing every single Airbnb we've ever stayed in, I'll list a few of our favourites below. If you want to spend that Airbnb coupon, you can do so on one of these amazing properties.Comfortable Flat With Terrace in Puerto Vallarta: We spent 10 days enjoying all of the fun things to do in Puerto Vallarta. This apartment was in a cool local neighbourhood with taco stands nearby! The place was clean and well stocked, but the best part was the private rooftop terrace with BBQ – a great place to have some dinner and drinks before heading out for the night.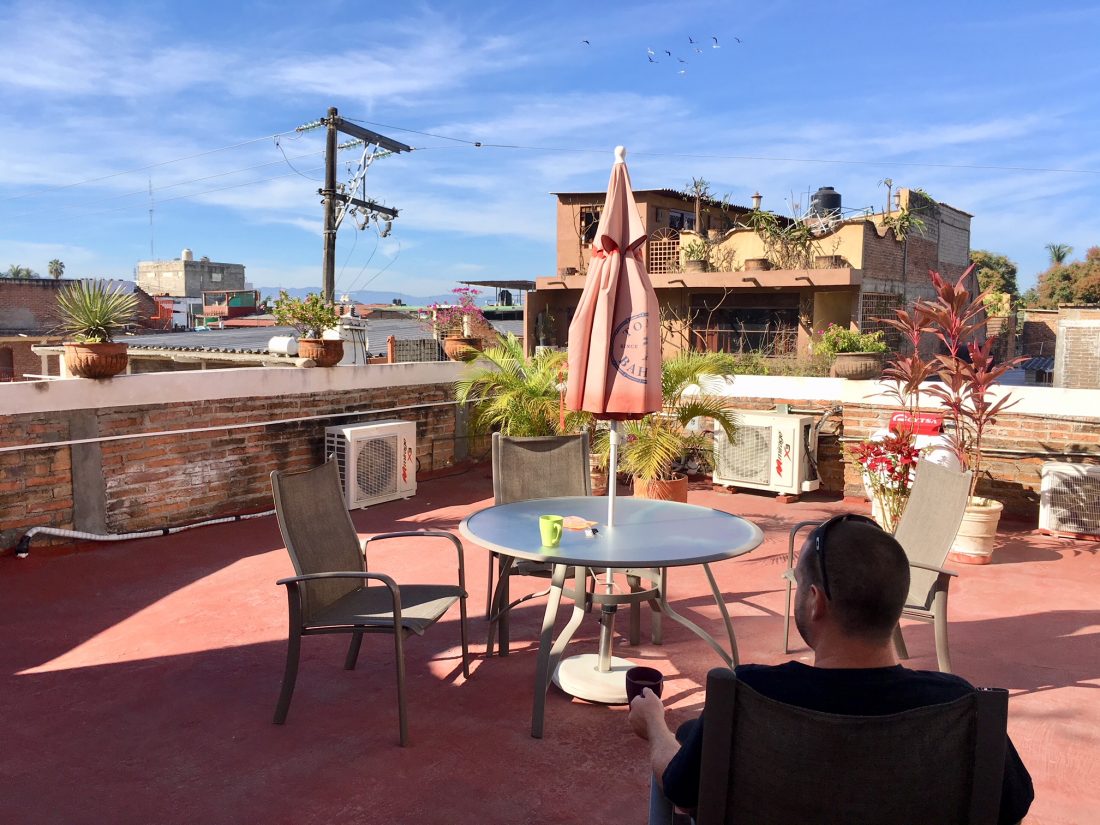 Ginger Villa Koh Samui: It was always a dream of ours when we became travel bloggers and started getting paid to write online, to one day stay in a luxury private pool villa. In July of 2017 we finally realized that dream for the first time at this beautiful 2 bedroom villa in Thailand just a few minutes from the beach.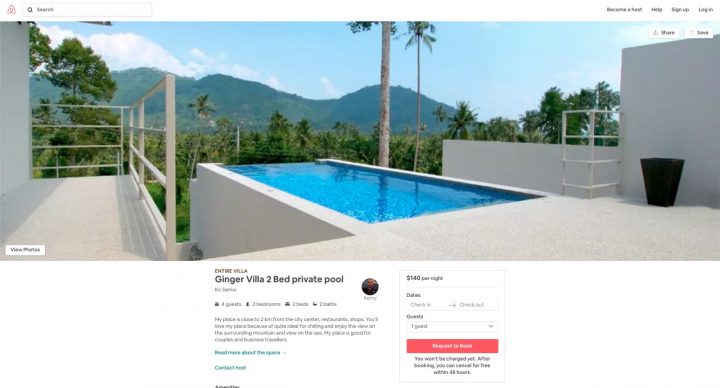 Valparaiso View Apartment in Chile: Another one of our favourite apartments we've ever booked, and a great place to spend your Airbnb coupon if you're planning to visit Valparaiso, Chile, is this beautiful place in Valparaiso. The apartment was clean and the owner was friendly, but best of all was the spectacular view over the harbour.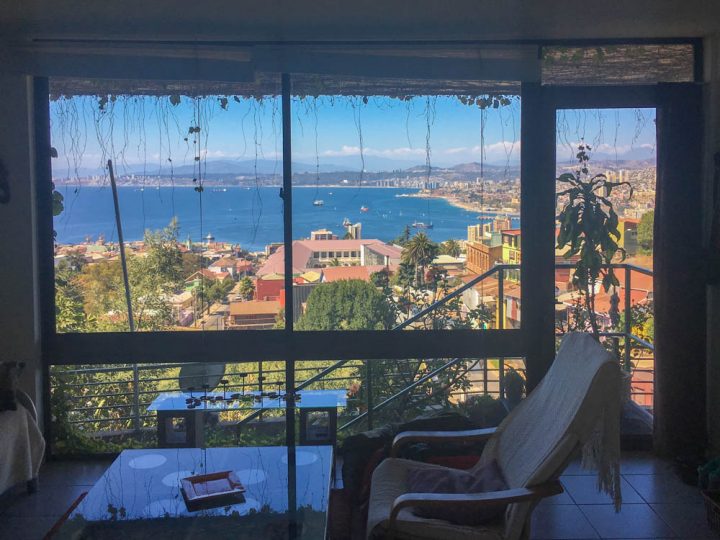 Beautiful Flat in Central Brighton: Last year we spent 2 weeks in the seaside city of Brighton at this lovely flat. The location was perfect – close to pubs, the Lanes, the train, shops and groceries. The apartment itself was very clean, well stocked and comfortable. The Superhost Michelle is very accommodating as well. Highly recommended.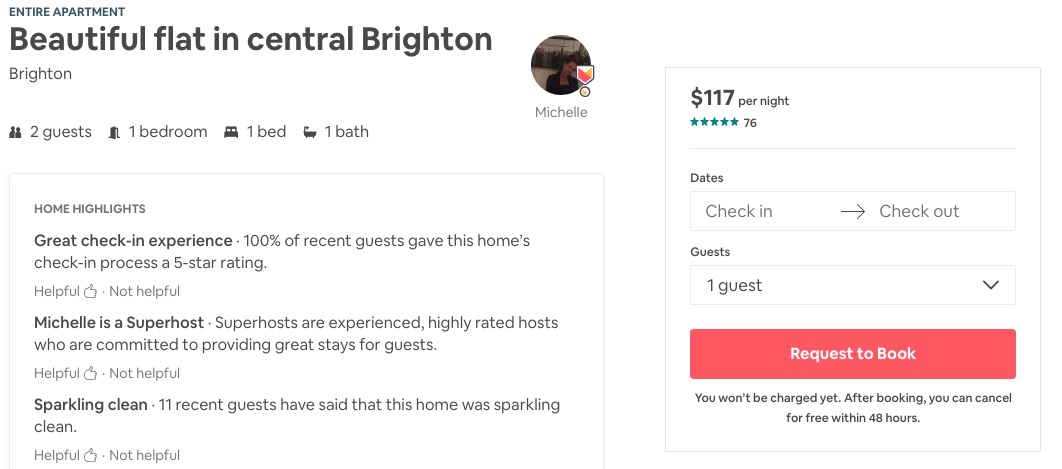 On Our Airbnb Wish-List
Seeing as we also have some Airbnb discounts to spend, we have a massive wish-list of some breathtaking properties that we want to stay in one day. There are so many unique accommodations on Airbnb – from sailboats and private islands, to treehouses and villas.
If you use our Airbnb coupon, it will also give us credit towards these amazing places, so we really appreciate your support.
Condos in Downtown Victoria: This Superhost has 4 stunning properties all in excellent locations in downtown Victoria. The condos are modern, stylishly decorated, absolutely spotless and are very affordable! Since our last trip to Victoria was so much fun, we definitely want to return and we'll for sure be staying in one of these condos.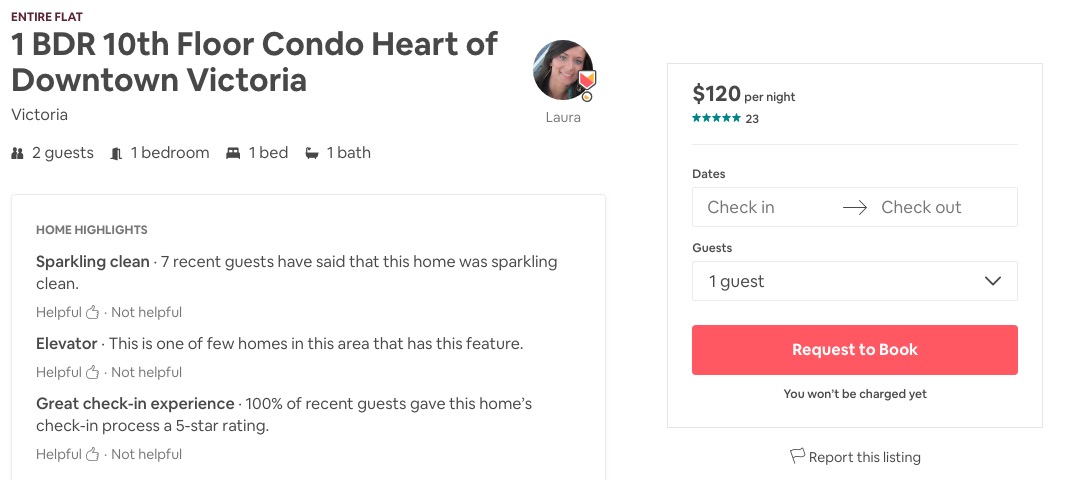 Baby Sia Villa Koh Phangan: This little place is a great value at just $60 / night, and it just looks so cool. There are so many things to do in Koh Phangan and we've always wanted to return to the island for some R&R time and I think this budget villa would be the perfect place.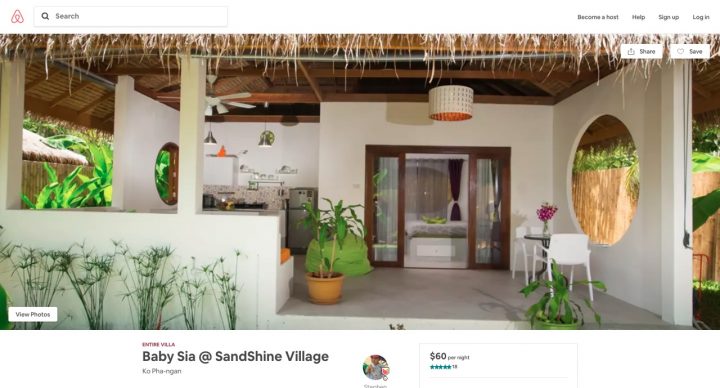 Luxury Villa Canggu, Bali: We spent 3 months living in Canggu Bali and we absolutely loved it. We had a fantastic villa there (that we didn't get on Airbnb), but we were there during high season so pretty much everything was booked up. I still like the look of this pool villa and I think it would be a great place to spend your Airbnb coupon code.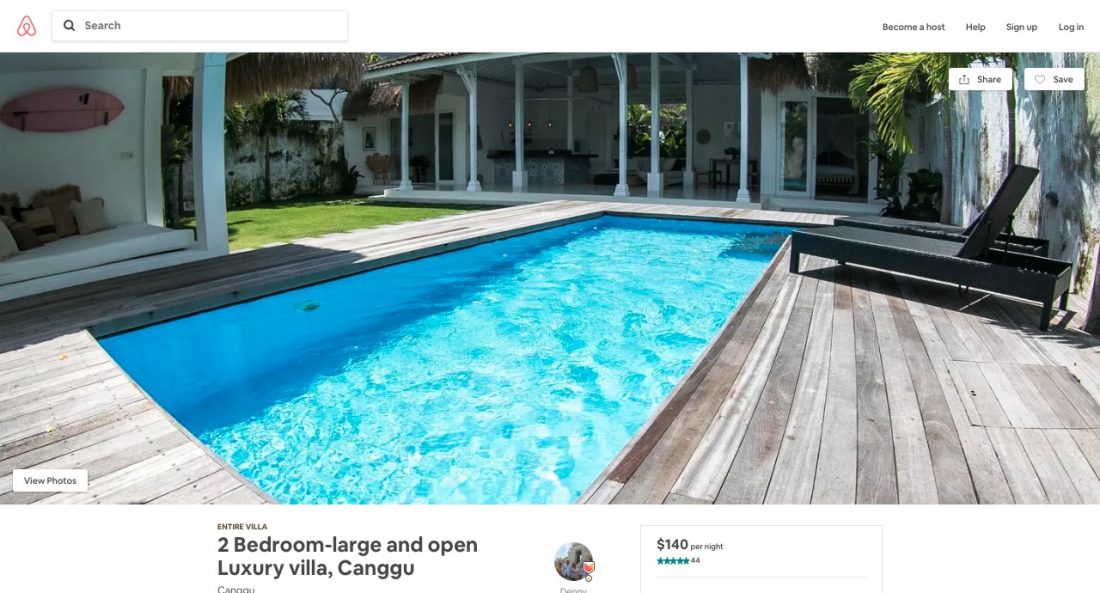 Fiji Tree House: We've always wanted to stay in a treehouse, and we've also always wanted to visit Fiji, so this lovely Taveuni Treehouse is one place we definitely want to stay. At $170 per night, it's a bit pricey and there's no Airbnb discount for longer stays, but I think we'd splurge to be able to stay in a place like this.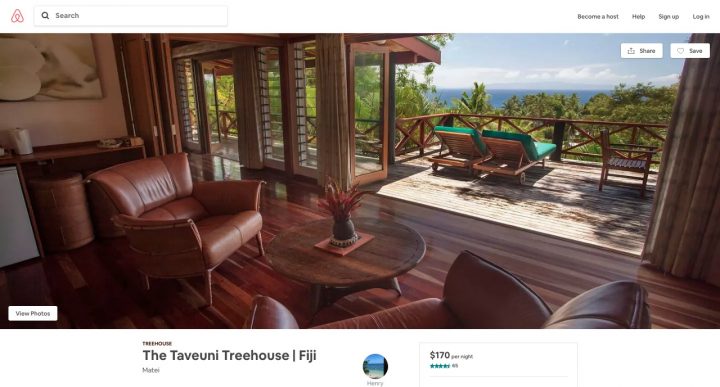 Enjoy Your Airbnb Coupon Code
We're so happy that Airbnb offers this cool "refer a friend" Airbnb coupon code system. It really allows everyone to not only share some amazing places to stay on the platform, but to earn some Airbnb credit for sharing the love. How great is that?!
Make sure that you click the button below to get our special $55 Airbnb coupon.
Whether you book an Airbnb in your home town, or you're travelling abroad, always be sure to check reviews, keep an eye on the location, ask the host for an Airbnb discount and never pay for anything outside of the platform. I hope that you'll put your Airbnb coupon to good use! If you have any questions about using Airbnb, please feel free to Contact Us.
Like This Article? Pin it!