While many travellers to Thailand focus their trip on visiting islands such as Koh Tao and cities like Chiang Mai, there are plenty of amazing national parks here as well.
The most popular Thailand is Khao Yai National Park. Just a few hours away from the bustling capital of Bangkok, Khao Yai provides a much-needed escape from the chaos of the big city.
Whether you visit on a day-trip or stick around for a few nights to camp, you'll be rewarded with some breath-taking scenery and an abundance of wildlife. This amazing national park definitely earned its spot on our list of the best places to visit in Thailand.
If you're interested in adding a trip to Khao Yai to your Thailand itinerary, read on for a comprehensive guide to the country's most famous national park. We'll take a look at some of the best things to do there and cover logistics such as how to get to Khao Yai and where to stay.
An Introduction to Khao Yai National Park
There are almost 150 national parks across Thailand, but the undisputed king of them is Khao Yai. For starters, it was the very first of its kind. A royal proclamation established Khao Yai as Thailand's first national park back in 1962. It's also part of a much larger forest complex that received UNESCO World Heritage status in 2005.
It may not be the largest in Thailand (it comes in #3 in that department), but Khao Yai National Park is definitely the best one to visit. Not only is it quite easy to travel to, but Khao Yai is also full of incredible flora and fauna. Plus, there are plenty of adventure activities on tap if you travel here.
Here are some stats on Khao Yai National Park to put things into perspective:
The park covers an area of 2,168 km², which is about three times the size of Singapore.
Elevation ranges from 400-1,000 meters mostly. The name Khao Yai actually means "Big Mountain" in Thai.
Khao Rom is the highest mountain in the park, at 1,351 meters.
The park has over 2,000 species of plants. About 80% of the park is forested.
There are over 300 species of birds, around 70 species of mammals, and another 70 of herptiles (reptiles/amphibians).
As you might imagine by now, Khao Yai National Park is a pretty amazing place! Oh yeah, and there are also plenty of caves and waterfalls to explore along the way.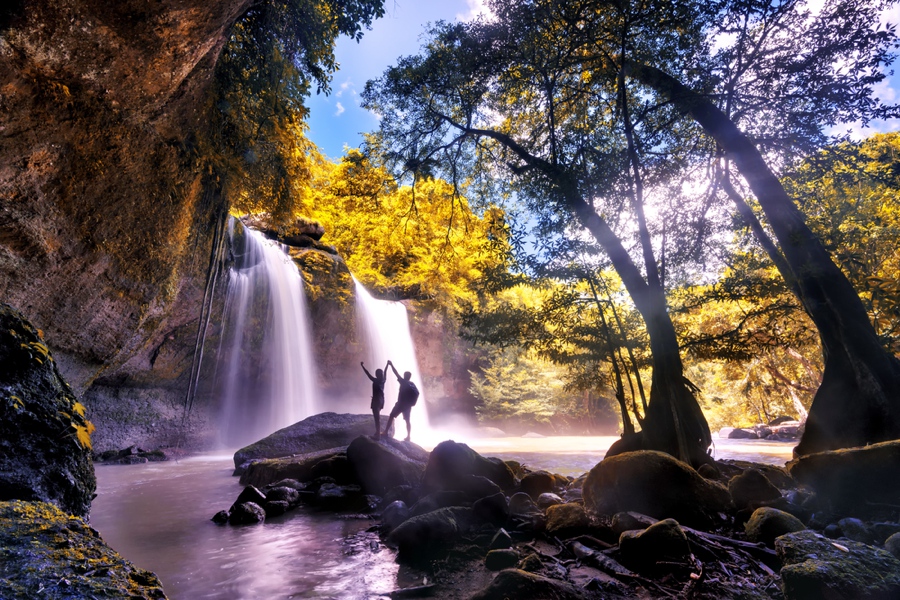 Things to Do in Khao Yai National Park
Now that you know a little bit about the place, it's time to dive into some of the best things to do in Khao Yai National Park.
Go Trekking
People come to Khao Yai National Park to see the amazing scenery and wildlife. The best way to kill two birds with one stone is by doing a bit of trekking. Wait a minute, this is a national park! Let's not kill any birds with any stones here…
Your options for hikes in the park vary from simple loop trails around the visitor centre to an 8km long trail to a waterfall. You can tackle the shorter trails on your own, but guides are either suggested or required for the longer trails.
Trust me when I say you're far better off paying for a knowledgeable guide than you are trying to find your own way out of the Thai jungle! Prices for guides range from 500-1,000 Baht ($15.85 – $31.75) depending on the length of the trek.
Here's a rundown of the six trails that the park is currently promoting:
Trail #1 (1.2 km): This quick and easy trail is a paved loop that goes around the visitor centre. It takes about an hour and only has a few steep sections.
Trail #2 (3 km): This trail should take about two hours and is also fairly easy. It connects two different waterfalls in the park, and you might spot some crocodiles in the river along the way. Guides are not needed for this trail.
Trail #3 (3.3 km): To access this trail, you'll need to find the trailhead near the Km 33 marker on the main road. It takes you to the Nong Phak Chi observation tower, where you'll get some great views. Guides are not necessary but recommended for 500 Baht ($15.85) per group.
Trail #4 (2.7 km): Despite being a very easy trail, this one is usually quite empty. It takes you to the Sai Sorn Reservoir and is a great option for bird watchers. Guides are also recommended here.
Trail #5 (5 km): An excellent trail for spotting wildlife, this one starts just south of the visitor centre and ends at the observation tower. You can combine it with Trail #3 or just try to hitchhike back once finished. Guides charge 700 Baht ($22.20) to do this hike and are recommended.
Trail #6 (8 km): This is the big one! This 5-hour hike takes you to the Haew Suwat waterfall and is a highlight of visiting Khao Yai National Park. After so many travellers got lost and ended up spending several nights in the jungle, park ranger guides are now required for a price of 1,000 Baht ($31.75) per group.
It's totally possible to arrange all of your trekking in Khao Yai on your own. That being said, it's not always easy getting yourself to and from the various trails. You need to have patience and be willing to do things like hitchhike if you want to DIY.
For those interested in a more comfortable Khao Yai experience, you can always just sign up for various tours of the park that include trekking. Here are a few of the best.
Wildlife Spotting
As I mentioned before, Khao Yai National Park is home to an abundance of wildlife. Check out the full list of species you can spot in the park, it's pretty astounding.
Residents of the park include elephants, gibbons, barking deer, hornbills, Asian-fairy bluebirds (yes those are a real species of bird), reticulated pythons, and crested lizards, to name just a few. Bust your camera out, dust off your crappy David Attenborough impression, and make your own "Planet Earth" documentary when you visit this incredible place.
The best way to maximize your wildlife spotting in Khao Yai National Park is by trekking at dawn or dusk. Nobody wants to be out and about in that intense mid-day heat here – not even the animals!
While you very well might run into a ton of wildlife on your own, your best bet is definitely going with a knowledgeable guide. They know where and when to look for the animals and can teach you a lot about the park and its various inhabitants along the way.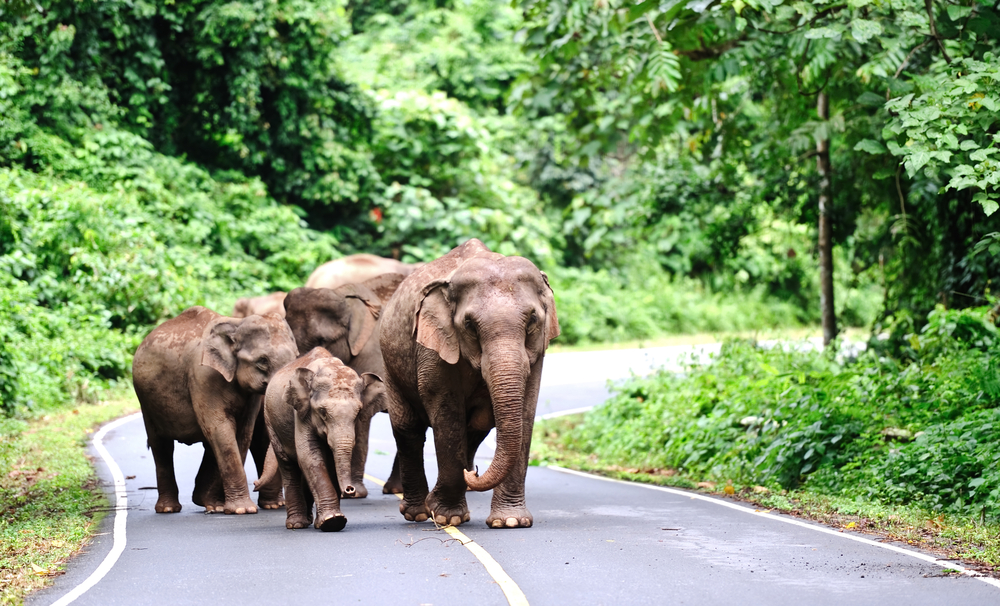 Night Safari
One of the most fun things to do in Khao Yai National Park is taking a night safari. These are run by several companies and are included in most of the overnight tours of the park.
Basically, what you do on the night safari is pile into an open-sided truck with a group of fellow travellers. You then drive along the quiet roads of the park in search of wildlife.
Your guide for the tour is also the spotlight operator, and they'll do their best to point out whatever wildlife they spot as you move along. Just don't get your hopes up about seeing elephants on this tour, as that probably won't happen.
While it's possible to arrange a night safari on your own for a cost of 500 Baht ($15.85) per group, you're much better off just joining a tour for this one. Even if you have your own vehicle, it can be tricky getting to the starting point at night unless you know the roads well. Better to just pay a little extra and let someone else handle all the logistics for you.
Waterfalls
If you enjoy admiring a good waterfall from time to time, you've come to the right place. Khao Yai National Park is home to an impressive 44 different waterfalls, including one that you've probably seen in a movie.
The Haew Suwat waterfall is definitely the most popular among visitors, as it was made famous in the backpacker cult classic film The Beach, starring Leonardo DiCaprio. Unfortunately, you can't jump into this 20m-high waterfall to try and recreate the scene. Actually, that's probably a good thing.
Haew Suwat is easily accessible by car or motorbike, as it's just a short walk from the parking area. Alternatively, you can take the aforementioned 8km hike through the jungle with a park ranger to reach the falls. It will certainly feel like much more of an accomplishment if you do it that way!
Another great choice is Haew Narok, the park's largest waterfall. It's actually a 3-tiered waterfall with a total height of around 150 meters. There's a trail you can follow here to a viewpoint above the falls, which you won't want to miss.
If you're dead set on seeing elephants in the park, hopefully you spot them here as they're known to hang out around here. You can reach Haew Narok via a 600m-trail that's just off the main road (3077). Just make sure you fill up your tank if riding a scooter here so you don't end up on empty in the middle of nowhere.
How to Get to Khao Yai National Park
Now that we've gone over some of the best things to do in the park, it's time to figure out all the logistics. Fun stuff first, important stuff later! One super important thing you'll need to know is exactly how to get to Khao Yai National Park.
The park is located in the northeast region of Thailand that is collectively known as Isaan. It's actually spread across two different provinces. The southern entrance is located in Prachin Buri, while the northern lies in Nakhon Ratchasima.
Although the southern entrance is technically closer to Bangkok, it's of little use for travellers coming from the capital city. That's because the visitor's centre and campsites are still about 14km from the entrance and there is no public transportation running this route.
As such, your best bet is to head instead to the northern entrance. From Bangkok to Khao Yai National Park, you can easily catch a train or a bus that's headed to Korat. The closest town to the entrance is Pak Chong, so that's where you'll buy a ticket to.
Train Travel
A lot guides to Khao Yai will tell you to avoid the train due to delays. I'm going to advise you otherwise and recommend the train over the bus if you're travelling there independently. For one, train travel is just so much more enjoyable than bus travel. Also, this is Thailand – everything gets delayed.
Trains bound for Pak Chong depart from Bangkok's Hualamphong Station. Here's a look at the timetable and different types of trains available to you.
| | | | |
| --- | --- | --- | --- |
| Bangkok | Pak Chong | Train No. | Service |
| 05:45 | 08:52 | 21 | Special Express |
| 06:40 | 10:52 | 135 | Rapid |
| 10:05 | 13:25 | 71 | Express |
| 11:40 | 15:22 | 233 | Ordinary |
| 15:20 | 19:44 | 145 | Rapid |
| 18:35 | 22:07 | 77 | Express |
| 18:55 | 22:46 | 139 | Rapid |
| 20:30 | 00:07 | 23 | Special Express |
| 21:30 | 01:02 | 67 | Express |
| 22:45 | 02:54 | 141 | Rapid |
One reputable tour company recommends skipping the rapid or ordinary trains, as they are notorious for long delays. Your best bet is hopping on that first train at 5:45 in the morning. It's an early wake up call, but it's the train least likely to be delayed and you'll arrive in Pak Chong nice and early.
I should note that the trains from Bangkok to Pak Chong also make a stop in the ancient city of Ayutthaya. Combine a trip to Khao Yai with a stop here for an incredible Thailand experience.
Bus or Mini-Van Travel
Another option for getting to Khao Yai is catching a bus or mini-van. These leave more frequently than trains, so there's definitely less chance of a delay in departure. That being said, you never know what the traffic is going to be like getting out of Bangkok.
For buses, head to Bangkok's Mo Chit terminal. Buses leave here very frequently starting as early as 4AM and should take about 3-3.5 hours if all goes well. Research shows current ticket prices somewhere between 150-180 Baht ($4.75-$5.70) for these trips.
An even quicker trip to Khao Yai can be done by jumping in a mini-van. They leave from the Victory Monument in Bangkok once full and only take about 2.5 hours. These cost a bit more, at around 250 Baht ($8) per person.
Car or Motorcycle Travel
Finally, you can get to Khao Yai National Park with a rented car or motorcycle. And by motorcycle I mean an actual, full-sized motorcycle. Please don't try jumping on a 150cc scooter and riding through the chaos of Bangkok onto the highway. That's a terrible, dangerous, and most definitely illegal idea.
A safer (and better) way to travel to the park from Bangkok is to use public transportation to reach Pak Chong, and then rent a bike there to explore the park. Expect to pay around 300 Baht ($9.50) per day for an automatic bike with one helmet.
One place that comes recommended for motorbike rentals in Pak Chong is the Honda shop, which is located at 734/1-4 Mittraphap Rd, Pak Chong. Just make sure you have travel insurance before you go jumping on a motorbike in Thailand.
If you've got the necessary documents and insurance – not to mention the bravery to drive in Thailand – you can try renting a car to reach Khao Yai. It might not be fun navigating the traffic of Bangkok, but it'll be worth it when you have your own transportation in the park.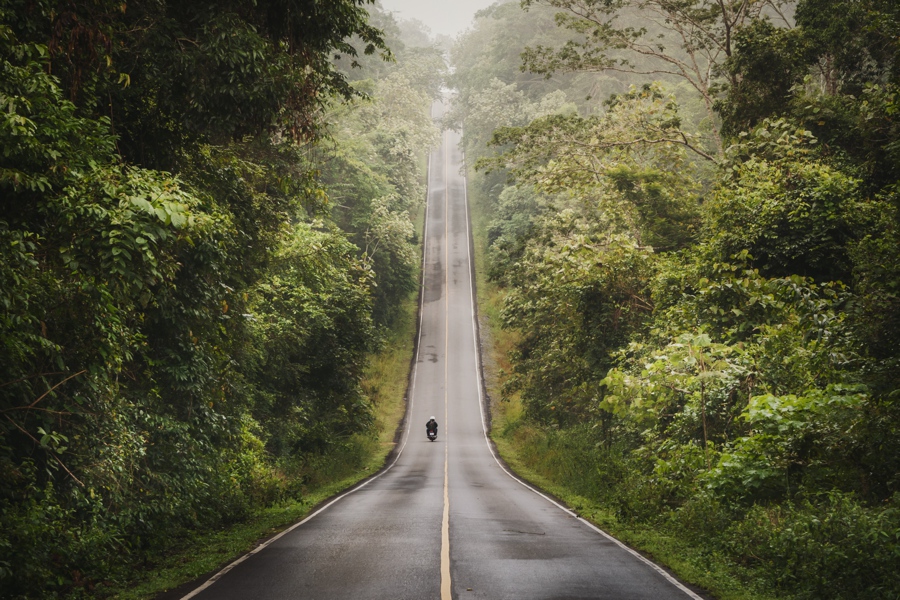 Pak Chong to Khao Yai
So you managed to get yourself to Pak Chong. That's great, but you've still got a lot of work to do. It's another 27km to the park's northern gate, and from there another 14km to the visitor's centre and the many trails that begin there.
From town, your best bet is to hop in a songthaew (public truck) to reach the northern gate. These should cost about 40-50 Baht ($1.25-$1.60) per person. From the gates, you'll have to stick your finger out and hitch a ride to the visitor's centre.
Thankfully, hitchhiking around here is quite easy, especially on weekends when the park is full of domestic tourists escaping the city. Alternatively, you can rent a motorbike in Pak Chong and get yourself there or just take a taxi all the way.
Getting Around Khao Yai National Park
Once you've made it to the park, you'll need to figure out how to get around this massive place. Of course, the cheapest way is to rely on your own two feet and your thumb. A combination of hitchhiking and walking is free, but definitely the most time-consuming way to get around Khao Yai.
There are bicycles for rent around the visitor's centre if you'd rather peddle around Khao Yai. They go for about 50-60 Baht ($1.60-$1.90) a day, so this is still a pretty cost-effective way of exploring the park.
If you've got a car or a motorbike, there are plenty of parking lots around the park from where you can easily access some of the best trails. Having your own vehicle is definitely the most convenient way of visiting the park, but it's also the least environmentally friendly.
Khao Yai already struggles with the amount of traffic it gets, so I recommend not adding to it and taking a greener approach to your visit. Leave the traffic jams and exhaust fumes to the big cities.
SEE ALSO: Koh Lipe – a beautiful island in Southern Thailand
Where to Stay at Khao Yai National Park
The first thing you'll need to decide when choosing where to stay is whether you want to be in or outside of the park. Both have their advantages and disadvantages, so let's go over those real quick.
Staying Outside the Park
For staying outside of the park, you've got far more options. There's a wide variety of accommodation along the main road between Pak Chong and the park's northern entrance.
If you book a place outside of the park, it should be easy enough to come and go via the songthaew that regularly ply the route. Most places here also run their own tours of the park, which will obviously include transportation.
A major downside of staying outside of the park is that you'll have to pay the entry fees each day you visit. You also won't be able to access the trails very early in the morning or around sunset, which are peak times for wildlife spotting. Click here for accommodation options.
Staying in the Park: Camping
This requires a bit more effort, but the juice is worth the squeeze if you decide to stay inside the park. You have a few options, from pitching your own tent to renting out a bungalow for a large group.
There are two campsites within the park – Lam Takong and Pha Kluai Mai. The former has slightly better facilities as well as a nice riverside location. You can also find a coffee shop and bicycle rentals there. Just be warned that it tends to fill up with Thai students on the weekend, who come here to let loose and party.
Pha Kluai Mai has a more chilled out atmosphere and gives you better access to hiking trails. Both campgrounds have cold-water showers, bathrooms, convenience stores, and restaurants.
If you have your own tent, you'll only have to pay 30 Baht ($0.95) per night to stay here. You can also rent 2-person tents for 150 or a larger tent that sleeps 3-4 for 225. They also have a variety of camping accessories available for rent (pillows, tarps, sleeping pads) for 20-50 Baht each.
Staying in the Park: Bungalows
Those seeking some more creature comforts for their stay in Khao Yai National Park will want to check out the bungalows here. Hooray for beds, hot showers, and a roof!
There are bungalows located in four different zones in Khao Yai. It's important to note that Zones 3 and 4 are several kilometers away from the visitor's centre and don't have restaurants. As such, you shouldn't stay in either one if you won't have your own vehicle.
Zone 1 is closest to the visitor's centre, while Zone 2 is just a few kilometers away. The bungalows come in a variety of sizes and can sleep anywhere from 2-30 people. Prices range from 800-9,000 Baht per night depending on the size.
Sounds great, right? Unfortunately, there's some bad news. The bungalows tend to book up in advance, especially on weekends or holidays. There's a website you can use to book bungalows up to 60 days in advance, but it's only in Thai. Adding to the difficulty is the fact that you can only pay by bank transfer, which will be impossible for most travellers.
If you're keen to stay in the bungalows, your best bet is to definitely just let a tour company take care of the logistics for you. It's far more trouble than it's worth trying to figure it out on your own, and all the stress it will cause will surely start your Khao Yai trip off on the wrong foot.
SEE ALSO: Koh Samui – a guide to being a digital nomad on a Thai island
Practical Information for Khao Yai
Both gates to Khao Yai are open daily from 6AM-6PM. Tickets cost 400 Baht ($12.70) for foreigners and 40 for Thais. Double-pricing is huge here, so get used to it. In addition, you'll have to pay 50 Baht for a car or 20 for a motorbike to enter the park.
Your ticket to the park is good for the day that you bought it only. If you're staying outside of the park, you can come and go as you please on that day, but you'll need to buy another ticket if you return the next day. That's a big advantage of staying in the park, as you'll only pay the entrance fee once.
The visitor's centre is a great source of information. They have staff who speak English and offer free maps, info on the trails and accommodation, a small museum, bike rentals, a gift shop, and more. It stays open from 8AM-9PM.
There's a tourist police station and a first-aid station located inside the park, but you'll have to travel to town to find a full police station and a hospital.
For food and drink, you have a few options inside the park. Locals pay a fee to the park to set up stalls across from the visitor's centre. They're cooking up a variety of Thai street food classics and also sell fresh fruit, drinks, and sweets.
There are official national park restaurants near both campgrounds as well as the car parks of the two major waterfalls. They're open from 8AM to 4PM, so get in there early for dinner to avoid disappointment. Booze is not allowed in the national park and thus is not sold.
There are no ATMs located inside the park, so be sure to get cash along the main road or in town before entering. Don't expect to get great phone service or WiFi out here, either. Better to disconnect and enjoy your time in nature.
Pack Your Bags For Khao Yai
While the islands and cities are great and all, no visit to Thailand would be complete without visiting at least one of the country's amazing national parks. Due to its proximity to Bangkok and well-developed facilities for tourists, Khao Yai National Park makes an easy choice.
After a few nights of trekking, spotting wildlife, and sleeping under the stars, chances are you'll rank your trip to Khao Yai among the highlights of your time backpacking Thailand.
Photos in this article courtesy of Shutterstock.
Like This Article? Pin it!