With a history that is both horrifying and glorious in equal measure, Cambodia is a country that will live long in the memory of anyone that visits this Southeast Asian gem.
Thanks mainly to its friendly, generous and genuine people, you'll find a country that is accepting the decades of brutality, bloodshed and poverty whilst beginning to finally focus on a bright future.
We spent just under one month traveling around this fantastic country from the south coast, up to the famous temples of Angkor in the west. It should certainly be high on the list of anyone visiting the amazing region of Southeast Asia so to help you plan here's our mini guide to travelling Cambodia.
Currency and Costs
The official currency of Cambodia is the Cambodian Riel (KHR), although US Dollars are accepted pretty much everywhere. Most places in tourist spots will list prices in USD. Change of less than $1 USD is usually given in multiples of Riel (500, 1000, 2000 notes) so coins are not often used.
A rough exchange rate to use is $1 USD = 4,000 KHR
ATMs can be rare outside of the main cities so make sure you stock up on cash before you head anywhere more remote. Ask locals about the fees as some machines charge up to $5 per transaction.
A rough daily budget for a backpacker travelling in Cambodia would be between $15 and $20. This would see you travelling comfortably, eating mostly street food, sleeping mainly in dorms with enough change to visit the Angkor temples.
In the mid-range, we would suggest $50 to $60 daily for a couple. That would see you sleeping in double rooms with airconditioning, mixing street food with occasional restaurant visits, taking decent transport and admission to all the main attractions.
At the high end, it's possible to easily exceed $100 to $200 per day. There are a few resorts and posh hotels as well as some fine dining and private tour options for you to splash your cash around.
Transport around Cambodia
By air, Phnom Penh, Siem Reap, and Sihanoukville airports operate domestic flights. The distances in Cambodia are not huge but flying from the coastal area over to Siem Reap would save you a fair few hours of bus travel and transfers.
Via boat a special speedboat service runs from Siem Reap to Phnom Penh in each direction daily. It's not much quicker than the bus because of transfers at either end plus it can get cancelled often during the dry season. The cost is $35 per person.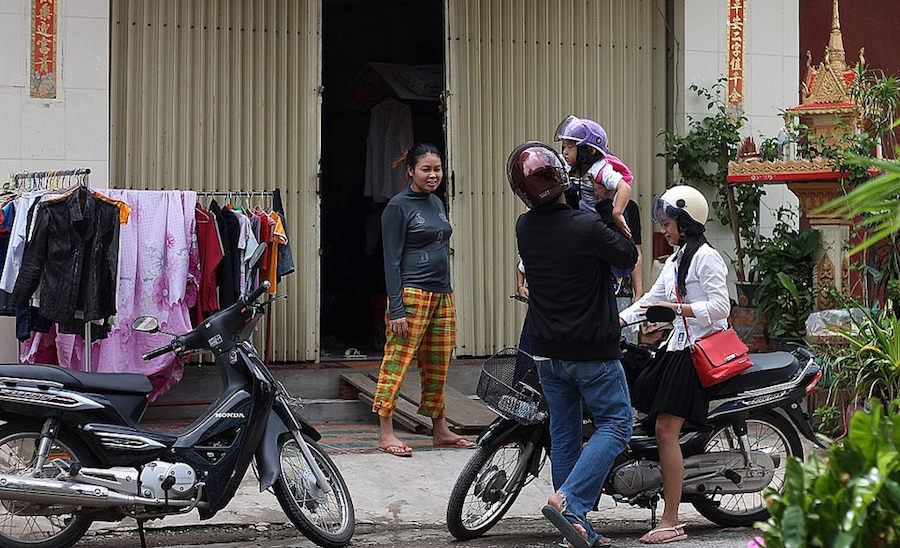 By train with a very limited Friday, Saturday and Sunday service running from Phnom Penh to Sihanoukville and back. The journey one way takes around 7 hours and is much more scenic and relaxing than the road route but not quicker.
Bus is still the main way to travel in Cambodia with Phnom Penh acting as the central hub. Asia Win Alliance, Mekong Express and Giant Ibis are the main bus operators recommended for visitors wanting a smoother ride!
Must See Places in Cambodia
Phnom Penh is the modest but friendly capital of Cambodia. It has a charm and chilled vibe which will draw you in and there's more than enough to keep you occupied here for a few days.
Highlights include the National Museum, full of fascinating Angkor artifacts, the stunning Royal Palace, which is home to the King of Cambodia, and the Wat Phnom temple from which the city gets its name.
The Killing Fields and the Tuol Sleng Museum of Genocidal Crimes are both must-visit sites too but are a harder day out. Both retell in great detail the horrors which unfolded under the Khmer Rouge Regime of the 1970's.
Food-wise in Phnom Penh a tasty dinner of 'Lok lak', the local specialty of meat and rice, plus a beer each totaled $5 for the two of us.
There are lots of street food stalls to choose from in the city. Otherwise try a traditional Khmer Barbecue where a 2 course meal with drinks, costs around $15. They are easy to find, just follow the delicious smell!
Kratie, pronounced kra-cheh, sits on the banks of the mighty Mekong River in eastern Cambodia and provides a nice relaxing stop off when heading from Phnom Penh towards the Laos border. It's famed for the rare Irrawaddy dolphins which can be spotted splashing around in the Mekong River north of the town.
Kampot on the southern coast has a very sleepy feeling to it, perfect if you're looking for a bit of downtime. The main attraction close by includes the various pepper farms where the famous Kampot Pepper is produced. The Bokor Hill Station Mountain also provides a stunning view across the valley from on high. Rent a motorbike or bike to head up there.
Just a few kilometers further east along the coast is peaceful town of Kep which is the place to head if you're looking for a relaxing few days in a hammock.
Sihanoukville and Koh Rong provide some stunning beaches which are often less crowded than similar ones in neighbouring Thailand. Be sure to catch the ferry to Koh Rong or the other offshore islands to discover your slice of remote paradise.
Battambang, pronounced Battambong, is relatively laid back compared to Phnom Penh and is easy to navigate around on foot. Be sure to visit the Sala Khaet (Lord Governor's Palace), Battambang Museum and the mighty statue of Ta Dumbong.
Take a tour of the surrounding countryside via your own motorbike or a Tuk tuk (remorque) with private driver/guide. You'll see the local fishing villages, fruit bats, Banan Temple, Phnom Sampeau Mountain (Killing Cave) and 'Bat Cave' where millions of bats fly out at sunset. Plus don't miss the unique 'Bamboo Train', around 4km from central Battambang.
Siem Reap and the Angkor Temples are a must visit for anyone coming to Cambodia. From budget hostels to luxury spa resorts, Siem Reap has something for every traveller's budget.
While you're there check out the Khmer Kitchen in the Alley West for fantastic and cheap local food. Filling mains are around $4 and starters $2.50 with Angkor Beer at $1 per glass.
Allow yourself 3 days to fully explore the temples of Angkor. A ticket will cost you $40 and you'll be best to hire a Tuk tuk and driver to make the most of your time there and beat the heat.
To keep the costs down when visiting the Angkor temples have a good breakfast at your hotel. Stock up on snacks and water before you head out for the day and save the main meal for when you come back into town where the prices are lower.
Weather in Cambodia
Cambodia has just two main seasons, wet and dry. The dry season runs from October to April with temperatures peaking in the high 30's °C (90's °F) in April. While the wet season runs from May to October and peaks from July to September when it rains almost every day. But not for long so you can still easily keep exploring!
Visas for Cambodia
Most nationalities require a visa to enter Cambodia which are available on arrival at both land borders and airports and cost $30 for a 30 day tourist visa. Your 30 day single entry visa can be extended once for an additional 30 days at a cost of $45 via an agent in Phnom Penh.
eVisas are also available online in advance for $37, great if you are flying into Cambodia or crossing at certain land borders where rip offs and scams are common.
Like This Article? Pin it!