If you're looking for a place that has big city amenities, stunning Buddhist temples, and a chilled-out island vibe, then look no further than Koh Samui.
Thailand's 2nd largest island (#1 is Phuket) has a lot to offer travelers. Whether you're into nature, culture, adventure, partying, or just some good old-fashioned R&R, you'll find things to do in Koh Samui to suit your vibe.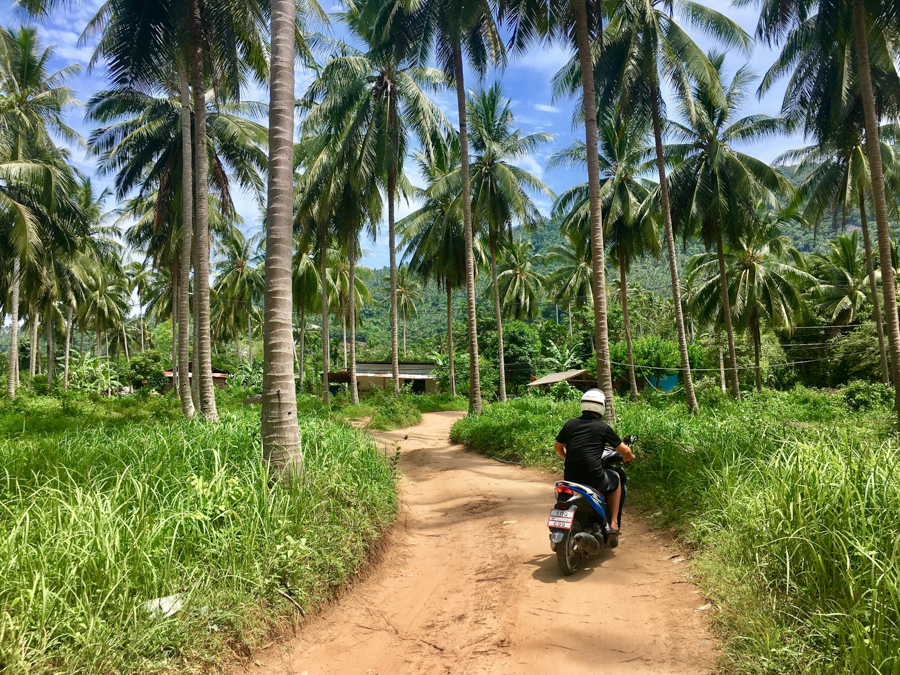 Days can be spent lounging on the beach, doing a variety of water sports, hiking to viewpoints, or visiting a very Big Buddha. Evenings in Koh Samui are all about sunsets, tropical cocktails, fresh seafood, and yes, a bit of wild nightlife.
This is also a great island for digital nomads and we spent a month chillin' out here. Read on for a closer look at my list of the top things to do in Koh Samui — one of the best places to visit in Thailand.
1. Beach Bumming
While there are plenty of fun and exciting things to do in Koh Samui, let's face it — you probably came here for a relaxing beach vacation. Thankfully you've got several choices for sun and sand when visiting this popular Thai island.
Located near the airport on the northeast side of the island, Chaweng is the main beach in Koh Samui.
While it's definitely the most developed and most crowded of the beaches here, it's still stunningly beautiful. Go ahead and rent a lounger and umbrella, order a fruity cocktail, and enjoy yourself!
The second largest beach in Koh Samui is Lamai. It's not as busy as Chaweng, but you've still got lots of options for places to chill, eat, and drink. Lamai is a great place to go for a swim, as the sea is clear and calm here.
While these are the most well-known and largest beaches, there are many others to choose from in Koh Samui.
Other gorgeous beaches you should spend some time on include Lipa Noi, Bang Por, and Big Buddha beach. Speaking of a Big Buddha, that brings us to the next item on our list.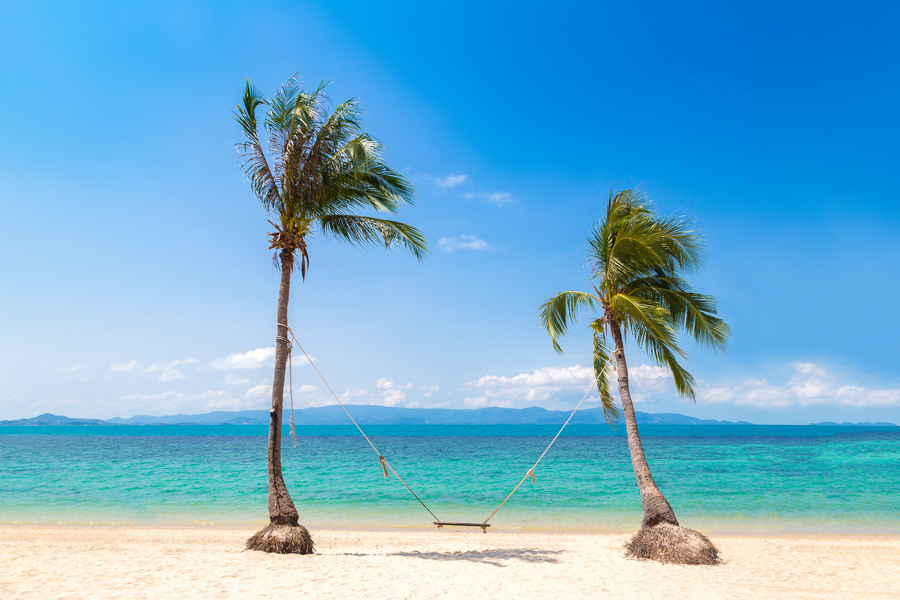 2. Visit the Big Buddha
One of the most famous Koh Samui attractions is the Big Buddha. It's located at the Wat Phra Yai temple, which is actually on a much smaller island just off the northeast coast of Samui.
Thanks to its location near the airport, it's one of the first things many people see when traveling to Koh Samui by plane.
The highlight of Wat Phra Yai is the 12-meter seated golden Buddha. This particular posture depicts a time in Buddha's quest for enlightenment when he had to avoid all the temptations that were being forced upon him.
With the development of tourism and the thriving party scene that followed it here, it's interesting to see Buddha remaining steadfast and pure in this peaceful pose while backpackers guzzle down buckets of booze around him.
While the temple is open all day, you should try to get there in the morning to see it at its busiest. With monks chanting and locals making offerings, it's a fascinating cultural experience. You can find the Koh Samui Big Buddha on the map here.
Note: When visiting this and any other Buddhist temple in Thailand, it's important to follow the proper etiquette. It's hot and humid on the Thai islands, but you need to cover up when visiting religious sites like this. Don't be that farang who shows up here wearing a Full Moon Party tank-top and booty shorts.
3. Watersports Galore
Since it is a tropical island, it should come as no surprise that watersports are among the most popular things to do in Koh Samui. Here you can take part in scuba diving, snorkeling, jet-skiing, kayaking, sailing, kiteboarding, and more.
On this half-day trip, you'll explore the coastline by jet-ski, including stops at the Big Buddha (see above), and Fisherman's Village, followed by a sunset dinner on the beach. Check out that trip here.
While nearby Koh Tao may be the diving Mecca of Thailand, Koh Samui is also an excellent place to explore under the sea.
The water is warm and clear here, with visibility between 3 and 30 meters. These conditions allow you to learn right off the shore rather than in a swimming pool, making Koh Samui a great place to finally get scuba-certified.
Even if you're not into the idea of scuba diving, you can still enjoy spotting the abundant marine life by snorkeling. It's easy to find gear for rent on the beach, or you can sign up for a boat tour to visit a few different spots. Many tours take a mix of divers and snorkelers, which is great if you're in a split group.
That's not all there is to do in the water here, though. You can also rent kayaks or SUPs for a nice leisurely paddle, or jet-skis if you need a bit more speed. Sailing tours are also quite popular here, especially to see the sunset.
4. Practice Yoga
If you feel the need to do some sun salutations or bust out your best downward-facing dog on your vacation, you'll be happy to hear that yoga is quite popular here on Koh Samui.
I'm usually more of a "Namaste in bed" kind of guy, but even I'll get up for some sunrise yoga on a Thai island!
If you're wondering what to do in Koh Samui on a rainy day, or if you just feel like practicing, many resorts on the island offer yoga classes and there are also plenty of dedicated yoga studios here.
Your options here range from casual drop-in classes to intense yoga retreats. Whether you're a total newbie or an expert, there's a yoga class for you in Koh Samui.
One of the most popular spots to do yoga in Koh Samui is Shahda — a boutique resort. Click here for prices and details and to book your spot.
☞ See Also: Things To Do in Pai: 21 Things You Don't Want to Miss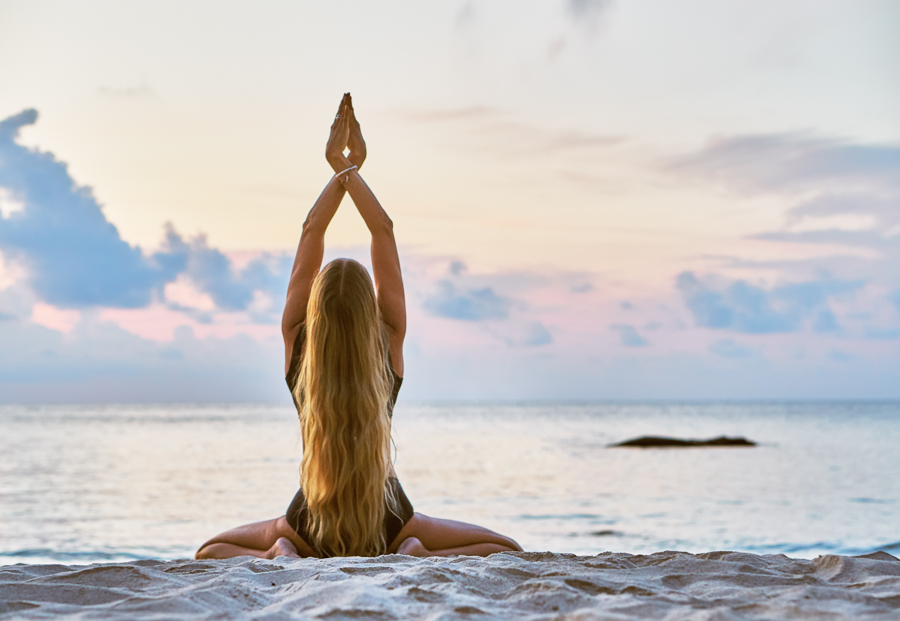 5. Day Trip to Ang Thong Marine Park
One of the most fun things to do in Koh Samui is to join a day trip out to the stunning Ang Thong Marine Park. This archipelago consists of 42 pristine islands with towering limestone mountains and postcard-worthy beaches.
Most tours to Ang Thong include a visit to the Emerald Lagoon, chilling out on the beach, and a bit of snorkeling/kayaking. You'll likely spot some wildlife on land and in the sea on this trip, including dusky langurs and hawksbill turtles.
Ang Thong is just a short boat ride away from Koh Samui, and just about every tour operator on the island can get you set up on a trip there. These fun trips include lunch, hotel transfer, food, snorkelling equipment and more. Check out this highly-rated day tour for details, or this amazing sunset cruise!
If a day trip just isn't enough for you, there's basic accommodation available at Koh Wua Ta Lap where the park headquarters are located.
You can choose between simple bungalows or just rent a tent to camp on the beach. There's also a basic restaurant here where you can have your meals. For all the info on staying at Ang Thong, check out the park's website.
6. Take a Hike
If you can pull yourself out of your beach lounger, there are some great opportunities for hiking in Koh Samui. While the coastline has been developed for tourism, much of the island remains untouched jungle.
There are countless options for hikes on Koh Samui, from relatively easy and short trails leading to rushing waterfalls to steep and strenuous hikes up to some fantastic viewpoints. After a tough, sweaty hike, you'll have earned that ice-cold Chang beer and that tasty bowl of Pad Thai!
Check out the hike to Nathon Mountain Ridge Trail or the Maenam Viewpoint.
Since Koh Samui can be quite hot and humid, the best time to hike is either early in the morning or late in the afternoon. Whenever you go, be sure to bring plenty of water along with some sunscreen and bug spray.
If you'd rather go with a group than on your own, be sure to check out the many options offered by Hiking on Samui. These tours are run by a long-time Samui expat from the Netherlands who has tons of experience hiking.
☞ See Also: Things To Do in Chiang Mai – A List of 17 Highlights
A Little Short On Time?
If you want to see many of the "must-sees" in Koh Samui, but don't have a lot of time, or don't want to spend more than a half-day doing so, check out this popular, highly rated tour:
7. Take a Thai Cooking Class
I don't know about you, but I'm absolutely in love with Thai food. I'm not joking when I say I could eat Thai food every day and never get bored. It's just that good!
If you're as crazy about Thai cuisine as I am, why not learn how to make it yourself? Taking a Thai cooking class is certainly one of the tastiest things you can do in Koh Samui.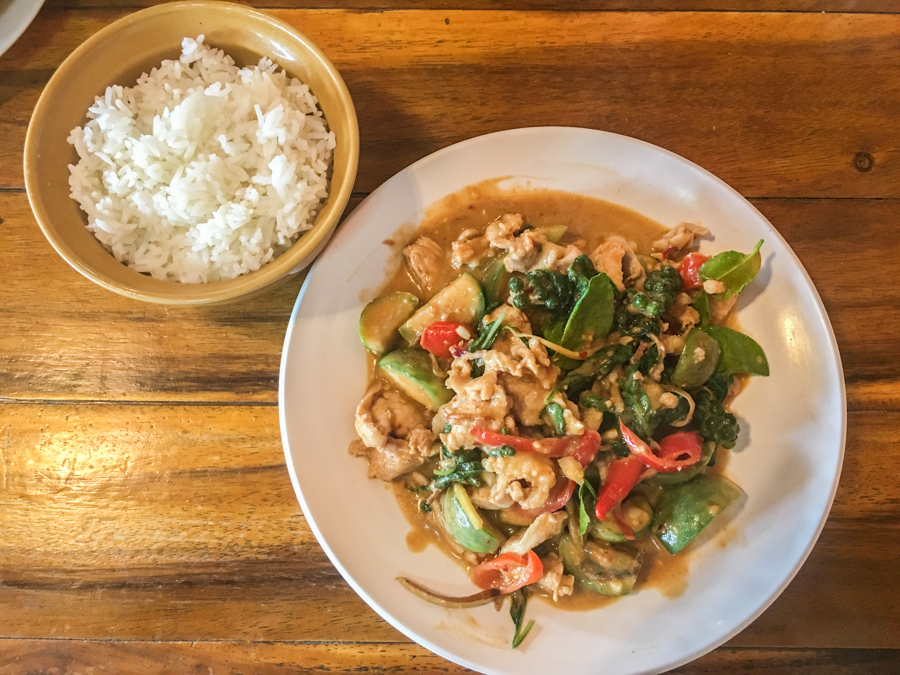 In most cooking classes, you'll first visit a local market to shop for fresh ingredients. Back in the kitchen, it's time to cook up Thai classics like papaya salad, green curry, or tom yam. Of course, the best part of the class is enjoying the fruits of your labor with a delicious meal at the end.
The best place to take a cooking class in Koh Samui is with Island Organics. During the highly-rated class, Chef Lat teaches you how to make four tasty Thai dishes, plus authentic curry pastes, and a dessert. What makes the class extra special is that many of the ingredients are grown in their onsite garden. Click here to learn more.
8. See Some Interesting Rocks
Perhaps one of the most interesting things to do in Koh Samui is looking at rocks. Sounds boring, doesn't it? Well, my friends, these are no ordinary rocks…
Hin Ta (Grandpa Rock) and Hin Yai (Grandma Rock) were naturally carved over the years to resemble male and female genitalia. As with many things in Southeast Asia, there is a fantastic legend behind the rocks.
As the story goes, an old couple was traveling by sea to visit their son for his wedding. Sadly, their boat flipped over in a nasty storm and the couple was unable to swim. They tragically drowned that day, but they transformed into these rocks to prove to their son and his new family that they had tried to make it for what would have been a joyous occasion, and perhaps as a bit of a practical joke.
Whether you believe the urban legend or not it's worth a visit to the rocks, if only to snap some silly photos and giggle. The view from the rocks is amazing as well. You can get directions to the naughty-bits-shaped rocks on the map here. Or, take this day trip of Koh Samui, which takes in the rocks as well.
☞ See Also: Things To Do in Chiang Rai – 21 Top Things You Don't Want to Miss
9. Get a Massage
Walking down the streets of Koh Samui – or any Thai island, for that matter – you're sure to hear calls of "Hello! Maasssaaagggee?" It seems as if everyone on this island wants to give you a massage. I say take them up on it. You're on vacation after all!
When it comes to getting a massage here, you have plenty of options. There are wandering masseuses on the beach who will happily give you a massage from the comfort of your sun lounger. Don't expect a life-changing massage from them, but for just a few bucks why not?
If you need something a little nicer, spas are a dime a dozen in Koh Samui. These range from very simple to incredibly fancy. It all depends on your budget and what you're looking for. For a detailed look at some of Koh Samui's best spas, head here.
10. Swim in Waterfalls
While swimming in the sea is always fun, that's not the only way to cool off on a hot day in Koh Samui. The island is home to several waterfalls where you can take a refreshing dip in beautiful surroundings.
The most popular waterfalls to visit are the Na Muang falls — two cascading waterfalls set in the lush jungle of central Koh Samui. Na Muang 1 is easily accessible by car and thus can be a bit crowded. If you're up for a little challenge, it's about a 20-30 minute hike uphill to reach Na Muang 2.
It's free to visit the waterfalls, but you'll need to pay a small fee to park your motorbike here. There are some small food stalls here as well as vendors selling drinks if you forgot to bring snacks or water. You can find Na Muang 1 on the map and get directions here.
11. Go On An ATV Tour
For the adrenaline junkies out there, an ATV tour is definitely one of the top things to do in Koh Samui. On a typical ATV tour, you'll ride through the jungle to check out some amazing viewpoints and waterfalls.
There are several different options for ATV tours in Koh Samui. Some are as short as one hour, while others last half a day. One tour operator that is highly recommended is X-Quad Samui.
Before you go riding an ATV into the jungle of a Thai island, make sure you have some decent international travel insurance. Not all policies cover extreme activities such as this, so check yours carefully!
☞ If you're into motorbike trips, check out this guide to riding the Mae Hong Son Loop!
12. Hit The Night Markets (one of the best things to do in Koh Samui!)
Night markets in Thailand are one of my favorite things in the world. It just never gets old sampling cheap and tasty Thai food while perusing the colorful handicrafts on offer.
If you're wondering what to do in Koh Samui in the evenings, there are several different night markets in Koh Samui that are worth checking out. Different towns host a night market on different days of the week. There's Mae Nam on Thursdays, Bophut on Fridays, and Lamai on Sundays.
The night markets usually get going around 5PM and stay open until 11. Be sure to add at least one of these awesome night markets to your list of things to do in Koh Samui.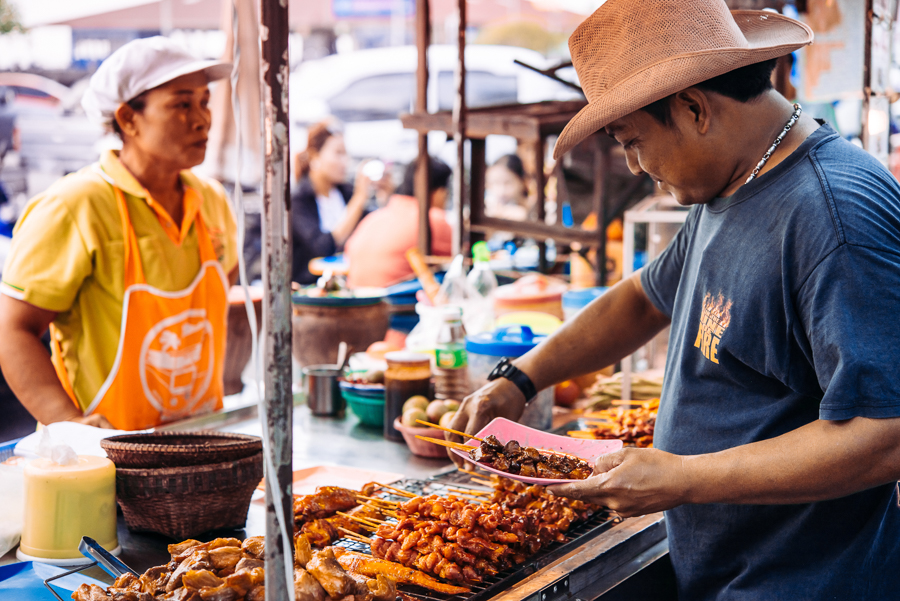 13. Explore Nathon Town
If you arrive in Koh Samui via the ferry from Surat Thani, your point of entry will be Nathon Town. This is the commercial and administrative center of the island and a place that many locals call home.
Most tourists skip over Koh Samui's main town entirely, but it's definitely worth it to spend some time visiting Nathon. On a short trip here, you can check out the colorful Chinese shophouses, eat some delicious local food at a bargain price, and stick around for a picture-perfect sunset.
Nathon Town is located on the northwest coast of Koh Samui. You can find it on the map and get directions here.
14. Check Out the Secret Buddha Garden
Tucked away in the center of the island is a Secret Buddha Garden surrounded by lush jungle. It's a beautiful and peaceful place to explore, and should definitely make it on your list of things to do in Koh Samui.
It was started by a fruit farmer named Nim Tongsuk back in 1976 when he began placing Buddhist statues around his family's property. He continued to add to his Secret Buddha Garden up until his death at the age of 91.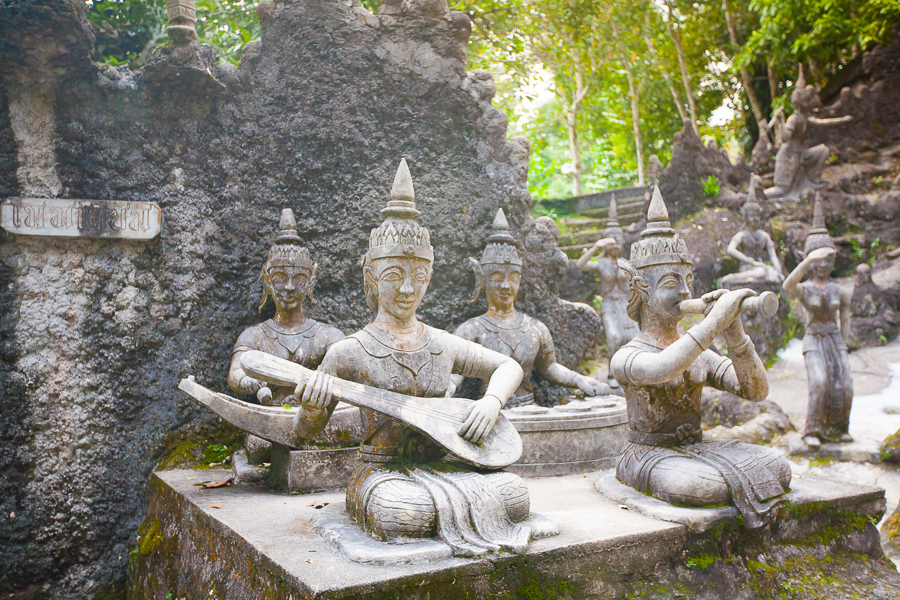 The Secret Buddha Garden is open every day from 9-5. It costs 80 baht (about $2.50) to visit. It's quite tough to reach on your own unless you have 4WD and are an experienced driver. If not, you should consider signing up for a day tour that includes a stop at the garden. You can find it on the map here.
☞ Looking for a stunning island with pristine beaches, but fewer tourists? Don't miss all of the incredible things to do in Koh Lipe.
15. Visit the Fishermen's Village
If you grow tired of the touristy scene in places like Chaweng and Lamai, take half a day to visit the fishing village of Bophut. It's a nice place to spend a few hours walking around, doing a bit of shopping, and grabbing a bite to eat. This fun jet-ski trip takes in Fishermen's Village, including sunset dinner on the beach.
Here you'll find original wooden homes built in the 19th century by Chinese immigrants. While many of the fishermen have moved on to other parts of the island, they still bring their daily catch to the restaurants here. You'll find some of the best seafood in Koh Samui in the restaurants of Fishermen's Village.
While it's fun to visit any day of the week, you may want to come on Friday to check out the night market here. The Fishermen's Village is located near Bophut Beach. You can get directions on the map here.
16. Go Golfing
If you enjoy a nice round of golf on your vacation, then you'll be happy to hear that Koh Samui has several courses to choose from. From mini-golf to a full 18-hole course with spectacular views, hitting the links is one of the best things to do in Koh Samui.
The Santiburi Samui Country Club is the only professional standard golf course on the island. This stunning course is set among a preserved coconut palm plantation high up in the hills.
Thanks to its location, you'll enjoy exceptional views throughout the entire round. It's not a cheap round (about $160 with golf cart and caddy), but it might be one of the most scenic rounds you ever play! You can find the course on the map here.
If you're like me and can't swing a golf club to save your life, you might want to just play a good old-fashioned round of mini-golf. There are mini-golf courses in both Chaweng and Lamai that are fun for the whole family.
☞ Prefer mountains to beaches? Then you'll want to check out stunning Khao Lak.
17. See a Mummified Monk
This might be the most unusual item on our list of things to do in Koh Samui. At the Wat Khunaram temple, you have the chance to see a mummified monk.
Luang Pho Daeng was a Buddhist monk who died while in a meditative seated position back in 1973. It was decided that his body would be preserved in this peaceful state, and it has been on display in a glass case ever since.
This may seem a bit shocking and morbid to most Westerners, but Thai Buddhists are much more accepting of death. The body of Luong Pordaeng serves as a visual reminder of Buddha's teachings to all who visit and is highly revered.
Wat Khunaram is about a 10-minute drive from Lamai Beach. It's open every day and is most active in the early morning or late afternoon. You can find it on the map here.
18. Try The Digital Nomad Life
Koh Samui is not only a popular tourist and honeymoon spot, but it's also an up-and-coming digital nomad destination. While the digital nomad community may not be as big here as it is in nearby Koh Phangan or Chiang Mai in the north, this is still a great place to work remotely.
High-speed internet is now readily available on the island, especially in the popular areas of Chaweng and Lamai. Also, there's finally a co-working space at Mantra (check it on the map here). It has fast WiFi, comfy sofas, video games, and even a pool table. Now that's a cool office!
Dariece and Nick (founders of Goats on the Road) spent an amazing month living and working from Koh Samui. Read all about it in their massive guide to being a digital nomad in Koh Samui.
☞ If you're curious about what digital nomad life is like on the other side of the world, read about our experience traveling as digital nomads in South America.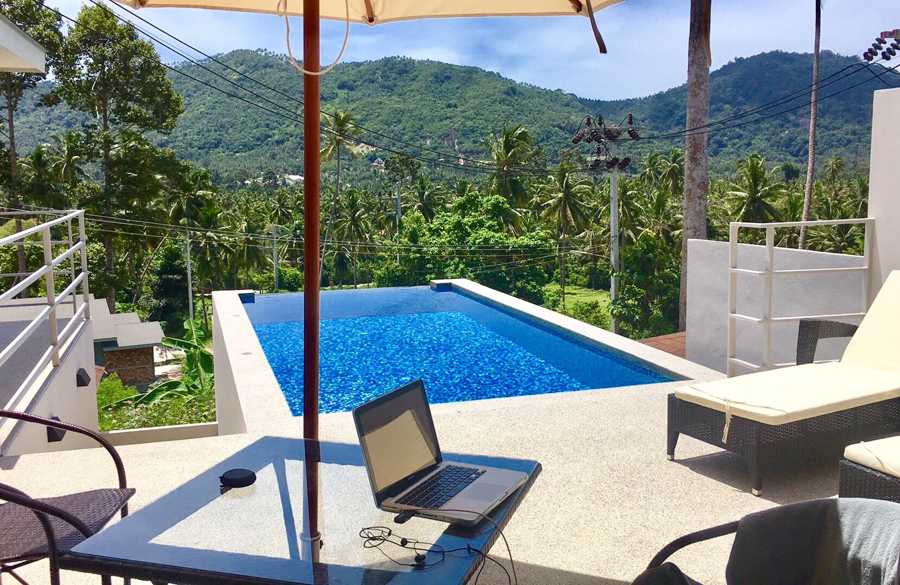 19. Take a Sunset Cruise
What could be better than enjoying the sunset from a tropical beach in Thailand? Enjoying it on a yacht, of course! Taking a sunset cruise definitely earns its spot on this list of things to do in Koh Samui.
Most tour operators on the island will be happy to set you up with a sunset cruise. One of the best options is with the Red Baron, a traditional wooden junk-style yacht.
Their sunset cruise includes a welcome cocktail, unlimited soft drinks/tea/coffee, and a buffet dinner. There's also a bar operating on deck if that one drink just isn't enough . Click here to learn more.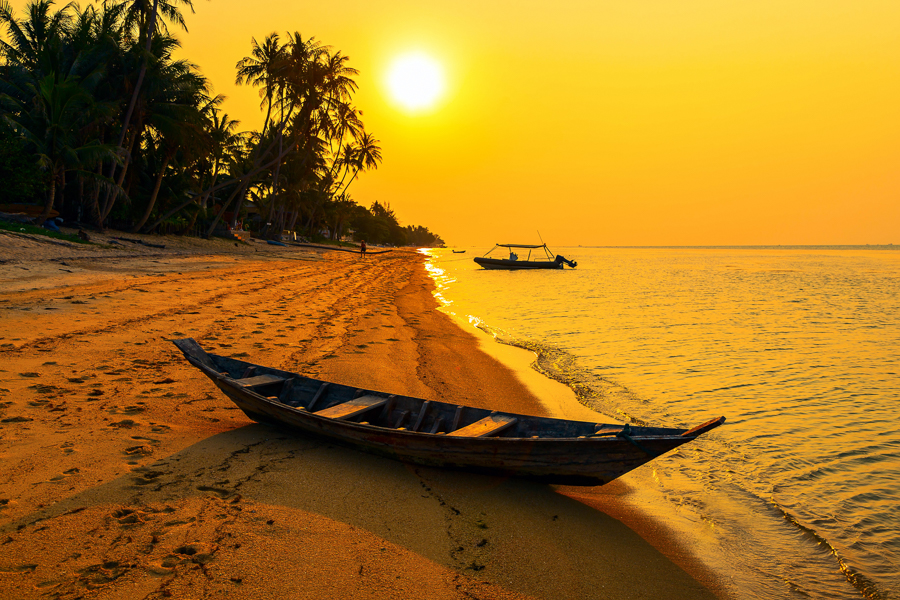 20. Try the Thai Experience Dinner
This just might be the coolest dinner party out there. The Thai Experience is taking dinner parties to a whole new level with their fun and interactive spin on things.
To be clear, this is not a cooking class. I've already included those on this list of things to do in Koh Samui up above. While you will learn all about the various dishes and even learn how to make a little something yourself, you'll be eating food prepared by their highly skilled chefs.
For their full experience, you get a cocktail class (and the finished product!), 15 different dishes, and unlimited booze. Now that's what I call a dinner party! They provide round-trip transportation, so go ahead and drink up. These tours last three hours and cost 2,490 baht ($78) per person.
This dinner party is one of the most unique things to do in Thailand. Don't miss it!
21. See a Cabaret Show
One of the quintessential things to do in Koh Samui is to see a ladyboy cabaret show. These shows feature singing, dancing, comedy, and some pretty elaborate costumes.
There are a few different options for ladyboy cabaret shows on the island. One that comes highly recommended is Paris Follies, which features a wide variety of dance styles as well as many awesome celebrity impersonators.
Shows go on every night at 8, 9:30, and 11. The earlier show is a bit more family-friendly, while things heat up a little bit for the later performance. It's free to attend, but they make their money off of the bar as drinks are definitely on the pricey side.
Now You Know What To Do in Koh Samui
As you can see, there's a lot happening here in Koh Samui. While this island will probably suck you in, you might want to consider tacking on a trip to the nearby islands of Koh Tao for diving and Koh Phangan for epic parties and adventures.
If you're planning on exploring more of the country (and you should be), be sure to check out this guide to backpacking Thailand. When you inevitably consider quitting your job, selling all your worldly possessions, and moving here, we've also got you covered with details on the cost of living in Thailand.
Some images in this article are courtesy of Shutterstock.com.
Like This Article? Pin it!