If you're planning a trip to Thailand, chances are you plan to hit an island or two. There are so many amazing options for an island getaway in Thailand — with Koh Kood being a top choice.
Those looking for a pristine island that hasn't been overrun by tourists may want to turn their attention to the northern part of the Gulf of Thailand. Here you'll find a cluster of picturesque islands, among them Koh Chang, Koh Mak, and Koh Kood. Located in Trat province near the border with Cambodia, these islands should be high on your list of places to visit in Thailand.
In this guide, we'll take a closer look at Koh Kood —the easternmost island in Thailand. Long a favourite of packaged tour groups and families, Koh Kood (or Koh Kut as you'll often see it spelled) has become increasingly popular among independent travellers. This mountainous island has a lot to offer those who put in the effort to get here!
Read on for tons of useful info and tips on how to get to this beautiful Thai island, what to do there, the best places to stay, and more. But first, let's learn a bit more about Koh Kood island…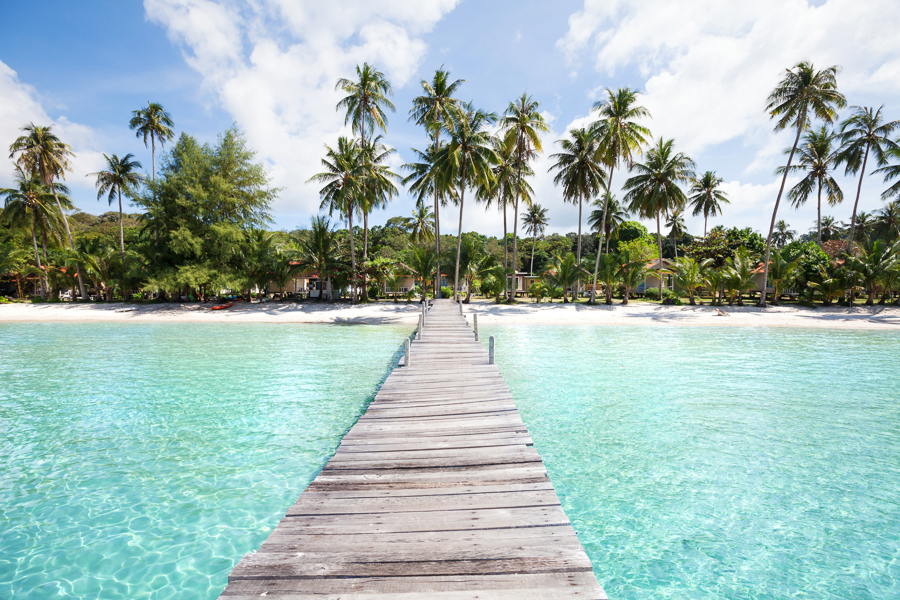 Jump To:
An Intro to Koh Kood
Koh Kood is the sixth largest island in Thailand, covering an area of about 105 square kilometers. While it's a large island in size, it's very sparsely populated. With a population of just over 2,000 in total, the district is actually the least populated in all of Thailand.
The original inhabitants of Koh Kut Island were both Thais and Khmers who fled here in 1904 when the French occupied the city of Padjantakiri. People here have historically made a living by tapping rubber trees, harvesting coconuts, and fishing in the island's sheltered bays.
The ferry pier on Ko Kood is located in Ao Salad on the northeast coast. There's a paved road here that heads south towards the beaches on the west coast, which is where most of the tourism development has taken place. The Khlong Chao area is the centre of the action, with a wide range of accommodation, dive shops, restaurants, and a few bars.
This man road continues south before cutting east, where it ends at the fishing village of Ao Yai. On this rugged, hilly island, many areas are accessible only by boat. There are several secluded resorts here, which is great if you want a peaceful island getaway but not so nice if you're looking to explore.
Tourism in Koh Kood
A few decades ago, the nearby island of Koh Chang developed into a very popular tourist destination. That development didn't exactly trickle over to Koh Kut, which only recently got paved roads and ATMs. You won't find any chain stores or Full Moon parties here, but you will find some of the most pristine beaches in all of Thailand.
While it's true that Koh Kood isn't nearly as developed as other Thai islands like Koh Samui, it's definitely not entirely off the beaten path. Russian tour groups, in particular, have been flocking here for quite some time. In high season, the island is packed to the brim, so you'll need to secure accommodation well in advance.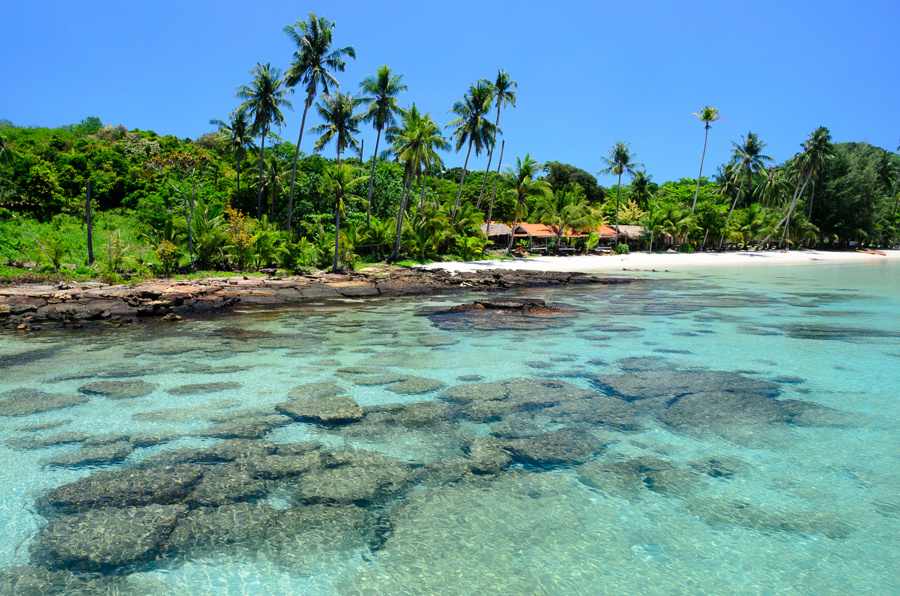 Many refer to the beaches of Koh Kood Island as being some of the best in Thailand. With clear blue water and soft white sand, they're often compared to the beaches you find in the Maldives.
In addition to its stunning beaches, Koh Kood has jungle-clad hills, waterfalls, and rivers surrounded by mangroves.
How To Get To Koh Kood Thailand
Before you can relax on the beaches of Koh Kood, you'll have to get yourself to the town of Laem Sok to catch a ferry. If you're travelling independently, you'll want to catch a bus to Trat. There are many travel offices here that can arrange your trip to the island.
There's an airport in Trat, but it's about 50 km away from the ferry pier and flights here are usually quite pricey. I just ran a search and turned up round-trip flights from Bangkok to Trat for about $200. When you consider all the time and effort it takes travelling to and from airports, it takes just as long as the bus, but costs way more.
Travelling To Koh Kood By Boat
A few different companies operate ferries to and from Koh Kood island. Here's a closer look at your various options for getting to and from the island:
Ko Kut Express:
This is a great choice for getting from the mainland to Koh Kood quickly. Their fast ferry doesn't stop at any islands in between, nor does it stop at the private piers of resorts. That means they often make the entire crossing in as little as 75 minutes.
The fast ferry leaves at 1PM and operates year-round. It costs 500 Baht from Laem Sok to Koh Kood, and your ticket includes free transfers from Trat to the pier, as well as from the pier on Koh Kood to your accommodation.
Ko Kut Express also runs a speedboat, but only in the high season (October-June). These depart at both 10AM and 3PM and cost slightly more at 600 Baht. As it's only 15 minutes faster but far more cramped than the fast ferry, it's not really worth the extra cost to be honest.
They also have a combination ticket that includes transportation to or from Bangkok. For the fast ferry, they depart Bangkok at 6AM and tickets cost 850 Baht. For the speedboat, they leave Bangkok at 7:45 and it costs 1,000. Click here for more details.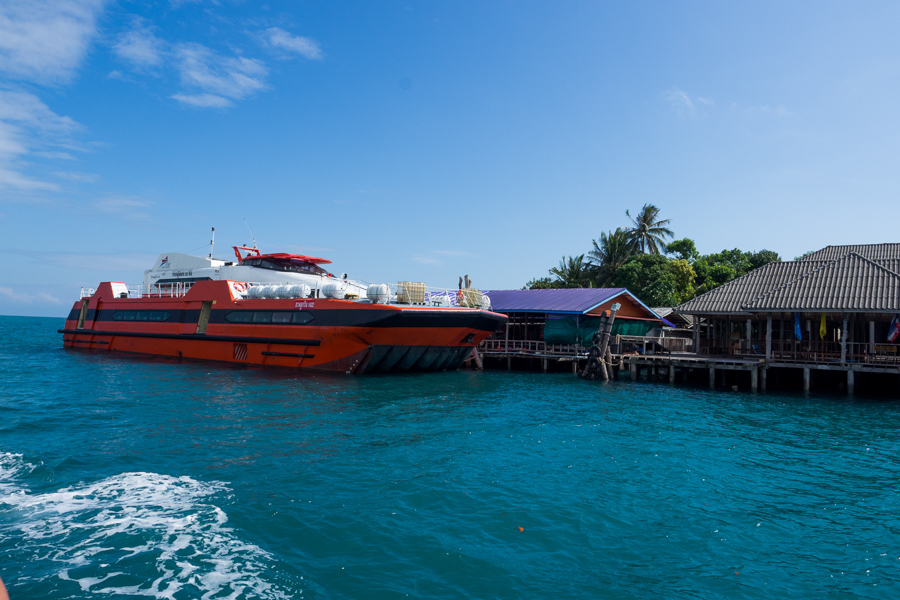 Koh Kood Princess:
The original speedboat company for service between the mainland and Koh Kood, this is also the cheapest option. A one-way ticket only costs 350 Baht with the Princess. They depart from Trang at 12:30 for the pier and transfer service is also included.
If you're hoping to bring a motorbike from the mainland to the island, you'll have to take the Koh Kood Princess. It's the only option that will let you bring a bike on board. I read that you'll have to pay a fee of 200 Baht to do this, so it might not be worth it if you're only going over for a few days. Click here to learn more about this transport option.
Boonsiri:
This is a very popular option with travellers, as they have combination tickets that include transfer to and from Khao San Road in Bangkok. These depart at 5AM and 7:30 for 900 Baht.
Booking the combo ticket is a far more convenient way of reaching Koh Kood island than figuring it out on your own. On the return trip to Bangkok, they even make a stop at a metro station that's just one stop away from Suvarnabhumi Airport. Just be careful if booking a flight on the same day, as the afternoon boats are known to be delayed by an hour or more.
Of course, you can also get yourself to Trat if you want. They'll pick you up in town at either 10:45AM or 2:20PM, with tickets costing 500 Baht. They also have tickets available from Pattaya, Koh Mak, Koh Chang, and Koh Samet. Be sure to check their timetable for all the details. Click here to learn more.
Things To Do in Koh Kood
Beach Bumming On a Koh Kood Beach
Many travellers claim Koh Kood has the best beaches of all the Thai islands. Since I haven't been to every island yet, I won't make such a comment. The beaches here are absolutely stunning, though. Beach bumming is definitely high atop the list of things to do in Koh Kood.
The entire west coast of the island is full of beaches, most of which are accessible by road. Beaches on the north and east coasts of the island can only be visited by boat.
Klong Chao Beach is the most popular in Koh Kood and is basically the island's tourist centre. Even though it can get quite busy here – especially in high season – it's nothing compared to the crowds you'll find in places like Phuket.
One of the most scenic beaches on the island is Bang Bao. There are several long wooden piers here that you can walk along to enjoy the views or jump in for a swim.
Another must-see beach here is Ao Noi, which is often compared to beaches found in the Maldives. It can be a bit tricky to actually reach the beach, but it's well worth the effort.
With a motorbike and a bit of patience, there are countless other beaches waiting for you. Even during high season, it's not hard to find a postcard-worthy beach that's completely empty here. No wonder so many people fall in love with Koh Kood island!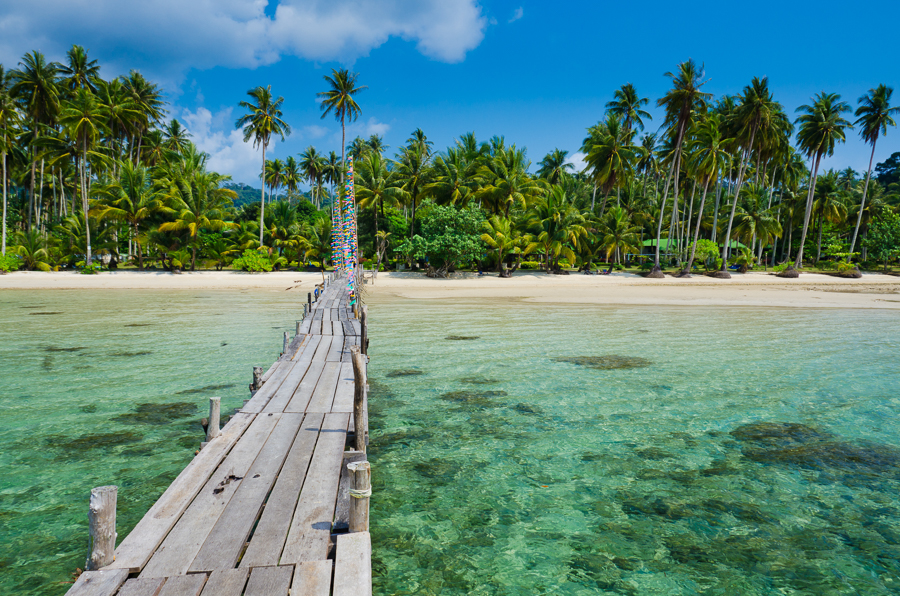 Scuba Diving
If you're like me and get bored with sitting on even the most beautiful of beaches, never fear. There's plenty more to do in Koh Kood than just lounging on the beach!
The island is a fantastic place to go scuba diving. Koh Kood is home to three different dive shops that offer a variety of courses in addition to free dives. Here's the info for each dive shop so you can look into them and choose the best for you:
Koh Kood Divers: 101 Moo 5, +66 (0) 85-698-4122, info@kohkooddivers.com
Paradise Divers: 42/5 M2 Ban Klong Chao, +66 (0) 87-144-5945, info@kohkood-happydays.com
BB Divers: 43/8 Moo 2, +66 (0) 82-220-6002, kohkood@bbdivers.com
You can expect to pay around 3,000 Baht for a 2-dive trip, with most of the shops offering discounted packages for multiple days of diving. There's an abundance of marine life around here, so get excited to see stingrays, barracuda, plenty of turtles, and more.
All three dive shops also run trips to nearby shipwrecks and occasionally visit the Koh Rang national marine park. Be sure to inquire about the different options ahead of your trip. Scuba diving is not only a great choice here, but it's one of the best things to do in Thailand.
Fun in the Water
Even if you're not a certified diver, there are plenty of other options for fun in the water in Koh Kood. All three dive shops also cater to snorkelers, so even if your group has divers and non-divers you can all enjoy a day out together.
Snorkeling day trips usually cost about 1,200 Baht per person. This includes equipment as well as lunch on the boat and makes for a great day out on the water.
Due to the abundance of khlong (canals) here, one of the best things to do in Koh Kood is kayaking. Almost every beach has one and kayaks are readily available for rent. If you're staying at one of the fancy resorts, use of kayaks is likely included in your stay.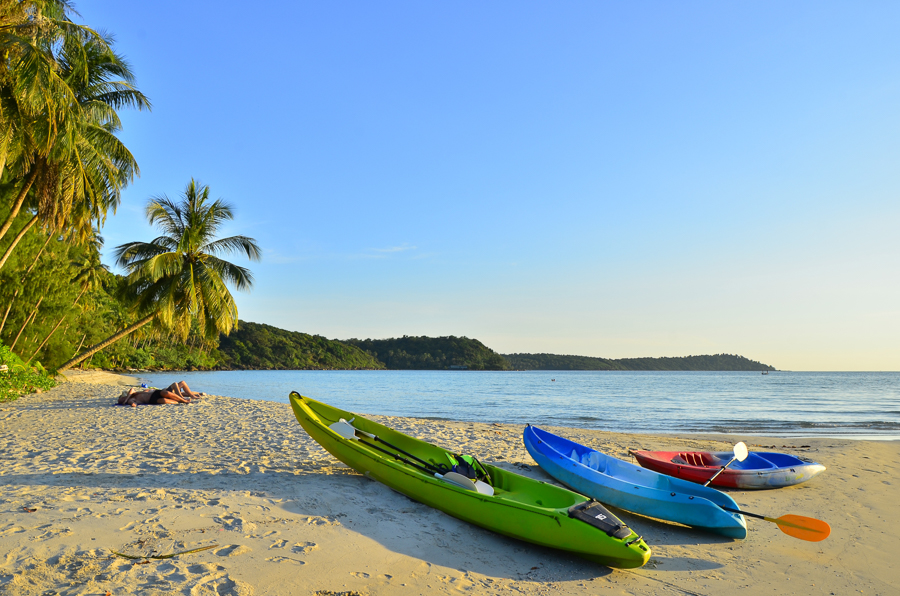 Kayaking through the canals and taking in the scenery of the mangroves is the perfect option for those who get bored with just sitting on the beach. You can even paddle your kayak all the way to the next item on our list…
Waterfalls
Koh Kood is home to three waterfalls, which are all free to visit. Klong Chao waterfall is the biggest and most popular to visit in Koh Kood. Even King Rama VII once came here!
You can reach the waterfall by kayaking as far up the Klong Chao River as you can and then walking the short jungle trail the rest of the way there. Alternatively, you can just hike the whole way or join a boat tour.
It's a beautiful spot to relax for a while, with a large pool you can swim in. There's even a rope swing if you're feeling adventurous! This waterfall tends to be really crowded with package tour groups in the middle of the day, so try to visit later on.
Klong Yai Ki is a smaller waterfall with a deep pool and some nice smooth rocks to lay out on. You won't find nearly as many people here, so this is a good option for those who prefer solitude. Check the location on the map here.
The third and final waterfall is by far the hardest to access. Huang Nam Kaew is also called the "Secret Waterfall" because it's so tough to get to. It's located deep in the jungle and you'll have to ride on a dirt road for a while, so keep that in mind before setting off. You can find it on the map here.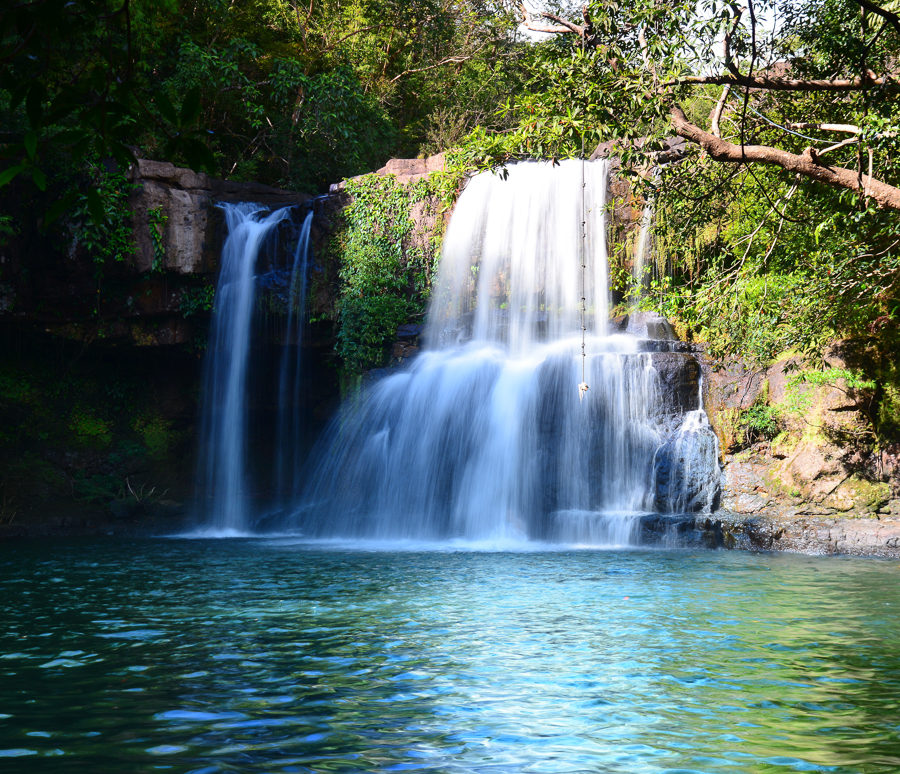 Giant Trees
This may seem like a funny thing to include on the list, but checking out the island's two ancient, massive trees is definitely a cool thing to do. They're both located on the same road on the way to the Huang Nam Kaew waterfall.
The first is a banyan tree that's estimated to be around 200 years old. Next, you'll come to the macca tree, which has been around for an astounding 500 years!
When you visit the macca tree, you may wonder why it's covered in colourful women's clothing. These items have been left has offerings, as locals believe that feminine spirits occupy these ancient trees.
Visit Fishing Villages
In the southeast corner of Koh Kood island, you'll find Ao Yai fishing village. Here you'll find wooden houses built on stilts above the sea and fishermen hauling in the day's catch.
On a visit to Ao Yai, you can check out the viewpoint, eat some fresh seafood, and even arrange a fishing or snorkeling tour with some of the locals. Ao Yai is best reached by motorbike. You can get directions to the village by checking the map here.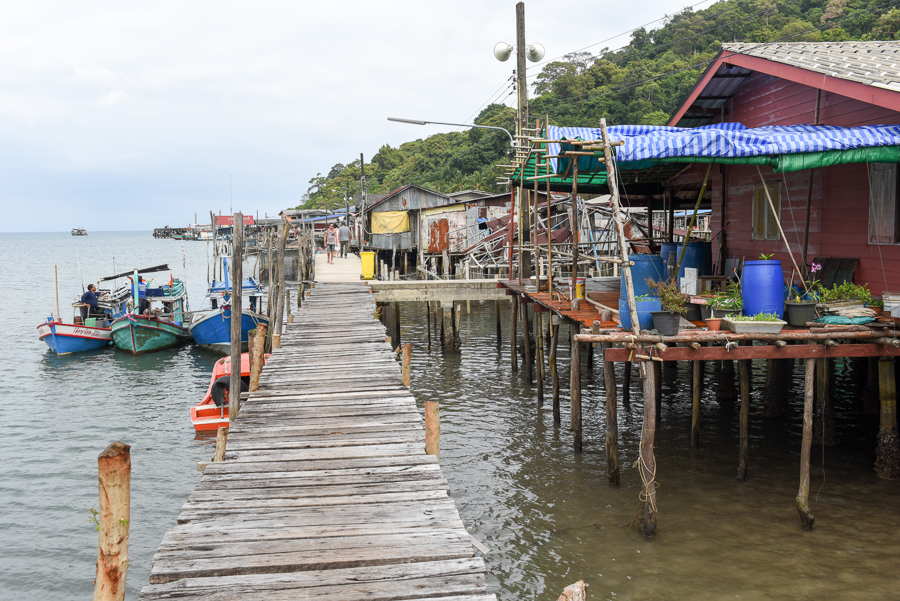 Where To Stay in Koh Kood Thailand
Where you choose to stay in Koh Kood all depends on your tastes and budgets. For a mostly undeveloped island, there sure is a wide range of accommodation here.
Your options run the gamut from cheap backpacker rooms for 250 Baht up to the luxurious and secluded Soneva Kiri resort, which will set you back about 40,000 Baht a night.
On the budget end of the spectrum, most backpackers choose to stay in Khlong Chao. Here you'll find a cluster of budget accommodations along the river and some midrange to high-end resorts on the beach.
Along the island's west coast, there are plenty of options for places to stay. Keep in mind that many resorts are quite isolated and cater to package tour groups. Click here for a wide range of options for accommodation on Booking.com.
Wherever you decide to stay in Koh Kood, be sure to secure your accommodation in advance during the high season (December-March) and around the Thai New Year (mid-April), as places tend to fill up fast around those times.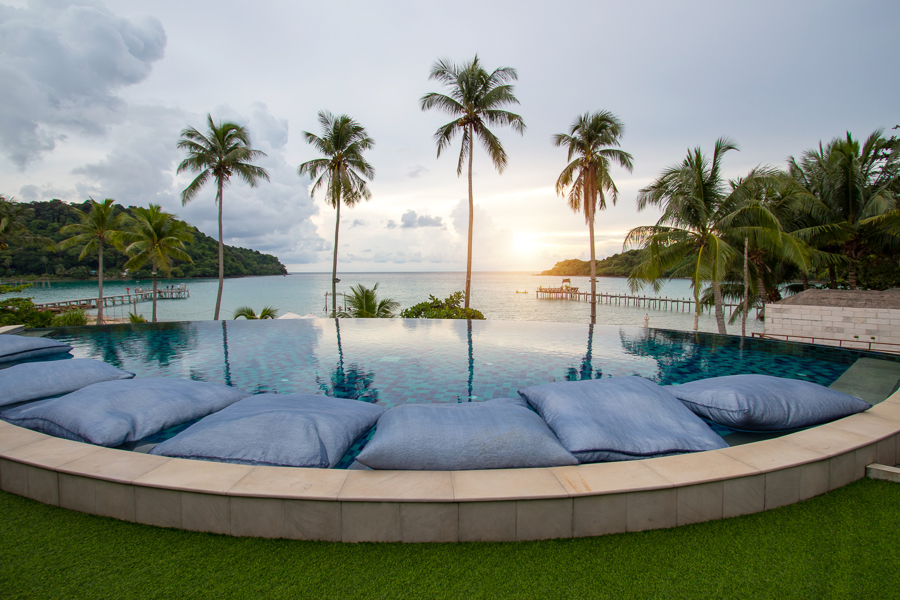 Getting Around Koh Kood
For travellers who love exploring a destination on their own, Koh Kood may be a bit of a disappointment. There really isn't any public transportation on the island, and taxis can be both hard to come by and expensive. This is an island that very much caters to people who want to spend more of their time within resort walls.
Speaking of the resorts, they make it difficult to go between the beaches. On Khlong Chao beach, for example, only one part is public and the rest is blocked off for the resorts. This is quite different from other islands like Koh Lanta or Koh Pha Ngan where you can easily access many different stretches of beach.
There are songthaews (a truck that serves as a bus) near the pier that wait to take travellers to their accommodations. As I mentioned in the section about boat travel, most bookings include transfers to and from your hotel.
Bicycles are available for rent, but the hilly roads and high humidity make cycling quite unpleasant. Honestly, your best bet for getting around the island is renting a motorbike. You can find them for about 300-350 Baht per day, or slightly more if renting from a resort.
The main road is paved and easy to navigate, but you'll want to stay off the dirt roads unless you're a more experienced rider. Wherever you go, make sure you have good travel insurance before riding a motorbike around a Thai island.
If you want to see some parts of the island that aren't accessible by road, you can hire small fishing boats to take you on a tour.
Eating and Drinking in Koh Kood
I'll be honest with you about eating and drinking in Koh Kood —this island isn't exactly the best destination for foodies or party animals. Many visitors stay within their resort walls and just eat at the restaurant there. Koh Kood doesn't have that many stand-alone eateries, cafes, or bars.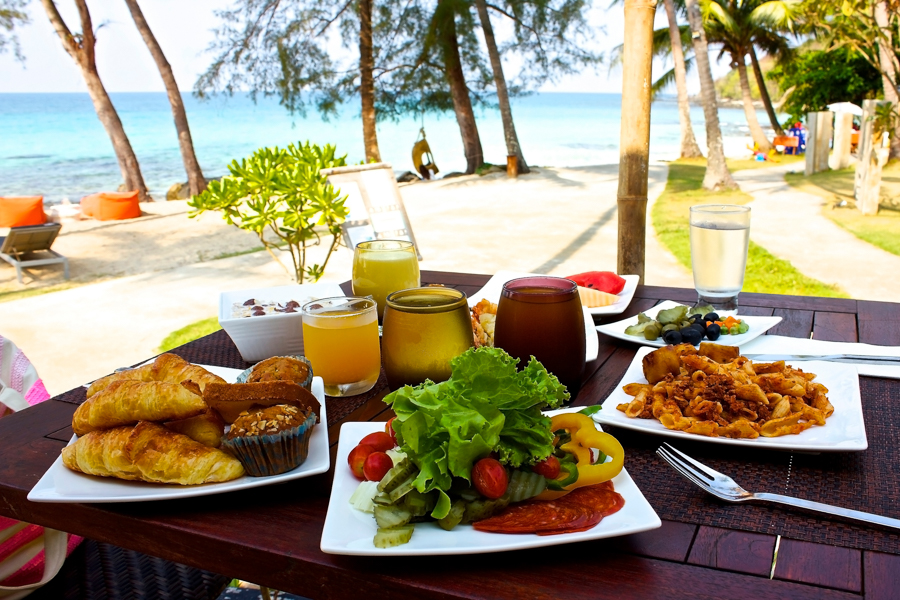 That being said, there are still quite a few good places to grab a bite to eat or a casual drink here:
If you come to Koh Kood expecting cocktails in beach buckets, fire dancers, and loud EDM, you're going to be disappointed.
This, thankfully, is not just another Thai party island. There are plenty of those already. Evenings in Koh Kood are all about enjoying the sunset with a few drinks and some live tunes.
Ready For Koh Kut?!
I'm sure by now you're ready to book your ticket and head to this paradisiacal Thai island. Before you go, be sure to read this massive guide to backpacking in Thailand for more info on travelling in the Kingdom of Smiles.
If you fall in love with Koh Kood and decide you just have to move there, you'll also want to read up on the cost of living in Thailand. I know that every time I travel to Thailand, I seriously consider moving there! Maybe one of these days…
Like This Article? Pin it!