Porto Azzuro is a lovely, sandy cove not far from the capital city of Zante Town on Zakynthos Island in western Greece. In this post, I'm going to break down everything you need to know about visiting this beautiful beach including how to get here, the type of sand, the best nearby restaurants and much more.
Porto Azzuro made it on our list of the best beaches in Zakynthos and while it didn't quite make the cut as one of our favourite stretches of sand in all of Greece, it's still a great place to spend the day enjoying the sun and sand of the Ionian Islands.
Looking for more places to visit on the island? Don't miss our guide of the best things to do in Zakynthos and if you're planning on visiting other places in Greece, make sure you check out our epic Greece Travel Guide.
About Porto Azzuro
Porto Azzuro (also spelled Porto Azzurro) is perhaps most famous for its light-coloured sand and dramatic stone mounts that jut out from the crystal clear Ionian water. It's also known for being one of the best beaches to visit that's close to the Capital of Zakynthos, Zante Town.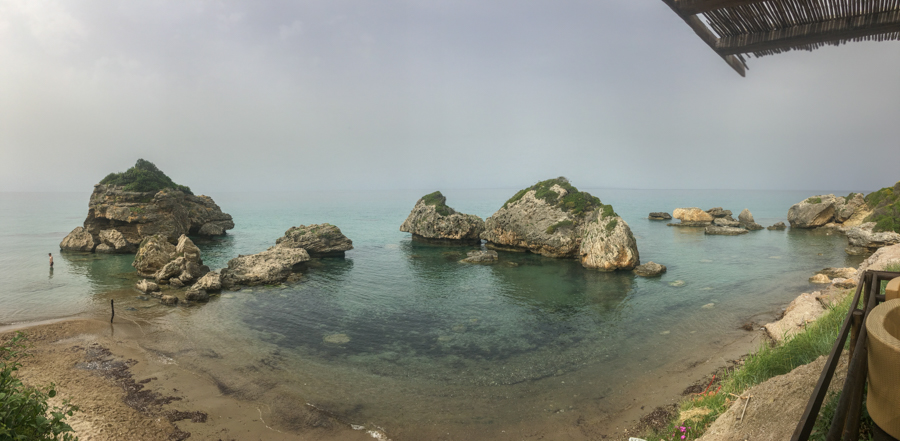 Thanks to a beautifully situated restaurant overlooking the beach that offers plenty of facilities, this is a great place to come and spend an entire day. When we visited, we only stayed for a few hours but we came on a bit of a cloudy day. I could see why people would want to spend some more time here though.
Where is Porto Azurro?
Porto Azzuro is located on the southern part of a peninsula that justs out of the eastern part of Zakynthos Island. Zakynthos Island is a very popular tourist destination in the Ionian Sea of Greece. It's around 249 kilometres west of the capital of Athens and around 20 kilometres west of the westernmost point of the Greek Peloponnese mainland.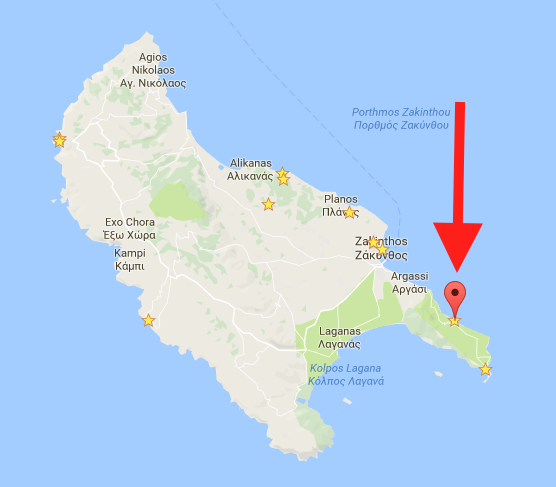 How To Get To Porto Azurro Beach
The best way to get to Porto Azzuro beach is by renting your own car (prices start at around €15 / day) and driving there. The beach is about 15 kilometres (25-minute drive) south of the capital of Zante Town. It's about 2.2 kilometres (5-minute drive) north of Banana Beach, 5 kilometres (15-minute drive) north of Gerakas Beach and around 19 kilometres (30-minute drive) from Laganas Beach.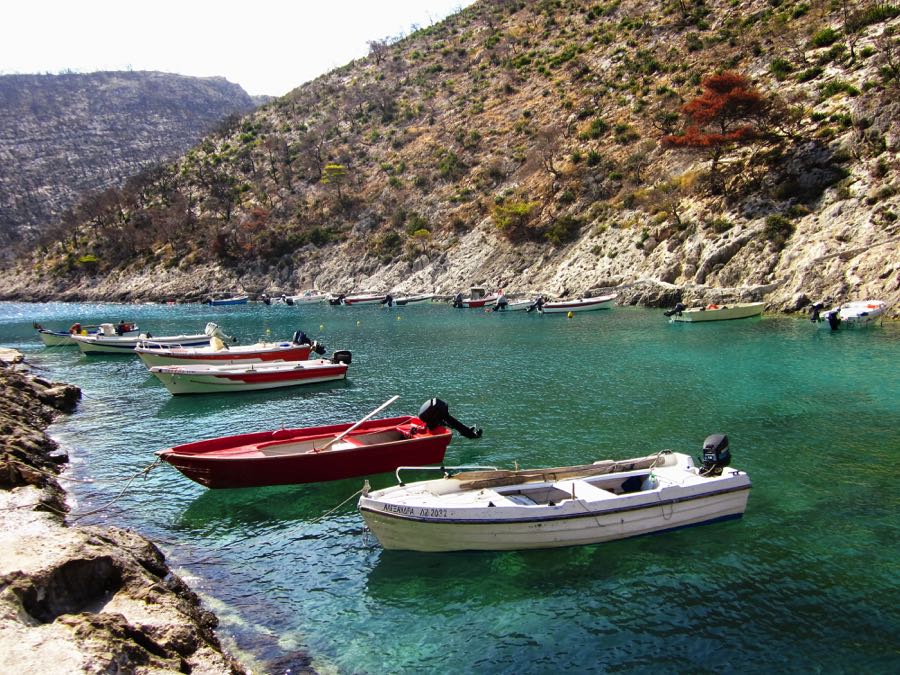 You could also rent a boat in Zakynthos Town or at Laganas and drive the boat here. Boat prices start at around €80 per day plus gas. Check out our post all about renting a boat in Zakynthos for more about this option.
There are some day tours that will take you around the island of Zakynthos and include Porto Azzuro as a stop.
Best Time To Visit Porto Azzuro Beach Zakynthos
The Best Time of Day To Visit Porto Azzuro
We visited Porto Azzuro at around noon and this was a great time to see the beach in all of its glory, but for this beach, you can really visit at any time of day. The restaurants here mostly open from 9 am to 7 pm so you may want to time your visit for those hours if you're looking to get some food or make use of the facilities.
The Best Time Of Year to Visit Porto Azurro
The best time of year to visit Porto Azzuro is the same as the best time to visit Zakynthos and the best time to visit Greece as a whole. Basically any time between March and October is fine, but just know that the water will be too chilly to swim until April or May and will start getting a little too cold by October as well.
The absolute best time would be May and September when you're not quite in the peak holiday time so there are fewer crowds, but the water is still warm enough to swim in the Ionian Sea.
The Type of Sand on Porto Azzuro Beach
The sand at Porto Azzuro Beach in Zakynthos is a light golden gravel. It's not soft powdery sand, but it's not super pebbly either. This means that you can swim relatively comfortably in bare feet, unlike many other Ionian beaches.
If you have sensitive feet, however, then I recommend wearing water shoes here.
Facilities on Porto Azzuro
There are some great facilities on Porto Azzuro including sunbeds and umbrellas (€12 for a set of 2) for rent, beach showers, toilets, change rooms and a couple of nice restaurants. Basically everything you need to keep you comfortable for a day at the beach you'll find at Porto Azzuro.
Laying on the sand and enjoying the sunshine is one of the best things to do in Greece after all!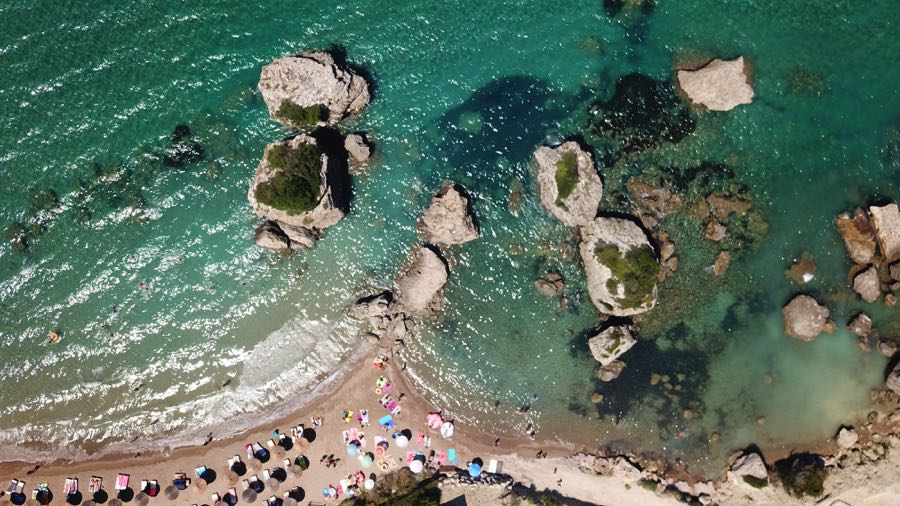 There are no watersports or equipment for rent here, which is actually quite nice as it keeps the beach quiet and peaceful for the most part.
Where To Stay Near Porto Azzuro
There are quite a few great hotel options around Porto Azzuro Beach, but the best accommodation nearby are in self-catering style apartments. You'll find plenty of these all within a few minutes walk of the beach. Here are the highest-rated ones on Booking.com.
Villa Levante: From $32/night (☆9.7)
Villa Levante is located in Vassilikos and has nice rooms with private balconies and panoramic views of the Ionian Sea located just a hundred meters from Porto Azzuro Beach where guests can use free sunbeds provided by the hotel.
Villa Contessa: From $35/night (☆9.7)
Opening out to a furnished balcony or terrace overlooking the Ionian, the air-conditioned units of Villa Contessa are fitted with Coco-Mat mattresses and pillows and allergy-free bed linen, as well as some modern amenities like a flat-screen TV, laptop-size safe, a kitchenette with fridge, electric kettle and coffee maker.
Blue House Apartments: From $100/night (☆9.9)
About 150 meters from Porto Azzuro Beach, the family-run Blue House self-catering Apartments in Vasilikos Village offer a garden with terrace and view of the Ionian Sea and garden.
There are also some great hotels in Laganas, Zante Town, Tsilivi, Gerakas Beach and Keri. Click those links for hotel recommendations and full reviews of each place.
Best Restaurants on Porto Azzuro
For sure the best restaurant on Porto Azzuro is the beach bar of the same name. The Porto Azzuro Beach Bar has great reviews and it has tasty food as well. When we were visiting, we found the staff to be a bit short with us, but the food that came out was tasty and you really can't beat the view of this place.
Plus it's all thanks to them that there are so many great facilities on the beach. I wish they'd offer free sunbeds for customers of the restaurant, but they don't. Instead, you have to pay for your meal and then pay separately for the sunbeds.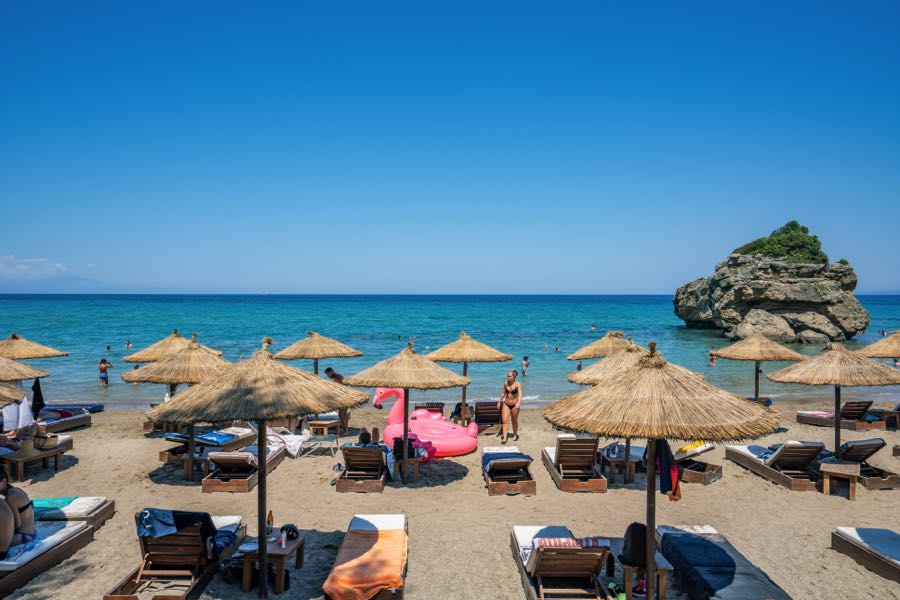 I've since read mixed reviews where some people claim to have received the beds for free and others paid, which is a bit strange. Perhaps it's best to clarify before sitting down.
Should You Go To Porto Azzuro?
Porto Azzuro may not be as visually stunning as Navagio Beach on the north end of the island, but it does have its own charm. It has a great beach bar right no the sand, a lot of useful facilities and the view with the stone seamounts protruding from the Ionian will have you snapping more photos than you know what to do with.
All-in-all this is one of the best beaches on the island and when we return to Zakynthos, we'll definitely come here again.
Like This Article? Pin it!