Banana Beach is a lovely stretch of golden sand on the southeastern part of Zakynthos Island in the Ionian Sea of western Greece. This was one of our favourite beaches in Zakynthos and while it might not make most lists of the best beaches in Greece (Navagio Beach and Gerakas Beach on Zakynthos may be considered more beautiful as well), it's still a great place to check out if you're looking for things to do in Zakynthos.
In this article, I'm going to break down all you need to know about visiting Banana Beach including the best nearby restaurants, best nearby hotels, how to get here and more.
Let's get started with the guide to Banana Beach Zakynthos!
About Banana Beach
Banana beach is a long, broad, beautiful stretch of golden sand on Zakynthos Island in Greece. It's definitely one of the best beaches in Zakynthos and lazing on the sand or on one of the sunbeds and enjoying a cocktail here is also one of the best things to do on the island.
Traveller's Note: Planning to visit other places in Greece? Don't miss our epic Guide To Greece Travel which will teach you everything you need to know about travelling around this beautiful country including the best things to do, where to stay and more.
Where is Banana Beach?
Banana Beach is a broad and long stretch of sand on the southern tip of the peninsula that juts out beneath Zante Town on the southeastern part of Zakynthos Island.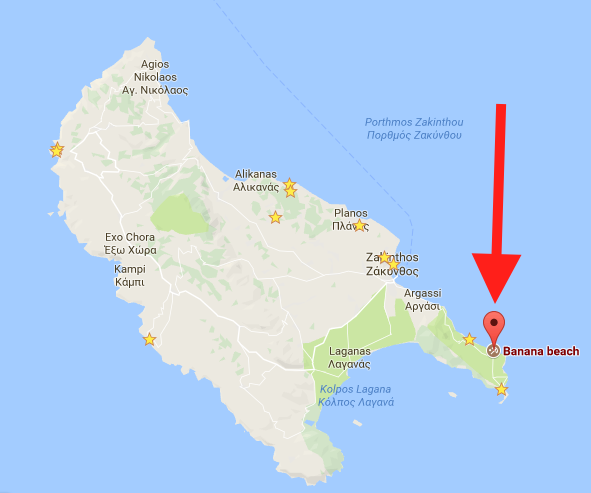 Zakynthos Island is an increasingly popular tourist destination thanks to its many great beaches and its location. The island lies just 20 kilometres off the west coast of the Greek Peloponnese mainland and 249 kilometres west of the capital city of Athens.
Getting There & Away
Banana Beach Zakynthos is located 15.4 kilometres (25-minute drive) from the capital of Zakynthos Island, Zante Town and about 19 kilometres (27-minute drive) from the popular beach town of Laganas.
The best way to get to Banana Beach Zakynthos is by car (prices start at €15 per day plus gas), but you could also rent a boat in Zakynthos town and then drive the boat there as well. Boat prices start at around €80 per day plus gas.
There's also a few free shuttle buses to Banana Beach. If you're coming from Laganas, then head to Albatros Hotel in Laganas Town to check the timetables. From Zante town, there's a free shuttle bus that goes to St.Nick's Beach which is another nice beach about 15 minutes from Banana Beach.
You could see both beaches in one day.
Lastly, there's a free shuttle bus from the town of Argassi to Banana Beach, leaving the town at 10:45 am and returning at 4:00 pm.
It's worth noting that with all the free shuttle buses you need to purchase something at the restaurant or rent sunbeds in order for it to be free.
Best Time To Visit
The Best Time of Day To Visit Banana Beach
This all depends on the season you visit and how much you want to avoid crowds. In the peak season, there are a lot of people crowding the sand between the hours of 12 pm and 4 pm. This is the peak hours for visiting the beach, but it's also the warmest and when the sun is directly overhead it illuminates the Ionian Sea at Banana Beach, giving it that famous blue hue.
The Best Time Of Year to Visit Banana Beach
The best time of year to visit Zakynthos is basically the same as the best time to visit Greece (March to mid-November). But if you're here for a beach holiday and plan to spend a lot of time in the sun and on the sand, then either end of those dates will be too cold to go swimming.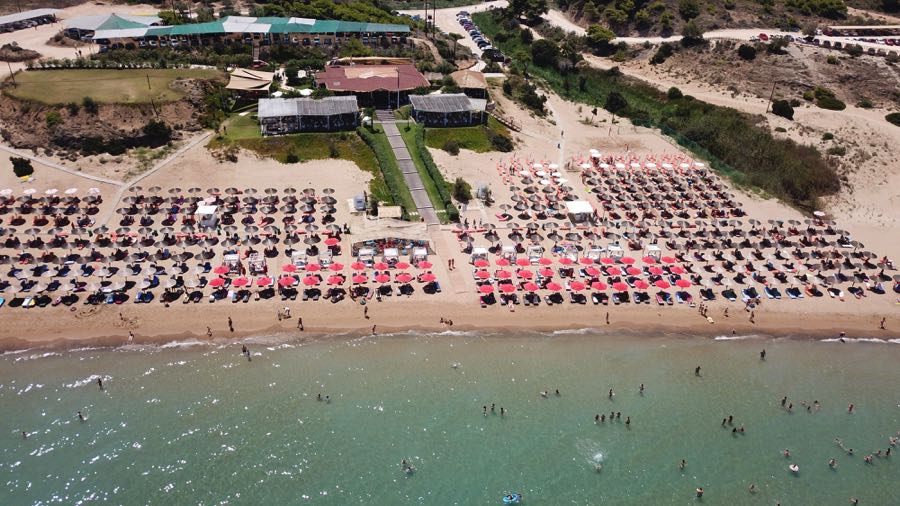 For Banana Beach and all other beaches around Greece, the best time to visit is April-May or September-October when the sea is warm enough to swim, but many of the summer crowds have thinned out.
The Type of Sand on Banana Beach
Unlike many other beaches in Greece, the sand at Banana Beach is very fine and soft. This is the perfect place to come if you want to comfortably stroll down the beach or go swimming without having to wear water shoes.
Most Ionian Beaches (including Navagio Beach and Porto Azzuro) have hard pebbles or gravel for sand, making it a bit uncomfortable to walk in bare feet. But not Banana Beach. The sand here is beautiful!
Looking for more beaches to visit in Zakynthos? Check Out:
Facilities On The Beach
Banana Beach Zakynthos has all the facilities you could ask for for the perfect day on the sand. Sunbeds and umbrellas for rent, free shuttles to and from some major towns, toilets, change rooms, beach showers, a restaurant with great food, water sports and more.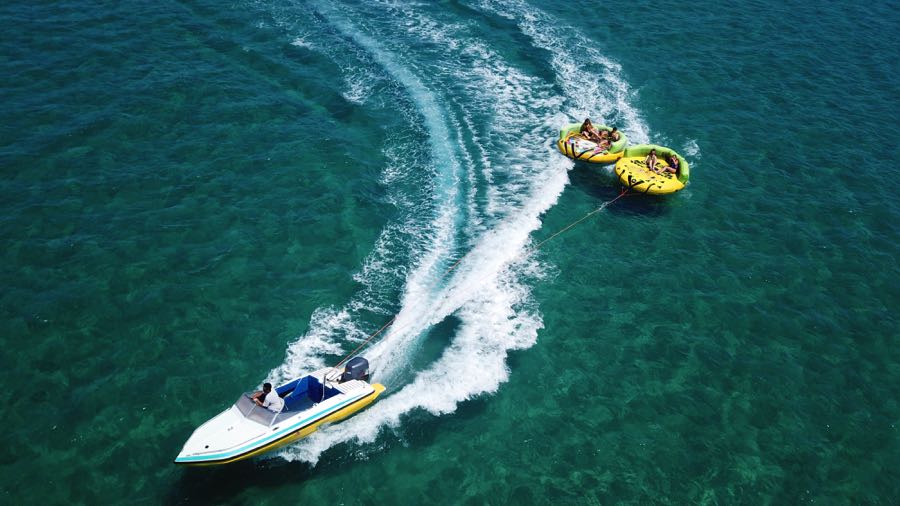 This place is perfect for couples, solo travellers and families. It's a safe beach and while it gets really busy in the summer, the wide stretch of exposed sand means that it usually doesn't feel so crowded that you get claustrophobic.
Where To Stay Nearby
While there are more popular areas to stay on Zakynthos Island like Laganas Beach, Zante Town and Tsilivi, there are some great accommodation options near Banana Beach. If you want to stay on this part of the island, here are some top-rated hotels, villas and apartments.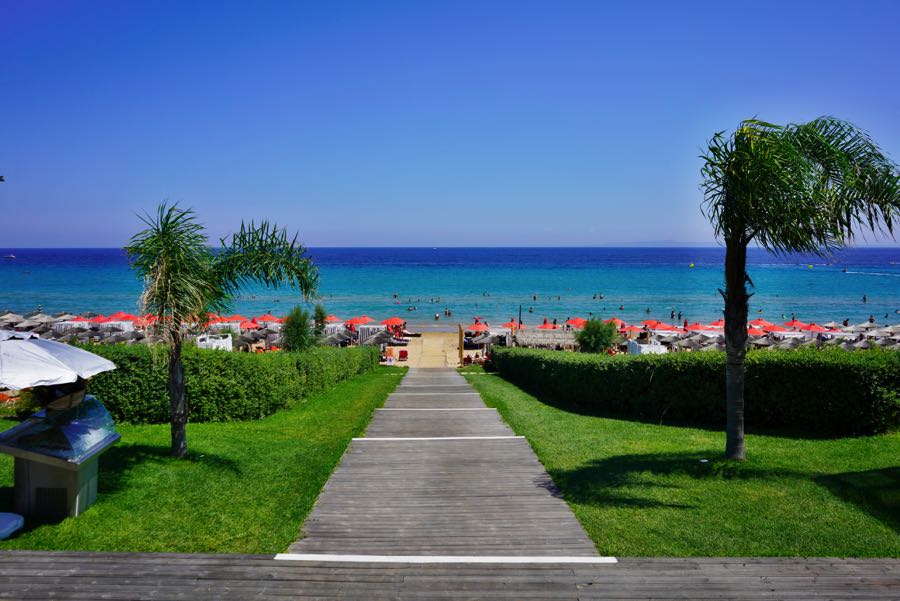 Alegria Villas
📍 Agios Nikolaos, Vasilikos, 29100, Greece
★ 9.6/10 (115 Reviews)
💵Rooms from $141/night
Technically this hotel is nearer to St. Nicholas Beach, but Alegria Villas Complex in Zakynthos is a great place to stay if you're looking for self-catering villas overlooking the Ionian Sea. They have 2 and 3 bedroom villa units as well as a large duplex for rent.
Surrounded by pine and olive trees and with a swimming pool, this property might be a little more expensive than some others in Zakynthos, but it's a little piece of paradise on the Ionian.
Click Here to see the latest prices on Booking.com
Arion Resort Vasilikos
📍 Main Street, Vasilikos, 29100, Greece
★ 8.2/10 (7 Reviews)
💵Rooms from $85/night
This resort is located just 250 meters from Banana Beach. They have a massive pool and have options for deluxe, junior suite or classic double rooms. They also have a restaurant on site.
Click Here to see the latest prices on Booking.com
Porto Zorro Beach Hotel
📍 Vasilikos Porto Zoro, Vasilikos, 29100, Greece
★ 7.1/10 (35 Reviews)
💵Rooms from $146/night
This hotel is actually on Porto Azzoro Beach bit north of Banana Beach and while it doesn't get the best reviews on Booking.com for some reason, it does have great reviews on Google.
We only ate at the restaurant here, but the hotel looked really nice. The rooms were facing over Porto Azzuro Beach which is one of the best beaches in Zakynthos and the restaurant on site serves up some really tasty Mediterranean food.
Click Here to see the latest prices on Booking.com
Best Restaurants Nearby
While there are a few restaurants on Banana Beach, the biggest and most obvious one to go to (and the one we chose) is Banana Baya Beach Bar (which is where we went), but for the sake of variety, we've also included another popular place that you can check out if you find Banana Baya too crowded.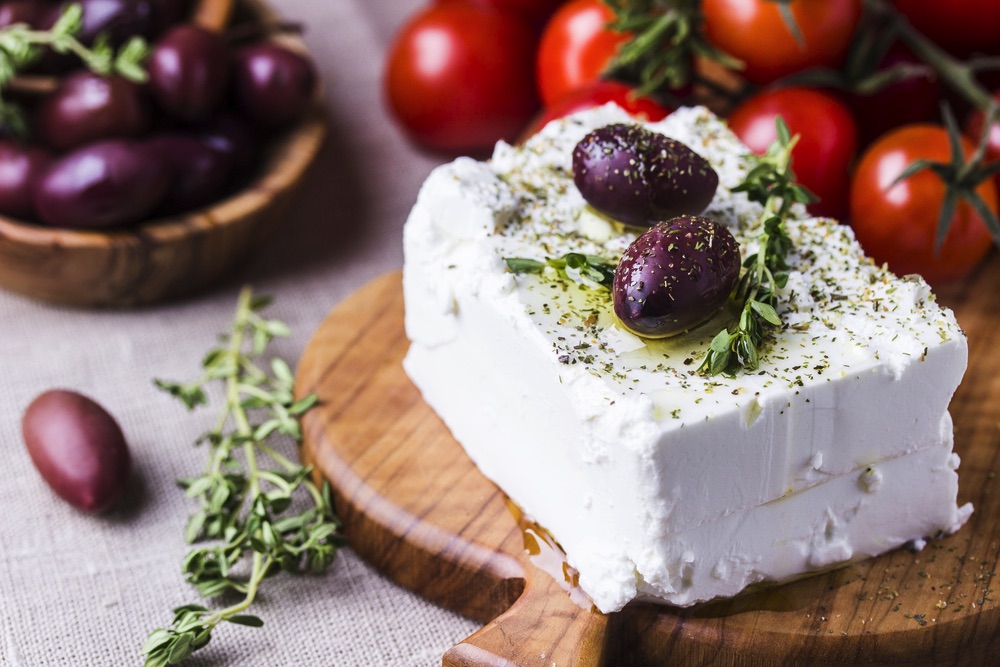 Banana Baya Beach Bar
📍Epar.Od. Zakynthos – Vasilikos, Vasilikos 291 00, Greece
★ 4.6/5 (1,223 Google Reviews)
💵Snacks from €5, Lunch from €8.50
This is the best beach bar on Banana Beach Zakynthos in my opinion. They had loads of sunbeds and umbrellas set right on the sand, the menu was affordable and the staff was excellent. You do have to pay for the sunbeds (€7 standard sunbeds, €10 for wooden sunbeds), but it's worth it for the view over the massive beach and the good food. Try the souvlaki or the burgers.
Casa Playa Banana Beach Bar & Restaurant
📍Casa Playa Banana Beach, Zakinthos 291 00, Greece
★ 4.6/5 (1,054 Google Reviews)
💵Snacks from €5, Lunch from €9
This is another popular option a little further up the beach to the right. They also rent sunbeds here (two for €7 with an umbrella) and they have a free shuttle to bring you to the beach as well. The portions are a good size and the menu is reasonably priced.
Should You Go To Banana Beach Zakynthos?
Banana Beach was one of our favourite beaches on Zakynthos Island and while we visited in the shoulder season, so didn't get bothered by the crowds, it seemed big enough that you wouldn't ever feel too squashed in.
The beach is breathtaking with soft sand and there are some excellent beach bars and restaurants there as well. The free shuttles from nearby towns make it easy to get to and there are watersports here if you want to experience that while you're here.
All in all, Banana Beach in Zakynthos is a must-visit stretch of sand on any island itinerary.
Like This Article? Pin it!
Disclaimer: Goats On The Road is an Amazon Associate and also an affiliate for some other retailers. This means we earn commissions if you click links on our blog and purchase from those retailers.