He enjoys finding a remote national forest campground or a random accommodation with mountain views. Danny has spent months of his life all over Arizona, Utah, Colorado, Wyoming, Montana and South Dakota in search of pristine views and solidarity.
Local Of:

Phoenix, Arizona – Nowthen, Minnesota – Sheridan, Wyoming – New York, New York – Sioux Center, Iowa (United States) 

Expert of:

Phoenix, Arizona – Nowthen, Minnesota – Sheridan, Wyoming – New York, New York – Sioux Center, Iowa – Bozeman, Montana – Big Sky, Montana – Flagstaff, Arizona – Payson, Arizona – Duluth, Minnesota 

Travel Style:

Backpacker, Wildlife, Mountaineer, Hiker, Angler, Overlander, Budget

Traveling Since:

2015

Favorite Destinations:

Kauai, Hawaii; Terrace, British Columbia; Crested Butte, Colorado; Grand Canyon National Park; Sheridan, Wyoming; Jackson, Wyoming

Backpack or Suitcase:

Backpack all the way

Window or Aisle:

Window if I'm over mountains & aisle if I'm over the ocean

Bus or Train:

Can't beat the bus

Education:

Bachelor's Degrees in English Writing, Criminal Justice, & Secondary Ed. from

Dordt University & Master's of Education from Dordt University
Connect With Danny
Danny's Expertise
Over the past five years, I've written hundreds of articles and traveled thousands of miles worldwide. As a high school English teacher, I have three months off every summer, and I take advantage of every second of it. Most of my vacations are centered around backpacking and fly fishing. I use those trips to gain expertise for my job as a content creator. These past few years have brought me to beautiful places like Hawaii, Vancouver Island, Montana, Colorado, California, and many more. 
Many of my students don't have the privilege to travel due to their family situations and socioeconomic status. I use my platform to teach students about writing and the opportunities it can provide to make extra money for their families and future adventures. Travel is one of the best forms of education, and I long for my students to experience life outside their hometown. I am incredibly blessed to be in my current position and inform people worldwide about traveling. 
Danny Around The World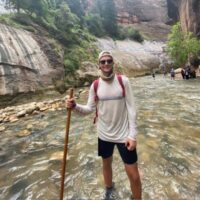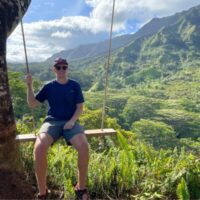 Danny's #1 Travel Tip
Be flexible. I've had flat tires, illnesses, weather delays, and flight cancellations ruin my trips. It's easy to give up and feel sorry for yourself when these circumstances hit. When I first started traveling, I used these inconveniences as opportunities to return home and retreat to safety. As soon as I get home, I instantly regret what could have been. 
When you run into obstacles, step back and look for a way around them. There's always another way to make a trip work. You'd be surprised at how willing people are to help you at your greatest time of need. A phone call or question opens the door to getting your trip back on track. A little perseverance has led to some of the best trips of my life. 
Danny's Favorite Food
I'm a sucker for good breakfast sandwiches. There's nothing like waking up in the mountains and cooking a perfect breakfast sandwich while staring at the sunrise. A few years ago, my first trip to Crested Butte, CO, led me to the best breakfast sandwich I've ever had. A small, hole-in-the-wall restaurant called "Butte Bagels" gave me the best chorizo, latke, spinach, tomato, mustard, and egg sandwich I will ever have. 
Favorite Travel Experience
On a recent October road trip, my wife and I traveled from Zion National Park in Utah to the San Juan Mountains in Colorado. Around 80 miles from our destination, we ran into a major road closure and were forced to detour through forest roads. Those extra three hours took us through the most beautiful fall foliage I've ever witnessed. The views of the yellow and red aspens mixed with the pine trees and snow-covered peaks are etched into my memory.
Those five days in the mountains were some of the most peaceful moments I've ever had. The fly fishing was phenomenal, the trails were quiet, and our campsite was ideal. Certain trips exceed your wildest dreams. Whenever I'm in a dark place or need a happy memory, it's the first that comes to mind. 
Where Have You Lived?
I grew up in Anoka, Minnesota, and spent many years hunting, fishing, and exploring the beautiful lakes and rivers across the state. I attended college in Sioux Center, Iowa, where I spent six years getting my bachelor's and master's degrees in education. Throughout my summers in college, I lived in numerous places. New York City, Sheridan, Wyoming, and Custer, South Dakota, were a few of my favorites. 
Now, I live in Phoenix, Arizona, with my wife. We spend many free weekends and breaks traveling to California, Utah, and Colorado. We also explore all that Arizona has to offer. We're avid hikers, so we put a lot of miles in at the Grand Canyon and other trails closer to Phoenix. 
Funny Travel Quirk
I always have to have sparkling water at my disposal. I carry my Yeti in one hand and sparkling water in the other. Whether in an airport or on a road trip in the middle of nowhere, I need sparkling water. I don't drink coffee, soda, or anything else. Without my sparkling water, I don't feel whole. 
I've had some unique sparkling waters over my years on the roads. Local coffee shops always have sparkling waters from smaller companies I enjoy supporting. If sparkling waters aren't available, I settle for kombucha. 
Posts By Danny: