Known for its western hospitality, historic downtown, and impressive mountain range, Red Lodge, Montana is the perfect destination for your next vacation. I've spent many holidays here and still consider it one of the most diverse destinations for travelers in Montana.
Whether you want to fish, hike, see wildlife, try unique food, or take in the history and culture, Red Lodge has plenty to offer. This is one of the top places to see in Montana for good reason.
See Also: 101 Best Places To Visit in The USA
Best Things To Do in Red Lodge, Montana
For two consecutive summers, I've spent time exploring Red Lodge and the surrounding area. Each time I visit there seems to be more I discover and even more I want to explore.
I've experienced more Red Lodge than I've listed here, but to make this list more concise, I've kept it to the top 15 absolute best things to do in Red Lodge, Montana.
1. Drive the Beartooth Highway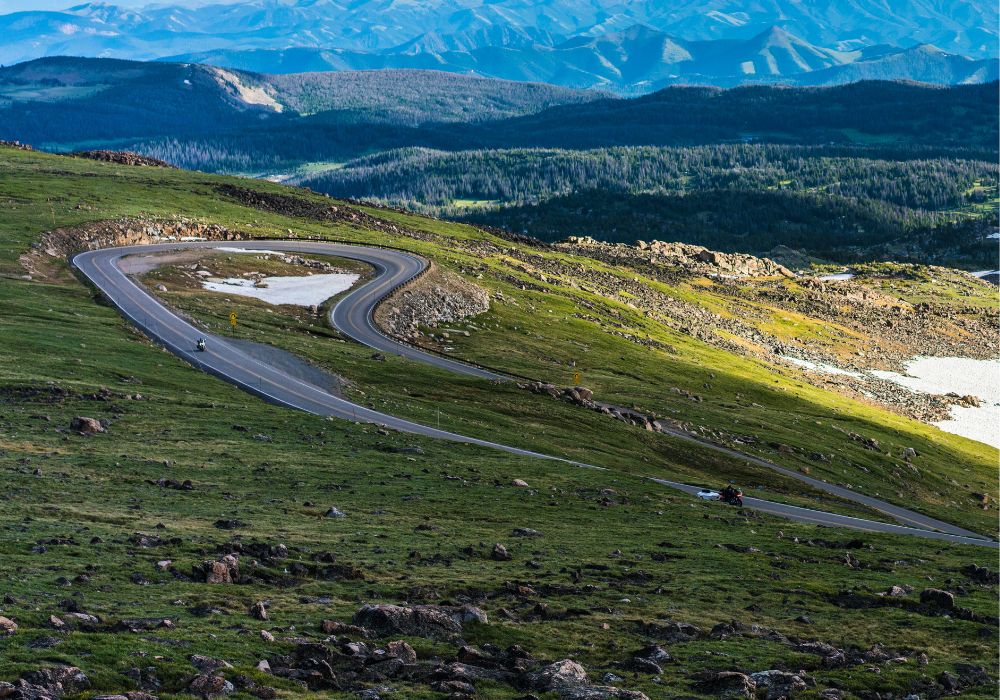 The Beartooth Highway makes for one of the most iconic and scenic drives in the entire United States. Driving this steep and windy road is one of the most fun activities in Red Lodge.
Starting right in the town of Red Lodge, the highway continues for 68.7 miles arriving at the entrance of Yellowstone National Park and reaching nearly 12,000 ft. at its highest point.
Along the way you'll pass breathtaking alpine lakes, lush mountainsides, and snowcapped peaks. There are countless viewpoints to stop to take in the scenery and snap some memorable pictures.
I often find myself looking back on the pictures from our visits when I'm craving some fresh mountain air.
If you're feeling ambitious, you can rent a 3-wheeled Polaris Slingshot, (a three-wheeled, open-top motorcycle), up and down the Beartooth Highway for an open and up-close experience.
Between the high elevation and thrilling ride, the views are sure to take your breath away. Renting is made easy through Beartooth Slingshots. This is one of the most fun activities in Red Lodge that you can look forward to.
Remember that the Beartooth Highway is open from late May to October so plan accordingly.
GPS Location: 44.9392845,-109.6158698 (Get Directions)
2. Hike the Beartooth Mountains
My favorite way to see and experience Red Lodge, Montana is to explore the Beartooth Mountains on foot. The hiking options are endless and are a great activity for summer, spring, or fall. Being some of the tallest mountains in Montana, the Beartooths offer some of the best trail views and alpine lakes.
My favorite hikes in the area include:
Basin Lakes Trail No. 61 to Upper Lake: This 7.4-mile out-and-back trail offers the most beautiful scenery. With pockets of wildflowers and an alpine lake as the destination, the climb is well worth it. (And maybe you'll catch some wildlife along the way!)
Glacier Lake Trail: If you're looking for something a bit shorter, try this 4.6-mile trail to Glacier Lake. A popular trail; you'll be sure to see others along the way. Keep in mind that you'll need an all-wheel drive vehicle to reach the trailhead and meander the dirt roads.
Sundance Pass: My favorite hike completed near Red Lodge is definitely this one. Start at the Lake Fork Trailhead and make your way down the trail for 9.4 miles to reach Sundance Pass.
Along the way, you'll pass Lost Lake and Keyser Brown Lake which make for perfect places to take in the views and stop for some lunch. Head out on this hike for the best Red Lodge sightseeing.
GPS Location: 45.1632684,-109.8160388 (Get Directions)
3. Go Fishing
The Custer Gallatin National Forest offers thousands of acres to be explored. Therefore, the opportunities to catch a beautiful fish are endless.
One of the best lakes to fish in is Wild Bill Lake as it is accessible with just a 7-mile drive. Wild Bill Lake is regularly stocked with rainbow trout, making it a great place for fly fishing in Montana.
If you're looking to fish a stream, Rock Creek flows right through Red Lodge and offers anglers some of the best rainbow and brown trout. The options don't end there though. There's also the Stillwater River west of Red Lodge and the Yellowstone River further outside of Red Lodge.
The fishing through Rock Creek is technical, but if you're able to find any slack water, the fish will be sitting there ready and waiting. The fishing is amazing and I didn't find that there was too much pressure on the river either.
If you've always wanted to give fly fishing a try, Red Lodge offers fishing guides who are eager to get you out on the water and perfect your skills, ready to catch plenty of fish!
GPS Location: 45.597777,-109.73424 (Get Directions)
4. Ski at Red Lodge Mountain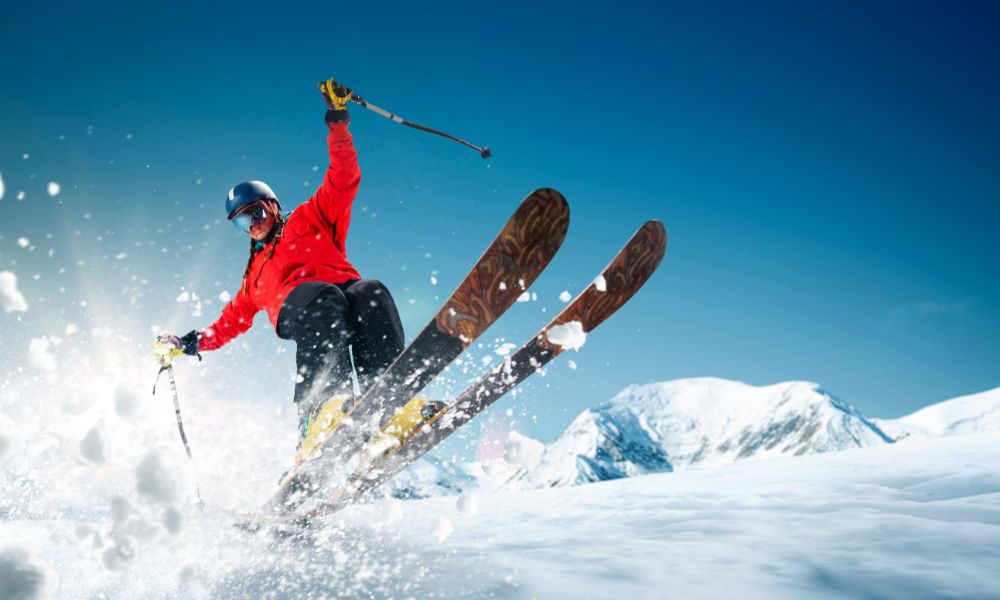 If you're looking for an iconic Montana skiing experience, Red Lodge Mountain is a must-visit. Only 6 miles from town, Red Lodge Mountain is known for its laid-back feel and small-town personality.
Red Lodge Mountain offers 71 runs spread across two mountains. They offer a full-service shop including rentals, lessons, a retail store, and plenty of dining options.
Consider Red Lodge Mountain for an iconic Montana adventure in the fresh winter snow.
Address: 305 Ski Run Rd, Red Lodge, MT 59068 (Get Directions)
5. Yellowstone Wildlife Sanctuary
Located between Red Lodge High School and the Coal Miners Memorial Park sits the Yellowstone Wildlife Sanctuary. This non-profit animal sanctuary has been around for 30 years and provides a home and refuge for animals otherwise not fit for life in the wild.
The animals here are native to the Greater Yellowstone Ecosystem and the sanctuary includes the likes of bison, black bears, mountain lions, hawks, owls, and falcons. Not only does the sanctuary have animals, but they also house beautiful gardens.
Visit their website to book your family-friendly activity in Red Lodge.
Address: 615 2nd St E, Red Lodge, MT 59068 (Get Directions)
6. Carbon County Historical Society and Museum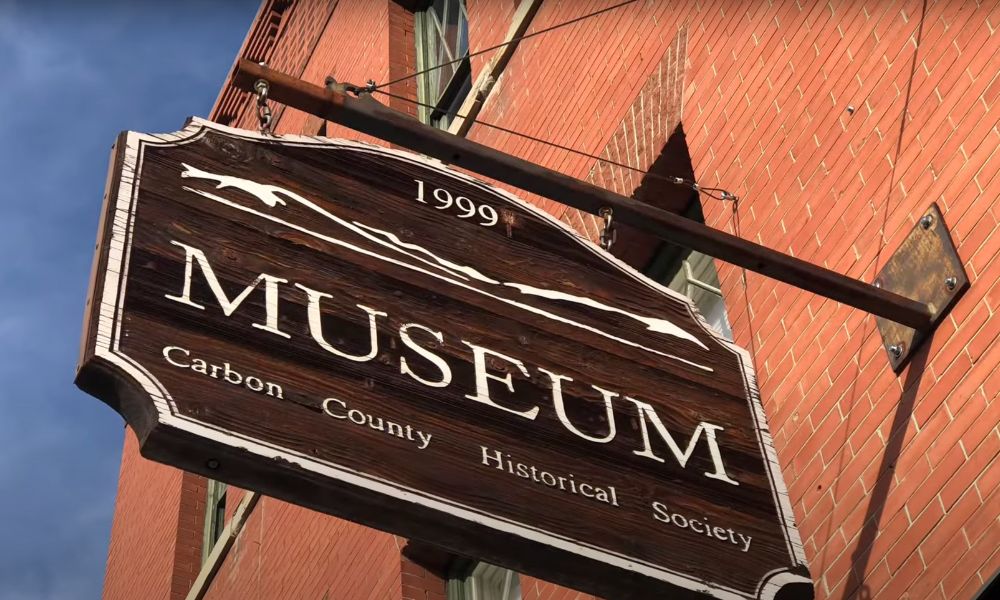 If you like to get to know the history of a place you're visiting, the Carbon County Historical Museum is for you. The museum not only shares dates and names, but seeks to preserve, communicate, and educate those who pass through about the significant history of Carbon Country, Montana.
Visit their website to learn more and book your visit. Try out their guided walking tour of the museum.
Address: 224 Broadway Ave N, Red Lodge, MT 59068 (Get Directions)
7. Red Lodge Mountain Golf Course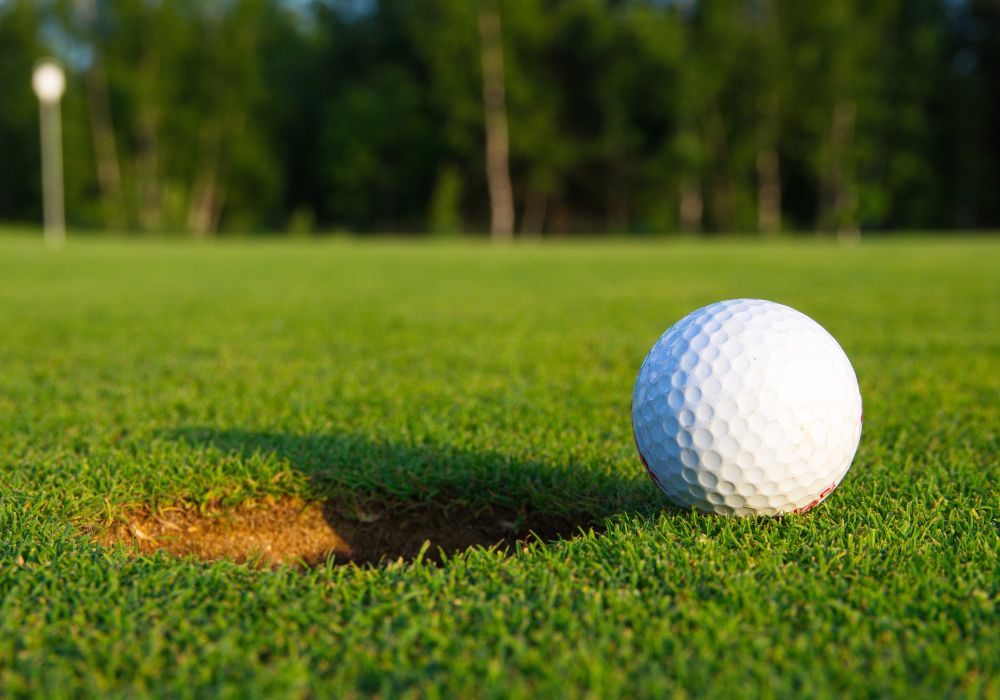 Getting a round of golf in at Red Lodge Mountain Golf Course is a great way to multi-task; practice your swing and take in the stunning mountain views. Golfing at this course guarantees scenic mountains, lakes, and creeks with hole #15 being the signature hole.
Red Lodge Mountain Golf Course offers affordable green fees, a driving range, and clubs to rent if you didn't travel with your own.
Golfing is a fun activity in Red Lodge. Take advantage of this unique and beautiful course!
Address: 828 Upper Continental Dr, Red Lodge, MT 59068 (Get Directions)
8. Red Lodge Clay Center
The Red Lodge Clay Center is committed to ceramic artistry and is known for hosting resident artists for weeks or months at a time. Not only is the Clay Center available for resident artists, but community members and travelers can take advantage of this creative outlet.
The Clay Center offers both child and adult workshops and classes. If you'd rather partake in the art by purchasing it, the Clay Center also has handcrafted ceramics for sale.
Address: 123 Broadway Ave S, Red Lodge, MT 59068 (Get Directions)
9. Go Horseback Riding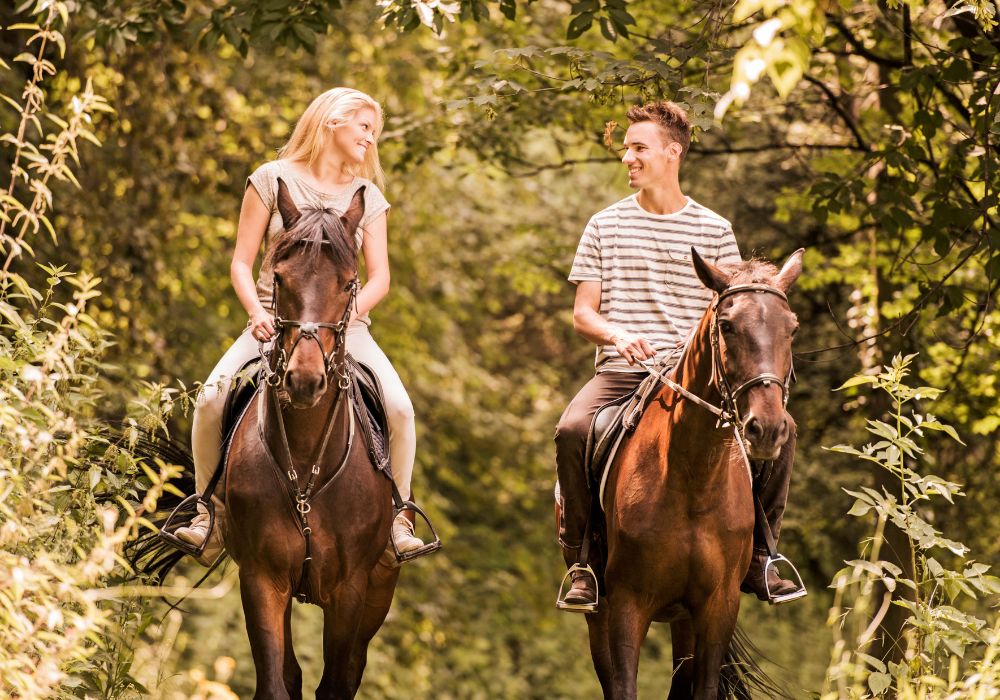 On my bucket list for things to do next time I'm in Red Lodge, is to go horseback riding. Sitting up high on a horse and taking in the mountain scenery and vast countryside feels like an ideal activity to do in Red Lodge.
A guiding company right in Red Lodge, Elk River Outfitters, is sure to have an itinerary that fits your schedule; with rides ranging from an hour long to a full day, and even an overnight trip. Consider booking a horseback ride for your next trip between May and September.
Other guiding services you can find a little further out of town are Whispering Winds Horse Adventures and Paintbrush Adventures.
Address: 10 State Hwy 308, Red Lodge, MT 59068 (Get Directions)
10. Explore Historic Downtown
Although Red Lodge is only a town of 2,000, you might be pleasantly surprised by the charm and plentiful places to explore in their historic downtown.
If you have a sweet tooth, there's the historic Montana Candy Emporium. With every candy imaginable in the emporium, expect to walk out with a full and heavy bag of taffy, fudge, jawbreakers, and jellybeans.
As you head down Broadway Avenue, you'll encounter the Coleman Gallery and Studio where you can enjoy your time looking at the award-winning photography of Merv Coleman. For another form of art, stop at Back Alley Metals to see the custom metalwork that's shipped all over the country.
To get ready for your outdoor adventures, stop at The Village Shoppe, Grizzly Peak Outdoors, and Sylvan Peak for all your outdoor clothes and gear needs.
Historic downtown Red Lodge has something for everyone – kids and adults alike.
Location: 45.1931639,-109.2669235 (Get Info)
11. Try Whitewater Rafting
One of my favorite memories from my time spent in Montana is of white-water rafting. You can't beat the crisp water, the mountain scenery, and the thrill of flying down rapids.
Drive 33 miles north of Red Lodge to Absarokee, Montana to experience an epic white water rafting experience.
Adventure Whitewater is a family-oriented business that offers rafting trips down the Stillwater River. As the river changes throughout the season, Adventure Whitewater selects the best section of the river to give guests the best rafting.
Expect to have fun rafting down the famous rapids of the Stillwater River: Beartooth Drop, Mad Max, and Nemesis.
Later into the season, the tour shifts to the Yellowstone River. As you raft this river, you'll see snowcapped mountains, emerald green pools, and wildlife on both banks.
With 30 years of experience, Adventure Whitewater is sure to provide the rafting experience you'd expect and more.
Absaroka River Adventures is another great family-owned business that prides itself on being the only rafting company that floats on the upper section of the Stillwater River.
If you want a non-stop paddling adventure, book the upper-Stillwater half-day trip early in the season, (May-June), where you'll traverse through class III rapids.
If you're looking for the best itinerary for your first time rafting as a family, I recommend the middle/lower Stillwater River half-day float. This half-day will include rafting through rapids such as Sideswipe, Beartooth Drop, Dew Drop, and Play Pen, and can also incorporate some swimming and cliff jumping.
Book with them today for your next rafting adventure!
Address: Adventure Whitewater – 1 N Stillwater Rd, Absarokee, MT 59001 (Get Directions)
12. Ride ATVs or Snowmobiles
If you're looking for a fast-paced activity that's guaranteed to please the whole family, renting and riding ATVs is a top thing to do in Red Lodge. Red Lodge Powersports makes it easy to rent the vehicle and head straight out of town for a half or full day of riding.
On an ATV, explore Hell Roaring Plateau, Glacier Lake Road, West Fork of Rock Creek, and the Meeteetse Trail.
Check out this link for a list of Forest Service trails.
Address: 1002 Broadway Ave N, Red Lodge, MT 59068 (Get Directions)
13. Go Biking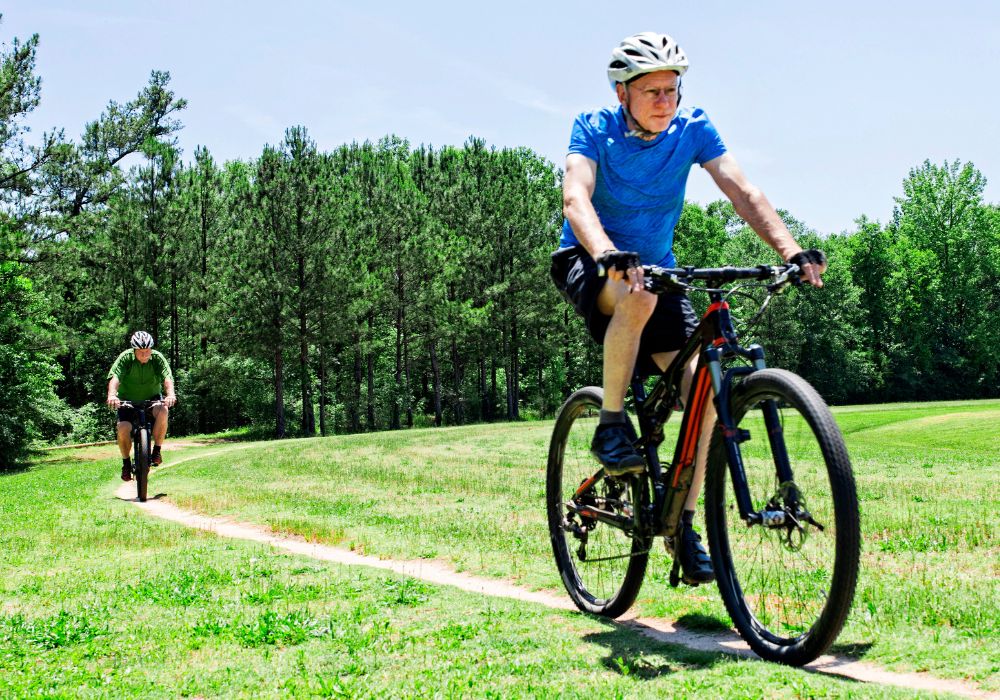 Take your mountain or road bike along to Red Lodge to explore the vast roads and trails.
If you want to put your legs and lungs to the test, make the trek up the Beartooth Highway on two wheels. This might be one of the most impressive things to do in Red Lodge.
If you're looking for a different kind of challenge, hit the mountain bike trails and take in the lush mountain landscape. Check out this page to find the best trails to explore.
Location: Lower Parkside Trail Montana 59068 (Get Directions)
14. Explore the Food Scene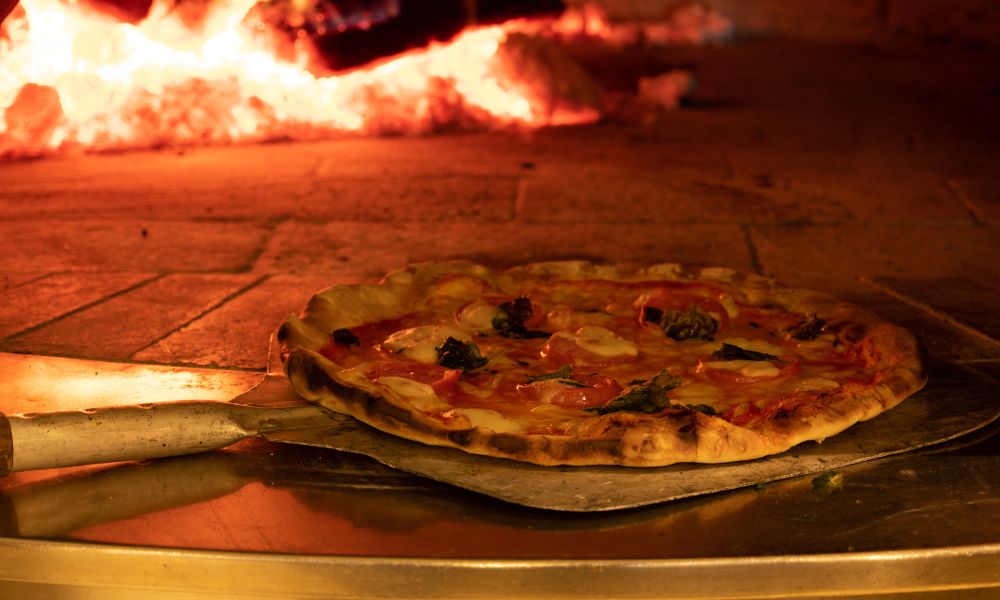 After a long day of exploring the great outdoors, you'll likely be after a delicious and filling meal. No matter if you're looking for a home-cooked breakfast, burger and fries, a farm-to-table experience, pizza, or steak – Red Lodge has the place for you.
Cafe Regis has been voted for the best breakfast for multiple years in a row. For a delicious steak check out Bear Creek Saloon and Steakhouse or Carbon County Steakhouse. To find large, hand-tossed pizzas, make a stop at Red Lodge Pizza Co. for their pizza and wide selection of specialty beers.
For the best of local cuisine and an extensive list of cocktails, spend an evening at Marli's at the Pollard Hotel for dinner and drinks.
Foster and Logan's Pub and Grill is unique in that they are the only sport's bar in town. From personal experience, make sure you start the night off by ordering their mozzarella sticks.
Locations:
– Cafe Regis: 501 Word Ave S, Red Lodge, MT 59068 (Get Directions)
– Bear Creek Saloon & Steakhouse: 14 W Main St, Bearcreek, MT 59007 (Get Directions)
– Carbon County Steakhouse: 121 Broadway Ave S, Red Lodge, MT 59068 (Get Directions)
– Red Lodge Pizza Co: 115 Broadway Ave S, Red Lodge, MT 59068 (Get Directions)
– Foster & Logan's Pub & Grill: 17 Broadway Ave S, Red Lodge, MT 59068 (Get Directions)
15. Take a Trip to Yellowstone National Park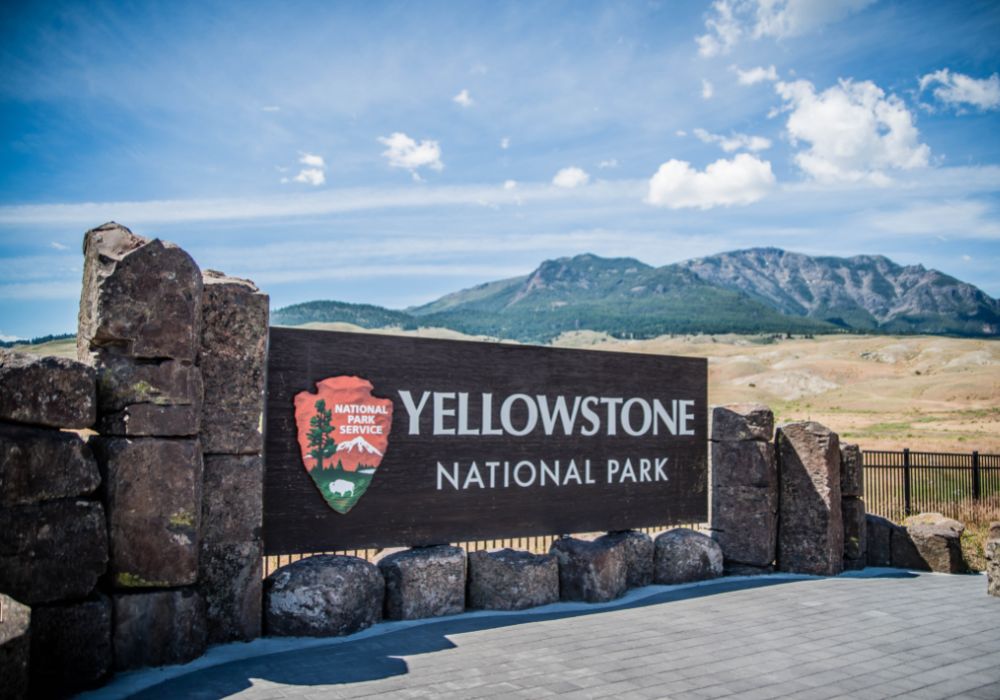 The Beartooth Highway winds its way from Red Lodge to the Northeast Entrance of Yellowstone National Park. Although they are only 85 miles apart, plan for a 3+ hour trip.
☞ SEE ALSO: 15 Best Hot Springs to Visit in Montana
Once in Yellowstone National Park, keep your eyes peeled for wildlife like bison, black bears, grizzlies, and elk.
Make your way through the park making stops at Mammoth Hot Springs, Norris Geyser Basin, the Grand Canyon of the Yellowstone, and Old Faithful.
GPS Location: 44.5854032,-111.0744634 (Get Directions)
Quick Travel Itineraries For Red Lodge
As you can see, the options of things to do in Red Lodge are endless. Plus, there's something to do for everyone including kids and adults, those who love the outdoors, and even those who prefer to be inside!
Here are some itinerary ideas of places to visit and things to see in Red Lodge from just a day to an entire week.
1 Day in Red Lodge Itinerary
If you have just one day in Red Lodge, here are some options of activities to consider:
Drive the Beartooth Highway and stop at the scenic overlooks along the way. Head back into town after your breathtaking trip and take in the sights and sounds of Red Lodge's historic downtown. Visit Montana Candy Emporium, do some shopping at the many outdoor stores, and finish the day off with dinner at one of the many local restaurants.
Another option for one day in Red Lodge is to start your day off with a hike to Glacier Lake. This 4.6-mile hike will be a good activity to fill your morning. Stop in town to refuel at Cafe Regis for lunch and head back out for an afternoon of white water rafting up in Absarokee.
2-3 Days in Red Lodge Itinerary
You might be surprised by how many things you can pack into just 2 or 3 days in Red Lodge. Here's an idea of how you could spend 3 days taking in the tourist attractions of Red Lodge.
Day 1: Spend the morning at the Wildlife Sanctuary admiring the animals of the local ecosystem. This activity will be sure to entertain the entire family. In the afternoon, continue the day outdoors at Wild Bill Lake.
Once you've eaten your lunch at the picnic area, take a .4-mile walk around the lake and stop to fish along the way. Wild Bill Lake is a peaceful and beautiful place to hang out in Red Lodge.
Day 2: After beginning your trip with a full day outdoors, start day two by visiting the Carbon County Historical Society and Museum. Take in the history of the local area and follow it up with a burger and fries at Foster and Logan's Pub and Grill on Main Street.
Now that you're sufficiently full, pile into the car to drive the Beartooth Highway. This will make for an afternoon you won't forget.
Day 3: Now that you've experienced the Beartooth mountains by car, it's time to explore them by foot, (or on two wheels). Bring out the hiking shoes or the mountain bike and hit the trails – it'll be hard to choose one that isn't spectacular.
After your day out on the trails, freshen up and enjoy an afternoon of shopping downtown. Finish the day off with a nice dinner at Marli's at the Pollard Hotel. This will make for a perfect way to cap off three days in the iconic Montana mountain town.
1 Week in Red Lodge Itinerary
With a full week in Red Lodge, you'll be able to take in so much of what the area has to offer.
Day 1: Start your first day in Red Lodge with a morning at Wild Bill Lake. Pack the fishing poles and a picnic and relax at the lake just 7 miles from town. In the afternoon, pick up the pace by renting some ATVs and getting dusty on the local forest roads and trails.
Day 2: Begin day 2 with a hike in the Beartooth Mountains. Choose from the many trails including, but not limited to, Glacier Lake, Sundance Pass, or Basin Lakes Trail. Head back into town for lunch. I'm always in the mood for pizza after hiking so consider Red Lodge Pizza Co. for your favourite slice and a beer. Now that you're refueled, spend the afternoon shopping downtown.
Day 3: Spend the morning of day three exploring the Wildlife Sanctuary. After enjoying the animals and plants of the Yellowstone ecosystem, pack up the car and drive 30 miles north to Absarokee for an afternoon of white water rafting. With two family-owned and experienced rafting companies to choose from, you can't go wrong by spending an afternoon on the Stillwater River.
Day 4: Yesterday you explored by raft; today try exploring by horseback. Schedule a guided horseback ride through the local outfitters listed in item 9. Because you're in town for an entire week, consider scheduling the full-day ride to get the most extensive experience.
Day 5: On day 5, consider waking up early and taking a day trip to Yellowstone National Park. Take the Beartooth Highway for a 3-hour drive to the Northeast entrance of Yellowstone and enjoy spending the day taking in the sights and sounds of the National Park.
After your packed day of fun and beauty, turn around and make the 3-hour trip back. If the journey to Yellowstone feels a bit too ambitious, at least spend the day driving the Beartooth Highway. You don't want to miss out on this once-in-a-lifetime experience – I promise you it's worth it.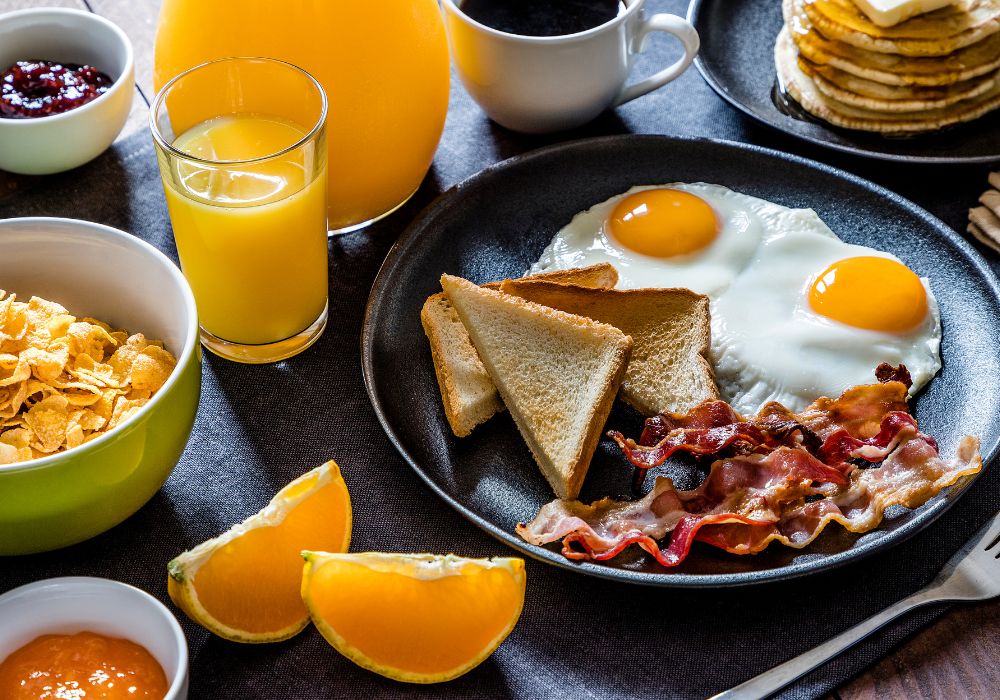 Day 6: After a full day behind you, sleep in and ease into day 6 by eating an all-American breakfast at Cafe Regis. Following a slow morning and delicious breakfast, attend a workshop or class at the Red Lodge Clay Center. After crafting your own ceramics, shop their selection and pick a special piece to take home.
Day 7: Close out your week of adventures by getting in a round of golf at the Red Lodge Mountain Golf Course. Take advantage of this unique course surrounded by mountain views.
Where to Stay in Red Lodge
These are a few of the best neighborhoods in Red Lodge for tourists.
West Fork Road – Best for a True Mountain Experience and Space for Families to Gather.
If you're looking to experience the big sky of Montana and breathe in the mountain air each morning and night, consider staying south of town off West Fork Road.
→ Check out This Cool Cabin near West Fork Road. Click Here for more info.
Find a cabin with a wrap-around porch and a hot tub and admire the blue sky during the day in contrast to the starry nighttime sky.
Staying in this area leaves you only approx. 15 minutes outside of town but grants you some more peace and quiet.
Choosing a cabin like this puts you in a perfect position to enjoy the hiking trails or ski runs. Return after a long day outdoors to the hot tub and cozy beds, knowing you're only 3.5 miles from downtown if your belly craves a big steak.
Rock Creek – Best for Families or Those Who Want To Be Close To Town Yet Still Have the Serene Mountain Feeling.
If you've always dreamed of waking up in the mountains and enjoying your morning coffee next to a rushing creek, consider staying in a place directly on Rock Creek itself.
→ Check out This Remodeled Luxury House near Rock Creek. Click Here for more info.
This location provides guests with fantastic views and sounds of Red Lodge while also being mere blocks away from downtown, and a 20-minute drive to Red Lodge Mountain Ski Lodge.
You'll be sure to have the serenity and peace of the mountains while simultaneously moments from the restaurants and shops.
For the experience of staying on Rock Cree, consider this newly remodeled luxury home with three decks and a hot-tub.
Downtown Red Lodge – Best for Young Couples or First-time Visitors Who Want To Be Close To Everything.
If you prefer taking in all that a historic mountain town has to offer, consider staying in downtown Red Lodge. This location is just steps away from the local restaurants, parks, and shops making the area convenient to explore. Staying downtown guarantees that there'll always be something to do for everyone.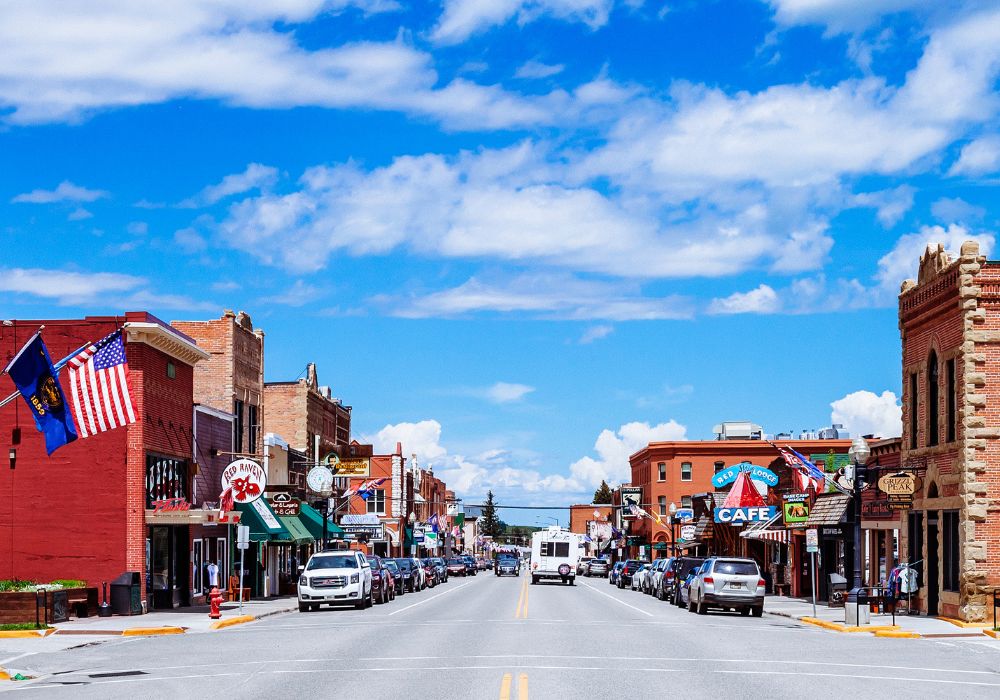 → Check out Funky Townhouse in downtown Red Lodge. Click Here for more info.
And don't forget, you have mountain views no matter where you are in Red Lodge – it only takes a few minutes from most locations to be out of town, and up in the mountains.
Consider this 3-bedroom modern townhome just steps away from downtown for a cozy stay – including a rooftop deck and a hot tub.
FAQs About Things To Do in Red Lodge
Here are some answers to commonly asked questions about visiting Red Lodge.
What is Red Lodge Known For?
Red Lodge is known for its countless outdoor activities such as: hiking, fishing, horseback riding, skiing, mountain biking, and more. Red Lodge is a premier mountain town that's charming, yet full of opportunities for your next trip.
Is Red Lodge Montana Pretty?
Home to the breathtaking Beartooth Mountains and Custer Gallatin National Forest, the beautiful views are endless. Nestled right into the mountains with alpine lakes and clear creeks flowing through it, Red Lodge is sure to give you mental and physical pictures to treasure forever.
Where is Red Lodge located?
Red Lodge is nestled right up to the Beartooth Mountains and is the gateway destination to the Beartooth Highway which takes you over and across the Beartooth Mountains.
Conclusion
If you've been wanting to plan a Montana vacation but aren't sure where to go, plan your trip around Red Lodge. For outdoor enthusiasts, history and food buffs, or shopping lovers, Red Lodge has countless activities for you to enjoy. Whether you have a day or a week to spend, your days will be packed full of sights, sounds, smells, and tastes of Montana.
Planning to visit other areas in Montana?
Like This Article? Pin it!